"The Mi Pad is Xiaomi's first tablet. We put it to the test in our review"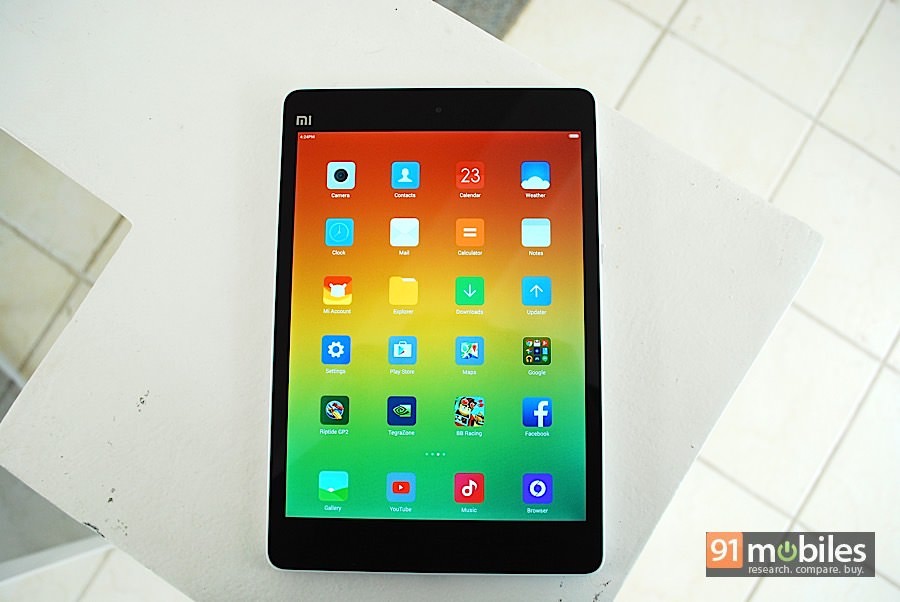 It's hard to believe that this time last year, most Indian smartphone users hadn't even heard of Xiaomi. In the short timespan of nine months, the Chinese brand has not only suceeded in capturing a sizeable chunk of the market, but has also become a household name for many. After successfully launching four smartphones in India, Xiaomi is finally ready to move on to tablet territory with its first (and currently only) slate, the Mi Pad. We're rarely excited by new Android tablets, and barring the Nexus series, most new devices we've seen in this category aren't worth a second glance. But you can't help but give the Mi Pad undue attention. At its price tag of Rs 12,999, the Mi Pad virtually obliterates the competition, with not even a single rival that can match up to its specs. But does it deliver on performance? We've been using the tablet extensively over the last couple of weeks to bring you our verdict.
Specs At A Glance
7.9-inch, 2,048 x 1,536 pixels (326ppi)

2.2GHz quad-core NVIDIA Tegra K1 processor

2GB RAM, 16GB storage (expandable by 128GB)

8MP primary camera, 5MP front

Dual-band Wi-Fi 802.11ac, Wi-Fi Direct, Bluetooth 4.0, USB 2.0, USB OTG

Android KitKat 4.4.4 with MIUI 6

6,700mAh battery


iPad Mini proportions in an iPhone 5c body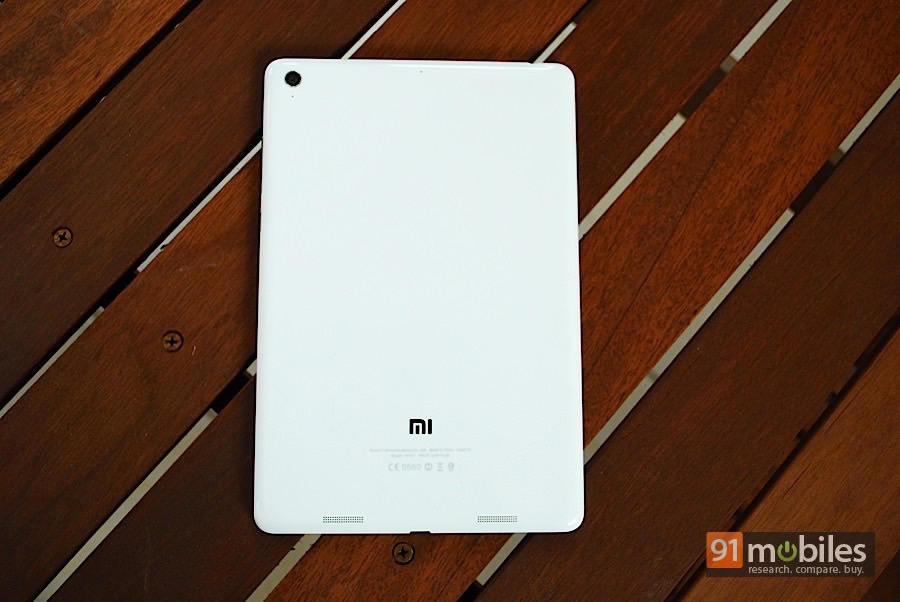 Xiaomi has been very frank about taking its design cues from Apple, and you can see evidence of this in the Mi Pad. It borrows the iPad Mini's proportions (they both feature 7.9-inch displays), but design-wise it's far closer to the iPhone 5c. It features a shiny plastic shell with rounded corners, available in a burst of familiar candy colours like yellow, blue, pink and green. In India though, only the white option will be available to begin with.
Thanks to its display size, the Mi Pad is quite a compact tablet, making it fine to hold with one hand. It's about a millimeter thicker than the iPad Mini, (8.5mm vs 7.5mm) and on the heavier side at 360g (the iPad Mini weighs 330g). Unfortunately, the glossy plastic used for its back panel can get slippery when held for too long, particularly while watching videos or gaming. At the rear, you'll see the primary 8MP camera and two microphones towards the top left, and a pair of speaker grills at the bottom. Coming to the ports and buttons, the top edge is where you'll find the 3.5mm headphone jack, while the bottom is home to the micro-USB port. The faux-metal volume rocker and power button are located to the right. An ejectable tray on the left spine can easily be mistaken for the SIM card slot, but this is actually for the microSD card, since the Mi Pad is a Wi-Fi-only slate.
Moving over to the front is where you'll find the display surrounded by a black bezel. The bezels on top and at the bottom are on the thicker side, but keeping in mind that this is a tablet, it comes in handy when holding the device in landscape mode. The notification LED, front 5MP camera and Mi branding are located above the screen, while the capacitive backlit Android keys are placed below.
Stunning display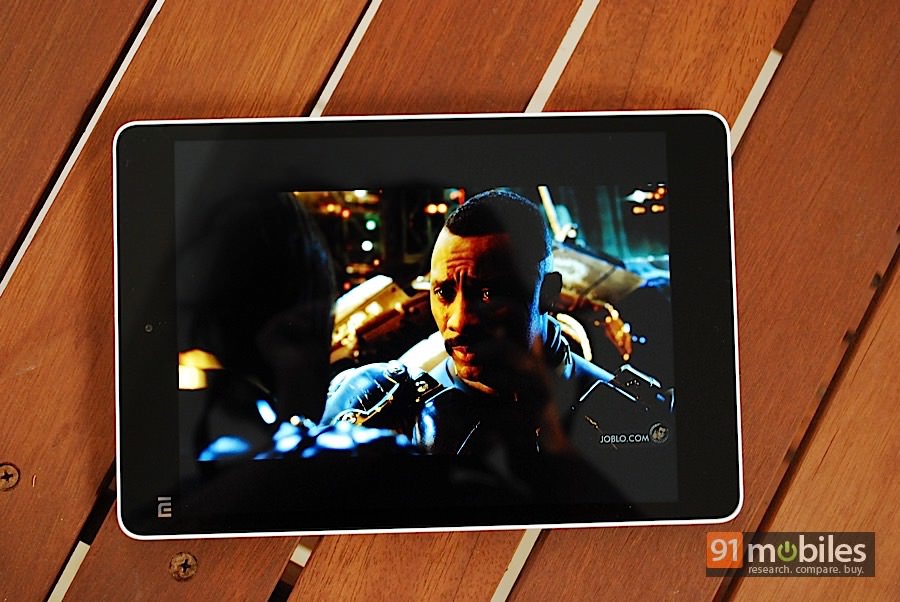 If Xiaomi had decided to put a full HD display on the Mi Pad, we wouldn't have been surprised. But at 2,048 x 1,536 pixels, the almost-2K resolution is an outstanding addition for the price. In fact, it can technically be classified as 'Retina', thanks to its resulting pixel density of 326ppi. But let's not talk numbers, turn on the screen and you'll see for yourself how sharp it is. Icons, text and images appear crystal clear and responsiveness is silky smooth, making it a dream to use. The IPS screen is fully laminated and also gets a coating of Gorilla Glass 3 for protection. The viewing angles are decent, however, the screen is slightly reflective, and isn't very usable in sunlight. One of the most understated, but important features of the display is its aspect ratio. The Nexus 7 (review) and Samsung Galaxy Tab S 8.4 (review) were almost impossible to use in landscape mode, but the Mi Pad, with its 4:3 aspect ratio, is great for landscape and portrait use alike.
MIUI minus a few features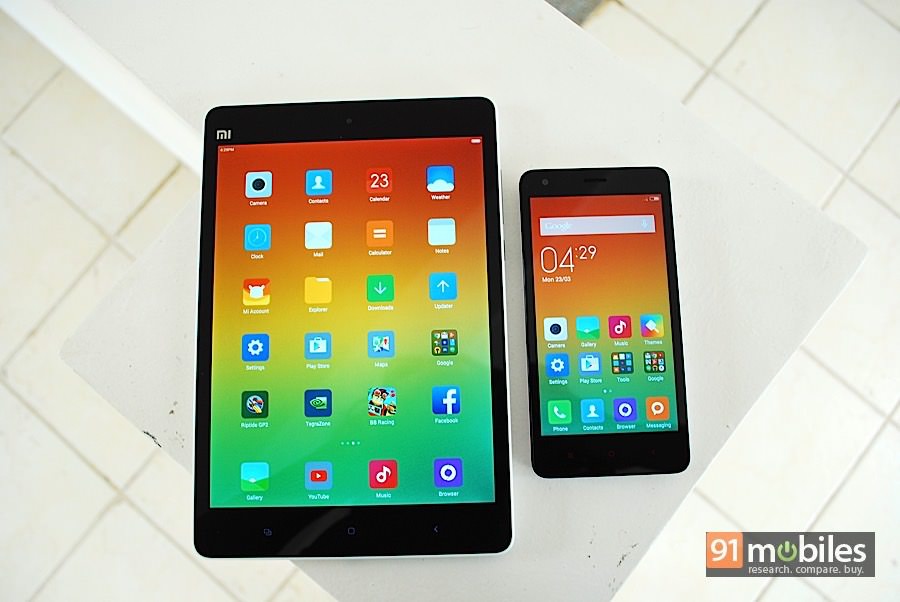 Xiaomi's MIUI is an Android interface we've come to know and love, and over our last few reviews we've explored it in detail. On the Mi Pad, Xiaomi has had to modify MIUI to suit the larger screen, and you can see evidence of this in some of its native apps too. The Mi Pad runs MIUI 6 atop Android KitKat, and while you still get the gorgeous, clean interface, there's a key element that's missing on the tablet. Xiaomi's theme store, which has become one of MIUI's mainstays, is completely missing from the interface. When we reached out to Xiaomi for a comment, we were told that themes aren't supported on the Mi Pad yet, presumably because of the larger display size. It's a notable exclusion, but isn't a deal-breaker in our opinion. Another missing feature is the Security suite, which offers several useful tools like a memory cleaner, data monitor, virus scanner and permissions manager.
Missing features aside, MIUI dons a different look on the Mi Pad as compared to Xiaomi's smartphones. The first homescreen you see is a neatly laid-out collection of widgets comprising of a search bar, calendar, calculator, clock, music player and notes. Usually, widgets tend to clutter up homescreens, but on the Mi Pad it looks beautifully symmetric. We also discovered that Xiaomi has imposed a restriction when it comes to homescreen layout – apps and widgets don't mix. So you can have a homepage solely for widgets, and another for apps, but you can't have both together.
While this might be frustrating for some, the end result is that the homepages look neater. There's a dock at the bottom which can accommodate up to six apps, but even this is restricted to an apps homepage. Editing homescreens is pretty easy – you just need to pinch inwards to move or delete apps/widgets, change the wallpaper, transition effects and more.
The lockscreen is the same, displaying the time and date on the top, and letting you swipe in from the right to access the camera. The drop-down notification bar and quick settings are also present. The settings menu is differently laid-out, with an iPad style bar on the left. Pressing the recents key will let you close running apps individually, or free up memory by closing them all.
Great cameras, for a tablet
We've learnt not to expect much from tablet cameras, but the Mi Pad's snappers are surprisingly usable. There's an 8MP camera handling the primary duties at the rear, and a 5MP shooter to care of video calls (and selfies, if you dare) in the front.
The camera app is a stripped down version of the smartphone app. You'll find the photo, video and gallery buttons on the right. On the left are controls to switch between cameras, access filters, turn off audio and enable beautification. None of the other controls, modes and settings are available. While it would have been nice to have at least some of these features available, we admit that we rarely picked up the tablet to snap a photo. Coming to the image quality, the Mi Pad can take some impressive photos in daylight. The camera focusses easily, and the big screen makes it great for macro shots. Landscape shots are also decent, although there is visible loss of detail when you zoom in. The tablet does a good job of increasing exposure to brighten night shots, but you'll have to contend with a fair bit of grain as a result. Here are a few image samples taken with the Mi Pad's primary camera.
Turbo-charged performance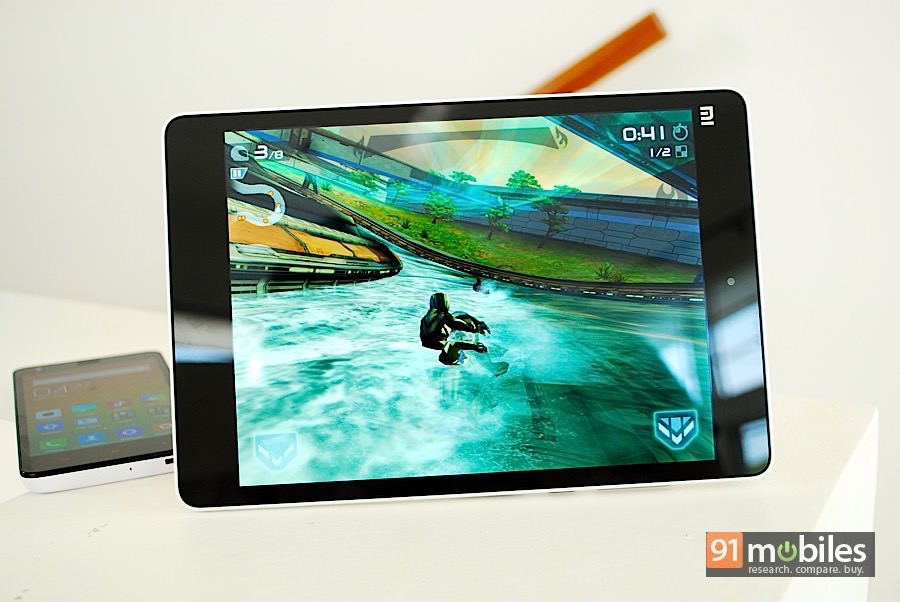 NVIDIA's Tegra K1 processor is quite the beast, and with its 192 CUDA-core desktop-grade Kepler GPU, it's well suited to gaming. The Mi Pad is not only powered by this chipset, it was also the first device to use it, and that's saying something. The Tegra K1 SoC used on the Mi Pad consists of four Cortex-A15 cores clocked at 2.2GHz, mated to 2GB of LPDDR3 RAM. Suffice to say, the Mi Pad doesn't purr, it roars. We tested a few graphics-heavy games from the Tegra Zone app like Riptide GP2 and Beach Buggy Racing, and they loaded in a matter of seconds, playing smoothly without any frame-drops or jitters to mar the experience. We also watched several videos on the tablet, including a few 4K trailers, and there were no freezes or lags on that front either. Suffice to say, the tablet has no trouble with normal everyday tasks like social networking, browsing, etc. Our only complaint with regards to performance would be that the tablet tends to heat up while gaming, a problem which is worsened by its slippery back panel. The location of the speakers don't help either, with sound getting frequently muffled when held in landscape mode.
The Mi Pad is available in 16GB and 64GB storage variants in China, but in India we're only getting the former for now. On a fresh reboot, there's 12.85GB of user available storage, which is plenty. You can mount a microSD card to extend storage by an additional 128GB if required.
Fuelling the Mi Pad is a 6,700mAh battery. We used the Mi Pad for a couple of hours each day for a combination of social networking, games and videos, and it lasted us two to three days. The standby times are also excellent for those of you who tend to use tablets sparingly. In our video loop battery drain test, the Mi Pad lasted for exactly 11 hours and 40 minutes before giving up, which is a good result considering its high-res screen.
It's unfortunate that the Mi Pad has no cellular option, so you'll be stuck using it over Wi-Fi only. In terms of the connectivity options, you get dual-band Wi-Fi 802.11ac, Wi-Fi Direct, Bluetooth 4.0 and USB OTG.
Verdict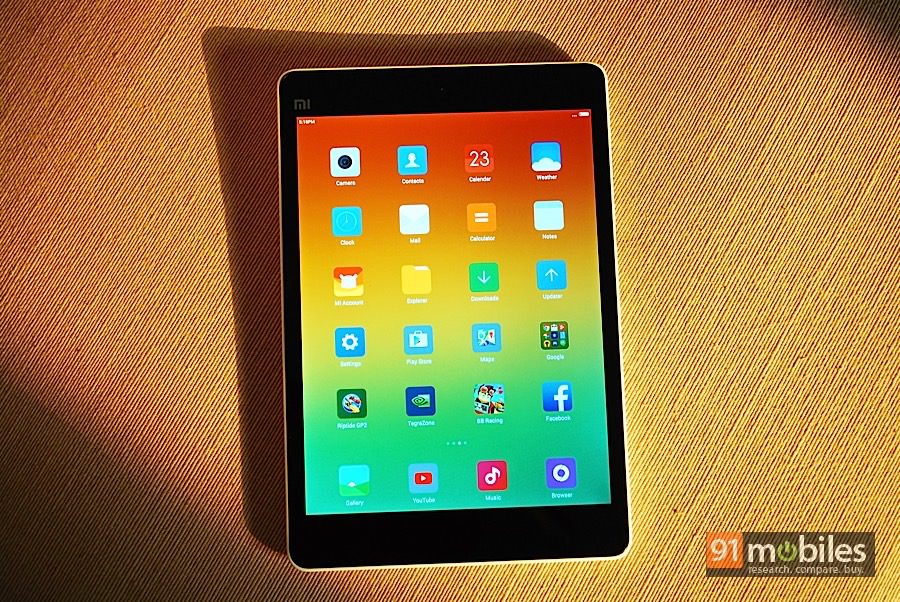 Let's be honest, the main problem with Android tablets isn't the hardware, but Android itself. App developers need to contend with so many screen sizes and aspect ratios that more often than not, apps aren't optimised for larger displays. Even Facebook, which is one of the most popular Android apps, looks dismal on the Mi Pad, with tiny text, blown-up images and too much white space. The Android apps situation for tablets might have vastly improved, but it's still nowhere as slick as iOS on iPads, making it hard to justify the cost of an ultra-premium slate like the Lenovo Yoga Tablet 2 or Sony Xperia Z2 Tablet. Which is why the Mi Pad's pricing is nothing short of genius. To put things into perspective, the Mi Pad shares almost all its specs with the Google Nexus 9 (Wi-Fi, 16GB), and is available at less than half the cost. At Rs 12,999, there are several worthy options from the likes of ASUS, Dell, Lenovo and more, but none come close to the Mi Pad. Keeping that in mind, here's our advice. If you're looking for a powerful Android tablet, buy the Mi Pad. If you're looking for an affordable Android tablet, buy the Mi Pad. And if you're on the fence about getting an Android tablet, at least consider the Mi Pad. Because at Rs 12,999, there's no reason not to.
Editor's rating: 9 / 10
Price: Rs 12,999
Pros:
Brilliant display
Powerful performer, great for gaming
Good battery life
Very affordable
Cons:
Tends to heat up while gaming
No cellular option
Themes and Security apps missing from MIUI