"The iPhone 6 Plus is a beast, and a big one at that"
Apple is well known for not following the crowd, and the fact that it's chosen to stick with 8-megapixel cameras on its latest iPhone duo is a great example of that. For years, it refused to increase the iPhone's screen size, sticking stubbornly to its one-hand usage philosophy with the 4-inch displays that its smartphones have rocked since the iPhone 5. And this was despite the fact that smartphone users globally had started leaning heavily towards large-screened devices – preferring to go with daily drivers that could not only take care of basic communication needs but also offered ample screen real estate for entertainment and productivity, willingly sacrificing one-handed usability and easy pocketability in return. Apple lovers had been hankering for options from the brand since ages and the Cupertino-based electronics has finally obliged in the form of the iPhone 6 Plus (first impressions | review in pics). The first phablet from Apple was unveiled together with the iPhone 6 (review) which still follows the compact size philosophy, but offers a screen which, at 4.7-inches, is significantly larger than the earlier models. The 6 Plus on the other hand, goes all out with its 5.5-inch display, and if that won't put lids on the naysayers' mouths, we don't know what will.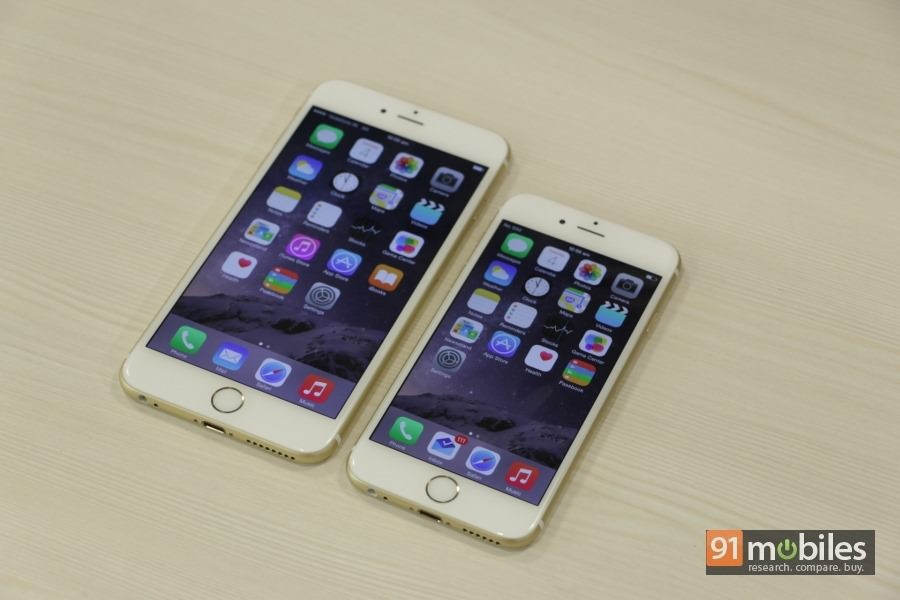 Put crudely, the 6 Plus is just a bigger iPhone 6 – since it rocks the same design and the same platform. There are a few features that are exclusive to the larger sibling and we'll touch upon them as we go along. Let's take a deeper dive into the Apple phablet's capabilities and whether the brand has been successful in its endeavour of providing a worthy large-screened smartphone or not.
Specs at a glance
5.5-inch, 1,920x 1,080 pixel display (401ppi)
64-bit Apple A8 chip, M8 motion co-processor
8-megapixel iSight camera with True Tone flash and OIS, 1.2MP FaceTime camera
16GB/64GB/128GB non-expandable storage
Single SIM, 4G, Wi-Fi 802.11ac, Bluetooth, NFC, GPS
Touch ID fingerprint sensor
iOS 8



A larger iPhone 6
If you've laid your eyes upon the iPhone 6, then you'd already know how the 6 Plus looks. The two are exactly the same in terms of design, except for the size of course. Gone is the blocky shape with chamfered edges seen on the iPhone 5 and 5s – the anodised aluminium body is now nicely curved on the sides and the corners. While this feels pretty good in terms of handling on the iPhone 6, it does make the larger 6 Plus prone to slippage.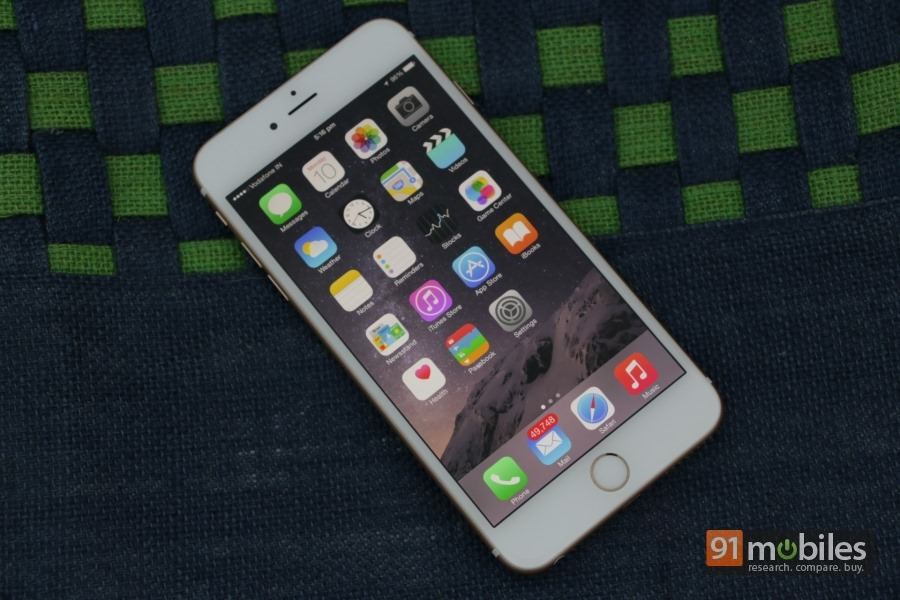 While Apple has done its bit by adding a Reachability feature to help with one-handed usage, there's no escaping the 6 Plus' massive size. The svelte profile helps, and you can slip it into a trouser pocket without too much trouble… but not without restricting movement. Skinnies are another matter altogether. The wide bezels above and below the screen don't help either. The contoured glass layer on top of the screen is a nice touch – it slopes gently towards the sides to match the same curvature on the rear.
The placement of ports and controls is exactly the same as the smaller sibling. Below the screen, you'll find the circular home key that hides the Touch ID sensor, and up top, the earpiece, front camera, notification LED and the usual sensors. On the right, you'll find the power key and an ejectable tray for the nano-SIM, and on the left, separate volume keys and a sliding mute key.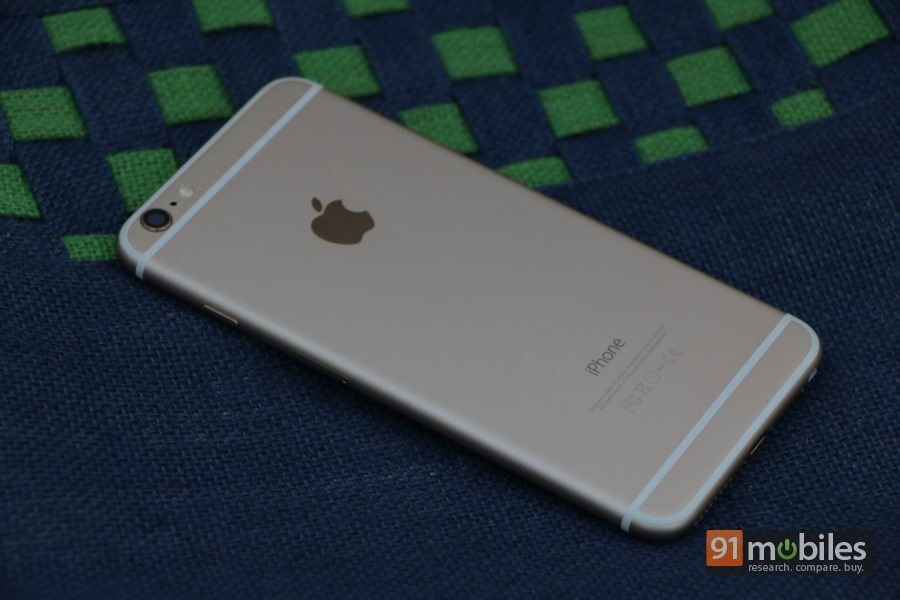 The rear holds the primary camera and True Tone flash, with Apple and iPhone branding. At the bottom, there's the main speaker, the Lightning port and the 3.5mm audio socket.
Make no mistake – the iPhone 6 Plus is as gorgeous as its more compact sibling, and the large dimensions do nothing to change that. The white antenna bands do look rather unsightly though, but those aside, you can be sure you'll attract attention when you flaunt it inside a boardroom or a club.
A massive, capable screen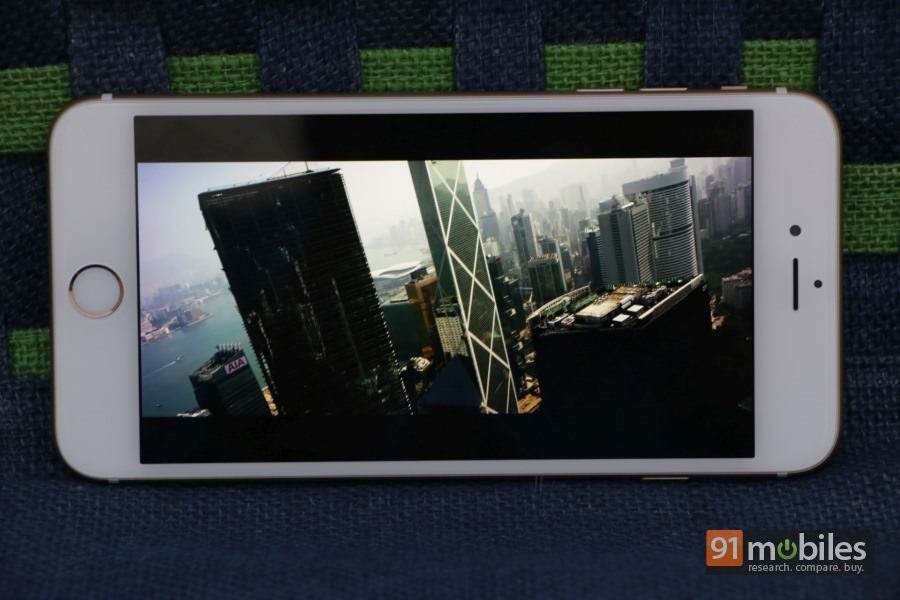 When we say the iPhone 6 Plus offers the highest resolution screen even seen on Apple smartphones, you might think it rocks a 2K display much like many Android flagships these days. We hate to disappoint you, since the screen on the 6 Plus is just a full HD unit. And yes, it's the highest resolution ever seen on an iPhone – the iPhone 6 offers a 1,334 x 750 pixel display in comparison. In terms of capabilities and performance, the 6 Plus' screen is gorgeous – with sharp text and vivid visuals. The large screen makes everything pop out – be it games or videos, and it's a pleasure to work with productivity-related stuff too. Web browsing and working with emails and documents get a boost thanks to the screen's size and quality, and it's great in terms of both viewing angles as well as sunlight legibility.
No Lollipop this
Apple's mobile platform is one of the most fluid, and even if you're a first-timer, a chinch to use. Granted, it doesn't offer as many customisation options as Android, nor the same flexibility. However, it's highly intuitive and doesn't require any learning curve. With the latest iteration, iOS 8, Apple has made it slightly more open though. Support for third-party keyboards – hitherto the sole domain of Android, has now been added to the platform… so it's now possible to use options like SwiftKey and Swype on the iPhone. There are tons of other new features too, and you can get a lowdown on the key ones from our iOS 8 overview. Our iPhone 6 review has more on the software side of things so we won't go into the details here.
The basic UI remains the same of course, and Apple had given it a big design refresh with iOS 7. So you get the same icon-driven interface with a drop-down Notification Center and Today View, along with the Control Center that pops up from below. The latter offers quick settings toggles, a brightness slider, music playback controls and access to common utilities like flashlight and calculator.
One of the most notable new features involves Continuity and Handoff that work between devices running iOS 8 and Mac OS X Yosemite… basically letting you carry forward unfinished tasks on a device on to another. This covers apps like Safari, Mail, Messages etc, and works as long as the two devices are using the same Apple ID and are on the same wireless network. The functionality works for calls too, and it worked flawlessly when we tried it between our iPhone 6 Plus review unit and an iPad running iOS 8.1.
Then there are the other new features such as support for third-party widgets in the Today screen, actionable notifications, the new Health app, Reachability that slides the icons to the lower half of the screen with a double tap on the home button and two different zoom options for the UI.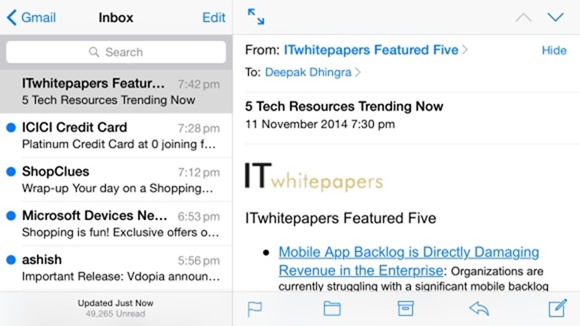 One feature exclusive to the iPhone 6 Plus is the two-paned layout that appears in landscape mode. It's supported by apps like Messages and Mail and makes good use of the larger screen real estate. However, apart from that, there are no special features or apps that really take advantage of the 6 Plus' big screen.
The ecosystem remains as loaded as ever, and you won't find it lacking in any respect. If you're planning to switch to an iOS device for the very first time, you should also know that these devices are still heavily dependent on the iTunes desktop software for data transfers and synchronisation. Though there are a variety of apps, cloud services and workarounds that exist for direct data transfers, you'll still need to tether your iDevice to a PC or Mac running iTunes to transfer heavy media files such as music and videos in most cases.
Shoots to kill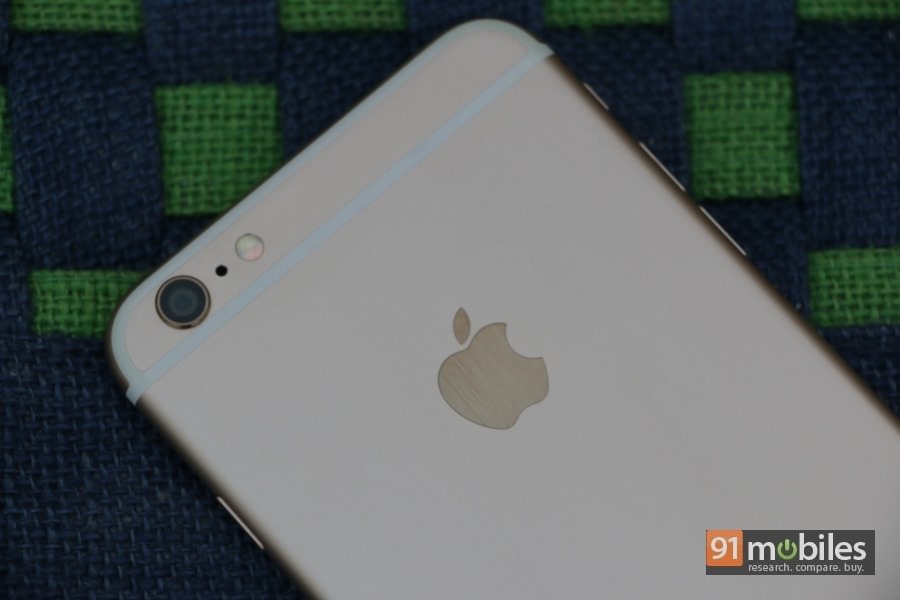 If you're bothered by the fact that the iPhone 6 Plus only comes with an 8-megapixel camera and can't match those monster cams on current-gen Android phones, then let us assure you that there's no reason to let this hold you back. Apple has never been in the megapixel race (or the specs game for that matter), and rather than offering more megapixels, focusses on pure image quality instead. The iPhones have always been great shooters across generations and megapixels aren't true indicators of camera quality anyway. With the 6 and the 6 Plus, Apple has added even more features to make sure you get pristine images, and as we can make out… it has succeeded for the most part. Features like phase detection autofocus and optical image stabilisation (the latter is exclusive to the iPhone 6 Plus), the ability to capture panoramas in 43MP resolution, 1080p video recording at 60fps and slow-mo recording at 240fps are yours for the taking, and improve the camera experience and the results quite a bit.
The app itself is a fairly minimalist affair, and though you can't tweak things like image size or aspects like ISO or white balance, you can still choose from a variety of live filters and modes such as panorama, square photos, slow-mo and time-lapse. Apart from controlling the flash, you can set HDR mode on or off, or leave it on auto. You can also set the timer to 3 or 10 seconds.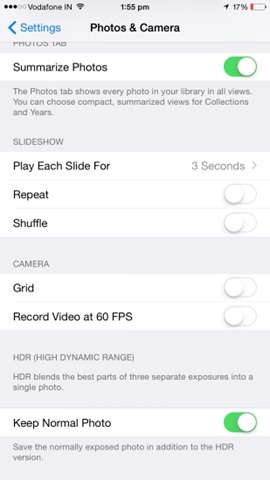 Do note that while all of these options are available in the camera app itself, the option to enable 60fps video recording can be found in the main device settings under the 'Photos & Camera' head. Here, you can also specify whether the device should store normal photos as well while shooting in HDR mode. There are hundreds of third-party camera apps available in the App Store, both free and paid, that enable a slew of other options for the shooter. So if you're an enthusiast and willing to explore and spend time trying out different apps, you'll definitely find a few that'll serve your purpose.
The image quality is great under most conditions, and we were amazed at how it keeps noise to a minimum while shooting in low light. Needless to add that the iPhone 6 Plus can serve up very good images in daylight, and close-ups are quite nice too. The HDR mode is subtle as compared to some other smartphone cameras we've seen, but does its job in highlighting the colour variance and brightening the darker areas of captured scenes. Do take a look at our detailed iPhone 6 Plus camera review, and here are some more image samples for a quick reference.
A smooth operator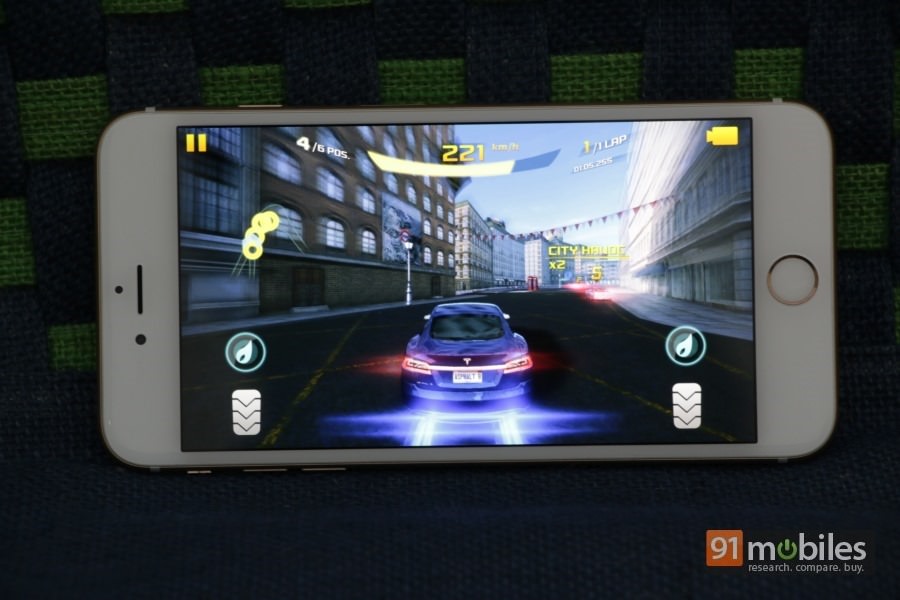 The pure hardware specs of the iPhone 6 Plus won't boggle your mind when compared to other flagships, but the key here is user experience and the device excels when it comes to that. As usual, Apple is cagey when it comes to revealing the exact specs, but it does say that the horsepower is provided by a new-generation A8 chip that's supposed to be 25 percent faster in terms of number crunching and 50 percent better in terms of graphics. According to teardowns, the processor is a dual-core chip clocked at 1.4GHz and it's mated to 1GB of RAM – and these hardly look exciting on paper. Real-life usage is a different story though, and the device flies in terms of pure performance. We didn't encounter any lags or freezes no matter what we threw at it – and it shines in most respects. From productivity-related tasks to heavy games – the iPhone 6 Plus handles everything with aplomb.
Connectivity options include the added support for the new Wi-Fi ac standard and NFC apart from the usual dual-band Wi-Fi, Bluetooth LE and A-GPS. You can also make use of the Indian 4G LTE networks provided you live in a city which has this service. NFC enables Apple Pay, a new payment mode which you can use to buy stuff… authorising the transactions using the Touch ID fingerprint scanner. However, the supporting infrastructure for this isn't available in India and you can only use it a handful of retails stores in the US at the moment. Talking about the Touch ID sensor itself, it works flawlessly and allows you quick access to the device without the need to enter the passcode each time. It also let you authorise purchases from iTunes and the App Store.
As far as sensors are concerned, the M8 motion co-processor also makes its way into the 6 Plus, capturing data from various sensors inside to the phone to track your physical activities and displaying data via the preloaded Health app.
Talking about the battery, Apple hasn't specified the exact battery capacity, but teardowns peg it at 2,915mAh… which is significantly higher than the reported 1,810mAh battery inside the iPhone 6. The ratings are mere numbers when it comes to real-life performance, and we're glad to report that the iPhone 6 Plus doesn't disappoint in terms of battery life at all. It's much better than its smaller sibling in this respect and you can expect it to last a full day even with heavy use. With more frugal usage however, you can possibly see it stretch into the second day. This is good news, and a dream come true for Apple lovers who haven't experienced juice lasting so long on their existing iPhones.
As Apple is wont to do, it doesn't provide any options to add more storage or offers features like USB OTG. There are three storage variants of the iPhone 6 Plus available – 16, 64 and 128GB, with Apple having ditched the 32GB variant altogether. Our 16GB review unit offered about 11GB free to use, and unless you just want to use the device for the most basic tasks and apps, we think the 16GB variant won't suffice in terms of available storage in the long run. The 64GB model makes a lot more sense, and if you're a compulsive app downloader, like to play quite a few games and prefer to carry your music library and tons of videos with you, even the 128GB edition may not be overkill.
Verdict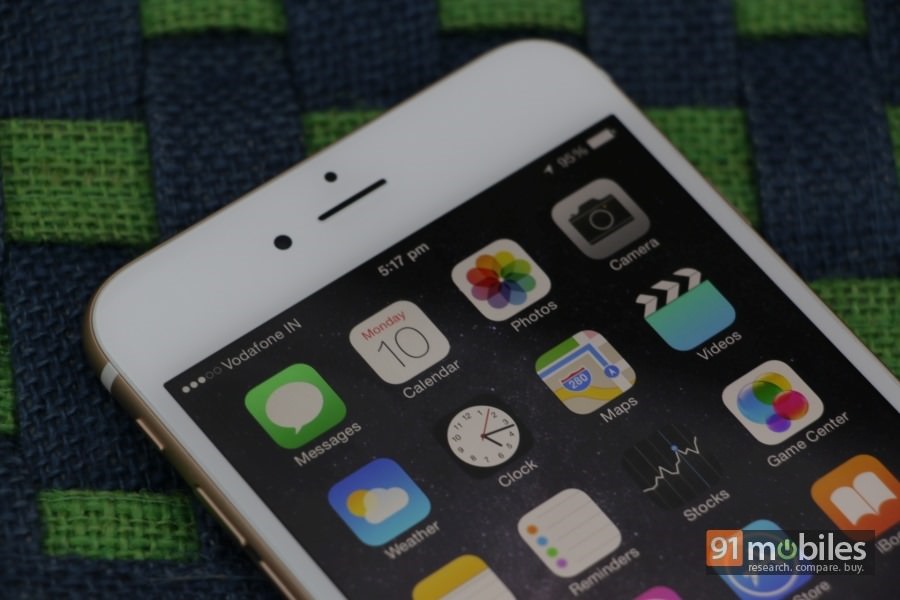 There's no doubt in our minds that the Apple iPhone 6 Plus is one of the best phablets money can buy right now. It's got everything going for it – a lovely design, brilliant display, capable shooter, smooth performance and good battery life, not to mention the vast ecosystem of apps available on the App Store. For Apple loyalists waiting to move on to a device with a larger screen, the 6 Plus fills that void beautifully, without making any compromises. It may not be for those who prefer the flexibility, customisation or plug-and-play usage offered by Android, but it shouldn't disappoint others – not with those capabilities. But then, it does cost a pretty penny. The 16GB model will set you back by Rs 62,500, the 64GB variant costs Rs 71,500 and the 128 gig will shrink your bank balance by a cool Rs 80,500. Considering that the 16GB option won't suffice for many, you're looking at spending upwards of Rs 70,000 so you can call yourself a proud owner of the iPhone 6 Plus, and this amount isn't something one usually spends without careful consideration. The Samsung Galaxy Note 4 (first impressions | FAQs) is one of the most loaded phablets on the Android side and if you were to ask for an alternative to the 6 Plus, it would probably be at the top of our list. To put things in perspective, it costs Rs 58,300, offers 32GB of storage, and lets you add up to 128GB more via microSD. Not to mention loaded specs, a great camera, and many features (like USB OTG) that you won't find on iPhones. But then, it's not an Apple… and for some, that could be reason enough.
Price: From Rs 62,500
Editor's rating: 8 / 10
Pros
Sexy design
A lovely, large display
Very capable shooter
Smooth performance
Cons
The size and design make it a tad unwieldy
Costs a kidney or two
Photos and video by Pratik Vyas
Competitors for Apple iPhone 6 Plus
| | | |
| --- | --- | --- |
| Apple iPhone 6 Plus | vs | Apple iPhone 6 |
| | | |
| --- | --- | --- |
| Apple iPhone 6 Plus | vs | Tecno Phantom Z |