While wearables may not have gained the kind of momentum many prophesied, the fact that Google recently acquired Fitbit suggests that the tech giant does believe in the future of this category. While it remains to be seen how things would change under the Alphabet-owned company, Fitbit continues to launch new offerings. The latest to arrive on Indian shores (and hence on my wrist), is the Fitbit Versa 2. The successor to the Fitbit Versa (review) – which I stated was one of the best smartwatches in the Rs 20k range (around its launch time) – comes with several important upgrades, while being priced similarly. So can the Versa 2 carry the baton forward? Let's jump right in to know the answer.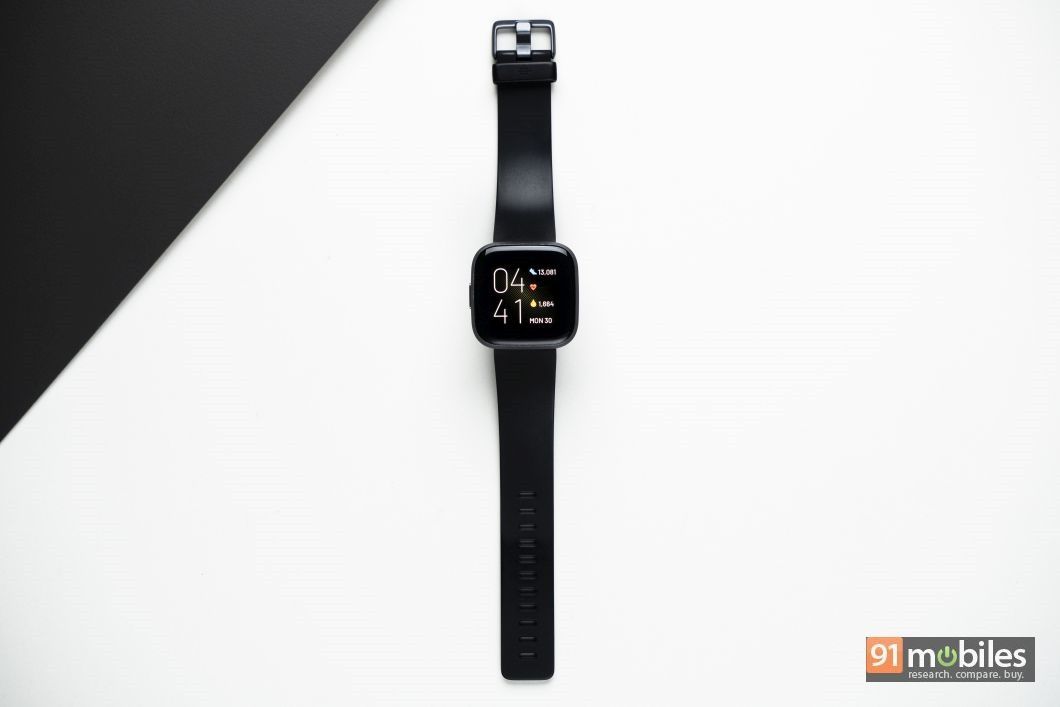 Specs at a glance
1.4-inch AMOLED display with a resolution of 300 x 300 pixels
4GB internal storage
Wi-Fi 802.11 b/g/n, Bluetooth 4.0 and NFC
Heart-rate monitor, SpO2 sensor
Water-resistant (up to 5ATM)
165mAh Li-Po battery

Why pay in full when you get EMIs with 0% interest?
Buy the Fitbit Versa 2 now and pay later in flexible EMIs!
No application fee
No down payment required
No pre-closure fee
Design and build
Kept side by side, it's difficult to tell the Fitbit Versa and Versa 2 apart. Both of them feature squircle-shaped dials and rubber straps (you could opt for the higher-priced variant with a Jacquard-woven band). However, if you look closely, you'll find quite a few differences between them.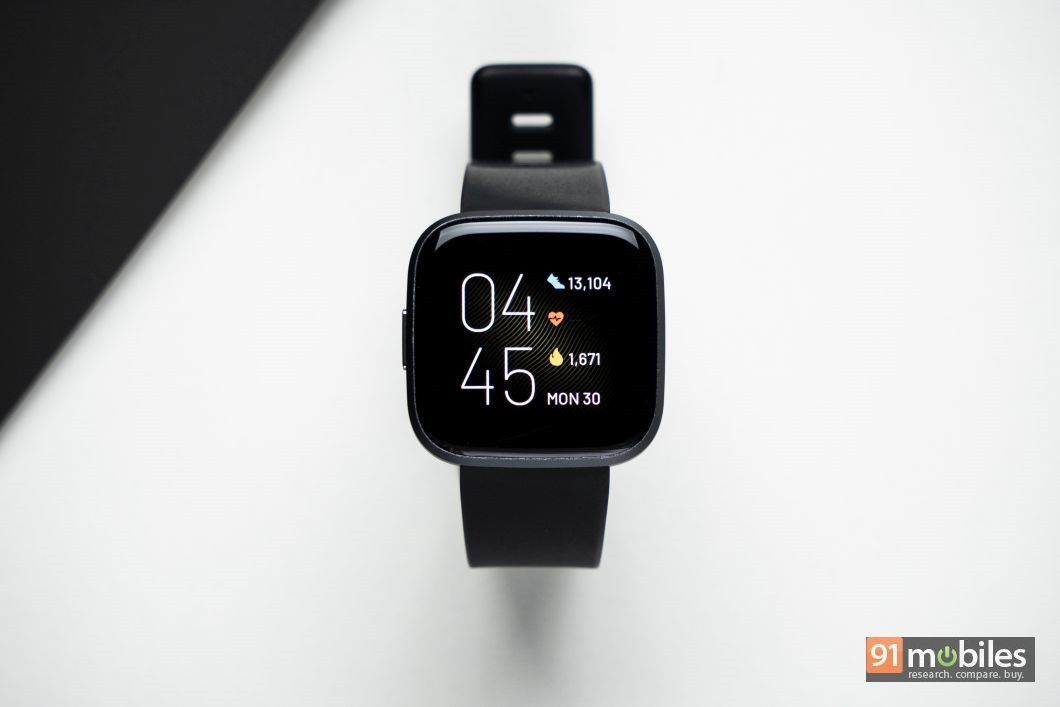 First and foremost, instead of having two buttons on the right edge on its predecessor and another on the left, Fitbit's Versa 2 has a single button on the left side. Along with turning on the display, it can also be used to trigger Amazon Alexa when long pressed. You could also change it to open Fitbit Pay (sadly it doesn't work in India) or open another app. Talking about Alexa, you know what to expect… just ask and it shall answer. However, it's worth noting that it uses a microphone to listen to your commands, but the device lacks a speaker and hence you'll need to look at the display to know the answer to your question or whether it managed to set an alarm, timer, etc.
Moving on to the build quality, the smartphone is built from aluminium, making it quite robust. What's really impressive is that it doesn't feel heavy, and is among the lightest watches I've worn. It doesn't cause any friction on the wrist either, even when they're sweaty.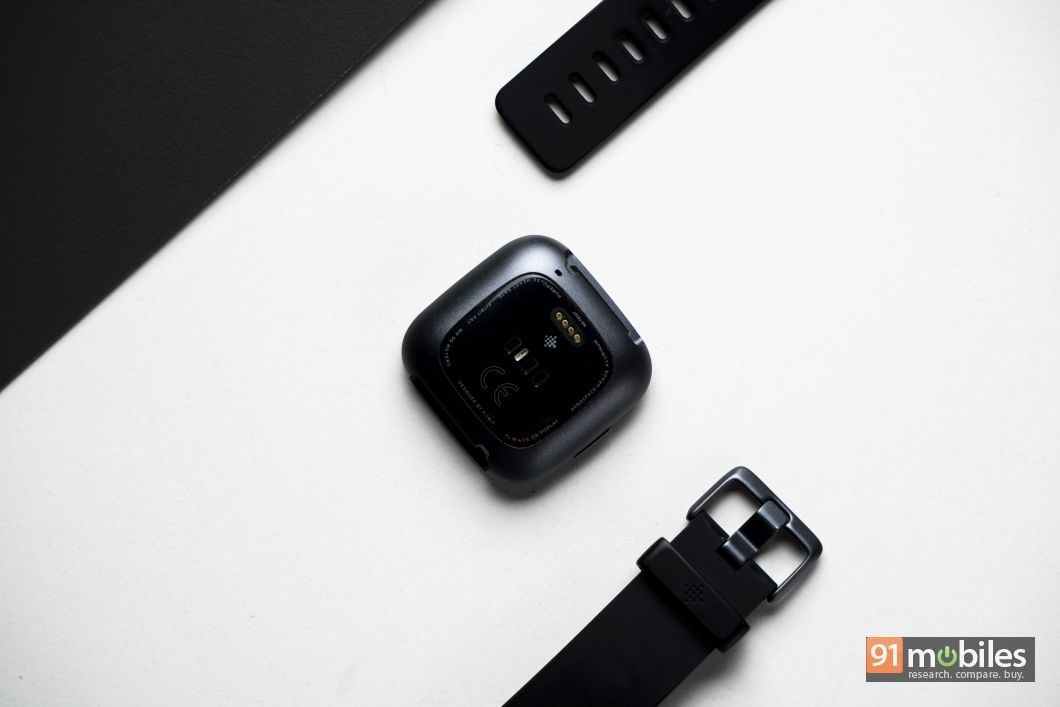 At the underside of the Versa 2 resides the heart-rate sensor. There are pogo pins to connect with the charging dock.
Coming back to the display of Fitbit's latest, it's a delight to look at. Measuring 1.4-inches and offering OLED panel with a resolution of 300 x 300 pixels, it's punchy and gets bright enough to be read outdoors as well, thanks to brightness levels of as high as 1,000 nits. Thanks to the OLED tech, it also comes with always-on display feature, though that does take a toll on the battery life. Protecting the screen against scratches is a layer of Corning's Gorilla Glass 3.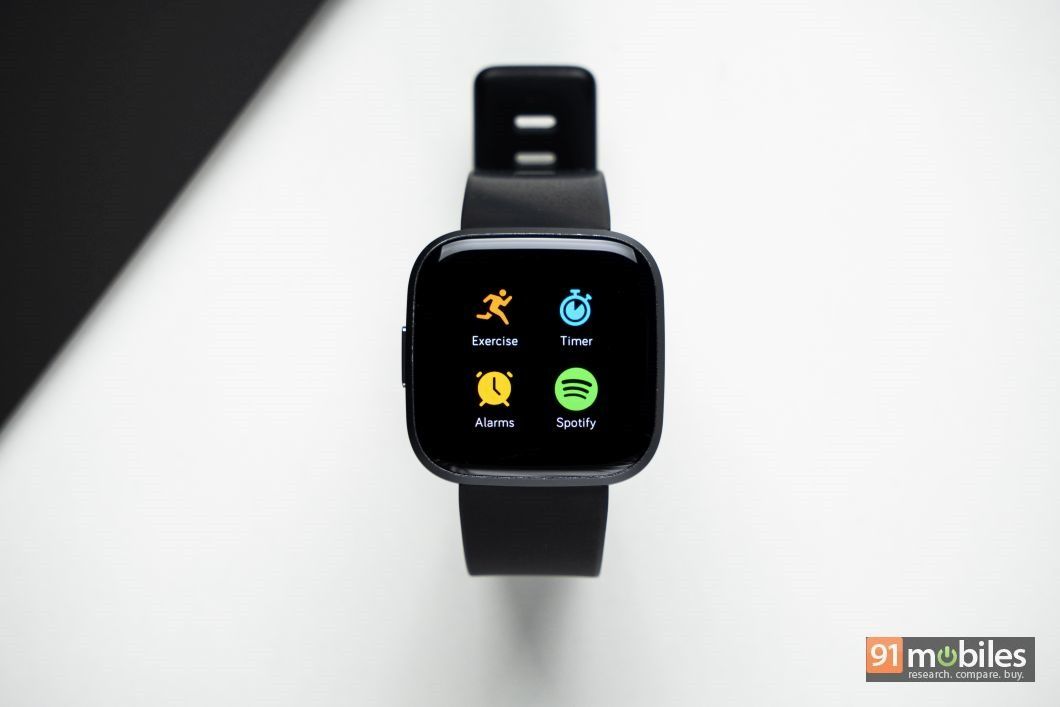 Fitbit's Versa 2 is also water-resistant in depths of up to 50m.
Features
The Fitbit Versa 2 is a well-stocked smartwatch, and comes with a slew of tracking features as well as smart capabilities. As soon as you turn it on, the default watch face is a digital one that displays the time along with steps taken, heart rate (if you have turned it on), calories burned and of course the date and day of the week. You could easily change watchfaces from the app, and thanks to the latest update, the always-on display works with third-party watchfaces too.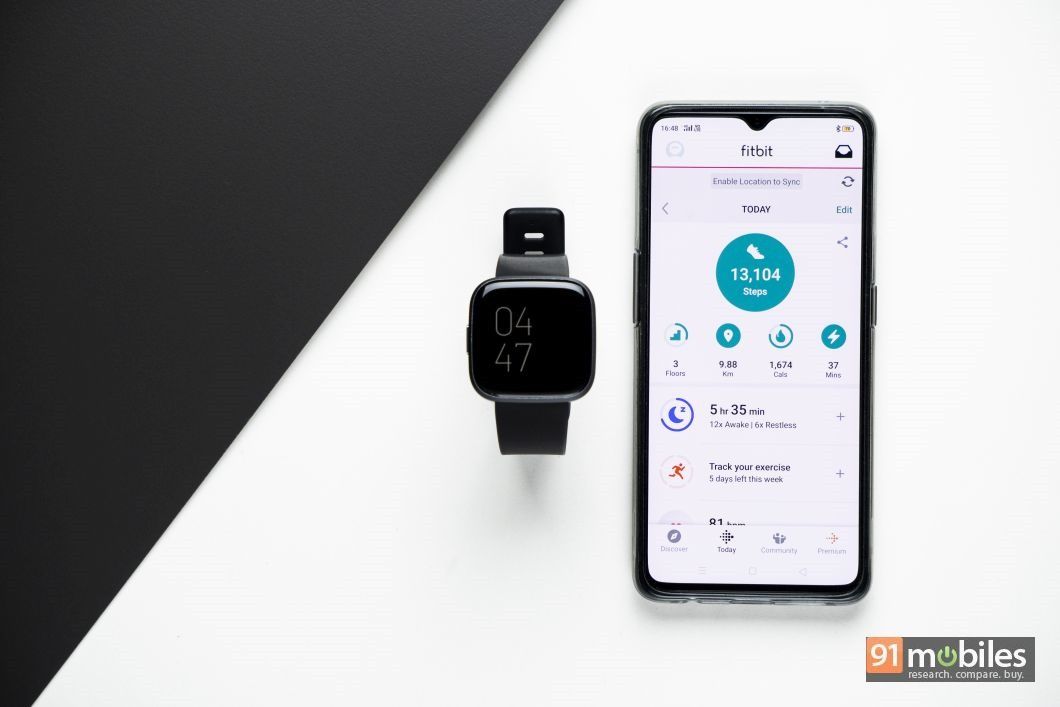 As far as navigation is concerned, swiping downwards brings the notifications, and battery status along with the ability to access music, payments and quick settings like Do Not Disturb, sleep mode, always-on display, brightness control and how the screen should turn on (by the movement of the wrist or the press of the button on the left). Swiping upwards on the other hand, provide you a view of fitness statistics, including steps, distance covered, calories burned and average steps during the entire week, active hours, heart rate, sleep and weekly exercises. Of course, you can choose what you want to see by going into the settings.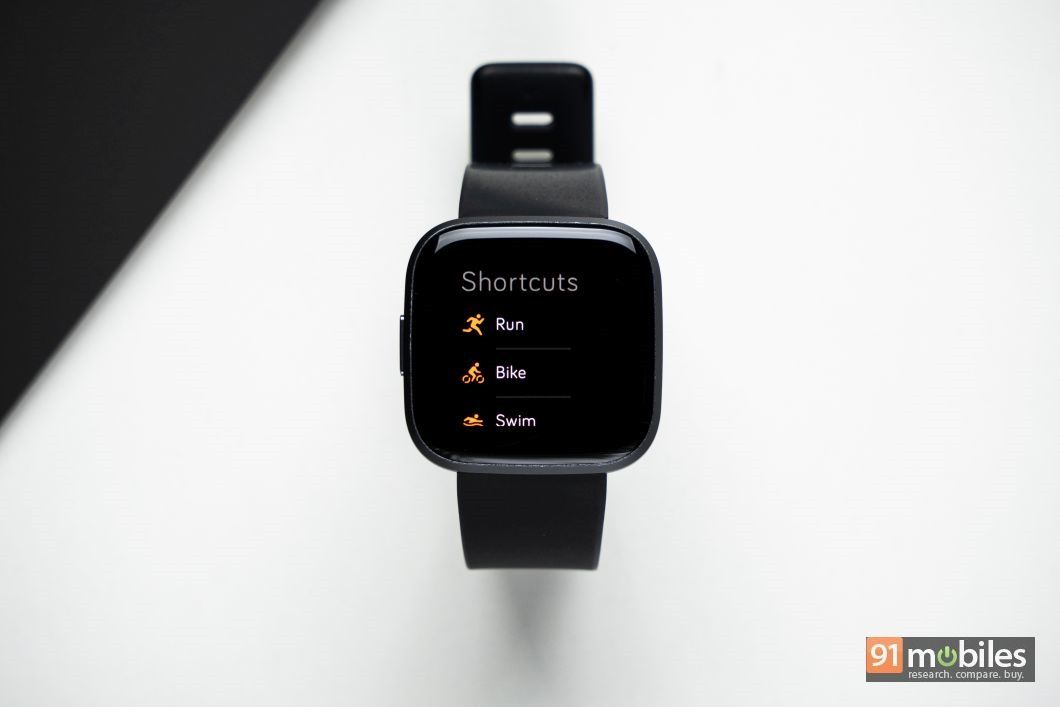 Swipe right and you'll see all the apps nicely laid out. The first one is Exercise that lets you choose from a variety of workouts such as run, bike, swim, treadmill, etc., though there are also more options such as yoga, golf and elliptical. Then there's timer and alarm, and a special mention for the latter which lets you set up an alarm for a specific time and intelligently wakes you up in the half an hour window before the stated time by detecting at what point in your sleep cycle you are most likely to wake up. The Versa 2 also comes with support for Spotify built-in, however it just lets you remotely control the music playback from your phone and can't play directly. It does come in handy while you're out for a run or in a gym for instance, and there's not much lag either. Another good thing is that the underlying processor is plenty fast and there isn't any delay while navigating or opening various apps.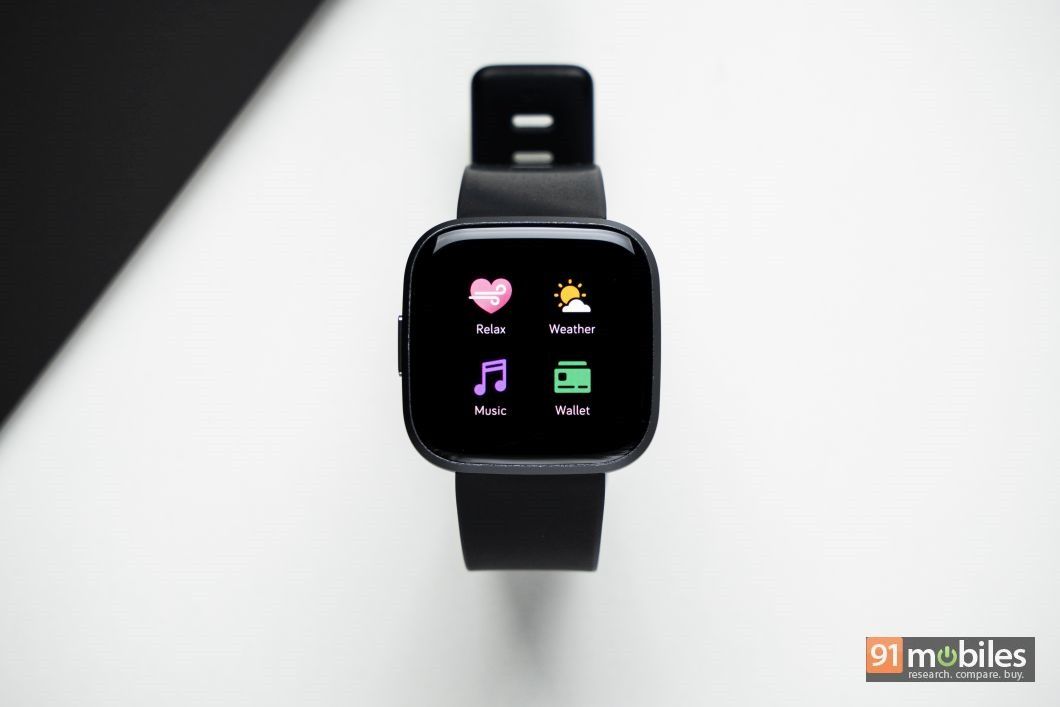 Other apps include relax which runs a guided meditation session of two minutes, weather, music (you can also store music on the integrated storage of the device in case you want to play tracks without requiring a phone), Wallet, Tips, Agenda, Strava and Alexa (in case you haven't enabled it by long-pressing the physical key, then this is the only other way to activate the smart assistant. Lastly, Settings lets you tweak various options such as always-on display, brightness levels, and heart-rate monitoring among other things.
So how does all of it translate to the usage experience? Well, I've already been a fan of Fitbit's accurate tracking and the Versa 2 doesn't disappoint either. The step counter and sleep tracker works quite perfectly. And I also tried the cycling mode, though you'll need to keep it connected to the phone so that it's able to calculate the distance by using GPS (the same would be the case if you're out for a walk or run). It also connects seamlessly with the smartphone via Bluetooth for calls, messages and emails. And you could also use quick replies for replying to messages.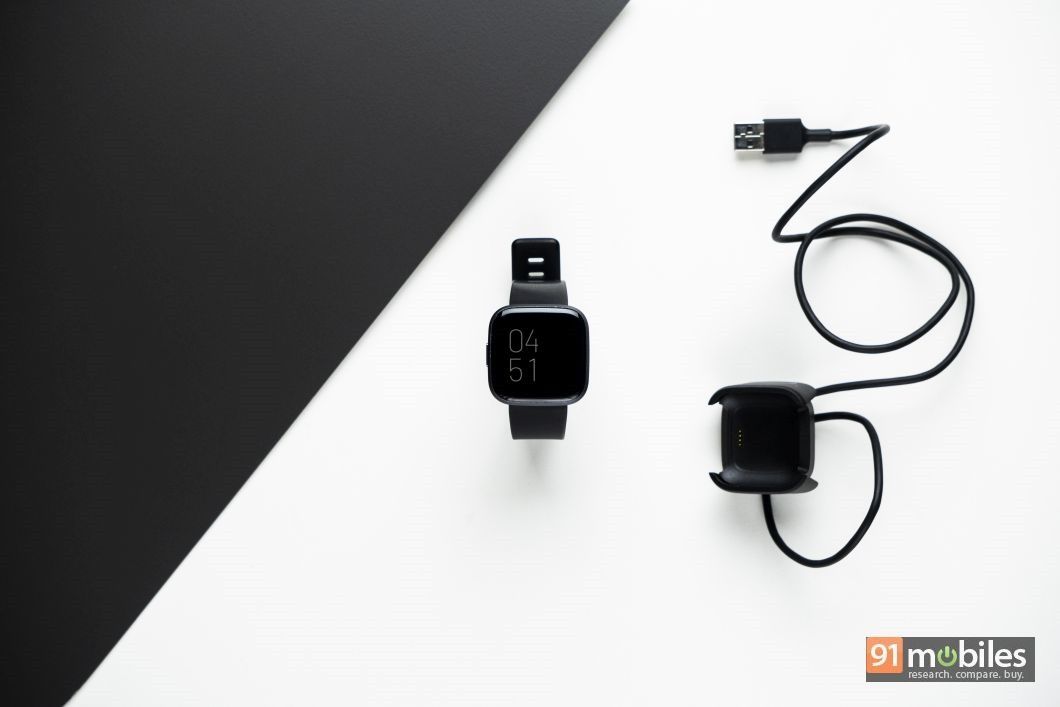 As far as the battery is concerned, the Fitbit Versa 2 comes with 165mAh battery. While it might seem decent, the battery life is almost the same as its predecessor, which means that you'll need to juice it up twice a week with the battery draining quicker in case the always-on display is turned on. It does charge up quickly though, with a 2A adapter fueling it up in about an hour. One particular grouse that I have with Fitbit is that it doesn't have a standard charger for its devices, and not just that, even its proprietary adapters aren't backwards compatible. This means that if you own the Versa, then you can't use its charger to recharge the Versa 2 and vice-versa (pun intended).
Verdict
The Fitbit Versa 2 has been priced at Rs 20,999 for the standard model, while the special edition costs Rs 22,999. As a smartwatch, it offers everything one might be looking for, be it a great display, accurate and varied tracking capabilities and smart functionality. Having said that, its battery life is certainly a thorn on its side, and for fitness enthusiasts, the lack of integrated GPS will also prove to be a bummer.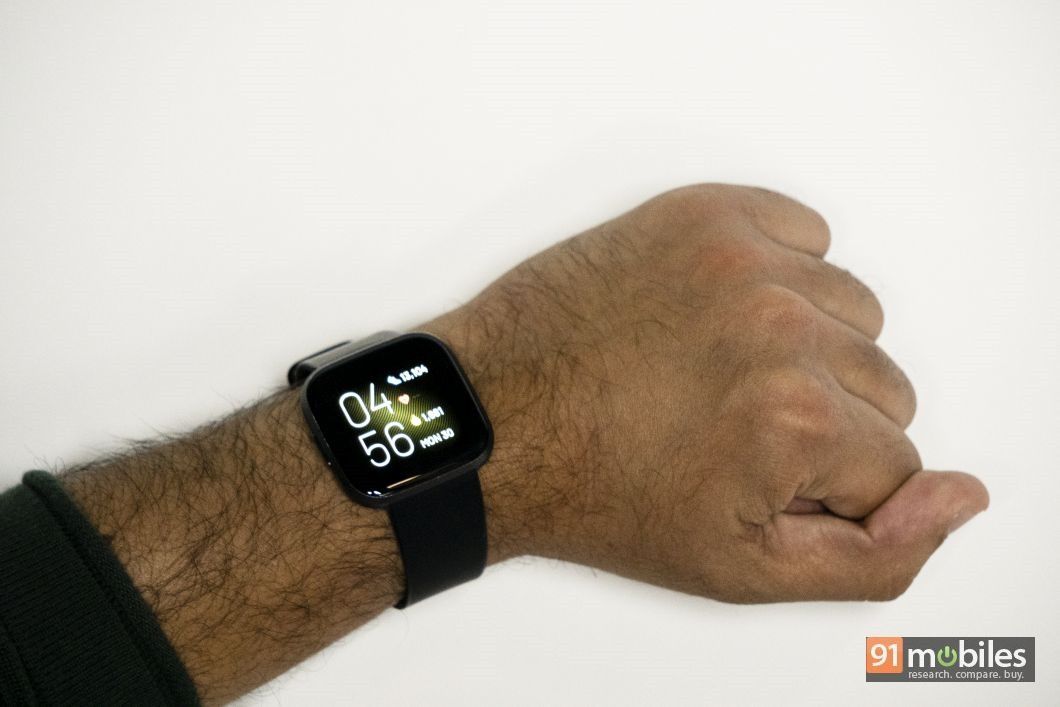 And that's where the competition comes up ahead. Amazfit's GTR (review) has insane battery life and is priced at less than half, whereas the Huawei Watch GT2 (review) also promises impressive endurance with a price tag of Rs 17,990. All that means that the Versa 2 is surely a good smartwatch, but one might go for one of the other options that cost lower, without missing out on anything significant.
Editor's rating: 3.5 / 5
Pros
Gorgeous display
Easy to use
Accurate fitness and sleep tracking
Cons
Average battery life
Misses out on built-in GPS
Spotify integration is for only controlling the music playback
Photos by Raj Rout