"Allo brings the power of Google to your chats, giving intelligent responses to your queries"
Google is omnipresent. We all use the search engine on a daily basis along with several of the company's apps and services like Gmail, Maps etc. Some of you might even be reading this article on a Nexus device. Suffice to say, Google has had a formidable presence across several different platforms… well, all but one. The company's take on a messaging app dubbed Google Hangouts didn't thrive as much as Facebook's Whatsapp or Apple's iMessage did. Prior to Hangouts, Google had another failed stint at messaging when it launched the Google Messenger which besides coming pre-installed on Nexus devices, doesn't have any other use. At Google I/O event this year, Google had a host of announcements to make, the most anticipating of which was a brand new messaging app and a video-calling app called Duo. Announced under the moniker of Allo, the app, which is just out officially, is a refreshing take on instant messengers with which Google is hoping to reverse its messaging fortunes.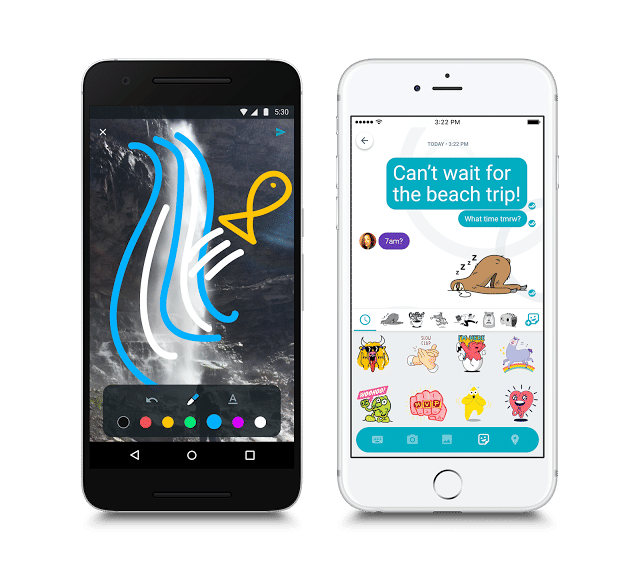 Today, users don't have a shortage of communication apps. From posting stories on Snapchat to replying to groups on Whatsapp, developers are constantly enriching their apps with new features, and therein lies Google's dilemma. While there was nothing wrong with Hangouts, it didn't have anything special to offer. A large percentage of the user base which had both Whatsapp and Hangouts installed didn't have any reason to switch to Hangouts from Whatsapp permanently. How could the tech giant differentiate itself from the existing lot and lure away users from its competition? Well, this time around, Google's messaging app is smart. And by smart, we mean it is backed by a search assistant which leverages machine learning to answer any query you might have mid-chat. Like a genie, users can summon Google's smart chatbot to assist them with any query. But is it enough to make you switch from whatever it is you are currently using? Well, let's find out.
Getting started
To get Allo to work on your smartphones, simply download the application from the Google Play store or Apple's App Store. The application verifies a user based on their phone number with an added option to hitch their emails as well. This is a significantly different approach from Hangouts, which primarily used emails to identify a user. The app then scans your contacts and allows you to instantaneously connect with someone who has Allo installed on their devices as well. You'll also have an option to pester your friends who don't have Allo with invite requests.
The messaging
Before we take a look at all the goodies Google has added to Allo, let's gauge just how complete the messaging part of the app is. Allo has a very minimal user interface, which can be both a good or a bad thing depending on your taste. While we are fans of the refreshing UI, the absence of changing the background wallpaper of a chat as seen on Whatsapp is missed. Sending a message to a contact gets a single tick for successful delivery and two ticks after the message has been read.
Long-pressing the mic button beside the chat box will let users record a voice note in a similar fashion as seen on Whatsapp. The emoticon icon will pull up a list of standard emotes (duh) where as the plus icon brings up a menu from which users can select stickers, click a picture, select a photo from gallery or send their location. Users can doodle on the images selected from the gallery app and choose from a collection of 25 different stickers, which Google says, is a fruit of collaboration with artists across the world. Long pressing a contact brings up the option to block, mute or delete the contact. Users also have the option to chat incognito with a contact. The feature which made its debut on popular messaging app Telegram allows users to set a timer on the chats after which they self-destruct. Snapchat's rise to fame can also be traced back to this feature which allows users to post 'stories' for a day after which they disappear permanently.
That's not to say that everything is A-okay with Google's messaging client. The app doesn't let users send any other file apart from images which makes it an instant no-go for people who rely on productivity. Entering an overpopulated market with fewer features than the competition isn't going to bode well for Google's Allo. Another thing to note here is that Google's Allo doesn't come with end-to-end encryption support like Whatsapp does. Reason being that the search assistant that Google has included in Allo needs to learn about the user in order to function better and thus has to send data back and forth to Google's servers, thereby compromising privacy.
The chat assistant

Talking about the feature in focus, the chat assistant is like an eager student in class who keeps chiming into every question a teacher asks. Users have the option to chat with the assistant separately or to invoke it in the middle of a chat. If you have ever tagged someone on Facebook, then you won't find the concept of invoking the chat assistant hard to grasp. Facebook has employed a similar concept to its messenger service too with the difference being that individual businesses need to come up with their chat bots which will then interact with users. Here, Google's search assistant will help you with anything and everything. Typing @Google followed by your query will give you the best results right there in the chat.
For instance, if you and your friends are planning to go out to grab a bite and want to know which restaurants are near you, you can simply ask Google and the results will be showcased in the chat. However, we'd like to point out that the AI Google has employed is still in its infancy and therefore, it won't be able to answer complex queries. When asked to show a list of restaurants that have milkshakes, the chat-bot diverted our query by simply showing us restaurants nearby.
While the power of Google's search engine integrated into the chat makes for a great sales pitch on its own, Google has also added the ability to reply using quick reverts through the use of its intelligent AI. Take for instance this chat we had with a co-worker. The assistant gives certain replies depending upon the context of the chat which is a great way to justify your laziness. And the features galore doesn't end here as users have the option to play mini-games depending upon their taste (puzzle, classic etc) when chatting with Google's assistant one on one.
The assistant can also tell you jokes (not very good ones, unfortunately), recite you poems, tell you random facts, quiz you with riddles and much more. The assistant can also check the status of flights, set alarms and tell you the weather or the score of a game without you having to leave the messaging app. Suffice it to say, Google has loaded Allo with a bunch of nifty and practical features which makes up for the inability to send different files across the platform.
Verdict
Will it replace Whatsapp as your primary messaging client seconds after you install it? Probably not. But that's not to say that Allo isn't good. The app just needs time to mature. Backed by Google, the functionality to share files will be added sooner or later but besides that, Allo is a great step forward in instant messaging and Google might actually have a good shot at social for the first time, since the downfall of Orkut, Google Buzz, Google Plus and Hangouts. That being said, the caveat regarding the privacy of users is a pressing matter but that's a compromise user will have to make if they want to make the most of Google's Allo. Edward Snowden vented against the use of app in a series of tweets as well so if privacy is of utmost importance to you, you'd be better off using Whatsapp. Although, WhatsApp is also not for privacy-focussed users itself, since it has recently decided to share user data with Facebook.
To sum it up, Allo has a great shot at being one of the best instant Messaging apps out there as its AI matures. The catch however is that the AI will remain at a standstill unless more users use Allo, which amidst all the privacy issues, may be a tricky thing to predict. Google has an uphill battle against some very popular apps and only time will tell about the future of Allo.