Ever ordered a new gadget online and then spent the next few days eagerly waiting for the delivery guy? Up until last year, the Nexus phones used to be just like that delivery guy – bearing the latest flavour of Google's dessert-themed mobile OS, eagerly awaited by fans globally. Truth be told, the wait was more for the software goodness the phones brought with them than the hardware prowess. Most Nexus phones, at least up until the Nexus 5, were also solid value for money. All of that however, is history… as the Nexus lineup is dead – killed by Google in favour of the new Pixel smartphones. The Pixel and Pixel XL (first impressions) mark a significant shift in strategy for Google, as the Mountain View major has assumed control over both hardware and software. While the Nexus range was meant mainly for developers and enthusiasts, the Pixel duo is as mainstream as it gets. With the Pixel duo, Google is going after the likes of Apple and Samsung… and in a big, big way. As the most expensive Android phones in India, the Pixel and its XL sibling are out to prove a point, and I'll try and see if they can do that as I review the bigger of the pair.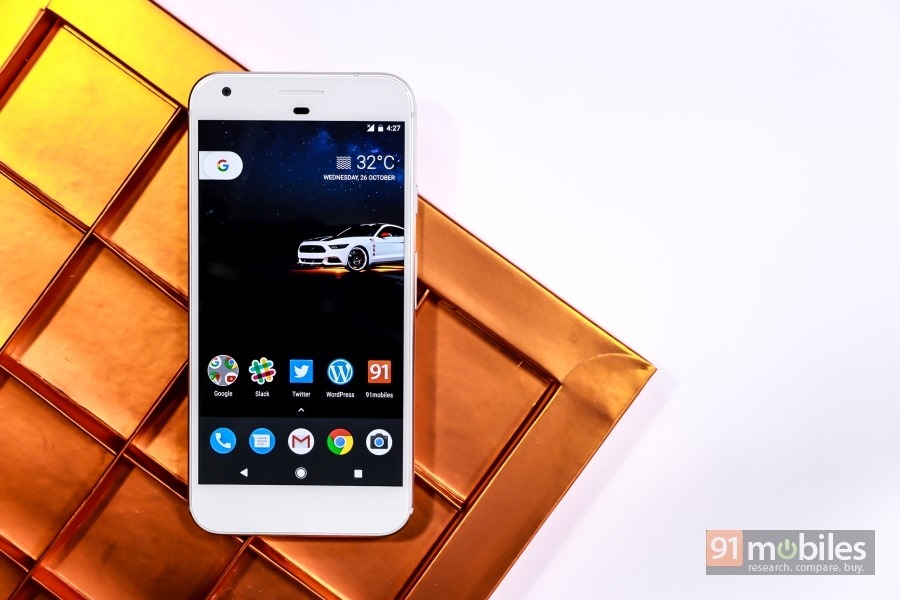 Related reads: Google Nexus phones through the years | 5 things to know about the Google Pixel and Pixel XL
Specs at a glance
Display
Size
5.5 Inch
Resolution
1440 x 2560 pixels
Performance
CPU
Dual core, 2.15 GHz + Dual core, 1.6 GHz, Snapdragon 821
RAM
4 GB
Storage
Internal memory
32 GB
Battery
Capacity
3450 mAH, Li-ion, Non removable
Talktime
Up to 32 Hours (3G)
Camera
Primary camera
12.3 MP
Secondary camera
8 MP
Connectivity
Network support
Single SIM 4G
Other options
Wi-Fi, Bluetooth 4.2, GPS
Others
Battery Capacity
3450
Operating system
Android 7.1 Nougat
Premium through and through
While Google hasn't really made a big deal out of it, it's no secret that the Pixel phones are made by HTC. HTC's prowess in crafting smartphones that rock solid build quality and sport stylish designs is unquestionable – a look at some of its last flagships will explain why I say that. And when I look at the Pixel XL closely, I do see a faint resemblance with the HTC 10 (review) in terms of design. The Pixel XL looks good in an understated sort of a way, and while it definitely feels good in the hand, I'd have preferred something a little snazzier considering the asking price and the premium positioning.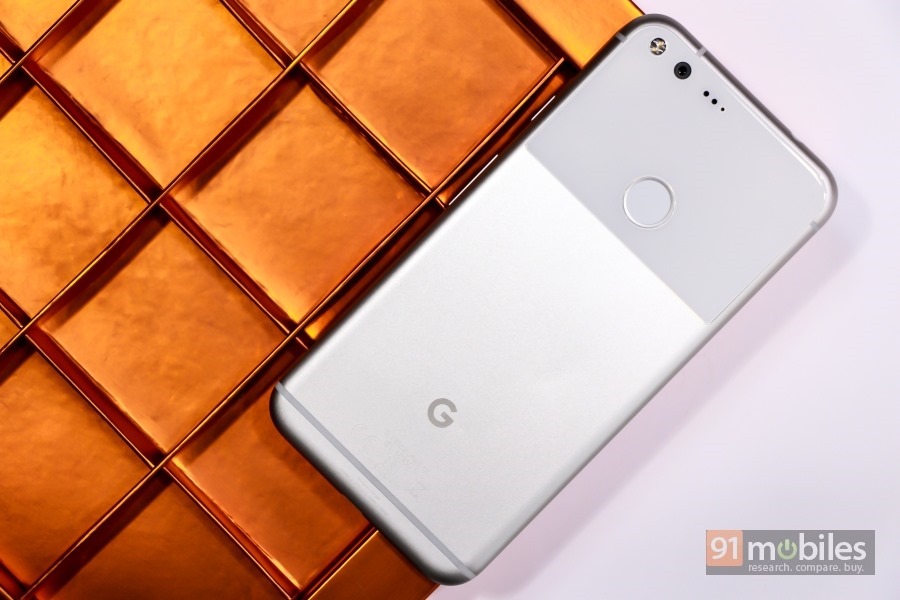 The rear of the phone fares a tad better with its dual-tone glass and metal combo – and while you may or may not fall in love with that design, at least it looks different when compared with the rest of the pack. A standout design is important for a premium flagship, and with its dual-tone back, the Pixel duo is able to achieve that reasonably well.
Super screen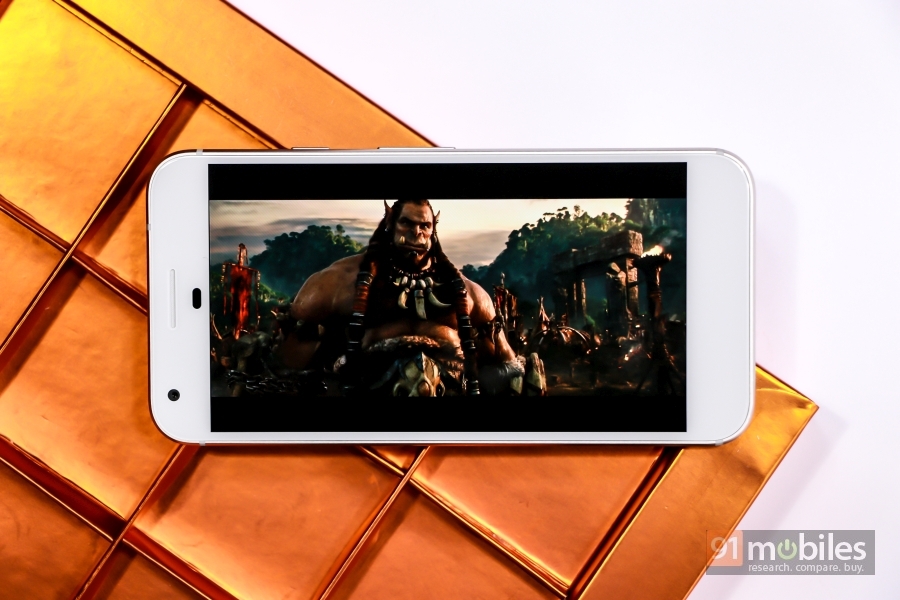 The 5.5-inch QHD screen on the Pixel XL (the Pixel offers a 5-inch FHD screen) is extremely capable and crisp. It uses AMOLED tech, which means the blacks look great and the colours appear vivid. High brightness levels and wide viewing angles means legibility isn't a problem, regardless of where and from angle you look at it.
The software and the smarts
The dessert serving comes in the form of Android Nougat, but the Pixels aren't the first phones to run the latest software platform… as was the case each year with the Nexus range. The LG V20 in fact, is the first phone to run Nougat out of the box, and even older Nexus phones like the 6P (review) and 5X (review) got their Nougat updates before the Pixel phones came out. That's not to say the Pixels don't bring anything new to the table software-wise at all. The Pixel and the Pixel XL run Android 7.1 in fact, and apart from rocking all the new Nougat features, also boast a few other goodies. And some, like the new Pixel Launcher (overview) and the Google Assistant are exclusive to the Pixel range.
Nougat's new features like split-screen multitasking, and the redesigned notifications panel and settings pane are quite useful, and 7.1 even has more goodies in the form of app shortcuts that work just like 3D Touch works on the iPhones. Basically, in Android 7.1, long pressing on icons of apps like Gmail, Maps etc displays contextual menu options, and these can be super useful as well. The functionality is bound to get better as third-party Android apps integrate this feature as well.
Google has even added support for gestures and motion, and the options for this are available under a heading called Moves in settings. So if you want, you can swipe down on the fingerprint scanner to bring down the notifications panel, double press the power key to launch the camera , and while in the camera app, double twist your wrist to toggle the selfie mode.
The Quick Switch adapter, which is part of the retail box, lets you migrate to your new Pixel phone easily, helping move data across from your older Android phone or iPhone so you can get up and running quickly – it's quite nifty and useful.
The Google Assistant is basically Google Now with added personality. Google Now is still around, if you're wondering, but the Assistant (wish Google had given it a proper name) remains at your beck and call – accessible by a long press of the virtual key where the home button used to be earlier, or by uttering the magic phrase 'ok Google'. This machine-learning based virtual assistant actually works well, and you can get it to do a variety of stuff. You can tell it (her?) to launch apps, click photos or selfies, sing you songs or tell you jokes, and even give you a summary of your day with weather, traffic to work, appointments and news updates. Apple's Siri pales in comparison, as results from Google Assistant seem better, more contextual and smarter. With everything that Google knows about you already – your location, travel plans, calendar appointment etc, the Assistant can use all that to present better, smarter answers, and while that does sound alarming at one level, Google's vision (and that of CEO Sundar Pichai) about the promise of machine learning points towards this being the future. A future which is actually closer than say fully modular phones or phones with bendable displays I think… if Pichai and co have their way. Think about it, if you're as entrenched in Google's ecosystem as I am (with usage of Gmail, Google Calendar, Maps etc etc), Google's Assistant is poised to serve you well in the long term as compared to any other virtual assistant out there. The Assistant also sits at the heart of other Google products (such as the Google Home speaker) and with the company planning to bring it to your wrist and your car as well, the number / type of devices and locations where you'd be able to access it will increase in the time to come. Assistant is still a work in progress and needs improvement, but even at this early stage, Google has shown what AI can do. With updates and as its machine learning algos learn more about you, it should get significantly better over time… and therein lies its potential.
Shooting the bull's eye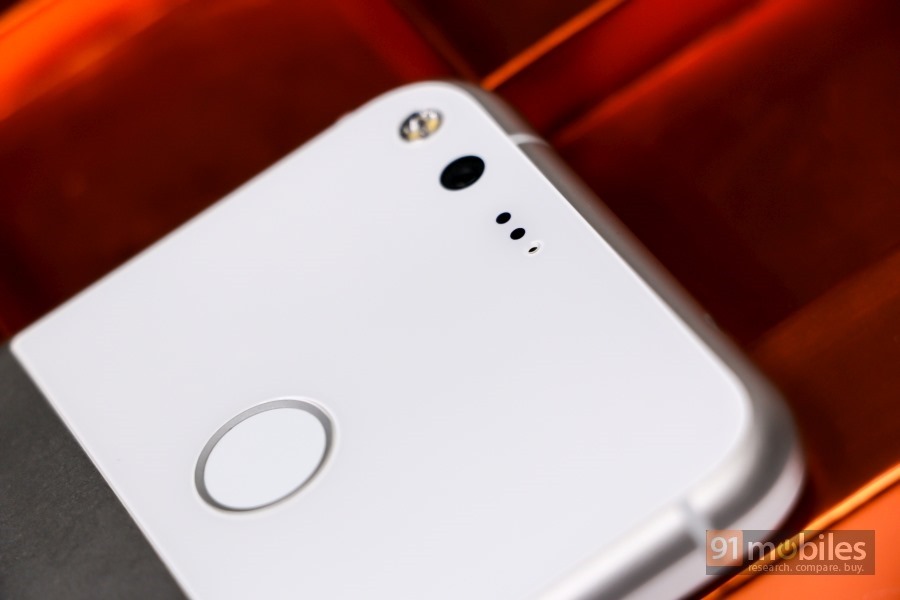 And then there's that camera. A 12.3MP primary camera, and that too, one that lacks OIS, won't make anyone jump for joy. But wait till you see the results. The Pixel XL's camera is one of the best out there, excelling in almost all situations. It trumps the Apple iPhone 7 Plus, and even the Samsung Galaxy S7 duo, with what it can do… and that's saying a lot. The Pixel XL camera launches in a jiffy, focusses fast (using PDAF and laser autofocus), and delivers detailed and sharp results. HDR is one of its key strengths, and in fact, the HDR Auto mode comes enabled by default. And since there's no lag in terms of HDR processing at all, you might as well leave it on. If there's one gripe that I have with the Pixel XL's snapper, it's that it boosts ISO up to insane levels for low-light shots, resulting in some unnatural looking images. That apart, there's nothing really to complain. On the Pixel devices, Google's even offering unlimited free cloud storage for both stills as well as videos, which means you can free up storage space on your phone easily.
Related reads: Google Pixel XL camera samples | Google Pixel XL and Apple iPhone 7 Plus camera comparison
Top-notch performance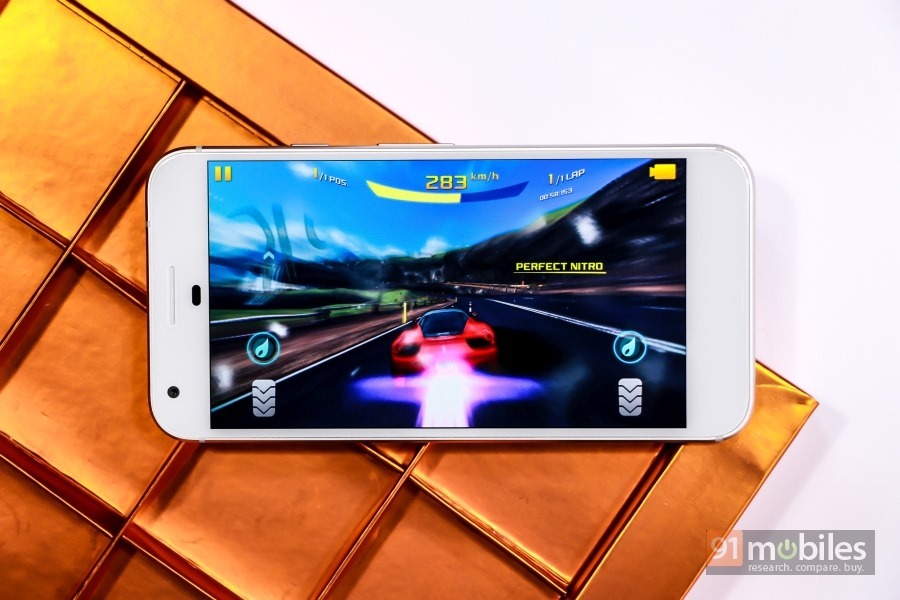 The only word I can think of regarding the Pixel XL's performance is 'sublime'. Top-of-the-line hardware like the Snapdragon 821 SoC and 4 gigs of RAM have been tuned perfectly to run stock Android Nougat in the smoothest of manner. This is where Google's premise of taking more control over the hardware side of things comes to the fore, and there's no speed breaker to ruin your drive. Smooth animations, brilliant multitasking, enjoyable gameplay, and speedy app launches are the name of the game. The Pixel XL does heat up slightly when stressed, but doesn't really reach uncomfortable levels. And then there's the battery life. The 3,450mAh pack is loaded with juice – easily lasting me the entire working day and dropping me home at night with 20-30 percent left in the tank. The 91mobiles battery drain test ran for over 16 hours – which is a great result. The fingerprint scanner at the rear works brilliantly well, and is extremely fast and accurate.
Related read: Google Pixel XL benchmarks and speed test
Verdict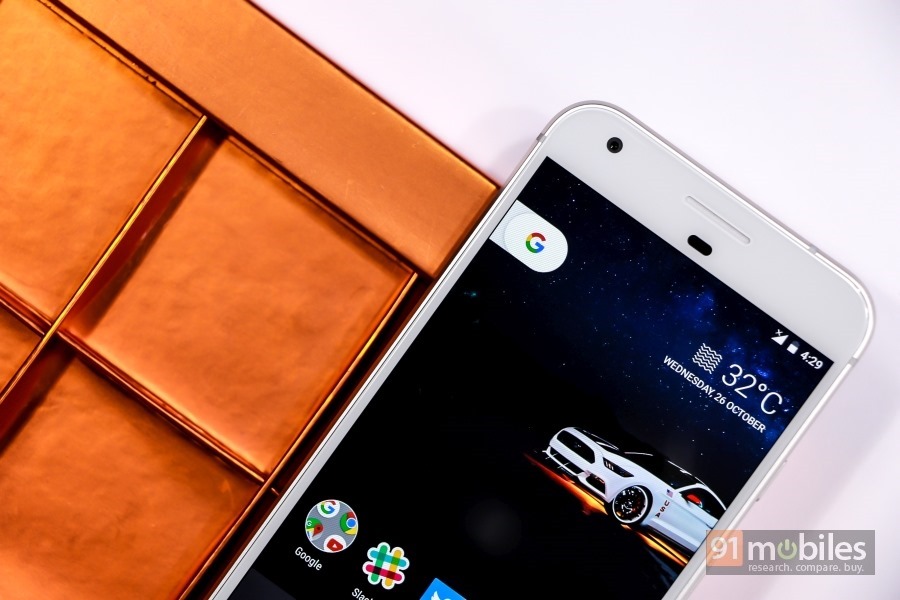 The thing with the Google Pixel XL (and the Pixel, since it's essentially the same except for differences in screen and battery) is, there's very little to complain about. Okay, it isn't waterproof, and that does seem like a glaring omission on Google's part. Samsung's Galaxy S7 (review) and S7 edge (review) are, and when they came out, they seemed to be the only mainstream flagships that were waterproof. But Apple's latest iPhones are also waterproof, which means that this is a feature I'd expect from every premium flagship smartphone now. Bafflingly, the Pixel smartphones also lack VoLTE support, but I refuse to believe that a premium flagship (or any other smartphone launched in 2016 except the most basic ones for that matter) can ignore that feature. especially with Reliance's Jio creating big waves in the country. I'm willing to give the Pixels benefit of doubt on that, and hope a software patch can bring VoLTE support. These niggles apart, the Pixel pair for me, represents the very best of Android. The only thing that comes close on the Android side is the Galaxy S7 duo, and with its solid performance, capable cameras and imperviousness to water, presents stiff competition… and the significantly lower outlay they involve also works in their favour. The pricing of the Pixel phones is a heart stopper, and puts the siblings out of reach for many. That however, seems to be the positioning Google has chosen and there's no budging from that. One of the key reasons why Apple's iPhones offer very smooth performance is said to be the complete control the Cupertino major has over both the hardware and software side of things, and with the Pixel smartphones, Google has been able to deliver the perfect marriage of hardware and software on the Android side. So if you can afford their asking price, and don't want to compromise on the usage experience, the Pixel smartphones are well worth a buy. And then there's the promise of timely platform updates from Google, fresh from the factory… Android aficionados never had it so good.
Editor's rating: 4 / 5
Pros
Google Assistant
Awesome camera quality
Super smooth performance
Great battery life
Cons
Not waterproof
No VoLTE support for now
Pricey
Photos by Raj Rout
Competitors for Google Mobile Pixel XL
| | | |
| --- | --- | --- |
| Google Mobile Pixel XL | vs | OnePlus 3T 128GB |
| | | |
| --- | --- | --- |
| Google Mobile Pixel XL | vs | Samsung Galaxy S8 Plus |