In movies, sequels are hard to crack. Not only do they have to continue the storyline, but also expand upon it so as to engage both the old and new viewers alike. That explains why we have some really successful movie franchises which are box office blockbusters, while quite a few simply crash in a bid to cash in on the success of the first movie. There are also cases when the series is immensely popular as a whole, but some individual films might have worked better than the others.
The same scenario applies to the world of smartphones too. We've seen popular series like Apple's iPhone range. Then there's Sony's Xperia series, which after the success of the first few models, faded out. Samsung was among the first Android phone manufacturers to introduce a flagship series under the Galaxy S branding, and seems to be in the third category. While some of the devices in the series were breakout hits, the Galaxy S4 and S5 (review) didn't receive the same level of adulation from the consumers. Now the Galaxy S range has reached its seventh iteration with the aptly dubbed Galaxy S7. The brand has also launched its edgier, slightly bigger sibling in the form of the Galaxy S7 edge.
At the face of it, the new Galaxy S7 doesn't seem to be much different than its predecessor, the Galaxy S6 (first impressions). However, dig deeper and you'll find several changes – both big and small. But the question remains… does the Samsung Galaxy S7 have enough in it to impress us, while carrying forward its lineage? We've been using the smartphone for the past couple of weeks to find that out.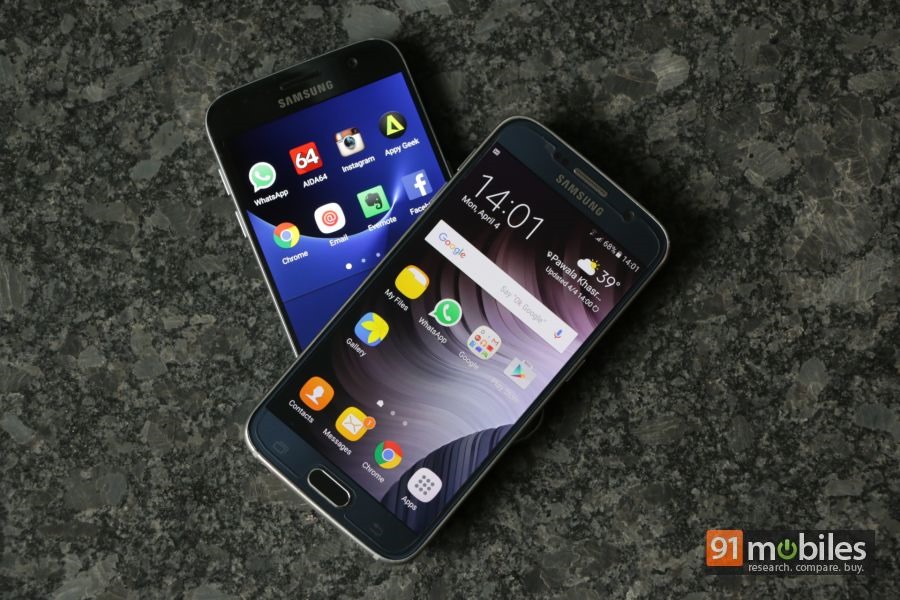 Pictured here: the Samsung Galaxy S6 on top of the Galaxy S7
Specs at a glance
Display
Size
5.1 Inch
Resolution
1440 x 2560 pixels
Performance
CPU
Quad core, 2.3 GHz + Quad core, 1.6 GHz, Samsung Exynos 8 Octa
RAM
4 GB
Storage
Internal memory
32 GB
External memory
Up to 200 GB
Battery
Capacity
3000 mAH, Li-ion, Non removable
Talktime
Up to 22 Hours (3G)
Camera
Primary camera
12 MP
Secondary camera
5 MP
Connectivity
Network support
Dual SIM 4G
Other options
Wi-Fi, Bluetooth 4.2, GPS
Others
Battery Capacity
3000
Operating system
Android 6.0 Marshmallow
Design: an elegant fusion of metal and glass
Dimensions
: 142.4 x 69.6 x 7.9 mm
The Samsung Galaxy S7 inherits the design language of its predecessor, and that's not necessarily a bad thing. The Korean behemoth sowed the seeds of its new design ethos with the Galaxy Alpha (review) back in 2014, which continued to the Galaxy A series, with the Galaxy S6 and S6 edge (and later, the Galaxy Note5 and Galaxy S6 edge+) being the pinnacle of its new design thinking. The latest flagship broadly retains the design of the Galaxy S6, with some refinements, such as smoother edges and more nuanced curves at the back. However, you'd be hard pressed to tell them apart unless you actually hold both phones together.
Samsung Galaxy S7 (left) vs Galaxy S6 (right)
Just like its recent devices, the leading smartphone maker has adopted a minimalistic approach with the Galaxy S7, since its fascia is mainly covered with the display panel and Samsung branding at the top. The panel gently curves around the edges giving an impression of the bezels being virtually non-existent at the sides. Samsung's branding, a earpiece, a secondary snapper, a notification LED and both ambient light and proximity sensors can be found above, with the row of navigation buttons below. The keys follow the traditional Samsung-esque format, with the physical home button that also doubles up as a fingerprint scanner, flanked between capacitive overview and return keys.
The metallic frame running along the edges of the Samsung Galaxy S7 gives it a robust build along with a graceful look. The power toggle is on the right spine, while the distinct volume keys are placed on the left. The ejectable tray is available up top alongside a secondary microphone. At the base, there's a 3.5mm audio interface, a micro-USB port, a microphone and a speaker grille. The brand has taken utmost care not to spoil the looks of the device because of the antenna, which merge with the top and bottom edges.
It's interesting to note that unlike many Android flagships nowadays, Samsung has stuck to a micro-USB port instead of a USB-Type C port. This makes it easier for charging or data transfers thanks to wide availability of micro-USB cables, along with making the phone compatible with the Gear VR headset.
Flip over the Galaxy S7, and you'll be greeted with a shiny rear, made out of glass. While our review unit wass classy black, you can also get Samsung's flagship in silver or gold options. Just like its previous iteration, the glass offers a reflective surface, though it still remains a fingerprint magnet. Thankfully though, it isn't as slippery. Unlike the Galaxy S6, the camera module juts out only slightly (0.46mm to be exact) and is accompanied by an LED flash, heart rate monitor and SpO2 sensor.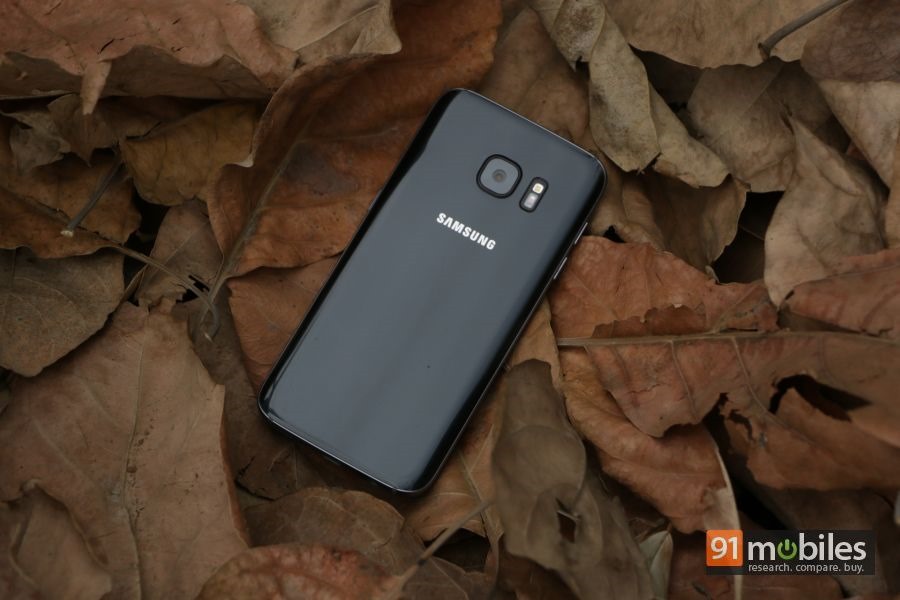 For years, phone manufacturers have increased screen sizes for their devices between one generation and the other, however now we're seeing the winds of change, with most of them starting to focus on the handling and pocketability aspect again. It's interesting to note that Samsung – the brand which innovated with the phablet form factor – is also following this trend, as it has kept the display panel at 5.1-inches for its Galaxy S flagships for the last two iterations. This allows for excellent one-handed usage and ergonomic comfort.
The Galaxy S7 defies one trend though – while most devices are slimmer and shed a few grams in comparison to their previous avatar, it's slightly thicker than the S6 (7.9mm vs 6.8mm). It also tips the scales at 152g, in comparison to the S6 which weighs 138g. However, you won't feel much of a difference as the phone seems lightweight in hand, and the increase in thickness and weight has allowed the Chaebol to include a beefy battery.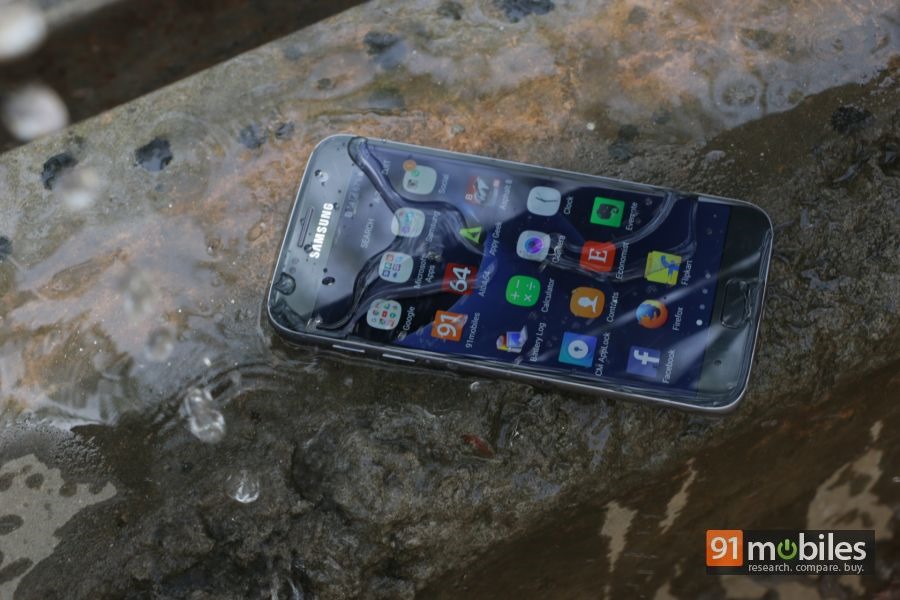 Giving into consumer demands, Samsung has brought back the waterproofing features to the Galaxy S7. The phone is IP68-certified, which means that it's impervious to both dust and water, and can remain in water of up to 1.5m depth for 30 minutes. The good part is that the ports aren't closed off, and feature a special rubber seal that repels the water. And in case there's some amount of water inside the port, you'll get a prompt notification. A word of caution though, Samsung won't cover waterproofing damage under warranty, and hence it's only advertising the S7 as water-resistant, not waterproof.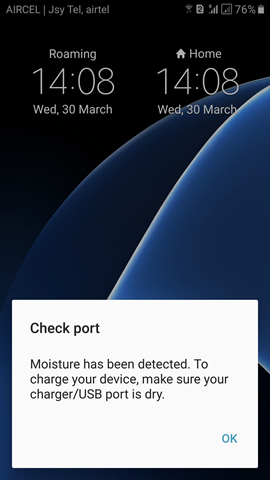 All in all, the Galaxy S7 looks and feels like a flagship, and while some may complain that the brand hasn't innovated on the design front, we think that it's still among the most gorgeous smartphones out there.
Display: the silver screen
Resolution
: 1440 x 2560 pixels
Display Type
: Super AMOLED
Brighter, crisper and gorgeous – that's how we'd define Samsung Galaxy S7's display. Not that it's any surprise, as a maker of Super AMOLED panels, all Samsung's phones rank high on display quality. The 5.1-inch screen on the S7 features a resolution of 2,560 x 1,440 pixels, which results in a dense pixel density of 577ppi. The colours are lovely too, with blacks appearing blacker and whites being whiter. The brightness levels are adequate too, and we didn't find any issues in reading the display under direct sunlight.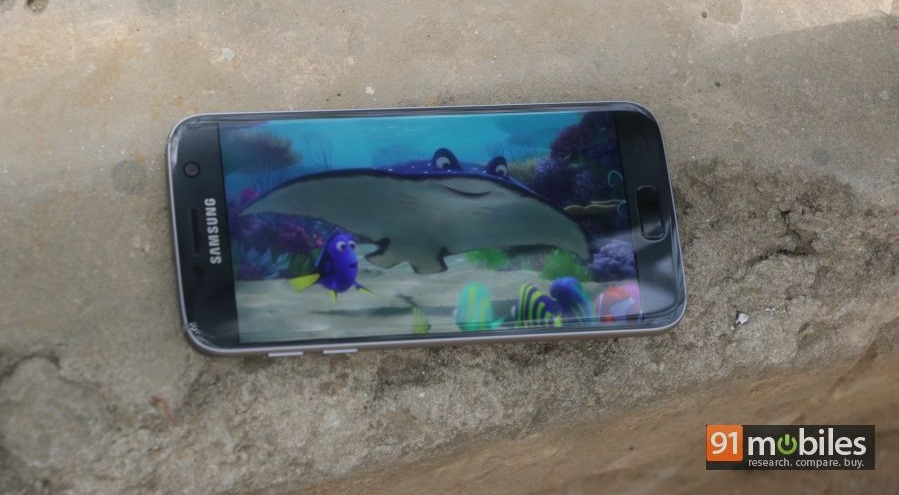 Making the display resilient against scratches and minor knocks is a layer of fourth-gen Corning Gorilla Glass, which also claims to withstand drops to a certain measure.
Similar to Samsung's previous flagships, you can enable the Smart stay option to keep the display awake as long as the Galaxy S7 can detect your eyes with its front camera. You can also choose between various display modes – Adaptive display, AMOLED cinema, AMOLED photo or Basic.
Another feature worth highlighting in the display section is the always-on display, which always shows the time and missed notifications. While you might think that this will drain the battery faster, the company promises that it only utilises 0.08 percent of the batteryin an hour. The always-on display seems to be a new flaunting feature for flagships, since the LG G5 also boasts it. However, Samsung has gone a step ahead by allowing you to customise the background of the display. You can choose whether you want to see a clock, calendar or image. You can also customise their style as well add a display background, though the latter would result in more battery drain.
Software: Marshmallow-laden Touchwiz offers a pleasant taste
Operating System
: Android
OS Version
: 6.0, Marshmallow
The Samsung Galaxy S7 siblings are the first devices in brand's stable to offer Android 6.0 Marshmallow. Samsung's minimalistic ideology continues in the software section as well, as its TouchWiz user interface isn't loaded with bloatware and is quite simple, gelling well with Google's Material Design aesthetics.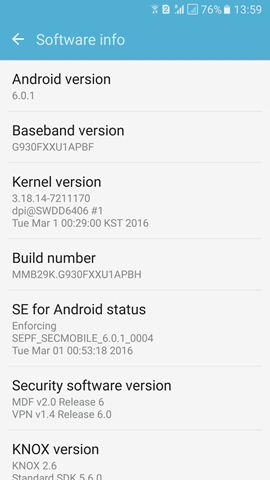 If you have ever used a Samsung device before, then you'll feel right at home with S7's interface, as most things remain the same. The left-most screen is dedicated to Briefing, which provides a visually-appealing stream of news, powered by Flipboard. Thankfully, you can disable it if you don't need it. There are two homescreens with various apps, with an app drawer to access your installed apps. The notification panel presents quick toggles up top, and notifications below.
Hitting the settings menu brings forth some interesting features, some old and many new. Smart manager provides an at-a-glance view of status of battery, storage, RAM and device security. You can also change the theme by downloading both free and paid options. If the device is being used by an elderly person, you can enable Easy mode which displays larger icons and bigger fonts. Under Advanced features, you'll find a number of options, such as games, one-hand operation, pop-up view, and support for various gestures such as swiping your palm to capture a screenshot, or directly calling a contact as soon as you bring the message or call log near your ear.
The pop-up view is interesting as users can open any app in this mode, while using another app. Of course, you can continue using two apps simultaneously, in the usual manner – click the three bar button in the overview mode or long=press the overview button while using the app.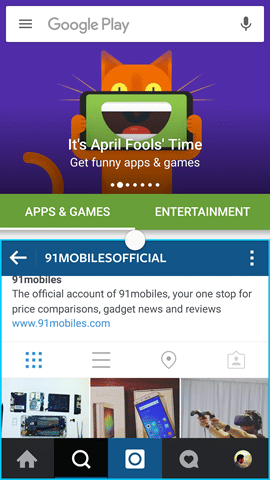 Interestingly, there's also Galaxy Labs for those who are feeling a bit adventurous. These features aren't permanent though, and Samsung is trying to see if they add any value to the user experience. Among the features here you'll find the option to disable the app drawer and view all the apps laid out on your homescreen. It's an intriguing idea for sure, since it allows the brand to try out new features and get users' feedback on their usability.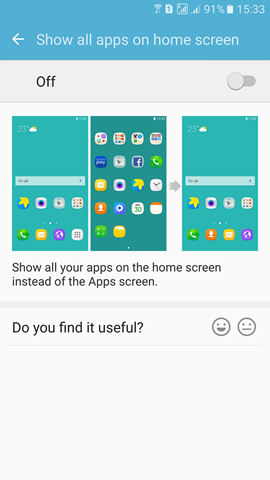 The Game Launcher is a notable addition as a one-stop place for gamers. Not only does it show all the games installed on the phone, users also get greater control while gaming. This includes the option that allows you to enjoy playing the game without being disturbed by any notifications, except calls. More useful is the fact that while playing, both the recent and back buttons are disabled, which is the most common qualm of most users, since these navigation buttons usually get pressed by mistake while gaming. You can capture a screenshot with the floating game tools option, and even record your gameplay. Additionally, you can lower the resolution and frame rates, in case you want to conserve the battery.
In terms of preloaded content, the device comes with a few apps from Microsoft along with the Galaxy essentials widget that allows you to download apps recommended by Samsung.
The app worth highlighting however is the My Galaxy app, which not only gives you some good deals, but also acts as a concierge service along with proving service centre details. The concierge service is powered by popular Haptik app, and it's kind of a personal assistant for helping you with online bookings for movies or flights, ordering food for you, and countless other things.
As much as we appreciate Samsung's revamped, spam-free UI, there are times when the interface seems poorly-optimised. We even ran into occasional freezes and app crashes.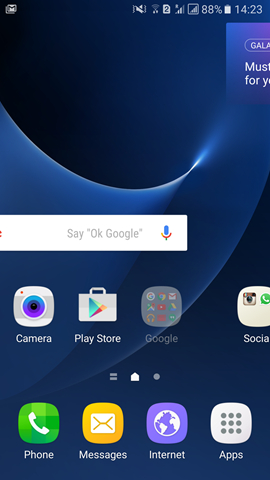 Camera: the coming of age of smartphone shooters
If there's one smartphone brand that can take on Apple when it comes to the image quality, then it has to be Samsung. Over the years, its phones have managed to deliver great photos, thanks to the combination of good hardware and image processing. While last year's flagship duo, the Galaxy S6 and S6 edge were able to come close to the iPhone's camera performance, this time around, it seems that the brand has one-upped its arch-rival. What's even more notable is the fact that it has achieved this by lowering the megapixel count to 12MP in the Galaxy S7 siblings, rather than 16MP sensor available in its predecessor(s). 12MP seems to be the new magic number, with both Apple and Google utilising this number on their flagships.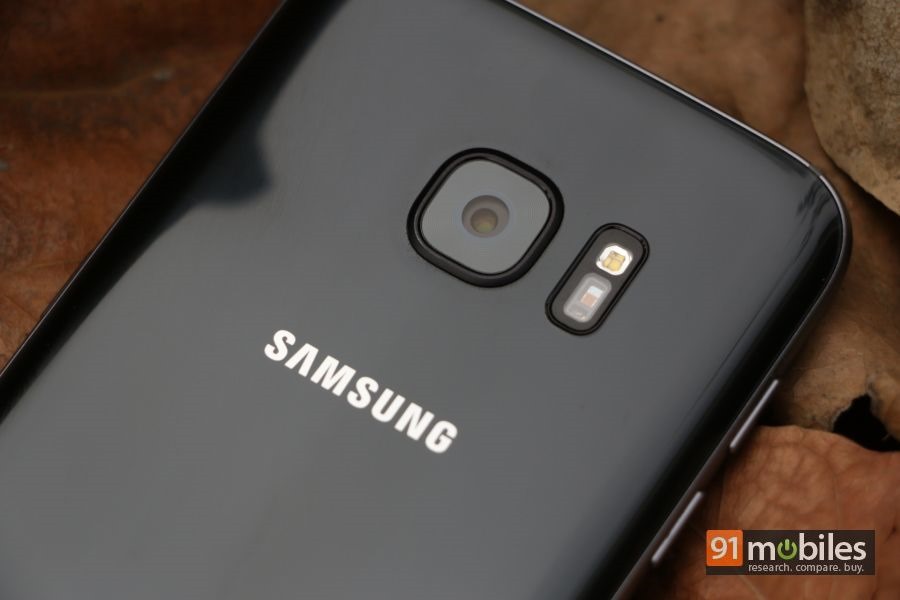 Just like last year, Samsung has used either its ISOCELL or Sony's sensors in the Galaxy S phones. While the image quality offered by both of them should largely be the same, for those interested, our review unit sported Sony's IMX260 sensor. At f/1.7, the sensor has the widest aperture for a smartphone, which allows it to let in more light. The camera also comes with optical image stabilisation for countering hand movements. Helping the Galaxy S7 focus quickly on the subject is phase detection autofocus. Samsung is also bringing DSLR technology with its latest flagships. Dubbed Dual Pixel tech, the camera sensor can utilise all the photodiodes located on the left and right of the pixel for converting the light particle into the measurable photo current, unlike most devices which can only use 5 percent for this purpose. This ensures that the phone can lock focus in a better manner, even in low-light situations.
The camera app is simple, but there's no dearth of modes and options. In the landscape mode, you can easily switch between rear and secondary cameras, turn on flash, toggle HDR, and access various modes, among other things. You can also enable different effects such as Monogram, Film and Retro. Available modes include Pro that lets you adjust ISO levels, shutter speed, etc., along with slow-mo, timelapse, and more. You can also download more modes such as Surround Shot, Dual Camera, etc. You can quickly launch the camera app from anywhere by double clicking the home button.
However, in the end, it all boils down to the image quality, and the camera on the Galaxy S7 shines in that aspect. The images clicked by the phone offer an impressive level of detail, and colour reproduction is natural too. The best part is that the camera works consistently in all situations, including offering a decent performance in dim environments. We loved the sharpness of long shots, and the attention to detail in close ups. The HDR mode is effective too. In fact, we believe that the Samsung Galaxy S7 marks the coming of age of smartphone cameras, as detailed in its camera review. Here are a few pictures captured from the smartphone, for your viewing pleasure.
Taking a page out of Apple's book, Samsung is also offering the capability of Motion photos that records a short video before capturing each picture. Unlike Apple's live photos however, which can be shared on Facebook, these pictures are only supported on the phone. In the video department, the Samsung Galaxy S7 can record videos in 4K resolution as well as capture slow motion or timelapse videos.
The front camera on the Galaxy S7 too is quite good. It's plenty sharp and colours are also vibrant.
Performance: living in the fast lane
CPU
: Quad core, 2.3 GHz + Quad core, 1.6 GHz, Samsung Exynos 8 Octa
Memory
: 32 GB + Up to 200 GB
SIM Slots
: Dual SIM , GSM+GSM
Last year marked a major change in Samsung's strategy for its flagships, wherein instead of having two different variants – one powered by Qualcomm's chipset and the other running its homegrown Exynos SoC – it only utilised its own Exynos processor. However, it has gone back to its old ways again, as both the S7 and S7 edge are available in two versions. While the global model draws power from Qualcomm's latest Snapdragon 820 chip, the one selling in India is fuelled by Exynos 8890. Most people would have raised their brows at this decision of Samsung, since the latest silicon from Qualcomm offers powerful processing along with impressive gaming capabilities with the Adreno GPU. Having said that, Exynos 8890 with its combination of is quite powerful itself, as suggested by our speed test. In day-to-day usage, there was nary an instance where it struggled while navigating between screens or switching between apps. Helping the handset handle multitasking with easy is a generous 4GB of RAM.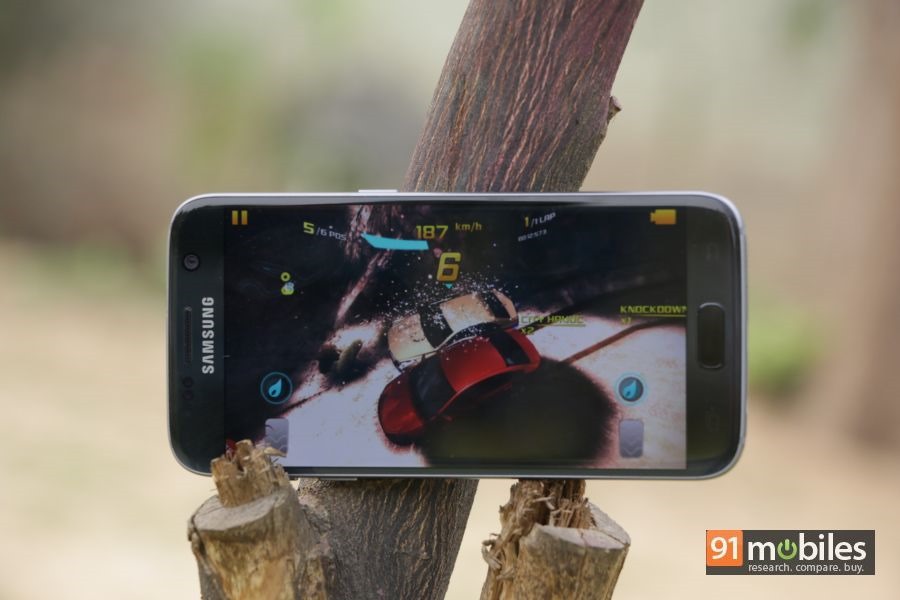 Gaming on the Samsung Galaxy S7 is a delightful affair as well, be it with casual titles such as Subway Surfers or high-def games like Asphalt 8: Airborne or Modern Combat 5. We played them for 30-40 minutes at stretch, without facing any performance issues. This is because of the Mali-T880 MP12 graphics engine and support for Vulkan API. Without going into too much technicalities, we can simply say that with Vulkan, the handset can provide desktop-class graphics performance by utilising the capabilities of the multi-core processor. The Galaxy S7 comes with a liquid cooling pipe for handling the thermal efficiency, however as revealed by teardowns as well, it's actually just a tiny heat pipe with less than half a gram of material, and the result is that the phone heats up quite a bit. It's not just while running intensive tasks, but it heats up after prolonged usage sometimes too.
Samsung's flagships have always struck a chord with power users, thanks to features such as expandable storage. However, these users were put off by the Korean company when it decided to forgo an expandable slot. But this time around, the brand has brought this feature back, letting consumers extend the available 32GB memory (about 24.3GB user-accessible) by up to 200GB. The phone also supports USB On-the-Go for plugging in flash drives.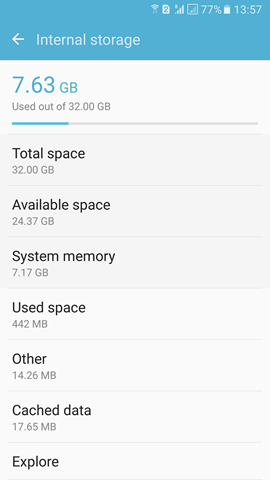 One thing to note however, is that while Marshmallow supports adoptable storage, which lets you use the microSD card as the primary storage, Samsung has disabled this option.
Samsung is offering a hybrid SIM slot for the Galaxy S7 duo, which can be used either for expanding storage or adding secondary nano-SIM card. This is particularly interesting in our opinion, since there's a dearth of dual-SIM flagships. We also liked the ability to switch SIMs for voice calls, messages or data connectivity with a quick toggle in the notification panel. Other connectivity options on offer include Wi-Fi, Bluetooth, NFC and GPS.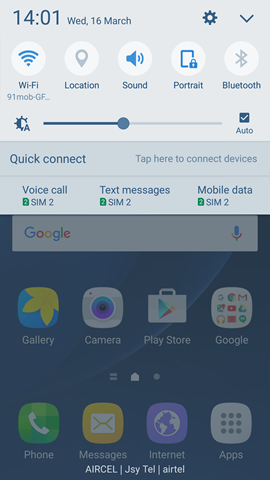 The sensors on the Galaxy S7 work pretty well. The fingerprint reader unlocks the phone in a flash, and is quite accurate. The heart-rate monitor works in conjunction with S Health app and is a good way of tracking one's fitness.
Battery: stay unplugged for longer
Capacity
: 3000 mAH, Li-ion, Non removable
Talktime
: Up to 22 Hours (3G)
Last year's Samsung flagships, be it the Galaxy S6 pair or the Note5 ranked well on all the aspects, but their battery life left something to be desired. This year though, the brand has made sure that's not the case, as it's offering a 3,000mAh Li-ion battery with the Galaxy S7. The battery ensures that the phone lasts a day of use easily. Even if you're using battery-draining features such as GPS navigation and Wi-Fi hotspot, the phone will be able to last till the evening.
In our battery drain test, the handset was able to play back a 720p video on loop for a little over 15 hours with both the brightness and volume set at 50 percent, and only cellular networks being enabled.
The Samsung Galaxy S7 also comes with a battery-saving mode, with the usual mode limiting phone's performance, vibration, etc. to extend the juice, and the Ultra mode stripping away all the functionality except calling and messaging, in black-and-white screen to elongate the battery substantially.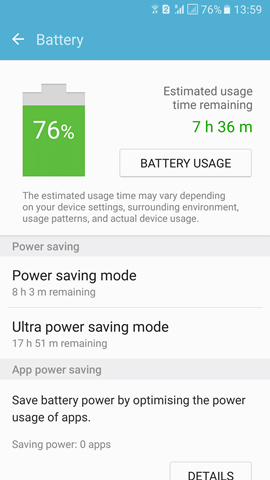 Thanks to the bundled fast charger, you can juice up the phone from 0 to 100 percent in about 90 minutes. The smartphone also supports wireless charging, that too in the fast mode, although you'll need to purchase this charger separately.
The best Android flagship in the market?
The Samsung Galaxy S6 and S6 edge were among the best Android smartphones of 2015, and brand's decision of refining them seems to be a good move. While we might not have received a revolutionary upgrade, these refinements goes a long way in adding a lot to the user experience.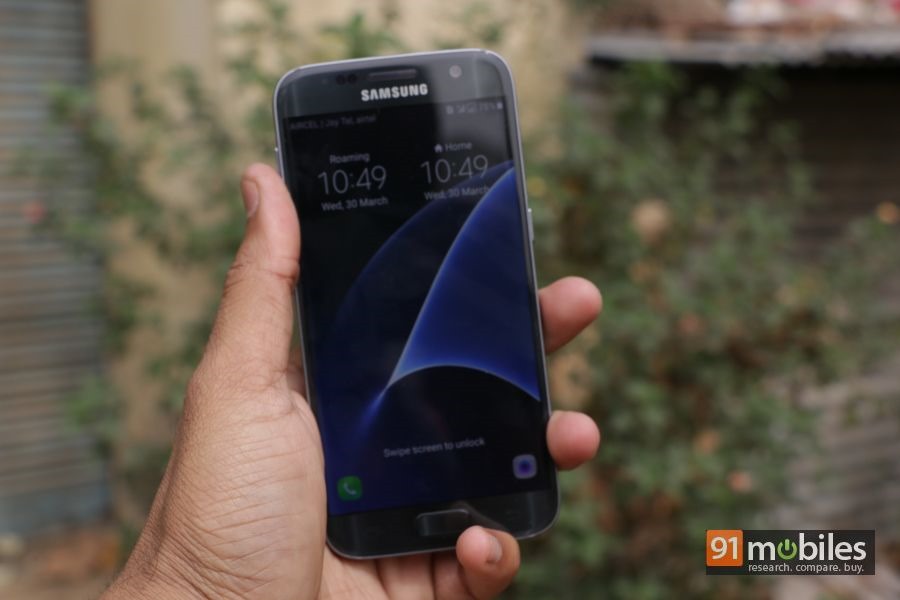 In itself, the Galaxy S7 is a great smartphone, and it's very difficult to find fault with it. But that doesn't mean that it's far ahead of the competition. LG's latest flagship, the G5 (first impressions), is expected to land in India soon, and can match it toe-to-toe along with bringing semi-modularity to the table. This adds flexibility to the G5, as it can be used as a proper camera with the Cam Plus module or a media player with the B&O audio accessory christened Hi-Fi. Then there's its arch-rival Apple's offering, the iPhone 6s, but that boils down to your OS of choice.
There's also sibling rivalry at play here – both the S7 and S7 edge (review) are great offerings, but it can be hard to choose between them. Unlike last time however, where both of them had similar screen size of 5.1-inches, Samsung has made it easier to choose between the variants this time. If you're looking for a compact device, then the Galaxy S7 is an ideal option for you. But if you want to have an enriching multimedia experience thanks to a larger 5.5-inch display panel along with flaunt value (and some useful features too) offered by the edge screen, then go for the Galaxy S7 edge.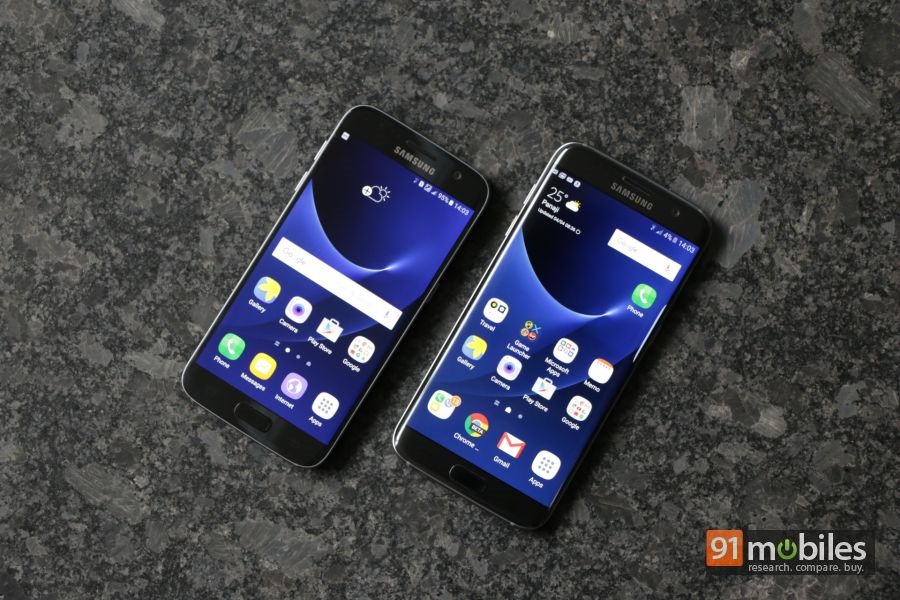 Samsung Galaxy S7 (left) vs Galaxy S7 edge (right)
However the problem for the S7 isn't related to device itself or the competition – it's the fact that smartphones have become a commodity nowadays and if you simply look for similar specs, then you'll be able to get them at half the asking price of the Samsung Galaxy S7, which is Rs 48,900. The recently-launched Xiaomi Mi 5 (first impressions) is one such option, offering a powerful performance fuelled by Snapdragon 820 SoC, at almost half the price (Rs 24,999). This is also the reason why we're giving it a rating of 4 out of 5, even though it easily deserves 4.5.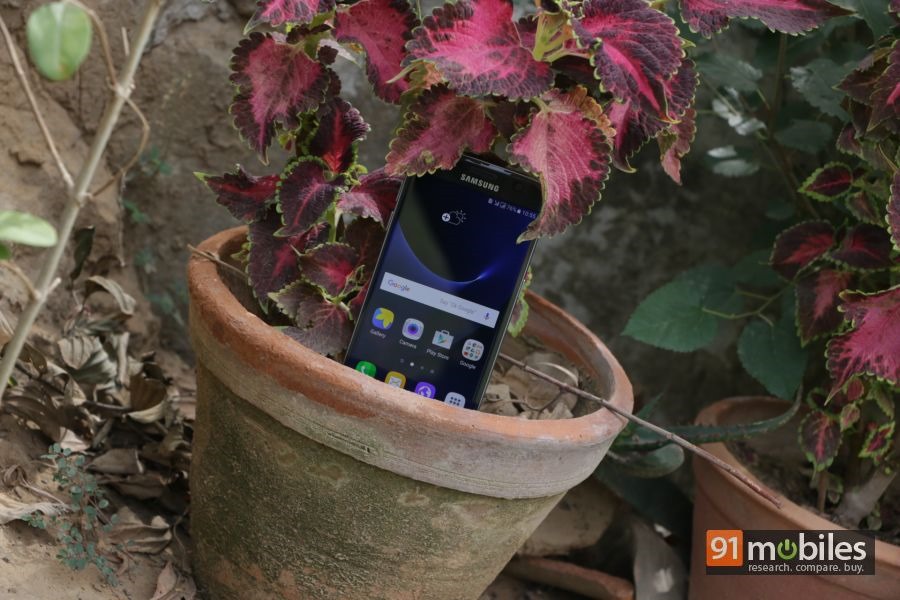 Even so, if you can afford it, the Samsung Galaxy S7 (or the S7 edge, depending on your preference), are among the best Android flagships you can currently buy.
Editor's rating: 4 / 5
Pros
Stylish looks, waterproof build
Gorgeous display
Impressive snappers
Fluid performance
Good battery life
Cons
Fingerprint magnet
Suffers from heating issues
A pricey affair
Photos by Pratik Vyas
Competitors for Samsung Galaxy S7
| | | |
| --- | --- | --- |
| Samsung Galaxy S7 | vs | LG G5 |
| | | |
| --- | --- | --- |
| Samsung Galaxy S7 | vs | Apple iPhone 6s 16GB |