"The HTC 10 is a very compelling flagship, but does it have what it takes?"
In our books, HTC takes the cake when it comes to flagship design. It's tough to beat an already gorgeous, all-metal design, but the brand has managed to do that more than once – just take a look at the HTC One and its successor, the One M8 (review) to see what we're talking about. The Taiwanese manufacturer has wowed us time and again with its design and engineering prowess, and judging by the device we now hold in our hand, it seems to have done it yet again. This time around, there's no 'One' in the moniker, and the brand's latest is simply called the HTC 10.
A flagship smartphone is a lot about the design and build quality if you ask us, and needs to look and feel quite premium – and this is exactly where the HTC 10 (first impressions) shines. Of course, a new-generation flagship needs to up the ante in various aspects, and make sure it offers enough to the users to justify its asking price. Let's dive into a detailed review of the 10 (yeah, we'll just have to call it that to avoid repeating the brand name over and over again, so bear with us), to see how it fares.
Specs at a glance
Display
Size
5.2 Inch
Resolution
1440 x 2560 pixels
Performance
CPU
Quad core, 2.2 GHz + Quad core, 1.5 GHz, Snapdragon 820
RAM
4 GB
Storage
Internal memory
32 GB
External memory
Up to 2 TB
Battery
Capacity
3000 mAH, Li-Polymer, Non removable
Talktime
Up to 27 Hours (3G)
Standby Time
Up to 456 Hours (3G)
Camera
Primary camera
12 MP
Secondary camera
5 MP
Connectivity
Network support
Single SIM 4G
Other options
Wi-Fi, Bluetooth 4.2, GPS
Others
Battery Capacity
3000
Operating system
Android 6.0 Marshmallow
Design: a fresh design without breaking the mould
Dimensions
: 145.9 x 71.9 x 9.0 mm
We won't beat about the bush and just say it up front – the HTC 10 doesn't break the mould in terms of design. And yet, it manages to stand out with its own distinct character – a feat in itself. While Samsung has chosen to take the safe route by not mucking about with the design of its latest flagships, LG is making a bold move with the G5 by making it semi modular. HTC on the hand, seems to have chosen middle ground – as it hasn't changed the design for its flagship significantly, but has still managed to give it a different look and feel.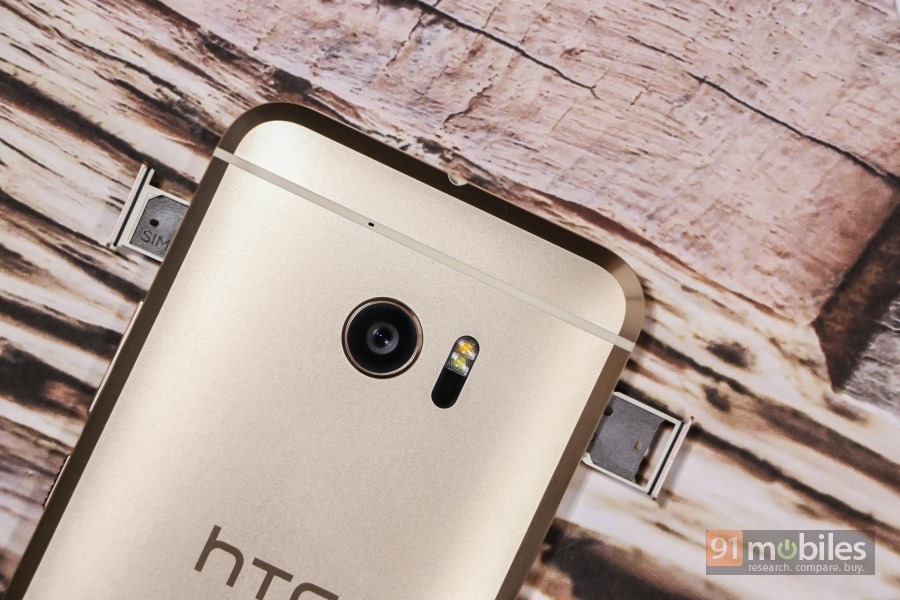 Of course, the HTC 10 is a full-metal phone, and we'd have expected nothing less. However, its curved rear flattens out on the sides due to the presence of a wide, chamfered band, that gives it a unique look. The machined, industrial looking design also adds to the grip, and overall, we think that the HTC 10 is possibly the most well made and stylish Android flagship currently available.
Our review unit comes in champagne gold, and at the front you'll see white bezels surrounding the display. The 2.5D curved glass adds more to the premium feel. On top, you'll see the earpiece, sensors and the large lens for the front camera, while notification LED is hidden right below the earpiece. On the chin, you'll find a oval-shaped capacitive home key that integrates a fingerprint scanner, flanked by a pair of backlit keys for navigation. Notably, the HTC 10 has moved away from the virtual navigation keys found on its predecessors, and has even got rid of the trademark BoomSound dual speaker setup (visually at least). The BoomSound tech is still there though, and has been integrated into the speaker which is located at the bottom, supposedly with a dedicated amplifier for each speaker.
Talking about the bottom of the phone, this is where you'll find the primary microphone, a USB Type-C port and the speaker. The 3.5mm headset socket is located on top, placed on a white inlay that feels like plastic.
On the right, you'll find a tray that accepts a nano-SIM, plus a volume rocker and a ridged power key. The left spine has nothing save another ejectable tray, and this one gobbles up a microSD card.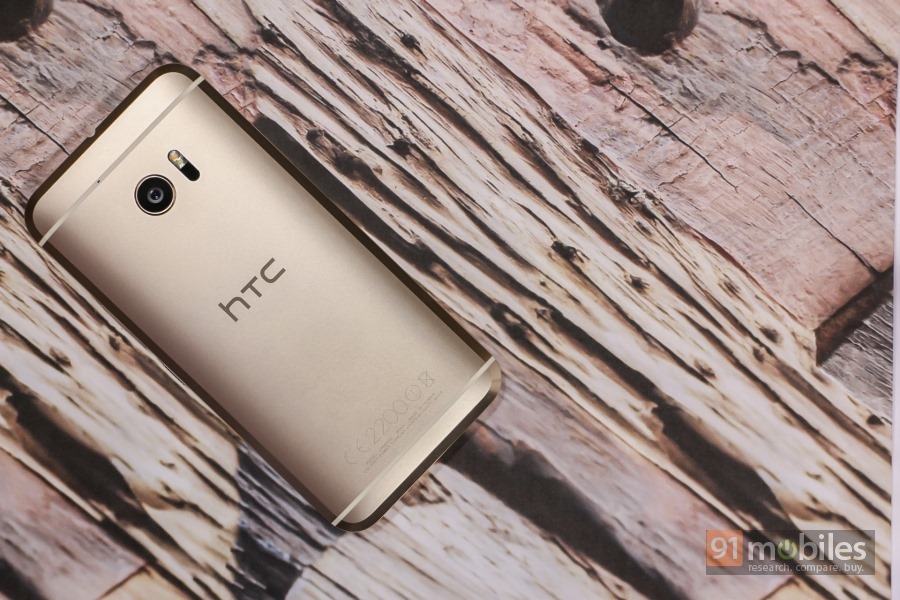 The first thing that greets you at the rear is the aforementioned chamfered band that runs around the device, but the slightly protruding camera lens is also quite noticeable. Next to it, you'll see a module that integrates a true-tone flash and a laser autofocus sensor. HTC branding and some regulatory info can also be found at the rear.
Display: no AMOLED this, but still Super
Resolution
: 1440 x 2560 pixels
The HTC 10's 5.2-inch QHD display is very capable, and produces lovely visuals. The Super LCD5 panel lacks the AMOLED goodness of Samsung Galaxy S7's screen which makes the colours look less punchy in comparison, but it still does a great job and we think the hues look quite natural. We had no issues with sunlight legibility or viewing angles.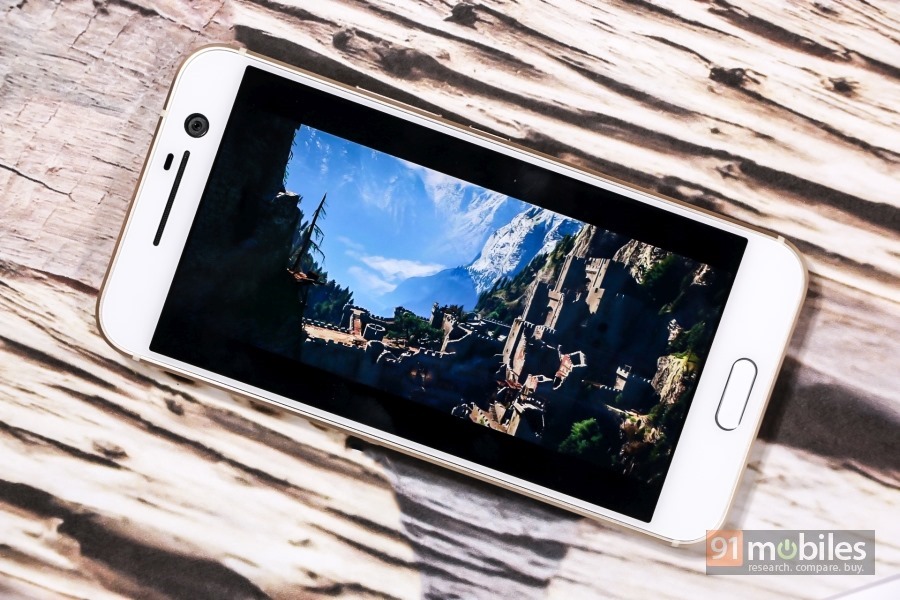 The touch response is excellent, and there's a glove mode available in case you'd like to enhance its sensitivity.
There's also an option to tweak display output available under settings, and you can choose between vivid and sRGB modes and adjust the colour temperature as per your preferences.
Software: makes a lot of Sense
Operating System
: Android
OS Version
: 6.0, Marshmallow
It wouldn't be unreasonable to expect Marshmallow on a new Android flagship, and since this is an HTC smartphone we're talking about, there's no escaping the brand's Sense UI. The HTC 10 ticks both boxes. This time around, HTC says it has worked closely with Google to 'reboot the Android experience', as it says, and has cut down drastically on bloatware and app duplication. This means that standard apps like the image gallery, calendar and music aren't to be found, and the device depends on Google for those.
Apart from the Google suite, the list of preloaded apps covers News Republic, Facebook, Instagram, and Boost+. For text input, there's the themeable TouchPal keyboard.
Boost+ is a suite that integrates a storage and RAM booster, an app manager, a junk cleaner, and an app locker. It also includes a game battery booster that promises to prolong battery life while playing selected games.
The overall look is minimalistic too, and very clean. Apart from the usual home screens and a vertically-scrolling app drawer, you get the Blinkfeed pane occupying place of pride on the side of the homescreens. Customisation options include the ability to change app grid size, choosing separate wallpapers for the home screens and the app drawer, and downloadable themes.
HTC has added an interesting take on themes by offering something called 'Freestyle layout themes'… in addition to the regular ones that change the icons and wallpapers. Freestyle themes give you stickers in places of the usual app icons, which can be used to launch apps. These stickers are not bound by the usual app grid restrictions and can be placed anywhere on the home screens.
Elsewhere, you'll find support for Motion gestures, which allow you to wake up the device with a double tap, unlock or swipe to access the home screen or BlinkFeed, right after you pick up the phone in portrait mode. The UI can also be switched to a simple home launcher, giving you an easy-to-understand tile-based interface if you wish.
Camera: right up there with the best, almost
Flash
: Dual-color LED Flash
HTC is known for its innovation in the smartphone photography segment, and it's leaving no stone unturned to make sure its latest flagship hits bull's eye in this department. The 10 doesn't play up too much on megapixel count, offering a 12-meg primary and a 5-meg secondary shooter. It does however, bump up the pixel size in an attempt to capture more light and come up with worthy shots. Laser autofocus has been added to ensure speedy focussing, while OIS takes care of eliminating blur resulting from shaky hands. Going a step ahead, even the front camera rocks optical image stabilisation, making the HTC 10 smartphone the first with this particular trick up its sleeve.
The camera app is neatly laid out, presenting most modes and shooting options up front. An easy to access sidebar lists the available shooting modes, which cover the likes of Zoe video (captures a still shot and a 3-second video clip), plus a pro mode that lets you shoot in RAW along with offering control over more settings.
You really should jump to our detailed review of the HTC's 10 camera capabilities (opens in a new tab) for the complete lowdown, but in a nutshell, the phone can shoot quite well under most conditions. We do have an issue with the punchiness of the colours and lack of consistency, but more often than not, you'll walk away with some nice, share-worthy images. Low light shots also turn out quite nice. Overall though, the snapper lacks a little something and stays a shade behind our current photo champs, the Samsung Galaxy S7 and its sibling, the S7 edge. Arguably, the front snapper on the 10 is one of the best we've encountered, with its larger pixels and OIS helping you capture lovely selfies. It's even got a screen flash feature. Here are some samples from the HTC 10's shooter.
Performance: zooms by and rocks our boat
CPU
: Quad core, 2.2 GHz + Quad cor…
Memory
: 32 GB + Up to 2 TB
SIM Slots
: Single SIM , GSM
After the disaster that was the Snapdragon 810, things seem to be looking up for Qualcomm, as its latest top-end SoC, the Snapdragon 820 has been getting a great response. This chip is now the defacto standard for flagship smartphones, and the HTC 10 also relies on the same for horsepower. Combined with 4 gigs of RAM, it delivers buttery smooth performance with the HTC 10… with nary a sign of lag.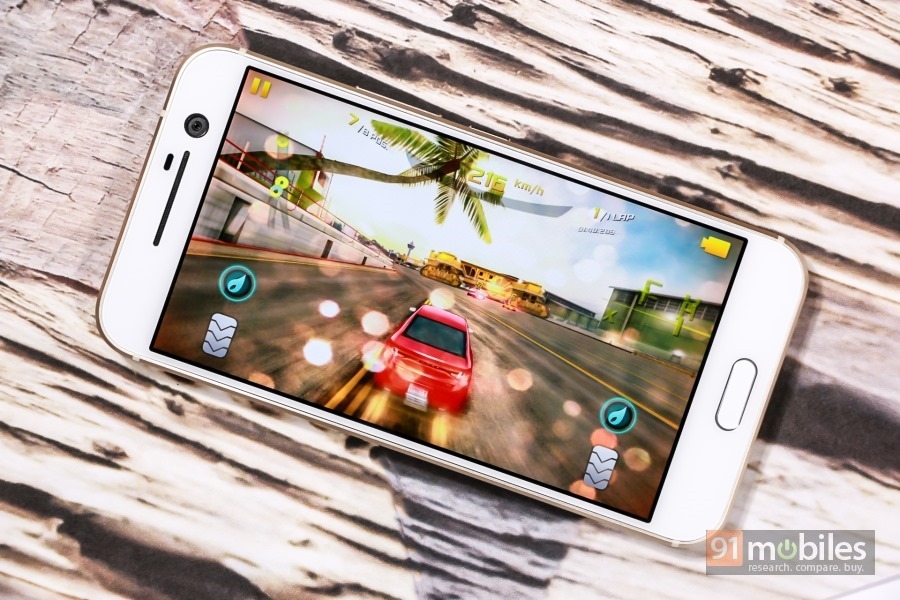 Goes without saying that everything from mundane, day-to-day apps, and even intensive games, run like clockwork on the phone. The cool metal turns warm when stressed, but not uncomfortably so.
For storing your own stuff, you get almost 23 gigs out of the 32GB internal memory, and there's the dedicated microSD card slot if you need more storage. It's worth mentioning that the HTC 10 supports Android Marshmallow's adoptive storage feature that lets you format a microSD card and use it as internal storage, so that's another feather in its cap. The device is loaded in terms of connectivity as well, and apart from the usual options, also offers NFC and DLNA.
Call quality on the smartphone is pretty good, and while the traditional BoomSound speaker setup is no longer there, you get BoomSound Hi-Fi instead – utilising the earpiece on top and the speaker at the bottom to churn out audio. This features a tweeter on top and a mini subwoofer at the bottom, with separate amplifiers for each driver. The speaker output therefore, is pretty rich.
The smartphone also boasts 24-bit Hi-Res audio and Dolby Audio, but we weren't able to try it out properly since our review unit didn't come with Hi-Res earbuds. The retail pack should have them included though. Also worth mentioning that the HTC 10 lets you create custom audio profiles when you connect headphones to tweak output as per your preferences – something that should be appreciated by audiophiles.
The fingerprint scanner at the front is very accurate, and very very fast. It can recognise fingers even if you place them on the sensor sideways or upside down, and since the home button is capacitive, you don't need to press it to wake up and unlock the phone. A firm tap is all that's required – and there's an option for this that needs to be enabled under settings.
The 3,000mAh battery should suffice for a day's worth of usage, provided your usage isn't too heavy. In this respect too, the HTC 10 lags a tad behind the Galaxy S7, which lasts longer on a single charge. This was highlighted again by the video loop drain test, in which HTC's flagship lasted nine and a half hours… much lower than the Galaxy S7 which lasted 15 hours in the same test.
Verdict
There's no denying the fact that HTC's latest flagship is a solid all-rounder and a winning effort by the brand. In terms of both specs and pricing, it goes head to head with two able contenders, the Samsung Galaxy S7 and the LG G5 (first impressions). The G5 is in a different league with its semi-modular approach, and lacks the premium feel expected of a true flagship… making it apt for only those who're enticed by its ability to add more features through its add-on accessories. The Galaxy S7 (review) then, is really the real nemesis for the HTC 10, and it's unfortunate that HTC's offering pales behind the Samsung flagship in a few crucial aspects – namely camera quality and battery life. The IP68 rating that makes Samsung's flagship impervious to both dust and water is yet another point in its favour. The HTC 10 also can't boast any "cool" features like a heart rate sensor or accept any mods the way the LG G5 does.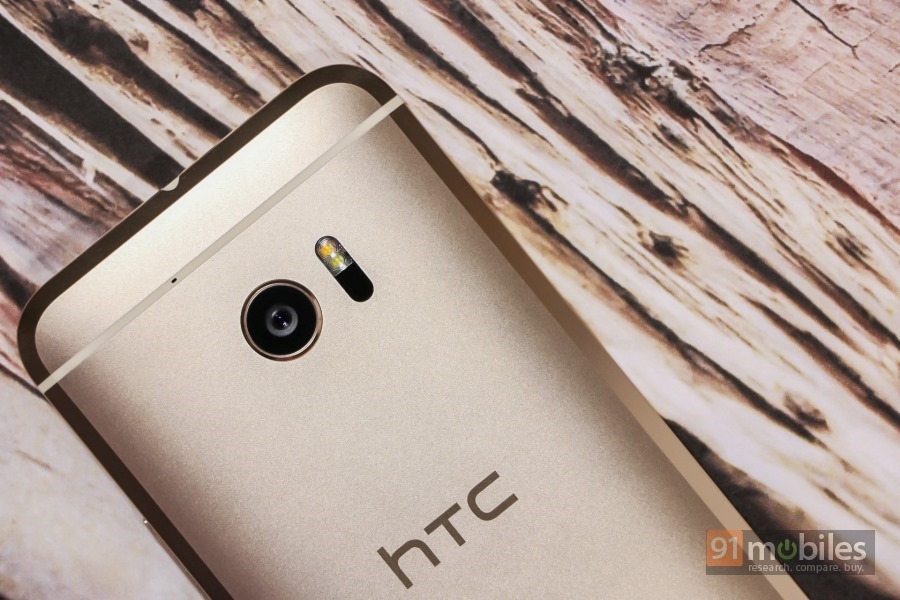 All said and done, we love the HTC 10's design and build, and would prefer its classy metal bod over the Samsung Galaxy S7's combo of metal and glass any day. HTC's no-frills approach to features and software is also quite nice to have. You should note that the HTC 10's issues with camera quality and battery life we mentioned earlier are purely relative, and on their own, shouldn't leave you asking for more. The S7 wins this race, sure, but that doesn't mean that the HTC 10 can be ignored by anyone looking for a premium flagship. The 10 may not score 10 on 10, but it's still a worthy smartphone that shouldn't disappoint you if you choose it as your daily driver.
Editor's rating: 4 / 5
Pros
Stylish, classy looks
Solid build
Good imaging capabilities
Excellent selfie snapper
Compelling audio features
Cons
The primary camera leaves a little to be desired
Not as loaded with features as its closest rivals
Photos by Raj Rout
Competitors for HTC Mobiles One M10
| | | |
| --- | --- | --- |
| HTC Mobiles One M10 | vs | Samsung Galaxy S7 |
| | | |
| --- | --- | --- |
| HTC Mobiles One M10 | vs | Samsung Galaxy S7 Edge |