Honor is known for making good-looking smartphones, and it seems that the philosophy of blending attractive design and good hardware has also spilled over to its other products like smartwatches and laptops. In 2020, Honor plans to offer more products in India apart from just smartphones. The Honor Magic Watch 2 (first impressions) is one such product. The newest smartwatch from Honor has been launched in India with an affordable price tag that starts from Rs 11,999.
Honor Magic Watch 2 more or less sticks to the same formula as its predecessor, the Honor Watch Magic. It offers a traditional watch-like circular design, sports a circular AMOLED display, and promises to deliver long battery life. The Magic Watch 2 also improves on its predecessor by offering a sleeker finish and new exercise features.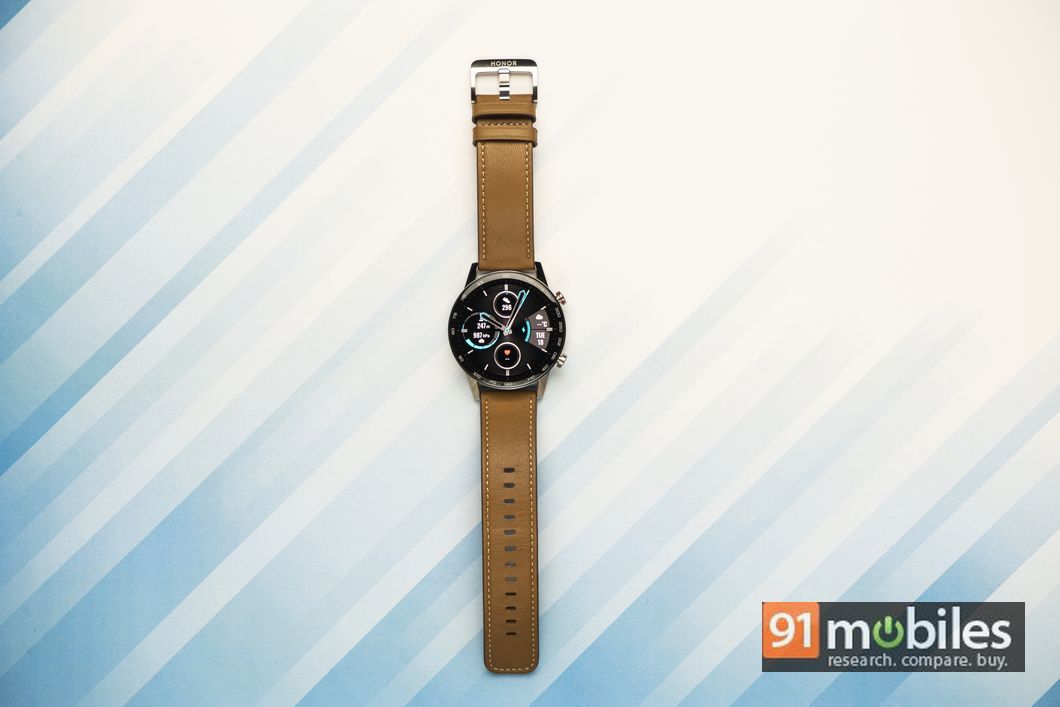 Verdict
The idea behind the Honor Magic Watch 2 is simple – offer an attractive design and enough smart features to keep fitness enthusiasts happy. Not only does the Honor Magic Watch 2 fit the brief, it goes a few steps further by offering a terrific battery life and useful features like sleep tracking and heart rate monitoring.

Why pay in full when you get EMIs with 0% interest?
Buy the Honor Magic Watch 2 now and pay later in flexible EMIs!
No application fee
No down payment required
No pre-closure fee
Design and display
While the Honor Magic Watch 2 sticks to the circular watch design, the finish is slightly different compared to its predecessor. To recall, the Honor Watch Magic offered a display with raised bezels, which made it look a lot like a traditional watch. Here, however, the tachymeter bezel is aligned with the display and are both covered by a curved glass. This not only makes the watch look sleeker, but also gives it a more youthful look that should attract a younger demographic.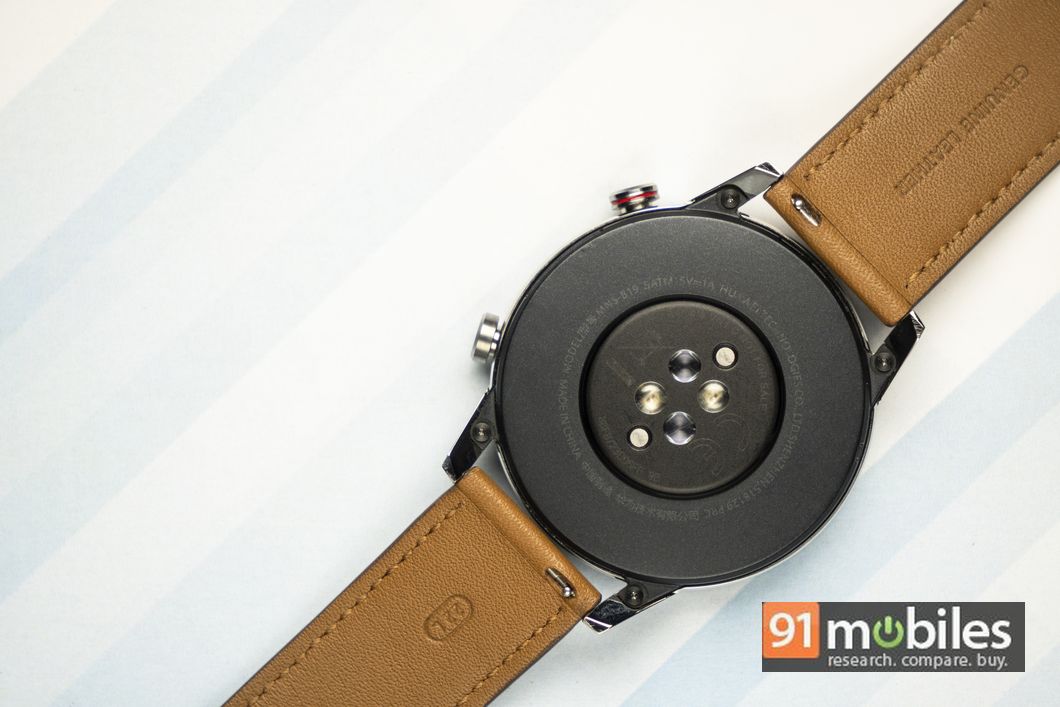 The smartwatch is available in two sizes, 42mm and 46mm. It comes in a combination of colour and strap options – stainless steel body w/ leather straps, a charcoal black body with silicone straps or a gold-plated body with rose gold steel straps. There is a good range of options that should make sure you find something to suit your taste. The unit I have with me review is the stainless steel model with faux leather straps, which looks elegant and classy. From a fashion point of view, it goes well if you're someone who likes to dress formally to work. The charcoal black with silicone straps offers a more sporty look for casual wear.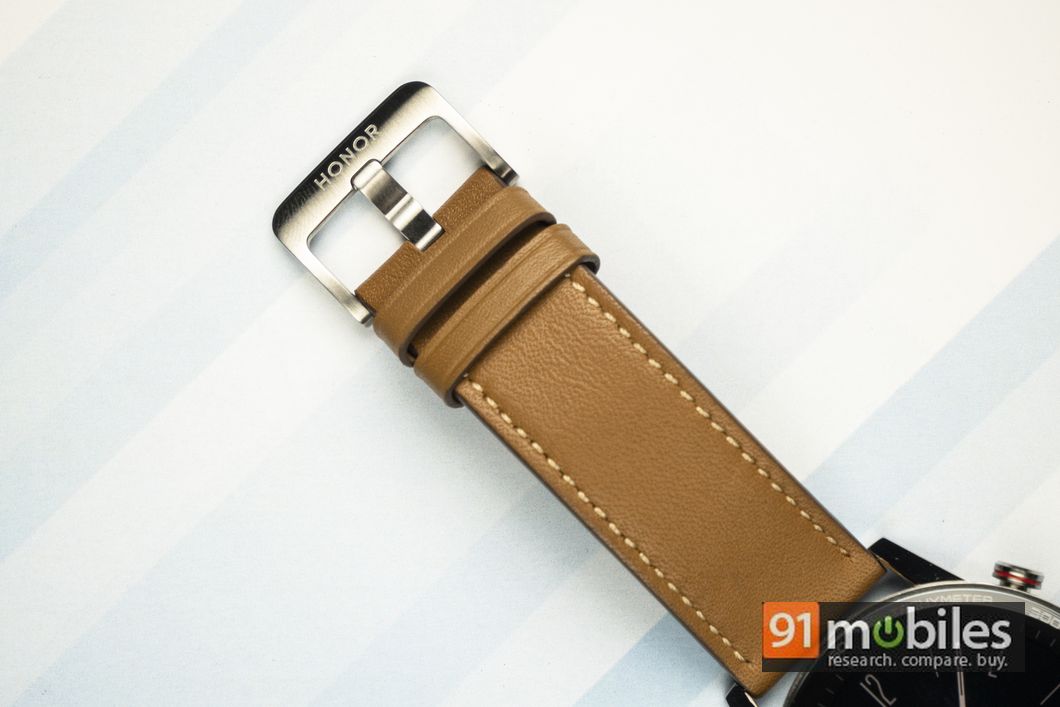 Despite its large size and 41 grams weight, the 46mm Honor Magic Watch 2 feels light on the wrist. The larger body allows for a bigger battery, and a speaker and microphone. In comparison, the 42mm variant is slimmer and lighter, but this comes at the expense of a shorter battery life and no speaker or microphone.
The 46mm size variant sports a 1.39-inch AMOLED touchscreen display, while the 42mm version gets a 1.2-inch screen. The larger display is far more convenient to interact with. Since you don't get a rotating bezel for navigation as you do on some Samsung smartwatches, you will have to touch the screen to scroll through the UI. Doing this on the 1.39-inch screen felt easy enough and there's plenty of screen real estate, so you won't be blocking the text while navigating.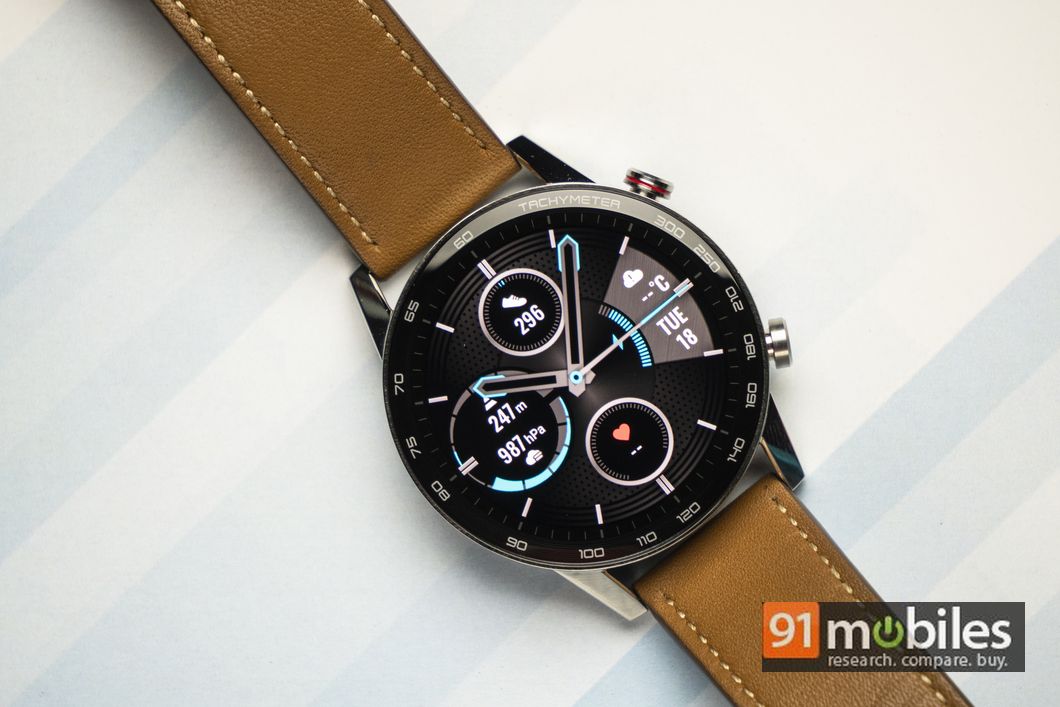 There are two buttons on the right side of the body. The top button brings up the menu carousel that includes workout, heart rate, sleep, stress, contacts, weather, alarm and settings, among other things. The bottom button takes you directly to workouts.
The screen itself is quite bright even when viewing outdoors under sunlight. The AMOLED display on the Honor Magic Watch 2 is vibrant, offering plenty of colours and good viewing angles, so it's quite visible even when viewing it at an angle. The Honor Magic Watch 2 features a coloured always-on display, which is a feature missing on the Huawei Watch GT 2 (review). Do note that enabling the always-on display will affect the battery life of the smartwatch, which we will talk about in the battery section of this review.
Performance and fitness tracking
The Honor Magic Watch 2 is powered by the new Kirin A1 chipset, which is the same SoC that powers the Huawei Watch GT 2 as well. The Kirin A1 has a dual-chip design and supports Bluetooth 5.1 and Bluetooth Low Energy, which means the chip can be quite power efficient.
The smartwatch ships with Huawei's custom software, which is fairly simple and user friendly. You need to swipe down from the main screen to show quick action options, while swiping up will show you recent unread notifications. Speaking of notifications, you won't be able to interact with messages that you receive on the watch, whether it is paired to an Android phone or an iPhone. Browsing through the watch UI felt a little sluggish, while touch response could have been better.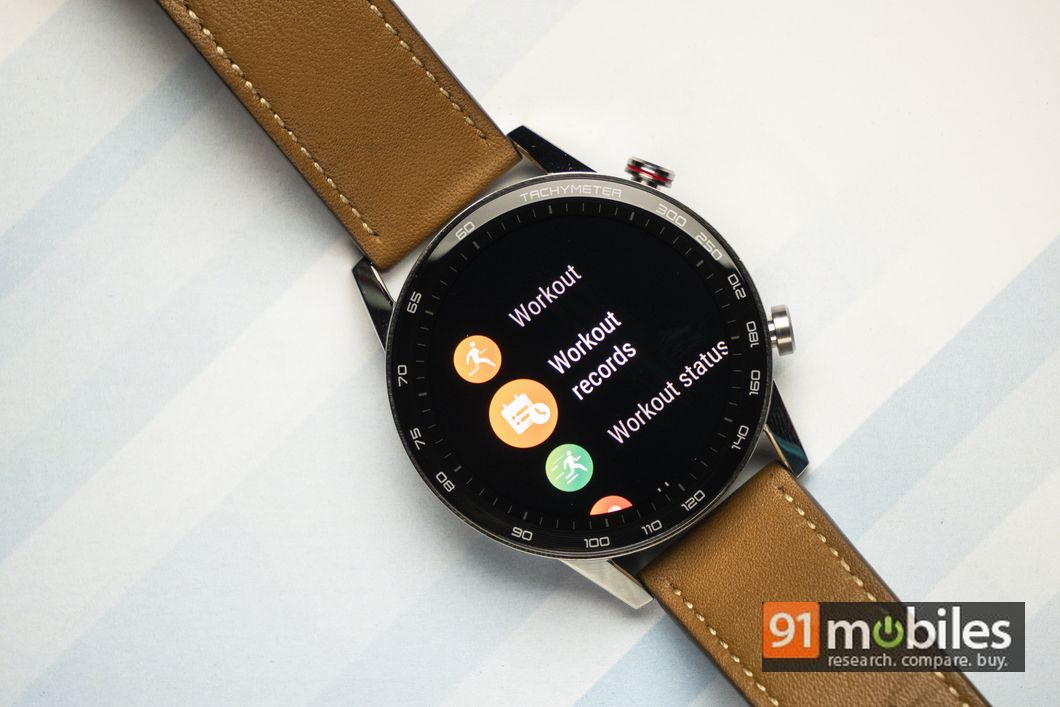 You can receive calls on the Honor Magic Watch 2, and even speak through the microphone on the 46mm variant. The speaker on the side of the watch delivers a fairly loud and clear sound as long as you're in a quiet room. Personally, I have never found speaking through a smartwatch to be more convenient compared to calling on a smartphone.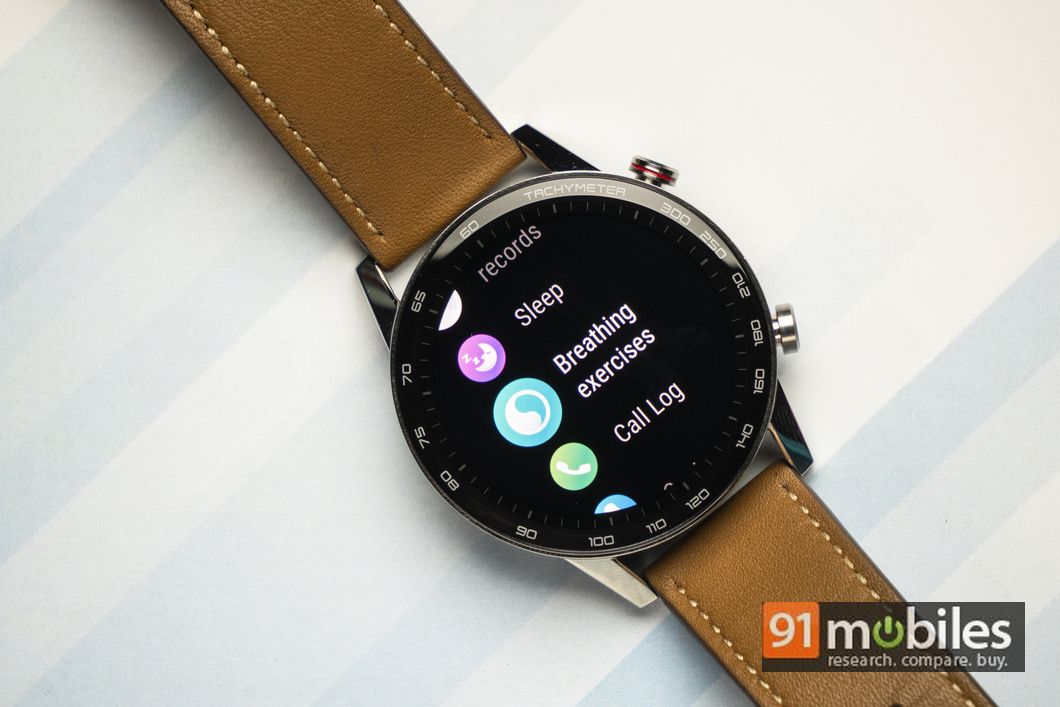 The Honor Magic Watch 2 comes preloaded with 15 fitness-based activities that include indoor cycle, running, hiking, pool swim, climbing and so on. Additionally, you get 13 running courses that are more focussed as they offer different intensity levels and durations. There is also a voice assistant that guides you in each activity on the 46mm variant. I couldn't test out all the activities, so it's hard to assess the accuracy for all of them. However, when it comes to walking and running, I found the Magic Watch 2 to be fairly accurate when it came to measuring my steps and heart rate. The Honor Magic Watch is water resistant up to 50 meters, and offers a swimming tracker as well.
The built-in sleep tracking feature was quite on spot too. The watch was largely accurate in detecting when I went to sleep at night and when I woke up. The accuracy tends to improve the more you wear the smartwatch to bed. The Huawei Health app provided a good overview of your sleep pattern over days, weeks and months. The watch also tracks REM sleep, light and deep sleep, and offers an analysis on your sleep pattern to help you sleep better.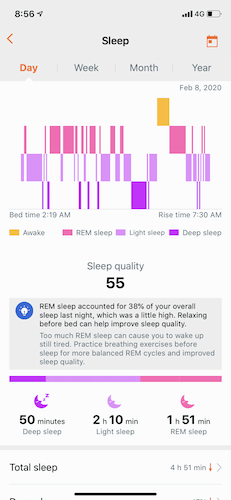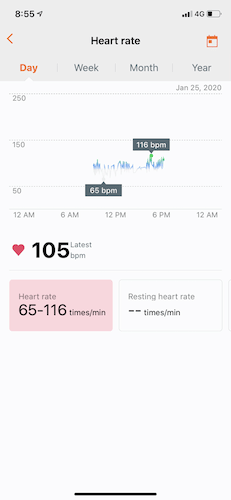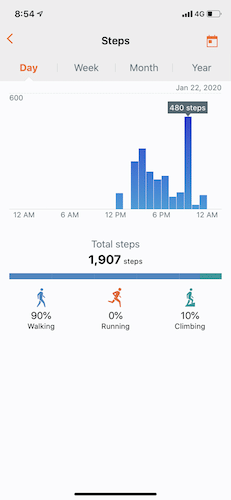 Overall, the watch offers plenty of workout features and sleep tracking to keep fitness enthusiasts happy. Moreover, the watch also provides a comprehensive feedback regarding your workouts and sleep pattern, which can be quite helpful. In fact, even Apple doesn't provide a built-in sleep tracker yet for the Apple Watch.
However, the lack of a dedicated app store means you won't be able download third-party apps like Spotify for music streaming. It also means you won't get to try out alternative workout or sleep tracking apps like Sleep, Strava, Nike Run Club and so on. But if you're not looking to download extra apps on a smartwatch, you will be satisfied with the features on the Honor Magic Watch 2.
Battery
The 46mm Honor Magic Watch 2 highlights a 14-day battery life on a single charge, and it lives up to its promise. The smartwatch offers a terrific battery life, easily lasting me over 10 days. This isn't surprising considering the smartwatch doesn't support third-party apps, or anything that would significantly drain its battery.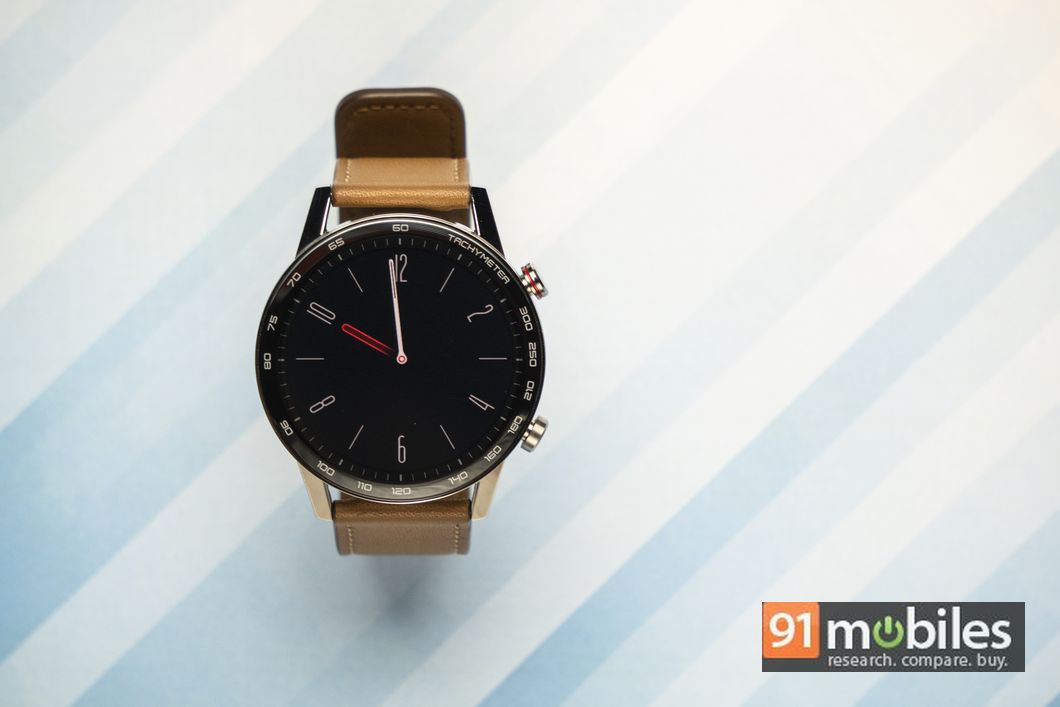 With Always-On display enabled, battery life is cut down by a few days, but I still got a solid 7 days on average. Suffice it to say that you can comfortably forget about charging the Honor Magic Watch 2 for days, and still be left with enough battery when the thought of charging the watch suddenly strikes you. You will be able to charge the smartwatch via a magnetic dock, and it takes a little an hour to juice it up from zero to 100 percent.
Do note that the 42mm variant holds a smaller battery and only promises 7 days on a single charge. This could reduce further with Always-On display and continues sleep tracking enabled.
Final verdict
The Honor Magic Watch 2 is a terrific smartwatch considering its price tag of Rs 11,999 for the 42mm variant and Rs 12,999 for the 46mm version. Sure, it has a closed software that does not allow you to add apps or anything more than what is being offered, but that really didn't bother me. The Honor Magic Watch offers the essentials that one expects from a smartwatch. It gets plenty of workout options and is fairly accurate with its heart-rate and sleep tracking data.
The two biggest reasons to go for the Honor Magic Watch is its design and battery. The large circular dial and faux leather finish makes it look classy and elegant, while its battery life will not give up on you no matter what. The best thing going for the Honor Magic Watch 2 is that it doesn't face a lot of competition right now. It's biggest rival is Huawei's own Watch GT 2, which slots slightly higher on the price scale.
Since the Honor Magic Watch 2 does not run Wear OS and lacks a dedicated app store, it will be limited in terms of third-party app support and customisability. That being said, if all you want is a good-looking smartwatch with enough fitness and health-related features to keep you active, and a long-lasting battery life, then the Honor Magic Watch 2 should be more than enough.
Editors rating: 4 / 5
Pros
Sleek and attractive design
Excellent battery life
Sleep tracking and Always-On display
Cons
No third-party app support
Sluggish UI