"Need a 10-inch Windows slate? The Omni 10 might fit the bill"
Microsoft is trying to make a swift transition to the world of mobile devices, but it's no hidden fact that it's struggling to do so. Not only in the mobile phone segment, even in the tablet arena, Windows-based devices haven't been able to make much of a mark against Android and iOS rivals. But manufacturers are not giving up on their Windows-toting efforts and popular computer manufacturer HP is among those. It's Omni 10 comes across as an affordable 10-inch tablet. On paper, it features a solid spec sheet, but how well does it hold up in day-to-day usage and specifically when compared to the competition? Let's find out.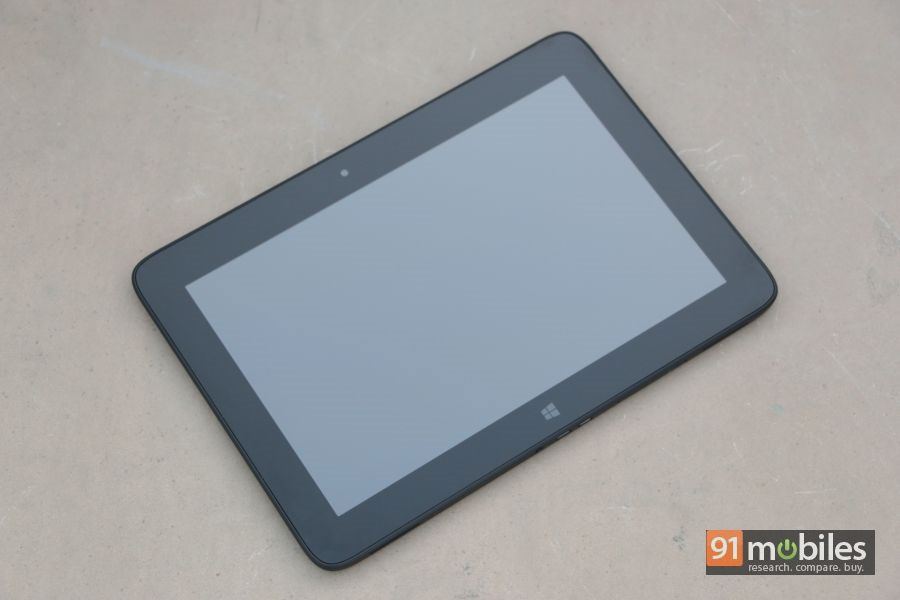 Specs at a glance
Measures 180.30 x 259.10 x 10.20 mm
Weighs 635g
10-inch display with a resolution of 1,920 x 1,200 pixels
Intel Atom Z3770 chipset with four cores clocked at 1.46GHz
2GB RAM
32GB internal storage, expandable up to 32GB
8-megapixel rear camera and 2MP front camera
Wi-Fi, Bluetooth 4.0
Runs Windows 8.1
Two-cell battery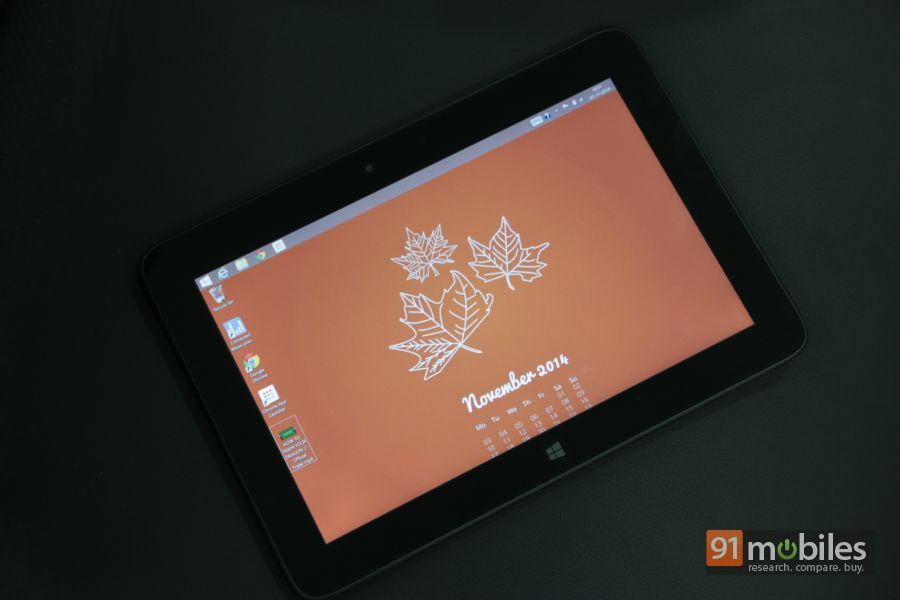 Slim, but large and heavy
The HP Omni 10 looks just like any other tablet with its rectangular slab-based design. Up front, it sports a 10-inch display, with only a front-facing sensor above and a capacitive Windows button below it. There's considerable amount of bezel surrounding the screen. The rear of the slate gets a rubberised coating providing easier grip. It's also slightly curved offering comfortable handling. Just like the front, there are hardly any embellishments here with the large HP branding taking centrestage and a rear camera towards the top.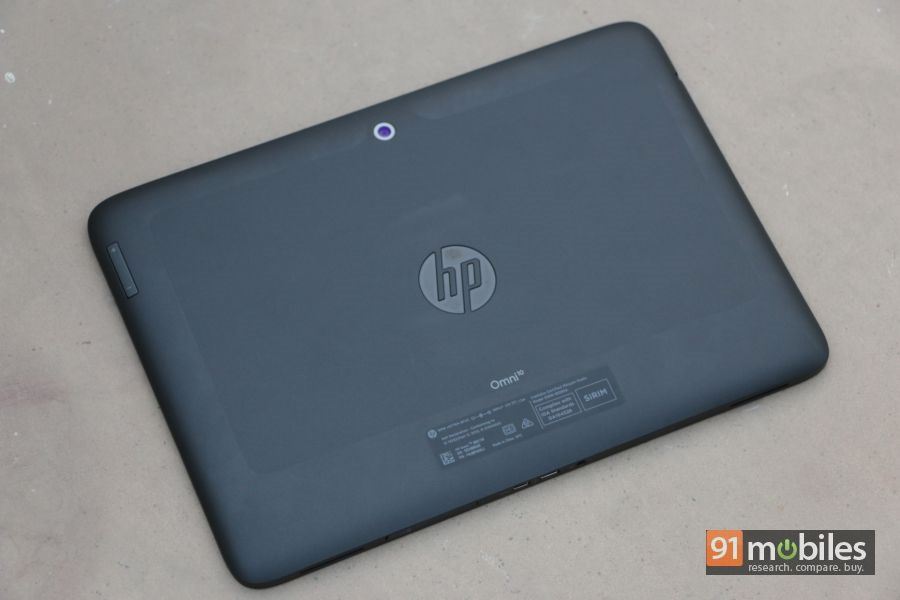 If you hold the device in the landscape mode, then you'll find the power button on the top edge, while the headphone jack is available on the left spine. The bottom edge of the Omni 10 is quite busy, with two speakers at the side, proprietary charging port, a micro-USB port, a mini-HDMI port and a microSD card slot. The volume rocker is on the right side, but instead of the edge, it's at the rear panel, making it difficult to reach if the tab is kept on the surface.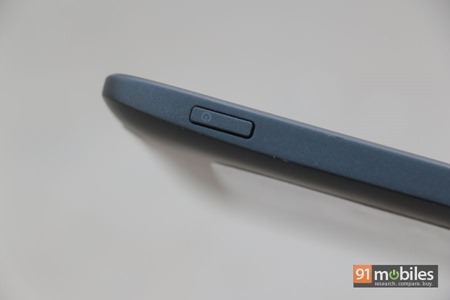 While the thickness of the tab seems fine, it's quite bulky tipping the scales at 635g. This means it could be a little too heavy for prolonged usage if you just hold it in your hands.
A large display that's high on resolution, but low on punchiness
The tablet features a 10.1-inch display, bringing it to the league of large tablets that offer bigger screen space to enjoy content or create things as well. With full HD resolution (1,920 x 1,200 pixels), the display produces good levels of detail. Sadly, the colour reproduction and brightness seem to be on the lower side, making it difficult to use outdoors. Viewing angles are also limited, which means the screen isn't ideal to be viewed by a few people together.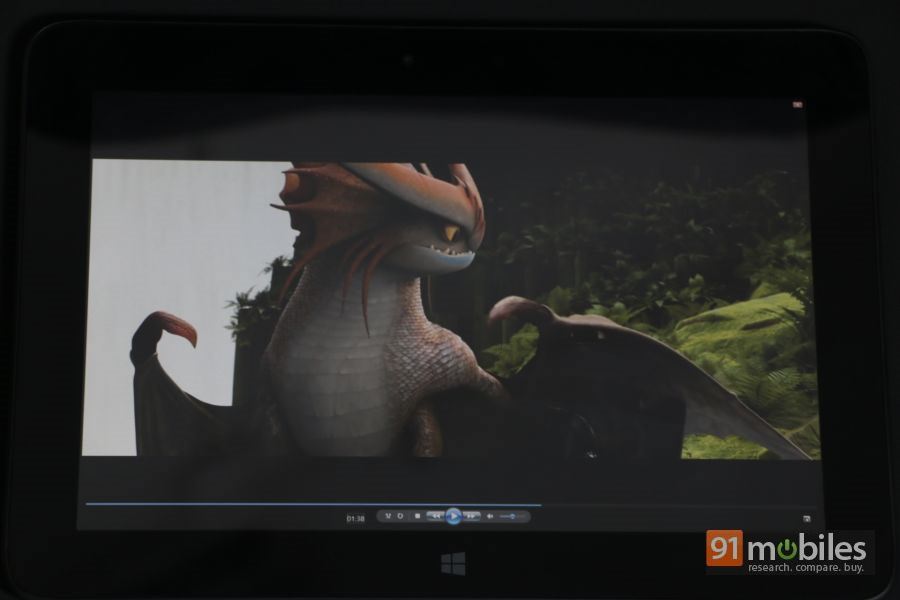 With such a large display, it's important to protect it against scratches. Thankfully, a layer of Corning Gorilla Glass 3 makes the slate's display withstand scratches and knocks.
One problem we regularly faced with the screen is that it attracts fingerprint very easily, and hence you have to keep a soft cloth with you to clean it.
Desktop-grade Windows
The device runs Windows 8 and not the cut-down RT version, which is really a good thing. You can also upgrade to the latest Windows 8.1 completely free.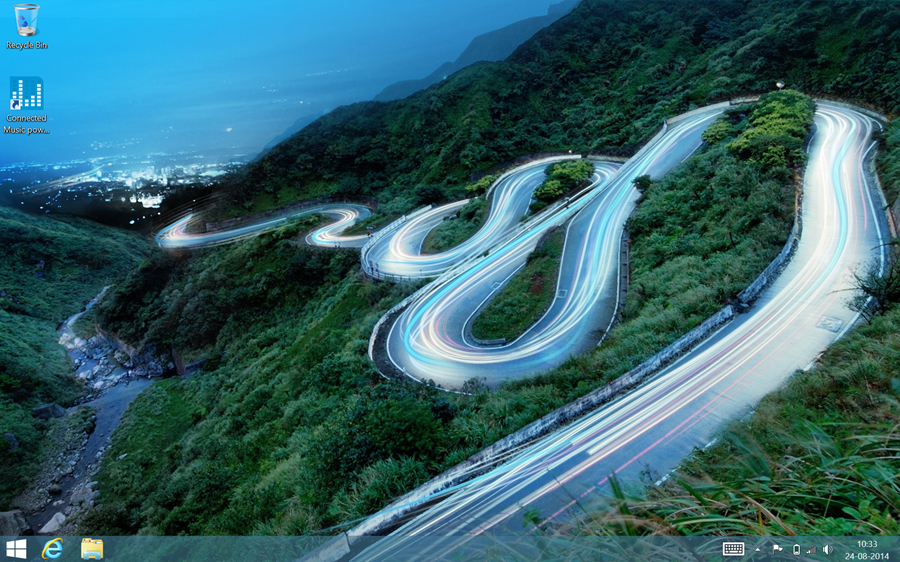 However, if you use Microsoft's desktop OS, then its latest iteration in the form of the Windows 8 might not appease you compared to the Windows 7. In a bid to make the OS suitable for touchscreen devices, the Redmond giant made a lot of subtle and not-so-subtle changes to the OS. However, in contrast to Android and iOS which were built for touchscreens from the ground up, Windows' transition isn't so smooth. There are gestures called Charms available to you when you swipe from left or right presenting to you a wide range of options, but which takes time getting used to and remember different actions initiated by these gestures. Unlike the start menu available in its previous iterations, Windows 8 comes with a start screen with all apps listed in a tile format (also called as Metro UI), and could get a tad confusing if you're using Windows 8 for the very first time. Since, the OS is from the era of desktops, we felt that the icons and action menus should be bigger to make them easily accessible using touch, but that's not the case as you'll find it quite difficult even to close an app.
The ability to snap two applications together side-by-side on the screen is quite useful. But you can only use modern apps in this mode, and not all the installed apps.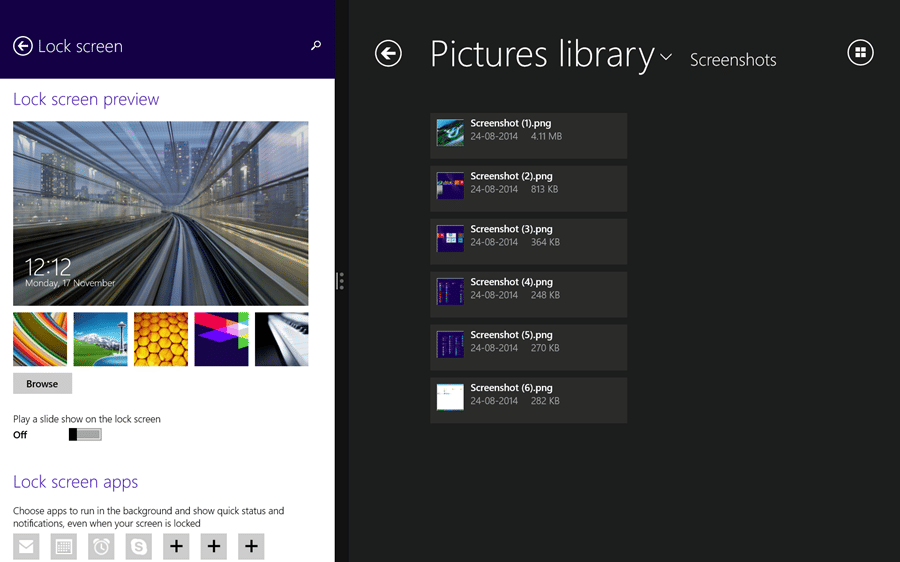 Usability issues aside, there's a case of redundancy as well in case of apps. Following the footsteps of the App Store and Google Play Store, Microsoft created Windows Store to make it easier for developers to submit their apps and for consumers, to download apps from one place. Windows Store, though not as strong as its counterparts, is still good enough for getting most of the common apps.
The redundancy we're talking about is that you can use Internet Explorer or Chrome in this app-centric touch-based mode, and you can also use them in the legacy mode as well. Similarly, while you can use touch-centric Dropbox app, it'll only allow you to browse synced files, but for normal syncing operations of Dropbox you need to install the usual syncing client. There are several other apps that behave this way.
That said, Windows 8.1 surely helps when it comes to make use of a touchscreen and while it may be a lot of different from Windows 7, one gets used to it over time.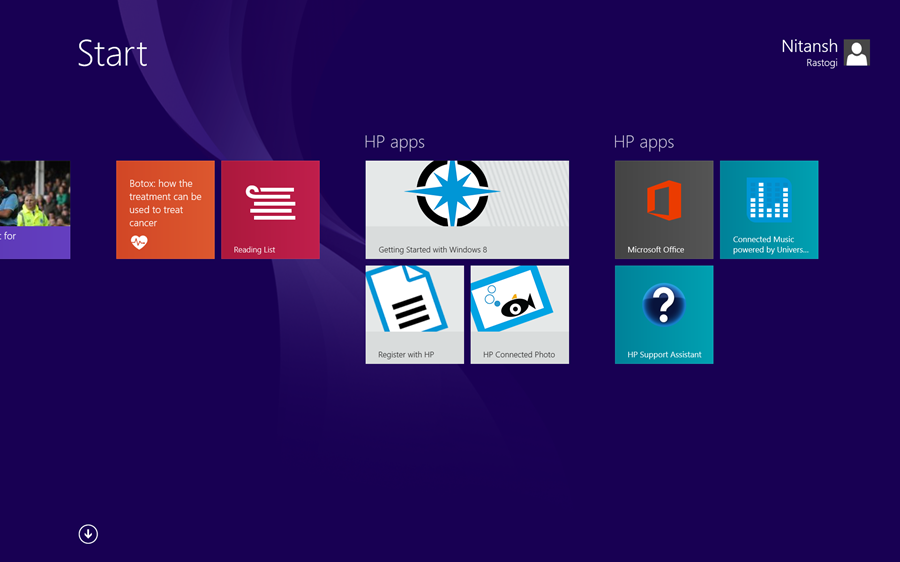 When it comes to preinstalled apps, HP has preloaded its own apps such as HP Connected Photo, Connected Music, etc. There's also student edition of Microsoft Office, giving users the ability to view and edit documents.
Performs well but hits minor speed bumps
The HP Omni 10 draws power from Intel Z3770 quad-core processor based on the chipmaker's latest Bay Trail-T platform and uses 22nm low-power fabrication process. The four cores in the processor are clocked at 1.46GHz in the base configuration, but can go up to 2.4GHz in the turbo boost mode. The Bay Trail architecture is significantly better than Intel's previous entry-level Atom generation processor. For graphics, the SoC gets help from Intel's HD graphics engine with clock speed of up to 667MHz. The processor is augmented by 2GB of RAM.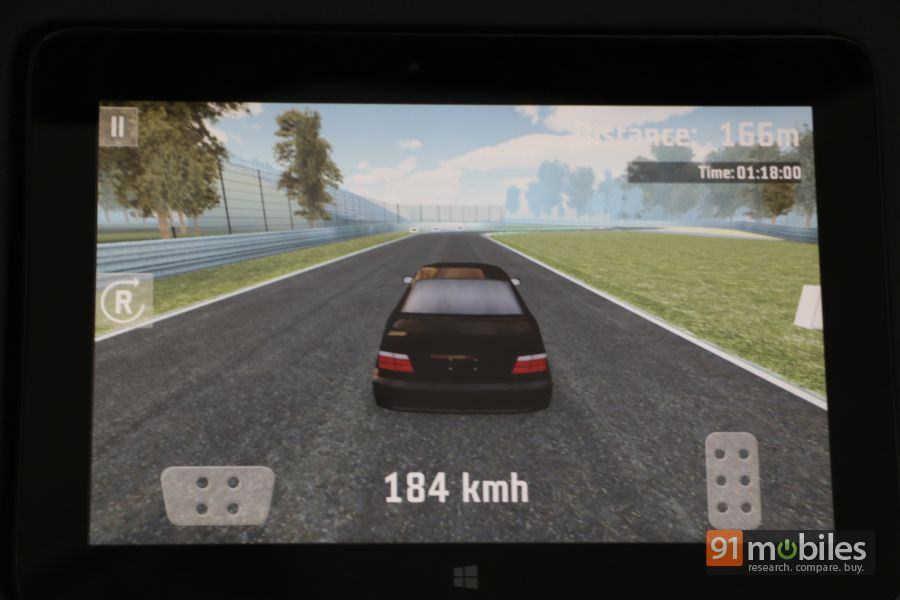 The aforesaid combination results in decent performance while using the slate for regular tasks. Be it watching movies, browsing the internet or running quite a few apps together, the device was snappy. However, we still won't say that everything was extremely smooth, especially when compared to the experience offered by a laptop. Even opening three to four heavy websites on the Chrome Browser seemed to take a toll on the HP Omni 10. We also noticed some hang ups for no apparent reason, even though there were no heavy apps running in the background. It also starts heating up in no time.
Tablets aren't meant for hard-core gaming, but of course, they should be good enough for casual games such as Cut the Rope and more. There was absolutely no problem while playing such titles on the device, although we hoped that touch sensitivity was more accurate. We did try to play titles such as Racer, but needless to say that it's difficult to manoeuvre the vehicle with accelerometer on a such a large slate.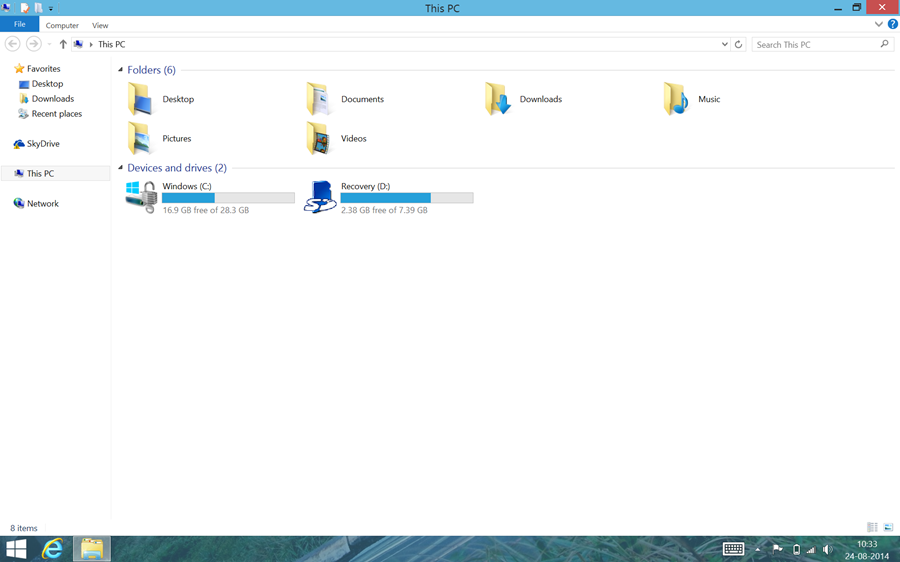 The HP Omni 10 comes with 32GB of storage, out of which around 11.4GB is occupied by Windows and preinstalled apps. This leaves around 16.9GB to the users for installing software or storing any kind of content. While the storage isn't that great, you can always extend it further with the use of a microSD card (supports up to 64GB). In fact, the slate comes bundled with an 8GB microSD card, that acts as a recovery partition. However, you still have to use the available space judiciously and only install the apps which are necessary, else performance will take a dip.
Battery, connectivity and camera prowess
The two-cell battery keeps the HP Omni 10 on its toes for long hours. With basic and non-continuous usage of watching multimedia content as well as browsing on the internet, the device gave us a good backup lasting around eight to nine hours. However, the long battery life comes at a cost – it takes a considerable amount of time to charge the slate.
When it comes to the connectivity department, the Windows slate offers Wi-Fi, Wi-Fi Direct and Bluetooth 4.0 LE wireless communication technologies. Along with that, it has a micro-USB 2.0 port supporting data transfers via computer or USB OTG and an HDMI out port to connect to compatible TVs.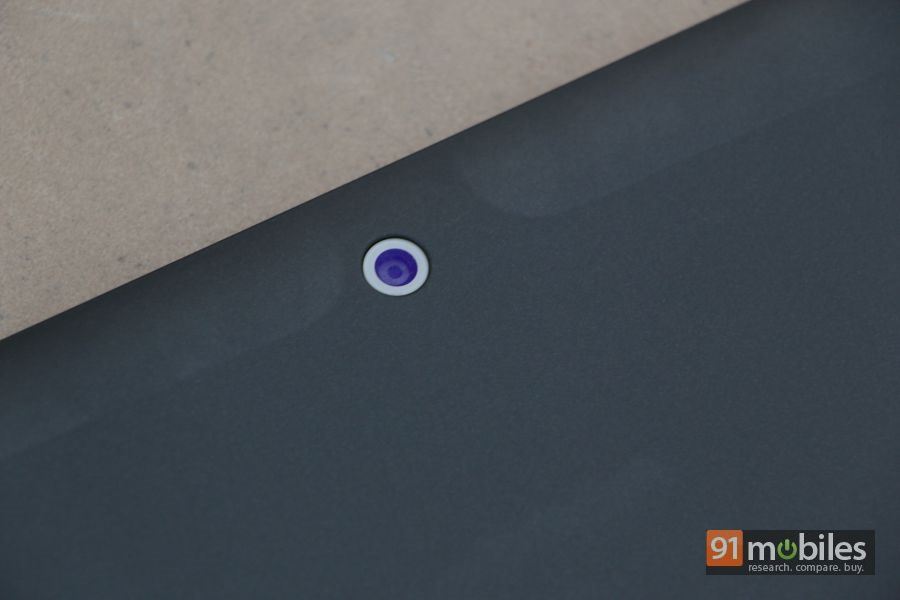 HP has packed a good camera combination in the Omni 10 slate. At the back, it comes with 8-megapixel autofocus sensor, whereas the front, it has a 2MP snapper. Both the shooters are capable of recording HD videos. Of course, we don't need to warn you how weird you'll look if you take the Omni 10 outdoors and use it for shooting. That said, the rear shooter might come in handy in instances when your smartphone is low on battery. Here's a look at the image quality of the slate (to view the original shots, click on the images).
As can be observed from the images above, the camera results in just satisfactory results in adequate lighting conditions, but can't be used as a camera replacement. The front shooter will be useful for video chats.
While the brand highlights the good sound output by dual stereo speakers on the Omni 10, we didn't found them significantly better. Even with earphones, we found the volume output to be on the lower side.
Verdict
While tablets are available for as low as Rs 5,000 (we recently unboxed one – the Digiflip Pro ET 701), Windows slates are a few and far between in the market filled with Android-powered options. Moreover, most Android-laden devices dominate the portable form factor of 7- to 8-inches, while Apple has of course kept its control over the high-end segment with its pair of iPads.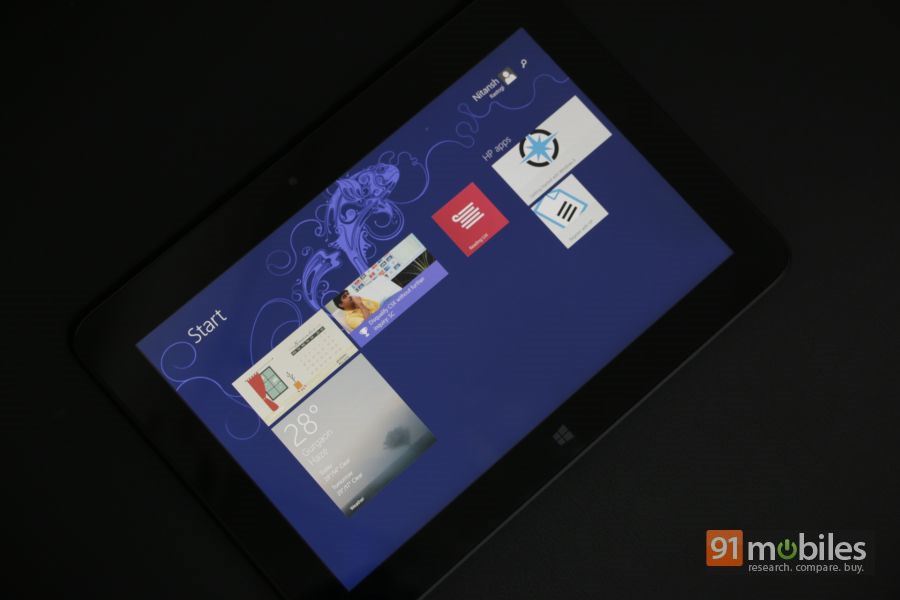 This brings HP's Omni 10 in a very peculiar position with its large size and asking price of around Rs 27,000. If Windows OS is a must-checked filter for your purchase because of its ecosystem and particular apps, then other names that pops to our mind are the Croma 1177, Notion Ink's Cain tablet (first impressions), and Swipe Ultimate. These tablets get large displays, and have an edge because of their low pricing and 2-in-1 form factor, since they're shipped with a keyboard case. If money is no bar, then the Lenovo Yoga Tablet 2 10 with Windows (first impressions) is also a good option thanks to its multi-purpose modes and good build quality.
If you're OS agnostic and only need a large screen, then there are several options in this price segment such as Google's upcoming Nexus 9 carrying a sticker price of Rs 28,900, Lenovo Yoga Tablet 2 10, Samsung Galaxy Tab 4 10.1, etc.
Overall, the HP Omni 10 is a decent offering, but we wish its display could have been better. Plus, it's pricing doesn't makes it a very compelling choice.
Price: Rs 27,000
Editor's rating: 7 / 10
Pros
Full HD display
Good configuration
Solid battery life
Cons
Heavy
Windows can't match the intuitiveness of Android and iOS
Photos by Pratik Vyas