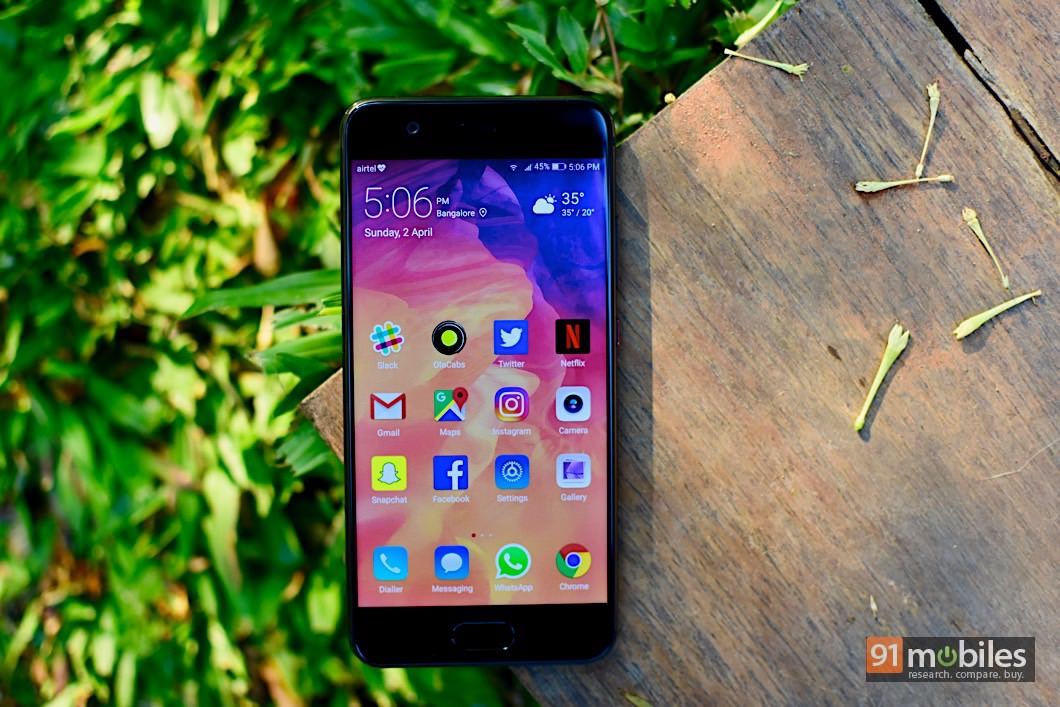 When we reviewed the Huawei P9 last year, we said that dual cameras on smartphones were going to be the next big thing. Fast forward to 2017, and dual cameras have become all but common on smartphones these days, making appearances even on mid-range devices. The implementations of dual cameras are different depending on device and manufacturer, but Huawei seems to have stumbled upon a unique but winning formula with its Leica partnership. Consisting of separate monochrome and RGB lenses that offer oodles of creative control along with artistic bokeh effects, Huawei's Leica-branded flagships have plenty to offer to the serious and budding photographer alike. The Huawei P10, which was unveiled at MWC this February, brings several upgrades over its predecessor, and we managed to snag a review unit before the India launch which is slated for end-June. Let's dive in.
Specs at a glance
Display
Size
5.1 Inch
Resolution
Full HD (1080 x 1920 pixels)
Performance
CPU
Quad core, 2.4 GHz + Quad core, 1.8 GHz, HiSilicon Kirin
RAM
4 GB
Storage
Internal memory
64 GB
External memory
Up to 256 GB
Battery
Capacity
3200 mAH, Li-ion, Non removable
Camera
Primary camera
12 MP
Secondary camera
8 MP
Connectivity
Network support
Dual SIM 4G
Other options
Wi-Fi, Bluetooth 4.2, GPS
Others
Battery Capacity
3200
Operating system
Android 7.0 Nougat
Design: another iPhone-inspired Droid


With the P10, Huawei has chosen to deviate from the blocky, rectangular design of the P9 and opt for a softer, more ergonomic form factor instead. The P10, with its rounded corners, curved edges and antenna lines running along the top and bottom could easily be mistaken for an iPhone 7 – our black unit is particularly reminiscent of Apple's matte black hue. Incidentally, Huawei has launched eight colour variants of the P10, including unconventional colours like green and blue, so there's plenty of choice on that front. At the rear, Huawei has retained the glass strip at the top with the two cameras, dual-tone LED flash and Leica branding. We appreciate that as with the P9, the cameras on the P10 sit flush with the rear. However, we noticed that after a couple of weeks of usage, the glass strip tended to pick up scratches by virtue of being placed on a desk or table. The antenna line at the bottom in particular became very scuffed towards the end of our review period, and we would recommend using a case with the phone.


The P10 is a very compact smartphone with its 5.1-inch screen, and fits easily into a single hand. The fingerprint sensor has been moved from the rear to the front, which is fine for a phone its size. The sensor itself is fast and accurate, and rarely missed recognising our fingerprint. The power button has a nice textured finish that makes it easy to locate, and Huawei has added red accents that make it easily visible. An ejectable tray for the SIM and microSD card at the left and USB Type-C port, 3.5mm audio jack and single stereo speaker at the bottom completes the port setup.
Display: small, but spunky


While the Huawei P9 featured a 5.2-inch screen, Huawei has decided to shrink it even further with the P10. The 5.1-inch display features full HD resolution, just like its predecessor, equating to a pixel density of 432ppi. The screen isn't exceptional by Android flagship standards, but it's sharp with punchy colours and good viewing angles, and gets the job done. The smaller size doesn't make it ideal for watching videos, but there's always the P10 Plus with a larger 5.5-inch screen if you lean towards phablets.

In the display settings, you'll find an eye comfort option that cuts out the blue light of the screen to reduce eye strain. You can enable it manually or schedule it for a particular duration everyday. The colour temperature can also be adjusted from the settings menu. The P10 ships with a pre-fitted screen protector, but we found this was interfering with the display's touch sensitivity. On the plus side, the screen features Gorilla Glass 5 protection against scratches and minor knocks.
Camera: the stuff of monochrome dreams


While the P9 featured dual 12MP cameras, one with a monochrome sensor and the other RGB, the P10 upgrades its monochrome sensor to 20MP while retaining the original 12MP RGB sensor. Both lenses feature f/2.2 aperture, and Huawei has also added extras like OIS and 4K video recording which were missing on the P9. The camera app is loaded with features, most of which we saw on the P9 as well.

Swiping to the right of the viewfinder brings up the various shooting modes including monochrome, HDR, panorama, night shot, light painting, good food, etc, while swiping to the left brings up the settings menu. Swiping up from the shutter button at the bottom will activate the Pro mode.

Like the P9, the P10 also lets you create depth-of-field photos through the wide aperture mode. In this mode, you can capture photos with a maximum (software generated) aperture of f/0.95. You can refocus images taken in the wide aperture mode in edits, and even change the aperture if you want to. The camera app features Leica's three film modes – Standard, Vivid and Smooth colours. Another Leica-inspired addition is the 'Portrait' mode which works with both the front and rear camera. This enables an artificial bokeh effect, and enables some beautification as well – it's very similar to the iPhone 7 Plus' portrait mode. Annoyingly, the Portrait mode is auto enabled by default for the front camera, and needs to be turned off manually each time you take a selfie.

Like the Huawei P9, the P10's prowess lies in black and white photography. We can't think of a single other flagship which can take monochrome photos as well as those from Huawei's Leica-branded stable, and that, in a sense, is the true differentiating factor of its phones. Apart from taking black and white images, the monochrome sensor also contributes to regular images, capturing more light and detail that results in less noise and better dynamic range. In our experience, the P10 takes consistently good photos through most lighting conditions. Daylight shots are sharp with natural colour reproduction, while low light images are surprisingly grain-free. Macro shots turn out pretty detailed as well, and we prefer taking close ups in the full auto or pro mode rather than the wide aperture mode, which tends to soften the edges of the subject considerably. The front camera, which is an 8MP unit with an f/1.9 aperture can take a surprisingly good selfie, and the large aperture means it works well in poor light as well.

Software: EMUI on Nougat
The Huawei P10 runs EMUI 5.1 atop Android 7.0 Nougat. EMUI is packed to the gill with features, and Huawei's skin pretty much takes away from any stock Android resemblance. By default you're greeted with a homescreen that lacks an app drawer, but in settings you can choose to enable it, which is a pleasant addition. For the P10, Huawei has chosen not to add capacitive Android navigation keys on the lower bezel, and instead opts for a multifunction home button / fingerprint sensor. The home button is capacitive, so you can tap once to go back, and long press to go home. Recent apps are brought up by swiping to the left or right, and swiping up from the bottom of the homescreen brings up Google Now. It's quite a complicated setup, and although we got used to it in a few days, we can't help but wish Huawei had opted for dedicated recents and back keys considering the ample bezel space. If you simply can't get the hang of the navigation key, there is an option to enable onscreen keys, but this takes away from the already precious screen real estate.
Performance: smooth daily driver with bumpy battery life


While most Android flagships these days stick to Qualcomm's high-end Snapdragon chipsets, Huawei has used its in-house HiSilicon Kirin 960 processor, an octa-core SoC paired with 4GB of RAM. During our two week usage of the P10, we found virtually no instances of slow down, with the phone able to handle all the apps and games we threw at it. There was the occasional app freeze, but nothing major enough to warrant concern. Our only pain point when it comes to the P10 is that it heats up a fair bit – especially when using the camera. The problem is worse when using the cameras outdoors, where it gets uncomfortably hot. The problem doesn't persist as badly when it comes to gaming, and we were able to play a 20 minute sessions of NOVA Legacy and Super Mario Run without the phone getting too warm. Our P10 unit ships with 64GB of expandable storage, out of which you get a little under 50GB out of the box. The microSD card slot supports expansion up to 256GB.

The P10 features a 3,200mAh battery, which on paper should be sufficient for an entire day's usage. In real life though, we found ourselves running out of juice by the evening. We managed to get about 4 hours of screen on time when our usage was mostly browsing social media and watching Netflix, but on days with more mixed usage involving calls, using the camera and gaming, we managed only 3 hours of SOT before requiring a recharge. Our P10 unit ships with Huawei's SuperCharge charger, but it's worth noting that the P9 didn't come with the fast charger in the box when it was sold in India. In our video loop battery drain test, the P10 lasted for 11 hours and 11 minutes, while recharging it completely took 1 hour and 26 minutes.

While Huawei has launched dual-SIM versions of the P10 internationally, our review unit was a single SIM variant. The second slot appears to be a hybrid SIM card slot at the outset, but in reality only supports a microSD card. Interestingly, our Jio SIM card worked only for data on the P10. It's likely that the international unit we reviewed doesn't support VoLTE on Jio's bands, but we expect the Indian retail units to support this. Other connectivity features include dual-band Wi-Fi 802.11ac, Bluetooth 4.2, GPS and NFC.
Verdict


A recent report predicted that Huawei would top Samsung to become the world's largest Android smartphone maker. It's not surprising, given Huawei's widespread reach in markets across the world, and the inroads its made with the Honor sub-brand. When it comes to flagships though, Huawei still has a lot of catching up to do, and the P10 is a perfect example of this. Even though the P10 is a capable device and can churn out gorgeous photos, it's not in the league of the iPhone 7, Google Pixel, Samsung Galaxy S8 or LG G6. Even the cameras, which are the mainstay of the P10, aren't enough to warrant its price of €649 (~Rs 45,000), which is pretty steep for a device with its capabilities. The Huawei flagships we'd like to see launched in India are the Mate 9 and Mate 9 Pro (first impressions), which sport the same camera setup as the P10 but pack in more horsepower in much sexier bodies. We'll have to wait and see what Huawei prices the P10 at when it launches in India, but our bets are on a Rs 40k tag (remember, the P9 was launched at Rs 39,999), and that's going to be a tough sell.
Editor's rating: 3.5 / 5


Pros:
Excellent cameras
Compact, sleek build
Smooth performance
Cons:
Heats up occasionally
Gimmicky software features
Expensive