"The Lenovo P2's 5,100mAh battery lasts long, really long, but is it enough to warrant a purchase?"
In all these years of testing Android smartphones, the one major flaw we've noticed with the world's most popular smartphone operating system is that it requires a high capacity battery to offset the lack of proper hardware-software optimisation. This is mostly due to the fact that smartphone brands slap their own skins on top of stock Android. Therefore, it is really no surprise that brands, especially Chinese ones, have clamoured to introduce phones fitted with massive batteries. While these phones offer an unparalleled experience when it comes to battery performance, the same cannot be said about the overall performance; we've always noticed some shortcoming or the other.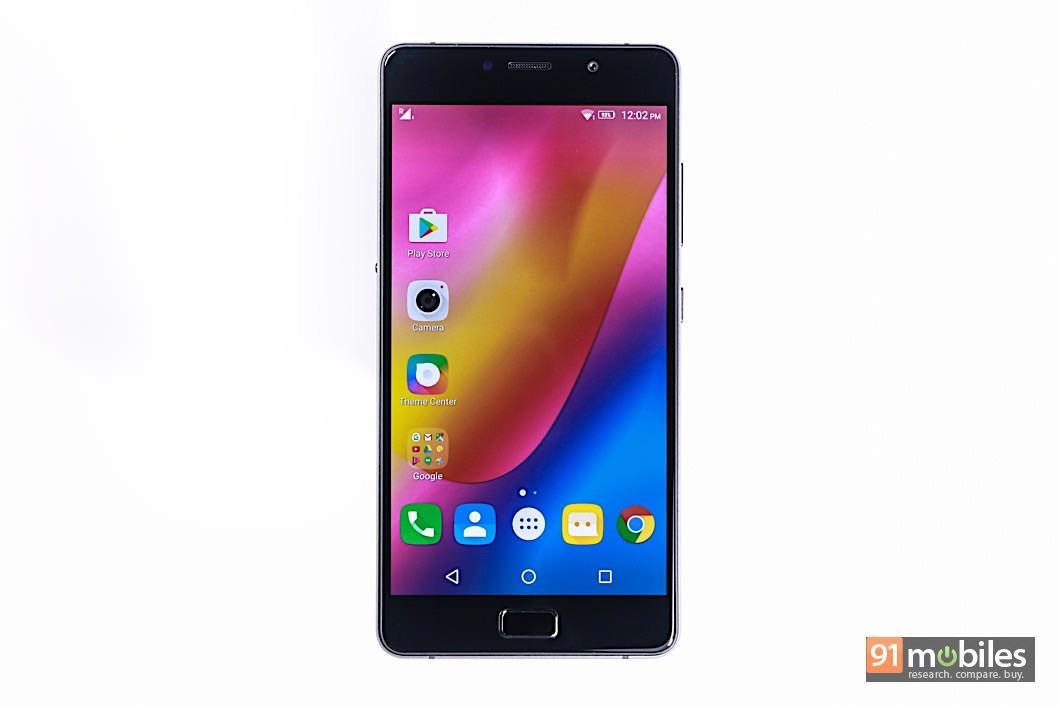 Which is precisely why we are pretty hopeful of the newly-launched Lenovo P2 – successor to the Vibe P1 (review) – belying our expectations, especially considering it has a solid set of specs apart from its huge 5,100mAh battery. Let's find out if the P2 can break our preset beliefs — which are supported by a fair bit of factual accuracy, of course — that smartphones with big batteries lack in other departments.

Specs at a glance
Display
Size
5.5 Inch
Resolution
Full HD (1080 x 1920 pixels)
Performance
CPU
Octa core, 2 GHz, Snapdragon 625
RAM
3 GB
Storage
Internal memory
32 GB
External memory
Up to 32 GB
Battery
Capacity
5100 mAH, Li-Polymer, Non removable
Camera
Primary camera
13 MP
Secondary camera
5 MP
Connectivity
Network support
Dual SIM 4G
Other options
Wi-Fi, Bluetooth 4.0, GPS
Others
Battery Capacity
5100
Operating system
Android 6.0 Marshmallow
Energiser bunny on steroids
Since the 5,100mAh battery inside the Lenovo P2 is its calling card, we've decided to talk about it first. Getting directly down to the 'brass tacks' – the battery life on the Lenovo P2 is phenomenal. We got almost three days of battery life on moderate usage, and on heavy usage the battery easily lasted us two days; in short, the battery would just refuse to quit. In fact, during our stress test, we managed to squeeze in close to five hours of gaming, an hour worth of phone calls, two hours of social media and messaging, and even an hour of reverse charging. You can be rest assured that you won't need to charge the phone more than thrice a week.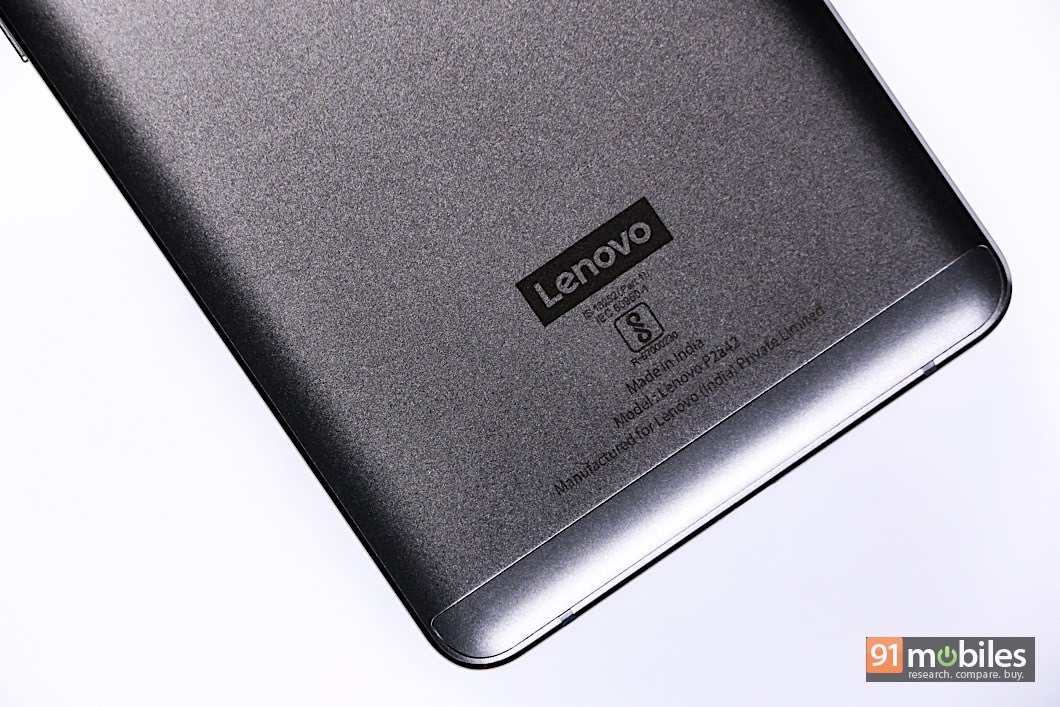 If our real-world testing isn't enough to sway your opinion, let us also tell you that the Lenovo P2 aced our lab test too. It took 24 hours and 30 minutes to drain the battery life from 100 to 0 in the video playback test, possibly the best result we've seen in a long time. By the way, we'd also like to highlight that the Snapdragon 625 SoC used in the phone is very power efficient — which is something we noticed with the Moto Z Play and the ASUS ZenFone 3 as well — thanks to the use of a 14nm FinFET process technology.
The icing on the cake is the support for fast charging. The Lenovo P2's huge 5,100mAh battery charges from zero to 100 in under two and a half hours using the bundled 24W rapid charger, which is actually great considering its capacity. And, the cherry on top of the icing is that Lenovo bundles a USB On-the-Go (OTG) adapter that can be used to connect pen drives and to charge other devices. We managed to charge an iPhone 7 Plus (review) without any issue whatsoever.
Slim package despite bulky battery and decent display too
The challenge for brands making smartphones with large batteries is to ensure that it doesn't become bulky. This was a problem with Lenovo's previous Vibe P1, which was tough to use with one hand. That said, Lenovo has managed to surpass our expectations with the P2. While the P2 is your regular candybar phone with a utilitarian design, it is fairly compact and ergonomically-speaking great to hold in the hand. In all honestly, the Lenovo P2's fit and finish is as good as the OnePlus 3 (review) if not better. The Graphite Gray variant looks stealthy and the edges are also neatly chamfered. However, the Gold variant has an ugly looking black trim around the display. The 177g weight of the phone is evenly distributed across the body of the phone, which ensures that the phone fits snugly in your palm without feeling top or bottom heavy. Using the phone with one hand shouldn't be too much of an issue.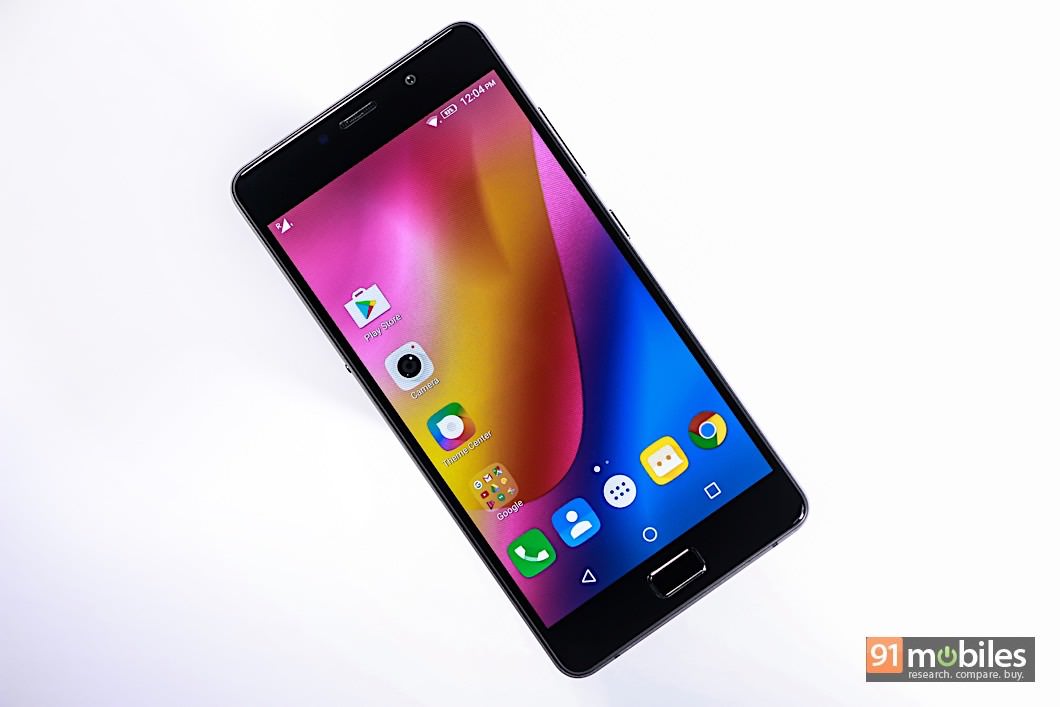 The bezels around the 5.5-inch display are fairly thin and below the display you can find the home button with the integrated fingerprint sensor. The square-shaped sensor does a fairly decent job of fingerprint recognition but it is not really as efficient as some other sensors used by phones like the LeEco Le2 (review) or the Vivo V5 (review). That said, there is a watered down version of the U-Touch 2.0 features on the Z2 Plus. Basically, you can use gestures on the fingerprint scanner like touch to go one step back and long press to open the multitasking carousel. Above the display you can find the earpiece and the front-facing camera. The bottom edge houses the two speaker grilles, of which – as is the norm with many smartphones today – only one works as the loudspeaker.


The right edge of the phone houses the volume rocker and the power button, both of which offer a satisfying click when pressed. Apart from providing the SIM tray – which is a hybrid SIM slot that accepts two nano SIM cards, or a nano SIM card and a microSD card – Lenovo also adds a switch something akin to iPhone's mute switch. This switch can be used to change to the power saving mode in an instant. While this is definitely useful in more ways than one, we were slightly disappointed that you can't customise it to do anything else.
The 5.5-inch Super AMOLED display offers a resolution of 1,920 x 1,080 pixels, which is crisp and legible for most use cases. The display offers rich and vibrant colours with great viewing angles too. Even the sunlight legibility is pretty good. We have absolutely no complaints here.
Stripped down software ensures no more bad Vibes
With the launch of the K6 Power, Lenovo decided to do away with Vibe UI and stick to an implementation of Android Marshmallow that looks quite like stock Android. From the multitasking carousel to the app drawer, the design looks familiar. On boot up, you will find third-party apps like Flipkart, Evernote, Lenovo Companion, SHAREit, Truecaller, and UC Browser sitting in the app drawer. Thankfully, all these apps can be uninstalled.

Now, you do get a lot of customisation options. For example, you can choose a different transition animation for the home screen or choose to use a vertically scrolling app drawer. Apart from visual customisations, Lenovo also includes Wide Touch, which is essentially a floating button that sticks to the edges of the display and you can customise it to include your most used apps. Moreover, there are some other gestures like double tap to wake the screen or long press the home button from the lock screen to trigger the flash light. Lenovo also provides the option to run two apps simultaneously using the Dual Apps feature or even running an altogether separate Secure Zone, In Secure Zone, you can have a separate zone for specific apps that you want hidden from anyone using your phone. You can fuse the launcher or have a separate launcher. Once you activate the Secure Zone, you will get a separate folder for all the files as well. It is a pretty useful feature for folks who are paranoid about their data and apps. However, let it be known that activating Secure Zone sort of slows down the phone slightly.
Camera takes serviceable pictures
The Lenovo P2 has a 13MP rear camera with phase detection autofocus (PDAF) and single LED flash. This camera can also shoot 4K videos. The front camera can capture 5MP images but it only offers a fixed focus.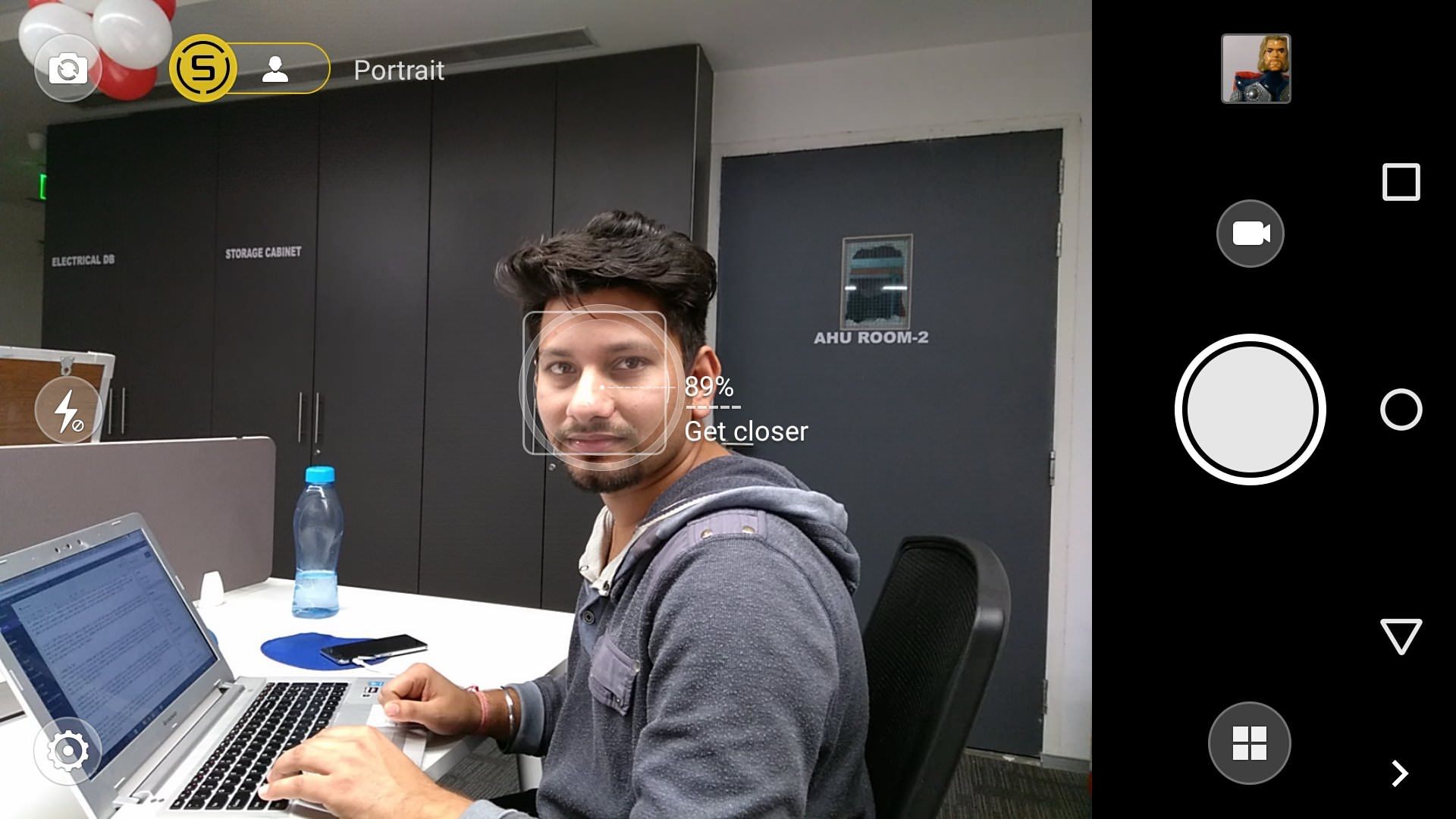 Now, the rear camera's performance is serviceable. Essentially, if you are someone who shoots on the phone only to share the images on social media later then the 13MP camera's shots should suffice. We managed to capture some good close up shots with a great amount of details being preserved. However, the camera suffers from purple fringing in both close up and landscape shots. In landscape shots, you will also notice a fair bit of barrel distortion. Thanks to the PDAF tech employed by Lenovo, the camera manages to focus and shoot fairly faster than most other smartphones in this price range. What we like most about the camera is the Smart Composition mode that uses pre-defined algorithms – apparently fed in by professional photographers – that helps you capture the right shot. The mode currently works with portrait, landscape, and food shots. It works fairly well and we managed to get some neatly framed portraits following the rule of one-thirds. Our only concern is that the camera app hung on us more than a couple of occasions when we switched on the Smart Composition mode.


In low light conditions, the sensor suffers and most of our photographs were unusable. Similarly, we shot some 4K videos using the rear camera and owing to the lack of OIS or EIS the footage was extremely shaky. Moreover, the microphones aren't good at recording audio despite recording stereophonic sound. The 5MP front camera captures some decent selfies with a good amount details in acceptable lighting conditions, despite using a fixed focus mechanism. Having said that, more often than not, the camera suffers from soft focussing issues. There is also a beautify mode for folks who'd want to add a fresh coat of makeup, without actually doing so in real life.
No frills overall performance
The use of Qualcomm Snapdragon 625 SoC coupled with 4GB of RAM on our review unit (there's a lower variant that offers 3GB of RAM as well) ensures that you mostly get smooth performance across the board. That said, there were a few hiccups here and there, and sometimes the entire phone would hang randomly too. Obviously, this breaks the experience of using the phone but we are pretty sure this issue can be sorted with a simple software update. Most games run fine, including the ones with heavy graphics. We managed to play games like Dead Trigger 2 and Asphalt 8 without any lag as such but load times were longer than we expected. Thankfully, the phone doesn't heat up at all. All in all, the Lenovo P2 isn't as smooth and refined as the Moto Z Play (review) but it is not entirely bad either; it gets the job done and then some. Do note that our phone came with 32GB internal storage, of which around 8GB was taken up by the operating system.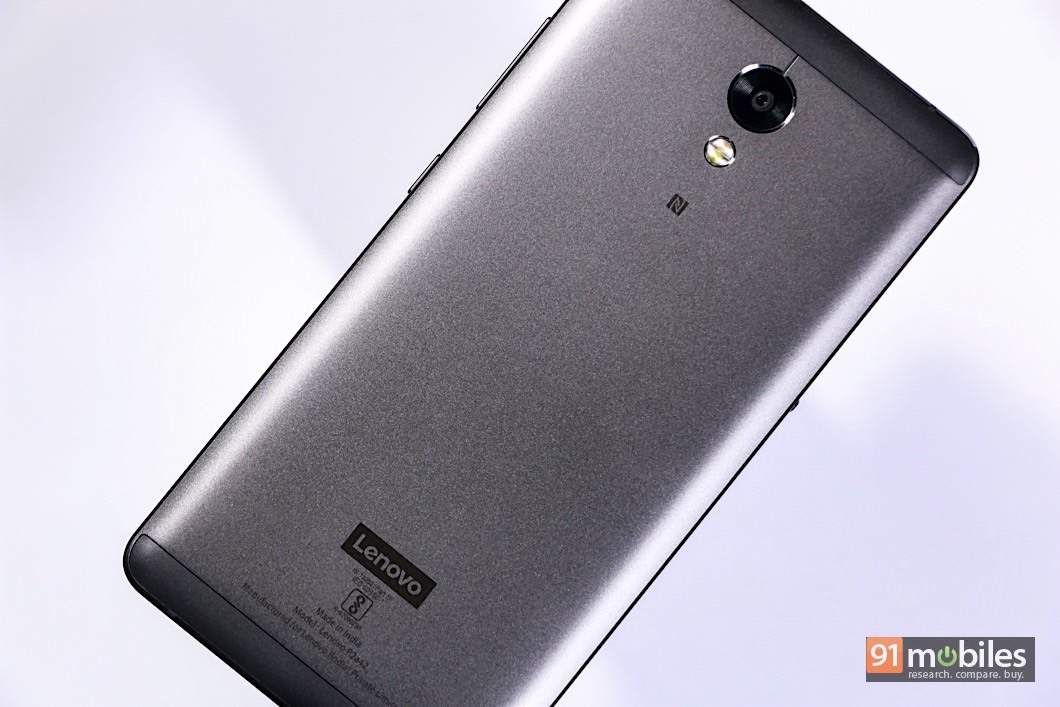 These days, we generally push most smartphones testing 4K videos and checking if it can play our files without stuttering or dropping frames. In this scenario, the Lenovo P2 struggled a little – the video playback stuttered and even got stuck on multiple occasions. That said, the phone managed to play 1080p 60fps video files without breaking a sweat. The loudspeaker is adequately loud and doesn't distort even at high volumes, which is definitely a plus. The sound output was more than just satisfactory when we paired with our reference earphones. In true Lenovo fashion, the call quality is excellent through the earpiece. We used a Jio SIM card along with another Tata Docomo one for the duration of the review and for some odd reason the phone would keep dropping the 4G connection on Jio and only a restart would solve the issue. This could be because of a bad Jio connection, but we noticed that our primary smartphone didn't throw up such a problem.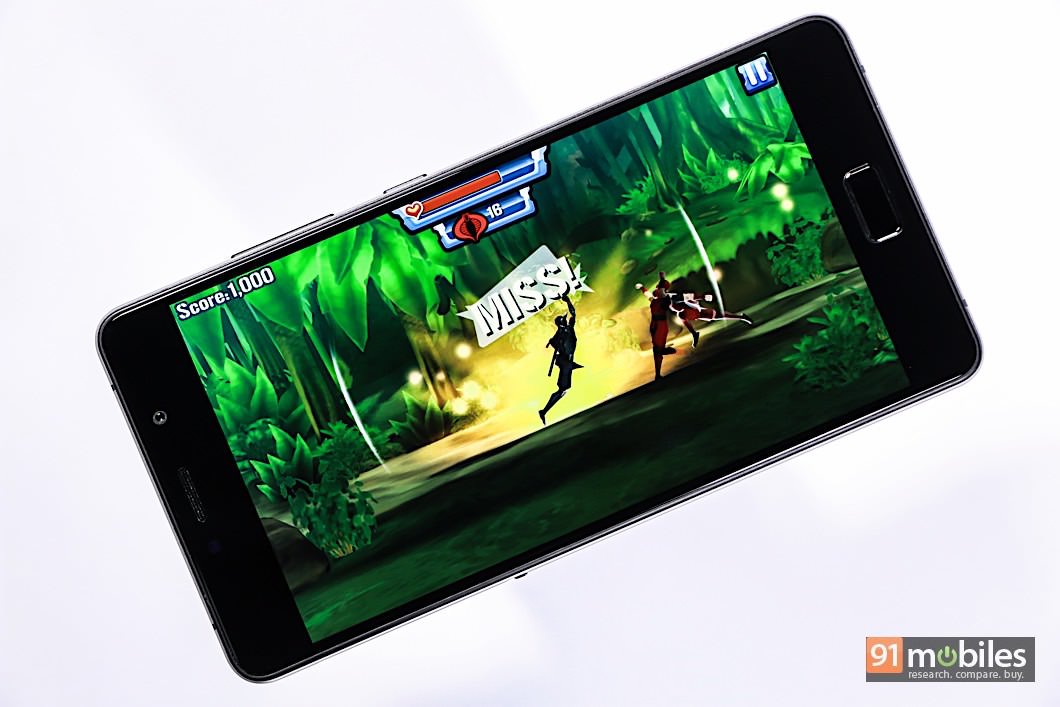 Should you buy it?
At a starting price of Rs 16,999 for the 3GB RAM variant, the P2 is tempting and the fact that it can last three days on a single charge will definitely grab the attention of most of our readers. But like we said at the start of the review, does the P2 manage to subvert the popular notion that phones with large batteries are bad performers otherwise? Well, not entirely but it does come really close. If only the P2 had a good, if not great, camera and offered a completely stable performance, we'd have been convinced that this is the phone to buy under Rs 20,000. Period.
However, the P2 does carve a nice space for itself in the sub-20,000 smartphone bracket. If you are on the lookout for a decent performer with a stupendous battery life, then look no further than the P2. On the other hand, if you want a phone with a great camera then the LeEco Le Max2 (review) or the Moto G4 Plus (review) could be better options. If it is pure performance you seek, then once again the LeEco Le Max2 or even the Lenovo's very own Z2 Plus (review) could swing your opinion.

Will you opt for pure performance or better battery life? Discuss in the comments section below.

Editor's Rating: 4 / 5
Pros:
Stupendous battery life
Supports fast charging and reverse charging
Good ergonomic design
Smart Composition mode in camera app is useful
Near-stock Android experience
Cons:
Hangs occasionally
Camera is a letdown
Photos by Raj Rout
Competitors for Lenovo P2
| | | |
| --- | --- | --- |
| Lenovo P2 | vs | Gionee Marathon M5 |
| | | |
| --- | --- | --- |
| Lenovo P2 | vs | Lenovo Z2 Plus 64GB (Zuk Z2) |