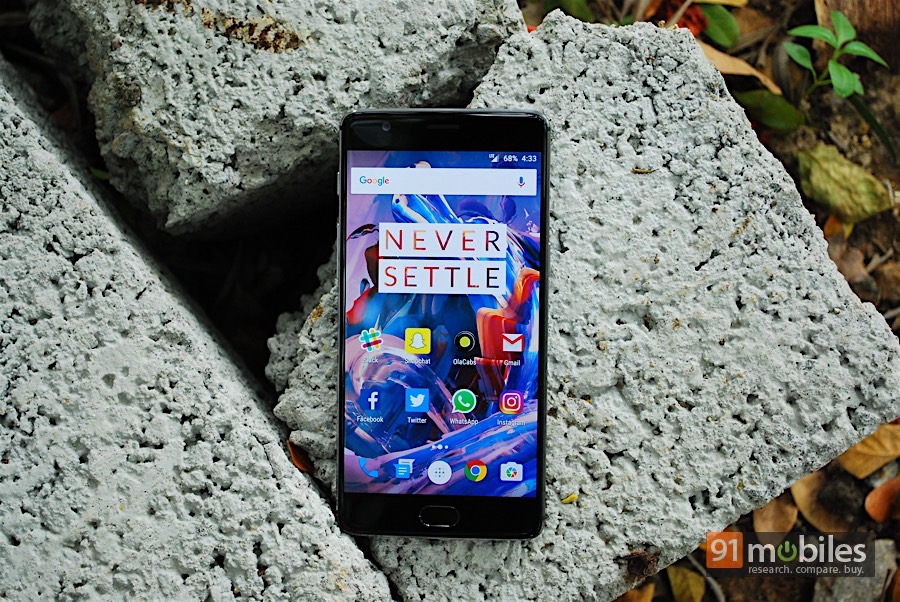 OnePlus might be a young smartphone brand, but if there's one thing the company does well, it's hype. That's the main reason its first device, the
OnePlus One
(
review
), got so much attention in a market stuffed to the gills with new smartphones. The
OnePlus 2
followed suit, with OnePlus teasing feature after feature of the new flagship, until there was nothing left to guess by launch day. Which is why it's surprising that the company's made very little noise about its latest smartphone, the
OnePlus 3
(
frequently asked questions
). While we've seen plenty of leaks over the last few months, OnePlus has been noticeably mum about its new flagship until the launch. This could be a sign of the brand maturing into one that's confident about it's product, or just because hype has become overdone. Either way, OnePlus is letting its latest device do all the talking, and on paper, it looks very formidable for a flagship smartphone. With specifications like a Snapdragon 820 processor and 6GB of RAM under its belt, the OnePlus 3 looks set to take on the big guns, but at the end of the day, real life performance is what matters. Lucky for you, we snagged the OnePlus 3 ahead of the launch, and have been using it as our daily driver for the past week. Here's what you should know before you buy it.
Specs at a glance


Display
Size
5.5 Inch
Resolution
Full HD (1080 x 1920 pixels)
Performance
CPU
Dual core, 2.2 GHz + Dual core, 1.6 GHz, Snapdragon 820
RAM
6 GB
Storage
Internal memory
64 GB
Battery
Capacity
3000 mAH, Li-Polymer, Non removable
Camera
Primary camera
16 MP
Secondary camera
8 MP
Connectivity
Network support
Dual SIM 4G
Other options
Wi-Fi, Bluetooth 4.2, GPS
Others
Battery Capacity
3000
Operating system
Android 6.0.1 Marshmallow
Design: hello metal, goodbye Sandstone
Dimensions
: 152.7 x 74.7 x 7.3 mm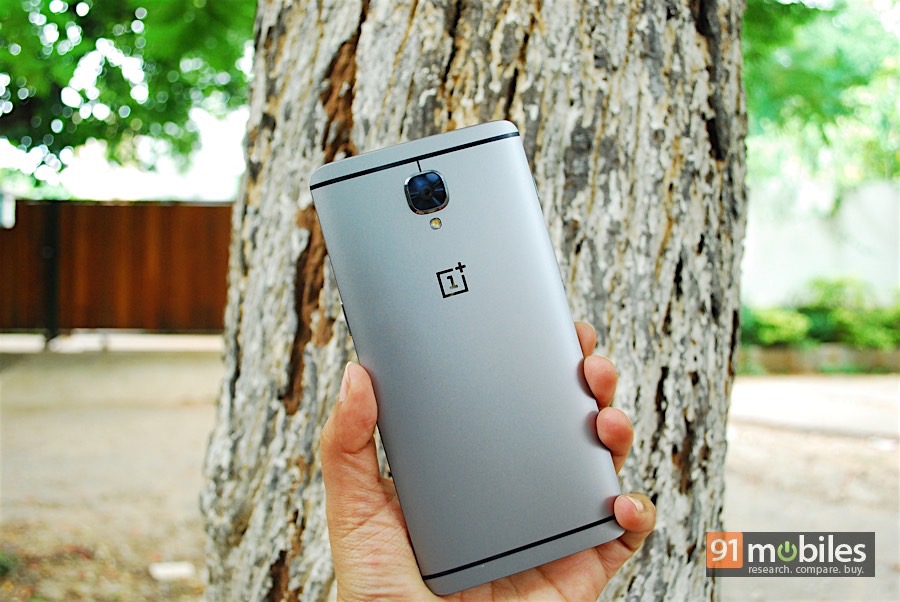 If you've seen or used the OnePlus One or OnePlus 2 earlier, you'll immediately notice how different the OnePlus 3 looks. The classic Sandstone finish is gone, replaced by an all-metal anodised aluminium unibody design that measures a sleek 7.35mm around the waist. The OnePlus 3 definitely feels premium, with small touches like the chamfered edges, polished accents and 2.5D curved display giving it a distinct flagship feel. Our review unit was in a Graphite hue, but OnePlus will also be selling a Soft Gold variant in the future, which features a white façade.
The front of the smartphone is taken up by the 5.5-inch display, with the earpiece, notification LED, sensors and front camera arranged at the top. Below, you'll find the slightly recessed capacitive home button which integrates a fingerprint sensor as well, flanked by two LED navigation keys. The button is made of ceramic for extra durability, and looks quite striking with its dark grey hue against the otherwise black façade.
Moving over to the sides, you'll find the power button on the right, along with an ejectable tray into which two nano-SIM cards can be inserted. The left spine is home to the volume rocker, and the Alert Slider which we saw on the OnePlus 2 earlier. This slider lets you easily switch between All, Priority and None notification profiles, and you can fine tune what notifications are displayed in the settings menu. The top edge is bare, while the bottom is crammed with the loudspeaker grill, primary microphone, USB Type-C port and 3.5mm audio jack.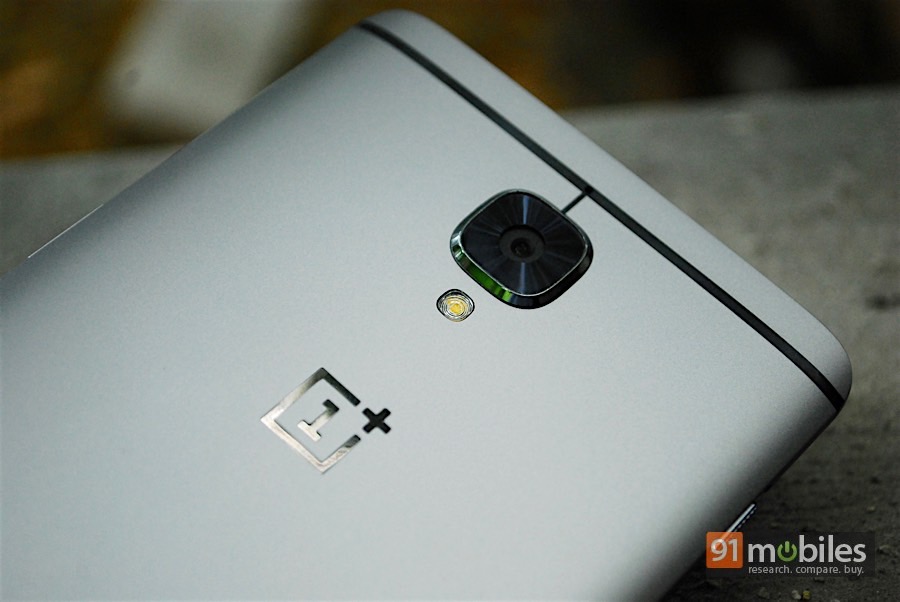 The rear panel looks quite classy with its metal plate, although we're not a fan of the prominent antenna lines. You'll also find the primary camera, LED flash, secondary microphone and OnePlus branding at the back. We do have issue with the primary camera module, which protrudes significantly, making it liable to get scratched. This, plus the fact that the device is slippery owing to its metal design is why we'd recommend using a case for the OnePlus 3.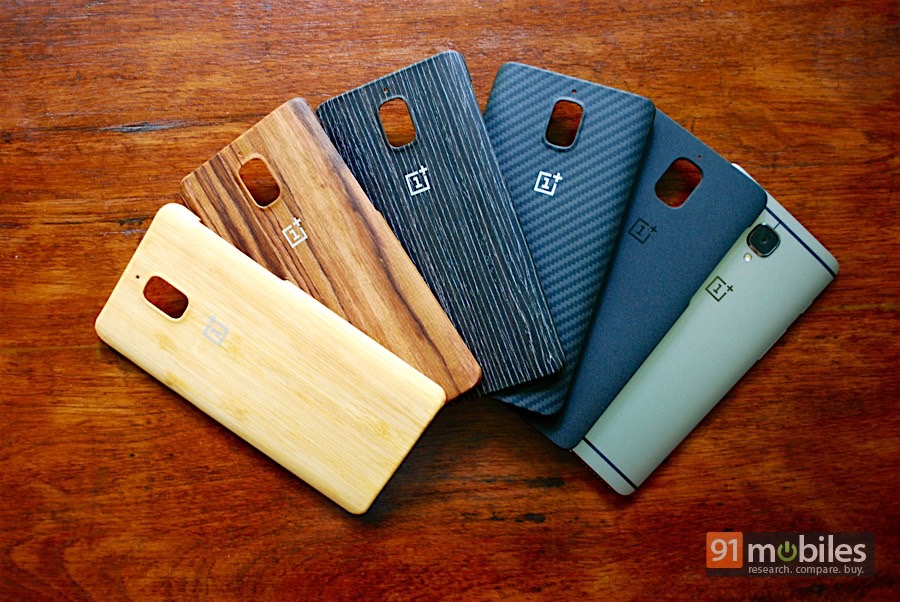 As always, OnePlus has launched a range of cases for the smartphone, which come in various finishes like Bamboo, Rosewood, Black Apricot, Kevlar and Sandstone, which are all priced at Rs 1,499. The cases make for a snug fit, and are all quite grippy, especially the Sandstone. The cases also bring the rear panel up to the same level as the primary camera, so that it sits flush when placed on a flat surface.
Display: AMOLED goodness



Resolution

: Full HD (1080 x 1920 pixels)

Display Type

: Optic AMOLED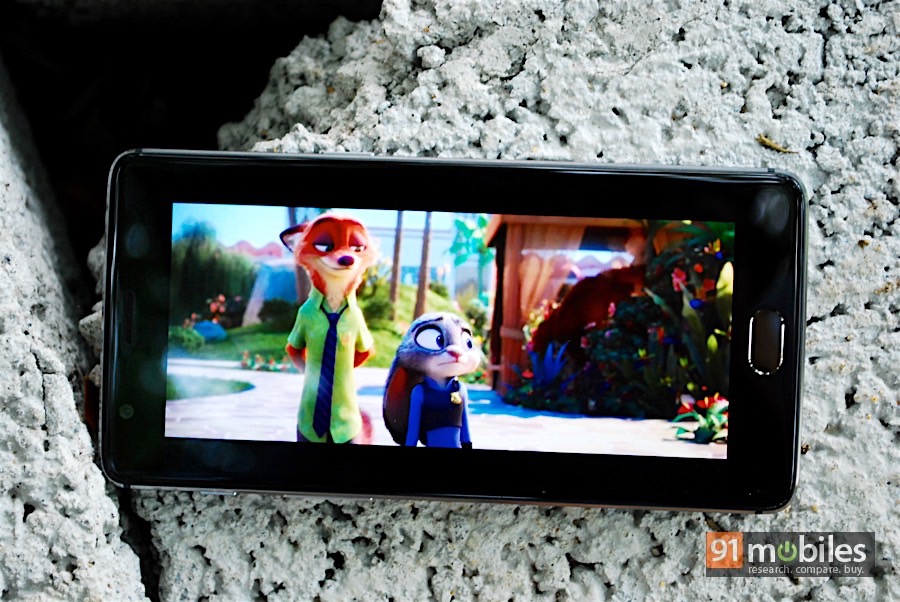 The OnePlus 3 sports a 5.5-inch full HD display (401ppi) just like its predecessor, but the IPS panel has been swapped out for an Optic AMOLED display. There's also a layer of Gorilla Glass 4 for protection, and it's worth noting that the retail unit comes pre-installed with a screen protector as well. The use of the AMOLED panel means you get the deep blacks and high contrast levels that make the screen look really rich. The display's clarity is best in class, with icons and text sitting very close to the glass. Colours are vivid and flashy, making the screen great for watching videos and gaming. The screen is very smooth too, responding to swipes, taps and scrolls instantly. The brightness levels are decent, and while sunlight legibility is good, it isn't as impressive as the Xiaomi Mi 5.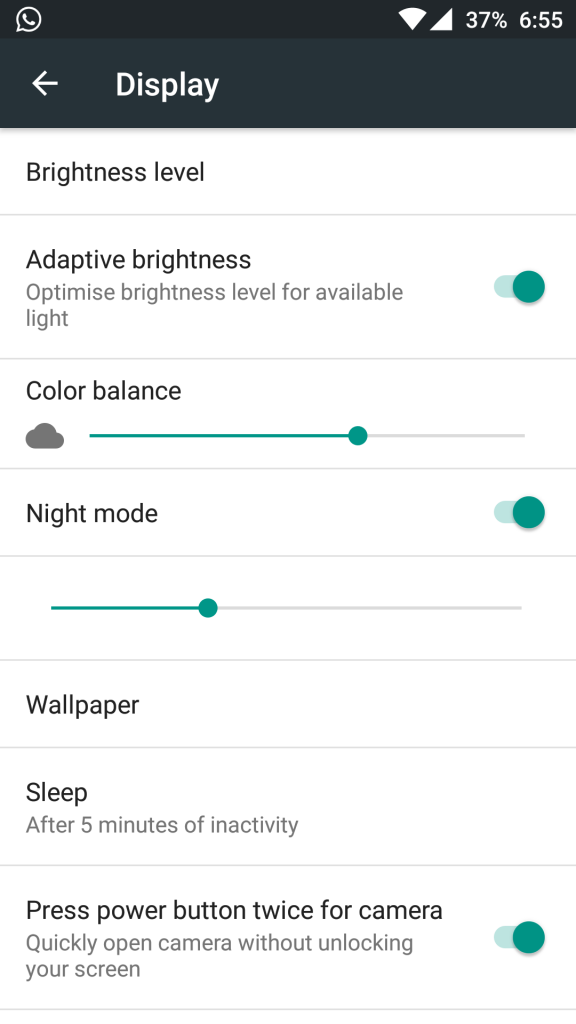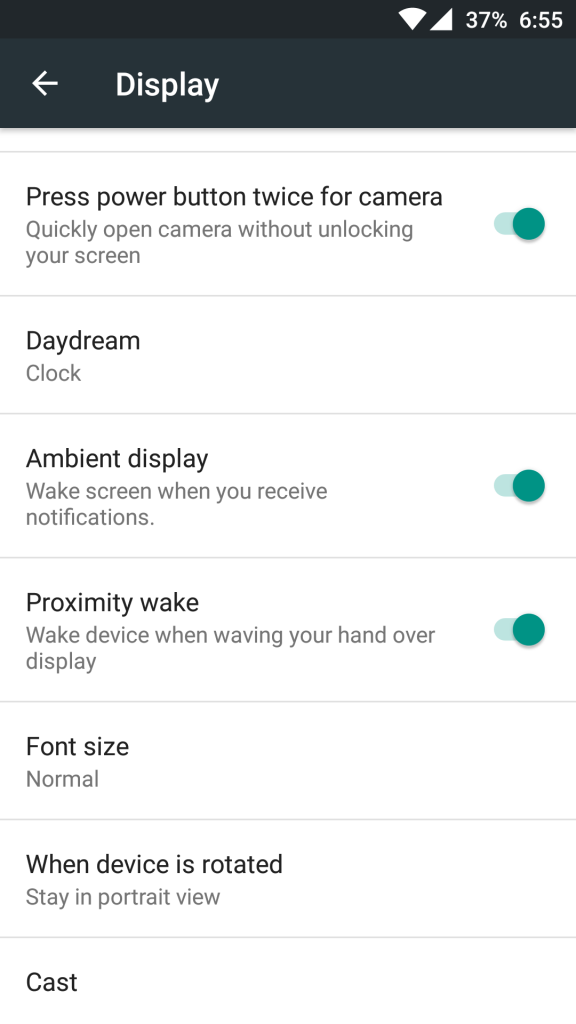 The display settings has options to tweak colour balance, and a toggle to enable Night mode, which cuts out the blue light for reduced eye-strain in low light. You can adjust the intensity of the Night mode which is handy, but we'd have liked the option to schedule the Night Mode so it turns on automatically at a given hour. The OnePlus 3 features Ambient Display, which we saw on the OnePlus X earlier. The feature basically lights up with white text on a black background when you receive a notification. The smartphone also features Proximity Wake, which lets you wave your hand above the screen to wake the Ambient Display to view the time or missed notifications.
Software: a deep breath of OxygenOS



Operating System

: Android

OS Version

: 6.0.1, Marshmallow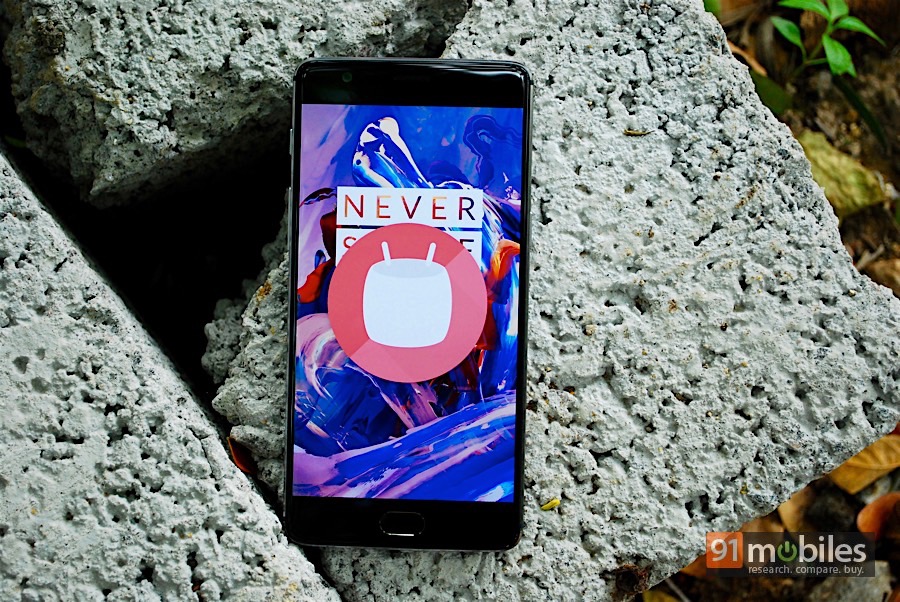 OnePlus hurriedly introduced OxygenOS after the whole Cyanogen OS fiasco, and the custom UI wasn't without its teething problems. But OxygenOS has come a long way over the past year, with frequent updates being rolled out to iron out bugs and issues.
OxygenOS retains most stock Android elements, while adding extras (many of them seen on Cyanogen OS in fact) that power users will appreciate. The OnePlus 3 runs OxygenOS 3.1.2 atop Android 6.0.1 Marshmallow, bringing in a few updates from previous versions. We've explored OxygenOS in detail in our OnePlus 2 review and OnePlus X review, so we'll just skim over what's on offer.

In terms of look and feel, OxygenOS is very similar to stock Android Marshmallow, using the same icons and integrating an app drawer (with an added search bar for convenience). There are virtually no third-party apps apart from SwiftKey.
There's a separate pane called Shelf which you can access by swiping to the right of the homescreen, and this is a dashboard of sorts for your frequent apps and contacts, plus any widgets you choose to add. OxygenOS gives you the option to disable the Shelf if you prefer. You can swipe down anywhere on the homescreen to bring up the drop-down quick settings and notification pane, or swipe up to view the Quick Search screen. In terms of customisations, OxygenOS lets you change the icon size, and supports third-party icon packs as well. You can also enable a system-wide Dark mode and specify an accent colour of your choice. LED notifications can be customised too, from a choice of eight colours. You can further customise which icons show up in the status bar. OxygenOS also lets you swap the layout of the Android navigation keys, turn off the backlight, or even enable an onscreen navigation bar. You can further specify long press and double tap actions for each button. A few standard gestures are supported, including double tap to wake, and drawing specified gestures to open the camera, flashlight and control music playback.

We still have some qualms with Oxygen OS though, which include the lack of a dedicated Do Not Disturb mode. The Alert slider makes it easy to switch to a silent mode, but having to turn on priority interruptions manually seems like an extra step, when Android has scheduled Do Not Disturb baked in natively. The other issue we had was the lack of a native weather widget to add to the homescreen, which is strange considering you can choose to display the weather on your Shelf. We also found that some widgets, such as the digital clock and date widget, take up too much screen space, which is annoying when you want to add an extra row of icons to the homescreen.
Cameras: a big step up


The OnePlus 2's 13MP/5MP cameras impressed us with their consistently good images, and with the OnePlus 3, the company is taking things up a notch. The primary camera has been upgraded to a 16MP Sony IMX 298 sensor with f/2.0 aperture, Phase Detection Autofocus (PDAF) and dual image stabilisation, which uses a combination of Optical Image Stabilisation (OIS) and Electronic Image Stabilisation (EIS). The front camera has been bumped up to an 8MP unit, which uses a Sony IMX 179 sensor with f/2.0 aperture.
The camera app is very straightforward, and pretty much the same as what we've seen on previous iterations of OxygenOS. When viewed in landscape mode, you'll see the shutter button, front camera toggle and a small settings icon to the right. The latter gives you options to enable a grid, timer and change the aspect ratio. On the top you'll find quick controls for the flash, HDR (there's an auto HDR option) and something called HD mode, which OnePlus says can enhance detail, clarity and sharpness. We didnt' find much of a difference when using this mode though. Swiping out from the left you'll find the various shooting modes, which include Photo, Manual, Video, Panorama, Slow motion and Time-lapse.
The Manual mode gives you control of focus, shutter speed, white balance and ISO. There's also an option to save RAW images if you want to. You can tap to focus, and adjust exposure by tracing your finger around the focus ring. Long-pressing on the viewfinder lets you enable AE/AF lock.

What the camera app lacks in extra features, it makes up for in its simplicity, making it easy to adjust even manual controls. But what really works in the camera's favour is the speed. Thanks to integration of PDAF, the OnePlus 3 snaps photos lightning fast, which is great if there's a lot of movement. The autofocus locks instantly, and can get you some pretty amazing macro shots. The amount of detail captured by the camera is impressive, whether for close-ups or landscapes. Colours appear true-to-life, and sharpness levels are also good. We really liked the HDR mode on the camera, which is fast and outputs results that don't look artificial, while improving the dynamic range of the image. Low light shots are also impressive. While you will find some amount of noise, colour is captured accurately even in low light. Our only qualm was the flash, which is excessively white and doesn't illuminate the scene evenly. The front camera can take good selfies in natural light. You can enable Smile Capture, which automatically starts a countdown timer when it detects a smiling face. There's also a beauty mode with a slider to adjust intensity. In terms of video, the primary camera can shoot in 4K, while the secondary snapper can record in 1080p. You can read more about the camera results in our camera review, but for now, here are some image samples. Right click on the thumbnails to view them in full resolution.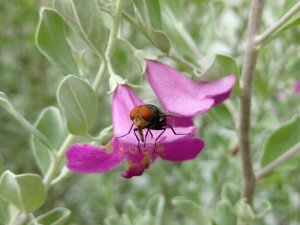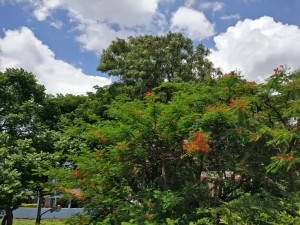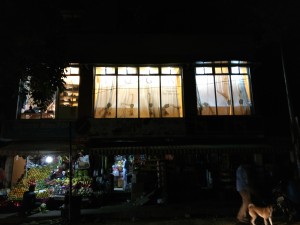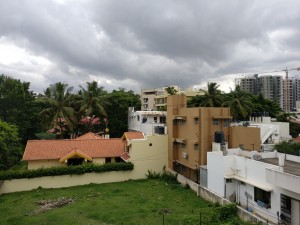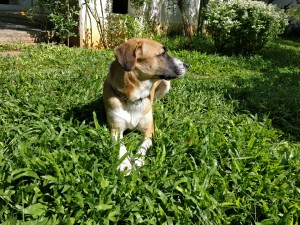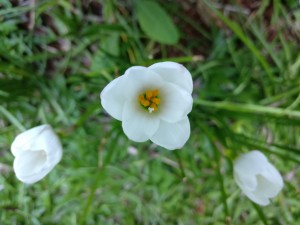 Performance: doesn't break a sweat



CPU

: Dual core, 2.2 GHz + Dual cor…

SIM Slots

: Dual SIM , GSM+GSM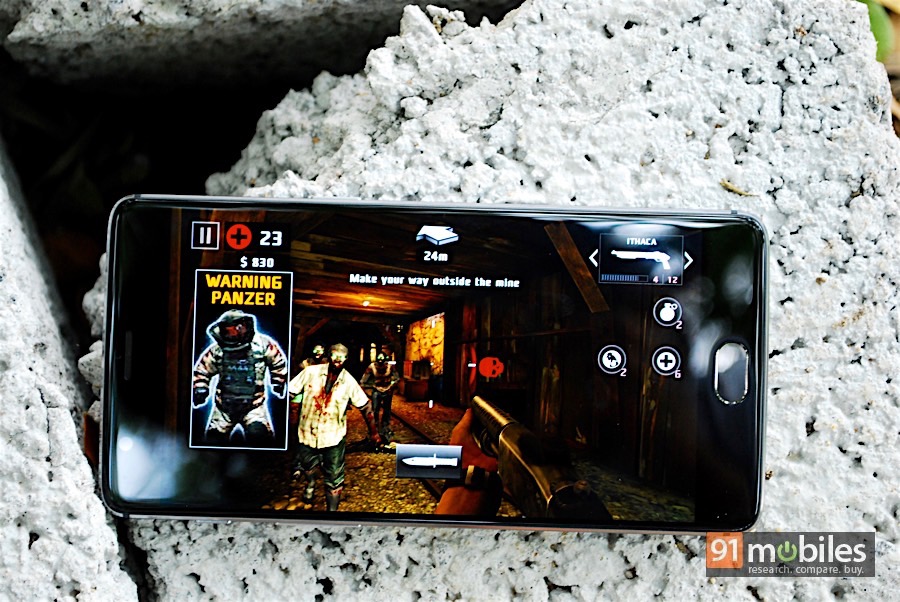 The quad-core Snapdragon 820 processor powering the OnePlus 3 consists of two cores clocked at 2.2GHz, and two cores clocked at 1.6GHz. Paired with 6GB of LPDDR4 RAM, you can probably guess the kind of performance to expect. We're not entirely convinced why you'd need 6GB of RAM on a smartphone (especially when many PCs run just fine with 4GB of RAM), but we're not complaining here because multi-tasking was a real breeze on the OnePlus 3. Even with 15-20 apps running in the background, there wasn't any sign of slowdown or lag on the smartphone, with less than 50 percent of the available RAM being used on average. The device is smooth and responsive, and able to tackle mundane tasks like opening apps and multitasking, and even more intensive ones like playing Dead Trigger 2 for a 30-minute stretch without breaking a sweat. Another positive about the device is that it doesn't heat up, while gaming or even when we used the camera for extended periods of time.
The OnePlus 3 ships with 64GB of internal storage, out of which around 52.6GB is available out-of-the-box. That should be plenty for most users, although we would have appreciated a microSD card slot for expansion. As of now, it appears that there's only one 64GB variant available, but it would be nice to have a 128GB option for users who need it.

The fingerprint sensor on the OnePlus 3 is very fast and accurate. You can set up a standard five fingerprints for the device. What we really appreciated is the fact that the fingerprint sensor unlocks the smartphone right from sleep, unlike most other phones with front-facing fingerprint sensors like the Xiaomi Mi 5 and even the Apple iPhone 6s.
The OnePlus 3 is quite loaded on the connectivity front, offering dual-SIM/dual-standby with Cat. 6 4G LTE support, Wi-Fi 802.11ac, Bluetooth 4.2, NFC, GPS and GLONASS.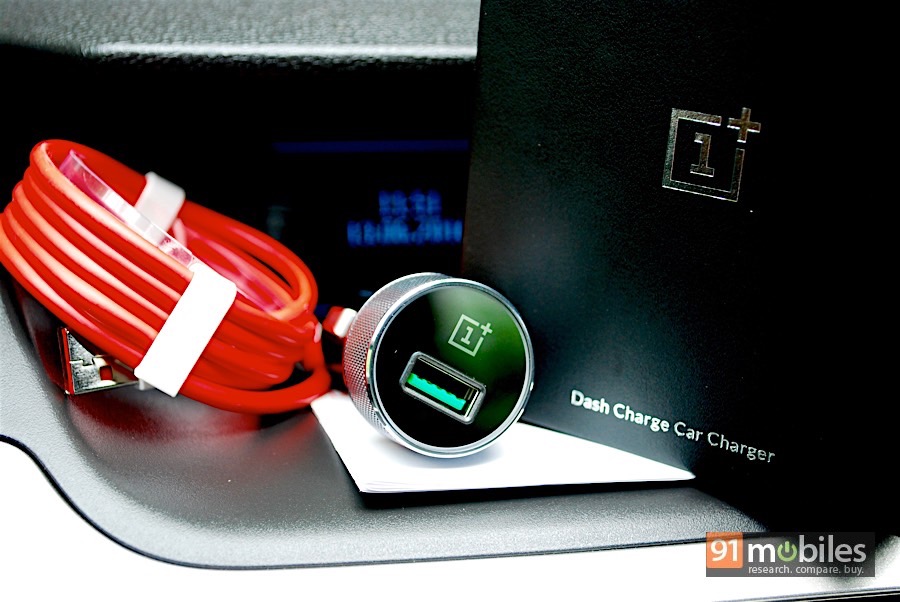 The battery life of the OnePlus 3 is one of its key features, all thanks to a special Dash Charge (5V 4A) technology. The device sports a 3,000mAh sealed unit, and OnePlus claims the included Dash Charger can charge 60 percent of the battery in 30 minutes. In our tests, the battery charged from 0 to 100 percent in 1 hour and 11 minutes, which is a fantastic result. OnePlus is also selling an optional Dash Charge Car Charger for Rs 2,299, which promises the same results for those of you who charge your phone on-the-go.
In terms of day-to-day battery life too, we routinely got about 5 hours of screen-on-time, with usage involving phone calls, use of WhatsApp, Facebook, Twitter, Slack, Instagram and the camera, plus an hour of so of streaming video on Netflix. That should be sufficient for most users, and the inclusion of the Dash Charger means that you can top up the battery significantly with a short charge. There's also an inbuilt Battery Saver mode in case you're running low on juice. It's worth mentioning that the standby time on the OnePlus 3 is very impressive, draining just 5 percent overnight, roughly a 6 hour period. In our video loop battery drain test, the OnePlus 3 lasted for 15 hours and 36 minutes, which is an impressive result for its specifications.

Verdict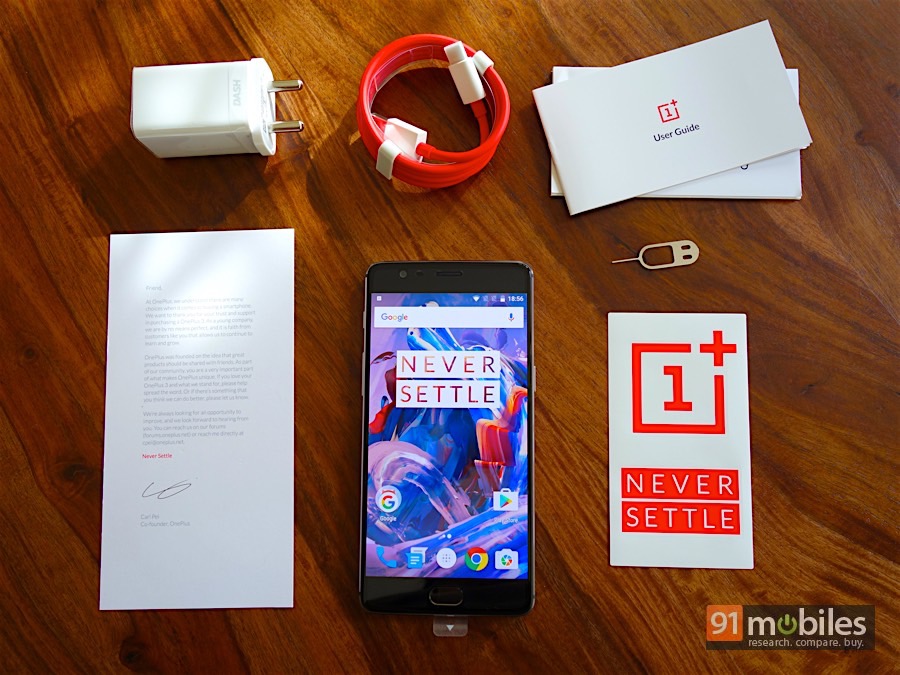 When we reviewed the OnePlus 2, we said that calling the smartphone a '2016 flagship killer' was too ambitious. A year later, and it's not hard to see why. The smartphone did offer great value for money, but was by no means perfect. The OnePlus 3 however is a different story. OnePlus has addressed many of our qualms with the OnePlus 2, such as the average battery life, rough edges around OxygenOS and most importantly, the frustrating invite-only model. In fact, getting rid of invites and selling the smartphone directly on Amazon is probably the best thing OnePlus has done for its brand.

At Rs 27,999, the OnePlus 3 is more expensive than the OnePlus 2 was at launch (Rs 24,999), but given its specifications and performance, it's more than justifiable. It's closest competitor would probably be the LeEco Le Max 2 (first impressions), which offers a similar Snapdragon 820/6GB RAM/64GB ROM configuration is priced at Rs 29,999. The Xiaomi Mi 5 (review) also deserves a mention as the competition, as does the recently announced ASUS ZenFone 3 Deluxe (first impressions), although the latter hasn't been launched in India yet.

We're still not convinced about calling the OnePlus 3 a 'flagship killer', but it does have the goods to put it in the same league as the likes of LG, Sony, HTC and Huawei flagships. For Rs 27,999, the OnePlus 3 offers a heady mix of fast performance, consistent cameras, Dash Charging and the necessary cosmetic enhancements like a metal build and stunning display. And that's a sweet deal if you ask us.
Editor's rating: 4 / 5
Pros:
Stunning display
Fast, smooth performance
Consistently good cameras
Great battery life with Dash Charge support
Cons:
Protruding camera and slippery body mandate a case
No expandable storage
Alert Slider can't be customised
Competitors for OnePlus 3
| | | |
| --- | --- | --- |
| OnePlus 3 | vs | Xiaomi Mi5 32GB |
| | | |
| --- | --- | --- |
| OnePlus 3 | vs | LeTV Le Max |