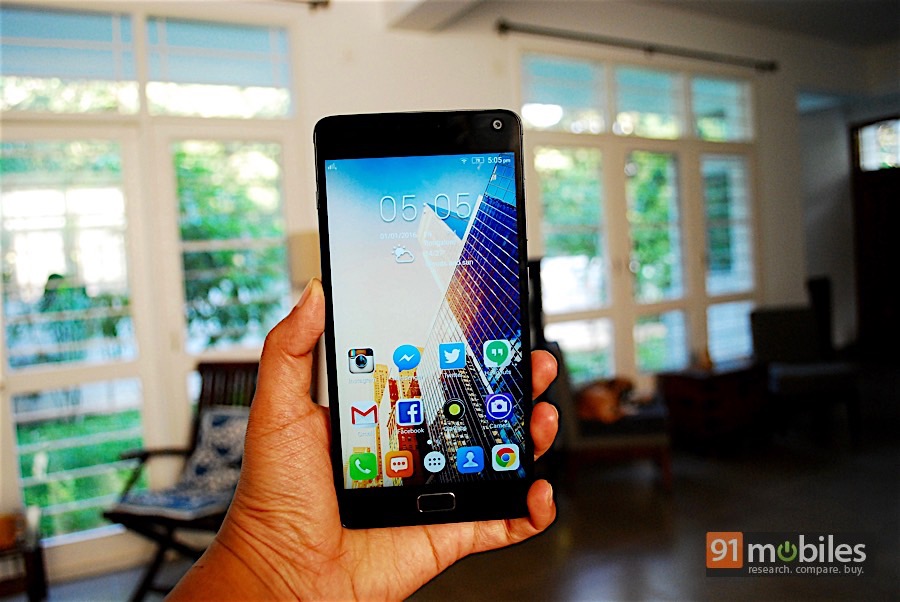 As battery life started becoming a major concern for smartphone users, manufacturers were quick to add power saving modes and more mAhs to their devices. Even so, most smartphones these days, flagships included, struggle to get through an entire day. So now, apart from their smartphones, most of us also resort to lugging around power banks. For many users, this is a compromise that's worth not having your phone die on you. For others, it's a deal breaker. That's where smartphones with huge batteries come in. Gionee's Marathon series is perhaps the first that comes to mind, but let's not forget Lenovo, which launched the P780 with a large 4,000mAh battery back in 2013. Since then, the company has introduced a few more similar phones, such as the P70 and S860. Now however, the company has introduced a new dedicated P1 series for smartphones with large batteries. First showcased at IFA in September, the two devices in the range consist of the Vibe P1m (first impressions) and the Vibe P1. While the P1m is a budget device with a 4,000mAh battery, the P1 holds more premium appeal, and packs in a larger 5,000mAh tank to boot. We've been using the device as our daily driver over the last week to find out if it can replace both your smartphone and power bank.
Display
Size
5.5 Inch
Resolution
Full HD (1080 x 1920 pixels)
Performance
CPU
Octa core, 1.5 GHz, Snapdragon 615
RAM
2 GB
Storage
Internal memory
32 GB
External memory
Up to 128 GB
Battery
Capacity
5000 mAH, Li-Polymer, Non removable
Talktime
Up to 44 Hours (3G)
Standby Time
Up to 600 Hours (3G)
Camera
Primary camera
13 MP
Secondary camera
5 MP
Connectivity
Network support
Dual SIM 4G
Other options
Wi-Fi, Bluetooth 4.1, GPS
Others
Battery Capacity
5000
Operating system
Android 5.1 Lollipop
Design: a metal brick
Dimensions
: 152.9 x 75.6 x 9.9 mm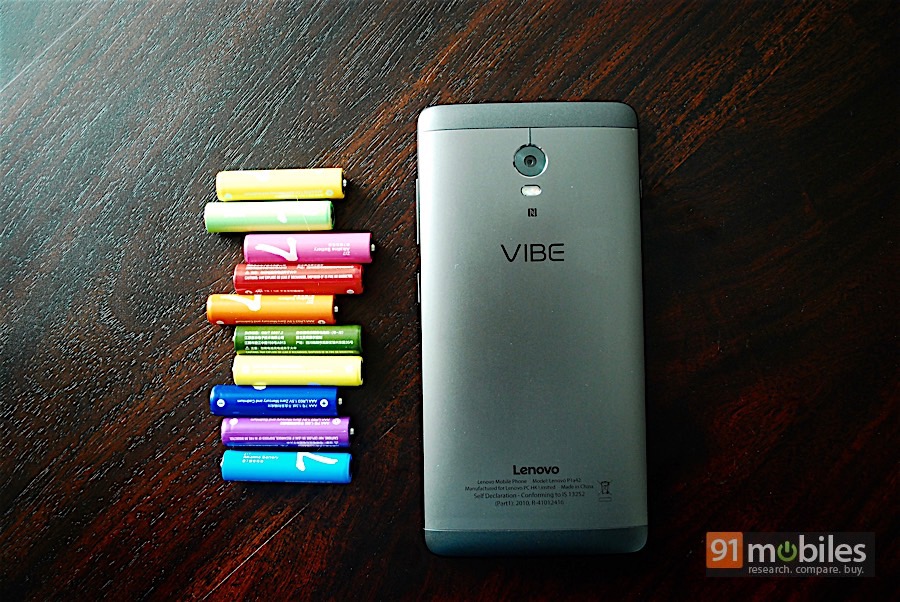 If you want a smartphone with a huge battery, you'll need to give up your dreams of a wafer-thin device. The Vibe P1, with its 5,000mAh battery is anything but sleek. It weighs in at a hefty 189g, and sports a pudgy 9.9mm waistline. Lenovo has added a touch of premiumness to the Vibe P1 by using a metal chassis and aluminium rear cover, although we found the overall design to be quite dull. The front of the device is quite staid, with the earpiece, sensors, notification LED and front cameras above the screen. Underneath the display you'll find the physical home button that integrates a fingerprint sensor, flanked by LED backlit navigation keys on either side.
Around the edges of the device you'll find the micro-USB port, loudspeaker and primary microphone at the bottom, the 3.5mm audio jack and secondary microphone on top, and the power button and volume rocker on the right. The left spine features a ribbed metal switch which instantly puts the phone into a power saving mode, which we'll come back to later. The back panel of the Vibe P1 features a two-tone grey colour scheme. You'll find the primary camera and dual-LED flash on top, followed by an NFC logo and Vibe branding in the centre. Towards the bottom you'll find Lenovo branding and various certification information.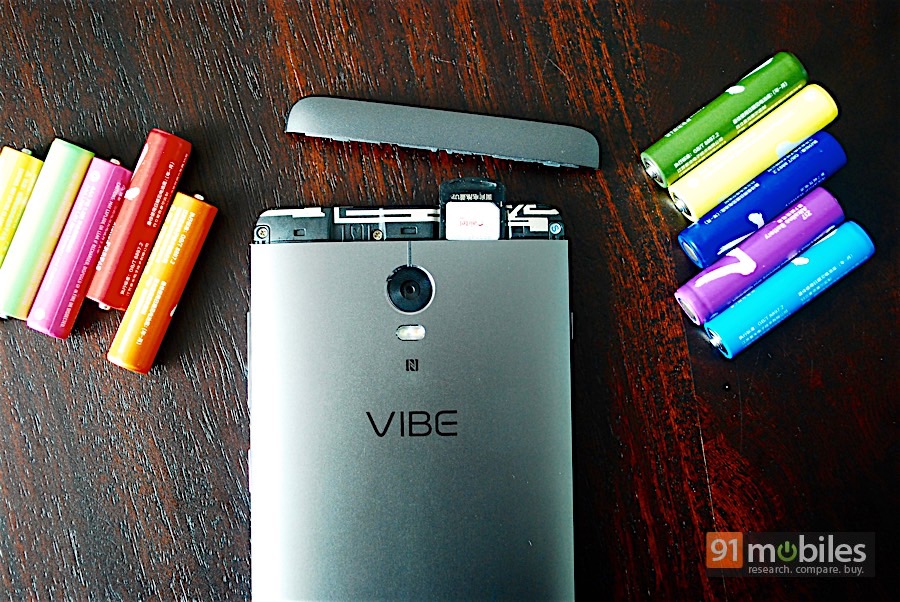 If you're wondering where the SIM card goes, the back panel of the Vibe P1 features a thin removable plate at the very top. This exposes the microSD card slot, as well as a SIM card tray which accepts two nano-SIM cards. This plate can be removed easily enough thanks to a little notch at the top, but putting it back is easier said than done. Overall, the Vibe P1 feels like a really solid device that might withstand a couple of drops, but don't expect it to turn any heads.
Display: Sharp, but glitchy
Resolution
: Full HD (1080 x 1920 pixels)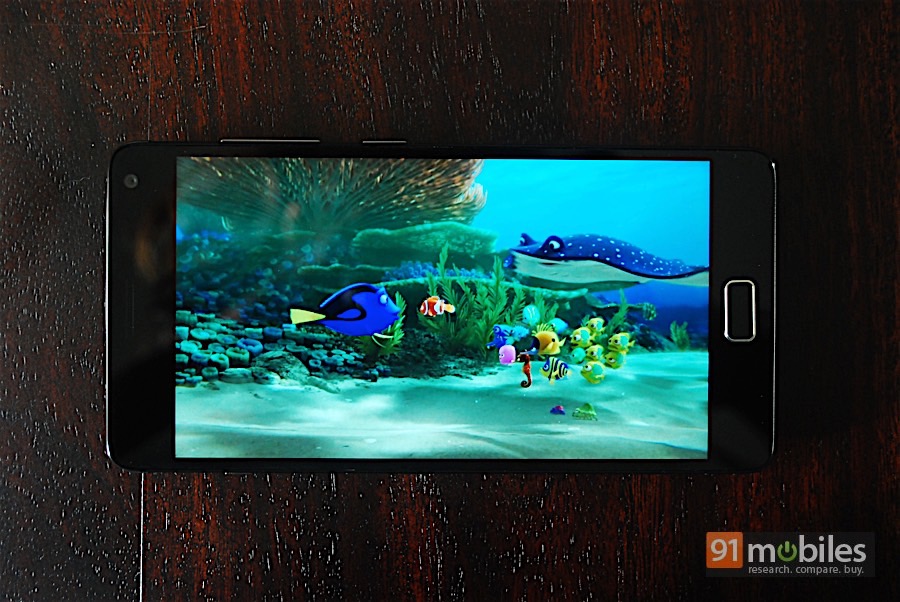 The Vibe P1 sports a 5.5-inch display with a generous full HD resolution, resulting in a pixel density of 401ppi. While the screen is sharp enough, it wasn't as responsive as we would have liked, with scrolls and swipes often going unregistered. Another issue with the display is the auto brightness, which is very glitchy. In most situations, the brightness was too low to be usable, and had to be increased manually. Sunlight legibility is very poor too, unlike the Vibe S1.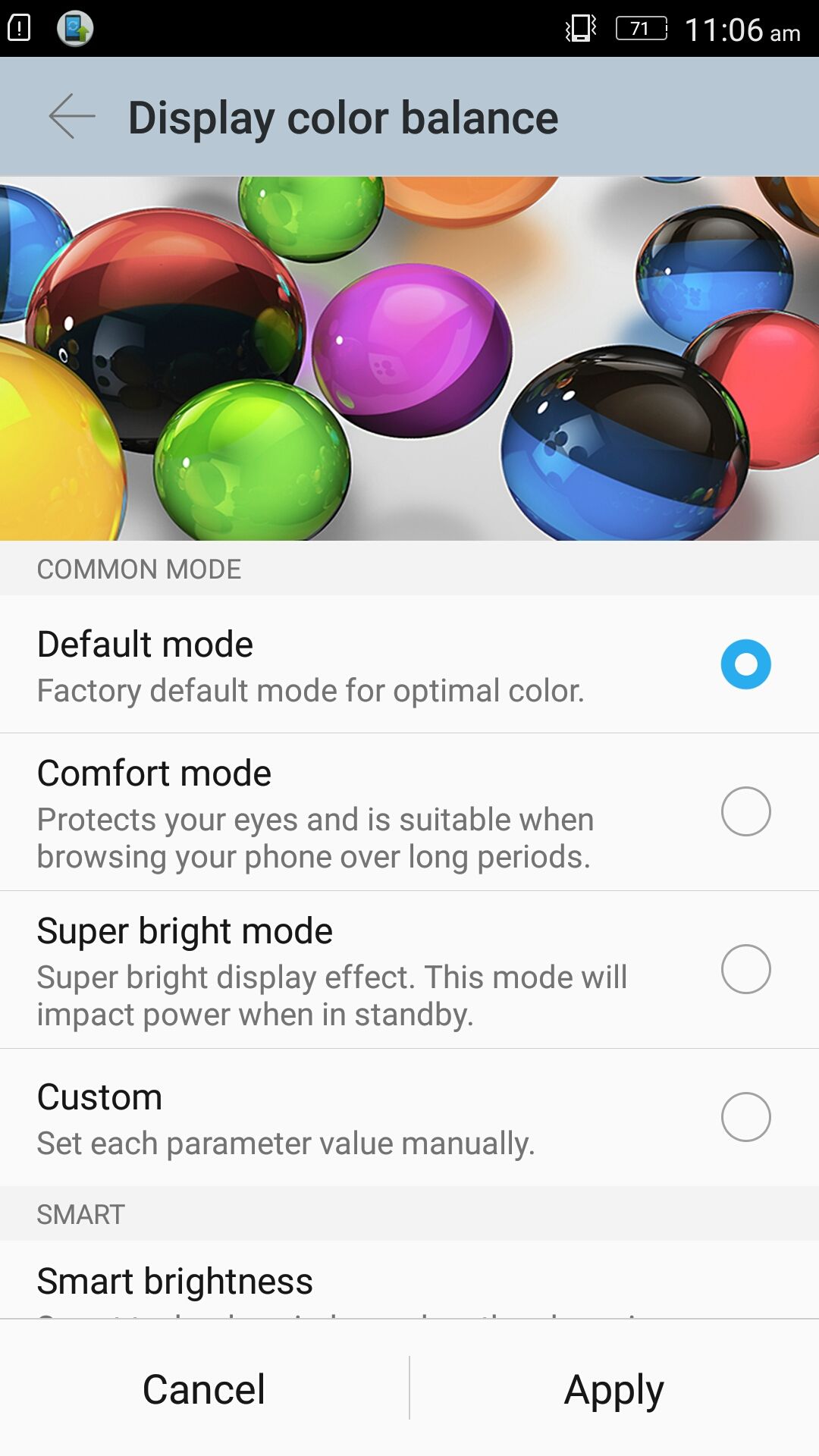 In the display settings, you can enable Lenovo's usual options of the super bright mode and smart brightness mode, which improve visibility under harsh lighting. Other display modes include a comfort mode to cut out the blue light and make the screen easier on the eyes, a custom mode where you'll be able to adjust tone and saturation manually, and a glove mode for increased sensitivity. The Vibe P1's display is protected by Gorilla Glass 3, but Lenovo has also bundled a screen guard in the box.
Software: A softer Vibe
Operating System
: Android
OS Version
: 5.1, Lollipop
The Vibe P1 runs Lenovo's custom Vibe UI that's based on Android 5.1.1 Lollipop. We've already spoken about Vibe UI at length in our previous Lenovo smartphone reviews, but one feature that does stand out on the Vibe P1 is the presence of an app drawer. Traditionally, Vibe UI doesn't feature an app drawer, so it's a refreshing change. In the homescreen settings, there's an option to enable the default Vibe UI launcher if you prefer. The Vibe P1 comes with the usual set of Lenovo apps including Theme Center, SYNCit and SHAREit. There's also quite a bit of pre-loaded content, including WPS Office, WeChat, UCBrowser, Truecaller, Tap the Frog HD, Skype, Myntra, Flipkart and Guvera Music. Fortunately, all this bloatware can be uninstalled.
In settings, you'll find the usual extras like Quick Snap (double press the volume key when the screen is off to take a photo), Wide Touch (a floating button that gives you access to shortcuts) and Knock to light (double tap to wake the display). The Vibe P1 features a few extras in this section, including the ability to flip the phone to turn off the display, and a one-handed mode to shrink and dock the display to either side.
Cameras: Average fare
Flash
: Dual-color LED Flash
The Vibe P1 sports a 13MP rear camera with phase-detection autofocus and dual-tone LED flash, as well as a 5MP front camera. The camera app is quite straightforward, and comes with the usual features like HDR, panorama and manual controls like ISO, white balance and metering. You'll also find an extra called Effects, which is essentially a range of filters and special effects you can apply in real time.
The primary camera is quick to focus and can capture sharp, detailed macros, and is one of its strong points. Landscape shots tend to vary, with some images appearing balanced, and others appearing washed out. The HDR mode can be effective, but it tends to oversharpen images. In low light, the images are too dark to be usable, but the flash is actually very effective, bathing the subject in even, natural light. The front camera by comparison is pretty average. Unless taken in bright, natural light, selfies are grainy and drab. There's a fill light feature which uses the display as a front-facing flash, but even this didn't improve the quality of the images. Here are a few image samples taken with the primary camera. Right click and open in a new tab to view them in full resolution.
Performance: Smooth for daily use
CPU
: Octa core, 1.5 GHz, Snapdragon 615
Memory
: 32 GB + Up to 128 GB
SIM Slots
: Dual SIM , GSM+GSM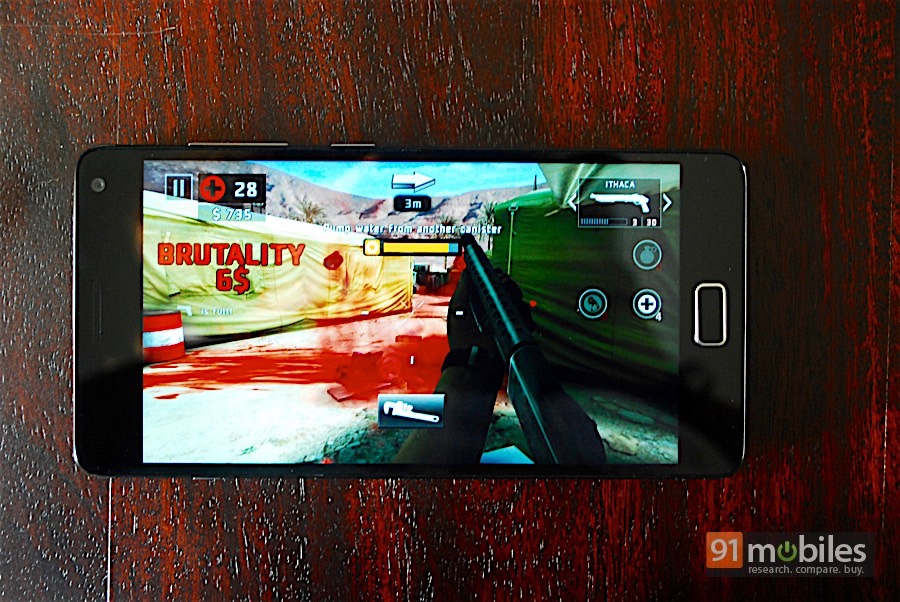 Powering the Vibe P1 is an octa-core Qualcomm Snapdragon 615 processor with four Cortex A-53 cores clocked at 1.5GHz, and another four spinning at 1.0GHz. The chipset is paired with 2GB of RAM. The phone could handle most apps we threw at it and multi-tasked fine, although we had more than once instance where the smartphone froze completely and required a reboot. Handling gaming on the Vibe P1 is an Adreno 405 processor, and we tested the smartphone's gaming prowess by playing intensive titles like Dead Trigger 2. We didn't encounter any freezes or frame drops, although there were noticeable lags, especially while navigating. Overheating wasn't an issue though, with the Vibe P1 remaining at a comfortable temperature after even a 30-minute session.
In terms of the internal storage, the Vibe P1 offers 32GB of space, out of which nearly 24GB is available out-of-the-box. The microSD card supports expansion by an additional 128GB, and you can also attach a flash drive to view files via USB OTG. In terms of the connectivity options on board, the Vibe P1 offers 4G LTE support on both SIM slots, along with Wi-Fi 802.11ac, Bluetooth 4.1, NFC and A-GPS.
One of the key features of the Vibe P1 is its fingerprint sensor, which is conveniently located in the home button. For some reason though, the smartphone only allows you to save two fingerprints, which severely limits usage, especially when most devices let you save a minimum of five fingerprints. While the plus point of the fingerprint sensor is that it also unlocks the screen, in reality, the sensor detected our fingerprint less than 70 percent of the time. After a while, we ended up disabling it altogether, which was quite a disappointment.
Battery: Ditch the power bank
Capacity
: 5000 mAH, Li-Polymer, Non removable
Talktime
: Up to 44 Hours (3G)
Standby Time
: Up to 600 Hours (3G)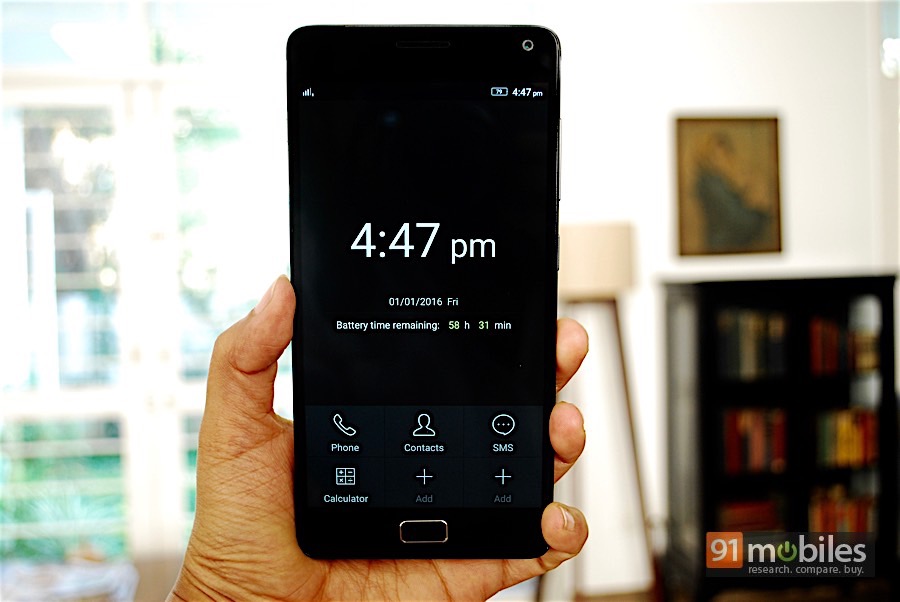 The highlight of the Vibe P1 is undoubtedly its battery, and this is one area where it doesn't disappoint. The smartphone easily lasts a day and a half with heavy usage, and with moderate use we were able to eke out two full day's worth. In our video loop battery drain test, we got a result of 22 hours and 8 minutes, which is a really good result, but not as good as the Gionee Marathon M4 (review), which lasted for over 26 hours in the same test. Large batteries are a pain to charge, and to make up for this, Lenovo has endowed the Vibe P1 with its Rocket Charge tech, which charges the phone at 24W. We managed to charge the handset from 20 percent to 60 percent in around 40 minutes, and a full charge from 0 to 100 percent took a little over 90 minutes. Fast charging is a welcome addition on any device, but for smartphones with big batteries, it makes a huge difference. We liked that Lenovo has bundled the Rocket charger with the device, which means no extra purchases.
As you can also expect, the Vibe P1 lets you charge other USB powered devices via USB OTG, which is a plus if you're using it as a secondary device. Despite the huge battery, Lenovo has added a dedicated power saver switch we mentioned earlier. This enables a power saving mode that turns off Wi-Fi and data, with access only to calls, SMS and a few apps like the calculator, clock and radio. It's not a mode most people would find useful, and frankly we don't see why anyone might need it (or the dedicated switch for that matter) on a smartphone like this.
Verdict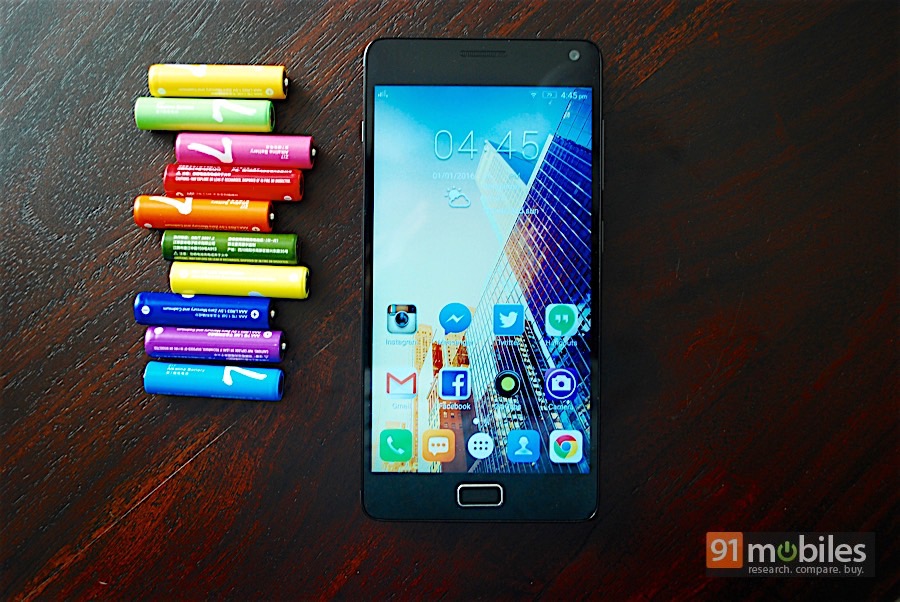 Let's get this out of the way – the Lenovo Vibe P1 isn't for everyone. It's not a looker, the cameras are average, the fingerprint sensor is glitchy, and the performance isn't exemplary. But if you were looking for these features, you'd consider other phones, like the OnePlus X (review), or even the Lenovo Vibe S1 (review). Choosing a handset like the Vibe P1 makes sense only if good battery life is your priority. In that respect, the device does its job, and does it well. The Vibe P1 has some competition from the likes of the Gionee Marathon M4 and the more expensive M5 (first impressions), but if you're looking for an affordable smartphone with great battery life, it should be among your top choices.


Editor's Rating: 3.5 / 5


Pros:
Excellent battery life
Supports Rocket Charge
Ample storage
Cons:
Freezes occasionally
Fingerprint sensor can be glitchy
Very bulky