"With the Unite 2, Micromax has proven that not too many corners need to be cut to make a compelling budget Android smartphone"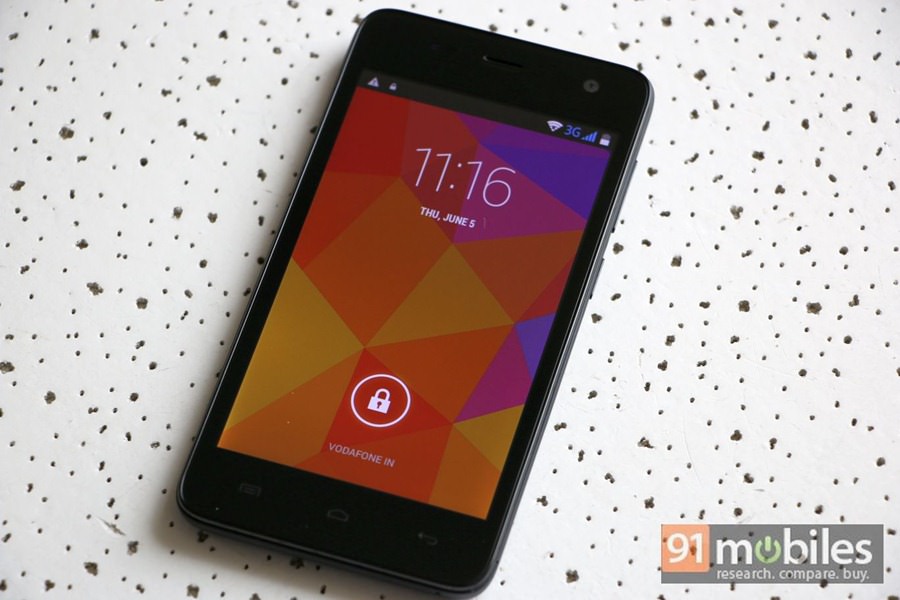 As a mobile device maker, Micromax has moved from strength to strength. The brand has been launching a slew of interesting and not-so interesting devices since the day of its entry in the Indian mobile phone market, paving the way to where the brand stands today as one of the top mobile vendors in the country. Recently, Micromax launched a few premium smartphones including their flagship, the Canvas Knight; you can read the review here. The new focus on the mid-premium end of the smartphone segment aside, Micromax has otherwise, always focused on the budget segment. The Micromax Unite 2 is the company's newest budget smartphone, and while the device has been priced below Rs 7,000, it offers a powerful set of hardware specs and a host of exciting features that are enough to entice Android fans. While on paper it might sound too good to be true, let's find out how well the Micromax Unite 2 performs in real life.
Premium feel and appeal
It's to the product designers' credit that they've managed to give the Micromax Unite 2 a solid build along with a nice look and feel. The device feels sturdy and appealing to the eyes of both the user as well as the lookers. The Unite 2 has been made available in a variety of colours including red, dark grey, white and green, making sure it appeals to the sensibilities of different individuals.
In terms of construction, despite being made out of plastic, the Micromax Unite 2 feels quite sturdy. The front features a glass-based surface for protecting the display against scratches and accidental knocks. The rear cover features a matte finish, which is both resilient to minor scratches and offers better grip.
Although the Unite 2 is not the lightest of the devices available at a sub-Rs 8,000 price category, but with its 2,000 mAh battery pack and bigger display size it, manages to justify its weight well. It's easy to operate it with one hand, while for speedy typing users can also make use of both thumbs without any issues.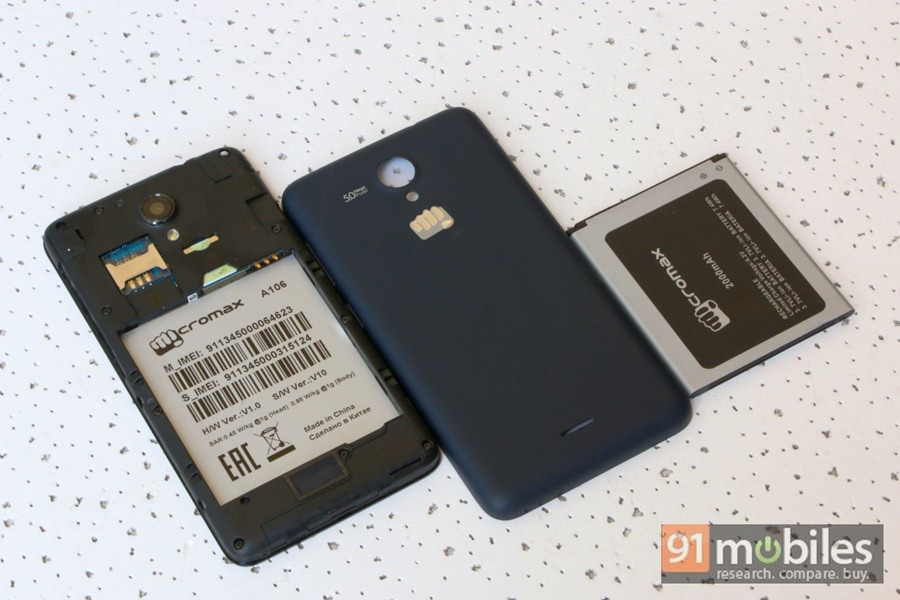 The smartphone offers a three-button interface with the volume rocker and the power key both being placed on the right side of the device. While the volume rocker has been placed towards the top, the placement of the power key below makes it easier to use with a single hand. It's dual-SIM device with support for 3G networks on the primary SIM slot, which uses a micro-SIM. The secondary slot accepts a regular-sized SIM. To cut cost, the company has refrained from offering any bundled freebies like flip case, and scratch guard in the box. You can take a look at the unboxing of the Unite 2 here.
Brilliant display for the price
The most basic problem with budget smartphones is that they have to be fitted with cheaper displays, which offer poor viewing angles and lower contrast ratios, though this trend is changing now. With the dual-SIM Micromax Unite 2, the brand has offered a brilliant 4.7-inch IPS display carrying a modest 480 x 800 pixel resolution.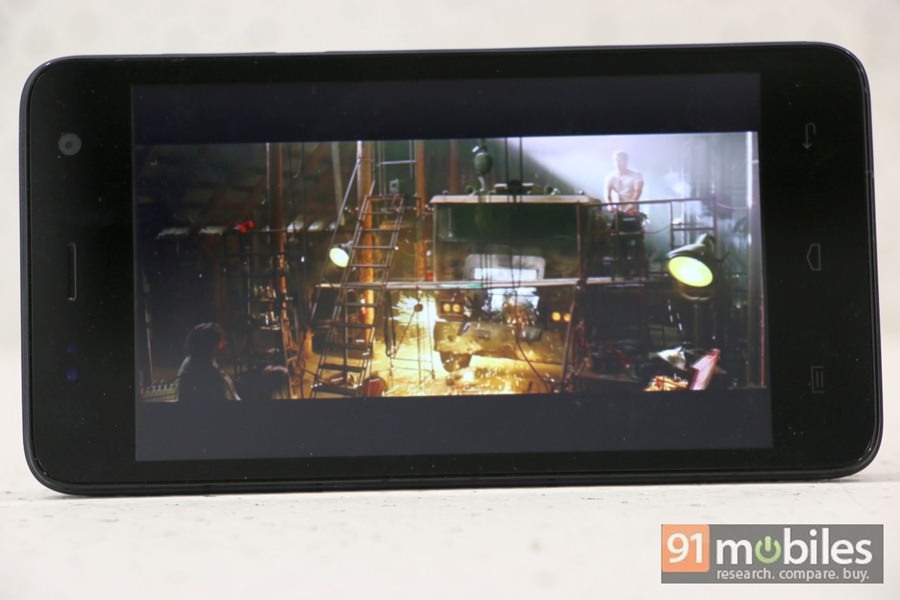 While the resolution is similar to what other devices in same price band offer, it's lower than its closest competition, the Moto E, which offers a resolution of 540 x 960 pixels. Despite this, the Unite 2 offers vibrant visuals with ample brightness, contrast and colour variance. Notwithstanding the marginally lower resolution, there is no pixelation and images turn out to be crisp and sharp, all thanks to the IPS-based panel.
Right from multimedia to internet browsing and gaming as well, the device offers a good overall experience and is pleasing to the eyes. The display also offers wider viewing angles of not less than 170 degrees, making it ideal for watching videos and gaming.
The touch-sensitive layer has been made using glass, which is far better in terms of scratch protection as compared to plastic used by many devices with similar price tags. Following the touch-sensitive layer, lay the three feather-touch, backlit Android interface buttons. In terms of touch performance, both the touch layer as well as the keys are very sensitive and even the slightest gestures easily result in desired actions.
Focus on the good things
The 5-megapixel primary camera might be a common thing for devices with similar price tag, but the Unite 2 changes the equation by offering a very capable autofocus mechanism with that same 5-megapixel resolution snapper, and also adding an LED flash for illumination during low-light conditions.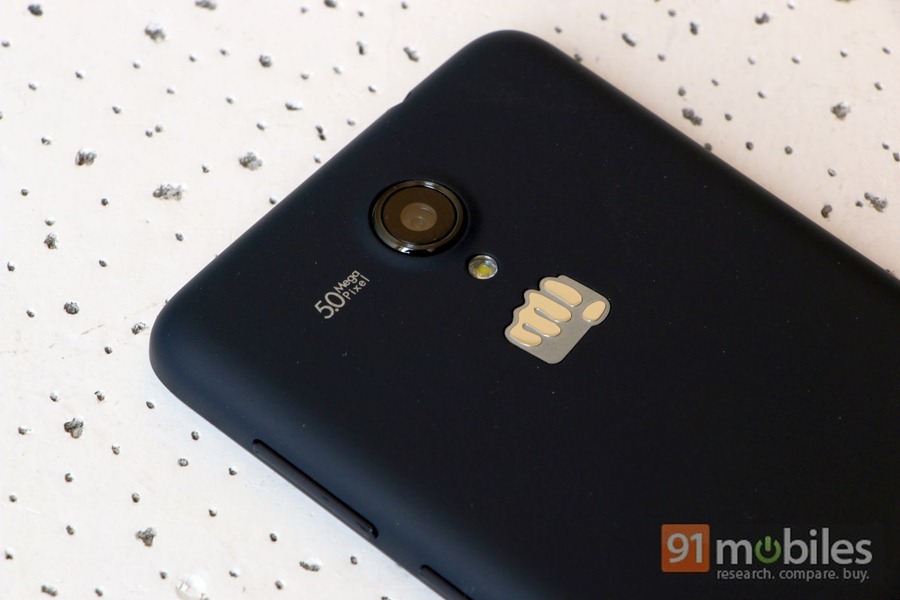 Sporting a 5-megapixel camera offers a much-desired freedom to the users in case they want decent-sized printouts of their images. The autofocus capabilities ensure you get sharper images that offer better detail, and this exactly how the Micromax Unite 2 differentiates itself amongst its competition.
If you are interested in seeing more camera samples from the Unite 2, check out the camera review here.
In addition to autofocus on the primary camera, the Micromax Unite 2 also sports a 2-megapixel front-facing camera. Now this isn't something worth flaunting, but it allows users to make video calls using Skype or other video-calling services. The Moto E on the other hand, has a similar 5-megapixel camera without autofocus, and misses on a front-facing camera as well.
Other multimedia features include an FM Radio and a multi-format audio video player that supports most popular formats. Since it's an Android-powered device, the Micromax Unite 2 can download and use any available app for multimedia playback.

Update: The front camera resolution on the Unite 2 was wrongly mentioned as a VGA, however, the device features a 2-megapixel fixed focus camera on the front.
Android KitKat unwrapped
The dual-SIM Unite 2 is MicroMax's first Android smartphone featuring Android 4.4 KitKat. As always, the UI has very minor alteration as compared to the pure Google experience offered by devices such as the Moto G and Moto E. Apart from a few free games and apps being preloaded, Micromax offers the interface and operating system in the most generic form. As one of its USPs, the Unite 2 features support for 21 Indian regional languages. India is a country where there is a huge diversity in languages in use, and the Micromax Unite 2 with support for so many regional languages will definitely be useful for a large number of people, even those who only comfortable using their mother tongues.
There are a number of games that come preloaded on the handset, with most being trial versions and sadly, if you are not willing to buy these, you're stuck with the bloatware. The problem becomes all the more acute for the simple fact that the device gets a meager 1GB of application storage memory. Out of this nearly 500 MB is already taken up by apps that come preinstalled, so if you want to free up some space you will have to uninstall what apps you can from the device.
In terms of more useful apps, Kingsoft office comes preloaded and it's certainly quite handy. Along with that, Truecaller also comes out of the box. If you don't wish to use this app you can disable it, but as we have seen, most users love the functionality offered by Truecaller.
Along with offering the latest Android operating system, the Unite 2 also comes with a promise of offering the newest upgrade as and when it is made available. So no matter of it is Android 4.5 or Android 5.0, Micromax Unite 2 users can rest assured the device will be upgraded to the new version. However, we're a little skeptical considering Micromax's history in offering timely OTA upgrades.
A capable performer
For most budget smartphone, a quad-core processor and 1GB of RAM might be a dream, but the Micromax Unite 2 has made it possible and quite possibly, forced other manufacturers to offer devices with powerful set of hardware specifications at budget prices too. Not very long ago, the hardware specifications ranged between 1.2GHz quad core processors to 1.5Ghz quad-core CPUs coupled with 1GB of RAM even for mid-range smartphones. However with the Unite 2, the company offers a 1.3GHz quad-core processor from MediaTek supplemented with 1GB of RAM for smooth operation.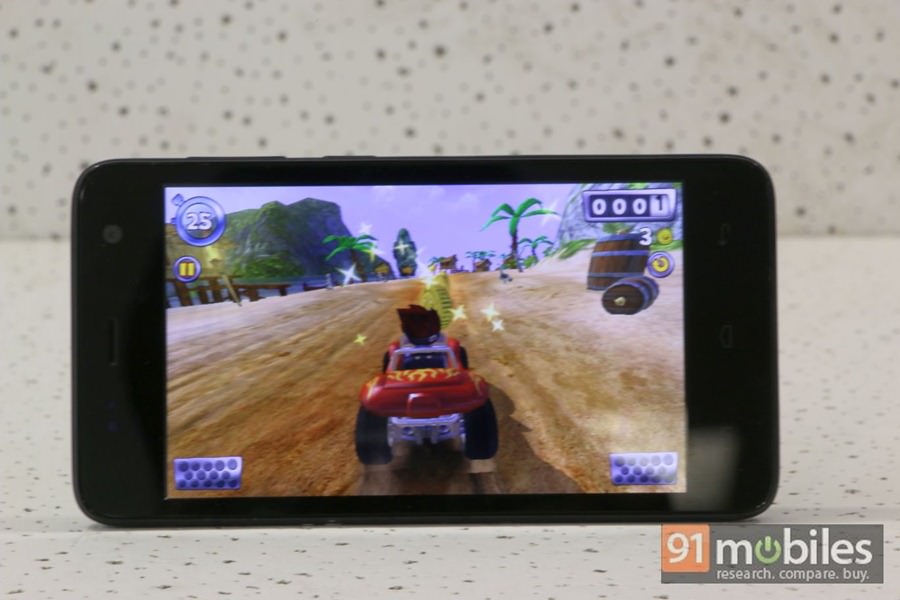 While the difference is clearly visible in terms of faster app load times and better multitasking, even gaming is very much a delight on the Unite 2. Being a dual-SIM capable device the Unite 2 can stay connected to two different cellular networks at a given point of time, but it only offers dual-SIM standby that allows the smartphone to make and receive calls from one SIM at a time. Nevertheless, the device does offer 3G connectivity through the primary SIM which is great at this price.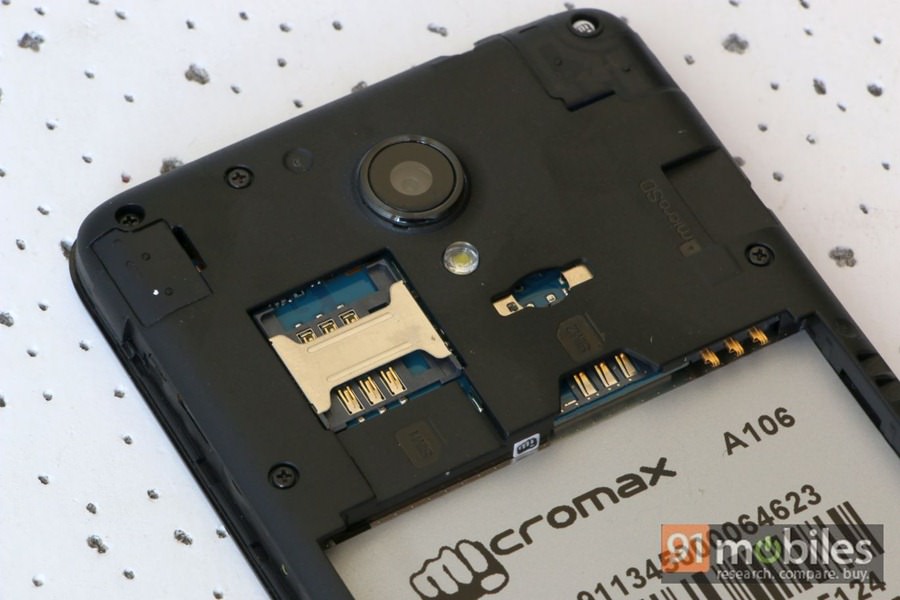 To test out its real performance, we tried the device with a variety of apps and games, and it fared well in most scenarios. The only time it did crash was when we took the device out of the box and started it for the very first time. This could have been due to a minor glitch, and through the course of the review, it never froze or crash.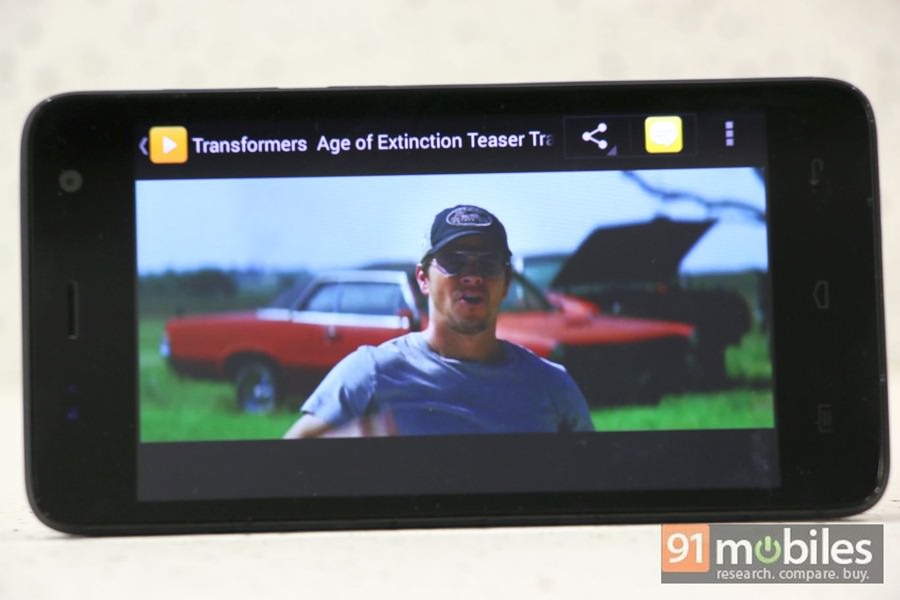 Although it is difficult to load and play HD games on the Micromax Unite 2 owing to the low application storage, but for testing we played Riptide GP2 and Beach Buggy on the device and it played all the games at ample frame rates, complete with proper water droplet effects.
Battery-wise, this smartphone is a pretty neat performer and promises good battery life between recharges. In our comprehensive battery test, the Unite 2 was able to play HD resolution videos at 50 percent brightness and volume levels for almost close to six hours non-stop. In the real-life scenario this smartphone should last between a day to a day and a half with average use.
Verdict
Looking at the Micromax Unite 2 without considering the price, it offers a good set of hardware features which translates to smooth performance in apps and games. It offers a capable 5-megapixel autofocus camera at the back and also has a front-facing shooter. And it also gets a reasonably-sized 4.7-inch display built using IPS technology promising better visual experience. On top of it, it's powered using Android KitKat. Add the dual-SIM capability and the Micromax Unite 2 becomes an intriguing proposition for anyone looking for a budget Android smartphone.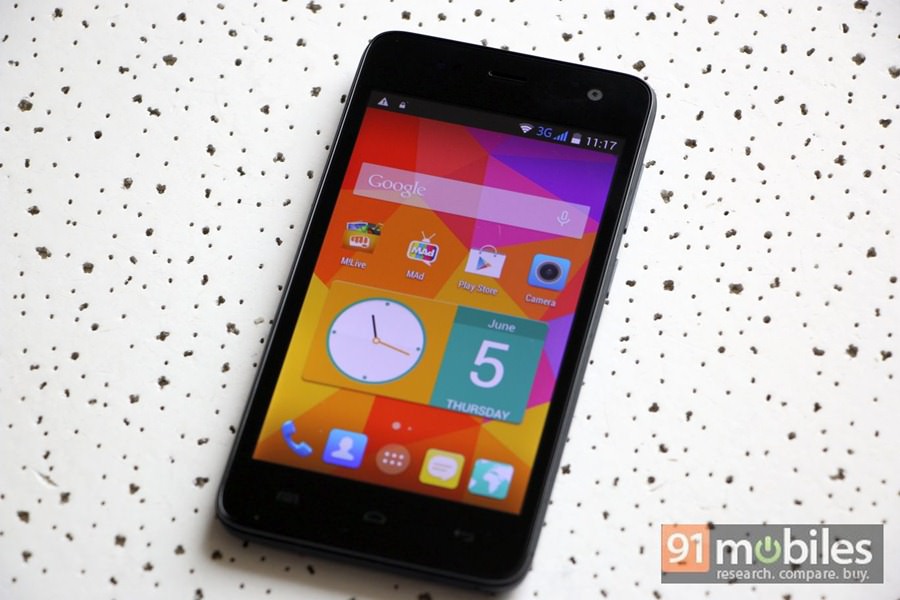 The 2,000mAh battery promises up to one to two days of usage between recharges for light users and offers nearly six hours of continuous HD video playback at 50 percent volume and brightness.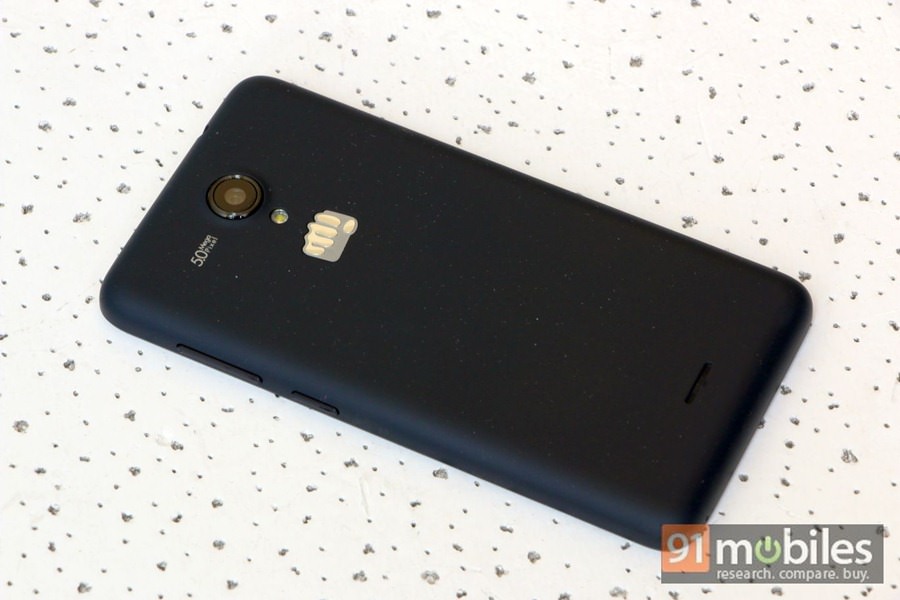 Now, bringing the Rs 6,999 price tag into the picture, the Micromax Unite 2 comes across as an amazing value-for-money proposition, even standing tall against the very popular Moto E. You can check out the comparison between the two here. If we were to sum up the Micromax Unite 2 in a few words, we would call it a powerful Android smartphone featuring the latest Android operating system and flaunting hardware close to a mid-range device. Therefore, the bottom line is, if you seek something powerful but do not have the budget for something expensive, then the Micromax Unite 2 is the Android smartphone for you, and you won't regret buying it.
Price: Rs 6,999


Editor's rating : 9 / 10


Pros
Good display
Smooth performance
Autofocus camera
Sturdy build
Budget pricing
Cons
Low application storage
Average battery life
Photos and video by Pratik Vyas