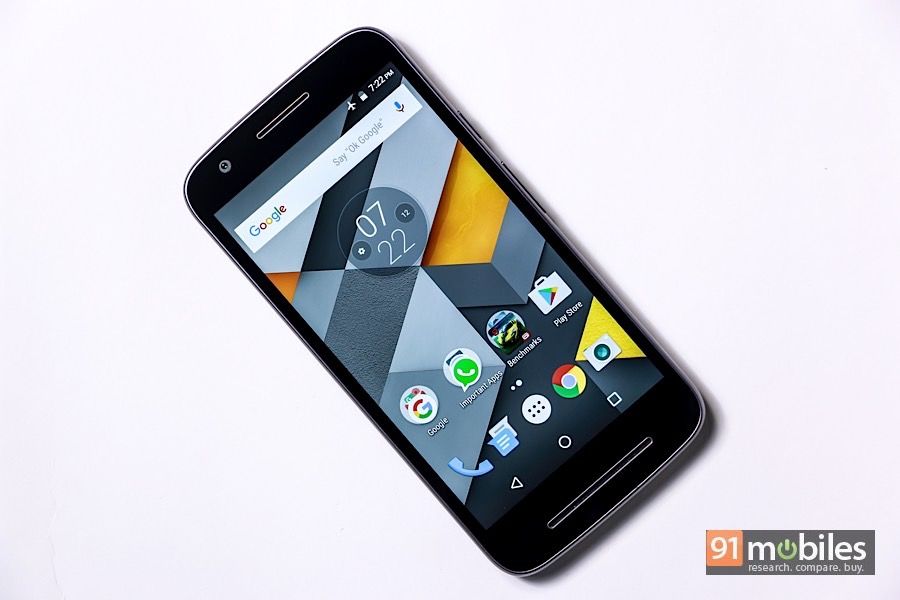 Rewind to the midnight of May 13th, 2014. A phone was about to go on sale on Flipkart. Many people across India were waiting to click their mouse, and were ready to purchase one (or maybe two) for themselves. But as fate would have it, they couldn't. Flipkart's servers had crashed throwing up an error 502 message. The e-commerce heavyweight had underestimated the demand.
Well, the reason for all this drama was – the Moto E (1st generation) – a phone that sort of truly redefined the budget smartphone segment back then. The Moto E had a sticker price of Rs 6,999, and offered a Qualcomm Snapdragon 200 SoC with smooth performance across the board. What more could one ask for at the price?
Although, a lot has changed since then. Flipkart has upgraded its servers. Motorola is now owned by Lenovo. And most importantly, Chinese brands like Xiaomi, Coolpad, Meizu, Huawei, and Lenovo itself, have taken centerstage in the budget smartphone race. Motorola has been left to play catch up.
Having said that, even today, when a Motorola device comes for review, it excites us. Primarily because, the company knows a thing or two about making quality smartphones. That's why, when the Moto E3 Power's review unit landed even before its actual launch, we were stoked to see what's new; especially, after Lenovo took over the reins.
The Moto E3 Power is a variant of the vanilla Moto E3. The difference: the Power variant comes with a larger 3,500mAh battery and 16GB of storage, instead of 8GB on the Moto E3. We've used this phone for over a week now and have a few observations.


Specs at a glance


Display
Size
5.0 Inch
Resolution
HD (720 x 1280 pixels)
Performance
CPU
Quad core, 1 GHz, MediaTek MT6735P
RAM
2 GB
Storage
Internal memory
16 GB
External memory
Up to 32 GB
Battery
Capacity
3500 mAH, Li-ion
Camera
Primary camera
8 MP
Secondary camera
5 MP
Connectivity
Network support
Dual SIM 4G
Other options
Wi-Fi, Bluetooth 4.0, GPS
Others
Battery Capacity
3500
Operating system
Android 6.0 Marshmallow
Design: We shrunk the Moto G4



Dimensions

: 143.8 x 71.6 x 9.5 mm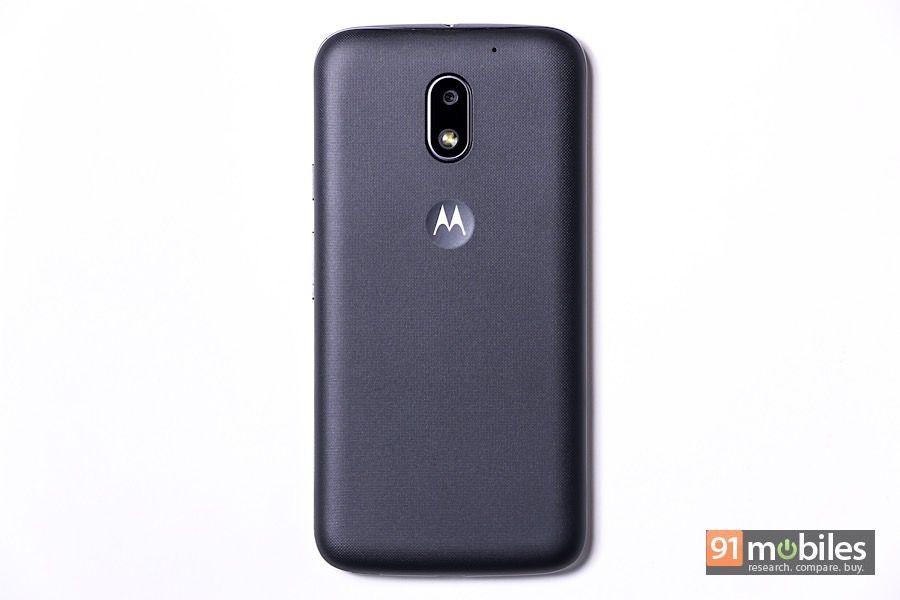 Have you seen the Moto G4? Well, the Moto E3 Power, at first glance, looks strikingly similar to its elder sibling. It has the same plastic body with a slightly textured rear, which cuts a handsome figure. Also, the trademark Motorola dimple is not as recessed as it used to be. This means that your index doesn't naturally fit inside the dimple anymore, something we sorely miss.
Minor quibbles aside, we like the fact that the rear cover is actually removable. Some folks might also appreciate the fact that the battery is removable. The removable battery is actually one of the reasons why the Moto E3 Power is thicker, at 9.55mm, than many other smartphones in the same price range. It is heavier too at 153 grams. However, this added heft actually makes it reassuring to hold.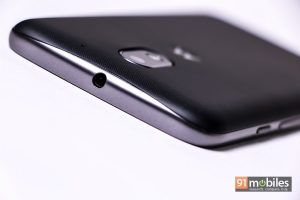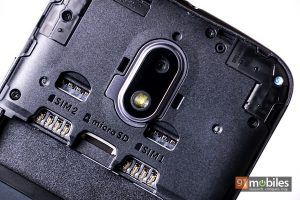 Once you remove the rear cover, you will notice that Lenovo has provided two separate micro-SIM card slots and a microSD card slot. This means that you don't have to worry about struggling with a hybrid slot, where you have to choose between using a SIM card or a microSD card.
There is a chrome-finish trim that runs along the edges of the phone. The power button and the volume rocker placed on the right edge of the phone offer decent tactile feedback. There are ridges on the power button that made it easier for us to distinguish it from the volume rocker.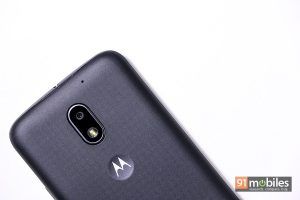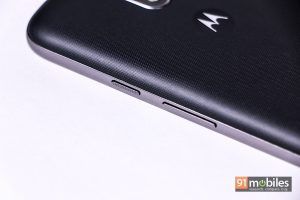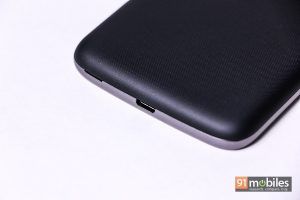 We had one complaint, though. During our time with the E3 Power, we noticed that the LED notification light bleeds into the display. We don't know if this is an issue with our particular unit but this belies our belief that Moto smartphones are a case study in fit and finish.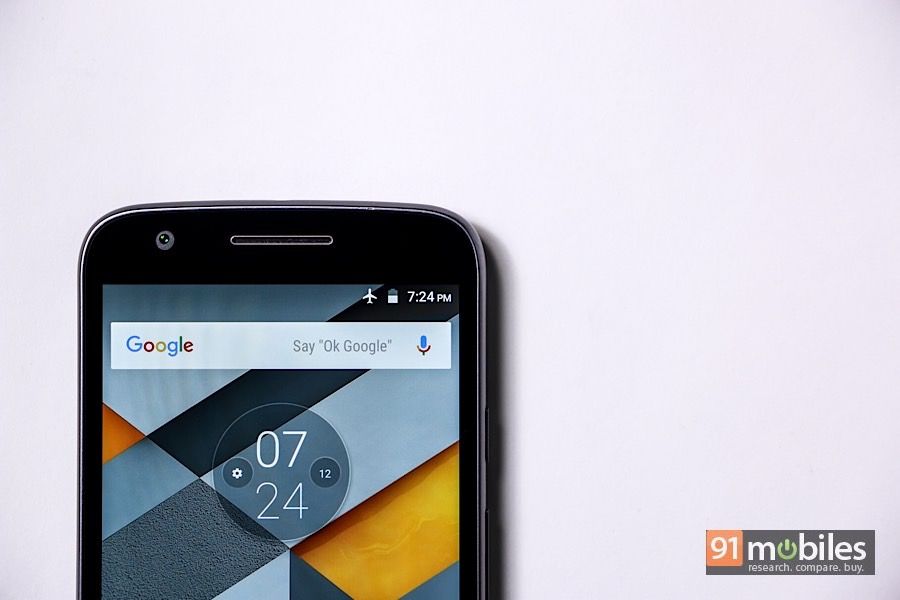 Display: Above average at best



Resolution

: HD (720 x 1280 pixels)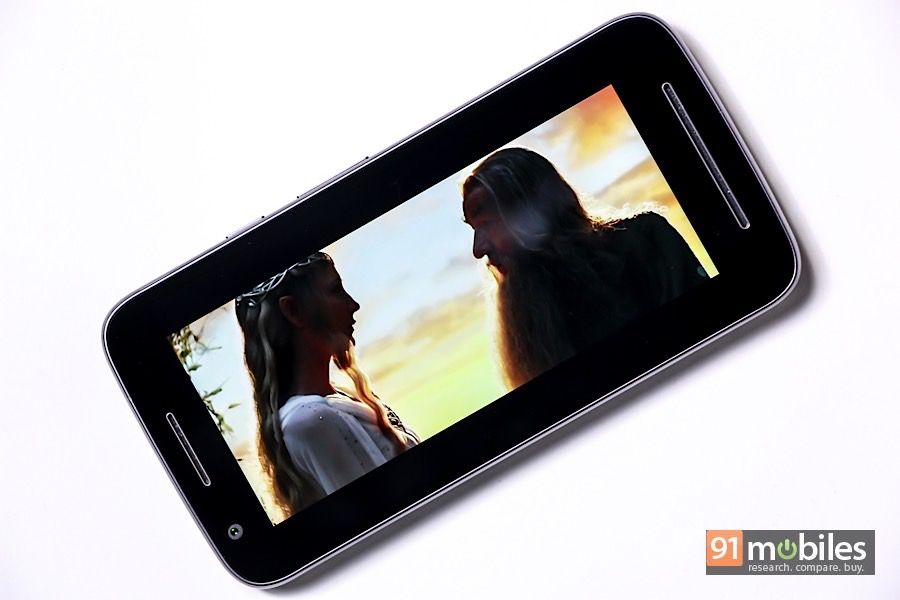 The Moto E3 Power has a 5-inch 720p (HD) IPS LCD screen, which translates to a pixel density of 294ppi. The images and text on this display looks crisp, and unless you actually observe closely (or with a magnification glass) you'd be hard pressed to find any sort of pixellation. As is the case with most IPS LCD panels, the colours are not very saturated and look pleasing to the eye. But the black levels are not very deep.
Moreover, the colour temperature of the screen was a little too warm for our liking. The maximum brightness level of the Moto E3 Power's display is not very high, which in turn affects the legibility of the screen in direct sunlight. The display has an adaptive brightness setting that adjusts the brightness levels based on the ambient light. It works well. The display also comes with Corning's Gorilla Glass 3 for protection.
Software: Clean, stock UI without bloatware


Operating System

: Android

OS Version

: 6.0, Marshmallow
As is the case with most Motorola smartphones, the Moto E3 Power also comes with a near-stock experience of Android. The phone runs Android 6.0 Marshmallow and if the past is any indication then it should be upgraded to Android Nougat, sooner than most Android smartphones out there. This is a major advantage that that Moto E3 Power has over its competition.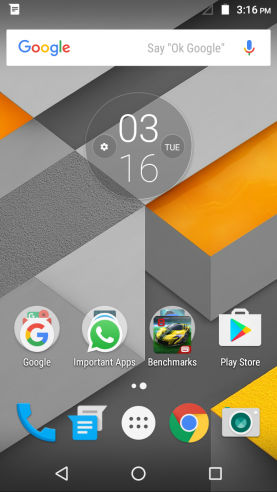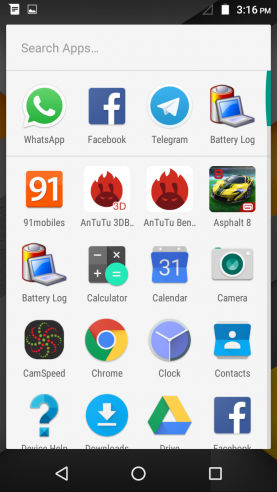 Well, there is not much to say about the operating system per se. It comes with an app drawer and a radio player, which is honestly a rarity on smartphones these days. You also get Google Now, Now-on-Tap, and a host of other cool Android features present in Marshmallow.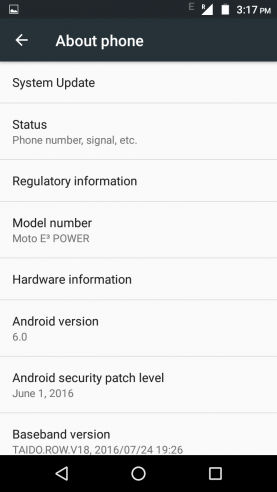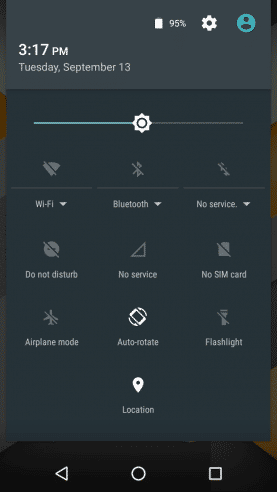 Although, the software embellishments that you get with other Motorola phones, like Moto Voice and Moto Actions. are missing in this phone. We particularly miss chopping the phone twice to start the flash or twisting your hand twice to open the camera app.
Camera: The best cameras on a Moto E smartphone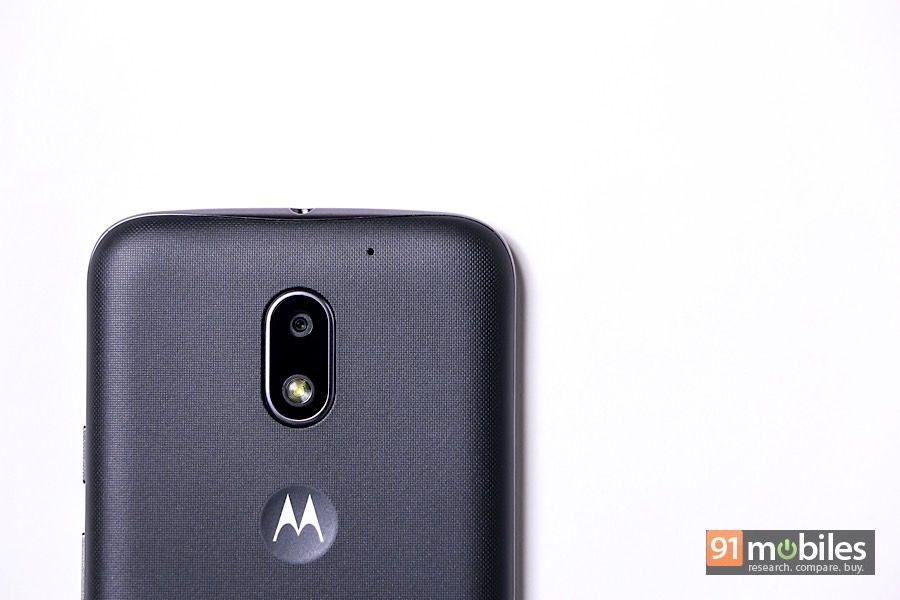 Motorola has included bigger sensors on the Moto E the third time around. The front camera can now shoot images in 5MP resolution, whereas the rear can shoot 8MP images; it is also supported by a rear flash.
The camera app has a clean and neat interface, and the engineers have added a few new features as well. The HDR toggle is now easily accessible, and a little digging will also lead you to the Panorama mode. A few tint-based effects have also been pre-loaded to appease the Instagram crowd. The front camera also gets Beauty mode, a feature found in most Chinese phones.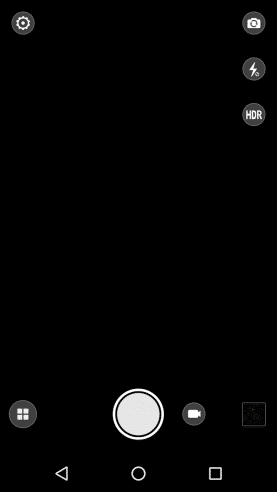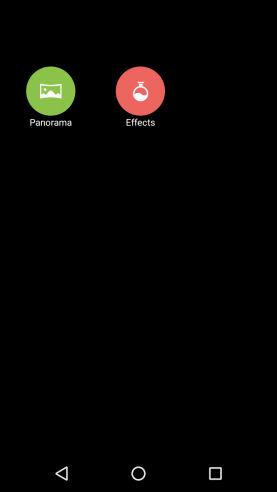 During our testing, we noticed that the 5MP front camera is a comparatively better performer than the rear camera. Selfie lovers will be happy with the details captured by the front camera in daylight. We captured some sharp selfies with a natural colour tone to the overall image. Although, we are generally not fans of the beauty mode. It tends to artificially brighten the image. And honestly, it makes us wonder if a fairness cream like Fair and Lovely should get the rap for promoting fairer skin as the gold standard in skin tone, so should this Beauty Mode. This is for the very first time that the front camera on a Moto E series phone has been so good.
The 8MP rear camera can take some good images with decent sharpness in daylight as well, but we still noticed some noise (grain) when zoomed in. As long as you don't intend to blow up the images, your captured shot should work for taking small 4×6 printouts or to share it on social media. In fact, one of the test shots taken using the Moto E3 Power that we shared on social media had people wondering what phone was used to capture it.

The colours are generally accurate, with a very natural and pleasing colour temperature. When viewed at a smaller resolution, our test images looked almost similar to what we achieved on the Moto G4 Plus, which had a great camera regardless. However, thanks to the fairly slow focussing speeds on the E3 Power's rear camera, we ended up with a ton of blurry shots. The HDR mode works well most of the time but it has a bad tendency to over saturate the colours apart from just improving the dynamic range.
Both the cameras are below average performers in low light. Don't bother using these cameras if you have less than ideal light to begin with. Note that the Moto E3 Power can only capture videos in HD quality and they look okay.

Performance: Bogged down by the MediaTek processor
CPU
: Quad core, 1 GHz, MediaTek MT…
Memory
: 16 GB + Up to 32 GB
SIM Slots
: Dual SIM , GSM+GSM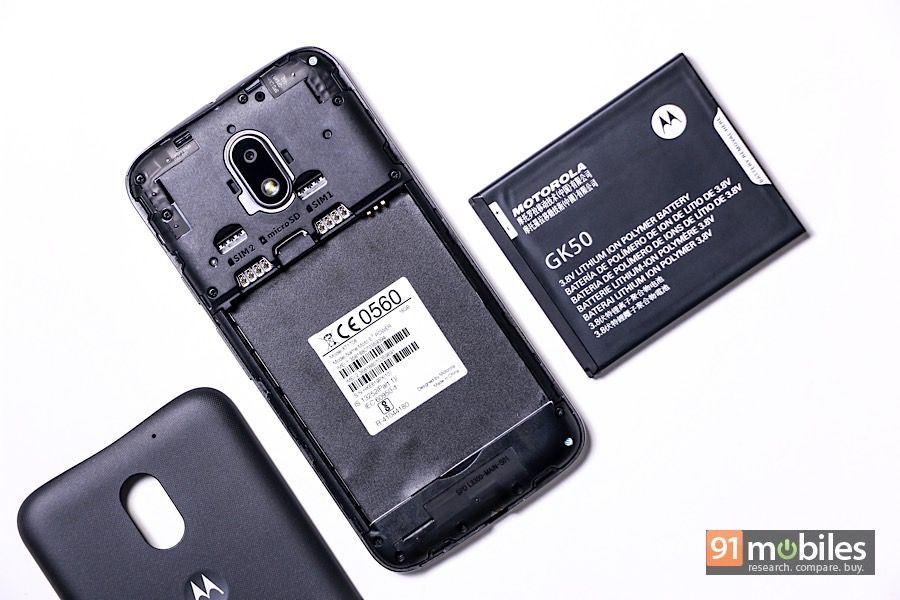 Now, the performance of a phone is largely dependant on the system-on-chip it uses and for the very first time, the Moto E3 Power uses a Mediatek chip – particularly the 6735p quad-core SoC with a Mali-720 GPU. It also has 2GB of RAM, which should generally suffice for most use cases. You also get 16GB of onboard storage with the option to expand it up to 32GB using a microSD card. On boot up, you get around 11.96GB of storage for use.
In our testing period, we actually noticed that the Moto E3 Power performed sluggishly in day-to-day tasks. Opening apps took a tad longer than we expected it too, and so does shutting down multiple apps at once. Thankfully, these instances are not commonplace and it doesn't really break the overall experience of using the phone. But, the gaming performance of Moto E3 Power is particularly below average. Heavy-duty games like Asphalt 8 and Modern Combat 5 lagged terribly during our testing.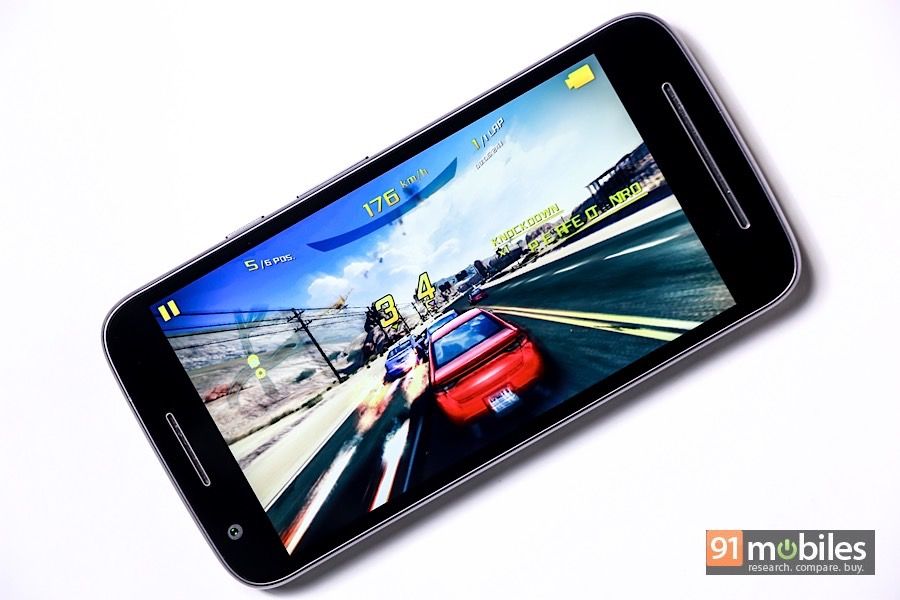 The multimedia performance, is however, generally good across the board – music playback is good and the phone even played our 1080p HD test file without any hiccups. That said, the loudspeaker sounds muted and doesn't get too loud.
One area where the Moto E3 Power excels is in its impeccable call quality, in typical Motorola fashion. Even in areas of high network congestion, the phone managed to latch on to calls and provide good sound quality through the earpiece


The 3,500mAh battery on the Moto E3 Power easily lasts a day on heavy usage and more if you don't push it to the brink. This is still not close to the battery life you get on the Xiaomi Redmi 3S Prime, which has sort of set a standard for battery performance in this price range.
Moto promises rapid charging and claims that you can get up to 5 hours of usage on 15 minutes of charging time. This metric is very vague because usage patterns might vary. Also, in our testing we noticed that charging the device from 0-100 still took a lot of time – 2 hours and 20 minutes to be precise. In our dedicated battery life test, it lasted a little more than 13 hours. In comparison, the Xiaomi Redmi 3S Prime's battery lasted 14 hours.
Verdict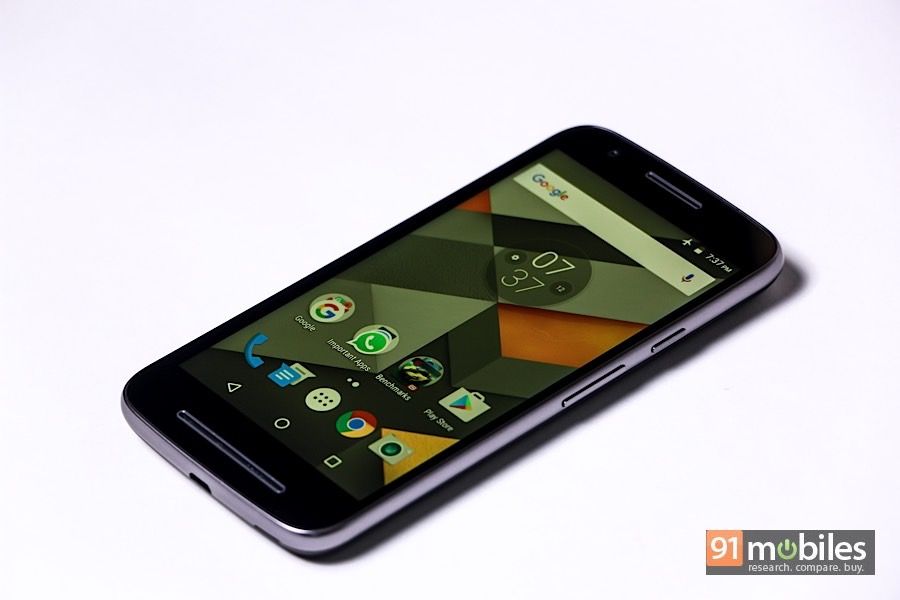 Well finally, what do we think about the Moto E3 Power? It is definitely a major upgrade over the previous generation Moto E series phones – with better cameras, bigger battery, and generally dependable performance across the board. However, that might just not be enough.
Especially since the budget segment has the reigning champion Xiaomi Redmi 3S Prime, which outclasses the Moto E3 Power with its general performance, gaming prowess, better battery life, and a better display. The fact that it has a metal body and a fingerprint scanner doesn't hurt either. But, the Moto E3 Power does provide you with the assurance of Android updates on time and an impeccably good call quality.
In the end, your buying decision boils down to zeroing in on what aspect of the phone do you care about the most. If you care about the software, a good selfie camera, and generally good telephony, then go for the Moto E3 Power, and if you care for everything else apart from these three parameters, the Redmi 3S Prime might be a better option.


Editor's Rating: 3.5 / 5
Pros:
Decent 5MP front camera
No hybrid slot
Very good battery life
Superb call quality
Stock Android
Cons:
Sluggish performance at times
Bad for gaming
Uninspired design
Competitors for Moto E3 Power
| | | |
| --- | --- | --- |
| Moto E3 Power | vs | Xiaomi Redmi 3S 32GB |
| | | |
| --- | --- | --- |
| Moto E3 Power | vs | Lenovo Vibe K5 Plus 3GB RAM |