"Read on to figure out if the OnePlus 2 deserves your moolah"
OnePlus may have changed basic mathematics for us, but the brand has definitely done well for itself. And this is no mean feat, considering that up until a few days, ago, it just had one smartphone to its name. The OnePlus One (review) was the dark horse of 2014, coming out of nowhere to take the smartphone world by storm. Sure, the unique invite-based system the brand utilised to sell it helped create more buzz, but there's no getting away from the fact that the One was a lot of phone for the money. We even adjudged it as the best VFM phone of last year, and that's because it truly defied the usual price vs specs ratio, offering powerful hardware for its asking price. That was possibly one of the main reasons for the device's popularity, though the brand has always maintained that its products aren't just about specs, but also about the experience. And judging by our review, the experience was definitely very compelling – the One offered smooth usage, capable snappers and good battery life, all in a package that looked good and didn't cost a bomb. The fact that it came with Cyanogen OS, the Android-based platform so loved by power users for its tweaks and customisation options hidden under a near-stock interface also added to its pull factor. That's all water under the bridge by now, as OnePlus went on to develop its own ROM dubbed OxygenOS, which powers its second, and latest offering, the OnePlus 2 (first impressions | FAQs).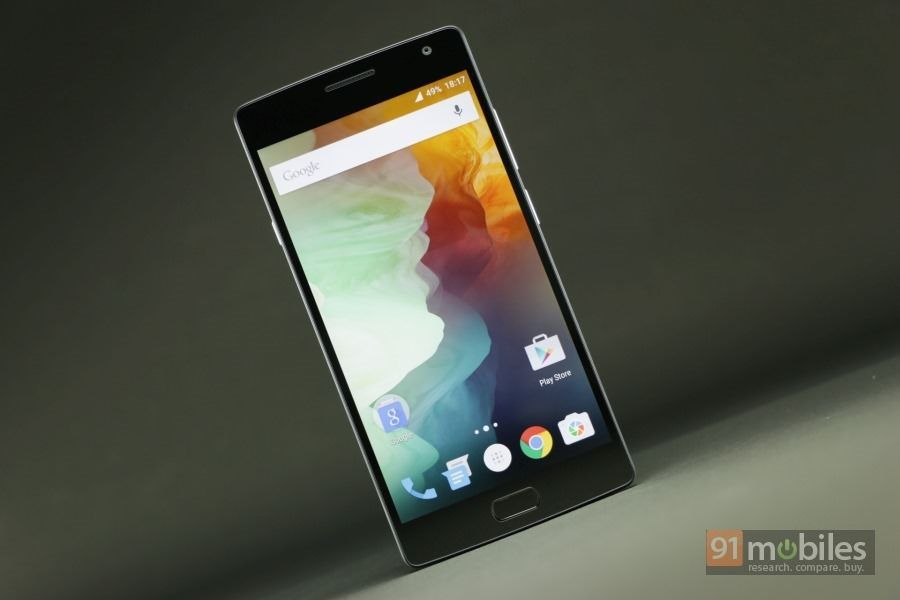 The OnePlus 2 was unveiled via an innovative VR launch, and while its predecessor took a while to reach our shores, has been launched in India right in the first phase. It looks like a worthy upgrade, on paper at least… and has all the makings of a winner. The price tag is quite attractive again, but since the proof of the pudding is in the eating, we want to figure out how how it fares in fares in real life. So here's the full lowdown. We would like to add that this review is based on the latest build of OxygenOS (build number 150807), which promises improved battery life and other improvements.
Specs at a glance
5.5-inch, 1,080 x 1,920 pixel IPS display (401ppi)
Measures 151.8 x 74.9 x 9.85mm. Weighs 175g
1.8GHz octa-core Qualcomm Snapdragon 810 v2.1 processor
4GB LP-DDR4 RAM
13-megapixel primary camera, 5MP front
64GB non-expandable storage
Dual-SIM, 4G, dual-band Wi-Fi 802.11ac, Wi-Fi Direct, Bluetooth 4.1, USB Type-C, USB OTG, A-GPS and GLONASS
OxygenOS (based on Android 5.1.1 Lollipop)
3,300mAh battery
Fingerprint scanner
Goes one-up on design
The OnePlus One displayed a lot of attention to detail – right from the packaging to the device design itself. The sandstone finish on the 64GB was unlike anything we'd seen till then, and while we can't really call it a gorgeous device, it certainly looked stylish and more importantly, oozed class. And with the sequel, the brand hasn't broken the mould drastically in terms of design. The highlight of the OnePlus 2's design is the aluminium-magnesium frame that runs around the sides… adding to the look, feel and the build as well. OnePlus has stuck to the same sandstone finish for the rear panel, though this time, it feels slightly rougher to the touch when caressed. Tipping the scales at 175 grams, it's heavier than its predecessor and the difference is noticeable.
The screen occupies place of pride on the fascia, and you'll see the earpiece, a notification LED and the front camera on top, with the sensors hidden somewhere beneath the black bezel. Below the screen, you'll find the oval-shaped capacitive home key, slightly recessed below the body. This key also hides a fingerprint scanner, which is a new feature boasted by the OnePlus 2. Flanking said home button on either side, there are a pair of backlit capacitive keys for navigation, both indicated simply by thin lines. This seemed odd at first, till we realised that there's an option to swap the key functions in the settings.
The metal band on the sides holds the power key and volume rocker on the right, while on the left, there's a three-way slider key dubbed the Alert Slider. It switches between three notification alert modes – all notifications, priority interruptions and no interruptions. The Alert Slider is an excellent idea, and to our knowledge, the OnePlus 2 is pretty much the only Android phone that offers this. However, it basically controls the interruptions feature that comes baked into stock Android Lollipop. We aren't really sure how many people actually use this feature, since it requires careful setting up, (especially for priority interruptions) to ensure one doesn't end up missing important alerts. Most Android users we assume, continue to use the old system with just two main alert profiles – one for regular use with the tones for calls and notifications set as per personal tastes, and a vibrate mode (with the sounds silenced) for use in meetings and movie theatres etc. And if our assumption is correct, the 2's Alert Slider doesn't really feel as handy as we initially thought. We can however, think of other use cases for it. In theory, it could possibly be set to control user-defined alerts and connectivity profiles – outdoors, work and home, for instance. Something like this could be implemented via a software update.
The top is home to a 3.5mm headset socket, while the bottom holds a USB Type-C port flanked by holes on both sides. While this may look like a stereo speaker setup, the fact is that there's only a single speaker and that's hidden under the holes on the right.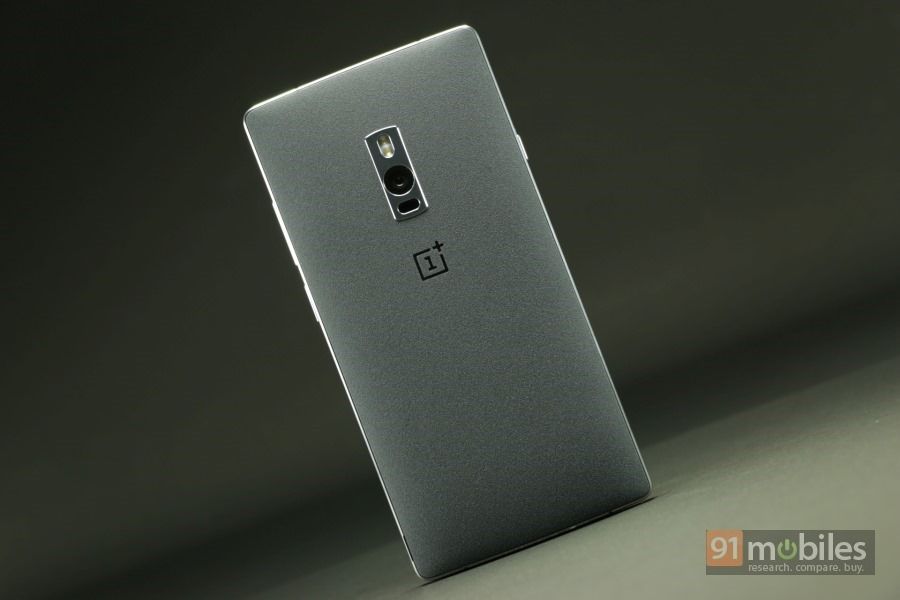 The rear panel is plastic, and greets you with its signature sandstone finish. There's a OnePlus logo placed in the centre, but you'll notice the camera module first, placed in the middle of a metal embellishment that also holds a dual-LED flash and a laser module that helps speed up the shooter's focussing capabilities.
Unlike the predecessor, the rear panel on the OnePlus 2 is removable, and opening it gives you access to a slide-out plastic tray that can hold a pair of nano-SIMs. And if you'd like to customise the device, the brand will be making rear panels in four different finishes available to buy, so you could just swap out the existing panel with one of your choice. These so-called StyleSwap covers will come in Kevlar, Rosewood, Bamboo and Black Apricot finishes, but we don't have a pricing or availability date for these yet.
Ten eighty P etc.
The OnePlus 2 comes with a flagship tag, but unlike most premium flagships, doesn't boast a 2K (or QHD) screen. In fact, the brand has stuck to the same screen specs as the predecessor, both in terms of size and resolution. This means you get a 5.5-inch 1080p display, offering a pixel density of 401ppi. A layer of Corning Gorilla Glass is there to help keep minor scratches at bay. QHD screens do look slightly better in terms of sharpness and colour vibrancy, but since they tend to consume a lot of juice, we think that this is a fair trade-off.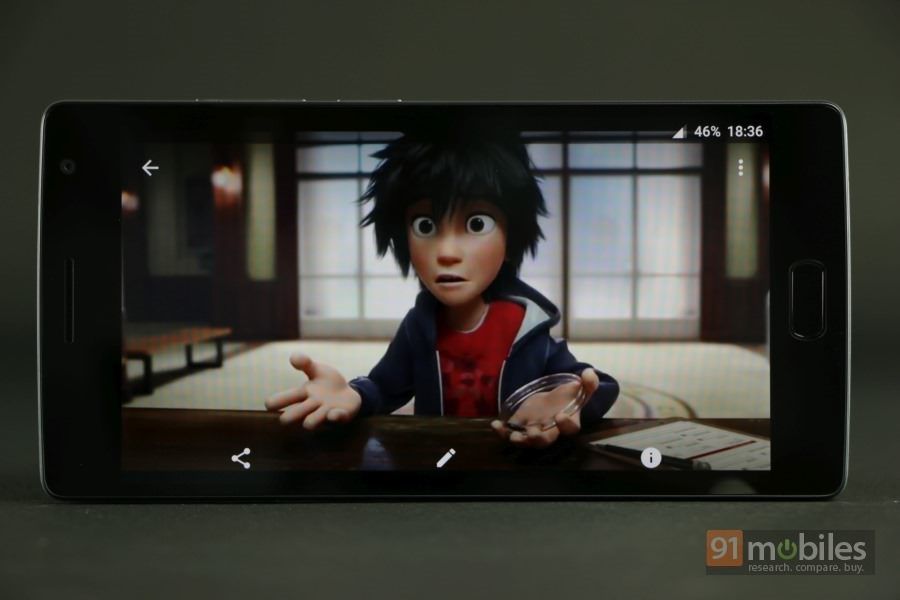 And the OnePlus 2's full HD IPS LCD In-Cell display is quite capable – it looks brighter than the predecessor and offers good viewing angles. We didn't face any issues viewing it in bright sunlight as well. Worth mentioning that the touch response also feels a tad better than the OnePlus One.
The oxygen bar
There's a whole saga behind how OxygenOS came into being, and we don't get into the details now… but in essence, the brand ended up developing its own Android-based ROM after breaking up with Cyanogen. The OnePlus One came with Cyanogen OS, and this was one of its pull factors as the platform (which is also Android based), brings a near-stock UI, but with tons of tweaking and customisation options that power users love. OxygenOS has been developed on similar lines, but as of now, doesn't boast so many options. That's not to say it doesn't offer any tweaking options at all. The OnePlus 2 comes with the latest build of OxygenOS, which uses Android Lollipop 5.1.1 as base.
At first glance, the interface looks almost stock, with barely any customisation or preloaded apps. In fact, the device doesn't even come with a dedicated gallery app, and uses Google Photos for the purpose. Apart from a file manager, the camera app and a MaxxAudio-powered Audio Tuner, all you'll find in terms of preloaded content is the Google suite of apps – even a dedicated email client seems to be missing in action (except for Gmail of course). SwiftKey is available as a text input option though, and you can enable it if you prefer this over the default Google Keyboard.
Dive into the settings however, you'll come across the tweaking options we mentioned. There's a setting to let you change button behaviour – so you can go for software overlays for navigation instead of using the hardware navigation keys. On a side note, Cyanogen OS offers a similar option as well. In this case however, there's no option to add more functionality to the navigation bar, but you can swap the positions of the back and recent apps keys if you wish. In fact, as mentioned previously, you can even swap the functions of the hardware keys for the same functions, keeping you in the comfortable zone if you've migrated to the OnePlus 2 from another Android smartphone that doesn't use the same setup. You can also define long press and double tap options for all three hardware keys (i.e. recents, back and home) and set them to one of the predefined actions. The available list includes options like launching the search assistant (a long press of the home key does this by default, as usual), opening the camera, launching voice search, and launching the last-used app, among others.
Then there's the support for gestures. This isn't too extensive by any means, and the available options look almost the same as those available on Cyanogen OS – letting you enable screen off gestures for double-tap-to-wake, drawing the letter 'O' on the standby screen to launch the camera, drawing 'V' to toggle the flashlight, and controlling music playback. Double tapping the status bar to make the smartphone sleep isn't there, this being an option available in Cyanogen OS.
As far as UI customisation is concerned, you can enable a system-wide dark theme and customise the accent colours. However, there's no proper theme support like Cyanogen OS. This is a popular feature, so we hope support for downloadable themes can be added via an update. The LED colour can be changed as well, and you can do this for notifications and for indicating battery state – such as when its full, charging or low.The ability to change LED colours for app-specific notifications (i.e. different hues for notifications from different apps like WhatsApp or Gmail for instance) also forms part of our wishlist for the next major update.
Another option for customising the interface is the ability to use icon packs. This is available under homescreen settings, accessible by long-pressing a vacant space on any homescreen… the same place where you can change wallpapers from, and add widgets. To change the default icons, you can download third-party icon packs from the Play Store, though this seems like a hit-and-miss as not all packs are compatible. Some third-party icon packs available on the Play Store work with specific third-party launchers, and don't really work on the OnePlus 2. The ones that do work however, appear as available options in the homescreen settings and you can just pick one to change the default icons. And as you can see, we even tried a MIUI icon set here.
Last, but not the least, OxygenOS on the OnePlus 2 brings another neat feature. Dubbed Shelf, this is currently in beta, and appears as a dedicated homescreen that slides out when you swipe right from the default homescreen. You'll get the option of enabling Shelf during the initial device setup process. The screen displays an customisable header image and a personal greeting, along with the user's most recently-accessed apps and contacts listed below. You can also add widgets to the Shelf screen. Overall, we think it's a handy feature to have, though it takes time getting used to.
Fingering the phone
The fingerprint scanner is a feature that was announced early on for the OnePlus 2, much before the official unveiling. It's integrated into the home key, and works by touch. To set it up, you'll need to jump into the device settings and register your fingerprints, post which you can enable a preferred screen lock mode (i.e. PIN, pattern or password) from security settings, unless you've set that up already. There's another setting to enable fingerprint unlock, which only becomes available after a secure screen lock mode has been set up.
You can register up to five fingerprints, and the setup process involves placing your finger on the scanner multiple times till it records your prints properly. We think placing your finger on the scanner at slightly different angles while registering prints improves recognition accuracy quite a bit. It hardly takes more than a few seconds to get a print into the system, and registered fingerprints can also be renamed for easy reference.
Once you've got the fingerprint scanner set up, you can go ahead and use the registered finger(s) to unlock the device and gain access. In our usage, we found it extremely zippy and fairly accurate to use, failing us just about one to two times out of ten. A nifty feature (which we discovered quite by accident) is that you don't even need to wake the smartphone using the power key or a double tap on the screen… you can unlock it directly by just placing your finger on the home button even when it's on standby.
Shoots to kill
We don't really need to tell you why smartphone camera are vital. The selfie phenomenon may be relatively new, but phones have been our go-to devices for capturing special moments for a very long time now. The reasons are simple – our phones are always on us, ready to click at a moment's notice, and also make instant sharing possible. The OnePlus One came with a very capable camera, but with its sequel, the brand has upped the game quite a bit. The pair of snappers on the 2 are the same as its predecessor in terms of resolution, but have been beefed up for better image quality and faster focussing speeds.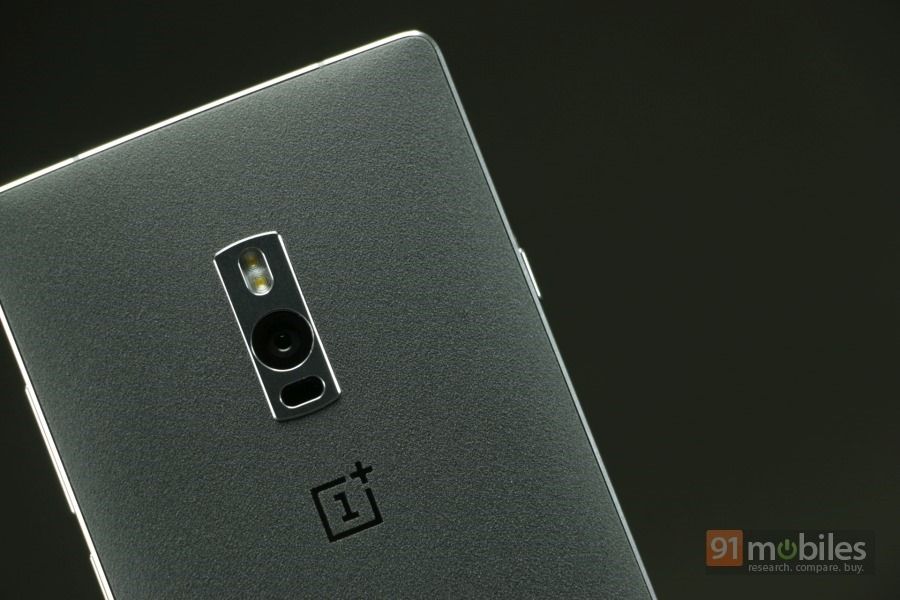 On offer is a 13-megapixel primary camera boasting f/2.0 aperture and six lenses. It's aided by a dual-LED flash, optical image stabilisation, and also comes with laser autofocus for speedy focussing. It's capable of shooting 4K videos, and support for capturing images in RAW is expected to added in the near future. The front camera comes with a 5MP sensor.
The camera app is much too basic for our liking, only offering a bunch of modes and features. You do get modes like HDR and panorama, features like slow-mo and time-lapse videos, and the ability to control exposure. But we miss other frills we're accustomed to seeing on other devices such as background defocus, colour filters, scene presets and other tweaks.
Thankfully, the camera makes up for these omissions by offering very good image quality. It takes great shots in almost all conditions, with true-to-life colours, good sharpness and tons of details, especially when the lighting is ample. HDR and close-up images turn out well too, and while low-light images do show softness and noise, they're still very usable. Thanks to the laser module placed below the camera lens, focussing speeds are indeed zippy, which means you can fish out your phone, fire up the camera, line up the shot and start shooting in a jiffy. Overall, the camera quality is a big step up as compared to the OnePlus One, and a strong reason for existing users to upgrade. Here are a few camera samples for you to take a gander, and you can check out a few more we posted earlier.
Smooth, very smooth
At launch time, the One was on top of the pyramid when it came to core specs, and the 2 follows its footsteps. It's powered by the top-of-the-line Snapdragon 810 chipset, which is mated to 4GB of RAM. This combination is pretty much the most powerful configuration you can get on a smartphone now, so it's no surprise that the OnePlus 2 is a smooth operator. The octa-core Snapdragon 810 chip in the device is clocked at 1.8GHz and supports 64-bit architecture. Notably, the device uses v2.1 of the chip, which claims to resolve most of the heating issues users reported with the earlier iteration.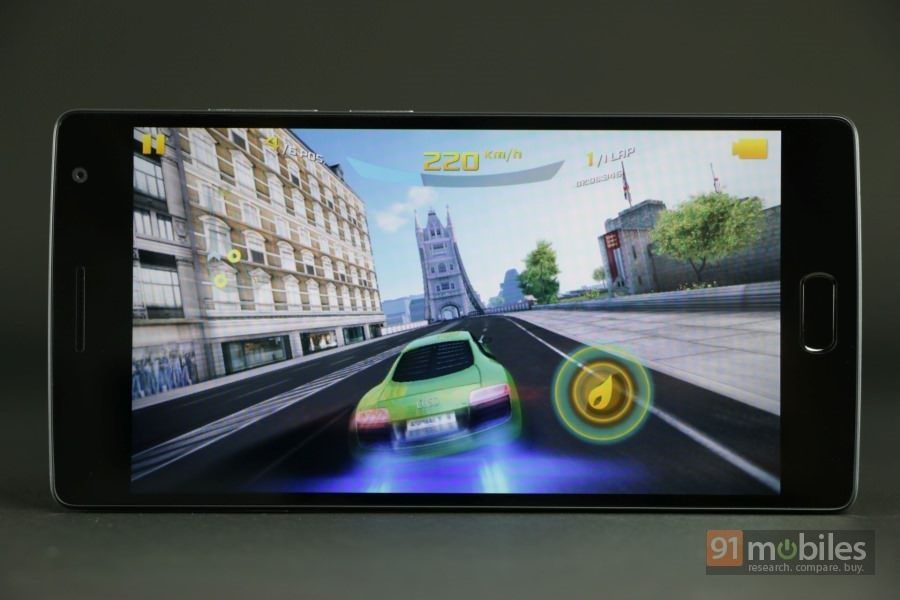 The OnePlus 2 goes like a rocket, handling everything thrown at it with élan. It seems nothing can make it sweat – running multiple apps is a cinch and even intensive games like Asphalt 8 and Modern Combat 5 run beautifully. The phone (specifically the top half of the metal frame) does get warm after a few minutes of gaming or while recording 4K videos, but not uncomfortably so.
As far as storage is concerned, there's no memory expansion slot, but the 64 gig model comes with about 53GB of space free for apps, media and other content. This should suffice for most users, unless you want to use your phone to stash all those videos you've saved over the years and don't want others to see… if you know what we mean. There's support for USB OTG too, but to use this feature, you'll need to enable the appropriate option available under storage settings. OTG adapters that plug into USB Type-C ports aren't easy to come by though.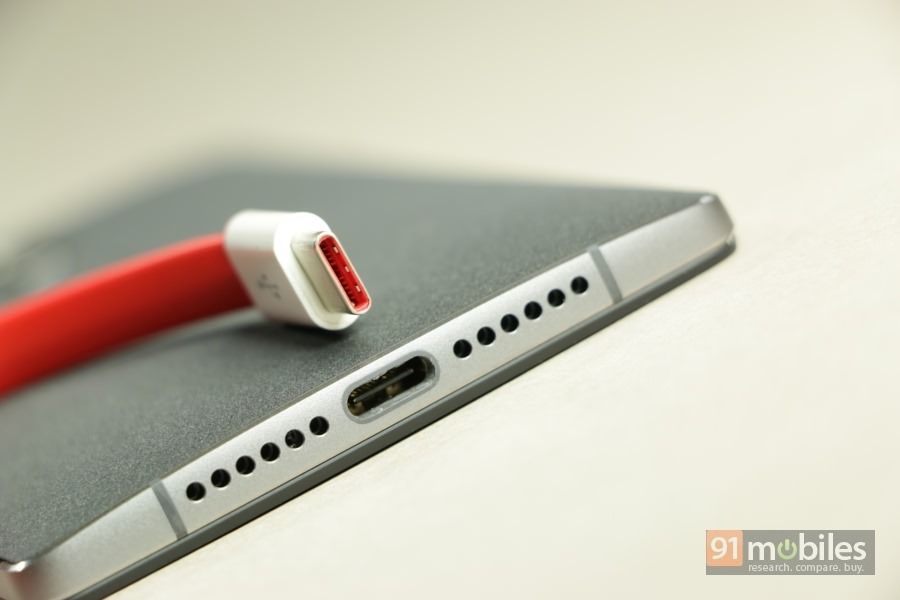 In case you didn't know, the OnePlus 2 is the first mainstream smartphone to come with a USB Type-C port. For the uninitiated, this is a new interface standard which features a reversible connector and depending upon implementation, offers other benefits like faster transfer speeds etc. This means that it's a cinch to connect the OnePlus 2 to the charger or the laptop, without bothering to check which way you're inserting the connector. However, the same advantage can quickly become a pain point. Most smartphone users keep spare chargers and cables handy to ensure they can juice up their devices or transfer data whenever the need arises… and also for use with accessories like car chargers and power banks. Even if you forget your charger at home, it's a simple matter to borrow one from a colleague in office or locate a public charging point usually available at places like airports. Since the OnePlus 2 features a USB Type-C port, either you'll need to carry the bundled cable with you all the time, or buy third-party cables and adapters which aren't easily available, and the ones that are, command a premium in price. Last we checked, third-party micro-USB to USB Type-C adapters, OTG adapters with USB Type-C, and regular USB Type-C cables for direct connectivity were priced upwards of Rs 500 per piece online. This is the price you'll have to pay for being an early adopter, and we expect costs of these accessories to come down once we see more devices using the USB Type-C port.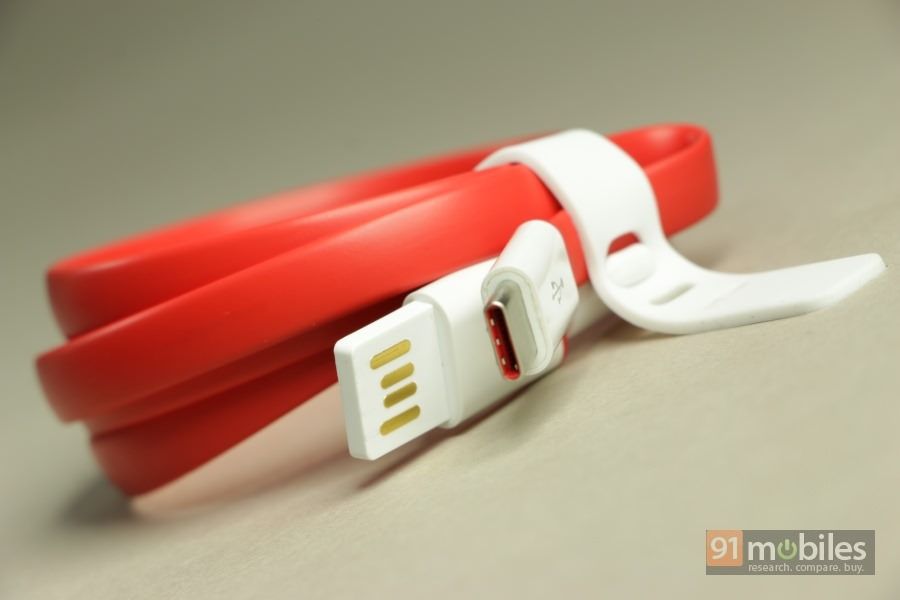 Worth mentioning that the red cable OnePlus bundles with the 2, just like the one it included with the predecessor, is easily the Rolls Royce of cables – it's flat and tangle-free, includes a rubber tie for easy storage, and feels extremely premium. In fact, the cable that comes with the 2 is actually dual reversible, so even the USB connector that plugs into the charger or the laptop can be inserted either way. We're told that OnePlus will be making spare cables available to buy as optional accessories, along with micro-USB to USB Type-C adapters for use with existing cables.
As far as other connectivity options are concerned, the OnePlus 2 offers dual nano-SIM support, offering compatibility with both 4G LTE bands in India on both slots, dual-band Wi-Fi (including the new ac standard), Bluetooth 4.1, A-GPS and GLONASS. Unlike the OnePlus One, the latest flagship skips NFC, though that can't really be called a deal killer unless you're specifically looking for this very feature.
Coming to the battery life, the sealed 3,300mAh battery on the OnePlus 2 is a bit of a mixed bag, especially when compared with the predecessor. While you should be able to eke out a day's worth of juice with moderate usage, you're likely to need a top-up charge by evening if your usage is extremely heavy and comprises battery-consuming tasks like intensive gaming, video playback or 3G/4G use. Our battery drain test that involves playing a 720p video with screen brightness and volume set to 50 percent levels ran for about 10 hours before the battery ran out of juice and died. This looks like a decent result, and it's worth mentioning that the last software update we received did improve battery life… so it won't be unreasonable to expect that future updates can bring more improvements in this regard. The device doesn't offer support for fast charging, and takes about two and a half hours to charge fully. On the positive side, we didn't face any issues with call clarity and network connectivity. The loudspeaker volumes are adequate as well.
Verdict
The 64GB variant of the OnePlus 2, the model that we've reviewed here and the one that's available to buy currently, is priced at Rs 24,999. If we were to take the price approach to weigh it against competition, its closest rivals would include the likes of the top-end variant of the ASUS ZenFone 2 (review) and the Honor 6 Plus, and both of these are compelling options in their own unique ways. However, we feel that the OnePlus 2 packs in enough to clearly emerge as the strongest in its segment after we factor in everything it has to offer – smooth performance, solid build, good cameras and useful features like the fingerprint scanner.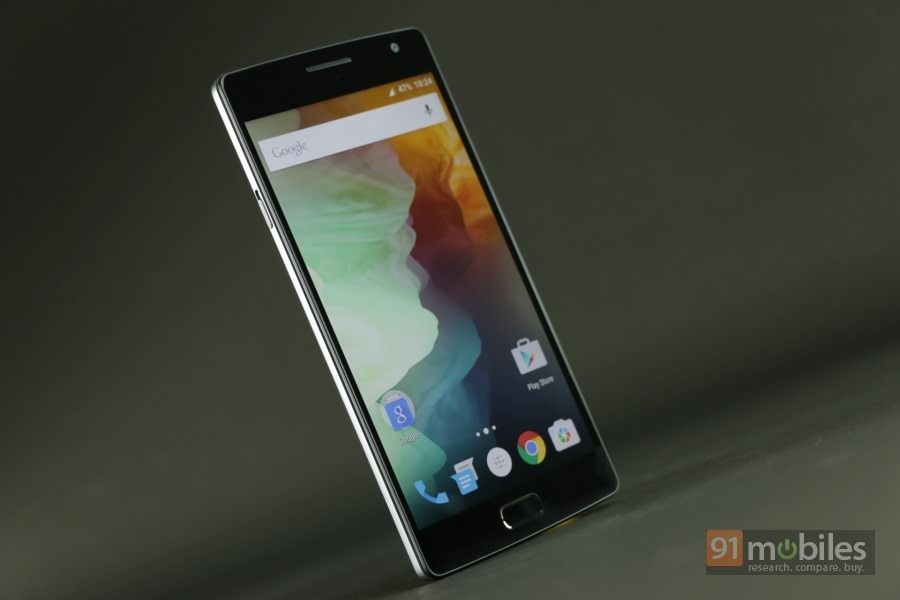 If we were to take usage experience as a metric, we'll admit the OnePlus 2 does have a few rough edges. Maybe we're making it a victim of our heightened expectations after using the OnePlus One, which was a device that seemed extremely polished in almost all respects. The OnePlus 2 feels a tad less so. That said, we believe that OnePlus has a worthy and solid hardware platform in the 2, and most of the rough edges we allude to centre around software. And you know what? Software can be updated. We know it's easier said than done, but we're firm believers in the power of software. OxygenOS is still a relatively new platform, but we won't really call it a work in progress. In some sense, a software platform should always be work in progress… a living, breathing thing that grows, matures, learns, evolves, and adapts, and generally keeps getting better with each new iteration. Obviously, this holds true for every mobile computing device out there. OxygenOS is extremely usable as a platform right now, but we can't wait to see what the company does with it going forward.
Calling the OnePlus 2 a '2016 flagship killer' might be too ambitious, but let's not go that far into the future. It could do with a few small improvements, but the way things stand right now, the smartphone makes for a very worthy buy, comfortably standing out as a loaded, capable smartphone that doesn't demand a kidney in exchange. For your money, you'll get a device that looks good, feels premium, makes mince meat of everything you care to throw at it and shoots good images you'd love to share. If you haven't done so already, it could be time to start looking out for one of those elusive invites. We're doing the same as you read this.
Price: Rs 24,999
Editor's rating: 8 / 10
Pros
Metal-reinforced build
Zippy fingerprint scanner
Near-stock Android Lollipop 5.1.1, with a bunch of useful tweaks and options
USB Type-C port makes connections a breeze
Very good camera quality
Super-smooth performance
Cons
Average battery life
Basic camera app
Needs some more TLC in the software department
USB Type-C cables and adapters could be tough to find and are priced high
Photos by Raj Rout
Competitors for OnePlus Two
| | | |
| --- | --- | --- |
| OnePlus Two | vs | Xiaomi Mi5 32GB |
| | | |
| --- | --- | --- |
| OnePlus Two | vs | OnePlus 3T |