"The OnePlus One is an affordable flagship that's worth waiting for. Our review"
[Update]: The OnePlus One has been officially launched in India priced at Rs 21,999 for the 64GB version. It can be purchased with India-specific invites exclusively via Amazon India.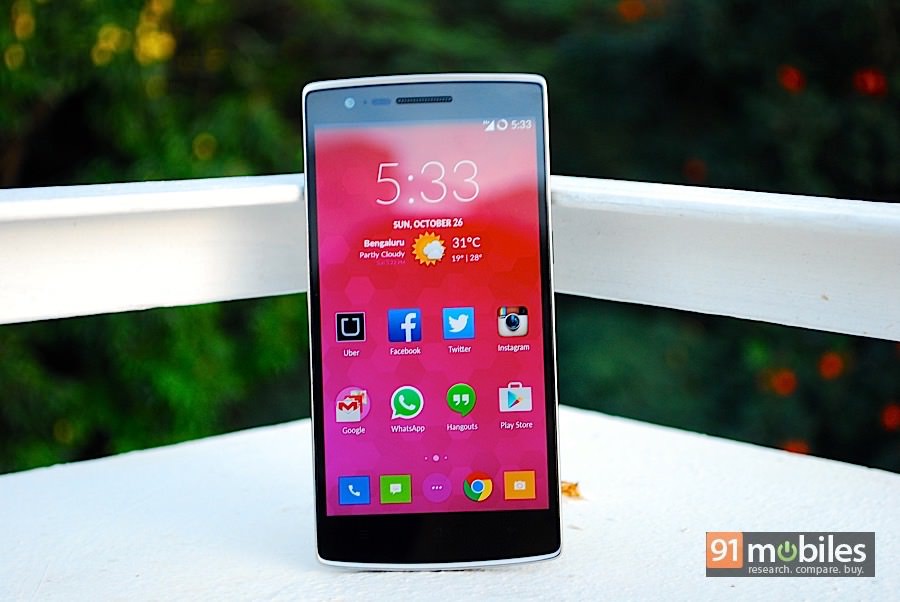 Less than a year ago, Peter Lau, the then Vice President of OPPO, abruptly handed in his resignation. Lau had been responsible for bringing CyanogenMod, a popular third-party Android-based firmware, to the OPPO N1. The reasons for his leaving the popular Chinese technology brand were unclear, until he launched OnePlus, a new smartphone company. With the tagline "Never Settle", OnePlus' motto was to create a smartphone that combined top-notch hardware and beautiful design with value for money and an online-first strategy. Just six months after its inception, in April this year, the company unveiled the OnePlus One, a smartphone it ominously heralded the "Flagship Killer".
Sold exclusively online via a restricted invite-only system, the smartphone was affordably priced at $299 for the 16GB variant and $349 for the 64GB version. The company relied on online marketing campaigns and its fans to spread the word, which soon had people scrambling to get their hands on invites.
A few months down the line, the company is finally readying its operations in India, with a tentative launch date in December this year. Before that though, we went ahead and acquired a unit from the US to bring you our review.



Specs At A Glance
5.5-inch, 1,080 x 1,920 pixel IPS display (401ppi)
2.5GHz quad-core Qualcomm Snapdragon 801 processor
3GB RAM
13-megapixel primary camera, 5MP front
16GB/64GB non-expandable storage
Single SIM, 4G, dual-band Wi-Fi 802.11ac, Wi-Fi Direct, DLNA, Bluetooth 4.0, micro-USB 2.0, USB OTG, GPS and GLONASS
CyanogenMod 11S (based on Android 4.4.4 KitKat)
3,100mAh battery
Premium build, great finish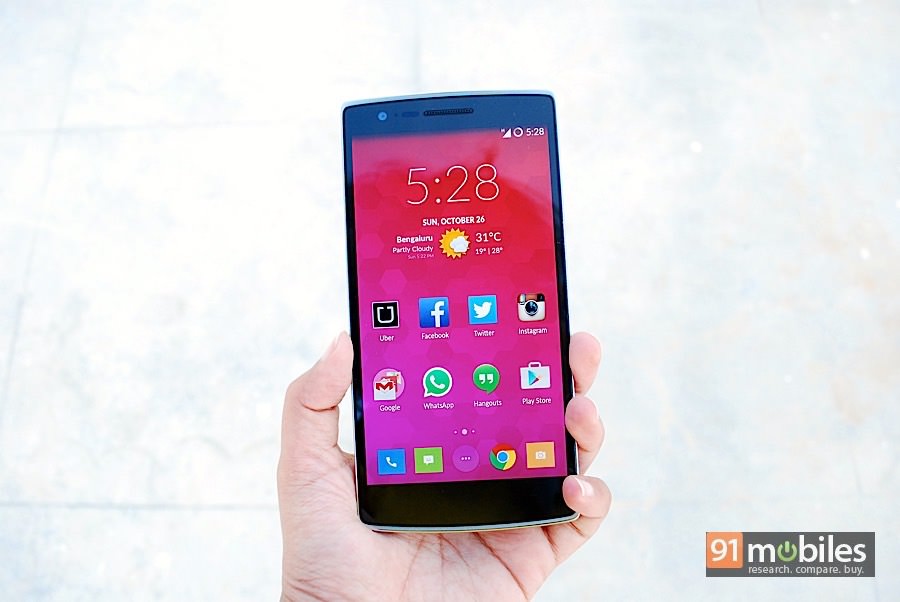 From the first moment we laid eyes on the OnePlus One, there was one thing we instantly fell in love with – the attention to detail. Everything from the packaging to the box contents has been painstakingly designed, and we can say the same about the smartphone too. Rounded corners come together with gentle curves on the top, bottom and rear to offer some much needed relief from the otherwise geometric proportions. The glass display panel is slightly raised, sitting atop a metallic frame, with fine chrome detailing around the edges. The smartphone looks quite striking from the front, despite the ample bezels around the screen.
Turn on the display, and you'll notice a row of Android capacitive keys on the fascia. These are backlit, but very faintly so, making them tough to discern in bright light. Above the screen, sits the earpiece, front camera, sensors and notification LED.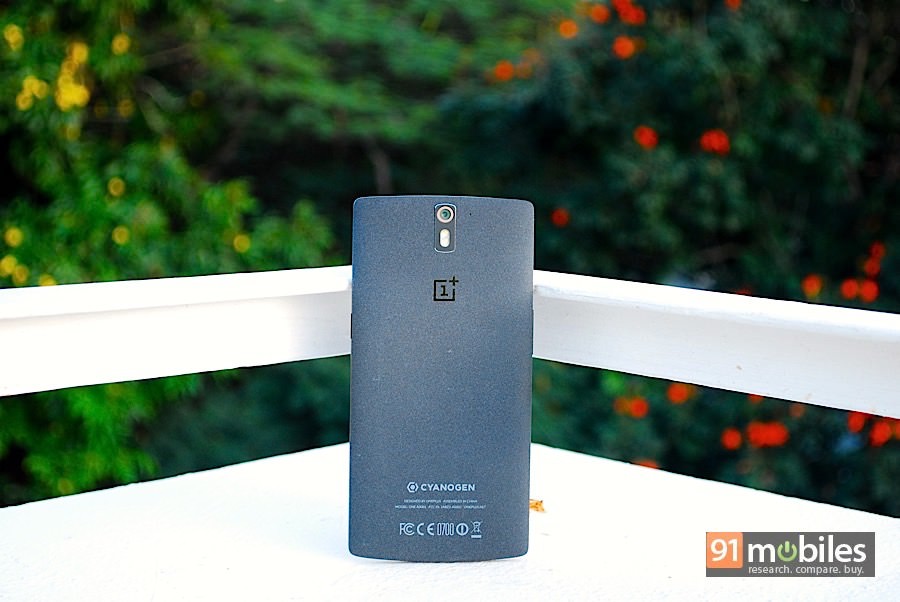 The OnePlus One comes in two finishes, Silk White for the 16GB and Sandstone Black for the 64GB model. We have the latter with us. The material on our unit is unlike anything we've seen on a smartphone before. It's not real stone obviously, but it mimics that effect, with a matte finish and grainy texture that feels slightly rough to the touch. While we loved the finish, we should mention that it starts looking quite scruffy after a while, especially if you carry it in a pocket.
The back cover is technically removable, but has been known to damage the phone in the process. In fact, OnePlus had planned on launching StyleSwap back covers, but scrapped them partly due to this reason. For embellishment, the rear features the OnePlus logo in the centre, and Cyanogen branding at the bottom. On top is a metal-finished rectangular plate which encases the primary camera and dual-LED flash. Next to it is a third microphone for noise cancelling.
The back cover extends over all four sides, engulfing all the ports and buttons in the process. The top edge top houses the headphone jack and secondary microphone, while the bottom features the micro-USB port, a pair of stereo speakers and the primary microphone. The right side holds the power button, placed within easy reach of the thumb. The left features the volume rocker, and an almost-invisible SIM card tray.
Stellar screen


With Google launching the 5.9-inch Nexus 6, it's even more evident that the world is moving towards larger displays. The OnePlus One isn't as humungous, but is on the bigger side thanks to its 5.5-inch display. OnePlus has made sure that the screen won't find fault among spec mongers though. With full HD resolution, the display offers a crisp pixel density of 401ppi, as is evident in the sharpness of icons and text. Since it makes use of an IPS panel, you won't find cause to complain about the viewing angles, and the sunlight legibility isn't a concern either.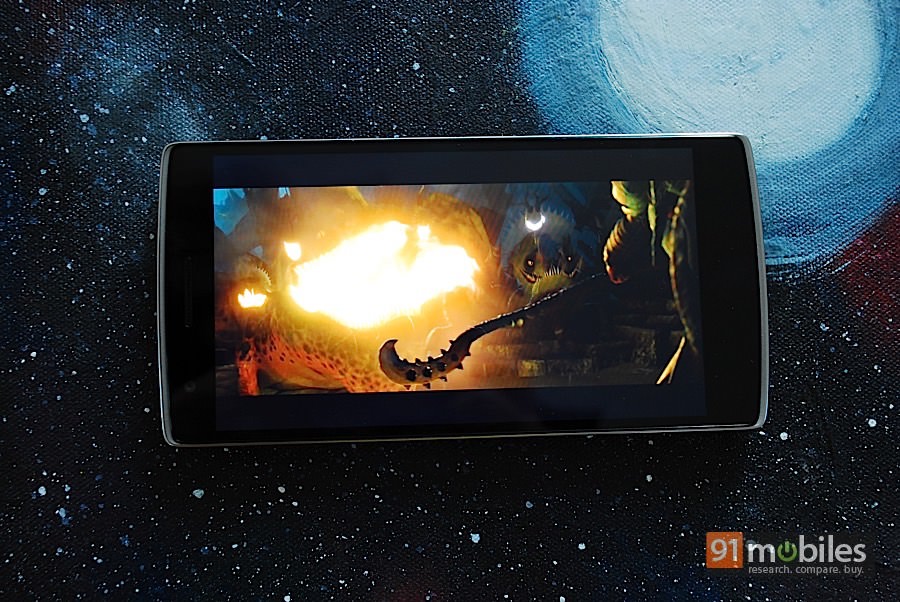 It's not overtly reflective, although it gets smudged very easily. For protection, a coating of Corning Gorilla Glass 3 is provided. Since the display isn't AMOLED, the colours aren't as eye popping as those on Samsung screens… but they're natural, with bright whites and ample blacks. Thanks to CyanogenMod, you can tweak all sorts of display parameters, which we'll get to in the software section. The responsiveness is buttery smooth as expected, making the screen great for videos and games alike.
An accomplished pair of shooters


For most affordable smartphones, one of the first aspects to be compromised is the camera. OnePlus though, hasn't made any such downgrades. The primary camera uses a 13-megapixel Sony IMX 214 sensor, with a six-element lens to reduce distortion and a large f/2.0 aperture to let in more light. A dual-LED flash and 4K video recording provide extra padding. The front camera gets a generous 5MP resolution.
In terms of performance, the OnePlus One's cameras weren't just good – they were great. Part of this can be attributed to the camera app, which is a simple, no-frills interface that's designed to let you whip out your smartphone and shoot in a jiffy. When viewed in landscape mode, you'll see a large shutter button, flanked by video and panorama buttons on the right. At the bottom are controls to switch the camera, adjust flash, view settings and tweak additional parameters like exposure compensation, white balance, scene modes, a countdown timer and location.
The OnePlus One also features a simpler way to toggle scenes and effects, without having to delve into settings. All you have to do is swipe up or down on the viewfinder to toggle between the various modes, making it easy to switch between them in a snap. In the aforementioned settings menu, you can choose to enable or disable the modes visible in the swipe menu, leaving only the ones you use frequently.
The camera results were one of the best we've seen on an Android device. The focus speeds are exemplary, making it great for action and macro shots. The camera can take impressive daylight shots, and provided there's ample lighting, even photos snapped at night exhibit minimal grain. In very low lighting, you'll find quite a bit of noise though, and in this case, using the flash is advisable. The HDR mode is a handy feature, greatly improving images that are washed out or too dark.
The front camera isn't autofocus, but you can tap anywhere on the screen to adjust exposure. It features face detection and and a very usable Beauty mode, making it a great tool for selfies.

Here are some image samples from the smartphone's primary camera. Click on the thumbnails to view them in full resolution.


Better than Android


The OnePlus One runs CyanogenMod 11S, which is based on Android 4.4.4 KitKat. For the uninitated, Cyanogen is a third-party firmware that's based on open-source Android (AOSP). It offers access to all Google services, and adds several other features. The beauty of Cyanogen is that on the outset, it looks and feels like Android, making it instantly familiar to most people. Delve deeper though, and you'll find layer upon layer of tweakable controls for every aspect of the user interface, which is a dream for power users.


At first glance, Cyanogen looks like a skinned version of Android, with modified icons and a custom widget displaying the time, date and weather information. The lockscreen displays the time, date, battery percentage and temperature, and lets you swipe to the left to quick access the camera.


The notification shade has a quick access ribbon, but there's an additional quick settings tab with more controls. The app drawer is retained, and a feature called Protected Apps lets you securely lock apps you want to restrict access to with an unlock pattern.


The OnePlus One is entirely devoid of bloatware, with only a handful of extra apps. There's AudioFX, which lets you fine tune audio settings and customise presets, and Screencast, which lets you record any actions on the screen and share it as a video. Like MIUI and Emotion UI, Cyanogen also gives you access to a theme store, called Themes Showcase. From here, you can download various themes, icons, wallpapers, fonts, boot animations and sound packs, even mixing and matching elements of each.


Delving into settings gives you a wealth of other controls. Lockscreen settings let you assign slider shortcuts, specify actions for each of the Android buttons, and add or remove widgets. The status bar can be customised as well, letting you specify the styles for the clock, battery and signal status. You can even add a brightness control, and enable a double tap to sleep option. Under settings for notifications, you can modify the quick settings panel so that it can be accessed by pulling down from the right side of the status bar. Pop-up notifications for apps can be enabled from this section as well.


Many skinned versions of Android offer gesture controls, but this functionality is natively baked into Cyanogen. Gesture shortcuts let you cold access apps when the screen is asleep. For instance, you can draw a circle to activate the camera, a 'V' to start the flashlight and trace two fingers vertically to play or pause music. Strangely, while every other feature in Cyanogen is customisable, the gestures aren't. Cyanogen also features Quiet Hours, styled after Do Not Disturb on iOS. Enabling this mutes phone calls, notifications and other sounds during a specified time period.
In display settings, you can turn on Sunlight Enhancement to increase brightness under direct sunlight, Color Enhancement to make the colour scheme more vivid, and Adaptive Backlight, which dynamically adjusts the brightness of the display's backlight while maximising battery use. A double-tap-to-wake option is also available, as well as a mode to prevent accidental wake ups, which checks the proximity sensor before waking up the screen.


While the OnePlus One features Android hardware keys on the fascia, you can enable an onscreen navigation bar if you wish, which can be customised further with buttons, layout and quick launch shortcuts (for when you slide up from the home button). Enabling the onscreen navigation buttons will turn off the backlight on the hardware keys, making them almost invisible. If you choose to retain the hardware buttons, there are plenty of customisations for them too. You can adjust the brightness and duration of the backlight, and specify long-press, short-press and double-tap actions for each button. There are similar actions available for the power and volume buttons.


A unique feature in Cyanogen is the ability to activate user profiles – something that brings back fond memories of Nokia feature phones. You can either use the default profiles, such as Automobile, Home, Night, Silent, Work, etc, or create your own. In each, you can configure connectivity, volume and system settings. Each profile can be assigned to an NFC tag, or enabled via Wi-Fi or Bluetooth triggers.
Under privacy settings, you can enable Privacy Guard, which lets you manage which apps have access to personal data. Going into advanced settings lets you turn on or off permissions to use your location, personal data, media, messaging and other information for each app.
We haven't gone into the tiny details, but each of the settings mentioned in this section have additional layers of controls, for those of you who like to fiddle with your smartphone.
Powerful package


The OnePlus One is fairly loaded on the inside, with a 2.5GHz quad-core Snapdragon 801 processor, Adreno 330 graphics and 3GB of RAM. As expected, the smartphone didn't flinch at multitasking or more intensive functions, purring along happily the whole time.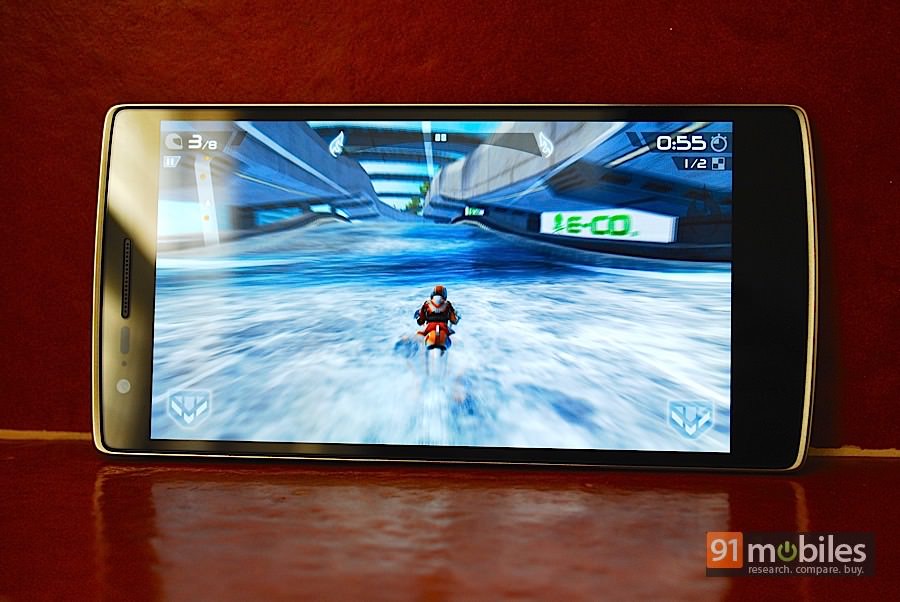 With its large, responsive display, gaming was a delight… with no frame drops or jitters while playing our favourite Riptide GP2. For pro users, enabling developer options will let you adjust performance profiles, with a choice of Balanced, Power Save and Performance options. We should advise you that these are experimental settings, and could cause some crashes and other issues.


The OnePlus One doesn't feature a microSD card for expanding storage, so we would urge you to pick up the 64GB variant if you store a lot of apps or media on your smartphone. On a fresh reboot, the device offers around 55GB of user available memory, which should be more than adequate for most users.
Battery life is a major concern when choosing a smartphone, and we're happy to report that the OPO doesn't disappoint. The fixed 3,100mAh unit easily lasted until the end of the day with over 20 percent to spare, with around three hours of screen time, frequent use of the camera and social apps like Facebook, Twitter and WhatsApp. In our battery drain test, where we loop a 720p video with brightness and volume set to 50 percent, the phone lasted for 10 hours and 45 minutes before running out of juice, which isn't the best result, but is very impressive nonetheless.
The OnePlus One is a single SIM smartphone, accepting a micro-SIM card. It is LTE enabled, and supports Band 40, so Indian users will be able to enjoy 4G speeds. Other connectivity features include dual-band Wi-Fi 802.11ac, Wi-Fi Direct, DLNA, Bluetooth 4.0, micro-USB 2.0, USB OTG, GPS and GLONASS.
Verdict


While we don't have the exact launch date or pricing for the OnePlus One in India, Carl Pei, OnePlus' Global Director, says that the company is aiming to price the 16GB variant of the phone below Rs 20,000, and the 64GB version under Rs 25,000, which is very competitive pricing. If the phone is launched in December, it might coincide with the Indian debut of the Xiaomi Mi 4 (review), which is expected to be similarly priced.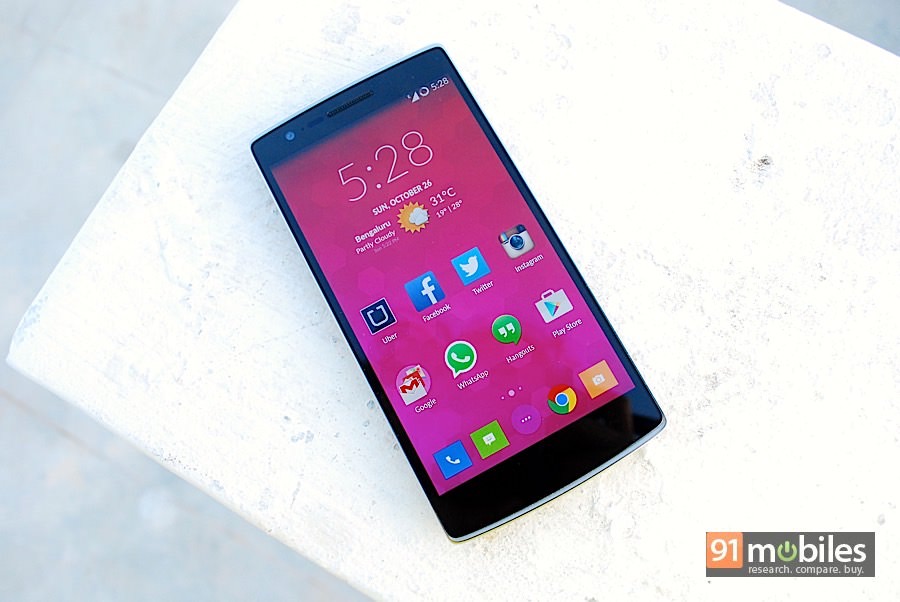 A key issue for OnePlus when it launches in the country will be stock availability. Indian buyers haven't taken well to limited stocks in the past, if the travails of the Moto E and Xiaomi Mi 3 are anything to go by. Xiaomi seems to have learnt from its mistakes and will likely come armed with ample ammunition for the Mi 4, but the OnePlus One will sell here via a country-specific invite system. It remains to be seen how difficult or easy it'd be for an interested buyer to purchase the device.
For now though, we'll leave the speculation on the sales and stock out of the equation. On its own, the OnePlus One is in every way a loaded flagship, and one we wouldn't mind picking over the bigwigs like the Samsung Galaxy S5 (review), LG G3 (review), HTC One (M8) (review) and Sony Xperia Z3 (review). It may not have a 2K display, a fingerprint scanner, a heart rate monitor or waterproof abilities, but let's face it… some of those features are more gimmicky than useful. What's important to note is that the smartphone scores where it counts – looks, cameras, performance, battery life, software and most importantly, price – and that's what most users are looking for in the end.

Price: $299 onwards
Editor's Rating: 9 / 10
Pros:
Bright, responsive display
Excellent pair of cameras
Powerful performer
Good battery life
Affordable price
Cons:
A bit too large for one-handed use
Non-expandable storage
Limited availability
Video by Pratik Vyas
Competitors for OnePlus One 64GB
| | | |
| --- | --- | --- |
| OnePlus One 64GB | vs | Xiaomi Mi4 |
| | | |
| --- | --- | --- |
| OnePlus One 64GB | vs | Asus Zenfone 2 |