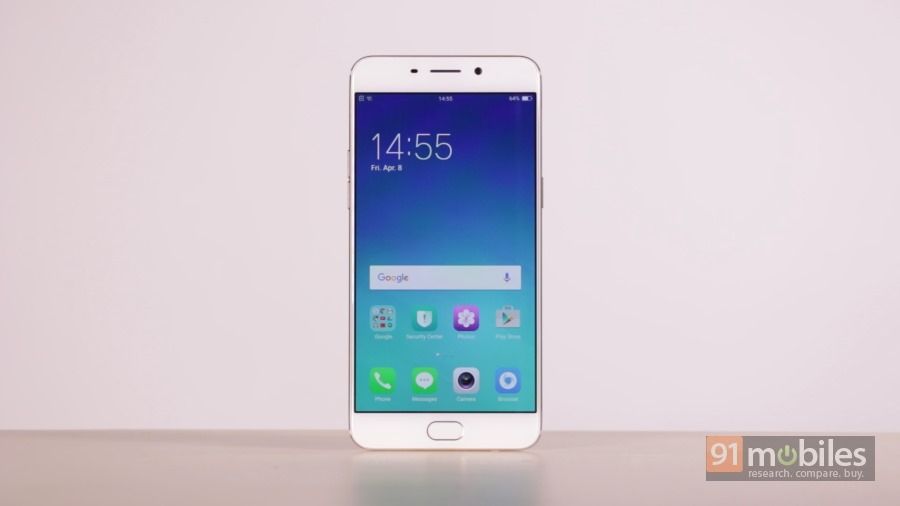 The sheer number of smartphones in the market is mind-boggling, but most devices cut corners in some department or the other, and the sole reason behind that is the intensity of competition. New smartphone brands entering the market every other day, exponentially growing demand for value-for-money devices, and consumers' interest in cutting-edge technology, are all lending to smartphone makers' pursuit of bringing something innovative to the table. We've had the selfie-centric OPPO F1 Plus with us for a while now. While the specs it offers sound like everything you need from an all-rounder, it's still a camera-centric phone. Is it a jack of all trades, while being a master of one? Or does it manage to master it all? Our full review answers all these questions.

Specs At A Glance


Display
Size
5.5 Inch
Resolution
Full HD (1080 x 1920 pixels)
Performance
CPU
Octa core, 2 GHz, MediaTek MT6755
RAM
4 GB
Storage
Internal memory
64 GB
External memory
Up to 128 GB
Battery
Capacity
2850 mAH, Li-Polymer, Non removable
Camera
Primary camera
13 MP
Secondary camera
16 MP
Connectivity
Network support
Dual SIM 4G
Other options
Wi-Fi, Bluetooth 4.0, GPS
Others
Battery Capacity
2850
Operating system
Android 5.1.1 Lollipop
Display
Size
5.5 Inch
Resolution
Full HD (1080 x 1920 pixels)
Performance
CPU
Octa core, 2 GHz, MediaTek MT6755
RAM
4 GB
Storage
Internal memory
64 GB
External memory
Up to 128 GB
Battery
Capacity
2850 mAH, Li-Polymer, Non removable
Camera
Primary camera
13 MP
Secondary camera
16 MP
Connectivity
Network support
Dual SIM 4G
Other options
Wi-Fi, Bluetooth 4.0, GPS
Others
Battery Capacity
2850
Operating system
Android 5.1.1 Lollipop
Design: Imitation, Flattery, Style



Dimensions

: 151.8 x 74.3 x 6.6 mm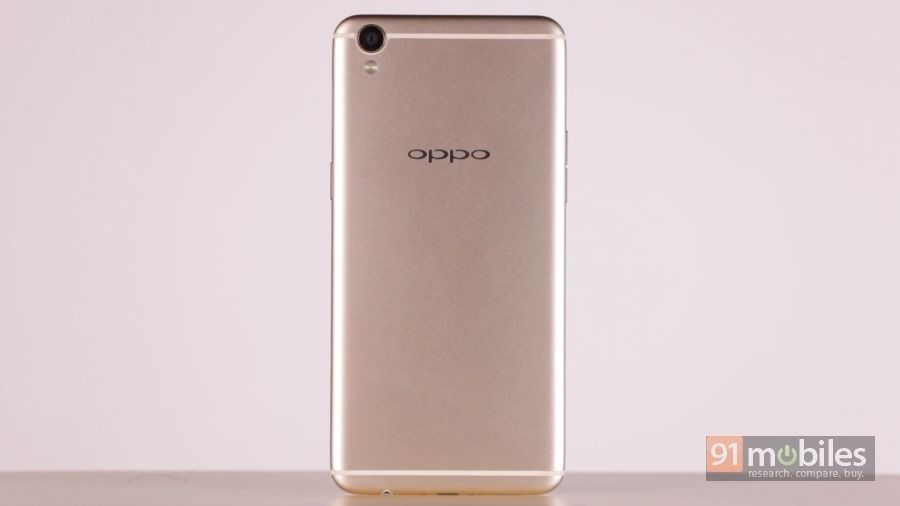 Our opinion about the design of the OPPO F1 Plus hasn't changed since the day we first checked it out. Just like we said in our first impressions, the OPPO F1 Plus looks heavily inspired by the iPhone 6. Apart from a few elements here and there, the rest of the design language has been almost replicated. However, it works for the phone. It's slim and lightweight, with slightly curved edges. Despite a large 5.5-inch display, the phone can be easily operated with one hand, all credit to its almost non-existent bezels. The back panels sports the camera module on the top left corner. There are plastic inlays for better call reception, running parallel to the horizontal edges. Minimal branding completes the rear panel.
The right edge houses the power button, along with an ejectable SIM tray, while the left edge is home to the volume keys. The loudspeaker grille, micro-USB port, primary microphone, and the 3.5mm audio jack, all find their way onto the bottom edge, and hence, the top edge only houses the secondary microphone. The OPPO F1 Plus uses backlit capacitive navigation keys, along with a home button which also doubles as a fingerprint reader. Above the display you get the earpiece, accompanied by some sensors and the front camera.
To sum it up, the OPPO F1 Plus is undoubtedly one of the best looking smartphones you can get your hands on, without compromising on the ease of use.
Display: Bright and Beautiful
Resolution
: Full HD (1080 x 1920 pixels)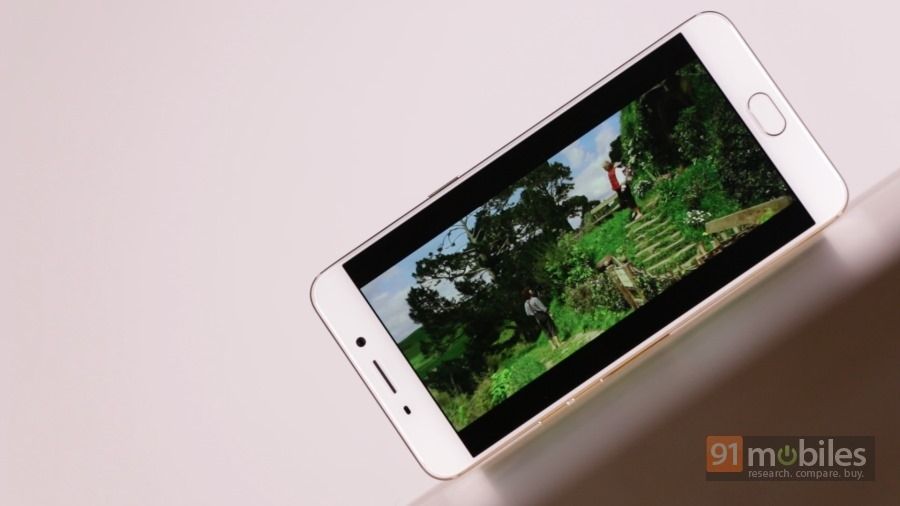 A full HD display on a 5.5-inch smartphone in the mid-range segment is almost a given these days, and this is exactly what the OPPO F1 Plus ships with. The screen on the phone looks sharp enough, with the text and icons appearing crisp. However, if you try really hard, it's possible to discern pixels. The colours look beautiful on the F1 Plus' display. The saturation seemed near perfect to us, but there is no option for you to customise the colours. There's an option called Eye Protection Display, which filters out all the blue light for you to use the screen for longer time periods without straining the eyes. You see slight greens and blues on the extremes, but overall the viewing angles are good. The brightness feels perfectly adequate indoors, and while the screen looks slightly washed out in bright sunlight, it's still quite legible. The screen is minimally reflective, which adds to the sunlight legibility and overall viewing experience. The touch response of the screen on the OPPO F1 Plus is impressive as well, and overall, it's a display we have almost no qualms with.
Camera: Star of the Show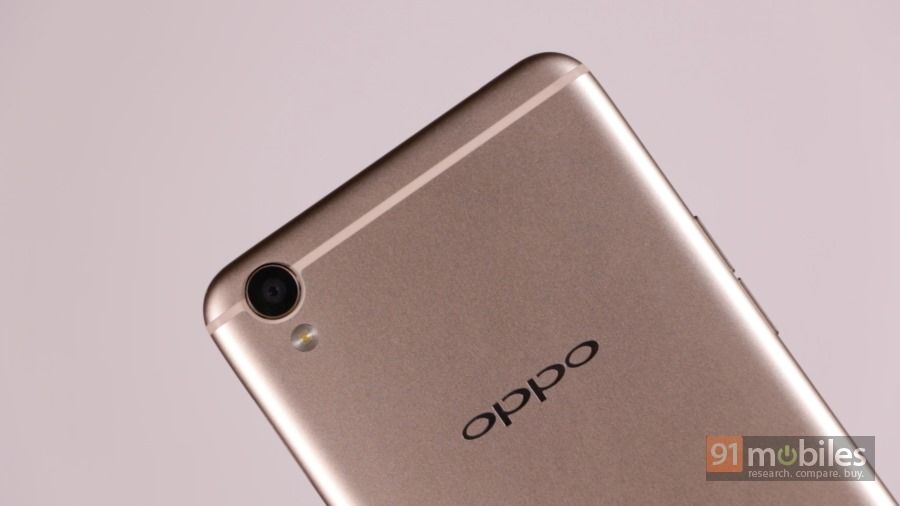 The primary camera is 13-megapixels, assisted by an LED flash. The brand is giving more importance to selfies with this device, as it has provided a more powerful 16MP sensor at the front. Despite being a selfie-centric phone, the company hasn't provided a front-facing LED flash.
The camera app is pretty simple. Swiping left and right, or a maximum of two taps is all you need to access any setting or mode. There are modes like Ultra HD, GIF, Double Exposure and Expert. The latter lets you tweak the ISO, shutter speed and white balance etc., and also lets you shoot in RAW format. There's gesture support as well, so you can wave in front of the cameras to click.
The 16-meg front camera captures good details and colours. Of course, the daylight selfies turned out better than the ones we clicked in artificial light, which showed signs of slight noise. For low-light conditions you have the screen flash, but it's a little weak, and the pictures turn out grainy. However, it's a great front camera, overall. Talking about the beauty mode… we found it a bit too extreme. You can set the beautification levels from 1 to 7 and select undertones for your skin to look either whiter or pinker. While it was way too much for our liking… if you would like to see a Madame Tussauds wax statue version of yourself, you can go ahead with the beauty mode.
The primary camera delivers impressive colour reproduction. While the pictures pixelate when you zoom in, for most part, the camera captures good detail, both in landscape and macro shots. HDR photography with the OPPO F1 Plus was quite nice, and the pictures did not look artificial at all. Apart from a bit of grain, the night shots were fine too. Overall, the OPPO F1 justifies the fact that it's a camera centric phone. For a detailed look at the shooting prowess of the OPPO F1 Plus, you can read our camera review. Meanwhile, here are some images clicked by the OPPO F1 Plus' shooters.
Software: A Buggy Ride
Operating System
: Android
OS Version
: 5.1.1, Lollipop
In terms of software, the OPPO F1 Plus offers the brand's Color OS on top of Android Lollipop, and being the Chinese smartphone that it is, it refrains from offering the user an app drawer. You don't get a lot of preloaded apps apart from all the ones from Google, and WPS Kingsoft Office. However, the default browser on the phone does subtly list websites like ShopClues, Askme Bazaar, and Booking.com on the Speed Dial page.
A bunch of smart screen-off gestures are on offer as well. While you do not get to doodle anything you want, letters like M, W and an inverted V, along with actions of swiping in every direction, can be customised to perform various functions. Other than this, the OPPO F1 Plus lets you wake it up from standby by double tapping the screen, launch the camera app by drawing an O, turn the flashlight on by drawing a V, and control the music by drawing ||, < or >, which in our opinion, is a pretty interesting feature.
In terms of customisation, a feature called Lockscreen magazine lets you subscribe to a bunch of different channels, which could be anything ranging from your own pictures to whatever you like… and you find a new wallpaper, every time you unlock your phone. There's also a Theme Store to completely transform the look and feel of the interface.
While the software on the whole is decent, it does have a few bugs. For instance, you can't clear all running apps from the recent apps screen. A few remain running, and you get a prompt saying "Your phone is in the best condition". Accessing apps through the drop-down notification panel is also buggy, and works only half the time. Additionally, some app notifications don't show up, although the latest software update seems to have fixed this.
While the software features on offer are interesting and useful, the bugs do need squashing, and we hope OPPO fixes them in future software updates.
Performance and Battery: Brilliant and Brilliant
CPU
: Octa core, 2 GHz, MediaTek MT…
Memory
: 64 GB + Up to 128 GB
SIM Slots
: Dual SIM , GSM+GSM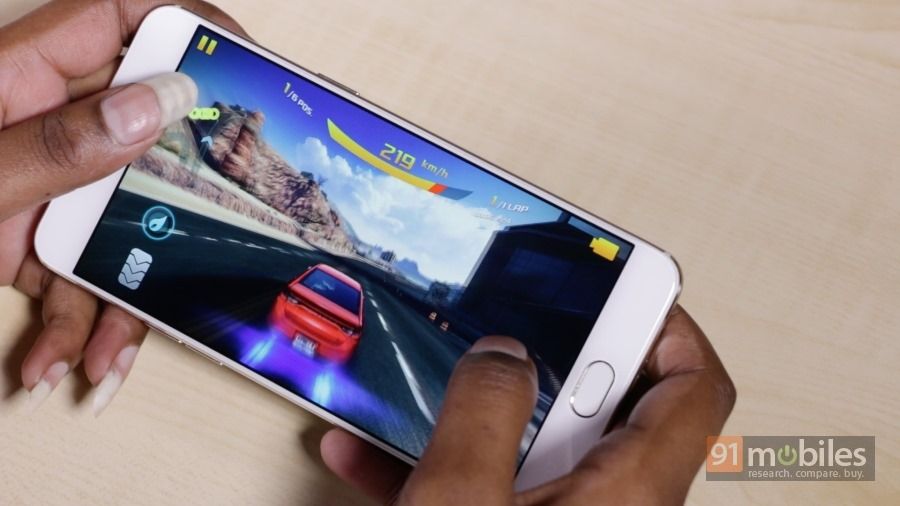 The OPPO F1 Plus is powered by a MediaTek Helio P10 processor, which works in tandem with 4GB of RAM. The phone handles everyday use like a pro. Switching between apps and browsing through the web felt like a warm knife cutting through butter. We didn't encounter any app crashes or freezes, neither did the phone hang. As a matter of fact, the smartphone didn't even flinch when we threw heavy games at it too. We played some of our favourites, like the Asphalt 8: Airborne, Dead Trigger 2, and Leo's Fortune, and it was a piece of cake for the OPPO F1 Plus. There was negligible stuttering, and the graphics rendered beautifully. However, the phone does heat up quite a bit after long gaming sessions, or prolonged use of GPS, or when it's charged with a regular 1A charger.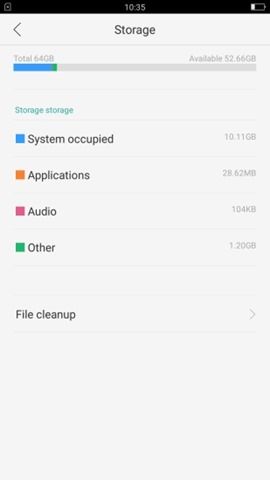 Storage-wise it ships with 64GB of inbuilt storage out of which you get about 52GB. You can expand the storage up to 128GB, and the smartphone supports USB OTG as well, so you probably won't be running out of space on this one.

The fingerprint sensor on the OPPO F1 Plus is embedded in the home button. The phone can store up to five fingerprints, which can be used to protect your files and apps, along with locking the smartphone. While the fingerprint reader is extremely fast and accurate, it struggles to be activated if you have sweaty hands.
The OPPO F1 Plus is backed by a 2,850mAh battery which charged from zero to 100 percent in 45-50 minutes with the bundled VOOC charger. With a regular 1A charger, the F1 Plus takes about 160 minutes to charge completely. With 4G networks working on both the slim slots, and 4G data running on one, along with regular use of WhatsApp, Instagram, shopping apps and watching videos on YouTube, the smartphone easily delivers a day's worth of usage. One our standard battery test, it breathed its last after about 13 hours, which is a pretty decent result.
Verdict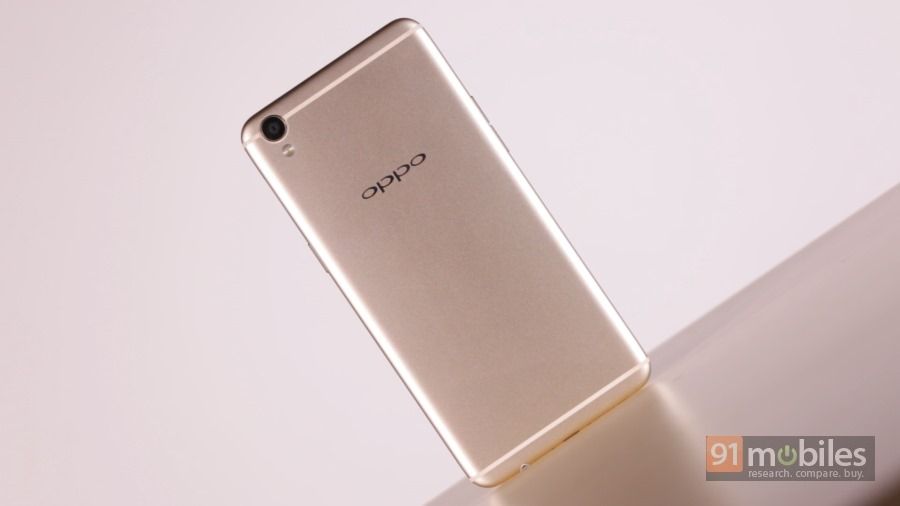 OPPO's phones have always been interesting but the company has had a history of messing the pricing up. The OPPO F1 Plus is priced at Rs 26,990, which isn't exorbitant, provided that it's a slim, lightweight, and beautiful smartphone, with a good display, glitch-free performance, decent battery life, and a set of cameras which perform quite well in most shooting conditions. The software, as we mentioned earlier, is what keeps the smartphone from being an all-rounder. However, the issues could be resolved in the future with software updates. Unfortunately though, the phone still can't match up to its rivals in terms of specs, and that could sour the deal for many. Major competitors for the OPPO F1 Plus are the Xiaomi Mi 5 (review), Coolpad Max (review) and Vivo V3 Max (first impressions). The Mi 5 has a smaller display, but we'll say it again, the OPPO F1 Plus is just as handy, even with its larger 5.5-inch screen. A front flash would have been great on this phone. but we'll still recommend the OPPO F1 Plus to those who're all about selfies, and even to those who just need a decent and stylish daily driver.
Editor's Rating: 4 / 5
Pros:
Slim, lightweight, and handy
Impressive set of shooters
Smooth performance
Decent battery life
Cons:
Buggy software
Heats up occasionally
Photos by Raj Rout
Competitors for Oppo F1 Plus
| | | |
| --- | --- | --- |
| Oppo F1 Plus | vs | Xiaomi Mi5 32GB |
| | | |
| --- | --- | --- |
| Oppo F1 Plus | vs | Coolpad Max |