"The OPPO F1 is a phone that deserves a second look and we'll tell you why"
Whenever we think of OPPO, three things come to mind – design, innovation, and premium pricing. While India has seen an onslaught of Chinese smartphone brands in the past few months, OPPO is one of the few that has been around for a while, but has shied away from the spec wars. We've seen a few compelling phones from the company, most of which score high on the design front, and a handful have also been quite innovative – the OPPO N1 (review) and N3 (review) with their swivel cameras, and the Find 7 (review) which was the first in India to offer a QHD display, for example. OPPO was also one of the first to offer fast charging in the form of VOOC, its proprietary quick charge tech. It didn't have a new device to showcase at the recently-concluded MWC, but filled the lacuna in style by announcing a couple of very interesting technologies instead. The first is a sensor-based optical stabilisation mechanism that promises to aid smartphone photography in a significant manner, but the second is a technology that literally takes the breath away. Labelled Super VOOC, this is an update to its fast charging technology that promises to charge a smartphone fully within the time you take a shower, or finish your breakfast. We watched with our eyes and mouths open as OPPO showed us a demo of the tech in action, as it seemingly charged a prototype smartphone with a 2,500mAh battery from nought to 100 percent in less than 15 minutes flat. While there's no indication of when we'll see these innovations on commercially-available phones, one thing is for sure – OPPO is a brand to be reckoned with in the smartphone space and when its efforts come to fruition, looks set to rock the industry in a big way.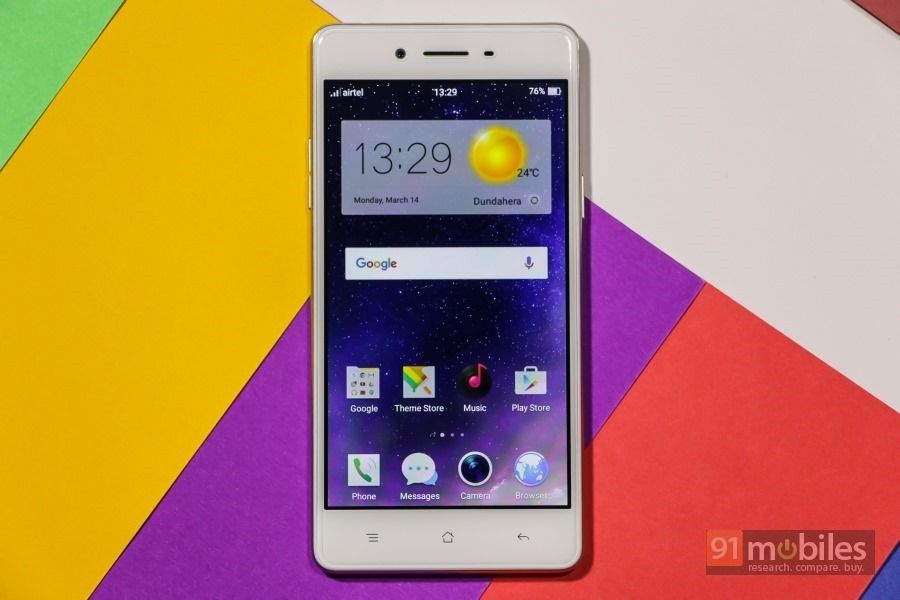 OPPO's newest launch in India is the F1, a mid-range, camera-centric smartphone that was introduced just a few days prior to MWC, and we're sort of glad that we waited till after the annual phone extravaganza got over to publish this review. Impressed with what we saw in Barcelona, the effect of those breath-taking demonstrations is fresh in our minds as we write this… though we'd still need to evaluate the phone on its own merits, of course.
Specs at a glance
Display
Size
5.0 Inch
Resolution
HD (720 x 1280 pixels)
Performance
CPU
Quad core, 1.5 GHz + Quad core, 1.2 GHz, Snapdragon 616
RAM
3 GB
Storage
Internal memory
16 GB
External memory
Up to 128 GB
Battery
Capacity
2500 mAH, Li-ion, Non removable
Camera
Primary camera
13 MP
Secondary camera
8 MP
Connectivity
Network support
Dual SIM 4G
Other options
Wi-Fi, Bluetooth 4.0, GPS
Others
Battery Capacity
2500
Operating system
Android 5.1 Lollipop
Design: compact and stylish
Dimensions
: 143.5 x 71 x 7.2 mm
No two ways about it – the OPPO F1 is a nicely designed phone. It ticks most of the right boxes in terms of looks and build, and thanks to its 5-inch display, is quite compact too. The screen size alone isn't the only factor that contributes towards its manageable proportions though, since its metal bod is also quite slim.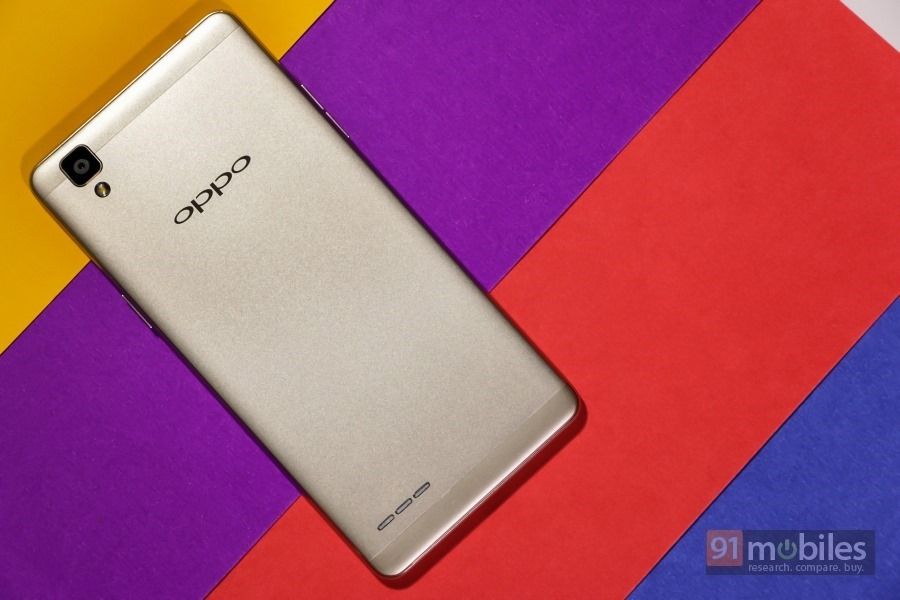 Our review unit comes in champagne gold, with white bezels at the front. The rounded spines merge into two polished strips that flow on the metal rear and the 2.5D curved display, making it look like the phone's made out of three different parts, but the overall look is nice and premium, and more importantly, it feels great in the hand. A mere 7.3mm thin and displaying a reading of 134 grams on the weighing scale, the OPPO F1 is a cinch to use with a single hand and can be pocketed with ease.
We won't get into further details (you could jump to our first impressions of the OPPO F1 if you want the complete lowdown), but suffice to say that the phone may not be an eye-popper in the truest sense, but still looks nice and elegant, and rocks a solid build. Our main gripe with the design is that the capacitive navigation keys below the screen aren't backlit, which is a bummer. But if you can ignore that, the F1 should certainly be in your shortlist if you're one of those that hate phablets and large phones.
Display: no FHD goodness here
Resolution
: HD (720 x 1280 pixels)
The 5-inch 720p IPS display isn't a patch on the 2K screens you can get in flagships these days, but it's a shame OPPO hasn't thrown in one that offers full HD, especially considering the asking price. If you're picky, you might be able to discern pixels and text isn't as sharp as we'd like, but it can serve up reasonably good visuals and at the end of the day, that's really what matters.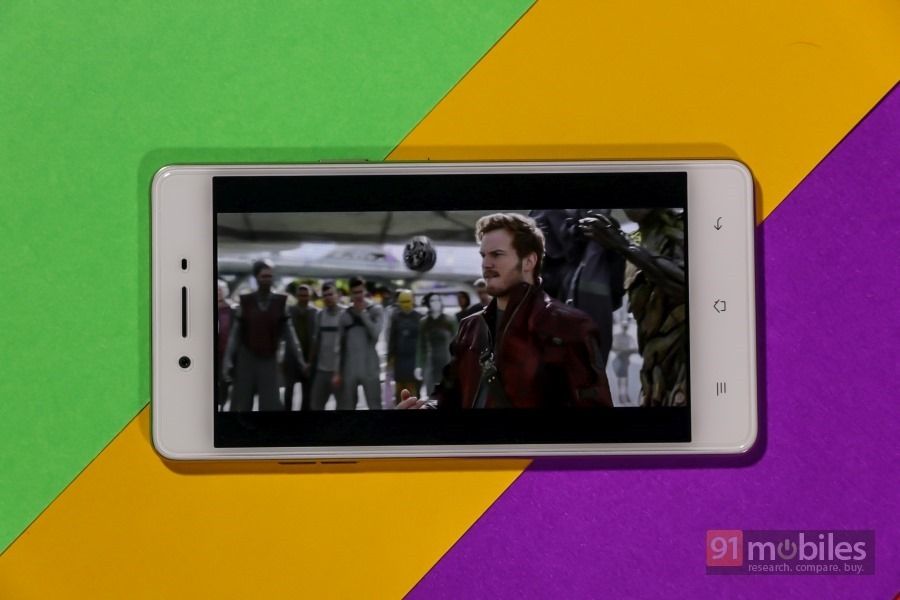 We didn't have any issues with touchscreen response or viewing angles, but the ambient light sensor seems a tad finicky on occasion though, making the screen too bright sometimes. On the positive side, a screen protector comes pre-applied (at least there was one on our review unit), and with a layer of fourth-gen Gorilla Glass on top of the glass, screen protection is well taken care of.
Software: feature-rich and Color-full
Operating System
: Android
OS Version
: 5.1, Lollipop
OPPO's ColorOS forms the software side of things as usual, with Android Lollipop 5.1.1 as base. The platform hasn't changed drastically since the last time we saw it, so we won't be going into full details.
In a nutshell though, there's no dedicated app drawer, so all the apps are strewn around on the home screens. The wallpapers on the lockscreen refresh on their own periodically. Speaking of apps, the ones that come preloaded include the likes of WPS Office, Swype keyboard, a backup and restore utility, O-Cloud, a theme store, and a one-touch memory cleaner, apart from the usual hygiene stuff like Google's suite of apps, compass, sound recorder et al.
A Security Center integrates a cleaner and phone accelerator, a data monitor, a blocker, a permissions manager, data saver and an 'energy saver' that controls the battery-saving modes.
A tap of the recents keys puts the home screens into edit mode, and displays a carousel at the bottom that gives you access to widgets, wallpapers, screen transition effects and themes. A long press of the same key shows a list of recently-accessed apps in a card-based layout, wherein you can kill individual ones by flicking the corresponding thumbnail upwards or end them all in one fell swoop.
Dive into the settings, and you'll see the options arranged under three tabs – general, sound and display. The display settings has a few interesting options – such as one labelled Eye protection display. Basically, this is like a reading mode that filters out blue light to make the screen more comfortable to read, and comes with three varying levels of intensity. There's also a simple mode that can be activated… usual for newbies and the elderly.
Under general settings, you'll find a few more goodies. These include control over app notifications and even support for a few gestures. The latter covers both screen-off and screen-on gestures. So when the screen is off, you can use actions like double tap to wake, drawing 'O' or 'V' to launch the camera or flashlight respectively, and also control music playback. What's more, there are a few more gestures which you can customise as per your liking, and set them to unlock the phone, call a specific contact or launch an app of your choosing. The screen-on gestures include pinch-closing with multiple fingers to launch the camera, double tapping the home key to lock, using three-finger swipes to capture screenshots, adjusting volume with two-finger swipes and activating a one-handed mode.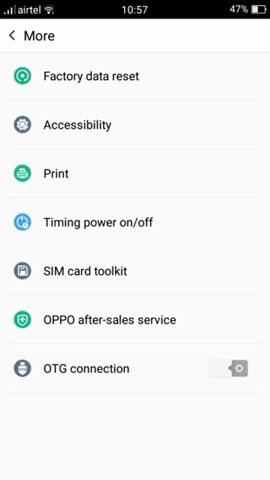 Surprisingly, you need to enable USB OTG if you wish to use this feature, and the option for that is buried deep under a head labelled 'More' right at the bottom of general settings.
Camera: loaded and capable
Now shooting prowess has been highlighted as one of the hero features for the OPPO F1, and a look at the available options in the default camera app is enough to tell you why. Hardware-wise, there's a 13-meg primary shooter, with an 8MP sensor handling selfie duties up front.
The available shooting modes include stuff like Beautify, HDR, and Panorama, while the advanced options cover Slow Shutter, GIF, and Ultra HD (shoots and combines multiple shots to make one high-res image). There's an Expert Mode that gives you manual control over a variety of shooting parameters.
Another button labelled 'More functions' lists more options – including Double Exposure, Super Macro, a RAW mode, and time-lapse along with slow-mo for videos. The selfie-related features (the phone is touted as the 'selfie expert', in fact), included enhanced beautify modes and Screen Flash, a feature that lights up the screen brightly just before shooting a self portrait.
In terms of image quality, we'd say that the OPPO F1 is one of the better options in its price range. The shooter can be a tad fussy while focussing, but more often than not, you'd end up with nice images especially if there's enough ambient light. Low light images are soft, but again, if you're patient enough, you can get usable shots out of it. Check out our detailed camera review for more deets, and here's a quick look at some more image samples.
Performance: smooth for the most part
CPU
: Quad core, 1.5 GHz + Quad cor…
Memory
: 16 GB + Up to 128 GB
SIM Slots
: Dual SIM , GSM+GSM
With an octa-core Snapdragon 616 processor and 3 gigs of RAM handling the number crunching, performance is smooth for the most part. Don't expect fireworks, as the phone doesn't seem to be in a hurry to get anywhere, but that apart, you shouldn't be disappointed as far as regular, day-to-day tasks are concerned.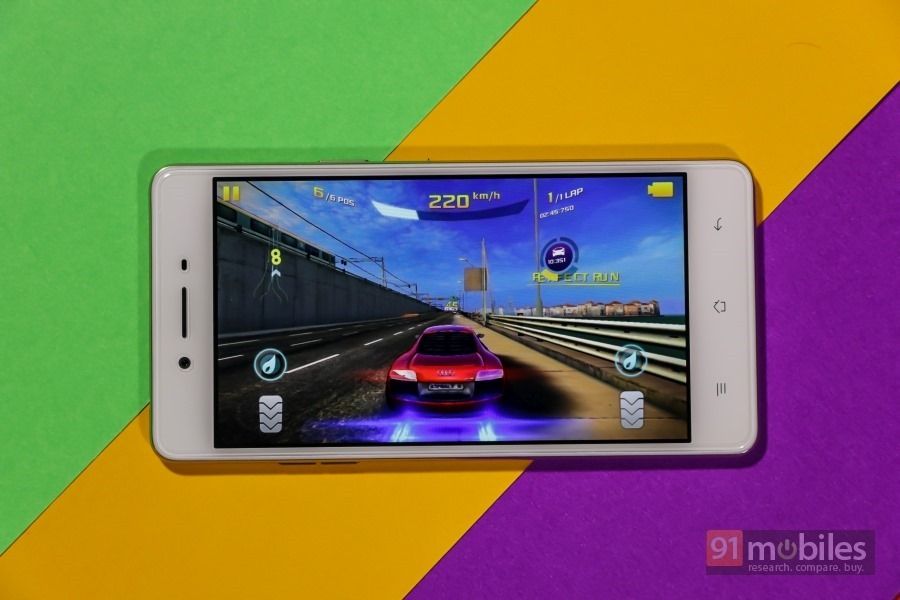 Multi-tasking isn't an issue either, and intensive games run smoothly as well… though the phone does tend to get a little hot when stressed.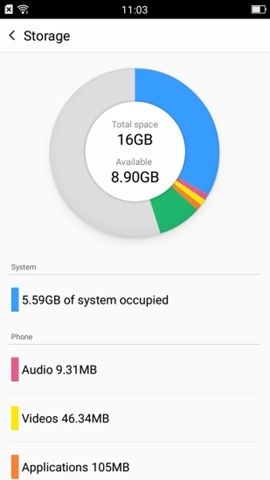 Out of the provided 16GB, there's just about 9GB free on first boot. Since this is a hybrid dual-SIM phone, you'll need to give up the secondary SIM slot (which accepts a nano-SIM card) if you want to add more storage. The device supports USB OTG as well, though you'd need to enable this option which is buried deep inside the settings menu. The other connectivity options include the usual, covering 4G, single-band Wi-Fi, Bluetooth, A-GPS, Wi-Fi Direct and wireless display mirroring.
The sealed 2,500mAh battery doesn't support fast charging, not even OPPO's own VOOC, so it takes a while to juice it up. Once it's full though, you can expect it to last a full working day with medium usage. Our video loop test ran for over 9 hours 30 minutes, which is a higher than average result, and bodes well for this mid-ranger as battery life is a vital criteria for most prospective buyers.
Verdict
In the past, we've derided OPPO for pricing its phones on the higher side, but the OPPO F1 seems to bring a welcome change. That said, at its asking price of Rs 15,990, it still can't match up to rivals as far as pure specs are concerned. And both the OnePlus X (review) and the Lenovo Vibe S1 (review) pose serious competition… both are stylish phones, are priced similarly and among other things, offer full HD 5-inch displays. The Vibe S1 boasts double the storage and double the selfie fun (thanks to its dual front cameras), while the OnePlus X comes with near-stock Android interface (since it runs OxygenOS) along with powerful specs like a Snapdragon 801 chip. This makes recommending the OPPO F1 a tough call, though there's nothing seriously wrong with the phone – it just doesn't seem as loaded in terms of specs. If you can ignore the specs though and are on the lookout for a stylish, compact daily driver that gets most things right, the OPPO F1 should definitely be in your shortlist… but beyond that, we'll just have to leave it to personal choice.
Editor's rating: 3.5 / 5
Pros
Stylish design, compact size and solid build
Decent camera quality
Tons of features in the camera app
Decent battery life
Cons
Non-backlit navigation keys
Price seems high considering the specs
Gets overshadowed by rivals
Photos by Raj Rout
| | | |
| --- | --- | --- |
| Oppo F1 | vs | OnePlus X |
| | | |
| --- | --- | --- |
| Oppo F1 | vs | Lenovo Vibe S1 |