Cramming in 6GB of RAM in a smartphone is the new in thing. From the incredibly-reliable OnePlus 3T (review) to the edgy Nubia Z11 (review), most top-tier flagship smartphones prove the aforementioned point. And therefore, I wasn't entirely surprised that Samsung followed suite immediately. It's latest – the Galaxy C9 Pro (first impressions) – comes with 6GB of RAM. Although, that's not it.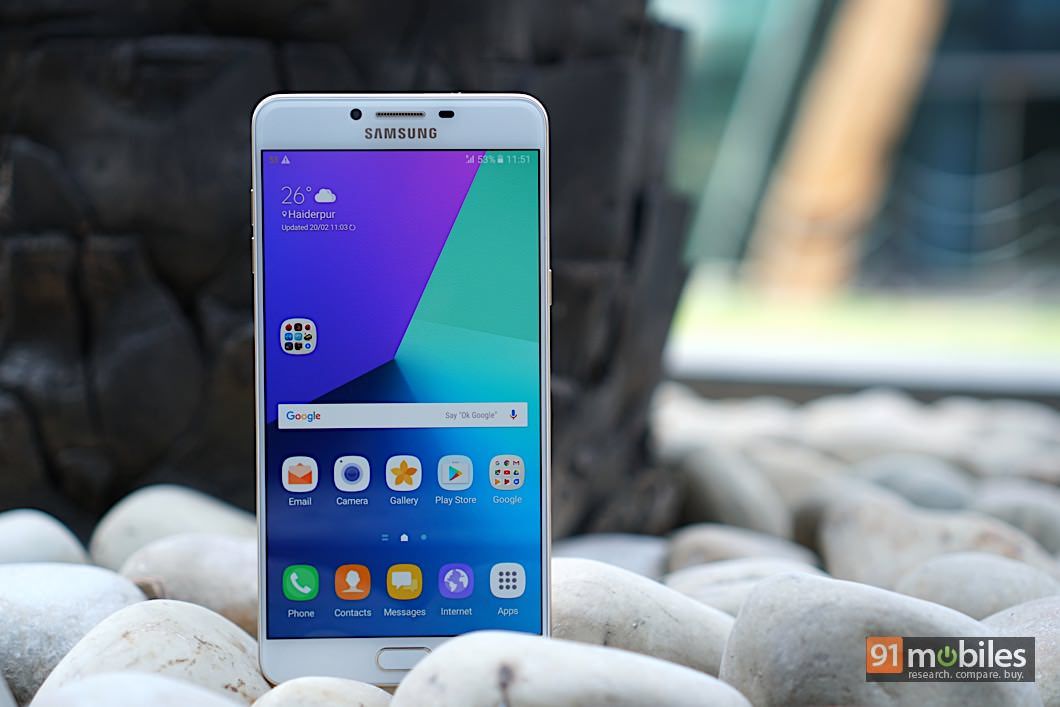 The phone also boasts of a a pair of 16MP cameras on the front and the rear. This clearly indicates that, in more ways than one, the C9 Pro is quite similar to the OnePlus 3T. However, I am highly doubtful that Samsung has intentions of competing with the upstart. Primarily because, the C9 Pro comes with a massive 6-inch display and therefore, some prospective buyers are bound to overlook this phone as an option. Samsung is targeting a niche here. If you consider yourself a big phone enthusiast, should you consider the Samsung C9 Pro as an option? Well, keep reading to find out.
What works?
The first thing that impresses about the Samsung Galaxy C9 Pro is its premium build quality. From the use of metal to its finish, the C9 Pro feels like an expensive product through and through. Despite its large screen, Samsung has managed to keep the bezels extremely thin to the extent that it feels almost non-existent. Furthermore, the entire device itself is extremely slim at 6.9mm, making it slimmer than even the OnePlus 3T. I also liked the fact that Samsung provides separate trays for the SIM cards and the microSD card. None of that hybrid slot nonsense. The tactile feedback of the physical buttons (power button and volume rocker) is also pretty good, nothing to complain about.



Samsung Galaxy C9 Pro design
The 6-inch display offers a display resolution of 1,080 x 1,920 pixels, which roughly translates to a pixel density of 367ppi. Obviously this is not a pixel-dense display by a long stretch, but thanks to the use of a Super AMOLED panel you get vibrant colours and deep black levels.

The Galaxy C9 Pro runs Android Marshmallow, with Samsung's skin on top of it. Quick fun fact: this skin is not called TouchWiz anymore. What I liked about the new skin is that it doesn't bombard you with a ton of features and settings up front. I particularly liked the Secure Folder app that offers the dual apps feature. Essentially, this mode allows you to run two apps at one time. The current skin on top of Marshmallow is clean and most of the extraneous features are hidden. Most of these features only show up for the first time when a need is triggered. For example, the Game Launcher settings — that lets you capture gameplay or even stream it live — propped up for the first time I fired up Asphalt 8. I like this intelligent implementation and it is clear that Samsung is learning from its mistakes in the past. Big thumbs up.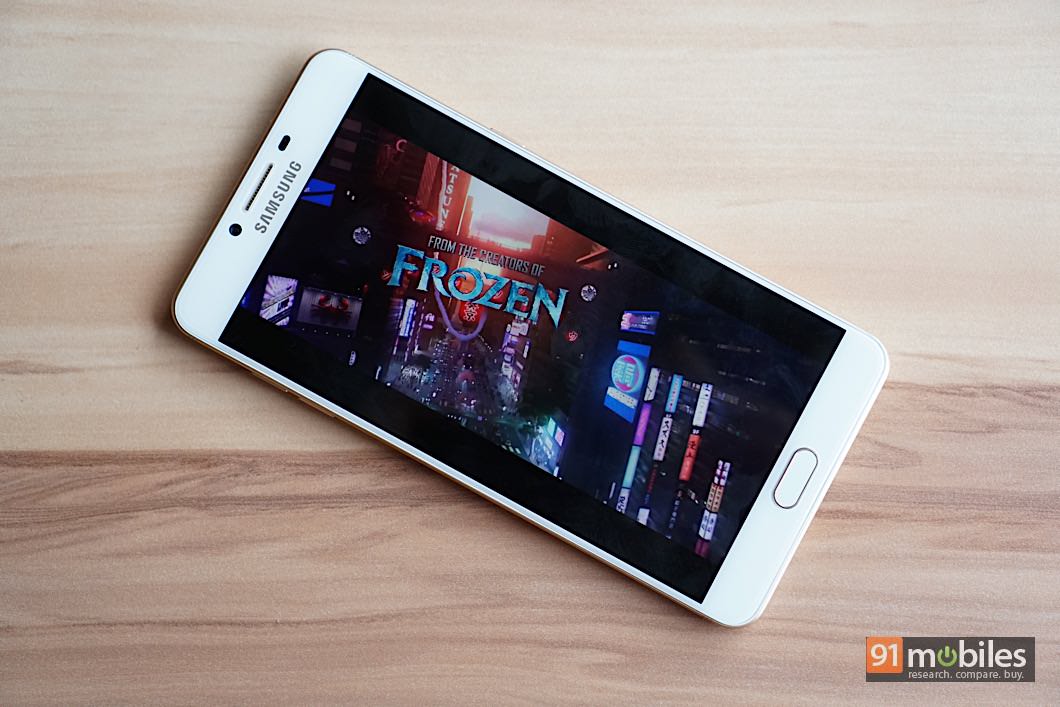 While we are on topic of gaming, let's talk about the performance. The C9 Pro just bulldozers through everyday tasks and I assure you, you won't have face any issues with pure speed and responsiveness. Moreover, the RAM management is as good as it gets. You also get 64GB of internal storage space, which should be more than sufficient for most use cases. But if you are somewhat of a data hound, Samsung acknowledges you as well by providing a microSD card slot that supports up to 256GB of extra storage.
Like I mentioned before, the phone has two 16MP cameras. The one on the rear has go up to an f stop of F/1.9. You can get incredible depth in the background if you tried. The C9 Pro captures some impressive daylight shots with an incredible amount of details and clarity. Even the barrel distortion is mostly in check. The front camera can also capture some detailed selfies and what I particularly like is that Samsung uses the display to trigger a front flash. It is extremely helpful in low light situations. What I also noticed is that the microphones on the phone can capture some incredibly good stereo recording while shooting video. This is something that Samsung has always managed to do well. Do note that, these are only the positive points of the camera performance and head to the next segment to know more about what doesn't work because, to be completely honest, there are some issues. Here are a few camera samples you can browse through.


Samsung Galaxy C9 Pro camera samples
The phone's non-removable 4,000mAh battery supports fast charging and with the bundled charger it can go from 0 to 100 percent in around 1 hour and 30 minutes. Surprise, surprise, this performance is even better than OnePlus 3T's dash charging. Furthermore, the battery can last you easily more than a day if you are a heavy user. It lasted us 15 hours and 36 minutes in our battery test, which is a great performance compared to other phones in this price range. Moreover, the phone also excels in its 4G and call quality. In any case, that isn't something I was concerned too much about considering Samsung is generally known for using high quality components in its phones.
What misses the mark?
Now, the C9 Pro has some issues. While most of the issues don't necessarily break the experience of using the phone entirely, it is important to note that the competition is fierce and even tiny missteps can hurt sales. For example, the fingerprint scanner is a major let down. I had to validate my fingers at least twice for the scanner to recognise it, on one too many occasions. Another tiny nitpick I wanted to make is that the USB Type-C port at the bottom is not aligned properly and it just looks odd design-wise.

Coming to the cameras. Both, the front and the rear, cameras suffer in low light. The 16MP rear camera captured a lot of noise in low light and even the details were missing. Similarly, don't expect to use the front camera in low light without the screen flash and expect it to look good. I also need to mention that the rear camera doesn't have OIS, which means that your videos look shaky if your hands are not stable. Oh…and there is no support for 4K video recording either. So, that is a bummer.
Moving forward, the loudspeaker sounds tinny and muffled. I definitely expected better. Also, if you have to compare apples to apples, the Snapdragon 653 SoC with Adreno is 510 GPU is no match for the Snapdragon 821 SoC inside the OnePlus 3T. In raw performance like gaming and video editing, the OnePlus 3T eats the C9 Pro raw. Moreover, I also noticed some heating problems when the phone is pushed to the brink of its power.
Should you buy it?
The Samsung Galaxy C9 Pro is a weird beast altogether. It is a massive phone with absolutely no head-to-head match in the same price range. In that sense, if you are looking for a behemoth of a smartphone under Rs 40,000, you cannot go wrong with the C9 Pro. In fact, it could just be the best massive phone out there. However, phones like the OnePlus 3T, Nubia Z11, Huawei P9 (review), and even the Moto Z (review), offer a lot more bang for the buck. The OnePlus 3T especially one ups the C9 Pro in most scenarios.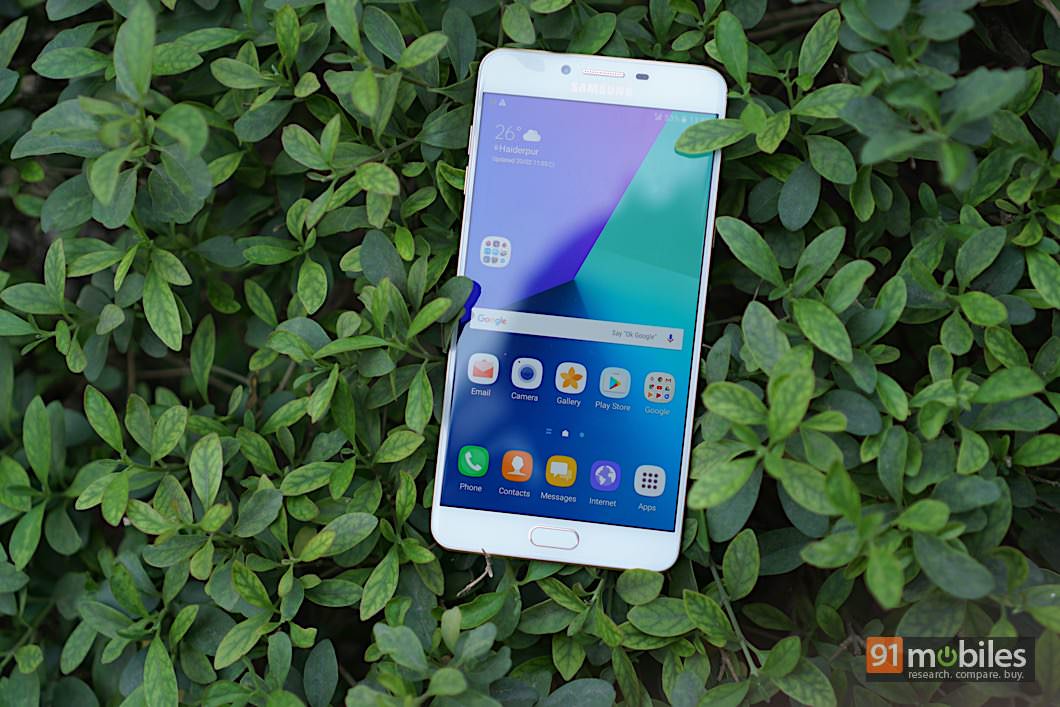 All said and done, the C9 Pro is not a bad phone by any stretch (including its size). I definitely liked using the phone for the duration of the review and found it to be great for multimedia consumption. If you watch a lot of Netflix or Hotstar, the C9 Pro could be a great companion. Just remember to use headphones, because the loudspeaker won't serve the purpose. Also, let's not forget, that if you had around Rs 37,000 with you right now and wanted to buy a phone from a retail store, the Galaxy C9 Pro is bound to be available readily. Therefore, in my opinion, Samsung is looking at a sleeper hit in the C9 Pro.
Editor's rating: 3.5 / 5


Pros
Slim form factor

Separate SIM card and SD card slots

Good call quality

Good camera performance in daylight

Dual apps feature
Cons
Wonky fingerprint scanner

Cameras suffer in low light

Below average loudspeaker

Slight heating issues
Competitors for Samsung Galaxy C9 Pro
| | | |
| --- | --- | --- |
| Samsung Galaxy C9 Pro | vs | OnePlus 3T |
| | | |
| --- | --- | --- |
| Samsung Galaxy C9 Pro | vs | Moto Z 64GB |