"Our take on Samsung's latest wearable — the Galaxy Watch"
I've been using Samsung's latest Galaxy Watch for a few weeks now, and in the time, I've concluded that it's the best smartwatch money can buy, provided your daily driver is an Android smartphone. In fact, until Qualcomm's Wear 3100 platform hits the shelves, you'd be hard-pressed to find a wearable which can compete with Samsung's offering head-on. From its rich feature set which lets you track a myriad of activities, to its gorgeous design and competitive price tag, there's plenty to love about the all-new Samsung Galaxy Watch. If you're still not convinced, read on as I elaborate on what makes the Galaxy Watch so darn good.
Design and display
First things first – if you're planning on buying the Samsung Galaxy Watch, you'll have to choose between two different sizes of 42mm and 46mm. The variant I was sent for review shipped with a 46mm dial, however, since the rest of the specs are the same across the two models, my praises and critiques would apply to the smaller sized Galaxy Watch too.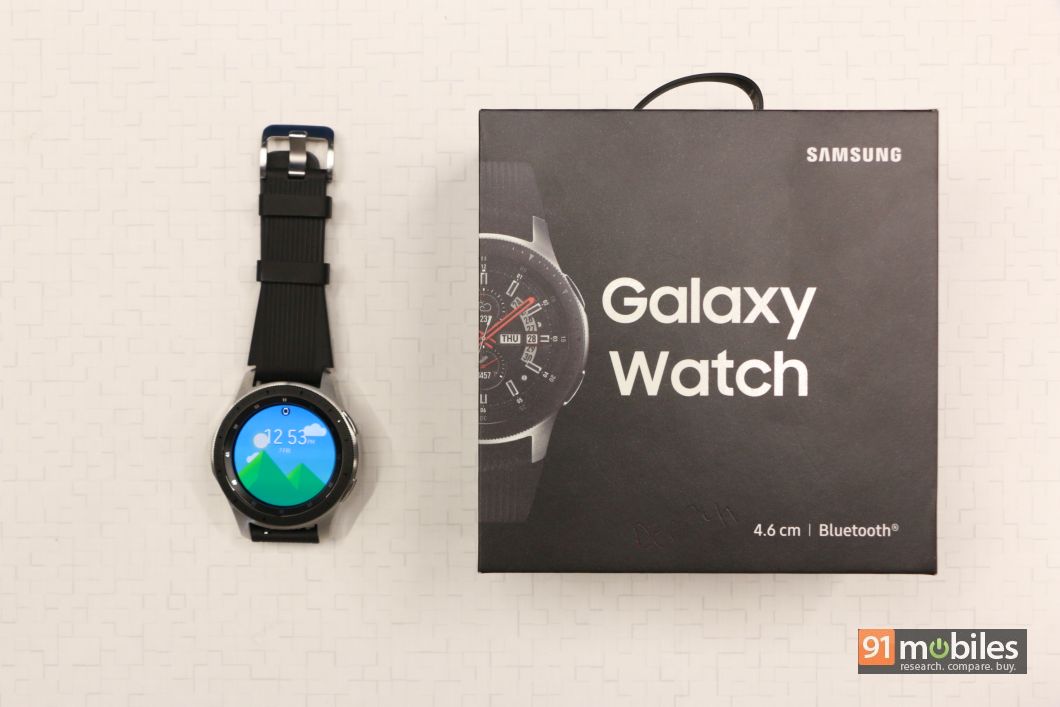 Samsung's Galaxy Watch leaves little to the imagination in terms of design. In fact, if you've seen the brand's Gear S3 Frontier, then you'll have a pretty good idea of what the company's latest entrant looks like. That's not a bad thing as the Gear S3 Frontier was, in my opinion, a bad-ass looking smartwatch. Consequently, the Galaxy Watch too feels remarkable when strapped to the wrist and I got several compliments on the design of the watch when I was out with my friends.
A word of advice — if you've got thin wrists, I'll recommend you get the 42mm model. Not only will it take up less space on your wrists, but it weighs considerably less too. The model I tested tipped the scales at 63g and every now and then, I had to remove the smartwatch as it would start to weigh me down.
Now, the reason why the Galaxy Watch has a bit of heft to it is because it primarily uses metal in its construction. While the base of the smartwatch is plastic, the entire top-half (including the rotating bezel) employs series 7000 aluminium. Coupled with its silver finish, the Galaxy Watch has an air of premiumness to it which rivals high-end analogue timepieces. Moreover, you can take the Galaxy Watch for a swim too, as the wearable comes with a water-resistance rating of up to 50 meters and is also compliant with MIL-STD 810G standards.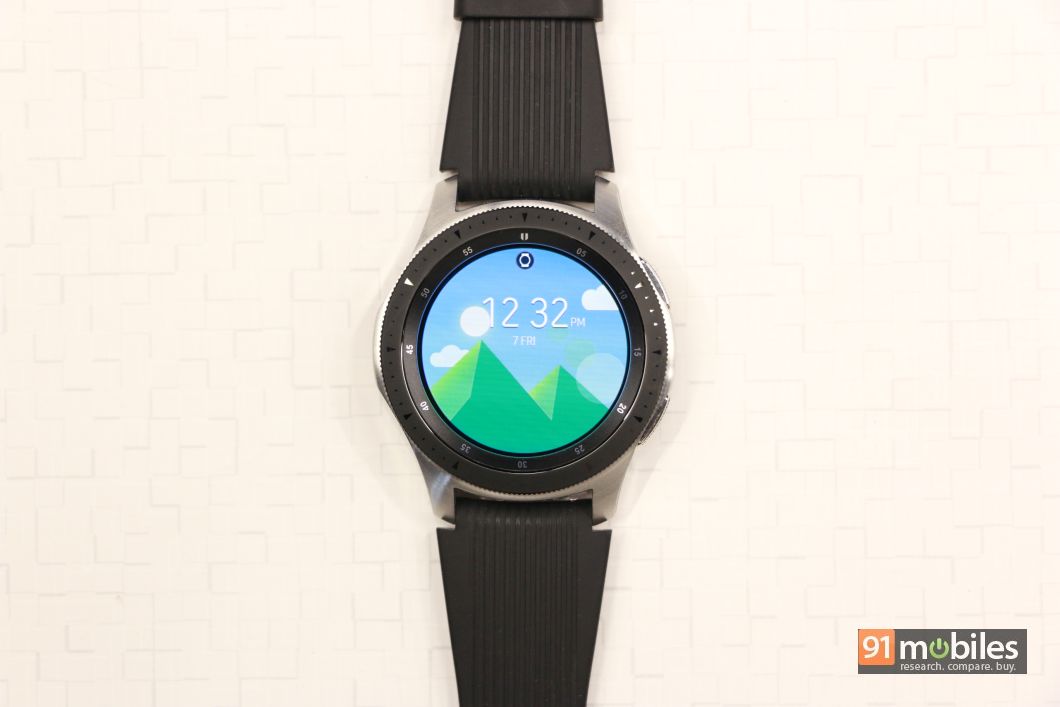 This brings me to my favourite design aspect of the Samsung Galaxy Watch – the rotating dial, which allows users to seamlessly navigate through the UI of the watch. The bezel is arguably the most intuitive method of interacting with a wearable I've seen in a while, and the mechanical clicks you feel whilst rotating it feel oddly satisfying too. A fringe benefit of the same is that it doubles up as an excellent device to satiate your fidgeting needs too.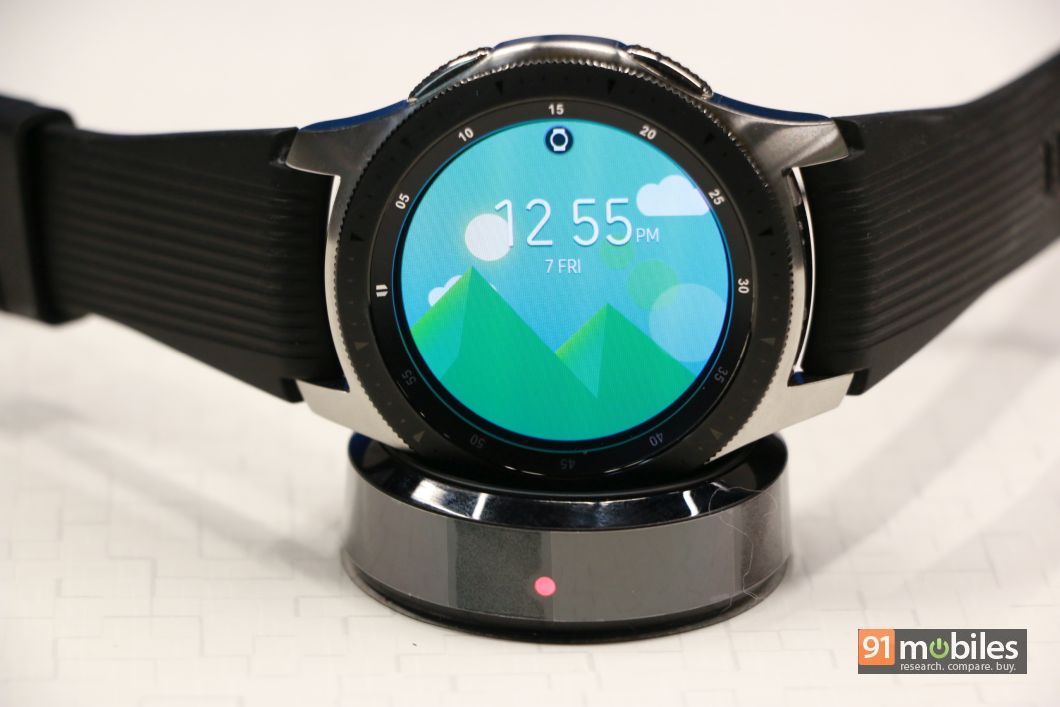 Lastly, for ports and buttons, the Samsung Galaxy Watch ships with two buttons positioned on the right-hand side of the dial, one of which acts as a back button, while the other functions as a home button. The smartwatch makes use of a proprietary charger, and even comes with a built-in speaker which is present towards the left spine of the device.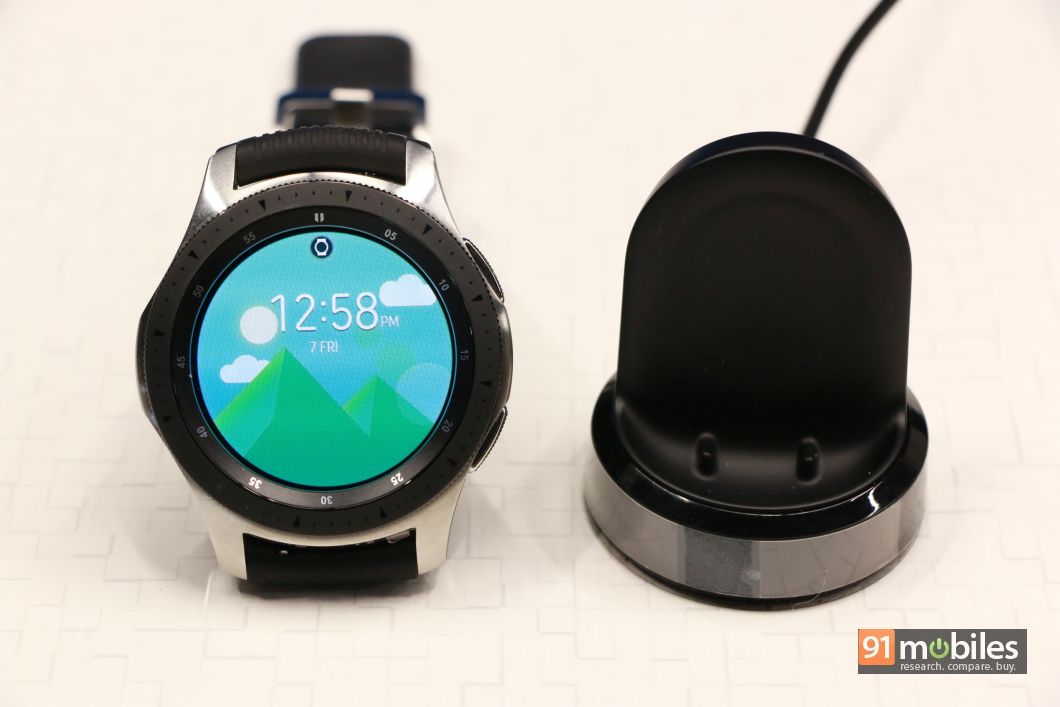 We all know that Samsung makes arguably the best displays in the biz. Therefore, it comes as no surprise that the company's Galaxy Watch's window to the world is gorgeous too. The 46mm variant of the smartwatch ships with a 1.3-inch Super AMOLED panel with a resolution of 360 x 360 pixels. The display is as good as it gets on a smartwatch and it exhibits vibrant hues, has phenomenal contrast ratio, is extremely responsive and has satisfactory peak brightness levels. And, if you're worried about scuffing the display, then you can put your mind at ease knowing that the panel ships with a layer of Corning's Gorilla Glass DX+ on top.
Performance, OS and battery life
The Samsung Galaxy Watch is backed by the company's Exynos 9110 dual-core processor which has been clocked at 1.15GHz. The smartwatch ships with 4GB of internal memory and comes equipped with 768MB of RAM. While the core specs of the Galaxy Watch remain the same across the two sizes, buyers opting for the 46mm dial variant will get a 472mAh battery as opposed to the 270mAh cell on the 42mm dial option. For software, the Samsung Galaxy Watch boots the Tizen-based Wearable OS 4.0.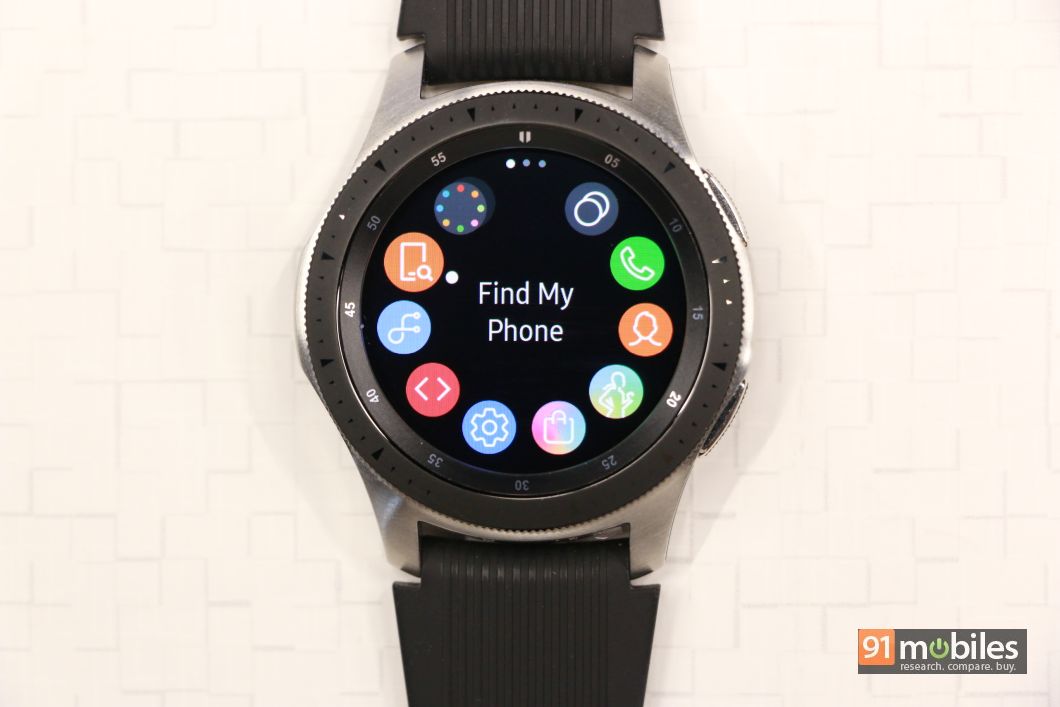 During my time with the smartwatch, I didn't run into any instances of lag or stutter whilst navigating through the UI. Pre-loaded apps opened swiftly, incoming notifications appeared in a timely manner and interacting with widgets and messages was a seamless experience too. That's primarily because Tizen, the company's proprietary OS is tailor-made for the Galaxy Watch. The OS offers a clean interface and is segmented into various pages, which you can access by simply spinning the dial. Each page has a widget for an application which you can move up or down the queue by long-pressing on the display. You can also add more widgets or remove the ones you don't use in a similar manner.
The OS also lets you manage your notifications efficiently and you can pick and choose which apps can buzz on your wrists. Moreover, you also have numerous ways of interacting with the notifications. For instance, you can respond to a WhatsApp text by either sending an emoji, by choosing one of the quick replies or by dictating a reply using your voice. If you're into theming, you'll find no shortage of watch faces to style your Galaxy Watch with. Moreover, you can even edit a desired watch face by selecting different complications, colours and more.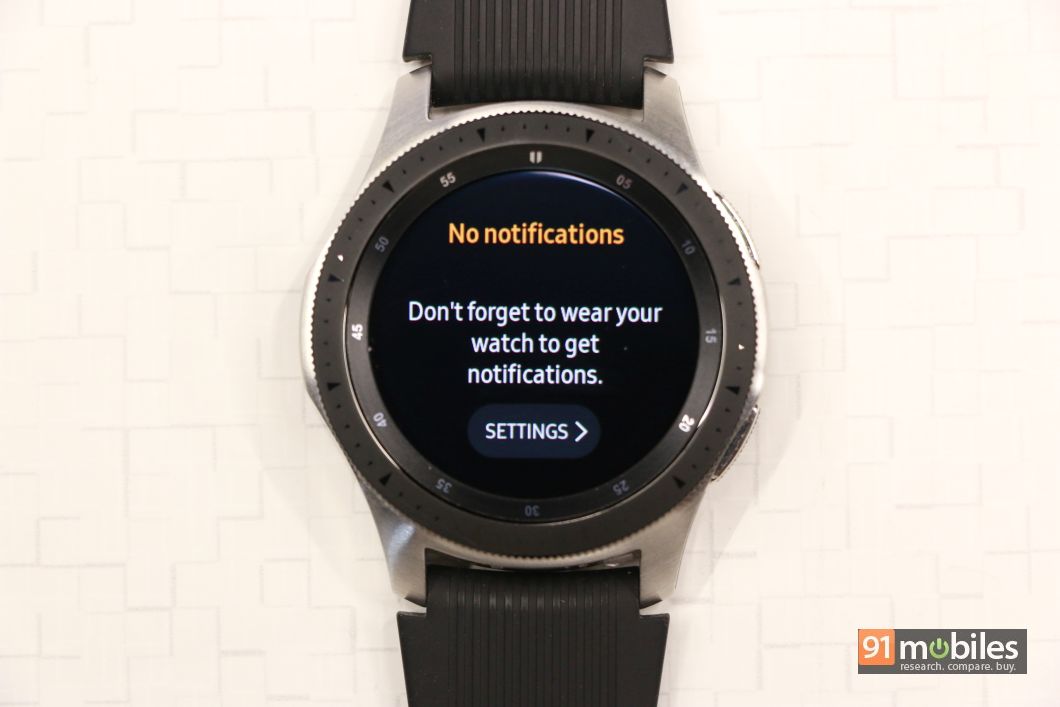 As intuitive as the operating system is, Tizen OS still lags behind Google's Wear OS and Apple's Watch OS in terms of app support. You'd be hard-pressed to find popular apps like WhatsApp (you can still get WhatsApp notifications as mentioned earlier though) on Samsung's Galaxy store and the third-party alternatives for the same have poor user ratings. Consequently, you'll have to find workarounds for using certain apps on the Galaxy Watch. If that doesn't work, well then at least you have a cool spinning dial to curb your frustration.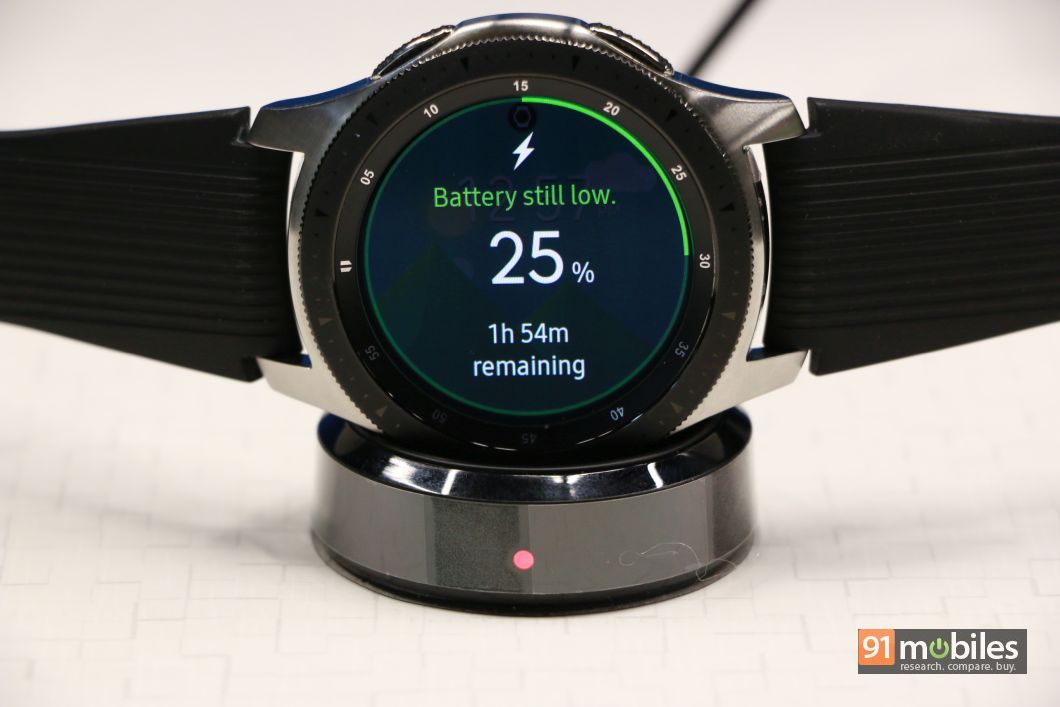 What sets the Galaxy Watch apart from the herd of other wearables in the market is its battery life, and my review unit lasted me a full three days before dying out. That is unheard of in the wearable space, especially when you take into consideration that I had set the heart rate monitor to track my heart rate frequently and that the watch was constantly buzzing with incoming notifications.
Fitness features, App and Bixby
If you're thinking about purchasing the Samsung Galaxy Watch, chances are that you're trying to get in good shape and need a wearable to help track your exercises. To that extent, the Samsung Galaxy Watch does a fantastic job and can track 39 different activities, including running, hiking, sprinting, crunches and much more. To conjure all the data, the smartwatch makes use of a myriad of sensors including an accelerometer, a gyro, a barometer and a built-in HRM (heart rate monitor).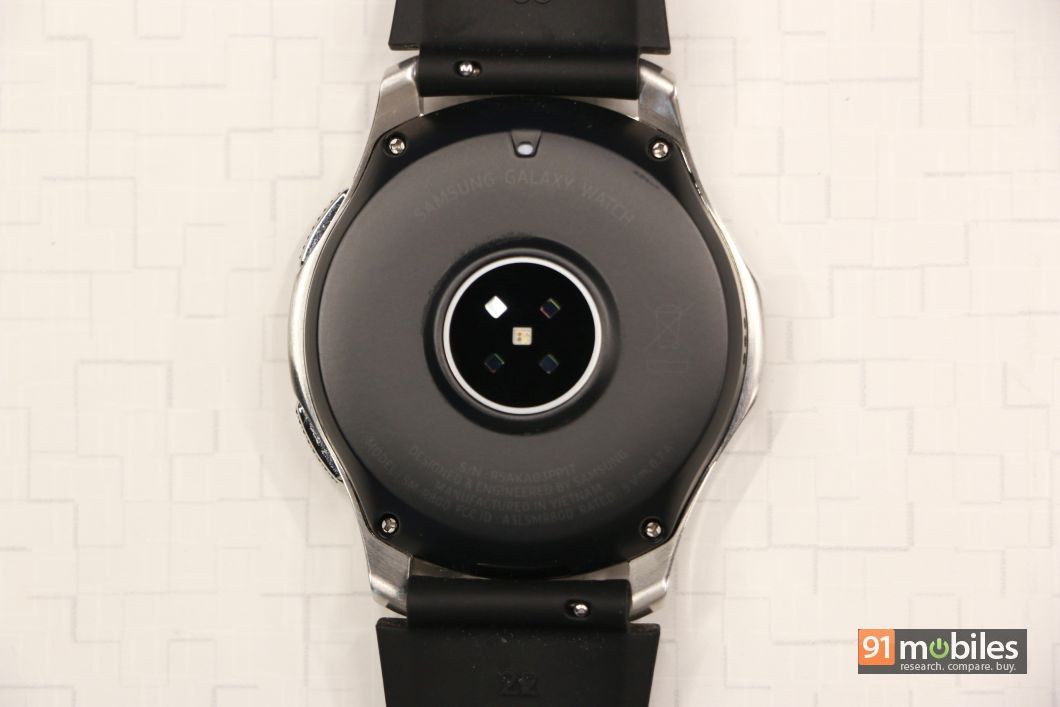 As is the case with most wearables, you can set goals you'd like to achieve in a day. Upon completion of said goals, the Galaxy Watch rewards you with a big ol' thumbs up which is displayed on the screen, akin to a pat on the back by your coach.
Coming to the fitness activities, step-tracking on the Samsung Galaxy Watch is about as accurate as it gets. The smartwatch does a good job at ignoring ghost steps and if you've been walking for ten odd minutes, the wearable will automatically log the activity as 'walking' and send helpful and motivating alerts like "keep up the good pace" and so on. Moreover, if you've pledged to take stairs over elevators, the smartwatch's built-in barometer does a phenomenal job of accurately judging how many floors you've climbed in a day. All the while, the smartwatch's built-in HRM will monitor the beats per minute and give you insights on whether your heart rate is higher or lower than the average resting rate.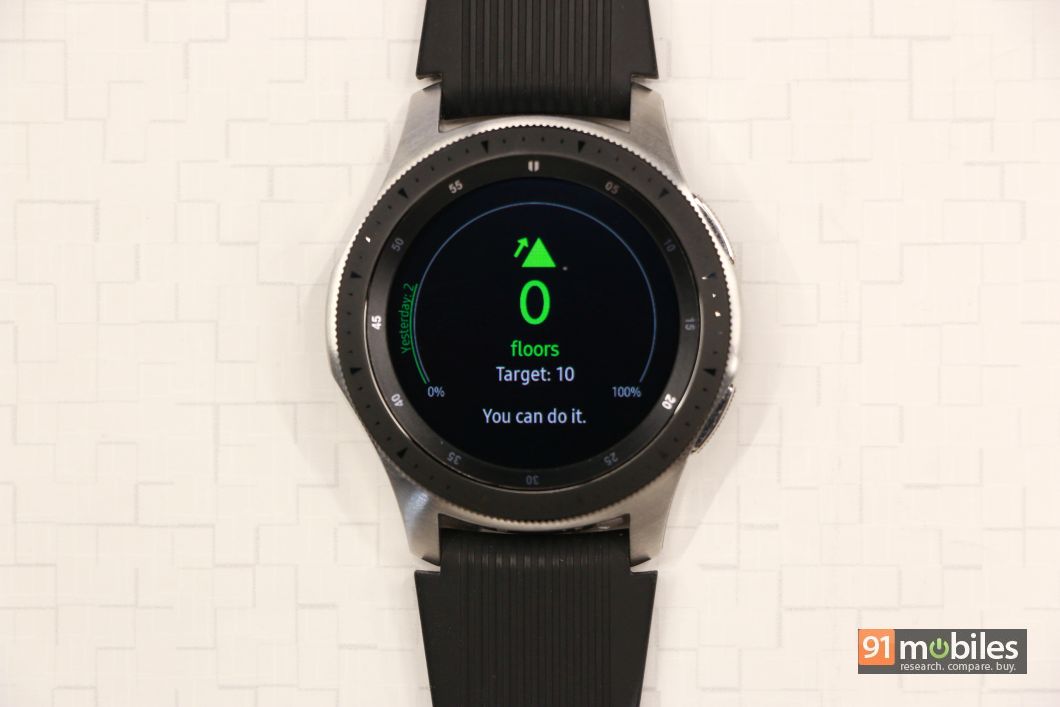 The wearable does a fine job of tracking runs too, and outside of telling you about your average speed, will also give you insights on your cadence and pace. Furthermore, if you have enabled location services for the smartwatch, then the device will also map your routes. During my testing, I didn't come across any issues with the feature and the Galaxy Watch managed to latch on to my GPS signal in a matter of seconds. In a similar fashion, if you're trying to get a six-pack before the summer, you can get voice-guided prompts for exercises like crunching and using an elliptical trainer too.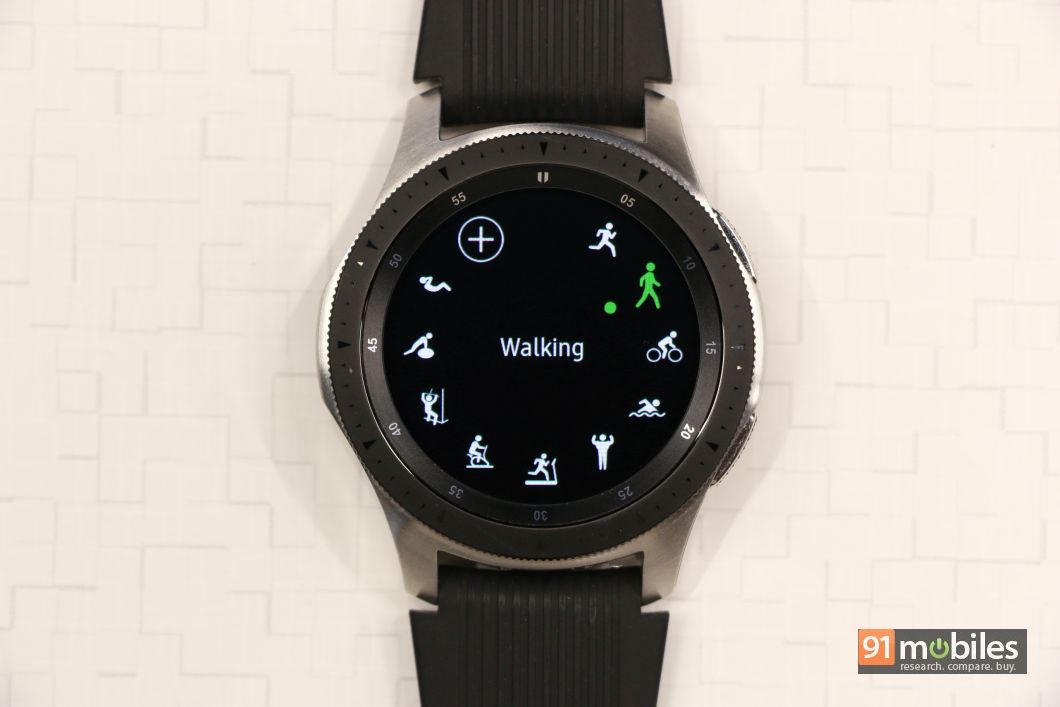 What's more, if you'd like to stay hydrated and keep track of how many ounces of water you're drinking in a day, the Galaxy Watch can help you with that too. Lastly, similar to the Apple Watch, the Galaxy Watch can track your stress levels and the watch even suggests you breathing exercises if it's too high.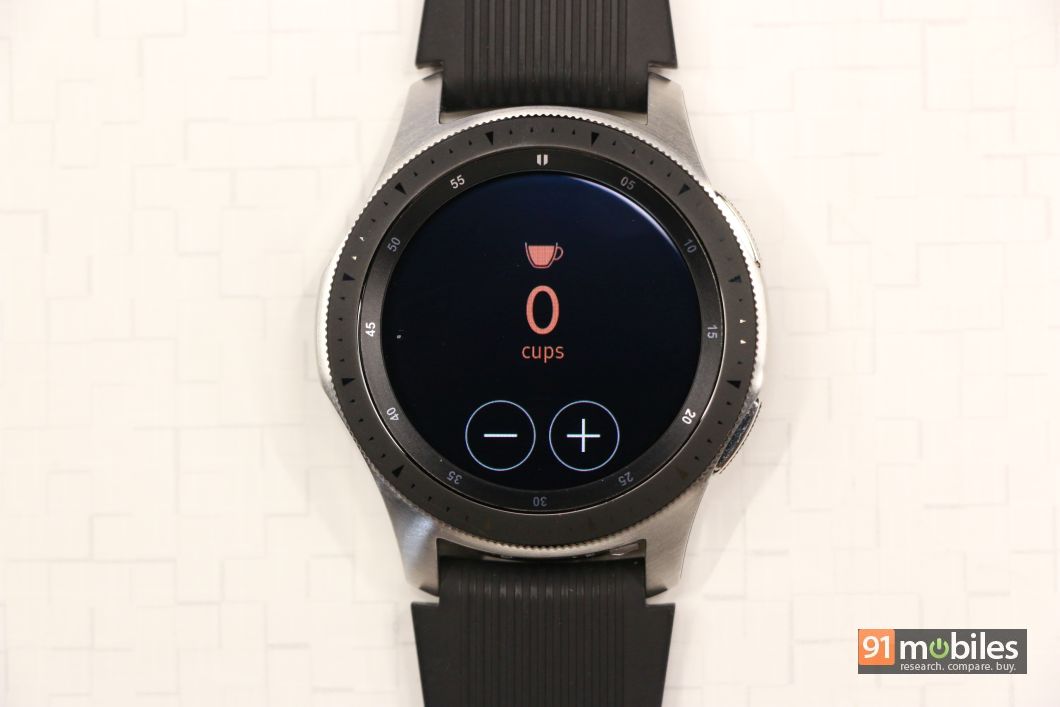 All in all, the Galaxy Watch is a fantastic fitness tracker. While it's not quite the ''be all, end all" wearable for tracking dedicated sports like say, a Garmin Fenix 5, it should suffice for most buyers who want to lead a healthy lifestyle.
Much like its predecessors, the Samsung Galaxy Watch too requires buyers to install the brand's Gear companion app. However, you'll also have to install two other plugins (which can be found on the Play Store) for the watch to work properly. Moreover, if you want detailed insights on your health, you'll also have to bite the bullet and install the Samsung Health app. While the process might feel cumbersome, rest assured, it's a one-time thing.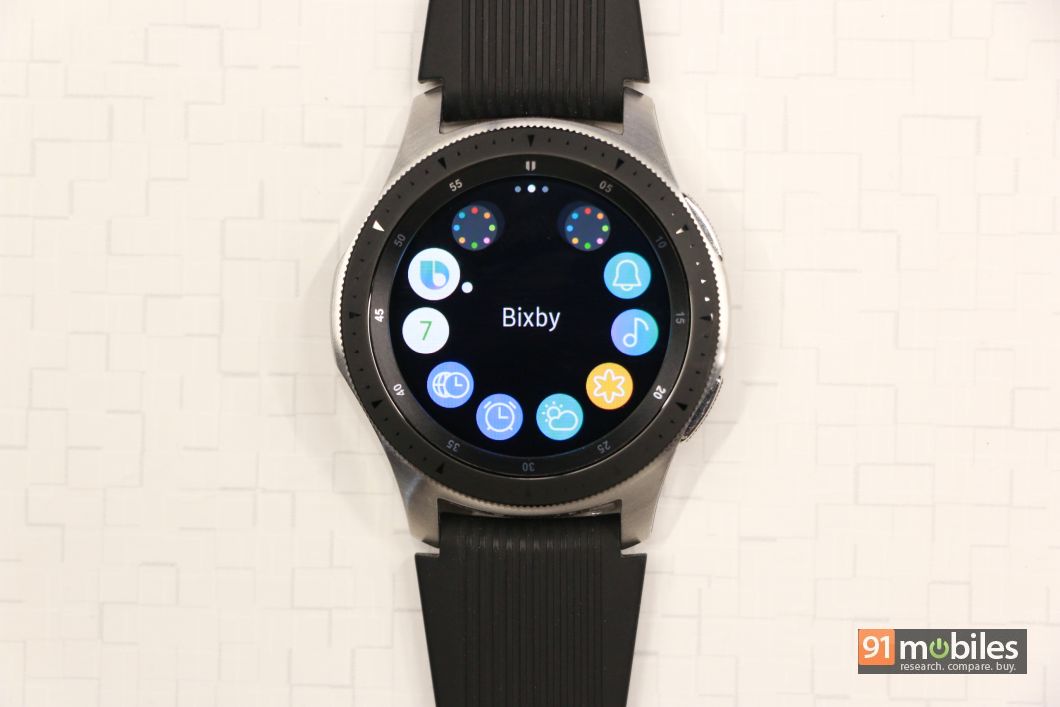 Now, if you've read our review of any recent Samsung smartphones, then you'll know what to expect of Bixby. While Samsung has been developing its virtual assistant for quite some time now, it's still not as polished as the Google Assistant. You can invoke the AI by saying "Hey Bixby" when the watch's display is on and follow it up with your query. However, for the most part, you'll be better of searching for the same by using your smartphone, as the watch's response to most of my commands was either "I couldn't hear you" or ''I could not find the answer to your question".
Verdict
The Samsung Galaxy Watch retails for Rs 24,999 for the 42mm model and Rs 29,999 for the 46mm model. For the price, the smartwatch offers buyers a gorgeous display, a treasure trove of activities which it can track, a clean OS and most importantly, a long-lasting battery life.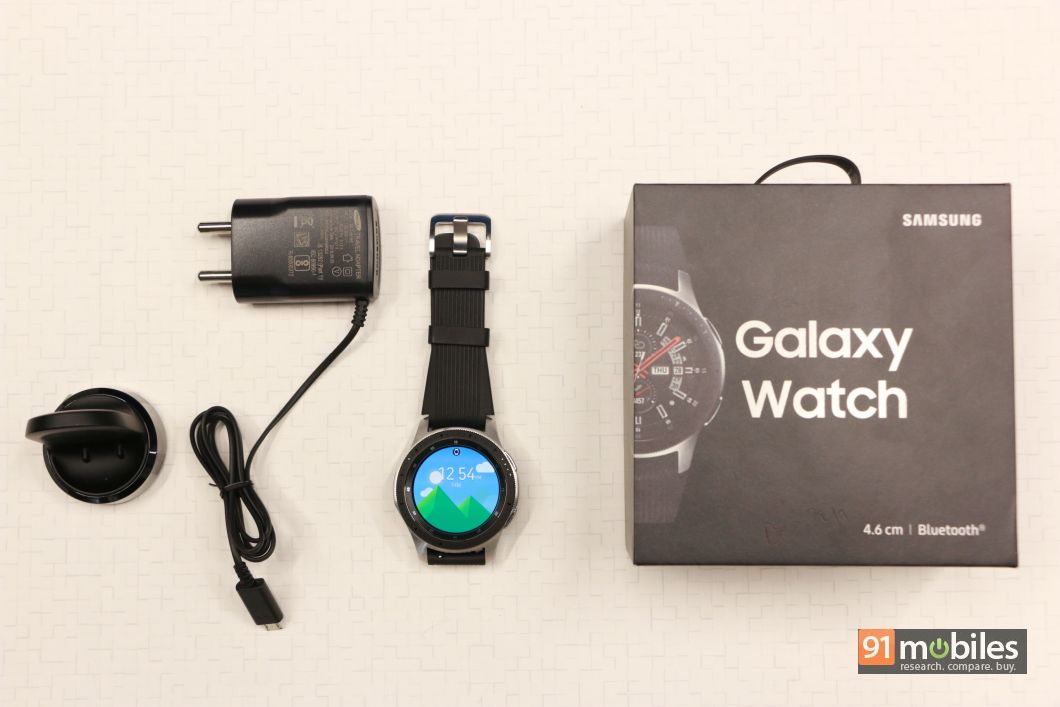 While some could make an argument for the now-discounted Apple Watch Series 3 (~Rs 28,999), bear in mind that the smartwatch is only compatible with the company's iPhones. Therefore, for all its flaws, the Galaxy Watch is still the best smartwatch to go along with your Android device.
Editor's rating: 4 / 5
Pros:
Gorgeous design
Beautiful display
A ton of fitness features
Class-leading battery life
Cons:
Lack of apps on the Galaxy store
Bixby isn't responsive
Photos by Gaurav Rajput