Just like it does on the smartphone and the tablet front, Samsung seems to be holding the bastion against Apple in the premium smartwatch segment too. The latest flagship smartwatch from Samsung comes in the form of the Galaxy Watch3, and as one would imagine, packs the full gamut of features to take on the mighty Apple Watch. To check out what exactly the Galaxy Watch3 (first impressions) bring to your wrist, here's a handy FAQs-styled review that should help clear the cobwebs in your mind if you want to find our whether it's for you.
What's the Galaxy Watch3?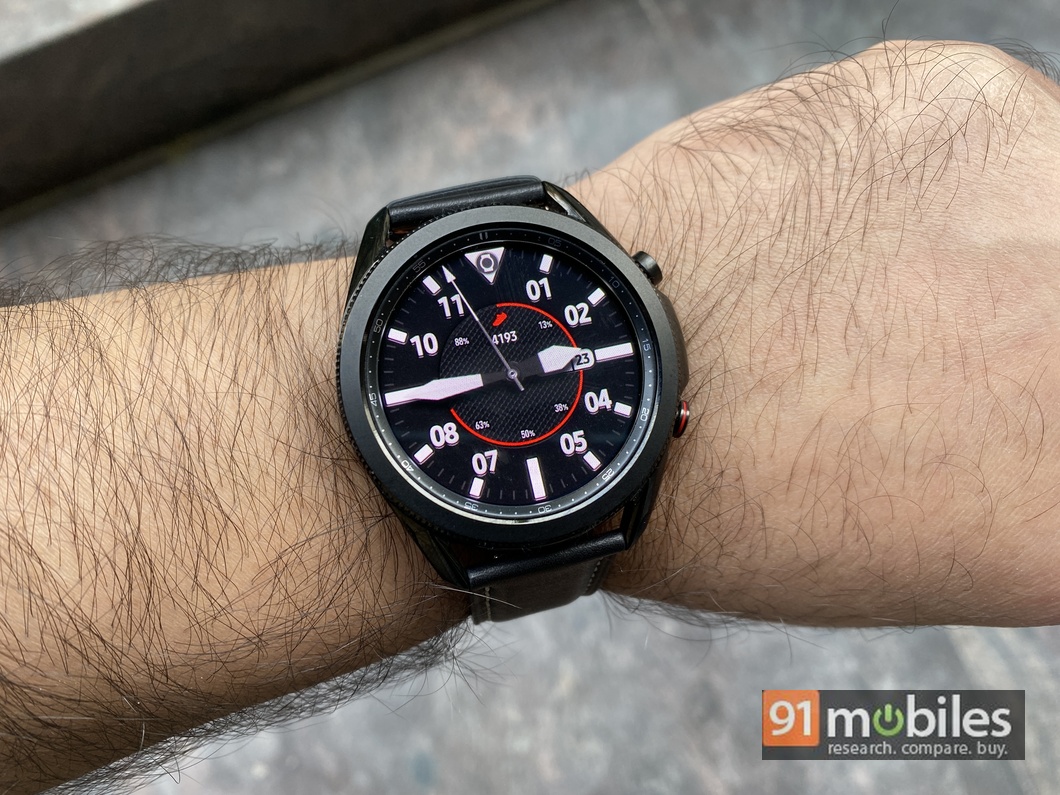 The Galaxy Watch3 is a premium smartwatch that runs Tizen OS, and comes in two different sizes, viz. 41mm and 45mm, with each of those further divided into Bluetooth and 4G variants. The could options for the smaller one include Mystic Bronze and Mystic Silver, while the large one is available in Mystic Silver and Mystic Black. The one I have on my wrist is the top-end model in black, the 45mm 4G. Pricing starts at Rs 29,990 for the base model, going up to Rs 34,490 that I now have strapped around my left wrist.
What's the design like?
The Galaxy Watch3, much like some of its predecessors, looks like a traditional watch, all thanks to its circular screen, overall design and leather strap. Speaking of, the leather strap can be removed in a jiffy courtesy quick release pins, and swapped out for any regular 22m watch straps. While it's on the chunky side, the 45mm model doesn't really look that massive sitting on my wrist, and it's surprisingly lightweight. This bodes well for a wearable, especially one that can track your workouts and sleep. It doesn't really weigh the wrist down and is comfortable to wear for long hours without feeling fatigue. That said, I still find it too big to wear comfortably to bed. The 1.4-inch screen sits inside a rotating bezel that enables navigation through the smartwatch's menus, and there are two large buttons on the right. On the rear is the heart rate sensor. Do note that the device is IP-68 rated and is resistant to water. I'm not sure how well the leather straps will hold up, but you can take the Watch3 to the pool and let it track your swims too.
Got some specs and details on sensors?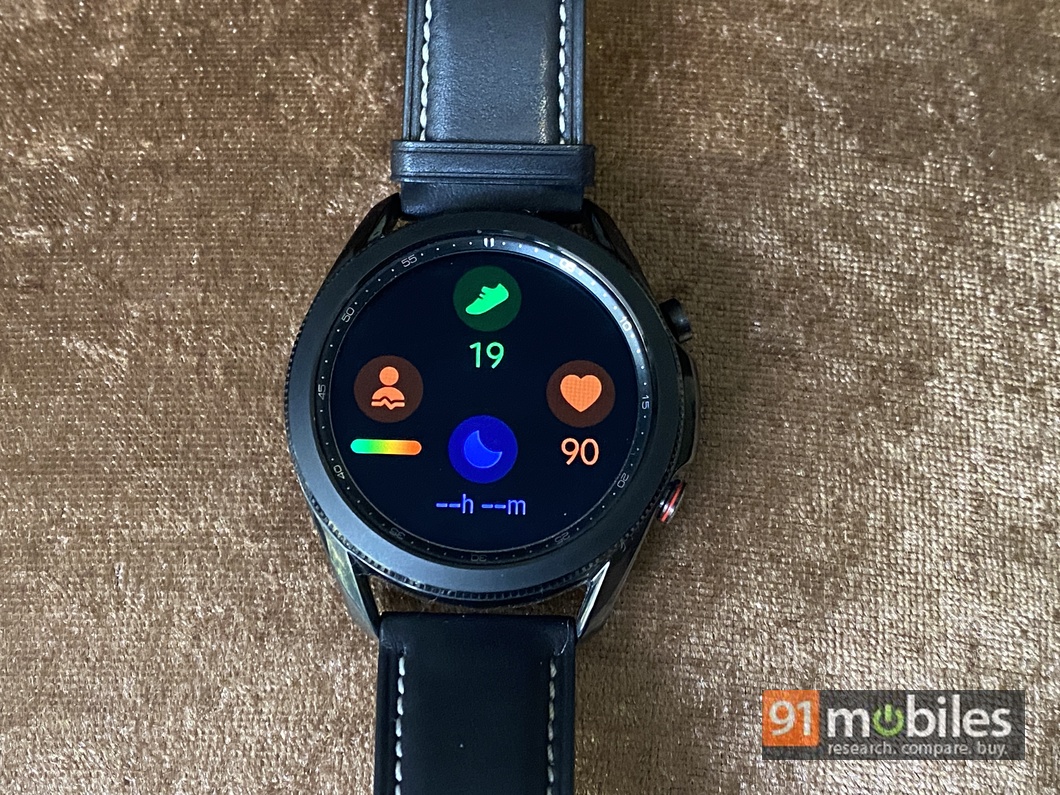 Sure. The Galaxy Watch3 comes with a 1.4-inch Super AMOLED display, offering a resolution of 360 x 360. Inside is Samsung's Exynos 9110 SoC, which offers a 1.15GHz dual-core CPU. That's mated to 1GB of RAM and 8 gigs of native storage, out of which 4.3GB is available to use. A 340mAh battery powers the device. The Watch3 weighs a mere 54 grams, and the sensors included are an accelerometer, a barometer, a gyro, a light sensor, and an optical heart rate sensor. For connectivity, there's Bluetooth 5.0, Wi-Fi, built-in GPS, NFC, and the unit I have, LTE as well. The LTE is provided by means of an integrated eSIM, and can be operated on Airtel and Jio networks in India.
How about the features?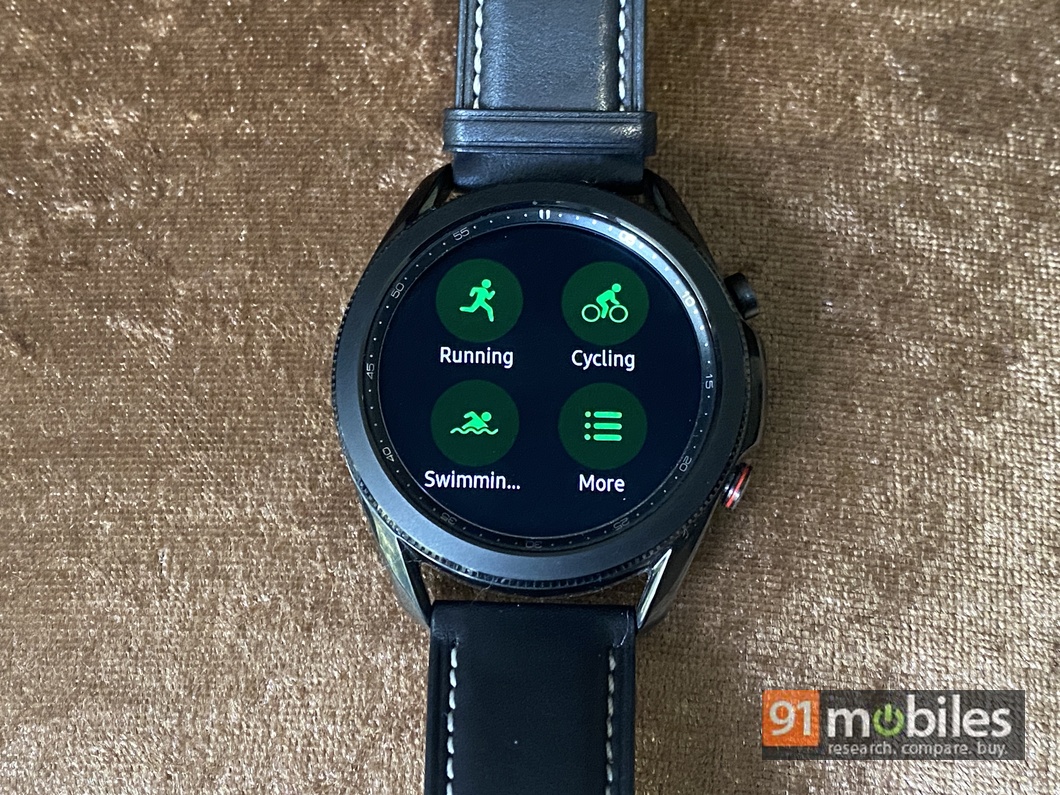 The Galaxy Watch3 is a premium smartwatch, and offers the full gamut of features, with tons of smarts and lots of fitness- and health-related goodies too. Let's delve a bit into the fitness aspect first. The device can measure SpO2 as well as VO2 Max, and while it has an ECG feature as well (just like the Apple Watch), unfortunately the latter hasn't been activated for use in India just yet. There's no dearth of sports mode it can track though – no less than 40 of them. In fact, there's automatic tracking for seven different activities (including running, walking, cycling and swimming), which means you don't need to activate the require mode specifically. It will detect what you're up to, and activate the relevant activity mode on its own, after detecting you've been doing it for the last 10 minutes. What's more, it can end the tracking on its own too, after confirming with you of course. It also features stress tracking and breathing exercises, along with all the usual fitness-based functions like step counting, sleep monitoring, continuous heart rate etc.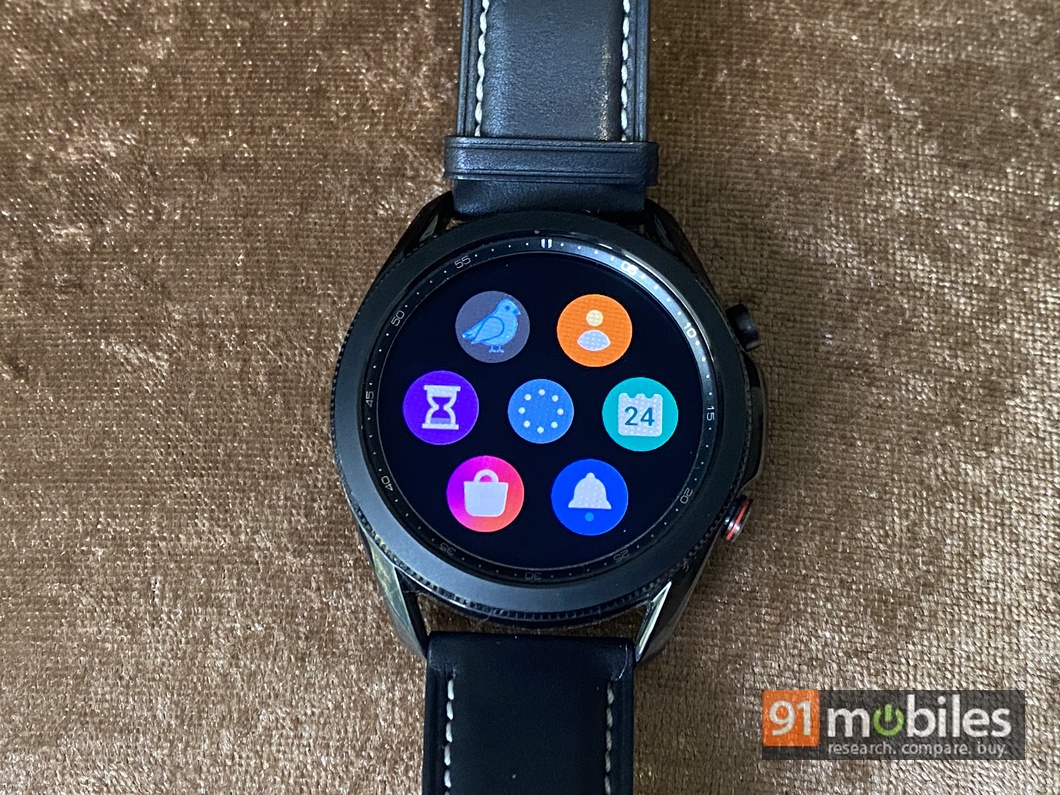 As far as the smarts are concerned, the Galaxy Watch3 is a full-fledged smartwatch, so apart from the usual functions like calendar, alarms, stopwatch, music playback, weather, find my phone, and world clock etc, it even offers support for downloading and installing more apps from Samsung and third parties via the Galaxy Store. I can't say there was anything in particular that I found especially useful, but there are tons of app options available, both free ones and paid. I did have a lot of fun trying out different watch faces – the sheer variety of choices available is mind boggling. From analogue to digital, health-based to artistic, there's really no dearth of watch faces and you can find more than a few that can suit your taste. Of course, the Watch3 displays notifications from a paired phone, and you even have the option of replying to messages using editable quick replies or typing out your own using the tiny T9 keypad that comes up on the screen. And thanks to the built-in mic and speaker, the Galaxy Watch3 even lets you make and receive calls – over Bluetooth if you have your phone handy, or directly if you have the LTE model with its eSIM set up.
What about the software side of things?
The Galaxy Watch3 works both with Android smartphones and iPhones, though you'd likely find the usage experience to be the best if it's paired with a Samsung phone. For any other Android phone, you'd need to install Samsung Wearable, Watch3 Plugin and Samsung Health. Setup is easy enough, and if you have the LTE model, you'll get an option to configure the eSIM during the initial setup process itself. It only took a few seconds for me to set up my Jio connection on it.
The Galaxy Wearable app allows you to control various settings of the Watch, install watch faces, manage apps and widgets, configure aspects like the display and sound etc. You can also add content such as pictures and music on the watch using this app. The Samsung Health app syncs all the fitness data and displays it in an easy to read format. You can check historical data on steps, sleep, heart rate, workouts etc, all in one place, add friends and make use of specific fitness-based programs. It's quite comprehensive overall, much like the Fitbit app, and while the intercase can feel a tad bit overwhelming at first, you should be able to get the hang of it pretty soon.
What's the usage experience like?
The watch interface is quite smooth and fluid, aided by the rotating bezel that makes navigation a breeze. Samsung's implementation of this remains unmatched, and makes using the Watch3 a fun and pleasurable experience. The watch interface otherwise is mostly touch- and swipe-driven, and swiping downwards gives you access to the quick settings, swiping left displays the widgets and swiping right shows your notification history.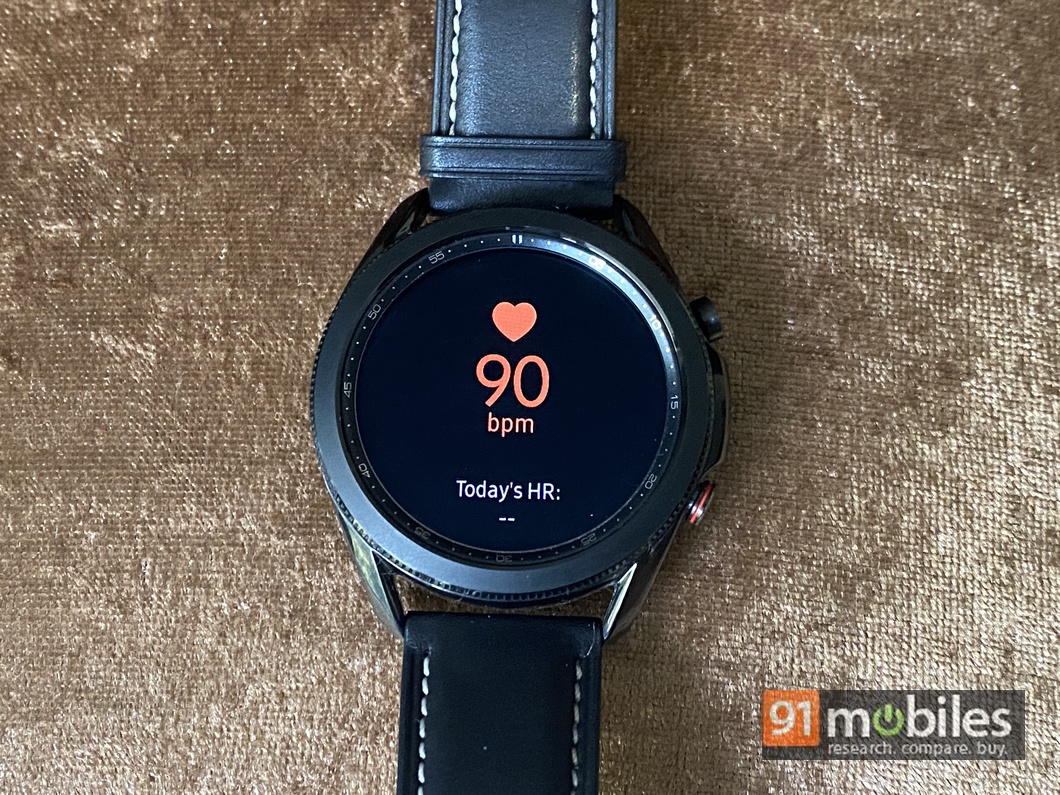 The device seems pretty accurate too, as far as aspects like activity tracking, sleep and heart rate are concerned. I tested and compared it with other fitness trackers as well, and didn't find any significant differences in terms of the data captured. The SpO2 measurements however, seemed iffy when I compared the readings with a dedicated oximeter, and I do miss the ECG functionality as well.
The battery life is its Achilles Heel though. In my usage, I got just about a little over a day's worth on full charge, with my usage being pretty basic. With extensive usage and use of features like workout tracking and GPS, you could end up draining the device quicker. On the other hand, you have enough options available to reduce battery consumption as well – there's a battery saving mode and you could even disable a few features like the LTE mobile connection etc that impact battery. For charging, you get a wireless charging puck along with the watch, and you can even charge it up using any of the premium Samsung flagship smartphones that have reverse wireless charging functionality. However, conventional Qi wireless charing pads won't work with it.
Would you recommend the Samsung Galaxy Watch3?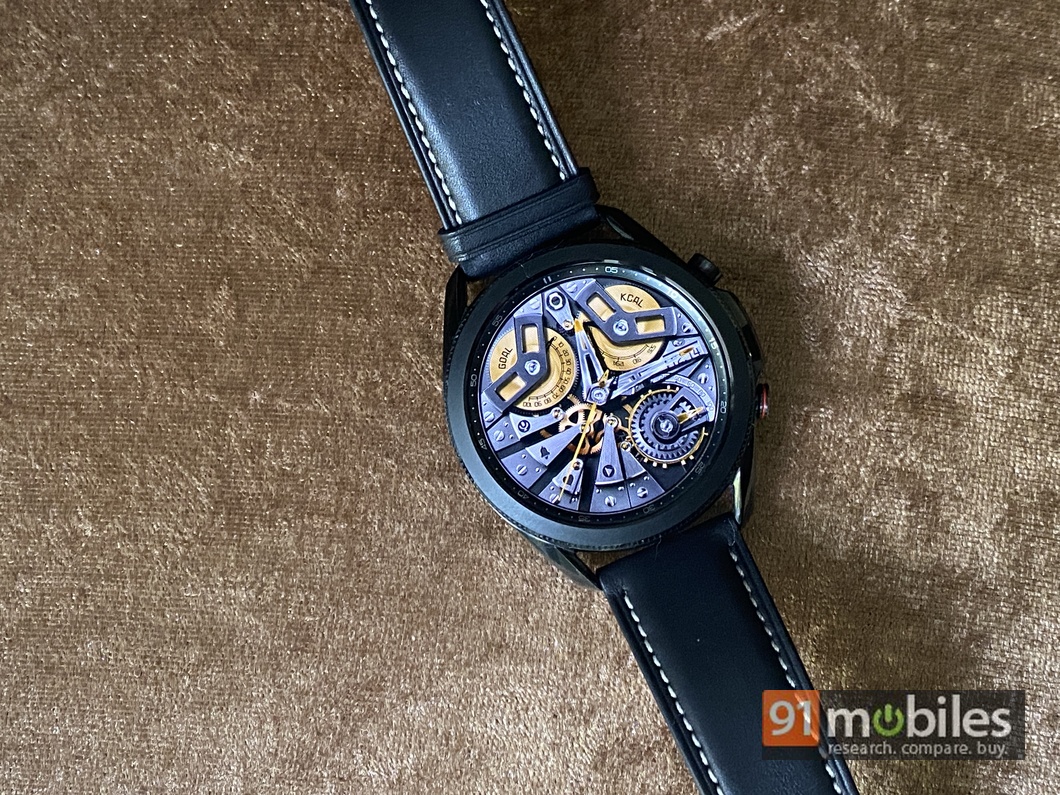 There's no doubt in my mind that for Android users, there's no better smartwatch out there than the Samsung Galaxy Watch3. It might be hard to sway iPhone users away from the Apple Watch, but as far as the Android side of the fence is concerned, the Galaxy Watch3 offers a full gamut of features and capabilities, with the only missing piece of the puzzle being ECG. The average battery life is something you'd have to live with, but other than that, the Galaxy Watch3 is an all-rounder that should serve your requirements well if you're planning to splurge on a premium smartwatch.
Editor's rating: 4 / 5
Pros
Packed with features
Stylish looks
Built-in LTE enables standalone use
Can use standard watch straps
Cons
Average battery life
No ECG feature yet
Pricey