"The Sony SRS-XB10 comes with a waterproof design and boasts punchy bass"
Gone are the days of portable media players as smartphones have now become the pocketable gadgets of choice for most users. However, despite toting fancy displays and ultra-fast processors, the one aspect where smartphones are still lacking is good quality speakers. HTC has made some strides in this department with its Boomsound speakers, but they still fall short of the sound quality offered by a Bluetooth speaker. Up until a few years ago, budget buyers would have been limited to some no-name speakers. However, these days, the upper echelon of audio industry which comprises brands like Sony and JBL have some wallet-friendly offerings too. One such speaker which recently came to our labs was the Sony SRS-XB 10, an entry-level mono speaker which comes with the company's Xtra Bass technology. Wondering if it's worth your money? Stay with me to find out.
Design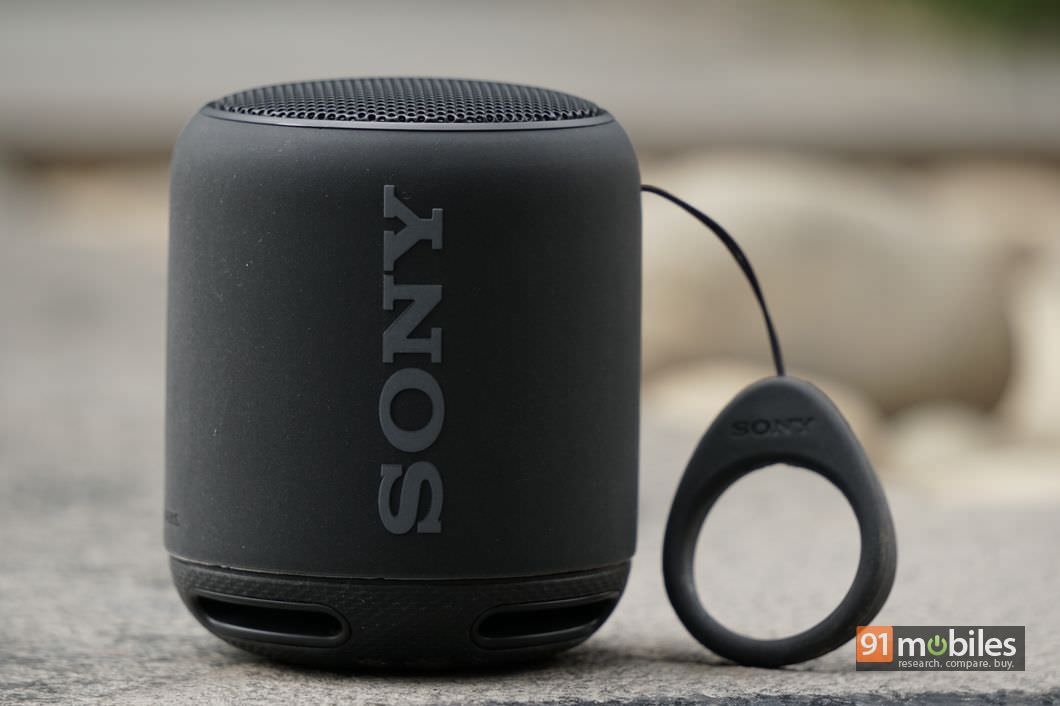 Say what you will about Sony's products, they are always excellently built. The SRS-XB10 comes wrapped in a rubberised cylindrical enclosure, has a good weight to it and feels solid in the hand. Despite dropping the speaker multiple times and bumping it every now and then on my bicycle's handle, the speaker didn't show any sign of rough usage and was as good as new by the time I was done reviewing it. Also, there were no visible dents or marks on the speaker's outer coating which also speaks volumes about its durability. My only nitpick with the speaker's design is that the rubberised finish attracts a lot of dust and lint so I would recommend you keep the speaker stored in a drawer when it's not in use. If, however, your speaker does get dirty, you can simply put it in running water to wash away the dirt. Yes, the SRS-XB10 is immune to elements like water thanks to its IPX5 rating, making it ideal for someone who likes to travel or in my case, for someone who likes to take long showers.
As far as the connectivity is concerned, the SRS-XB10 comes with 3.5mm aux-in and a micro-USB port for charging towards the back, sealed tightly with the help of a rubber flap. Music controls have been neatly labelled towards the bottom of the speaker, giving users full control over their music playback. Moreover, Sony has also included a detachable rubber strap which can be used to hook the speaker to a shower or a bike's handle. The hook also doubles up as a small stand for the speaker for when you want to set it horizontally.
Connectivity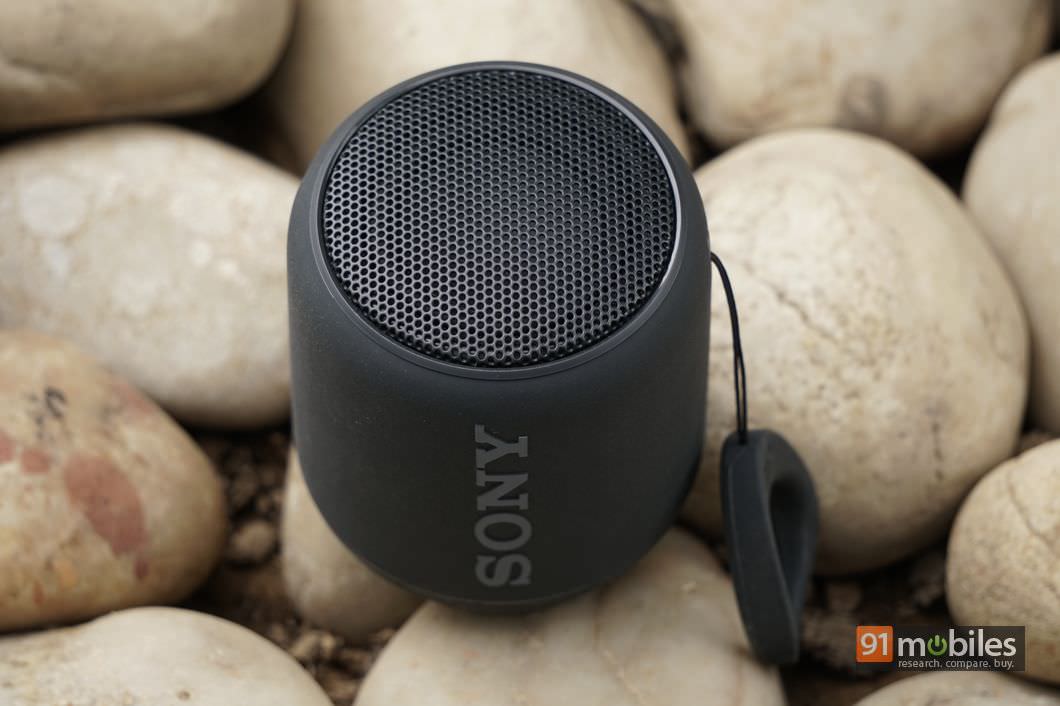 The Sony SRS-XB10 uses Bluetooth v4.2 to connect to smartphones and other music sources like laptops, and also features NFC for easy pairing (if your smartphone supports it). If you happen to be a little out of touch with wireless technology, fret not as Sony has provided a 3.5mm aux-in port too. Pairing the speaker via Bluetooth is pretty straight forward and the XB10 didn't give me any hassle in this regard. Unfortunately, the Sony SRS-XB10 doesn't support the company's LDAC codec which is present on the more premium models such as the XB30 and XB40.
The Sony SRS-XB10 comes with a built-in microphone and therefore, can be used to take calls too. In my testing, the call clarity was good on both ends and I didn't experience any call drops either.
Performance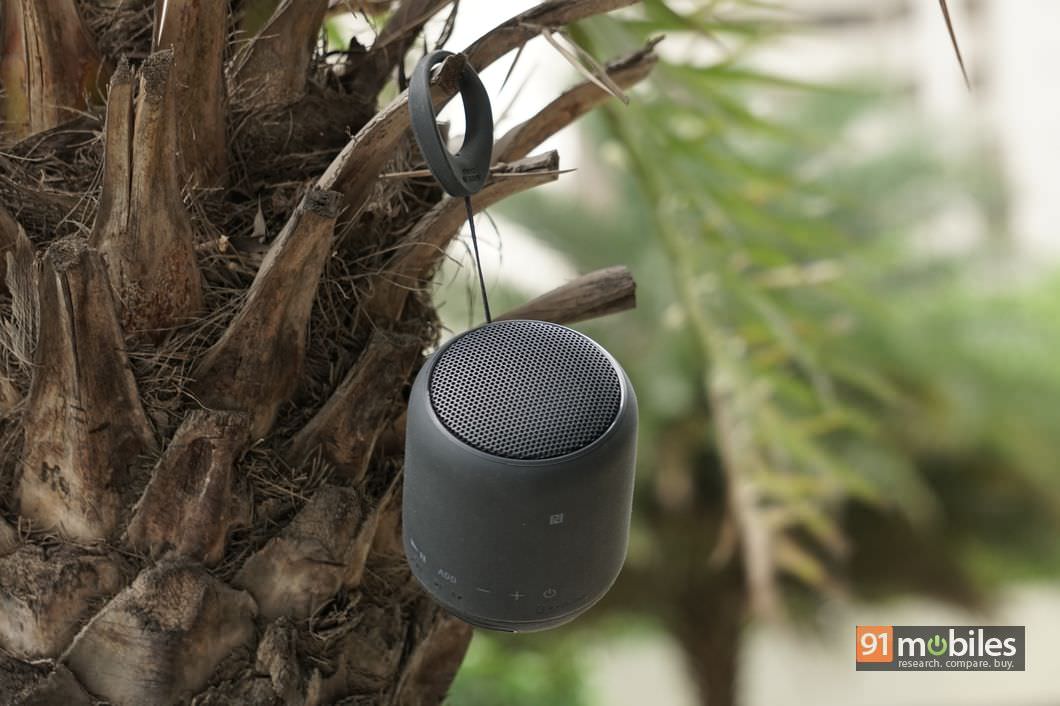 Despite its compact size, the Sony SRS-XB10 packs a mighty punch. But before we get into that, let's get the technical jargon out of the way. The SRS-XB10 is powered by a 46mm driver which works in tandem with a passive radiator at the bottom allowing the XB10 to produce the deep tones. Basically, when the primary 46mm driver moves forward and backwards, it causes the air pressure inside the enclosure to fluctuate. This fluctuation causes the passive radiator to move along with the primary driver, thereby creating sound frequencies similar to the 46mm driver. The byproduct of the passive radiator's movement is the 'Extra Bass' embroidered on the SRS-XB10's box. Suffice it to say, if you are a bass-head and want to invest in an entry level Bluetooth speaker, then the SRS-XB10 will not disappoint you. The bass is punchy, energetic and has good depth to it. The XB10 does a decent job with mids too and the vocals sound clear as long as you steer clear of hip-hop/EDM genre. Unfortunately, even at lower volumes, the high-end of the frequency spectrum is extremely muddy and the XB10 suffers from instrument separation too. Having said that, most Bluetooth speakers priced under Rs 5K have a problem reproducing high-end frequencies accurately. On the plus side, the speakers get really loud and can easily turn your room into a party zone.
The biggest downside of owning a Bluetooth speaker is that it'll eventually run out of charge. While the SRS-XB10 is no different, the speaker's 16-hour battery life will have you look for power outlets less often. Moreover, the speaker takes just a little over two hours to reach 100 percent battery level which is impressive too.
Verdict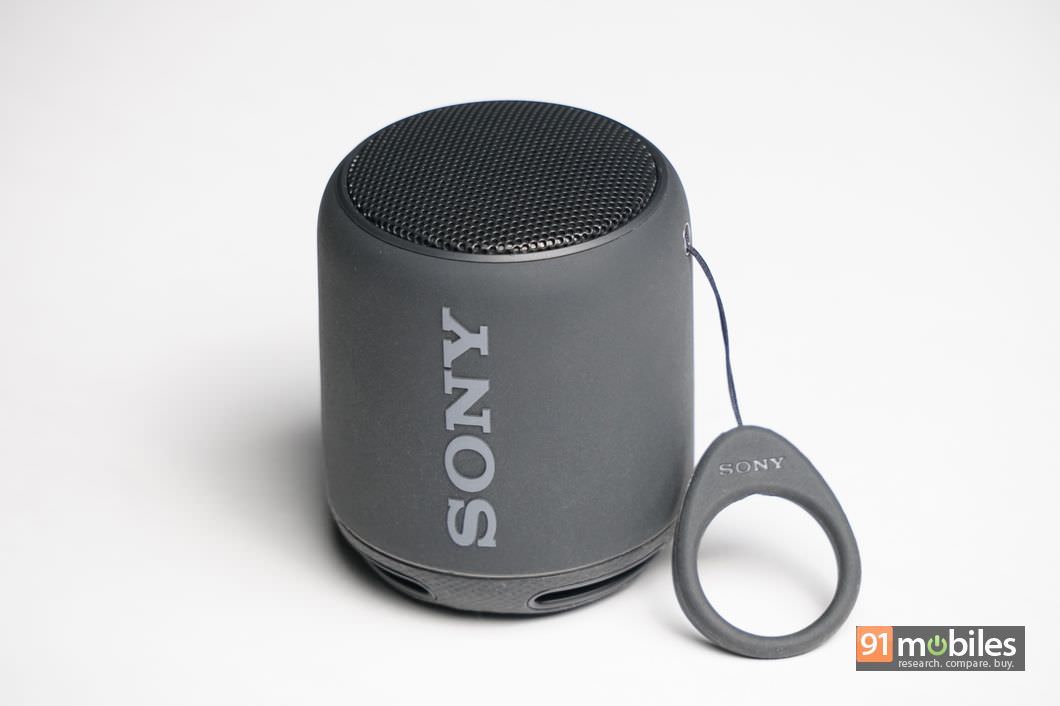 The SRS-XB10 sounds really good for its size and while it might not be my first pick when I want to listen to Foo Fighters, it is still a solid offering from Sony. The compact size makes the speaker an ideal accessory for anyone on the go and its waterproofing capabilities pave the way for using it outdoors near a pool or a beach. Coupled with its 16-hour battery life and a sticker price of Rs 4,990, the Sony SRS-XB10 gets my nod of approval. In fact, you can possibly get it for cheaper online if you search around.
Editor's rating: 4 / 5
Pros
Sturdy build
Punchy bass
Solid battery life
Cons
Muddy highs
Rubberised finish attracts dust
Photos by
Raj Rout