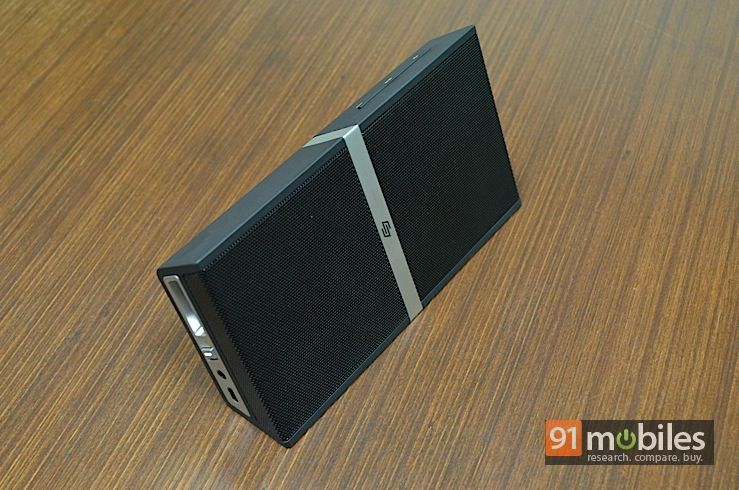 "Bluetooth speakers are a dime a dozen, but there aren't too many if you're willing to splurge extra for premium design and sublime audio"
Looking to carry the party with you wherever you go? A portable Bluetooth speaker is what you need. However, making the right choice isn't easy – thanks to a bevy of options available, right from cheap no-name speakers to pricey, premium ones vying for your dough. Not to forget, there are quite a few Indian brands in the middle that offer capable and not-so expensive options. While it depends totally your preferences (and wallet) on the kind you eventually settle for, it's the premium segment that's probably the most exciting. And the new
Transit by Soen
falls strictly in this very category.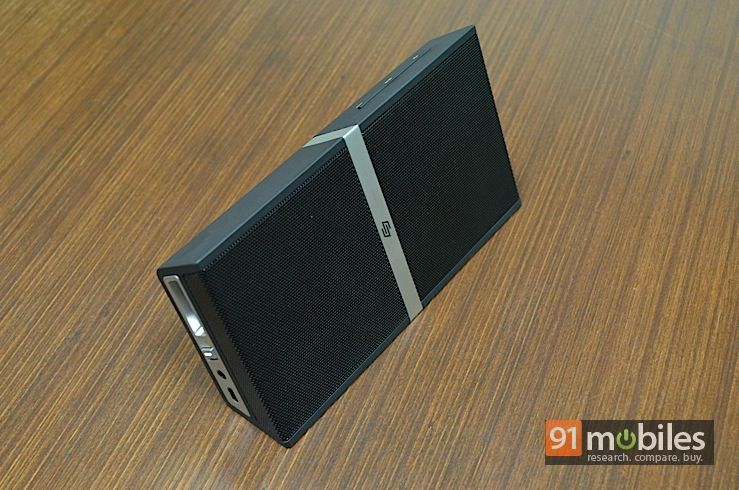 Yes, the price tag has a lot to do with it. But one glance at the device, and you'll know exactly what we mean. The compact, trapezoidal speaker is about the size of a paperback, and looks swanky without being flamboyant. To say that it oozes class would be an understatement. Right from its heavy, black casing embellished with brushed aluminium accents to its minimal, industrial design, the device feels at home in your lounge as well as on your work desk. And since it also features a speakerphone that lets you handle voice calls, it can even find place of pride in the conference room.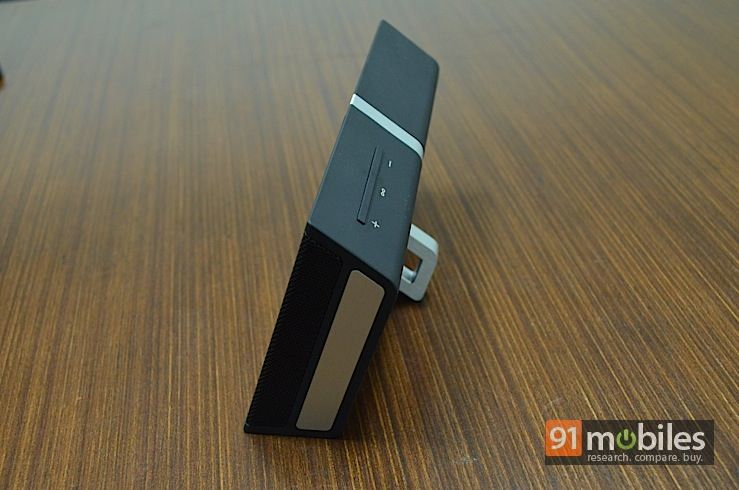 Getting into the specifics of the design, the fascia is dominated by a sturdy metal grille, accentuated by a brushed aluminium band that runs vertically across the centre. In fact, it runs all around the device, but the rear is where things get interesting. There's a small ridged portion on the rear, pressing which pops open the spring-loaded, switchblade-style kickstand. On top, there's a long and slim conjoined hardware key that lets you control volume by pressing either ends, and initiate pairing or handle voice calls by pressing in the middle. The right is just a mix of black with a metal accent, but the same metal portion on the left is where the action is. This is where you'll find the bass port (dubbed Momentum Port), a sliding power key with an indicator light, a 3.5mm aux-in port and a microUSB port for charging. The pack includes a 3.5mm aux cable, along with a microUSB cable and a compact travel charger. A fold-flat MagPro cover is also included, and it latches on to the front of the device magnetically, with its flaps covering both sides. It's a nifty, handy addition that's not only simple to use and fairly stylish, it also adds effective protection against damage while travelling. Our only gripe is that there's no other carry case or pouch included – we'd certainly have loved one as additional insurance against travel travails, especially considering the outlay involved.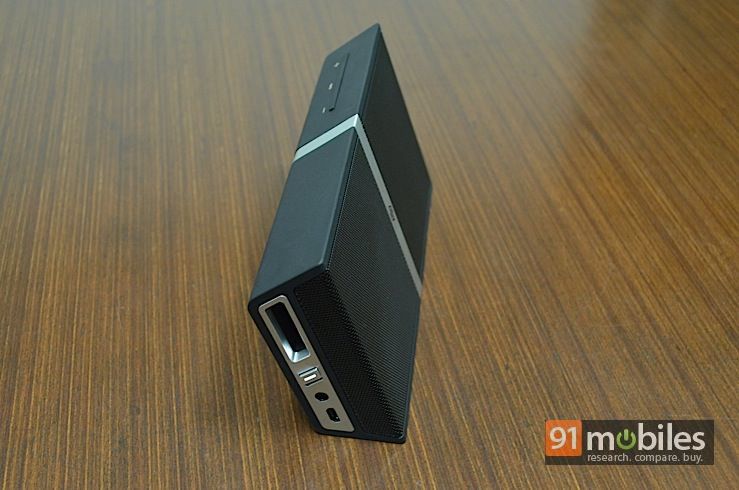 Pairing is fast and painless. More importantly, the Transit surprises with its audio output. It's difficult to fathom how this tiny little device can fill up a room with sound, but it does. Not only that, the audio is crisp and the pair of drivers inside reproduce music faithfully, with good depth and a balanced tone that's pleasing and distortion-free. Where it does lack to a small extent is bass. Not that there's no bass at all – but it may leave something to be desired if you're a bass lover. For everyone else though, the sound quality should be more than pleasing for casual listening. Admittedly, the volumes don't go loud enough for a full-on party, but that said, it should be ample enough for a group of people to groove together in a room. As far as its speakerphone functionality is concerned, the Transit works well and lets you hold a meaningful conversation, whether in a conference room or alone – the mic is sensitive while incoming call audio is loud and clear.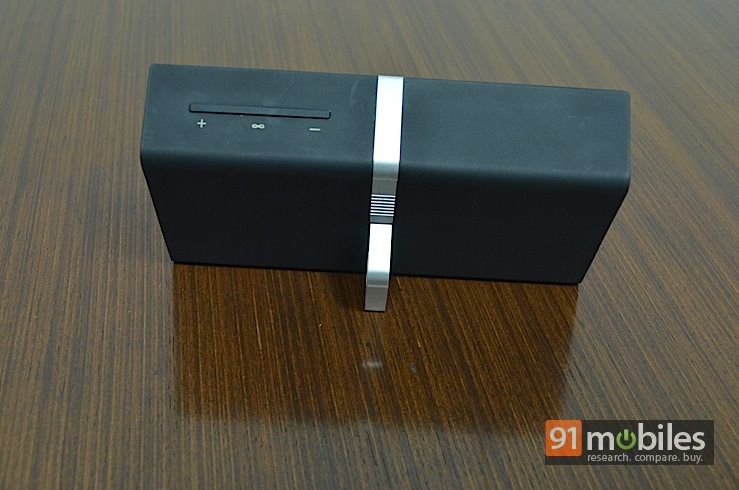 The internal rechargeable battery is rated for eight hours, and during our tests, almost matched that by lasting for seven and a half hours playing music at 50 percent volume levels. Don't expect the same if you play it at higher levels, but suffice to say the speaker should provide enough juice for an evening of music with friends, a poolside gathering, a picnic, or a few hours of relaxation in your hotel room while travelling. Of course, the usual usage scenario at home or workplace shouldn't be a problem at all. Also worth noting here that if you use the Transit paired with an iOS device like the iPad or the iPhone, you'll be able to take advantage of a battery level indicator that's displayed on the status bar on the device.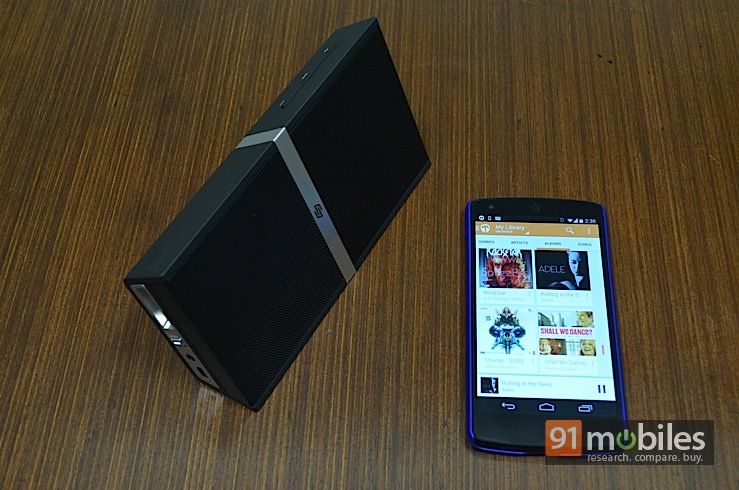 The Transit doesn't have too many rivals where it sits in the premium audio segment, but the Bose SoundLink Mini does come to mind. Do note that Bose's offering is priced higher at Rs 16,200 and doesn't offer speakerphone functionality. Other options such as the Logitech UE Mobile Boombox and Jabra's Solemate Mini are placed a few rungs lower in the food chain. Soen Audio may be a relatively new brand, but the people behind it come from Harman Kardon, and judging from what we've seen (and heard), the Transit is certainly worth a second look. Its price tag of Rs 12,990 may make you balk, but considering its design, build and audio quality, not to mention the convenience and flexibility it offers in a small package, we'd recommend it whole-heartedly.
Editors rating:
8/10
Pros
Oozes class
Compact and highly portable
Nifty kickstand and MagPro cover
Very good sound quality
Cons
Bass is not its strong point
Doesn't include a travel case