The Mi Notebook 14 range of laptops from Xiaomi is a step below the Horizon Edition, and is priced more affordably too
The 14-inch laptop comes powered by Intel's 10th-gen Core i5 processor, and comes with SSD storage as standard
The thin and light laptop offers smooth performance and great battery life
Xiaomi's much-awaited foray into the laptop segment in India has come at a time when demand is sky high, thanks to WFH and kids' classes moving online. While only time will tell whether the brand is able to disrupt this category the way it disrupted the smartphone and smart TV segments, there's no doubt that its first set of notebook offerings hold a lot of promise. Xiaomi's notebook portfolio in India isn't too big at the moment, but I like the approach it has taken to simplify user choice. So if you have your heart set on buying a Mi-branded laptop, you just need to choose one among two processors, one among two storage options and decide whether you want discrete graphics or not. Apart from figuring out one between the higher-end Horizon range and the more affordable regular versions, that is. The Horizon Edition, which we reviewed at the time it was introduced in the country, is a sweet deal. However, I think the regular Mi Notebook 14 could be sweeter. Let me tell you why I think so.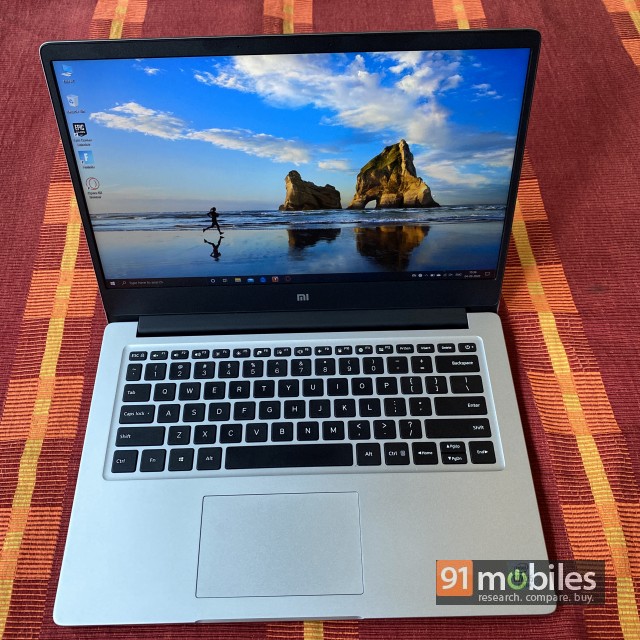 Design and display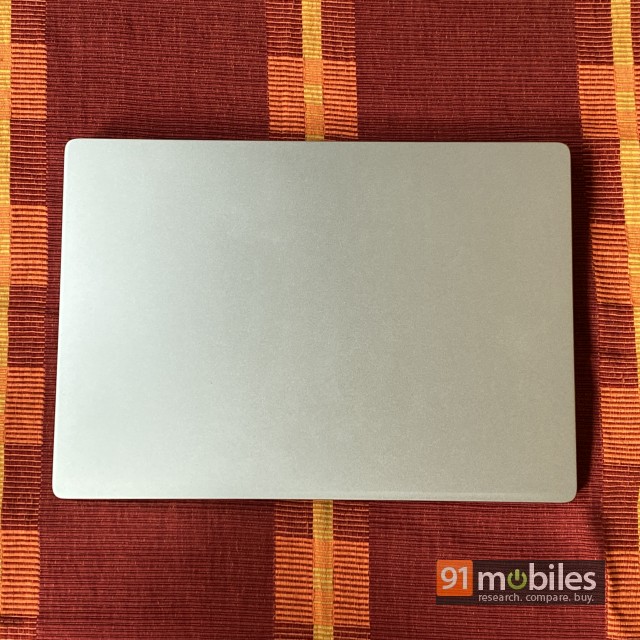 The Mi Notebook 14 looks plain and simple, with hardly any design highlights to speak of. One of the reasons for this is that Xiaomi just refuses to put any branding on top of the lid. The silver-coloured device is slightly thicker, bigger and heavier than its Horizon Edition sibling, but still falls in the thin and light category. It tips the scales at 1.5Kg and features a 17.9mm thick metal unibody with anodised sandblasted coating that feels smooth to the touch, doesn't smudge easily and lends it a sturdy build. On the flip side, the laptop doesn't really pass the one-hand test and needs both hands to open. On offer are two USB 3.1 ports, a USB 2.0 port, one HDMI and a 3.5mm combo port for connecting a headset. The charger is the same brick that you get with the Horizon Edition, and it uses a barrel-type connector to latch on to the notebook. Unlike the Horizon Edition though, you don't get a USB Type-C port on the regular version. The lack of an Ethernet port is par for the course, but I do miss a card reader. What I miss more is a built-in webcam, and just like the Horizon Edition, Xiaomi bundles an external webcam with this model too.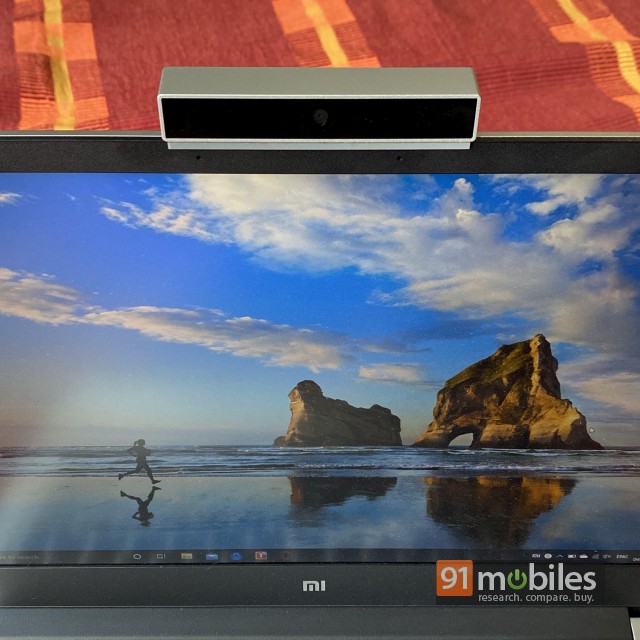 The bundled webcam can be propped up on top of the screen, and eats up one USB port when in use. And it does its job of facilitating video calls well. However, not having a built-in webcam does feel awkward, especially in this day and age when video calls are the order of the day. An external webcam is one extra thing to carry while heading out with the laptop, and even in the current work from home scenario, needs to be kept safely at a convenient location. On the other hand, not having a built in webcam will likely appeal to privacy-focussed individuals for sure.


Open it though, and you'd be greeted by the 14-inch anti-glare display that offers full HD resolution. The bezels are a tad wider than those on the Horizon Edition, especially the one below the display. You'll find Mi branding there, and on the lower half, the full-sized keyboard, along with a generously-proportioned trackpad. The IPS LCD display is pretty capable, with nice colours and ample brightness, though viewing it harsh sunlight can still be a bit of a problem. The viewing angles are fine though.The hinge also feels quite sturdy.
Keyboard and trackpad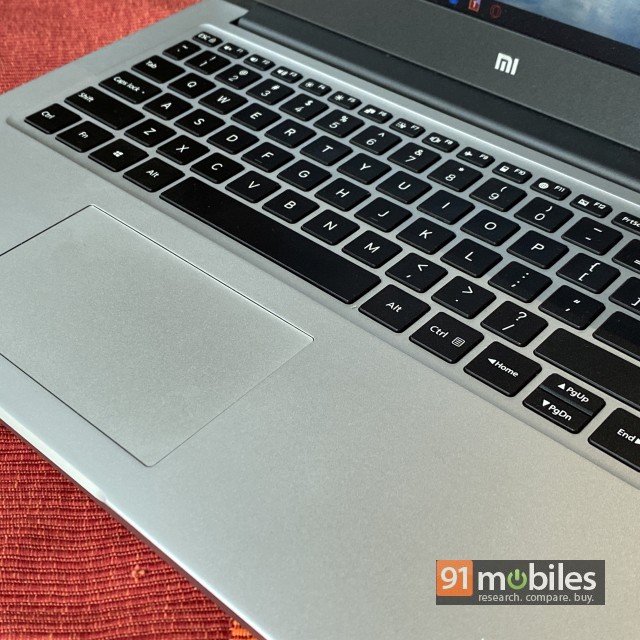 The keyboard is pretty much the same as the one on the Horizon Edition. Which unfortunately means it lacks a backlight. Now this is a bit of a bummer, given how useful a backlit keyboard can be for working in dim light. However, depending upon your usage, you might not give it as much importance as I think it deserves. On the positive side, the keyboard is spacious and doesn't feel cramped at all. The keys do feel slightly mushy though, and the tactile feedback isn't as good as I'd have preferred, but maybe that's just a niggle. The important part is that it didn't me long to get used to the keyboard, and I found my fingers flying on it very quickly.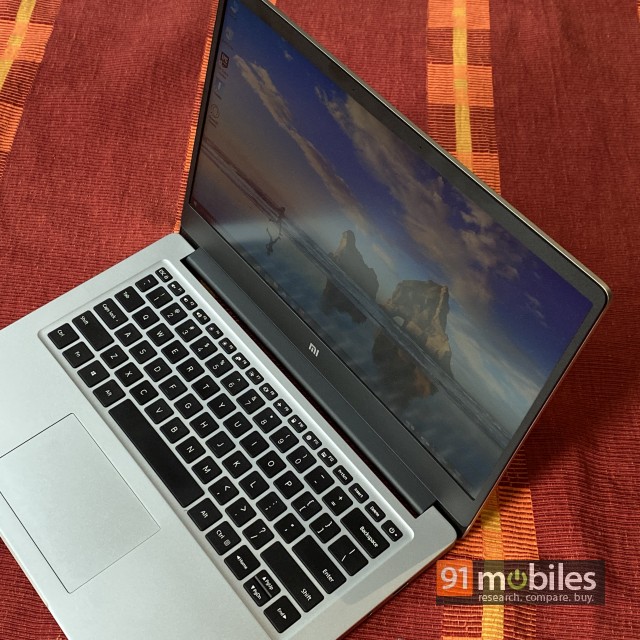 The large touchpad works smoothly too, and there's ample space on either side for your palms to rest comfortably on. A small point to note is that on this model, the trackpad is placed slightly off centre towards the left, unlike the Horizon Edition. The cooling vents are on the bottom, and the pair of 2W speakers are bottom firing as well. The latter are placed slightly towards the sides, closer to the curves of the frame so as to avoid muffling the sound. However, it does tend to get muffled somewhat. The audio quality seems acceptable though.
Performance and battery
Coming to the all-important aspect of performance, the Mi Notebook 14 is powered by the 10th-gen Intel Core i5-10210U Comet Lake processor. This 14nm CPU is clocked at 1.6GHz, going up to 4.2GHz in turbo mode. That is mated to 8 gigs of DDR4 RAM. The laptop also offers SSD storage as standard (regardless of the variant you buy), which is a good thing really. While most people pay attention to the processor and RAM while choosing a laptop, the type of storage generally takes a backseat. Having Windows boot off an SSD, with your core set of apps (and games) installed on it, makes a world of a difference in daily usage, as compared to the same scenario using a hard drive. In the Mi Notebook 14's case, you can choose between 256GB or 512GB SATA 3 SSDs depending upon the model you choose. Sure, these aren't as fast as the m.2 NVMe SSD used by Xiaomi in the Horizon Edition, but they're SSDs nonetheless. Also included are Nvidia MX250 discrete graphics (on my unit), though you have the option of sticking to just integrated Intel UHD graphics if you choose one of the lower models.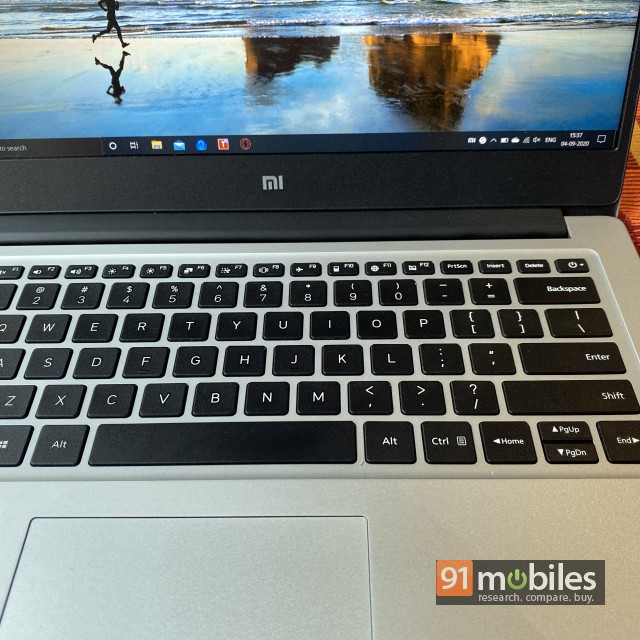 The Mi Notebook 14 boots up in a jiffy and the day-to-day performance is quite smooth. With my daily usage comprising no less than 15 Chrome tabs open at any given time, Slack, intermittent YouTube playback, editing and typing via Google Docs and MS Word, Bluetooth and Wi-Fi set to on, I never faced any lag or stutter jumping among these. Performance is one of the strongest aspects of this machine and it didn't really disappoint. Tasks like intensive video editing might take a while, but regular usage is super smooth. The same can be said for gaming, in which case this laptop is fine for casual games, but struggles somewhat while running graphics-heavy titles. Similarly, it maintains its cool for the most part, but does tend to heat up a bit when stressed.


Touching a bit upon benchmark performance, the Mi Notebook 14 scored a respectable 3696 in PCMark 10, while on Cinebench R20, the device logged a solid 1432. GeekBench 5 logged 1073 for single-core performance, while the score was 3232 for multi core. SSD performance, while not being as fast as the m.2 NVMe SSD inside the Horizon Edition, is respectable at 508 MB/s and 314 MB/s, referring to the sequential read and write speeds logged via CrystalDiskMark.


With the battery mode set to balanced and usage as described above, I got almost a full day's use off a single charge. This is quite impressive, and I was pleasantly surprised at the battery life the Mi Notebook 14 is able to offer. Further, the bundled 65W charging brick juices it fully in just about an hour and 20 minutes, which is extremely useful too.
Final verdict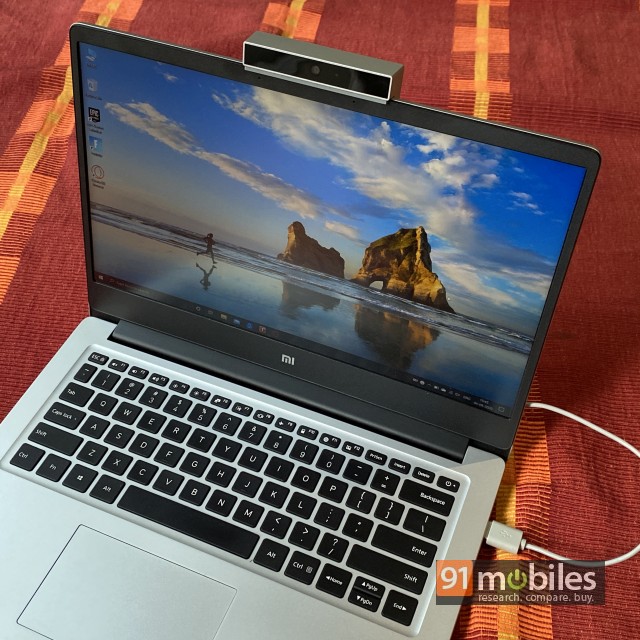 My review unit is the top model in Xiaomi's Mi Notebook 14 range, priced at Rs 49,999. Brands like Lenovo and ASUS offer stiff competition in this price bracket. And while I think the Mi Noteboook 15 model I reviewed is a very compelling laptop for its price, the variants positioned slightly lower perhaps offer even better value for money. If you choose the same model without dedicated graphics, you'd end up shelling out Rs 46,999, and if you feel 256GB storage is enough for your requirements, the base model of the Mi Notebook 14 costs just Rs 43,999. And this is where the value proposition becomes quite hard to beat. While it could be too early to say how well Xiaomi is taking on the competition in the notebook segment, I think it has made a very strong entry with its debut set of devices.
Editor's rating: 4 / 5
Pros
Good build quality

Smooth performance

Great battery life and fast charging
Cons
No built in webcam

Keyboard isn't backlit

No SD card reader