Highlights
Mi NoteBook 14 Horizon Edition's calling card is its bezel-less display and power-packed hardware
The Mi NoteBook 14 Horizon Edition price in India starts at Rs 54,999
Xiaomi's throws a solid opening assault against rival laptopmakers, though its offerings do have some compromises
While the Android vs iOS continues, the playbook has been (and continues to) played out before. Yes, I'm talking about the PC vs Mac debate, which is as old as the founding of the two tech giants in the world — Microsoft and Apple. Just like Google's Android, Microsoft took a democratic approach with its operating system, providing it to computer brands so that they focus on hardware and not the software experience. Apple on the other hand, lives up to its ethos of a tight-knit hardware and software integration, both for Mac as well as iOS. In fact, Apple's rumoured move towards choosing its own processors for Mac instead of using Intel chipsets is yet another example of that. But I'm digressing here… the reason I'm bringing up the PC vs Mac comparison is that unlike smartphones, where we have seen the market getting commoditised, there are only a handful of players in the computer segment. You could count them on your fingers in fact – HP, Lenovo, and Dell are the top three players with Taiwanese brands like ASUS, Acer, and MSI also trying to make some headway.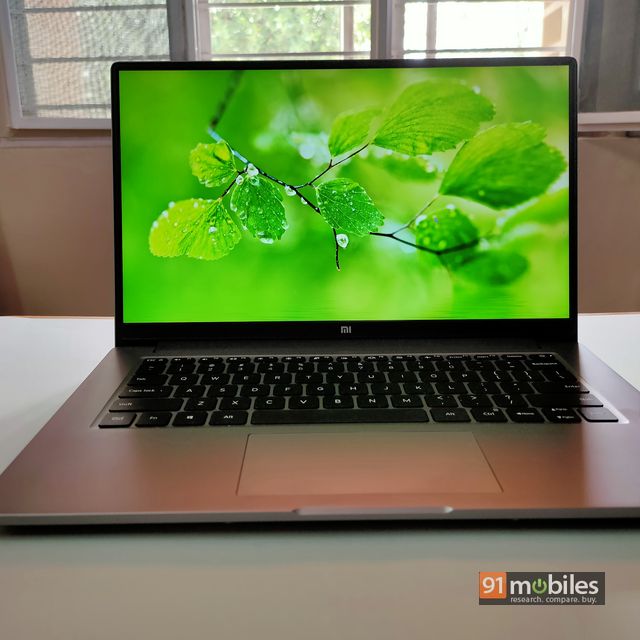 Enter Xiaomi, aiming to shake up the status quo. It first launched a laptop in August 2016 in China, and has finally introduced these in the subcontinent. Instead of launching a model that already exists in its portfolio in China, the company has launched the Xiaomi NoteBook 14 and NoteBook 14 Horizon Edition (first impressions), marking the global debuts of these models in India. I've been using the higher-end variant of the latter for the past week, and now it's time to tell you my opinion on whether the brand would be able to distupt this segment or not…
Specs at a glance
Measures 321.3 x 206.8 x 17.5mm
Weighs 1.35kg
14-inch display, 1,920 x 1,080 pixels
Intel's 10th-gen 10510U 1.8GHz chipset
8GB DDR4 RAM
512GB M.2 NVMe SSD
2 x USB 3.1, 1 x USB 2.0, 1 x USB Type-C, 1 x HDMI port
Wi-Fi 802.11 ac, Bluetooth 5.0
46Wh battery
Windows 10
Verdict
If you have landed on this page to find out whether you should be buying the Xiaomi NoteBook 14 Horizon Edition, you should know that there's no easy answer. As much as I'd like to say yes, considering the device upholds the company's premise of solid specs (as can be seen above) at a mouth-watering price, it does have some compromises. And with a price tag of Rs 54,999 for the i5 model, and Rs 59,999 for the i7 variant (the one that I'm reviewing), buying one does require careful consideration.
Apart from a few quibbles, Xiaomi MI NoteBook 14 Horizon Edition deserves more than a second glance
Having said that, the company has nailed the basics well with the Mi NoteBook 14 Horizon Edition, right from offering a bezel-less, full HD display, to using the latest, 10th-gen processors from Intel's stables, and from a fast, 512GB SSD to solid battery life. So if you can live with the compromises (which I'll be discussing in the review below), then it does deserve more than a second glance.
Design and display
The Horizon Edition suffix in the model name gives a clear indication that the brand is focusing on the display experience. Perhaps it's taken it a bit too far as well, since the bezel-less screen of the laptop doesn't even leave space for a webcam (more on that later).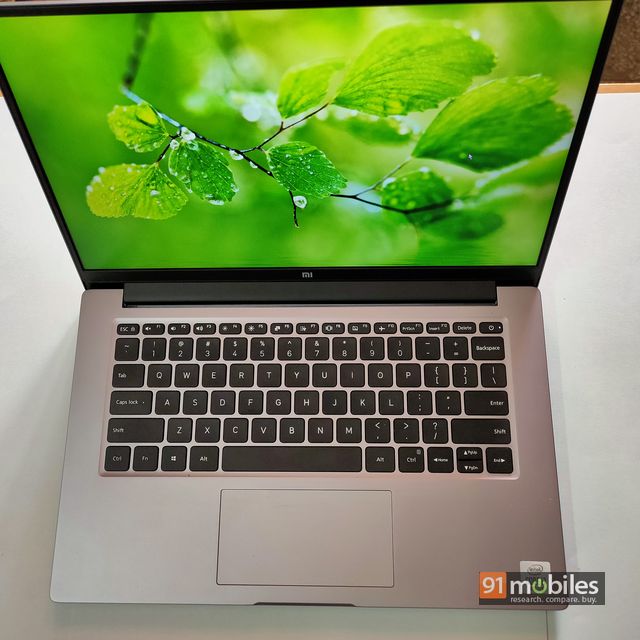 But that aside, the display on the NoteBook 14 Horizon Edition is pure delight. With 3mm bezels on three sides, and a thicker bezel at the bottom carrying the Xiaomi logo, the device offers an immersive experience. The full HD IPS display is a great way to consume text or watch videos. The brightness levels of 250nits could've been better though, as it's little difficult to make out what's on the screen outdoors. Viewing angles at 178-degrees are decent and one can see the display even if they aren't sitting directly at the front.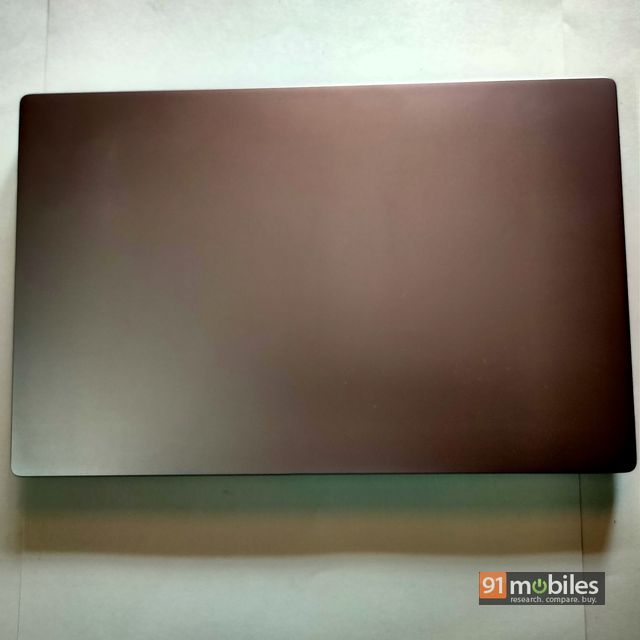 In terms of the design, Xiaomi has taken minimalistic ethos to the extreme, for there's not even a logo on the outside. It's a plain steel grey hue which manages to give the notebook a distinctive appeal. The same colour adorns the inside too, except for the bezels and the keyboard which are black. Oh did I tell you that you can open the lid single-handedly? The construction is solid too, all thanks to the use of aluminium-magnesium A5052 alloy. That said, despite being an ultrabook and weighing only 1.35kg, it does seem a little heavy as its weight distribution doesn't seem to have been done well.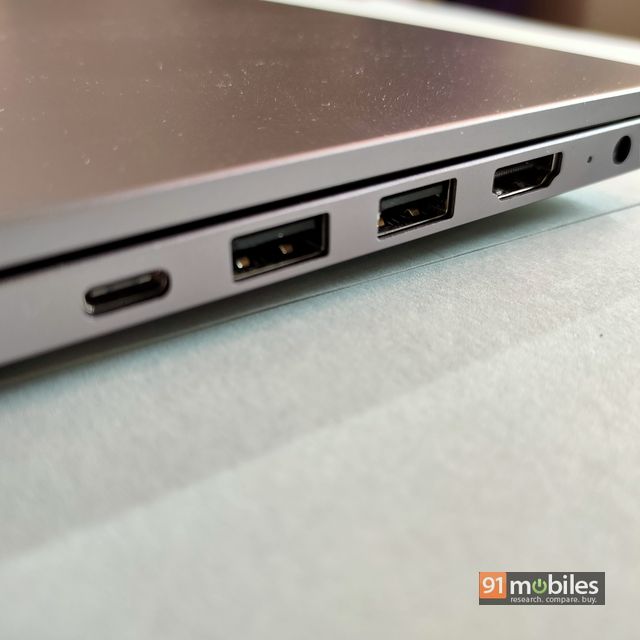 For I/O, the Mi NoteBook 14 Horizon Edition should suffice for most of your needs, as you get a USB 2.0 Type-A port on the left alongside the 3.5mm audio socket. Towards the right, you'll get a proprietary charging port, full-sized HDMI port, two USB 3.1 Type-A sockets, and a Type-C port. Needless to say that one would have appreciated if Xiaomi would have opted for a Type-C charging mechanism, especially considering that doing so would've helped the company highlight the universal charging capabilities of its laptop as well as its smartphones. You'll also find cooling vents on the left spine.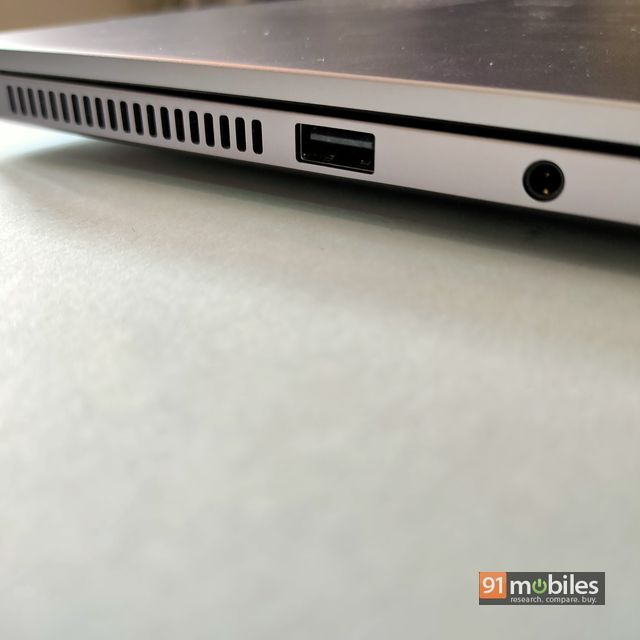 While we'll be discussing the keyboard and trackpad in the subsequent section, it's worth mentioning that the layout seems spacious and doesn't feel cramped. There's adequate palm rest area too, and while the metal may not be as smooth as textured finishes we've seen in a lot of rigs, it still feels good on the Xiaomi Mi NoteBook 14 Horizon Edition.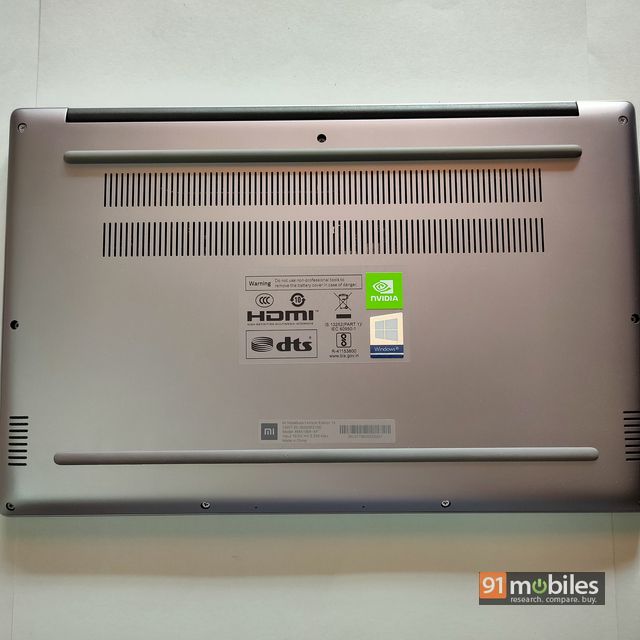 The hinge on the notebook appears well built, and manages to hold the screen in a particular angle. The display can open up to 270-degrees. While the laptop gives a reassuring feel about its build quality, the screen does tend to show some flex if pressure is applied on either corner.
Keyboard and trackpad
Xiaomi's Mi NoteBook 14 Horizon Edition features a full-sized keyboard, and its layout makes it easy to get used to. There's enough spacing between the keys too, which ensures that you don't make errors while typing. However, the keys are a bit recessed and the travel doesn't give the tactile feedback that one would have preferred. What I do like however, is the fact that you don't need to use the Fn key to increase or decrease the volume or brightness, enable airplane mode and so on, since these can be triggered by pressing the respective keys directly.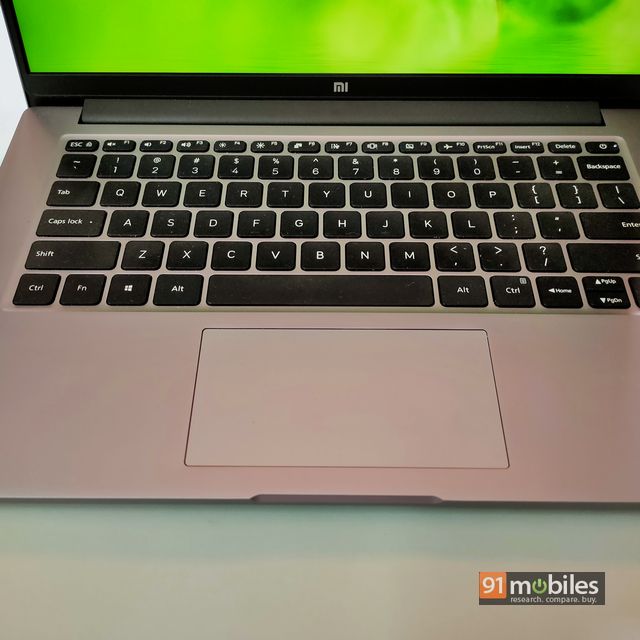 As mentioned above, the palm rest area has a lot of space, and that ensures that long typing sessions don't make your palms sore. The power button is integrated within the keyboard itself, and while I don't have any issues with that, it's worth pointing out that there's no biometric unlock on the machine. Since it doesn't have an integrated webcam, I'd have loved to see a fingerprint reader which in conjunction with Windows Hello, would have ensured that one can quickly authenticate themselves while logging in. Another drawback of the keyboard is that it lacks backlighting, which in today's day and age, is a big omission. If you tend to work at night, then a backlit keyboard comes in really handy. What's even more strange is the fact that the first-gen Xiaomi laptop — the Mi Laptop Air 14 did come with keyboard backlighting.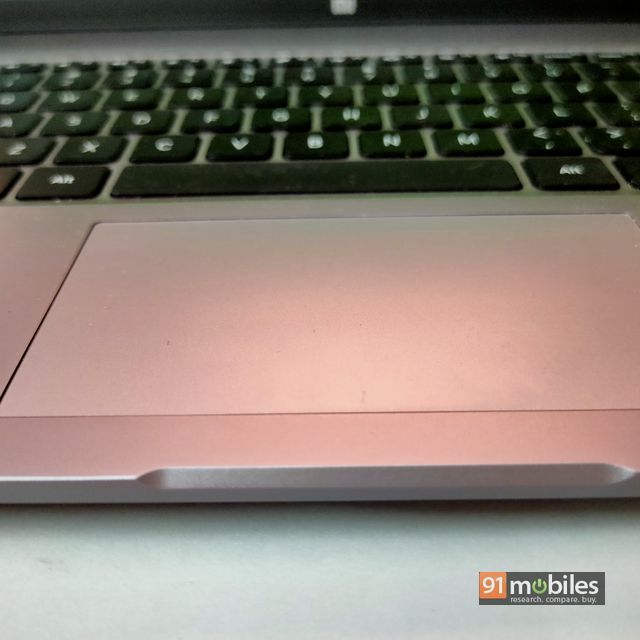 The trackpad is fairly large as well, and is quite responsive. There's no trouble in left- or right-clicks, and it supports the usual gestures too. Be it pinch to zoom, scrolling up or down with two fingers, or the ability to close all windows with a three-finger swipe. I also liked the fact that the touchpad doesn't creak much even when pressure is applied.
Hardware and software
Make no mistake: the Mi NoteBook 14 Horizon Edition's hardware is the star of the show. Using the same ethos as its smartphone offerings, Xiaomi has paid complete attention to the specs sheet of its debut laptops in the country to ensure that they stand tall amidst the competition. The brand seems to have succeeded too… since all its five laptops tout the latest 10th-gen Intel chipsets. The NoteBook 14 Horizon Edition ships with Core i5-10210U and Core i7-10510U CPUs, with the latter powering the model I'm testing out. One thing to note here is that the 10th-gen chip that Xiaomi has employed is not the much-talked-about 10nm Ice Lake processor, but belongs to the 14nm Comet Lake family with a refined Skylake architecture. The former offers better battery efficiency, but the latter is clocked higher at 1.8GHz. And if that's not enough, then you can Turbo it up to 4.9GHz. Multitasking needs are taken care of by 8GB DDR4 RAM, and while that may not seem adequate for power users, it never felt like a bottleneck to me. And while I do consider myself a power user, the experience might be different in case you are running heavy Excel spreadsheets or Photoshop. Do note however, that the RAM isn't upgradeable which is a bummer for power users.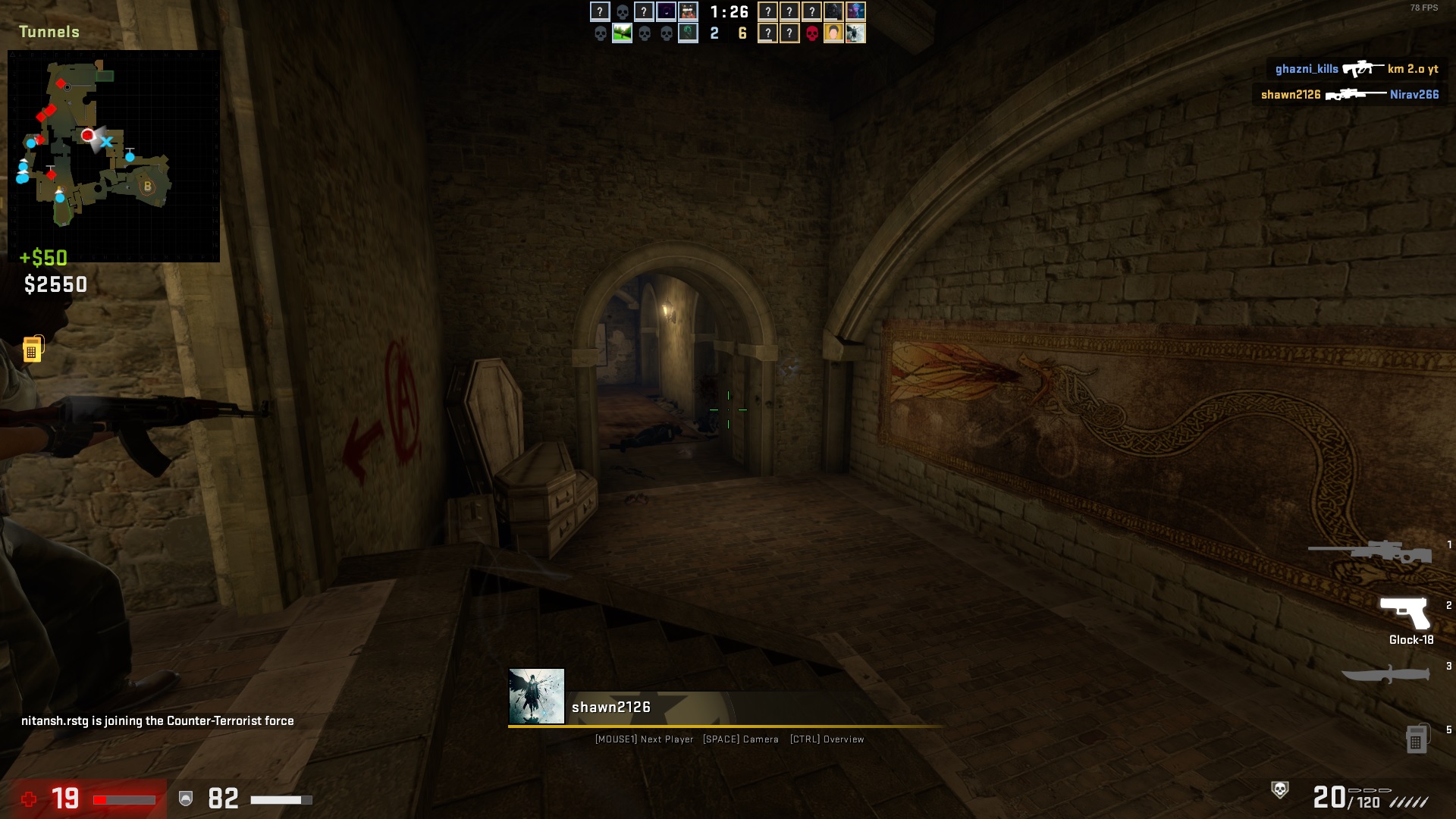 What makes the internals potent is that Xiaomi has opted for NVIDIA's MX350 GPU — which is available in a very few laptops in India — to offer a compact rig that can run some games too. The graphics card has dedicated 2GB GDDR5 RAM, which should help in offering better visuals than integrated graphics offered by most laptops in this segment. Along with improving the gaming experience for casual titles, it should also help those who're looking for basic video editing capabilities. I played The Witcher 3 and Counter-Strike:Global Offensive on the NoteBook 14 Horizon Edition, and while former tested the rig to its limits, CS:GO played like a charm. On Witcher 3, I barely got frame rates of 15fps, while CS:GO's frame rates averaged above 75fps, and went as far as 120fps. The performance didn't dip even after 30 to 40 minutes of gaming, which is a plus.
Sadly however, the lone air vent isn't enough to dissipate the heat. The laptop gets heated up quite a bit. And not just when you're playing games, as the machine heats up even while running day-to-day tasks, which is noticeable around the entire keyboard area.
To put the performance in context, I took the Horizon Edition through a slew of benchmarks. On PCMark 10, which is one of the best ways to gauge the laptop's overall capabilities, it scored 4,122, which is around the same range as what the Dell XPS 13 7390 (review) scored. On Cinebench R20, the device managed to achieve 1,405pts, which does seem slightly on the lower side. I also used GeekBench 5 where the score was for 1,076 and 3,478 for single- and multi-core tests, respectively.
On the storage side of the things, the Xiaomi Mi NoteBook 14 Horizon Edition comes with a 512GB M.2 NVMe SSD. Now, M.2 NVMe may not mean much to a casual user, but it's a newer interface and hence is able to offer faster data transfer speeds vis-a-vis the SATA interface. CrystalDiskMark's benchmark also reflects the same, with the laptop logging read and write speeds of 3,512.97MB/s and 1,861.55MB/s, respectively.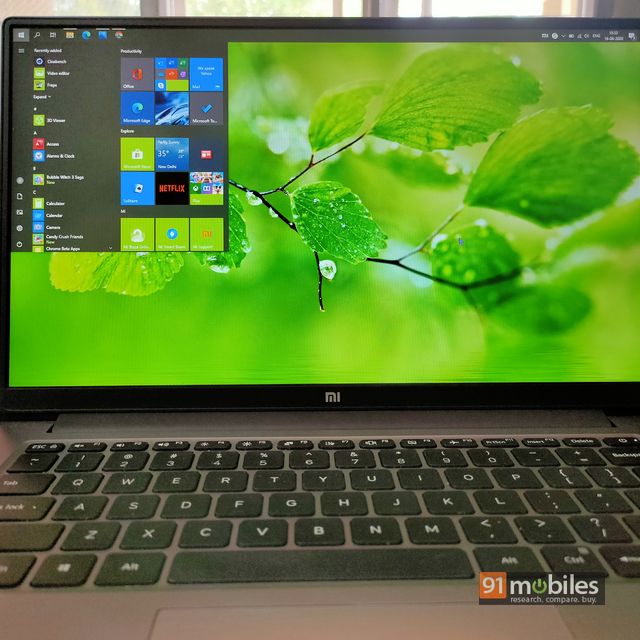 The Xiaomi Mi NoteBook 14 Horizon Edition boots Windows 10. And the good thing is that the company hasn't touched the OS much, and only offered three preinstalled apps. Mi Smart Share is a great way to transfer content between your smartphone and laptop. Remember that I made a point about authenticating yourself by keying in your password or PIN? Well, the company does have an ingenious solution for this… provided you use a Xiaomi Mi Band 3 / Mi Band 4. That's because the Mi Blaze Unlock app can be configured to unlock the laptop whenever the fitness band comes in close proximity. There's Mi Support app as well that provides a handy user guide about the notebook and new apps, though there's only mention of Mi Smart Share as of now.
Webcam, battery and everything else
Out of the three USB ports available on Xiaomi's Mi NoteBook 14 Horizon Edition, you'll need to let go of one of them if you participate in a lot of video calls. That's because the device lacks an integrated webcam. Xiaomi includes an external webcam in the box, and that connects to the laptop via a USB port. It can be mounted on top of the screen to help you get a good angle. Using the webcam is a plug-and-play solution, though there's no denying that not having an integrated option does add a bit of a hassle. I managed to try the bundled webcam out on a Google Meet with friends over the weekend, and I can say that quality-wise, it's pretty good.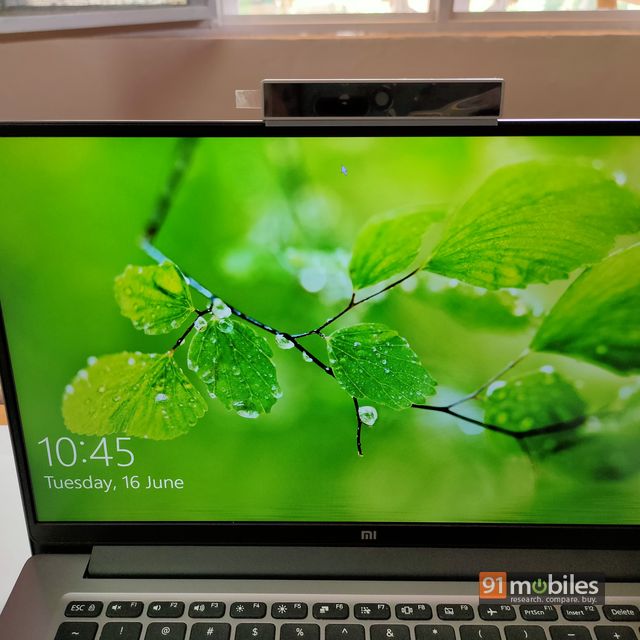 The NoteBook 14 Horizon Edition comes with a 2×2 W speaker for audio. While it's not the loudest I've come across, it's good enough to fill a small room. I wouldn't suggest you amp it up to full volume as it does distort a bit, especially if you're listening to EDM music.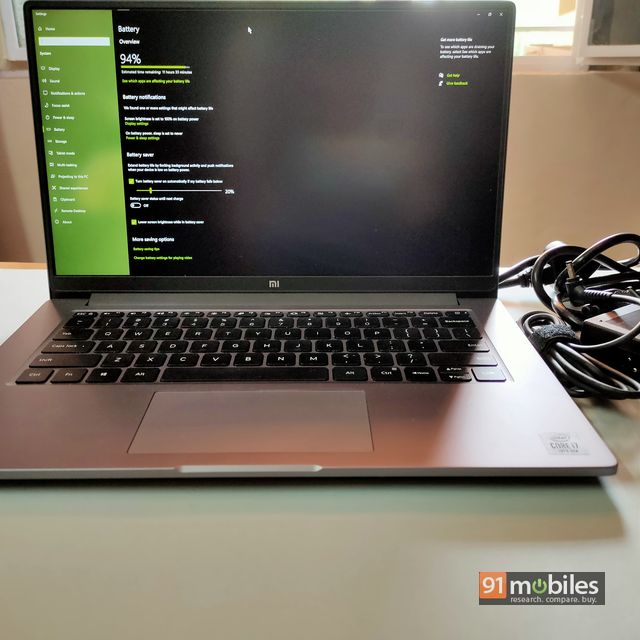 Keeping the Mi NoteBook 14 Horizon Edition ticking is a 46Wh battery. While the company claims an enviable number of 10 hours for battery backup, you can't expect to take it around without carrying a charger (not that we recommend you to go out unless absolutely necessary amidst the ongoing pandemic). I usually got a runtime of five hours and then some, which included web surfing, using Word / PowerPoint, streaming music on Spotify while being connected to an external monitor. This reflects in the BatteryEaterPro results as well as the device was able to last two hours and 48 minutes, which is just above average. The fast charging support courtesy the 65W adapter is definitely handy, as the device juices up from 10 percent to 100 in about 80 minutes.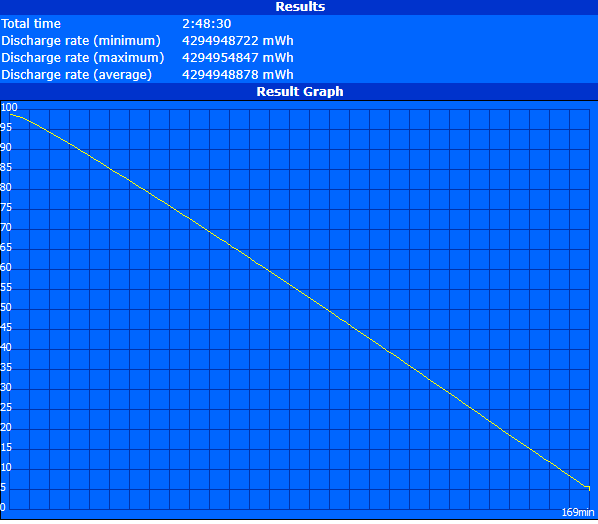 Final verdict
One look at the market data, and you'd notice that in every category Xiaomi plays in, it aims to dominate. It has been the number 1 smartphone brand for more than two years, also the number 1 smart TV brand. And its timing of venturing into the laptops category couldn't have been better. At a time when the WFH revolution is underway (because of the unfortunate COVID-19 crisis), the company might be able to carve a space for itself in the otherwise difficult market.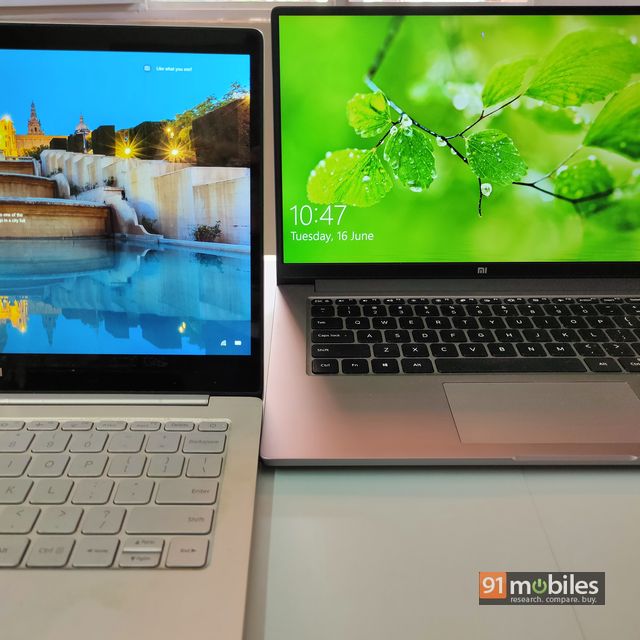 Xiaomi Mi Notebook Air (left) vs Xiaomi Mi NoteBook 14 Horizon Edition (right). Surprisingly, the former came with a backlit keyboard and is lighter as well.
Yet, unlike smartphones, the laptops segment is different. As mentioned in the beginning, there's a reason why brands like HP, Dell, and Lenovo have continued to maintain their hold, and there aren't many new brands that have been able to make a mark in the Windows laptop segment. However, it seems Xiaomi has done its homework and figured out a strategy — focussing on specs. Xiaomi's laptops aren't aimed at casual buyers, who don't delve into specs and are looking for a brand. Instead, the brand is seemingly playing to its strengths by focussing on the spec-nerds. And its specs list does prove that point.
Xiaomi's Mi NoteBook 14 Horizon Edition will get the attention of spec-nerds, with its strategic pricing sweetening the deal further
But specs alone aren't enough, for they need another component — price — so that consumers sway in its favour in the spec vs price equation. Xiaomi has pulled that off successfully indeed since the NoteBook 14's starting price of Rs 41,999 is very attractive, and the Horizon Edition's price of Rs 54,999 and Rs 59,999 is enticing too. But it's not a smooth road all the way, considering there are several competitors in the Rs 55k-60k segment such as the MSI Modern 14 (Intel 10th-gen Core i5 Ice Lake chipset, 8GB RAM, 512GB SSD) and Dell Vostro 14 3490 (Intel 10th-gen Core i7, 8GB RAM, 256GB SSD). Not to mention the fact that anyone spending Rs 50k+ might not have confidence in a laptop from Xiaomi since there's no track record of how good its laptops are in a long run, how good the service experience is, and so on. However, the fact that the company been around in the market for five years, and is now leading the smartphone and smart TV segments definitely provides some reassurance.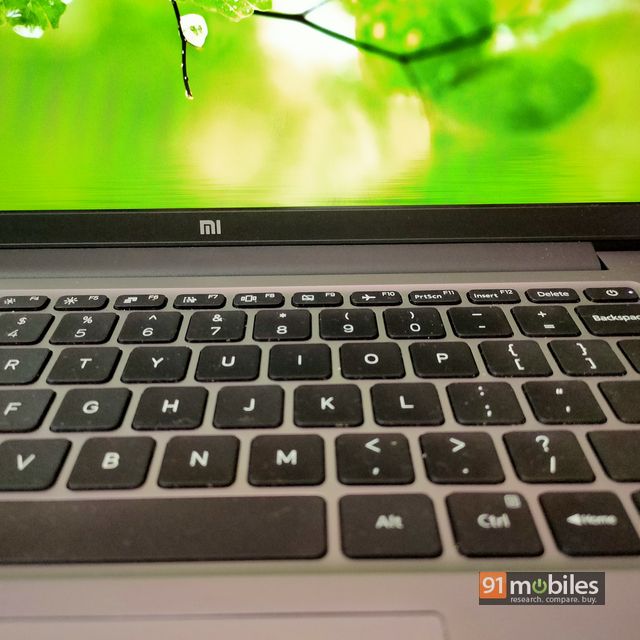 So what's the takeaway? If you're looking for a specs-heavy laptop, then my recommendation would be to turn your attention towards the base Mi NoteBook 14 models — especially those priced at Rs 41,999 and Rs 45,999 — since they don't really have any competition in that price band, and would serve the needs of a student or working professional well. If the Horizon Edition is what your heart is after, then you should be aware of the compromises you will be making. And if you do get the Horizon Edition, we feel you won't be disappointed with your purchase, especially in the performance department.
Editor's rating: 4 / 5
Pros
Robust build quality
Gorgeous edge-to-edge display
Powerful performance
Decent battery life with fast charging capabilities
Cons
Lacks integrated webcam
Keyboard lacks backlighting
No biometric authentication