"The Triple Driver BT, as the name indicates, packs in three drivers on each side. So how well do they sound? Read on to find out"
While audio brands are a dime a dozen, ranging from legacy players to new-age companies trying to cater to the ever-growing market of audio accessories, 1MORE has managed to make a special place for itself. The brand has always focused on offering a powerful set of features at pocket-friendly prices, which is why I was excited to test out the Bluetooth edition of its popular Triple Driver earphones. Here's how I'll sum up my experience after using the pair for a couple of weeks.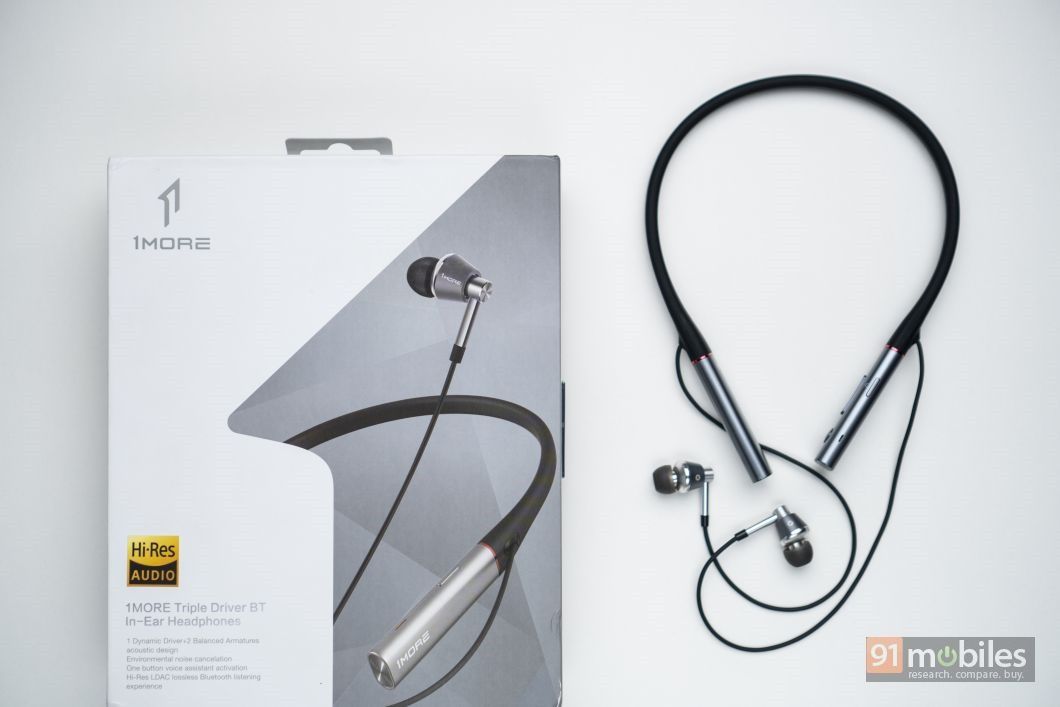 Specs at a glance
Weighs 42.5g
32Ω impedance
35ft wireless range
Bluetooth 4.2 with LDAC
USB Type-C port with 5V/1A
Box contents
Unlike most other audio companies, 1MORE aims to impress buyers right from the get-go, as the unboxing experience is pretty good. The Triple Driver BT come in a rectangular cardboard box, opening which you'll be greeted by the pair itself. Underneath that, you'll find a carrying case, more eartips than you could count on your hands, and a Type-C cable for charging. Heck, there are some phones which haven't yet made the transition to Type-C, but I'm glad that 1MORE has done that.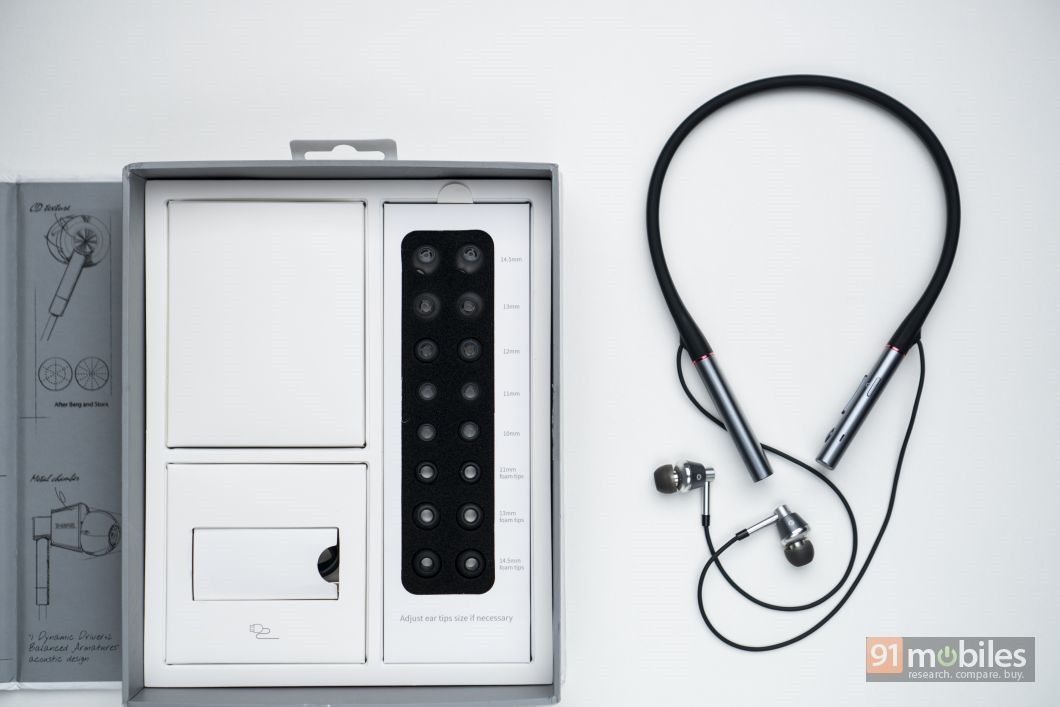 Design and build quality
The 1MORE Triple Driver BT is a neckband-style pair of earphones, which has become quite popular of late. They can be worn comfortably for hours without any kind of strain on the neck and don't look out of place, be it in an office environment or inside the metro.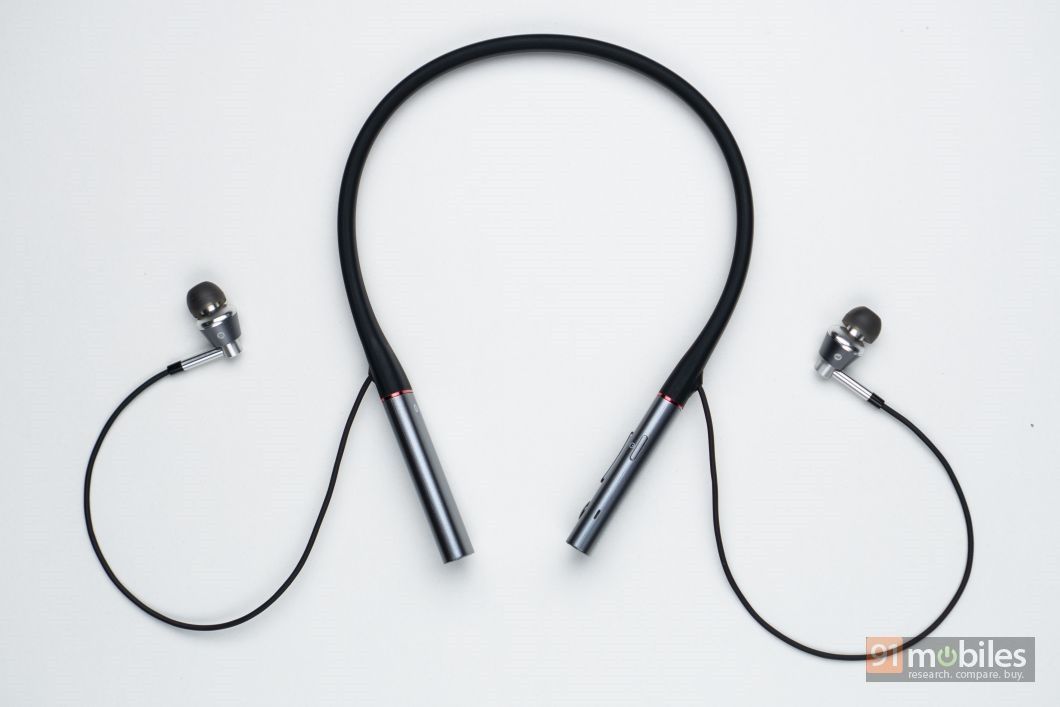 What makes 1MORE's offering better than rivals is the fact that it's made of rubberised plastic. Now you must be wondering why I'm happy about this, since plastic can't be as robust as metal. Well, that might be true, but in the case of the Triple Driver BT, you don't need to worry about them when they're stored in a bag, as they're quite flexible. However, the wires for earplugs itself keep dangling in front when you have them looped around your neck and don't have the earbuds plugged in your ears. Unlike the OnePlus Bullets Wireless which use a simple-yet-brilliant solution of making the earbuds magnetic to fix this issue, the 1more Triple Driver BT look – for the lack of a better word – tacky. If not magnetic, I'd have liked them to have a retractable cable.
That personal grouse aside, you won't be left wanting in terms of design. The pair comes with all the required controls, placed on the left side. You get the power / pair switch, volume buttons and play / pause button (which can also be used to switch to the next song when pressed twice). There's also an LED indicator which turns blue when the earphones are paired with a phone, and orange to indicate charging. The Type-C port is hidden inside a plastic flap on the left.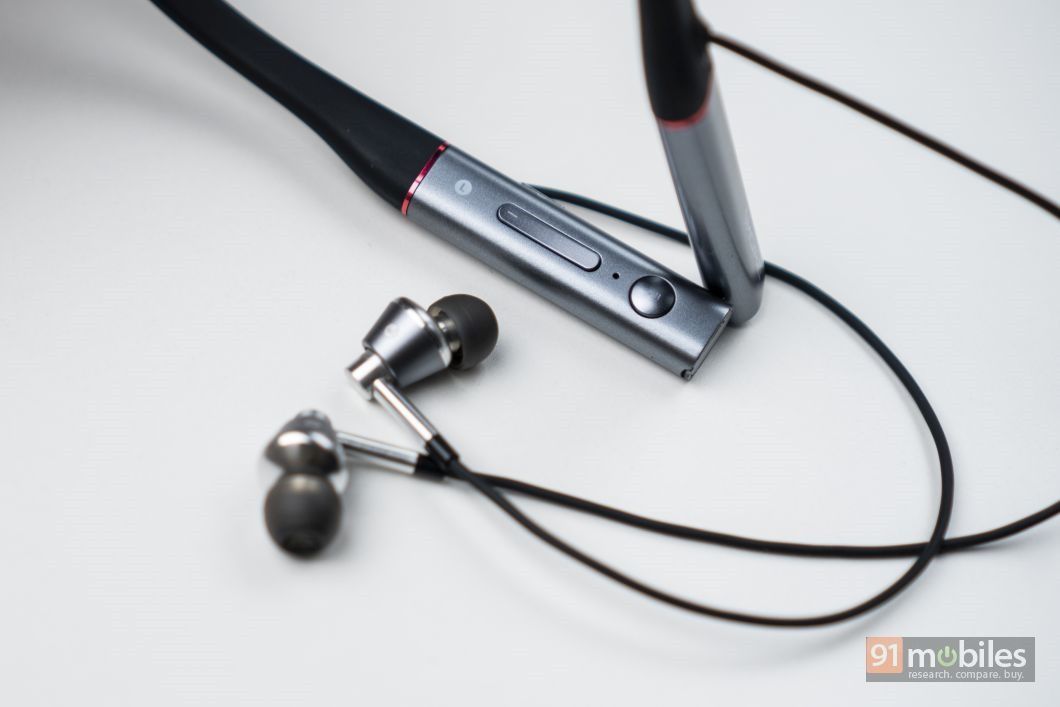 Sound quality and battery life
As you can guess, the calling card of the 1MORE Triple Driver BT is the fact that it comes with Triple drivers on each side. To pack a dynamic driver and two balanced armatures in such a small form factor is no small feat, and that ensures a good auditory experience no matter what you're listening to.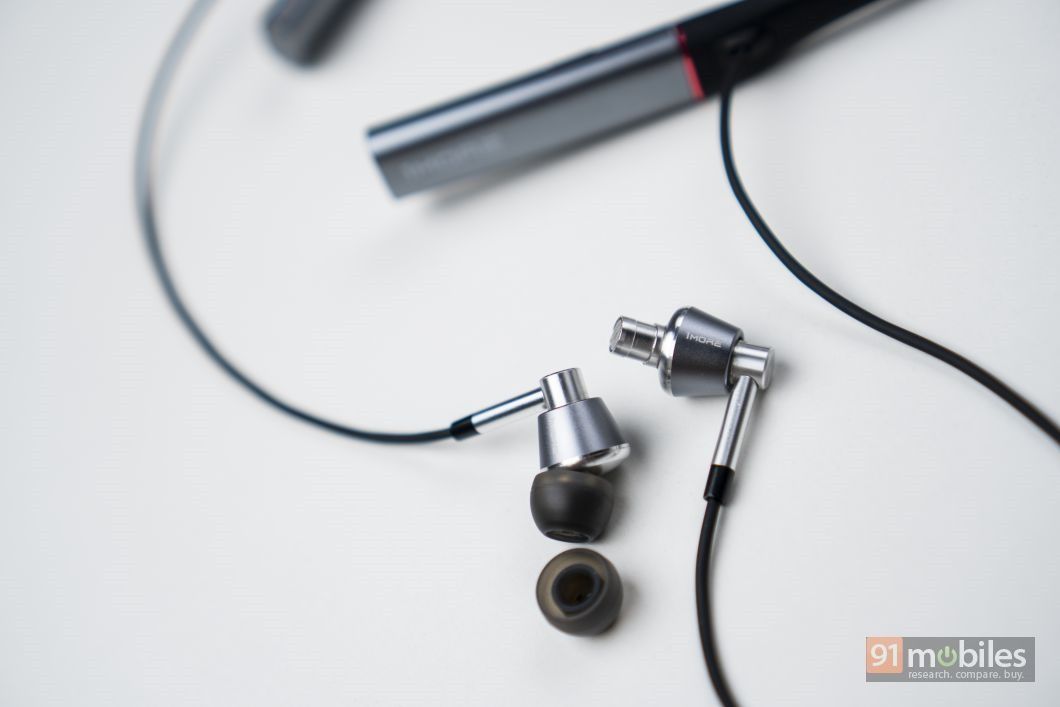 Most of 1MORE's audio devices are geared towards bass, and the Triple Driver BT is no different. Listening to EDM tracks from the likes of Marshmello results in a roomy sound with proper justice to each of the beats. The bass has a good attack to it, and extremely quick decay which makes the earphone jump from one beat to the other quickly while giving gravity to both. On the flip side however, in some songs with heavy beats, the bass interferes with mids. The earphones do get fairly loud and even though they don't come with Active Noise Cancellation, they are able to keep the ambient noise out due to ENC (Environmental Noise Cancellation). Although, if you're in a crowded environment like a bus / metro, then you can hear some chatter. Summing up the sound quality, the 1MORE Triple Driver BT is a pair of fun-sounding earphones with a good low end, clear mids and surprisingly clear highs too.
If you're buying the Triple Driver BT, then one suggestion would be to install the 1MORE Assistant app as that lets you burn in the earphones to get a better sound signature. You can also tweak the equaliser settings from the app. What's odd however, is the fact that even though the pair supports voice assistant functionality, I couldn't get to invoke it.
Talking about connectivity, the pair are able to connect to both Android and iOS smartphones or a laptop in a jiffy via Bluetooth. Plus, the accessory supports codec LDAC to offer high fidelity when connected to compatible devices. What I missed however, is the fact that the 1MORE Triple Driver BT can't be connected to two devices simultaneously – a feature which is increasingly becoming commonplace. So if you're listening to music on the laptop, and want to take a call on your smartphone, it's a long-winded process to connect the earphones and you could end up missing the call by then.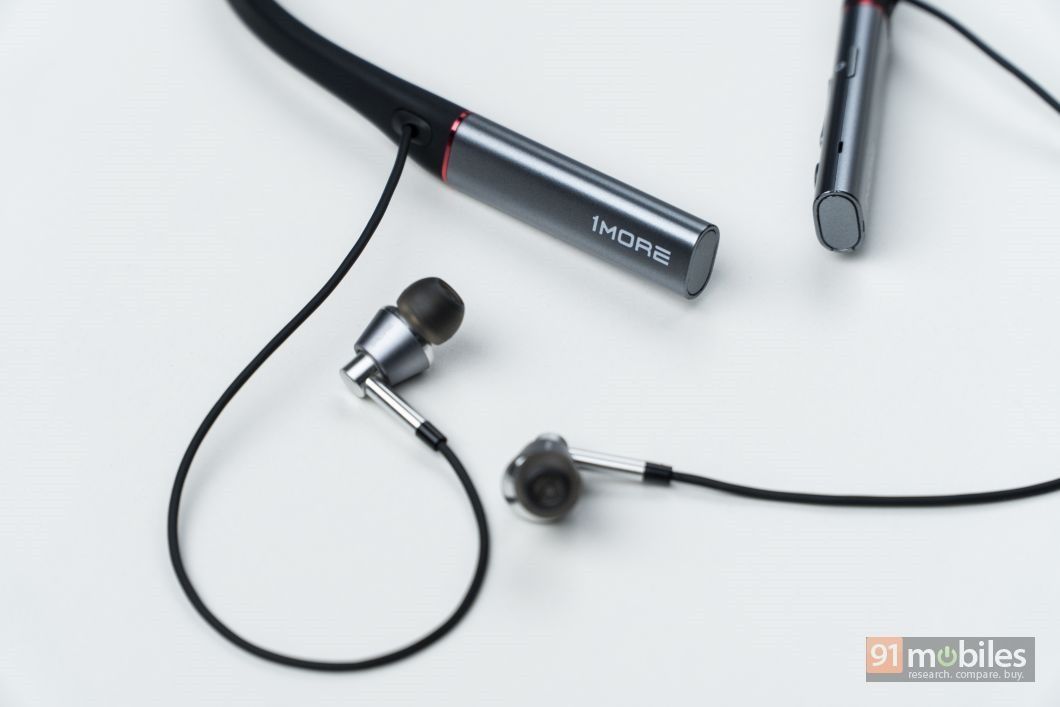 In terms of battery life, the 1MORE Triple Driver BT are quite average, and you'll need to charge them before the end of the day. To put it in numbers, you can expect around six hours of music playback, which is a shade below the brand's claim of seven hours of talktime. You can juice up the pair in about an hour with a 1A adapter. Higher-wattage (10W) chargers aren't supported.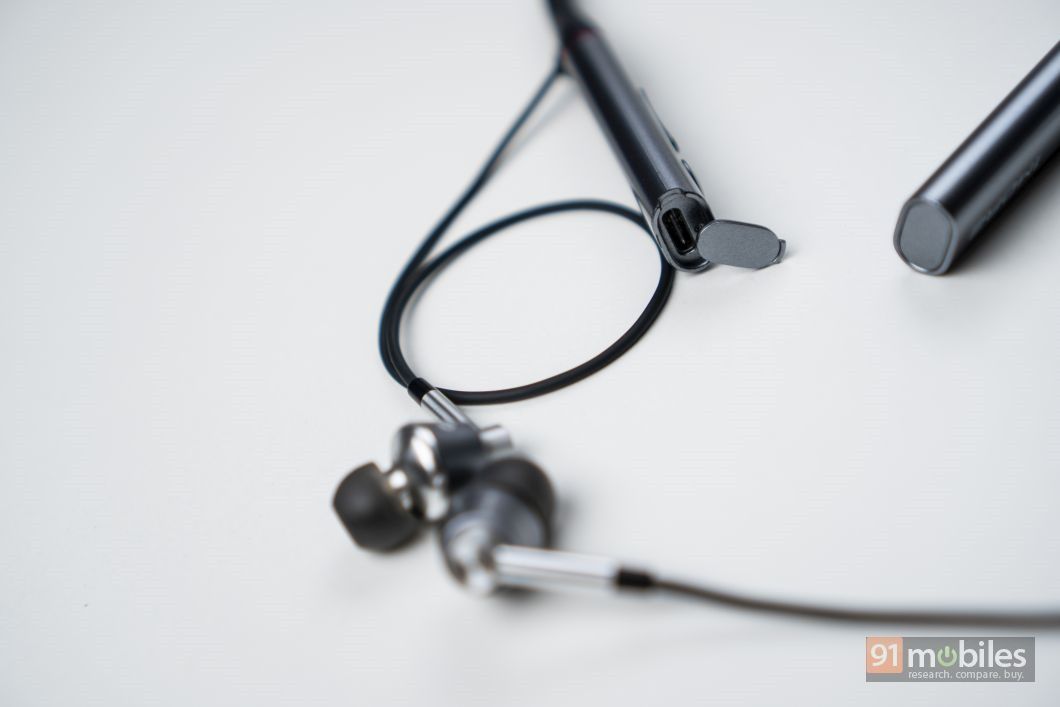 Verdict
Honestly, I couldn't be happier to see a wireless version of the 1MORE Triple Driver earphones. What's more, the company has been able to do a good job to keep the sound quality mostly intact in the Bluetooth model as well. However, I can't help but ignore the issues (even though they're not deal breakers by any stretch) like not being able to connect to two devices at the same time or their average battery life. Add to it the fact that the 1MORE Triple Driver BT carry a price tag of Rs 14,999 (they were launched at an introductory price of Rs 9,999), and it makes it slightly difficult to recommend them.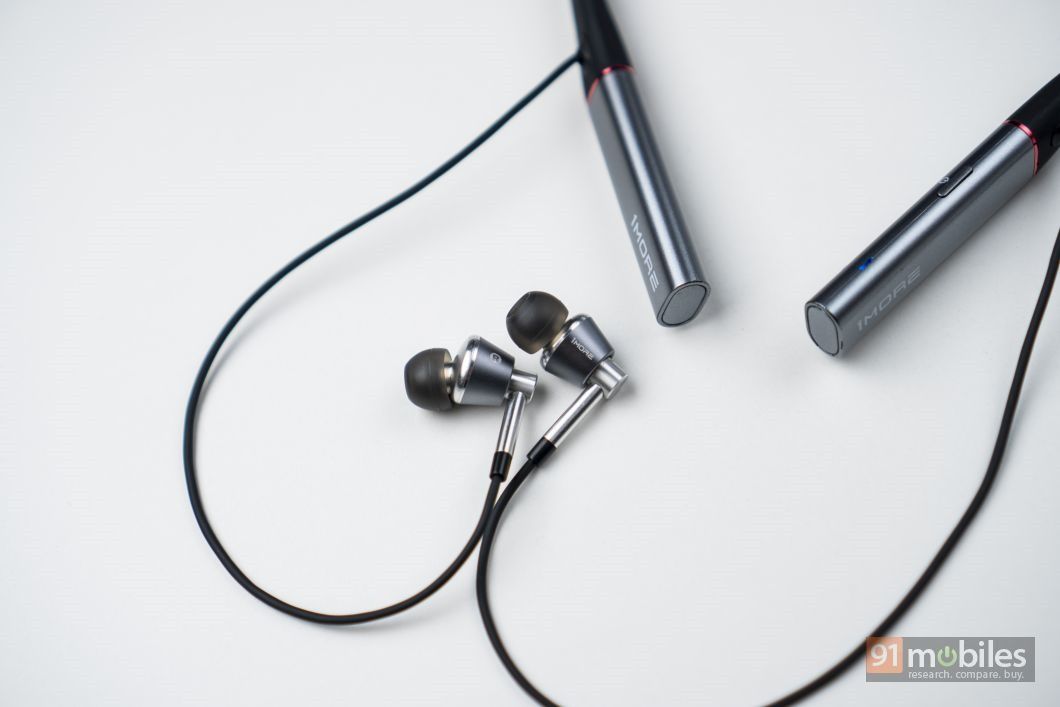 The V-Moda Forza Metallo Wireless is possibly the best pair of earphones you can buy in this segment, and then there's the RHA – MA750 wireless too.
All said and done, if the 1MORE Triple Driver BT are available at their original price of Rs 9,999, they are a must buy, no questions asked. But at their current price, you'd be better off with one of the aforementioned offerings.
Editor's rating: 3.5 / 5
Pros
Lightweight and flexible build
USB Type-C charging port
Good sound quality and roomy bass
Cons
Can't connect to two devices simultaneously
Average battery life
Photos by Raj Rout