"The Verge's AMOLED display is gorgeous, and reason enough for you to take a closer look"
For a relatively new brand, Amazfit successfully managed to create a ripple in the Indian market with its debut fitness trackers, especially the Stratos (review), which we feel is one of the most stylish ones out there. The Pace (review), which came later, is also quite a looker, despite being priced lower. The Verge is the most recent addition to the portfolio, and is slotted between the Stratos and the Pace, and differs slightly in terms of both the design and the capabilities.


Sporting a circular display, the Verge is primarily a fitness tracker, but also doubles up as a basic smartwatch. It can mirror notifications from apps, and since it has a built-in microphone and a speaker, can also let you handle calls (when paired with an Android phone over Bluetooth). As far as fitness capabilities are concerned, the Verge boasts GPS for tracking your runs or bike rides, is IP68 certified for resistance to dust and water, can monitor sleep and heart rate, log data for 11 different physical activities and sports, and even play music off its 2.4GB local storage to a paired Bluetooth headset.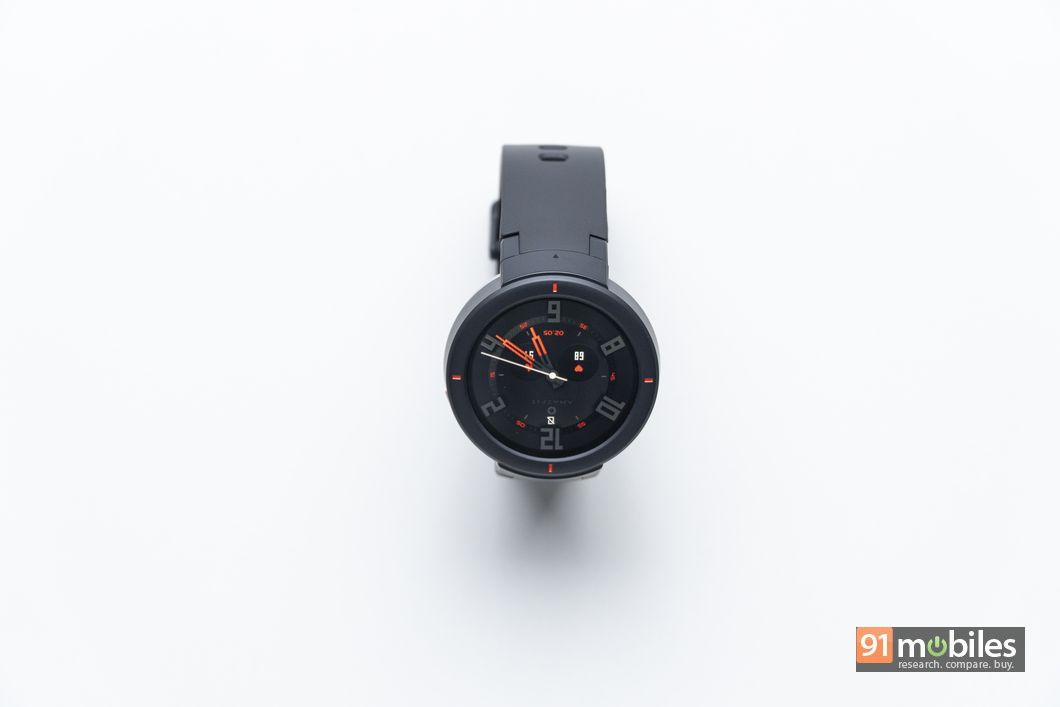 Starting off with the design, the Amazfit Verge looks sportier, but that said, may not turn as many heads as its other two siblings, especially the grey unit we have with us for review. Furthermore, it also feels a tad plasticky, and not as premium. The dual-toned grey exterior, mated to a matching silicone band, may not shout out in terms of looks, but in all fairness, this can even be considered a plus point, especially if you want to wear it to work and want something subtle. And thanks to the plastic case and silicon strap, the Verge is quite lightweight too, and can be worn for long periods (even to bed) without causing fatigue.


The 20mm strap comes with quick release pins, so you can easily replace it with any third-party watch band of the same size and spruce up the looks if you so wish. On the back is the heart rate monitor, along with four connectors that pair up with the bundled charging cradle.


Turn it on though, and that AMOLED display completely takes over. The 360 x 360 pixel circular display looks gorgeous, especially if you choose one of the more funky watch faces available in the app (more on that later). There's no flat tyre to mar the view either. The screen is well protected too, thanks to the surrounding bezels and a layer of Corning Gorilla Glass 3. So while the Stratos and Pace score higher in terms of pure looks, their transflective LCD displays can't match the AMOLED goodness on the Verge.
The Amazfit app (available for both Android and iOS) facilitates pairing, and setting up the Verge is fast and painless. Worth noting that if you have a Mi account, you can use the same credentials to sign in. The wearable faithfully logs data for physical activity and sleep, and even shows quite a bit of detail directly on its screen itself. This can be both a boon and a bane, depending upon how one looks at it. On one hand, it's good to be able to view the details directly on the tracker without referring to the app, but then, the small screen isn't really ideal for it. Another point to consider is the fact that the device's IP68 rating makes it impervious to splashes, but you can't wear it to the pool. The Verge is able to get a GPS fix pretty quickly though.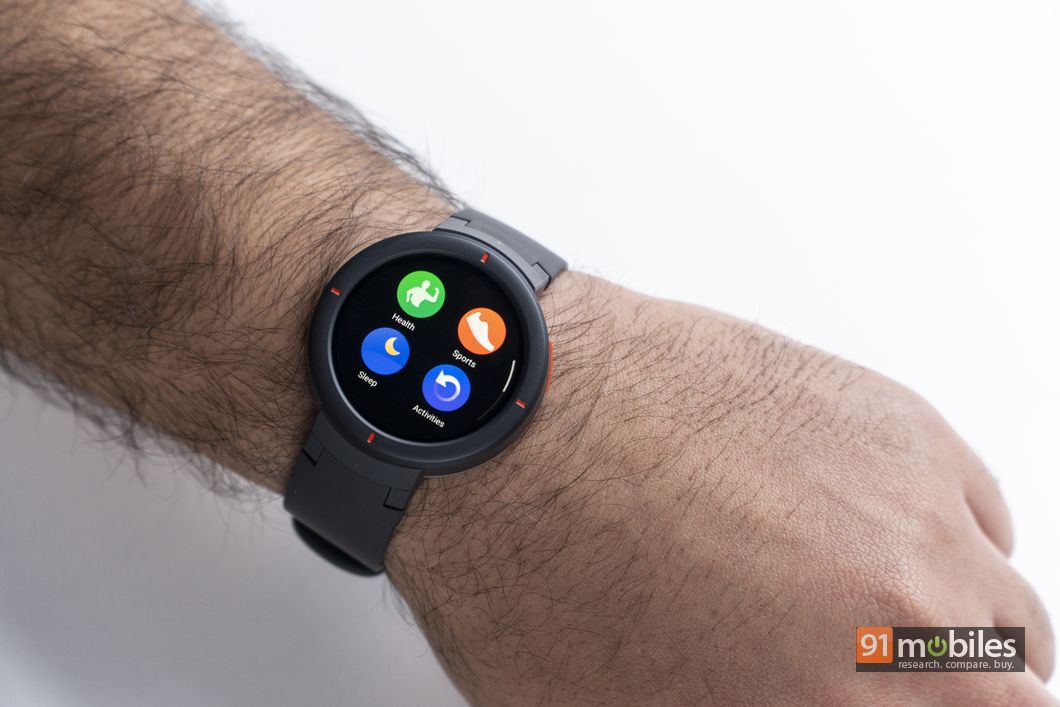 The device supports the raise to wake feature for when you quickly want to check the time, but only unlocks when the solitary button on the side is pressed. Then you can access quick settings using a downward swipe on the screen, or check recent notifications using an upward swipe. Swiping to the left gives you access to two 'widgets' which can be set via the app, and act like shortcuts to your favourite function or feature. Further swiping will finally take you to the main menu, and give you access to the Verge's built-in collection of apps, which include Health, Sleep, Activities, Phone, Music, Weather, Alarm, Timer, Stopwatch, Compass, and Settings. Connectivity options include Wi-Fi apart from Bluetooth, and the device also features an ambient light sensor to control screen brightness automatically.
While device usage is fine for the most part, the UI on it feels a tad laggy sometimes and slow to respond. The smartwatch capabilities are fairly limited too, and while you can view notification content on the device, there's no option to interact with them… not even quick replies. Furthermore, taking calls on the Verge can be iffy, since the audio quality isn't too great. The battery life is quite decent though, and varies between 3-5 days depending upon how actively (pun unintended) you use the GPS tracking and sports monitoring features.
Since the Verge uses a proprietary platform, there's no way to install third-party apps or watch faces. You do get 13 different watch faces to choose from though. You can choose between analogue and digital, plain Jane or data-heavy, and for the most part, they all look quite nice on the Verge's AMOLED display. While the Amazfit app seems fine overall, and displays details on activity, heart rate and sleep quite faithfully, my biggest gripe is that it lacks a social / gamification feature. And as my experience with rival Fitbit's software platform shows, I discovered that being able to share activity data with others and challenging them to regular contests can be a good motivator.
As you might have figured out by now, the Amazfit Verge is a bit of a mixed bag. It's priced at Rs 11,999, which isn't too bad, but the software aspects, the lag and plasticky feel do sour the deal a bit. On the positive side, the AMOLED screen is lovely, the fitness features are quite extensive, and the battery life is good too. I'd say the Fitbit Charge 3 (review) is a good alternative for the fitness minded, offering a solid software ecosystem and swim tracking too. But then, it does lack features like GPS, and its screen can't match the Verge's colour AMOLED display. The Fitbit Versa (review) is also a solid option, but priced a tad higher, and in that price range, Amazfit's own Stratos also appears as a compelling, attractive-looking fitness watch. All said and done, the Verge may not be a perfect, but is still worth a closer look for everything that it offers.
Editor's rating: 3.5 / 5
Pros
Lightweight and comfortable
Good set of fitness features
Gorgeous AMOLED display
Decent battery life
Cons
Lacks premium feel
Lags on occasion
No swim tracking
No in-app social features
Photos by Raj Rout