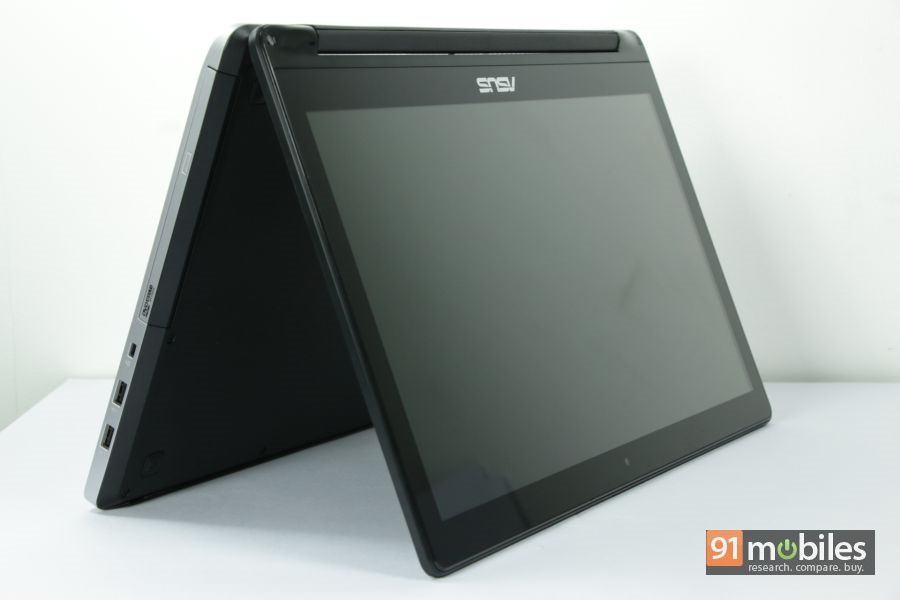 "In a bid to offer the best of the both worlds, we feel that ASUS has made some serious lapses with the Transformer Flip Book"
Taiwanese brand ASUS might not be topping the sales charts, but there's no doubt it has always been on the forefront of innovation – from phone-tablet hybrids to tablet-laptop convertibles. In fact, its Transformers series of products brought the concept of shape-changing robots from reel to real life, giving users the ability to use one device in multiple modes. Its latest device in the range is the Transformer Flip Book.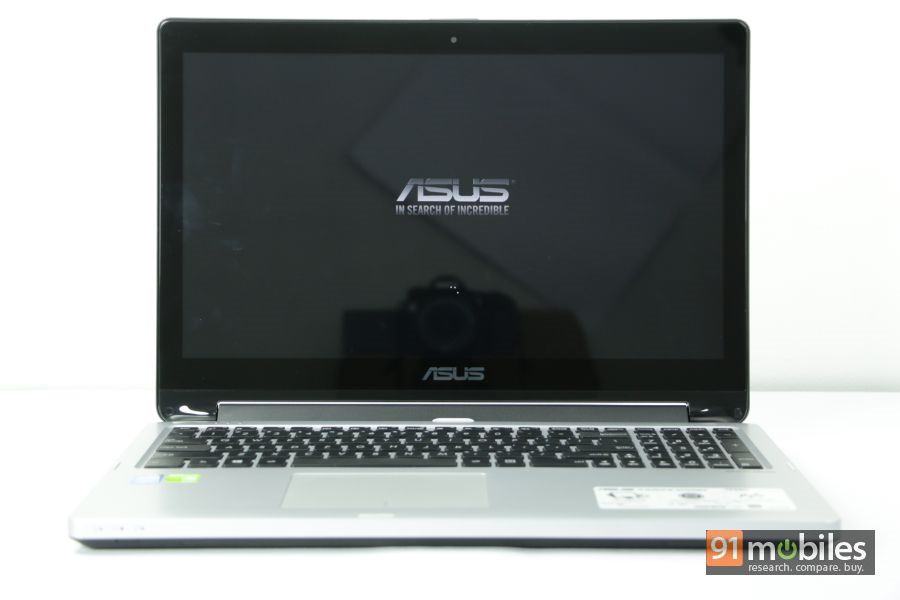 The name says it all – the Transformer Flip Book is a laptop, but its screen can be rotated up to 360 degrees allowing it to be used as a tablet or in a tent mode. However, with laptops losing their sheen to tablets, it's important for ASUS' offering to be able to neither compromise on either one's functionality. We have spent a fair bit of time with the device, and here goes our experience.
Specs at a glance
The ASUS Transformer Flip Book TP550LD is available in different configurations, depending upon one's needs. Our review unit offered the following specs.
Dimensions of 360 x 261 x 27.2 mm
Weighs 2.6kg
15.6-inch display
Intel Core i3 4030 processor
NVIDIA GeForce 820M GPU
4GB RAM
1TB HDD
DVD reader
2-in-1 card-reader
VGA web camera
Wi-Fi, Bluetooth 4.0
2-cell battery
Windows 8.1
Usual design with a twist, but bulkier build
Unlike other two-in-one laptops, the ASUS Transformer Flip Book has a big footprint. In fact, at 2.6kg, it's not only one of the heaviest 2-in-1's, but even bulkier than most laptops out there. Though it sports a large 15.6-inch display unlike others, it still has considerable weight. Even its thickness of 27.2mm is more than the competition.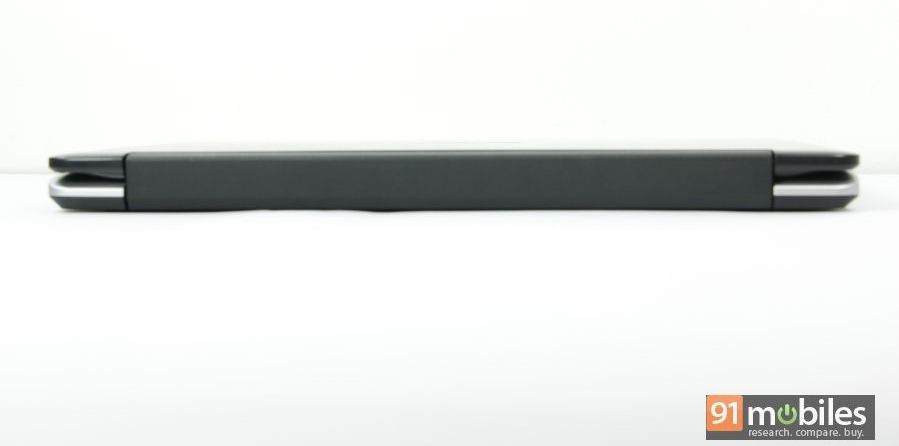 On the plus side, the ASUS Transformer Flip Book doesn't skimp on anything… be it its keyboard, the size of keys, or connectivity ports. The laptop features a full-size chiclet keyboard along with a dedicated number pad. The keys offer good feedback and ensure accurate typing. Below the keyboard lies the touchpad. It has designated left and right click areas built in into the main touchpad itself. It also supports multitouch gestures such as pinch to zoom. There also are a couple of LED indicators on top of the keyboard.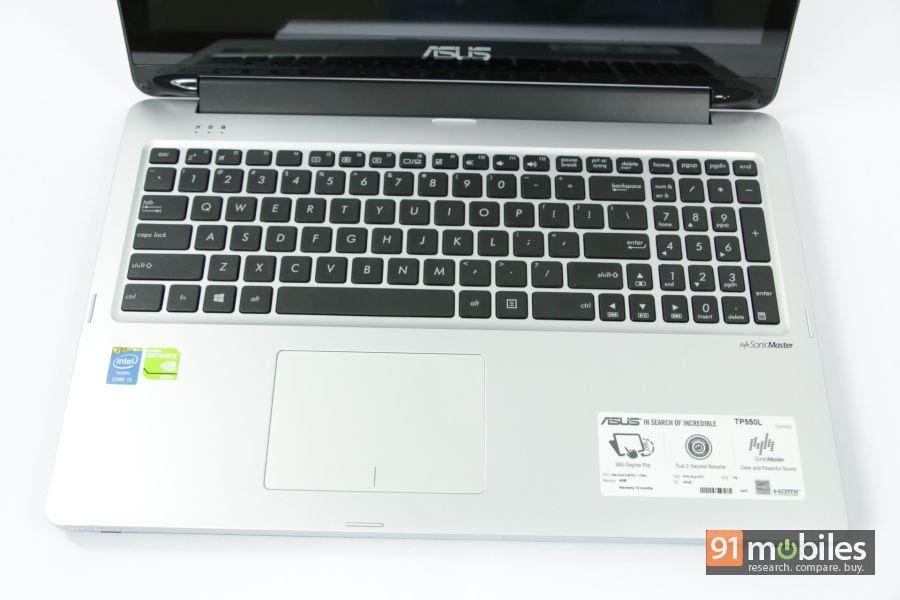 The outside of the Transformer Flip Books sports a brushed-metal finish, although it attracts fingerprints and smudges rather easily. On the front of the device, there are three LEDs to indicate the status of battery, charging, etc.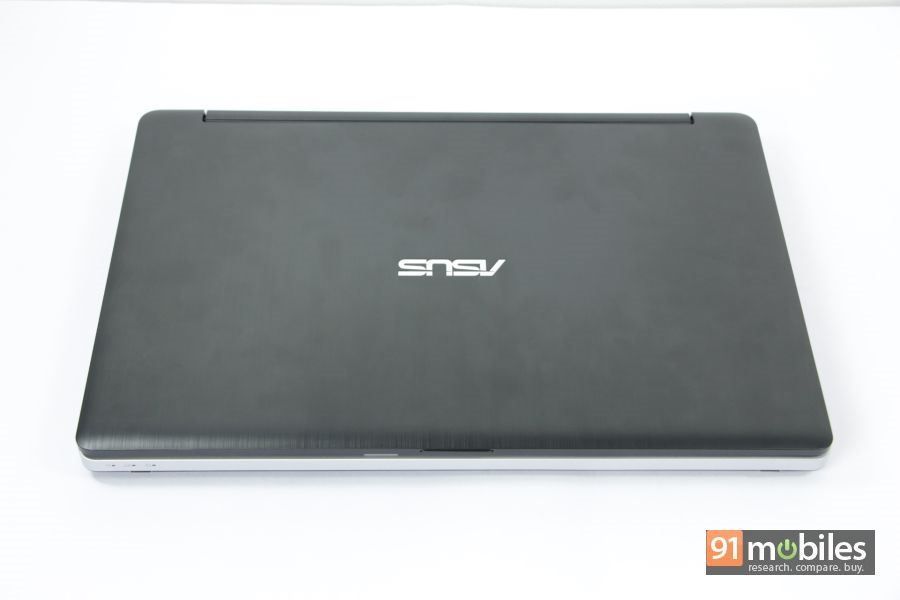 A VGA web camera sits above the display. The display and keyboard are connected by a hinge. Interestingly, the power button isn't placed anywhere on the keyboard area. It's placed on the left edge, alongside the volume keys and a Windows button. At first, this placement seems odd – but when you use the device as a laptop – it makes perfect sense. However, due to this placement, we accidently hit the power key a few times while holding the ASUS Transformer Flip Book.
Coming to the ports, on the left, you'll find a power port, an Ethernet port, USB 3.0 port, audio port and an SD card slot. The right houses a DVD drive, two USB 2.0 ports and a Kensington lock port.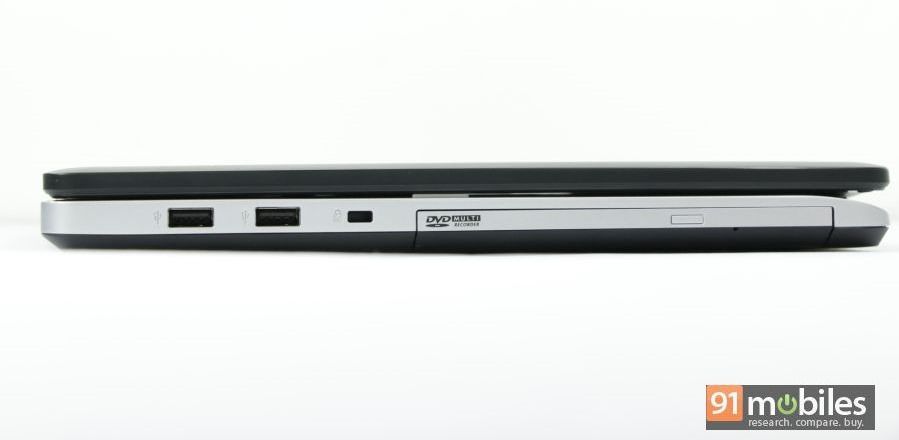 Rotating the screen of the ASUS Transformer Flip Book is where you'll witness the transforming capabilities of the device. Thanks to this feature, you can use the laptop as a tablet or in a tent mode.
Decent display that recognises your touch
As we mentioned earlier, most 2-in-1 devices carry a screen size of 13.3- or 14.1-inches, however the ASUS Transformer Flip Book trumps them all with its 15.6-inch display – bringing it in the league of conventional laptops. The display bears a resolution of 1,336 x 768 pixels. Sadly the display has been made using TN technology, which is quite dated compared to IPS display panels and hence viewing angles aren't impressive. Apart from that, we found it decent for reading text or watching movies.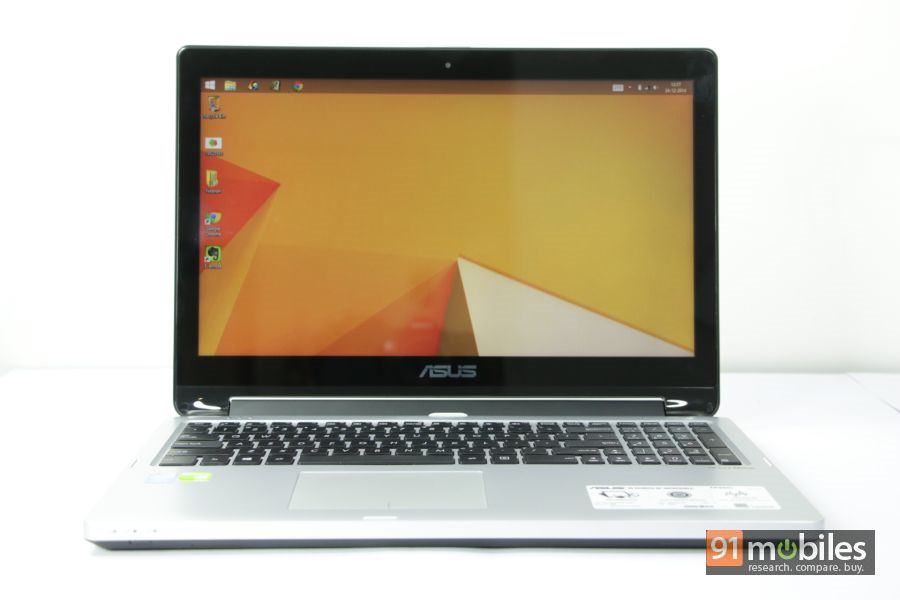 The display is touch-enabled and its response is also excellent.
Performs well, but not flawlessly
Apart from the generous number of ports and keyboard size, the large profile of the Transformer Flip Book also allowed the brand to infuse the device with powerful internals. Unlike most ultrabooks and similar devices, the laptop comes powered by Intel Core i3 3rd-gen processor, which offers two cores ticking at 1.9GHz. The processor is also optimised for low-power consumption to ensure better battery efficiency. The device is great for casual gamers since it gets a dedicated 2GB graphics card, the NVIDIA GeForce 820M. Augmenting the processor is 2GB of RAM.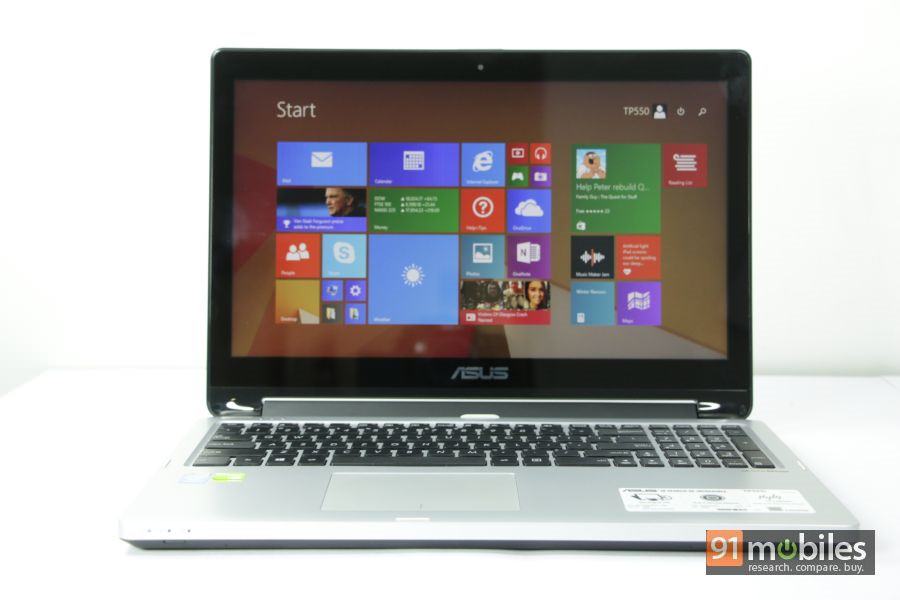 With such a powerful combination, the laptop showed nary a hiccup. Accessing files on Windows, opening different apps or browsing websites was all very snappy. We even tried a few games on the ASUS Transformer Flip Book and came away impressed with its performance.
With the 1TB HDD on the ASUS Transformer Flip Book, you don't have to worry about your storage needs at all. The laptop has two partitions – one of them acts as primary drive with 372GB of space where Windows is installed, whereas the other drive has 537GB of storage.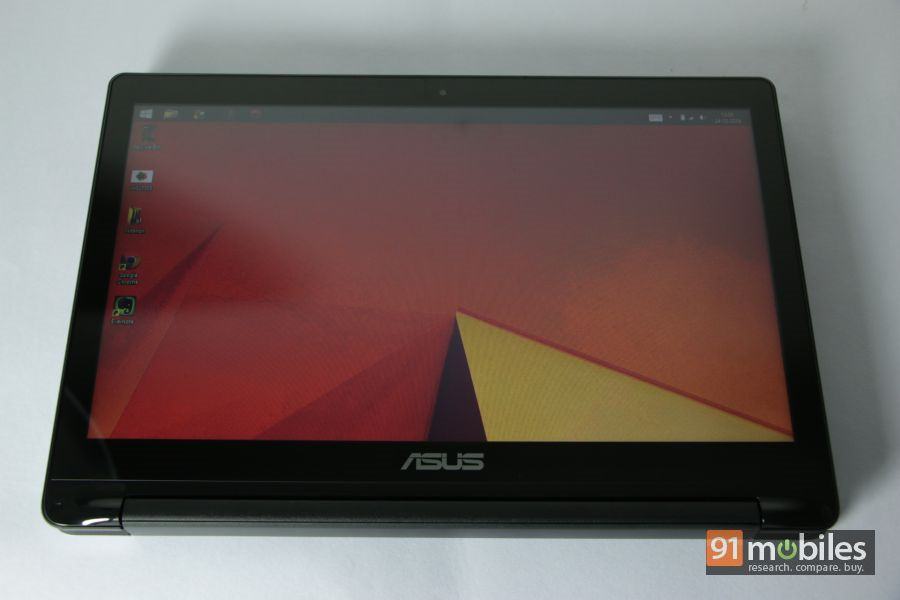 The ASUS Transformer Flip Book runs Windows 8.1. Since we have discussed it quite a few times (see our HP Omni 10 review), we're not going go into the details. Thanks to the touchscreen, you can make use of Windows-supported gestures, which make it much more fun and intuitive to use, unlike using gestures via the touchpad. In terms of preloaded content, the device comes with Microsoft Office, but not much else. Consumers also get ASUS Webstorage with the device, which is the company's own cloud service.
With the SonicMaster sound technology and speakers, the Transformer Flip Book is fairly loud and offers good sound quality for watching movies or listening to audio tracks. Connectivity-wise, the laptop offers Wi-Fi and Bluetooth 4.0, apart from wired options such as Ethernet and HDMI.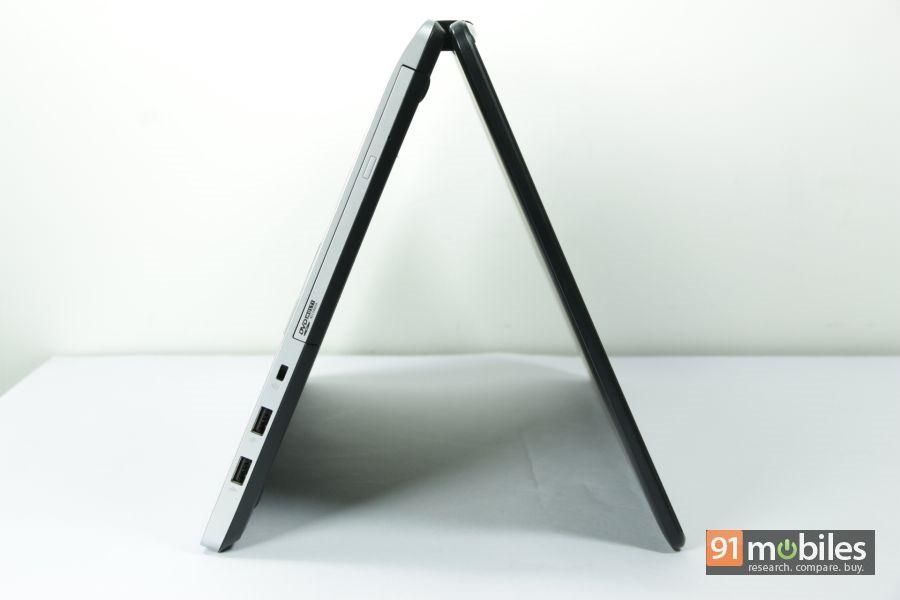 The 2-cell battery keeps the ASUS Transformer Flip Book up and running. While using it for tasks such as web browsing, the device offers good battery life. Even while watching movies, we were able to derive approximately three hours of runtime without looking for the charger.
The device also comes with instant-on technology allowing it to wake up from sleep within two seconds. ASUS also promises that the Transformer Flip Book can remain in sleep mode for up to 14 days. Even if its battery level drops below five percent, you needn't worry about data loss, since it's automatically backed up.
Capable as a laptop, a little less so as a tablet
On paper, the idea of using a device as a laptop, tablet or anything in between looks really good. However, ASUS seems to have forgotten the actual use cases for such a device. With its heavy construction, it's almost impossible to use the Transformer Flip Book as a tablet, especially if you're holding it in your hands.
During our testing period, we used the device primarily as a regular laptop, and hardly ever as tablet, even though that's its biggest USP. As a laptop, the device scores almost full marks, since we didn't find any issues in its display or performance, and even its battery life.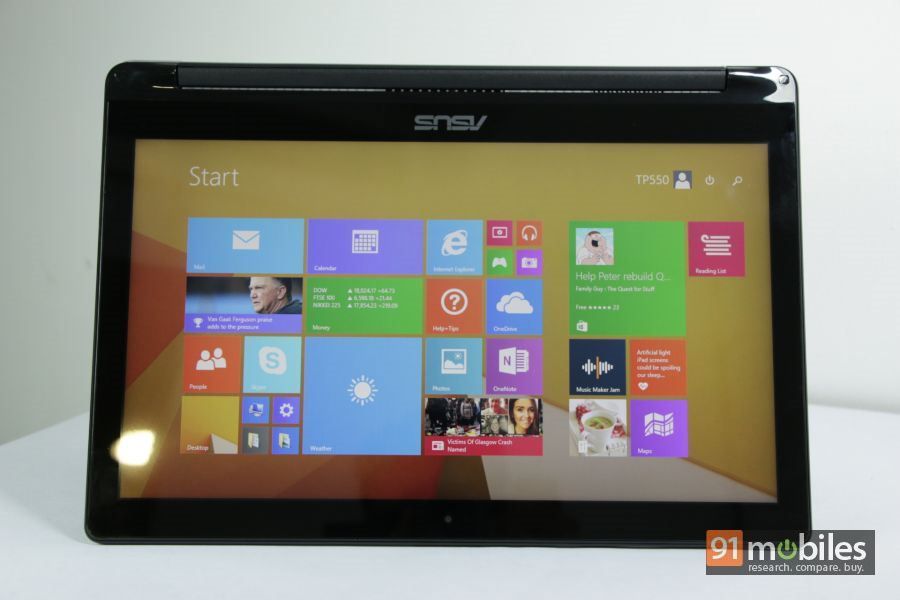 Sadly, in a bid to offer the best of the both worlds, we feel that ASUS has made some serious lapses with the Transformer Flip Book. With the price tag of Rs 48,000, the device is placed at the upper end of the spectrum. At this price point, you can get a fully-loaded laptop with powerful hardware and yet, it would be less bulky than ASUS' offering. If you're looking for 2-in-1 functionality, you could also look at Lenovo's popular Yoga series of convertibles, which offer similar hardware in a smaller and more ergonomic form factor.
Price: Rs 47,999
Editor's rating: 7 / 10
Pros
Good build quality
Full-sized keyboard and availability of all ports
Nice touch-enabled display
Decent performance
Cons
Heavier than its peers
Pricey option
Photos by Raj Rout