"The Zenfone 4 offers a tempting combination of mid-range specs and budget pricing."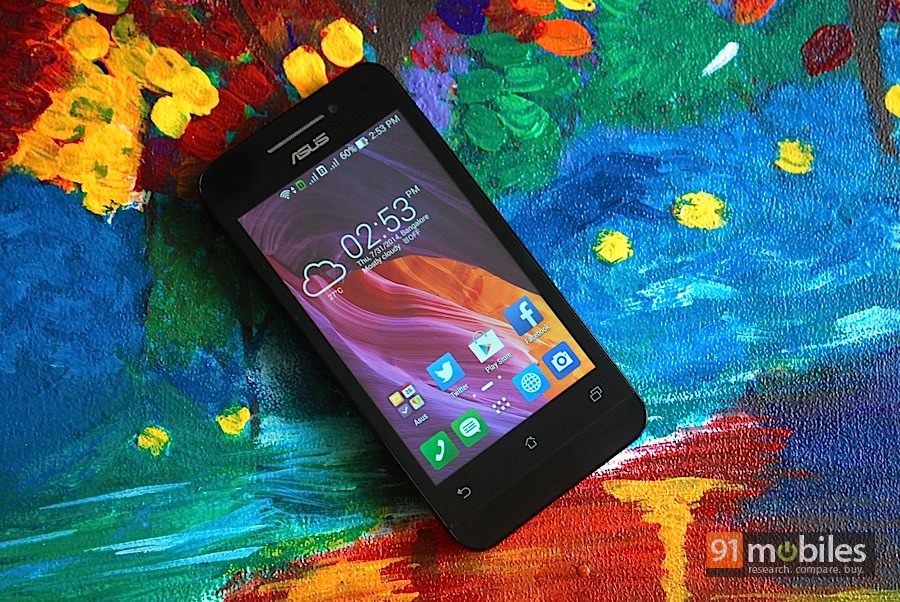 In the span of just six months, the smartphone landscape in India has changed dramatically. While the cream of the crop try to wow us with superstar brand ambassadors, powerful processors and pixel-packed displays, it's the new breed of budget smartphones that are grabbing all the attention. Packing in features and specs we were paying double, and in some cases, even triple for earlier, the current generation of budget smartphones offer tremendous value for money.
While the Moto E (review) can be credited for igniting this trend, we've had several capable launches that followed. None, however, are as compelling as the ASUS Zenfone 4. The seemingly unassuming device fits in a ton of goodies in a small frame. We recently reviewed its bigger sibling, the Zenfone 5, which is currently one of the best choices in the mid-range category. So will the Zenfone 4 grab a similar spot in the budget segment? We aim to find out in our review.
Specs At A Glance
4-inch, 800 x 480 pixel display
5MP primary camera, VGA front shooter
1.2GHz dual-core Intel Atom Z2520 processor
PowerVR SGX544MP2 graphics
1GB RAM, 8GB expandable internal storage
1,600mAh battery
Dual-SIM, 3G, Wi-Fi, Bluetooth 4.0, Miracast, USB OTG, GPS
Android 4.3 Jelly Bean with ZenUI
Compact build suited to one-handed use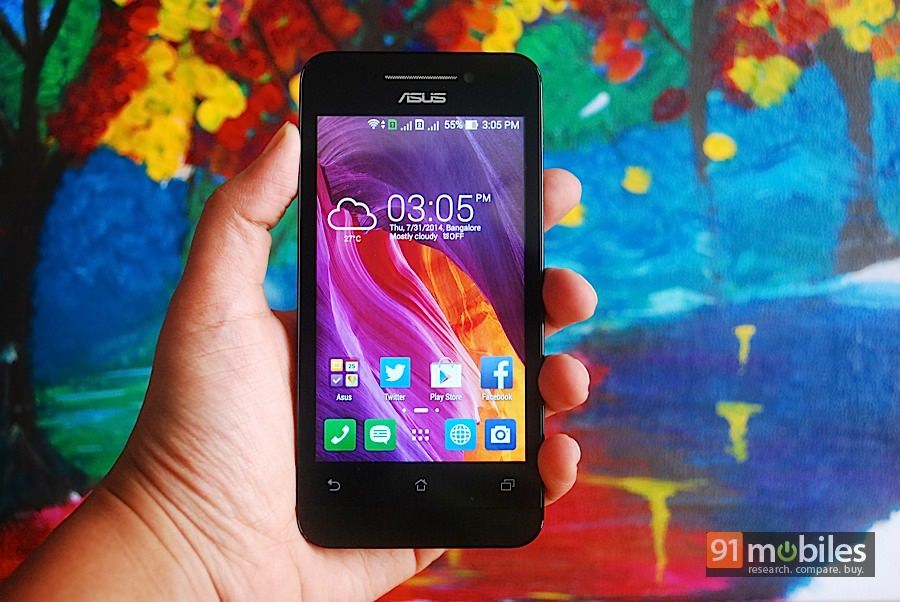 The Zenfone 4 is the smallest handset in the Zenfone line-up. Its 4-inch display makes for a compact size that's ideal for one-handed use, but might feel slightly cramped for those with bigger digits. Like the Moto E, the Zenfone 4 features a soft-touch back panel, which unfortunately picks up smudges like nobody's business. Unlike the Moto E though, it's very lightweight, tipping the scales at just 115g. This also doesn't make it feel as reassuringly solid.
The front panel bears close resemblance to the Zenfone 5, with the front camera, proximity sensor, LED notification light and earpiece above the display, and a row of capacitive Android keys at the bottom, which incidentally aren't backlit. Under the buttons is a protruding chin, that features ASUS' signature concentric circle design, which we saw on the Zenfone 5 as well. This adds a touch of class to the device, which looks quite staid otherwise.
Around the edges, you'll find the 3.5mm audio jack on top, micro-USB port on the left, and volume rocker and power button on the right. The back sports the primary camera (sans flash) and loudspeaker on top. The rear can be pried open (with great difficulty the first few times), after which it becomes too loose for our liking. Inside, there are two micro-SIM card slots, the 1,600mAH battery, and microSD card slot. It's worth pointing out that while the Zenfone 5 featured a fixed battery, the one on the Zenfone 4 is user replaceable.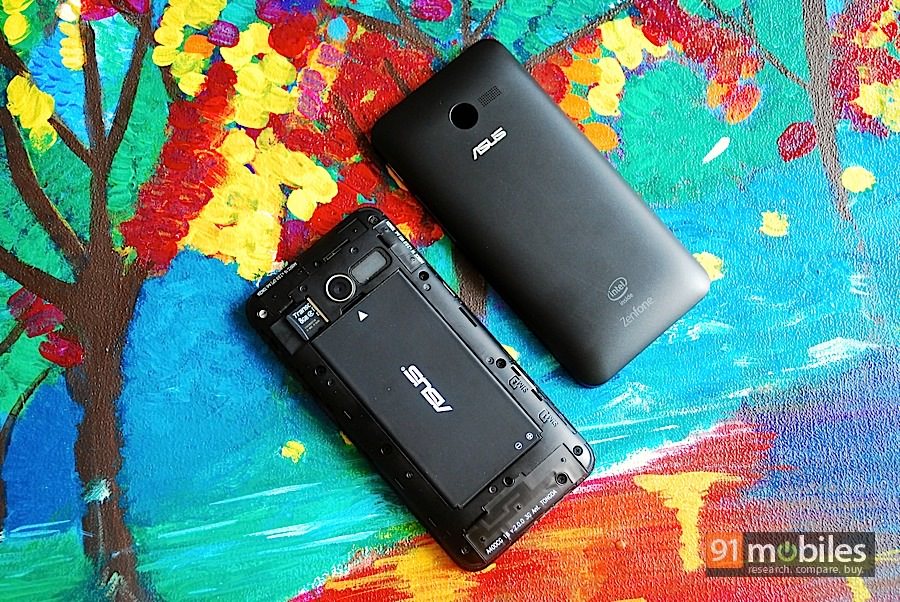 We should mention that the quality of ports and buttons weren't of the highest quality. The USB port has some visible denting around the edges, while the power and volume buttons are flimsily attached to the back panel, and are liable to pop out when the rear cover is open.
Scores for responsiveness, but not resolution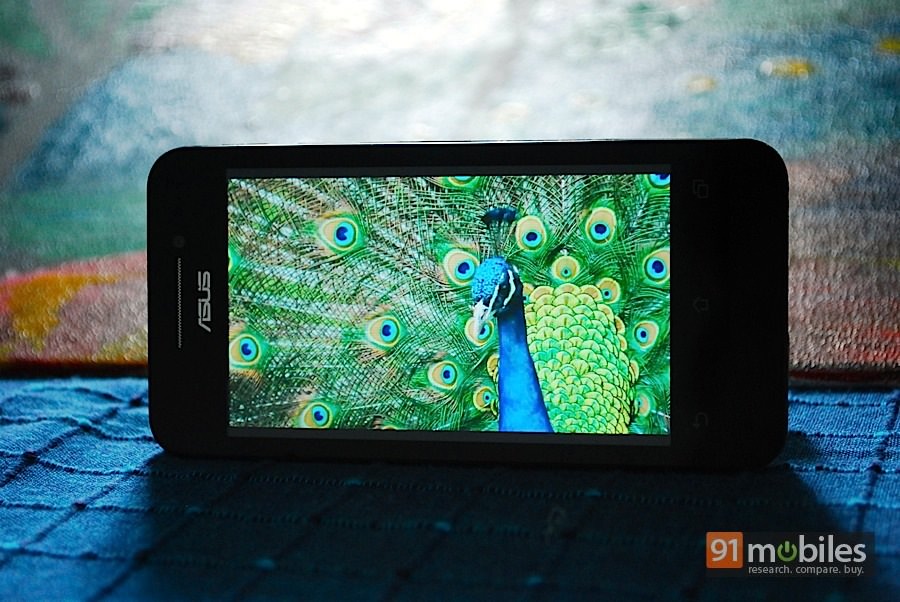 While the Zenfone 5 offers a 720p display, on the Zenfone 4 you get a meagre 840 x 480 pixels resolution. Because of the smaller 4-inch screen size, the pixel density is an acceptable 233ppi, but the display isn't as sharp as we'd like. Text on webpages appears jagged when zoomed in, and photos and videos don't stand out either. The display is also highly reflective, so it isn't ideal for watching videos. Unfortunately, the Zenfone 4 doesn't feature an ambient light sensor, so you'll need to adjust brightness manually. ASUS has provided a sliding meter to adjust brightness via the notification bar, but we still found ourselves having to tweak it frequently.
On the plus side, the screen does get Corning Gorilla Glass 3 protection, a rarity on smartphones in this price range. And most importantly, it was very responsive, smooth and fluid to the touch, and great for typing too.
PixelMaster of modes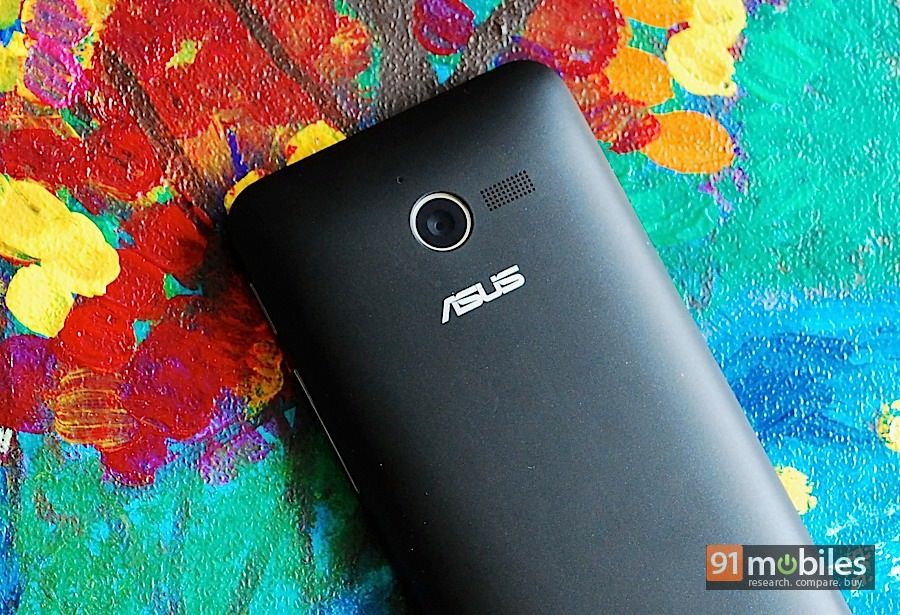 Given its price tag, we didn't expect much from the Zenfone's camera, but it's a definite improvement over the Moto E's lone 5MP fixed-focus shooter. While the Zenfone 4 also offers a 5-megapixel snapper at the back, it does have autofocus. ASUS has also been generous enough to throw in a front camera with VGA resolution, which isn't ideal for selfies but should suffice for Skype calls. The camera is also endowed with ASUS' PixelMaster tech to improve image quality.
In auto mode, results weren't very impressive, with close-ups showing evidence of grain and landscape shots appearing washed out. Images taken in low light are predictably grainy, and at night photos are too dark to make out much detail.
The camera app offers several modes though, which drastically improve images. The Depth of Field mode works well for macros, keeping the subject in focus and creating a realistic blurry background. The HDR mode is one of the better ones we've seen on a smartphone, and the Night mode was surprisingly effective, bringing out more detail otherwise dark shots.
There are a few other interesting modes available, like a Selfie mode that uses the primary camera, Smart Remove that lets you remove unwanted objects, and GIF Animation to (you guessed it) create GIFs.
The camera also has several colour effects which you can apply in real time, such as Grayscale, Sepia, Pencil, Lomo, Negative and more.
Here are a few image samples. Click on the thumbnails to view them in full resolution.
ASUS has got it right with the ZenUI
The Zenfone 4 runs Android 4.3 Jelly Bean, with the custom ASUS ZenUI on top. ASUS has promised an update to KitKat, but it hasn't arrived as yet. Like we noted in our Zenfone 5 review, ZenUI is one of the nicest skins we've seen on Android. Consisting of colourful icons and several useful apps and widgets, it offers several additions to stock Android, but doesn't cause the phone to become sluggish.
The lockscreen displays shortcuts for calling, sending texts and accessing the camera, and displays the time and weather via the What's Next widget. The app drawer has a handy feature to lock apps, just in case you want to prevent that pesky aunt from browsing through your embarrassing photos. The dialer app has been completely overhauled, and features a handy call-recording option too.

The notification bar has a separate tab for quick settings, but lacks the Glove Mode and Reading Mode we saw on the Zenfone 5. Another missing feature is Easy Mode, which changes icons and text to a larger font. to make it easier for senior citizens to use the device.
There's a Power Saver mode available, with three modes to choose from. The Ultra-saving mode cuts off all network connections, Optimised mode extends the battery life but retains data, and Customised mode lets you fine tune which apps and connectivity options to keep running.
There are several pre-loaded ASUS apps, including Do It Later, SuperNote, Splendid, WebStorage, AudioWizard, PartyLink and Share Link. We've explored the features of ZenUI in detail in our Zenfone 5 review, and you can head over to this link for a more comprehensive overview.
Dependable daily driver, but a fuel guzzler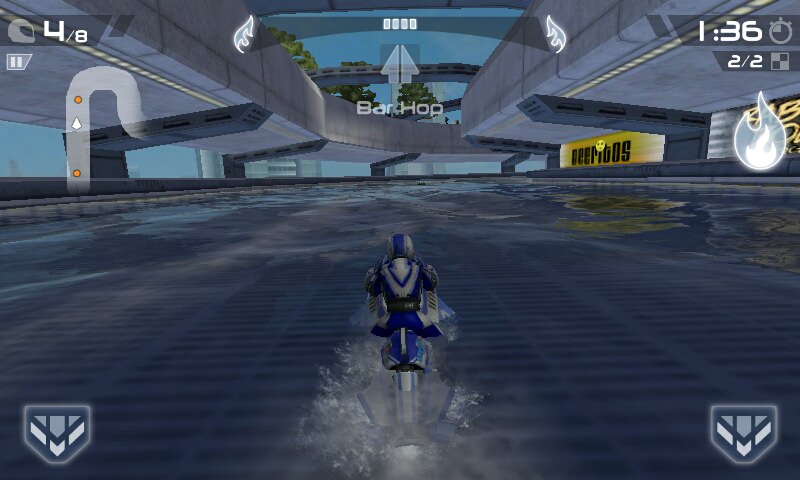 The Zenfone 4 is equipped with a dual-core Intel Atom Z2520 processor, clocked at 1.2GHz, and paired with 1GB of RAM and PowerVR SGX544MP2 graphics. The Zenfone 4 didn't freeze during our two-week testing period and was fine for daily use, but we did notice minor lags when opening apps, especially straight after waking the device. Performance was smooth otherwise, with none of the sluggish behavior we found on the Lava Iris X1 (review).
While the smaller display isn't ideal for gaming, we were pleased to find that the intensive Riptide GP2 played smoothly on the Zenfone 4.
Battery life is sadly an area where the device underperforms. The 1,600mAh unit can barely last a day with regular use, and heavy usage such as watching videos or gaming drains it much faster.

The Zenfone 4 offers a generous 8GB of internal storage, a rarity on smartphones in its price range. Out of this, about 4.47GB is available to use. The microSD card slot can increase the storage by an additional 64GB.
Call quality was loud and clear on both ends, but the proximity sensor malfunctions, and we ended up frequently putting calls on hold, inadvertently recording a call or even muting the caller, which is a major annoyance.
Verdict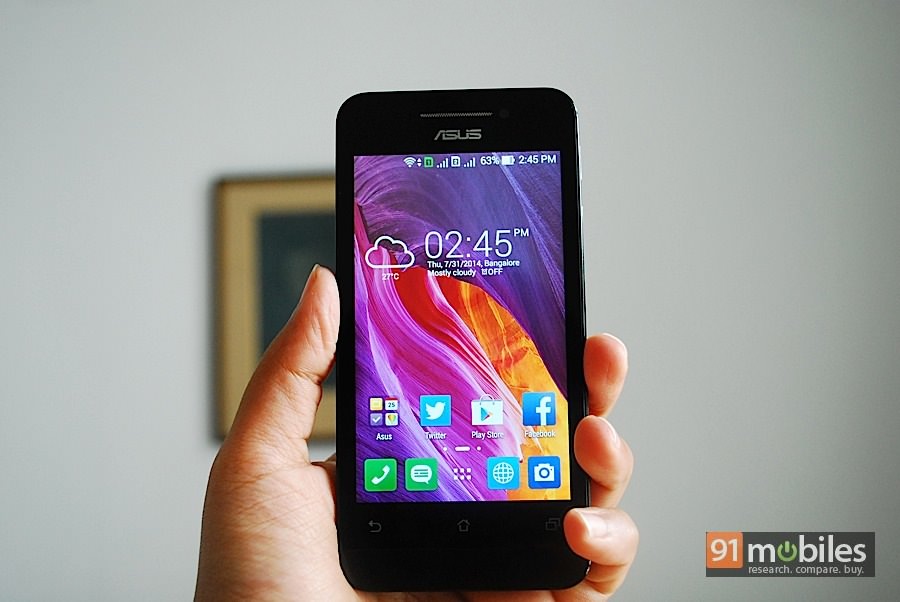 The Zenfone 4 is by no means the perfect device, but when you compare it to the competition in the same price range, its perks become obvious. Unlike most other affordable smartphones, ASUS has been generous with the internal storage on the Zenfone 4, leaving plenty of space to install apps and games. The smartphone also packs in a reliable chipset, a healthy amount of RAM, front and rear cameras, and of course a gorgeous interface courtesy ZenUI. There are areas where the device lacks of course, such as its average display resolution, lack of an ambient light sensor and poor battery life, but if you're looking for the complete package, it doesn't get any better than this. The Moto E, its closest competitor, offers better performance and battery life, but misses out with its 4GB of storage and poor camera setup. Priced at Rs 5,999, the Zenfone 4 is a true value-for-money device, and in our opinion, is one of the best budget handsets currently available. And in case you feel 4-inches is too small, you could always check out the 4.5-inch variant, which also packs in a larger 1,750mAh battery, for a marginally higher price of Rs 6,999.
Price: Rs 5,999

Editor's Rating: 8/10
Pros:
Compact build that's ideal for one-handed use
Responsive display
Dependable performance
Ample internal storage
ZenUI offers several useful features
Cons:
No ambient light sensor
Average display resolution
Poor battery
Android hardware keys aren't backlit
Video by Pratik Vyas
Competitors for Asus Zenfone 4
| | | |
| --- | --- | --- |
| Asus Zenfone 4 | vs | Motorola Moto E |
| | | |
| --- | --- | --- |
| Asus Zenfone 4 | vs | Asus Zenfone 5 |