"The Moto E has a lot to offer if you're in the market for a budget Android smartphone"
Motorola managed to surprise us, pleasantly we might add, with both its recent smartphone offerings. While the Moto G is possibly the best value-for-money device in its class, the Moto X stands out due to its unmatched voiceless control capabilities. Both smartphones sport a solid build with water-repellent nano-coating, and run near-stock versions of the latest Android platform, i.e. KitKat, and also offer some compelling software experiences such as Assist. Will Motorola be third-time lucky and manage to impress us yet again with its latest Moto E? We won't hold the surprise here – it does. But you'll have to read on to find out why.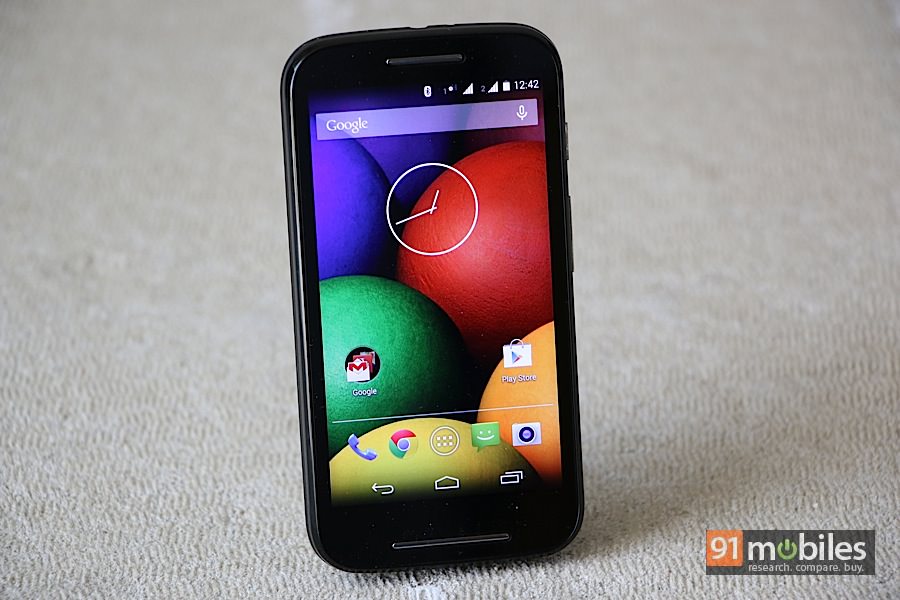 Landing squarely in the budget playground with its Rs 6,999 sticker price, the Moto E has already garnered very positive response from buyers on Flipkart, where it's been selling exclusively, like both its siblings. The online retailer sold out the initial stocks on the very first day, and has just replenished them with a fresh batch. We've also seen reports of the retailer's servers crashing, unable to handle the vast majority of potential buyers on the website. It's definitely a good situation to be in for Motorola, but does the handset live up to the hype? We intend to find out.
Bomb-proof build
If you want to make sure your smartphone purchase lasts a long time, the Moto E should be a good choice. Build quality is a vital parameter in any price range, but while most of the available options in the entry-level and mid-range try to ramp up the style quotient, they can't get rid of the plasticky feel. Not the Moto E. Granted, it doesn't look too flamboyant… at least the black unit we had for review. You can't possibly hope to turn heads with it, not unless you choose to liven it up with one of the vividly-hued back panels available as optional purchases. But even if you end up buying just the device itself, what you'll get is a solidly-built smartphone that feels reassuringly heavy in the hand. In fact, its 142 gram weight almost matches its larger sibling, the Moto G. The Moto E's water-repellant nano coating adds to the peace of mind.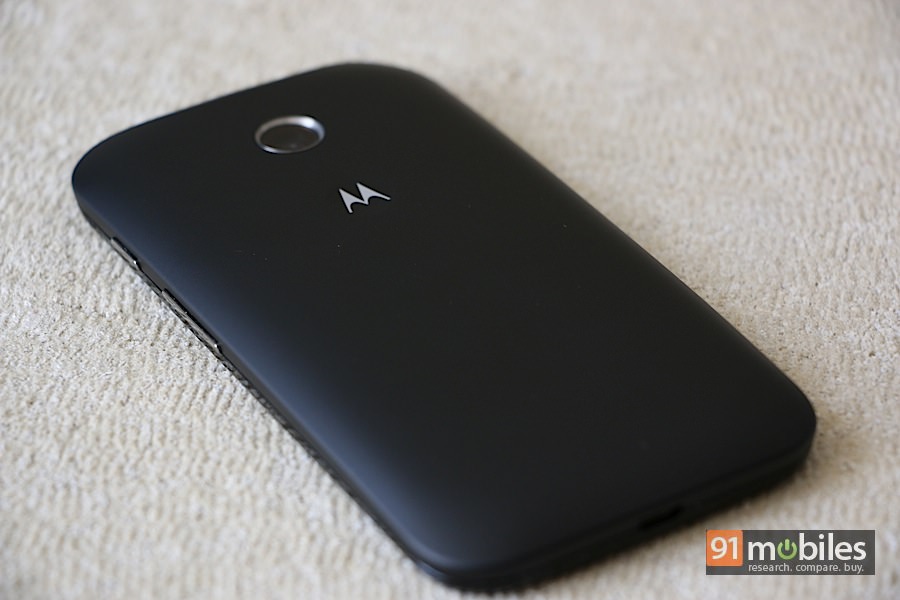 Also worth a mention is its curved rear, which, just like both its siblings, feels quite ergonomic and makes it quite comfy to hold. The matte finish on the rear of the Moto E is very prone to smudges though.
In terms of overall design and port placement, the device follows in the footsteps of its bigger brother for the most part. The headset socket and the micro-USB ports are in their rightful places, and so is the rear camera. There's no flash though, and if you're looking for a front-facing camera, don't.
The chrome-finished power key and volume rocker on the right add a touch of flair though, but not so much as the chrome strips you'll find at the top and the bottom of the screen. The one on top is the earpiece, and is flanked by a tiny notification LED on its right. The longish strip at the bottom hides the microphone and the phone speaker. Not only does the front-facing speaker add quite a bit to the otherwise plain Jane looks, it also ensures the sound doesn't get muffled and outputs loud audio too.
The back panel is removable of course (how else will you slap on one of those coloured back panels then?), but the battery isn't. Detaching the panel only gives you access to the pair of micro-SIM slots on the right, along with a microSD card slot for expanding memory.
Sharp screen but average shooter
The Moto E's 960 x 540 pixel display is one of the highlights of the device. Offering a pixel density of 256ppi, it's not exactly an eye scorcher, but at this price, it doesn't get better than this. Most of the devices in this price range offer a max of 800 x 480 pixels, though if you move up the ladder by a few thousand rupees, you can definitely get devices that offers higher-res screens. The Micromax Canvas Colours sports a 720p screen and is currently priced slightly above Rs 9,000, while you can get the full-HD Karbonn Titanium X for a little over Rs 11,000. This is still a significant difference in cost though, considering this is the budget arena… and for Rs 7,000, the Moto E still reigns supreme.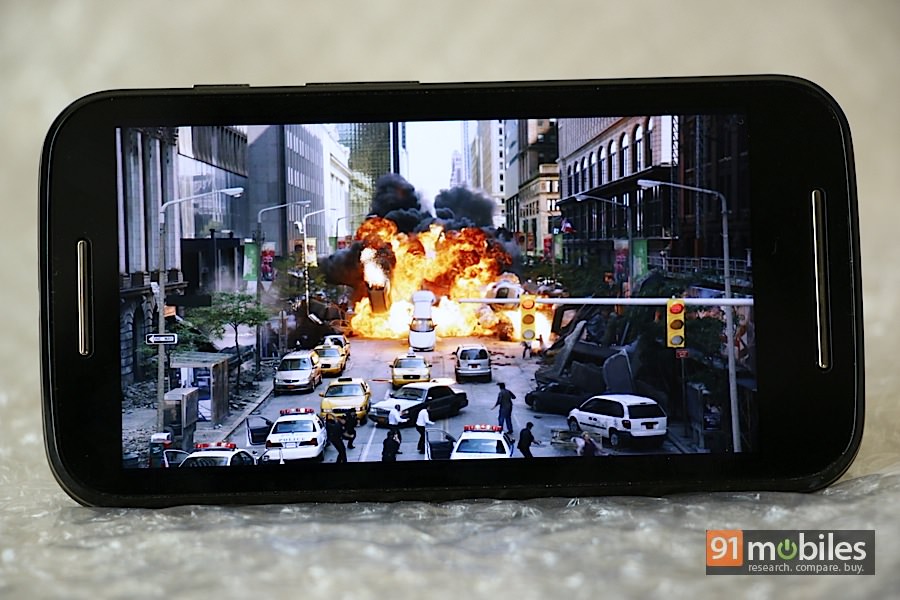 Resolution is just one side of the story. The Moto E's display is layered by Corning Gorilla Glass 3, which is unheard of in this price category. The extra protection from scratches is much welcome, not to mention the peace of mind that comes attached.
The Moto E's display throws up crisp visuals and vivid colours, though admittedly, sunlight legibility isn't one of its strong points. It's also highly responsive to touch – no complaints there.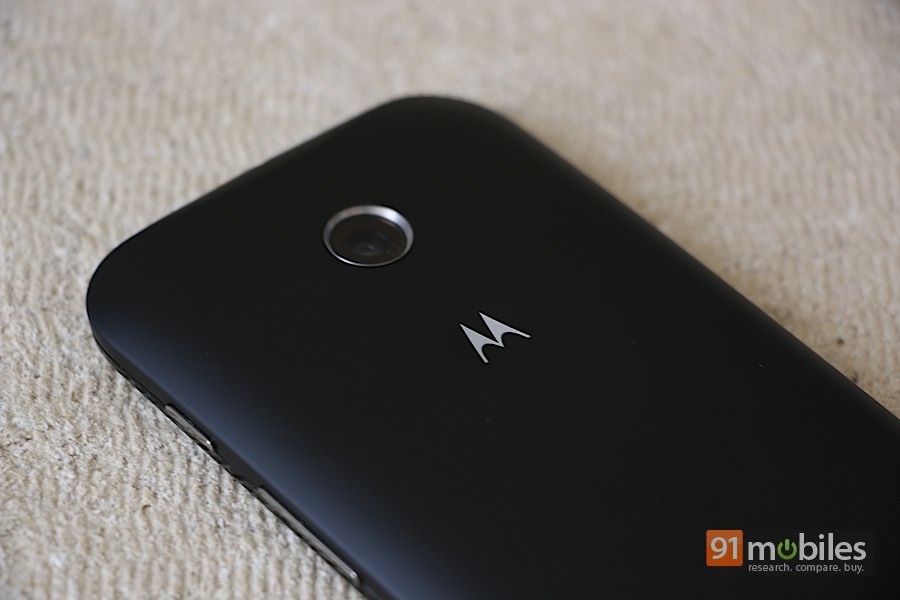 Sadly, we can't say the same nice things about its camera though. Those looking to make video calls have to look elsewhere anyway, unless they can make do by using the rear camera and holding their smartphone in front of a mirror (we could be on to something here).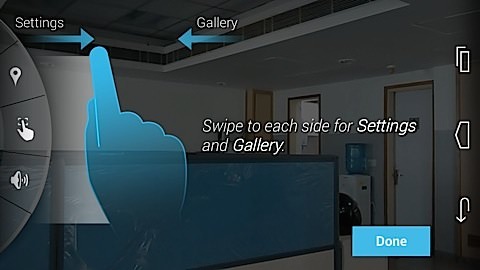 Talking about that rear camera, the one on the Moto E is a 5-megapixel affair, and doesn't support autofocus. The app is the same we saw on the Moto G, offering a very basic degree of control and tap-to-shoot functionality. You swipe right to access available settings (that pops up as a semi-circular carousel), and left to access the gallery.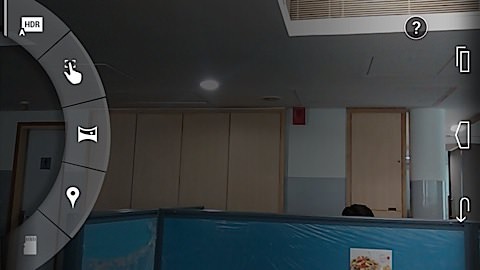 The image quality offered by the Moto E's snapper isn't anything to write home about though. You get basic images just good enough for social sharing. A little bit of patience and good ambient light helps in capturing usable images, but shooting in low light throws up noisy ones. Suffice to say that the camera is this smartphones Achilles' heel. Here's a look at some of its image samples. Clicking on the thumbnails opens up the full resolution images in new tabs.
Here Kitty
There's something inherently sweet about stock Android, but stock KitKat tastes the sweetest and that's exactly what the Moto E runs. As we've seen with Motorola's recent offerings, the company hasn't played around with the stock UI at all, so the only extras you'll find are the dual-SIM settings and a few Motorola apps.
The latter cover Motorola Migrate and Assist – both of which we've played around with earlier on the Moto G and the X. Worth mentioning again that both the apps are quite handy, especially Assist that automates device behaviour based on certain conditions when you're in meetings or in Slumberland. The Driving mode we saw on the Moto X isn't available.
Alert is a new Motorola app that makes its debut on the Moto E. It's a location-based utility that essentially offers three features – Meet Me, Emergency and Follow Me. With Meet Me, you can send a text message with your current location details to contacts, while Follow Me does the same, except at regular time intervals specified by you. Emergency is an SOS alert feature for, you guessed it… emergencies. If you trigger it, it alerts a set of pre-specified contacts that you're in need of help, and can either make an automated outgoing call, or sound a loud alarm to deter attackers. Of course, you need to add emergency contacts beforehand, and can also customise the content of the messages sent out and their recipients. Even when you add a contact to be notified in case of an emergency, he or she will received a message saying they've been added as your emergency contact.
After you trigger an emergency alert, the contacts get notified immediately but you have up to five seconds to cancel before the app dials out or sounds the alarm on its own. When you cancel, the app notifies the listed contacts informing them that you're no longer in danger or in need of assistance. While there are quite a few third-party SOS apps available on the Play Store, each with different features and functionalities, it's handy to have something like this pre-installed, especially for users of the fairer sex.
The dual-SIM functionality is quite handy too, and using its settings, you can name each of your SIMs and colour-code them in the UI. You can specify a default SIM to use for making calls and sending text messages, or set it to ask you each time. If you prefer using a specific number to call certain contacts, the Automatic SIM Selection feature remembers your choice and learns from your usage history. Also worth noting that both the SIM slots support 3G, something that isn't commonly available even on mid-range dual-SIM phones.
No powerhouse this, but turns in a smooth performance
A dual-core 1.2GHz Snapdragon processor powers the show, along with a gig of RAM. These aren't specs that boggle the mind, not by a long shot, but turn in smooth performance for the most part.
The paltry 4GB internal storage is definitely a problem though, especially since just about half of that is actually usable. While you can add a microSD card of up to 32GB for storing your media, the low internal storage does limit you in terms of installing a large number of apps or while trying to download games which are massive in size, Asphalt 8: Airborne for example. Also note that unlike both its siblings, the Moto E doesn't support USB On-the-Go, so you can't connect flash drives to the phone directly. Just so you know, we find this feature highly useful to transfer data and media without the hassle of connecting smartphone or tablets to the PC.
Connectivity-wise, things are bog-standard and apart from dual-SIM 3G, you can make use of micro-USB 2.0, Wi-Fi, Bluetooth 4.0, A-GPS, GLONASS, and Wi-Fi hotspot functionalities. Wireless display mirroring via Cast screen is available too, but you won't find the likes of NFC or DLNA in here.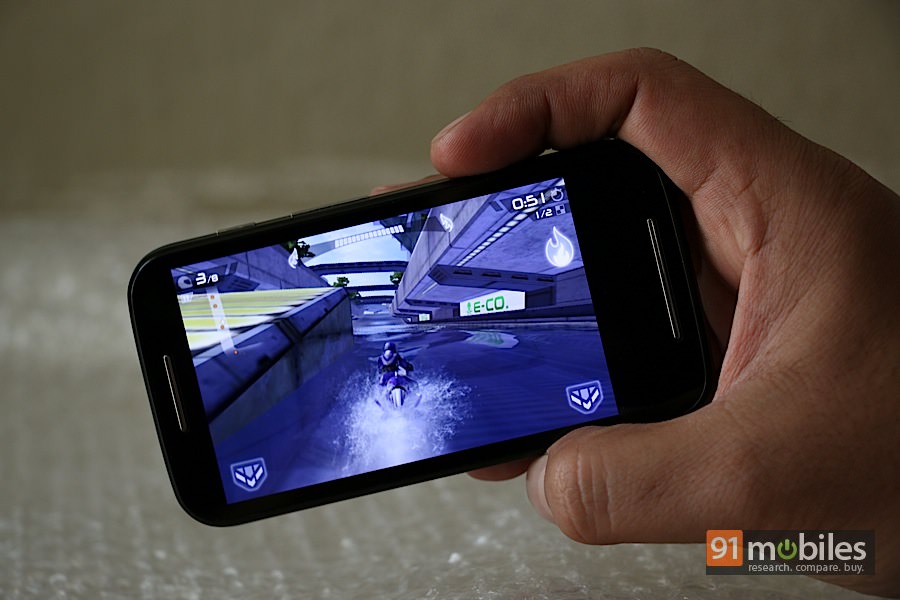 Getting into the specifics of performance, we found the Moto E to be quite smooth in day-to-day usage. Slight lag does creep up on occasion, especially while using intensive games or switching apps, but nothing that'd make us raise a red flag. Productivity-based apps, social apps and web-browsing work fine, and you won't find it lacking with respect to routine usage. Full HD videos and intensive games like Riptide GP2 are playable too, with a slight hint of jitters at times. Of course, this isn't a device made for gaming, so we won't hold this against it.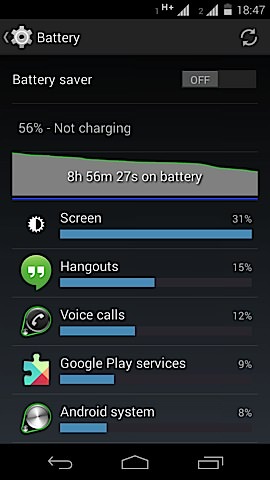 The sealed 1,980mAh battery provides enough juice to last for the entire working day with medium usage. It lasted us close to seven hours in our video test, where we play a 720p video on loop with brightness and volume set at 50 percent. Your mileage could vary depending upon usage of course, but suffice to say that the Moto E's battery life can easily be counted as another of its strong points.
Verdict
It takes a lot to stand out in the budget segment – choices are many but most of them compromise on build quality, core specs and screen resolutions, and run older versions of Android. The Moto E scores on all of these aspects, especially build and screen quality. The Gorilla Glass 3 protection is great to have at this price, but above all, it's the inclusion of Android KitKat that stands out. The promise of a speedy update to the next major platform refresh is also quite attractive. On the negative side, its fixed-focus snapper and the missing front camera don't bode too well for it.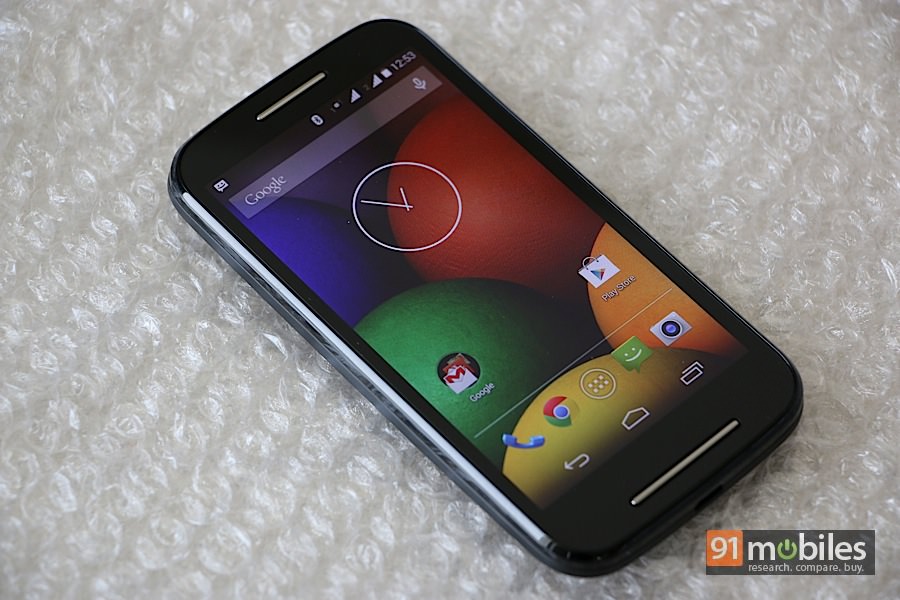 Not that the Moto E doesn't have any competition. As we found out in our review, the similarly-priced dual-SIM Lava Iris 406Q is a very worthy rival, trumping the Moto E with its quad-core Snapdragon processor and inclusion of a front camera. While it does feel a tad plasticky in comparison, runs Android Jelly Bean and sports a smaller, lower-res screen, the Iris 406Q also scores in terms of looks. Micromax's answer to the Moto E was just announced too in the form of the Unite 2, and that looks like a compelling device too, stealing the Moto's thunder by also offering KitKat out of the box. The Unite 2 also supports dual SIMs, and scores over the Moto E in terms of core specs. It sports a larger 4.7-inch (albeit lower in resolution) screen, a 1.3GHz quad-core MediaTek chip and a 5MP camera that boasts autofocus – a feature that isn't available on either the Moto E or the Lava Iris 406Q. Its price? Rs 6,999, exactly the same as the Moto E.
It goes without saying that making a choice isn't easy. The lure of higher specs at the same price could be tough to ignore, but that said, the Moto E is still a highly compelling budget device. We've already mentioned the reasons why, but the backing of a global brand and the peace of mind associated with buying something that should last a long time is also worth considering. If you're looking for a budget, no-frills dual-SIM smartphone as your daily driver or need a secondary device, the Moto E should be at the top of your list. Did we mention it has an FM radio too?
Price: Rs 6,999


Editor's rating: 8 / 10


Pros
Solid, sturdy build and ergonomic design
Water-repellant nano-coating and Gorilla Glass 3 protection
Sharp, high-res screen
Supports 3G on both slots
Android KitKat
Smooth performance
Good battery life
Cons
No front camera for video calls
Fixed-focus primary camera
Paltry internal storage
Specs at a glance
| | |
| --- | --- |
| Dimensions and weight | 124.8 x 64.8 x 12.3mm, 142 grams |
| Display | 4.3-inch |
| Display resolution | 960 x 540 pixels, 256ppi |
| Processor | Dual-core 1.2GHz Snapdragon 200 |
| RAM | 1GB |
| Primary camera | 5-megapixel |
| Secondary camera | None |
| Internal memory | 4GB |
| External memory | supports microSD cards of up to 32GB |
| Network support | Dual-SIM 3G (supported on both slots) |
| Connectivity | Wi-Fi, Bluetooth 4.0 and GPS |
| Battery | 1,980mAh Li-ion |
| Operating system | Android 4.4.2 KitKat |

Photos and video by Pratik Vyas
Competitors for Motorola Moto E
| | | |
| --- | --- | --- |
| Motorola Moto E | vs | Xiaomi Redmi 1S |
| | | |
| --- | --- | --- |
| Motorola Moto E | vs | Micromax Unite 2 A106 |