"The Gionee Elife S7 looks like a ramp model, but performs like a beast. Our review"
A quick glance at the current smartphone scene in India and you'd see it's awash with Chinese brands. Xiaomi has become a household name in just about a year's time, while Lenovo was already a known brand in the laptop space but has stepped up its game in the smartphone arena. Then there are others like OPPO, vivo and Honor, all offering quite a few compelling smartphone models. MEIZU and ZTE's nubia have jumped into the fray recently, along with others like Coolpad and Phicomm. However, not too long ago, brands and products from China were deemed to be of poor quality, and accused of using sub-standard components. That misconception was held by many of us at some point, but going by the popularity of Chinese smartphone brands now, has almost been eliminated. And if there's one brand that should be thanked for this, it's Gionee. The fact is, long before the likes of Xiaomi were cool, it was Gionee that embarked upon a quest to prove that brands that call PRC their home are second to none when it comes to innovation and quality. Gionee waged a war against the myth, and has largely been successful in its efforts. Courtesy a very aggressive marketing and promotional campaign, it has built up a name for itself India over time too.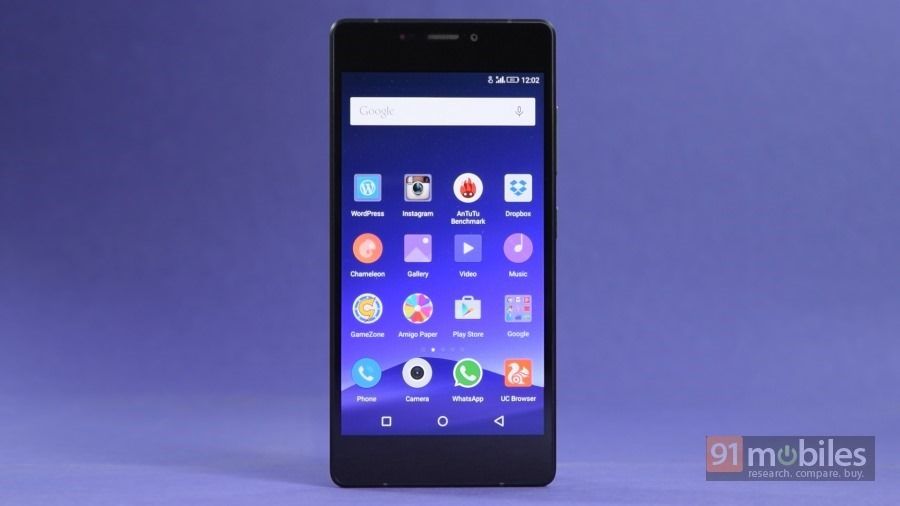 And it isn't as if its offerings aren't compelling enough. While it does have quite a few options in the budget and the mid-range, its Elife E series and S range has been grabbing headlines. The Elife E7 was one of the best VFM options with high-end specs at launch time, while the likes of the S5.5 (review) and S5.1 (review) are notable because of their super-slim waists. Its latest is the Elife S7, and we got our first look at it when it was launched at MWC. The Elife S7 is quite svelte too, and is a mere 5.5mm thick… and while that means it's not really the slimmest out there, it does bring quite a few noteworthy specs and features to the table. Before we get ahead of ourselves though, let's take a dive into its capabilities.
Specs at a glance


5.2-inch, 1,920 x 1,080 pixel Super AMOLED display (424ppi)
1.7GHz octa-core MediaTek MT6752 processor
13-megapixel primary camera, 5MP front
16GB storage (non-expandable)
USB OTG, dual-SIM, 4G, dual-band Wi-Fi 802.11 a/b/g/n, Bluetooth 4.0, A-GPS, Wi-Fi Hotspot, USB 2.0
Android Lollipop 5.0 with Amigo 3.0
2,750mAh battery
Slim, yet strong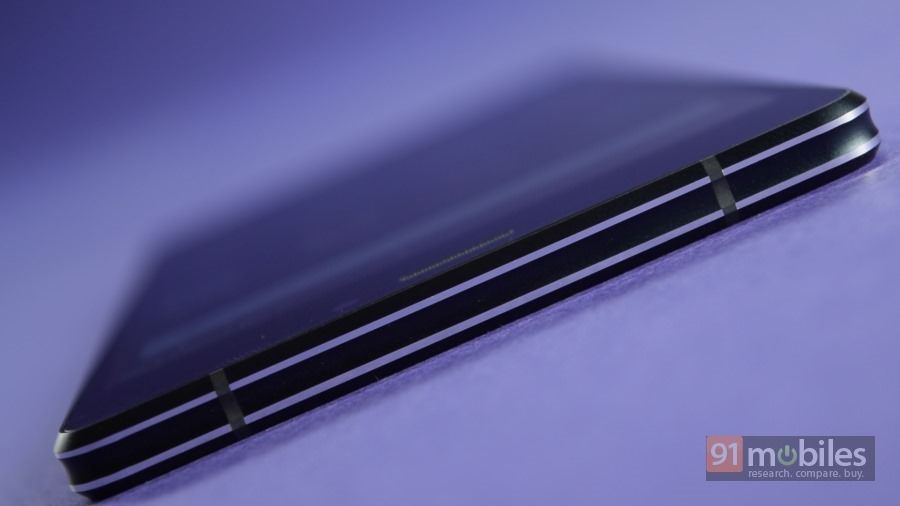 As far as the design philosophy is concerned, the Elife S7 doesn't stray too far away from its siblings, the S5.5 and S5.1. In essence, it's a slim slab with glass on both sides and metal in the middle. However, there are a couple of important differences to note. Unlike its siblings, the S7 doesn't come with capacitive navigation keys and relies on virtual keys instead. Secondly, the metal frame on the sides is made of aviation-grade aluminium magnesium alloy, and is concave for added strength. This design has been labelled as 'U-skeleton' by the brand, and it does feel quite rigid. Both the screen and the rear are layered with Gorilla Glass 3, so scratches can be kept at bay. Smudges are a different story though, and our review unit that features a piano black rear had a hard time keeping those away.
The fascia has black bezels around the display, and the usual earpiece, sensors and front camera above the screen. There's nothing on top, and the micro-USB port, primary microphone, speaker and headset socket are all crammed at the bottom.
On the left spine, there's an ejectable tray that accepts a pair of micro-SIMs, while the right holds the volume rocker and power key, both clad in metal. As you can guess by now, the battery is sealed, and there's no microSD card slot for storage expansion either.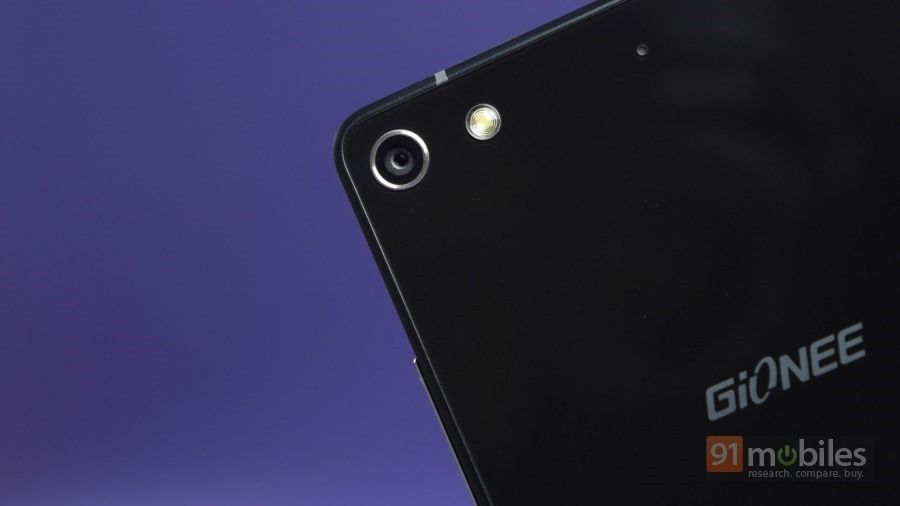 The glass rear bears a circular camera lens on top left, encircled by a chrome ring so it stands out. Despite the device's slimness though, Gionee has made sure that the lens doesn't jut out, and it sits flush with the phone's body, so the chances of it being scratched while the phone is lying flat on a table or elsewhere are minimised.
Suffice to say that the Elife S7 looks quite stylish, though we'd recommend the white variant over the black one if you really want to turn heads.
Displays mettle


A flagship-grade smartphone like the S7 can't do with a screen that offers less than full HD resolution, and that's exactly what it offers. The screen measures 5.2-inches diagonally, and boasts Super AMOLED tech – so the colours are vivid and the visuals are very crisp. Right from web browsing to media and gaming, the lovely screen just takes everything to a new level. It's quite responsive to touch too.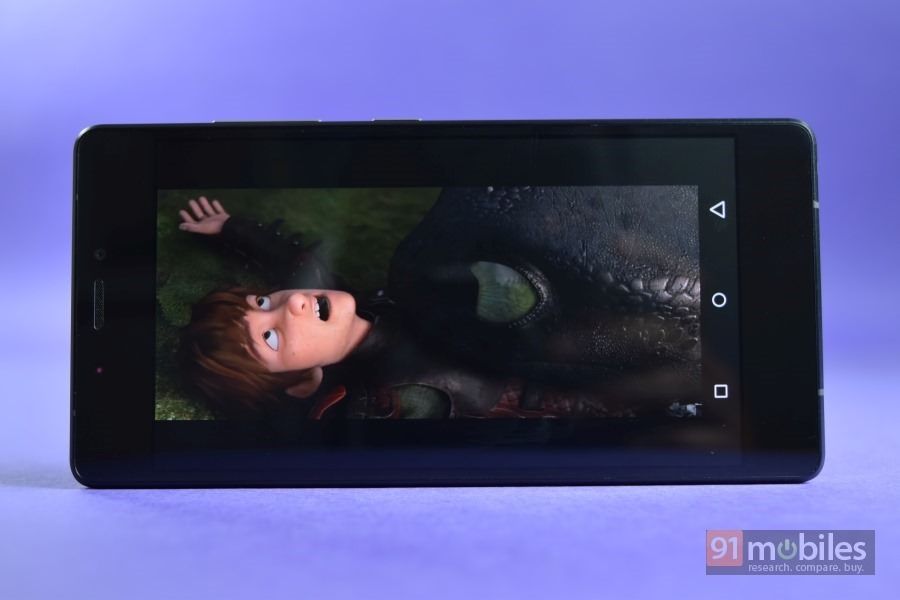 A glove mode is hidden deep under accessibility settings, and enabling it boosts touch sensitivity so you can use the phone with gloves on. If you wish, you can enable double-tap-to-wake for added convenience. The brightness levels are ample, so sunlight legibility isn't too much of an issue… and we don't have any complaints regarding the viewing angles too. There's also an option to set the colour tone and choose between neutral, cool, or warm colours as per your preferences.
Hey there Amigo


Like most smartphone brands from China, Gionee's handsets run a custom build of Android. It's dubbed Amigo OS, and the Elife S7 is the first one to get the latest version (3.0) that uses Android Lollipop as its base. Amigo has improved by leaps and bounds since the first time we saw it, but some of the basic attributes remain the same.
For instance, you won't see a separate app drawer, and all apps and widgets are available right on the homescreens. Of course, you can categorise your apps into custom folders, and Gionee preloads quite a few apps and utilities. These include the likes of WhatsApp, UC Browser, WPS Office, Yahoo! Cricket, Saavn, and a bunch of trial games. TouchPal X handles text input.
The notification panel forgoes the usual quick settings, and displays only the notifications. However, there's a new UI element in the form of an iOS-like Control Center that slides out from the bottom with an upward swipe. The panel sports customisable quick settings and also provides quick access to a bunch of utilities including the flashlight, calculator, camera and a FakeCall feature that helps you escape boring meetings or sticky situations. While the Control Center seems like a useful addition, it's actually problematic to use, since the virtual Android navigation keys keep getting in the way when one tries to swipe upwards from the bottom of the screen, resulting in some inadvertent actions.
While Amigo doesn't come with a full-fledged theme store, there's a Theme Park app that comes with a bunch of built-in themes you can apply. You can't download more though. You can however, use a preloaded app dubbed Chameleon to generate new colour schemes based on the hues visible through the camera viewfinder. You can, for instance, use it to create a colour theme based on the shades you're wearing.
Other customisation options include changing the system font and the ability to change the sequence of the virtual navigation keys. The latter is quite handy, and we've seen it earlier on Cyanogen OS-running devices like the OnePlus One and the YU Yureka (review) too.
Yet another useful addition is the comprehensive System Manager, which integrates a suite of useful tools similar to the Security suite found on MIUI. Amigo's System Manager offers a cache cleaner, an app manager, a data traffic monitor and a power manager that also lets you choose an Extreme Mode for prolonging battery life. There's an option labelled Pure in the System Manager as well, and this lets you choose apps that will be allowed to run when the phone is on standby, again with the objective of enhancing the battery life.
Then there's the extensive gesture support. Apart from double-tap-to-wake, you get features like Smart dial and Smart answer (bringing the phone to your ear to dial displayed contacts or receive incoming calls automatically), and Smart vibration remind that makes the device vibrate if you have notifications waiting as you pick it up from a table. The Smart bright screen feature is similar to Samsung's Smart Stay, not letting the screen dim till the time the front camera can detect your eyes peering at the screen. You can also draw letters on the screen when the device is on standby to launch specified apps directly, and these can be customised as per your preferences.
Not just that, you can even control a few aspects without even touching the device. For example, you can set it to unlock by just waving your palm above the front camera. The same action can also let you navigate home screens, pictures in the gallery, control video playback and adjust volume.
Overall, we think that the latest version of Amigo has a lot to offer, though we did find instances where the interface could do with some copy editing and grammar correction.
Shooting from the hip


The Elife S7 sports a 13-megapixel shooter at the rear, and a very respectable 8MP snapper at front. The camera app comes with a simple, no-fuss interface, and includes a variety of colour filters and modes covering the likes of HDR, panorama, night, and face beauty. There's a so-called professional mode that lets you tweak settings such as ISO and white balance, while the Magic Focus mode offers background refocussing capabilities. The available capture modes include gesture shot and touch-to-shoot as well.
The image quality is pretty good, with ample detail and good colour reproduction. Close ups and HDR shots turn out well, especially if the ambient light is good. Low-light shooting can be a bit of a hit and miss, but can still generate some usable shots. Do take a look at the camera review for more details, and here are a few more sample shots for your reference.
Runs fast, runs hot


The marriage of the 1.7GHz octa-core MediaTek processor and 2GB of RAM results in smooth operation, with nary a hiccup during usage. Amigo runs like a hot knife through butter, and we didn't face any issues with either navigation or running productivity-based apps.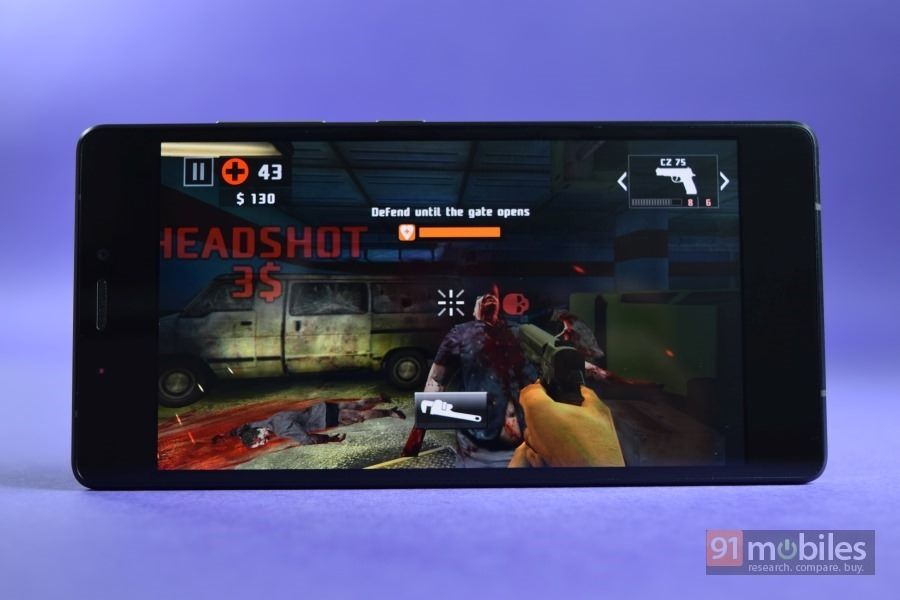 Multitasking is quite smooth too, and even intensive games like Asphalt 8 and Dead Trigger 2 play well, with no laps or jitter. The only niggle is that the device does tend to heat up after a few minutes when stressed, and uncomfortably so if you're outdoors in the sun.
Another gripe we have is with the fixed internal storage. Out of the 16GB on offer, you get about 10GB to use, but with no option to add more, you'll have to be selective about the apps, games and media content you store on the device. The USB OTG functionality can be handy in a crunch. Apart from dual-SIM support, the Elife S7 comes with support for 4G LTE, plus the usual stuff such as Wi-Fi, Bluetooth and A-GPS.
The sealed 2,750mAh battery is also a performer, and in our usage, easily lasted full working day with moderate usage. It just might need a top-up charge by evening if your usage is heavy and you use battery-consuming features like GPS navigation or gaming, but it did give us a solid 11 hours plus in our battery drain test – a very respectable result.
Verdict


Launched with a sticker price of Rs 24,999, the Gionee Elife S7 can be now found selling online for around Rs 22,500, and sits in a tough spot. At that price, it competes with some very compelling options like the OnePlus One (review), the Xiaomi Mi 4 (review) and the top-end model of the ASUS ZenFone 2 (review), all of which come with better specs. Still, the Elife S7 can't be ignored for the capabilities it brings to the table, such as its lovely screen, decent performance and good battery life. The cameras are pretty capable too, while the range of gestures available can out many others to shame. Above all however, it ranks high on the style factor thanks to its super-slim, yet solid build.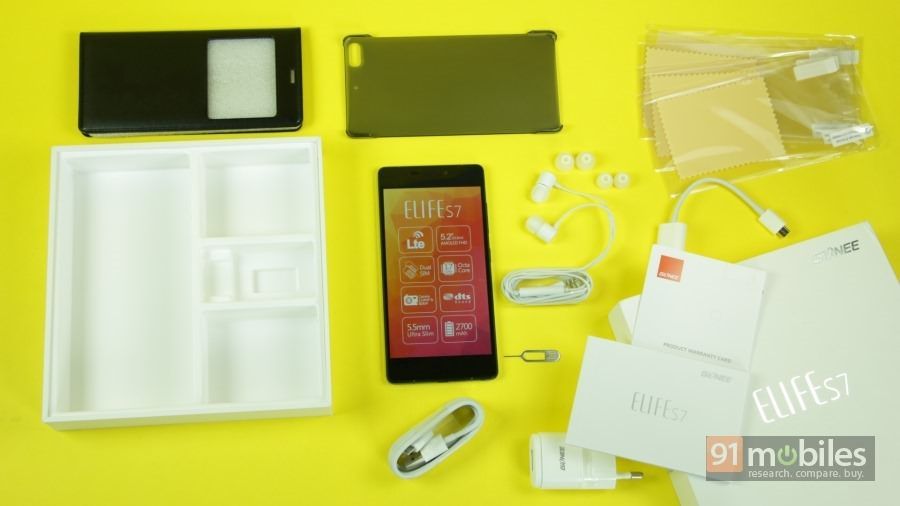 We also appreciate the fact that Gionee bundles almost everything you'd need to get started in the box, including two different types of cases, screen protectors, and even a USB OTG adapter. The Gionee Elife S7 isn't really a purchase you can make with your eyes closed, but if you can do with the fixed storage, it can be a worthy buy for those who'd want to make a style statement.
Price: Rs 24,999
Rating: 7 / 10
Pros
Stylish looks
Slim, yet solid
Smooth performance
Capable pair of cameras
Feature-rich Amigo OS
Good battery life
Cons
Heats up when stressed
Fixed internal storage
Photos by Raj Rout
Competitors for Gionee Elife S7
| | | |
| --- | --- | --- |
| Gionee Elife S7 | vs | HTC Mobiles Desire 826 |
| | | |
| --- | --- | --- |
| Gionee Elife S7 | vs | Asus Zenfone 2 |