Highlights
You can cancel Amazon Prime membership or orders at any time with just a few clicks
You may receive a partial or full refund, depending on how you've used the Prime membership
Amazon orders, once delivered, cannot be cancelled
Looking for ways to cancel Amazon Prime membership or an Amazon order you may have placed accidentally? Here's how you can do it. The steps are pretty simple and straightforward, and if performed timely can help you save some money. Amazon offers a full/ partial refund of the Amazon Prime membership's subscription cost, depending on how you've used it. Amazon Prime membership in India, to recall, is available with two plans: monthly and yearly. The monthly plan is priced at Rs 129, while the yearly plan of Amazon Prime membership costs Rs 999. Let's cut to the chase and take a look at how to cancel Amazon Prime membership or order.
Amazon offers a 30-day trial period of Prime membership to new users. The free trial members enjoy all the same delivery, shopping, Prime Video, music, and games, among other benefits as the paid members. While you won't be charged for your free trial, you will be automatically upgraded to a paid membership plan at the end of the trial period. Cancel your Amazon Prime membership within 30 days if you don't want to pay Rs 129 for the monthly subscription or Rs 999 for the annual subscription.
What happens after 30 days free trial of Amazon Prime?
After the 30 days free trial of Amazon Prime, the membership fee will start deducting from your account automatically. If it's a monthly subscription, the amount will be debited after every month. The same is the case for yearly. This will continue until you cancel the Amazon Prime membership. If you're wondering, how to cancel the Amazon Prime membership, follow the steps below.
How to cancel Amazon Prime membership on desktop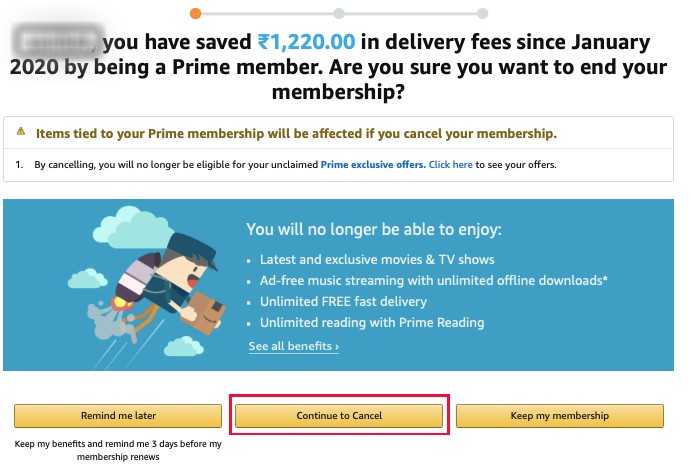 To cancel Amazon Prime membership, go to Amazon.in and login with your credential
Next, navigate to the top right corner of the page and hover over 'Account & lists'
Select 'Your Prime membership' from the dropdown menu. The following screen will show your membership info, including payment history, validity, and an option to end your membership on the left side of the page

Look for the 'End Membership and Benefits' (free trial users will get the 'Do not continue' option) click on it. You'll be directed to a new page where Amazon will remind you of all the benefits you'll be missing out on should you decide to go through with the cancellation

If you still want to cancel Amazon Prime membership, scroll to the bottom and select 'I Do Note Want My Benefits'
After a couple of follow-up questions that appear on the screen, click 'Continue to Cancel' then 'Cancel Membership' to put an end to your Amazon Prime account

Free trial users will receive

the benefits until the final – i.e. 30th – day


Of course, you can continue your Prime membership if you later change your mind. Select

'Continue membership' in 'Your Account' to renew the Amazon Prime services.
How to cancel Amazon Prime membership on smartphone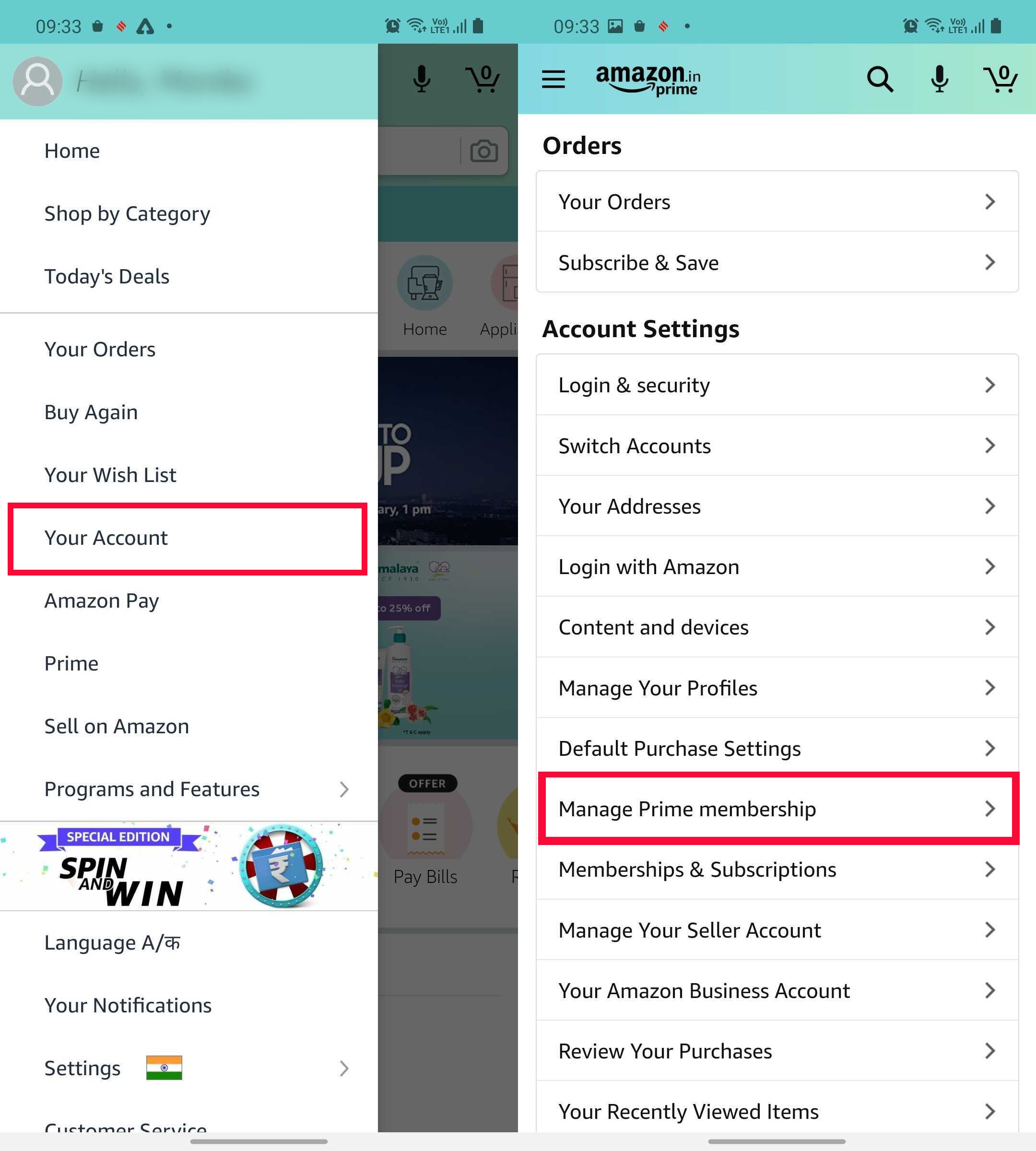 Smartphone users can jump to Amazon's app –> tap on the hamburger sign at the top left corner –> and select 'Your Account'.
Look for 'Manage Prime Membership' and select '

End Membership and Benefits'

to put an end to the Amazon Prime membership renewal
Refund on cancelled Amazon Prime subscription
Amazon says customers who have paid for a Prime membership but have never used their benefits are eligible for a full refund. Those who have used the benefits are eligible for a partial refund based on the time remaining in their membership and their use of said benefits. This doesn't apply to Amazon Prime subscription purchased through outside companies such as Jio and Airtel. The e-commerce platform advises you to contact it directly to manage your membership.
How to cancel Amazon orders
To cancel Amazon orders, follow the steps below:
Login to your Amazon account and go to 'Your Account'
Select 'Your Orders' and look for the order you want to cancel

You'll see an option to the right of the item that says 'Cancel items'

Tap/ Click on it and select the reason for your cancellation and hit the 'Cancel' button
That's it, your Amazon order is cancelled.
You'll receive a cancellation message via registered email or phone number
The amount you may have paid for the order will be credited to your account. This happens
within an hour or so, though the time varies depending on whether you've purchased items sold by Amazon themselves or via
a third-party seller.