"The LG G3 is a heavyweight that shines in the super-premium category"
The smartphone bazaar in India has been seeing cutthroat rivalry between brands and devices for as long as we remember, but in the last few months, this sector has undergone a sea change. Not only are there tons of compelling options across different price bands, the budget and mid-range segments now boast some sweet devices that hardly need you to make compromises in terms of aspects like build, performance or software versions. This wasn't the case earlier. The rise of this so-called budget performance category has just started though, and there's lots more coming – smartphones based on Android One, Firefox OS and Jolla's Sailfish will lower the entry barriers even further. What this also means is that brands offering premium smartphones need to present highly compelling reasons why one should spend those extra thousands. Landing right in the middle of all this tumultuousness is LG's G3, one of the most loaded smartphones we've seen yet.
Unveiled and promoted by Bollywood superstar Amitabh Bachchan, there's no doubt that the LG G3 (first impressions | FAQs) is in a league of its own. The G3 is being touted as 'A Legend by a Legend', and while we have no doubts at all regarding the Big B's mettle, we sure want to find out if the smartphone has what it takes to match up and whether it deserves to be standing on the same pedestal as the legendary actor. Take a look at our G3 review in pics, and read on for the full lowdown.
Specs at a glance
5.5-inch, 2,560 x 1,440 display (~534ppi)
13MP primary camera, 2.1MP front shooter
2.5GHz quad-core Qualcomm 801 processor
2 / 3GB RAM, 16 / 32GB internal storage, expandable by 128GB
3,000mAh battery
4G (including Indian band), 3G, dual-band Wi-Fi ac, Bluetooth 4.0, A-GPS, DLNA, Wi-Fi Direct, NFC, Infrared, USB OTG
Android 4.4 KitKat
Wireless charging

The design has all the makings of a blockbuster


If movies are mostly about entertainment, entertainment and entertainment, premium smartphones are a lot about looks. As frivolous as that might sound, who would want to spend oodles of dough to buy a high-end smartphone that doesn't look distinctive? Thankfully, the G3 scores very high on this count.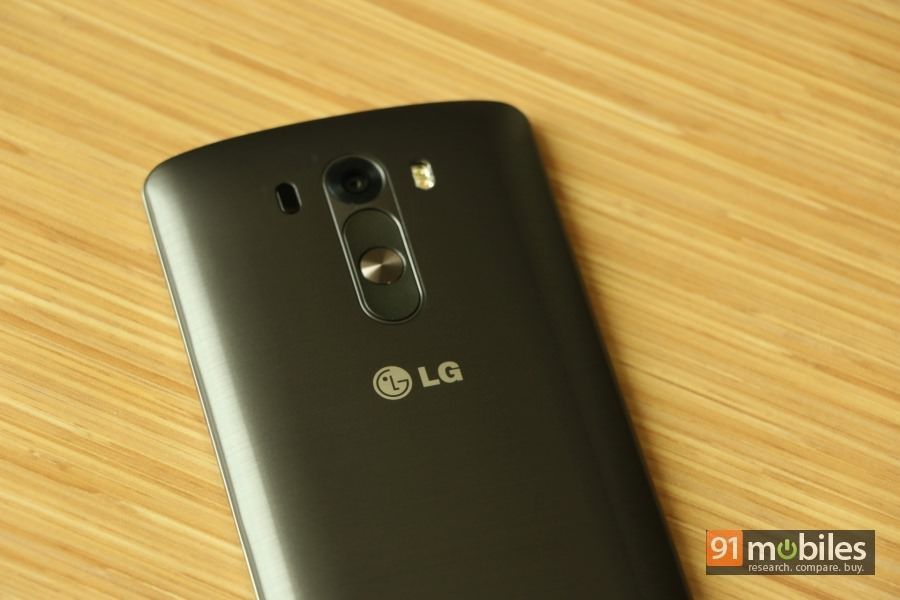 While it doesn't sport an all-metal body like the HTC One M8 (review), its curvy rear boasts a brushed metal finish and more importantly, doesn't feel plasticky. Those curves add to the ergonomics too. And while we're not huge fans, LG stubbornly refuses to put the kibosh on placing the hardware controls on the rear, just like the G2 and the G Pro 2 before it. LG's theory is that the user's index finger should fall directly on these buttons when the device is held with a single hand in the most natural way, but in reality, we couldn't get used to it during our 10-day review period. On the other hand, since the G3 supports not only double-tap-tap-to-wake, but also double-tap-to-sleep, we barely needed to access the power key. Capturing screenshots was a pain in the posterior though.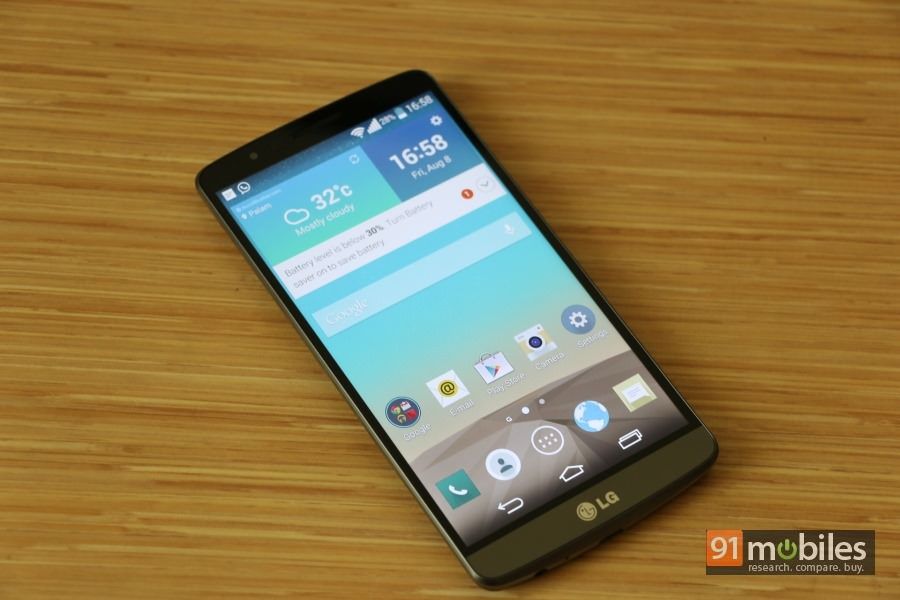 All said and done, the aforementioned rear placement of physical controls does help in another way, and this is something that adds to the G3's sheen by leaps and bounds. Thanks to this implementation, the designers have managed to shave off precious millimeters from the bezels, making them almost non-existent. This reduces the overall dimensions by quite a bit, making the 5.5-inch LG G3, which is technically a phablet, no bigger than a regular 5-inch smartphone. Combine this manageable size with those sexy curves and the scrumptious-looking metal finish, and you have in your hands a smartphone that looks absolutely divine.
As far as the specifics of the design are concerned, the front is almost all screen, apart from the tiny chin carrying LG branding, and the usual earpiece, sensors and front camera on top. There are no Android navigation keys, since they're implemented as part of the software. The top is home to the secondary microphone and an IR blaster, while the headset socket and micro-USB port have been placed at the bottom.
Turn it around, and you'll be greeted by the curved metal-finished back, with the 13-meg primary camera occupying place of pride in the middle. This is flanked by a dual-LED flash and a large sensor that fires laser beams to help focus, with the volume controls and a circular power key placed below.
Unlike most premium smartphones these days, the rear panel on the G3 is removable, and gives access to the user-replaceable battery, plus a pair of stacked slots that gobble up a micro-SIM and a microSD card.
A compelling screenplay


One of key mainstays of the G3 is its 5.5-inch display that boasts a 2K resolution. In fact, this smartphone is only the second in the country to rock this eye-scorching resolution, the first being the Oppo Find 7 (review).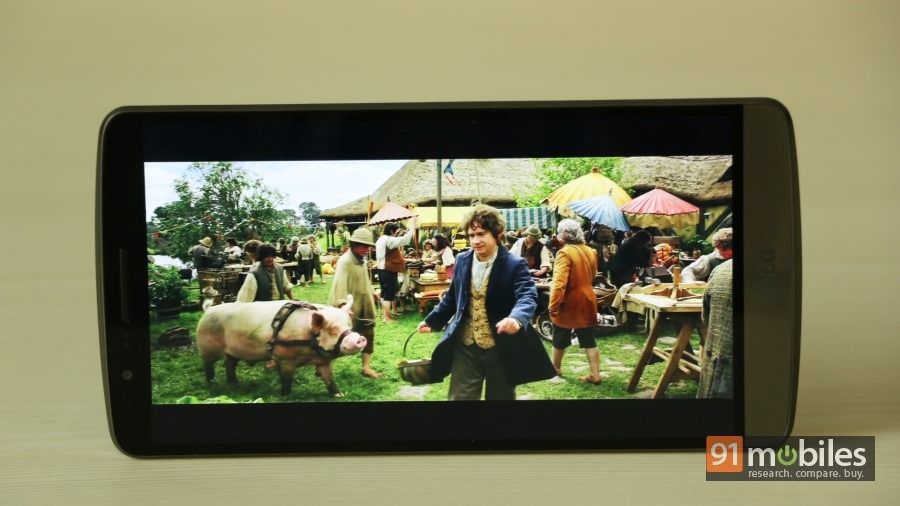 Undoubtedly, the G3's screen is one of the sharpest and most vibrant we've seen, with everything from text, icons and media viewing looking superb. That said, benefits of a smartphone display with that resolution aren't immediately apparent, not unless you compare it side-by-side with another device sporting a lower resolution screen. Moreover, not all apps and games are optimised for such high resolutions, making some of them run in a windowed screen. These gripes aside, the G3's screen is most certainly an asset, and makes sure that using the device is a pleasure. We have no complaints regarding viewing angles or sunlight legibility either, so the G3 shouldn't let you down whilst using it outdoors or as a shared media player either.
Lights, camera, action!


The shooter has always been one of the areas where brands like to cram in tons of wizardry and innovation to help make their offerings stand out from the rest of the crowd. And the G3 is no different. While it sticks to a mundane 13-megapixel resolution, its headline-grabbing feature is the fact that it uses laser beams to focus, making its autofocus speeds the fastest in the business. Based on our testing, it's certainly one of the fastest we've experienced, with the Samsung Galaxy S5 (review) being one of the few that can match up. The zippy autofocus speeds mean you can lock on to the subject in a jiffy, and can capture those special moments without getting blurry shots in the process.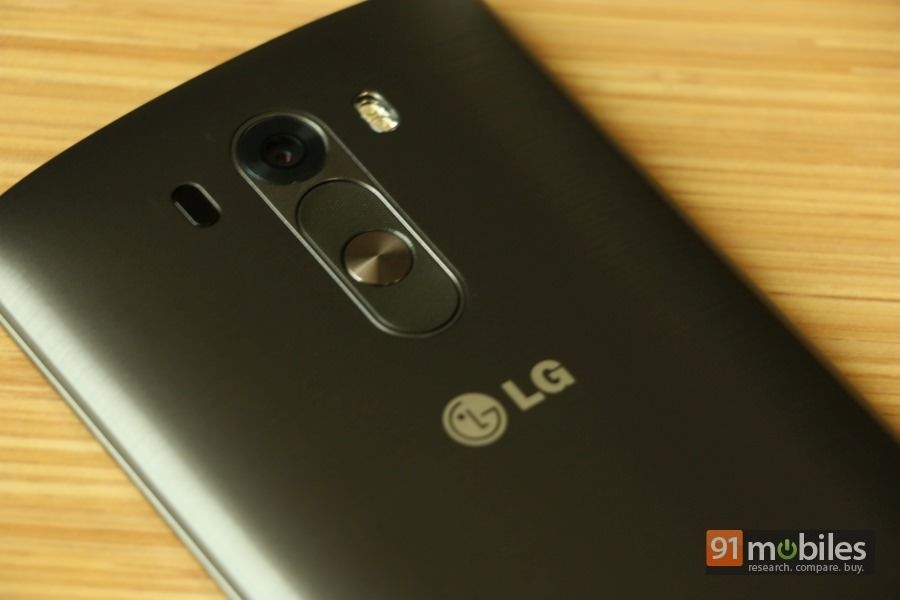 The G3's shooter also uses an enhanced form of optical image stabilisation to eliminate blur while capturing moving subjects, and as is apt for a device of its class, can also shoot videos in 4K. There's also a voice-activated shutter, triggered by uttering words like 'LG', 'cheese', 'kimchi' etc, and as something fans of the Big B, an actor known for his drunken scenes, might appreciate, saying 'whiskey' also works. Yet another handy feature is the ability to shoot selfies via the front camera using gestures. To do this, just raise your hand when the front camera is activated, raise your hand till it's recognised and then clench your fist to start a 3-second timer. Nifty!
The camera app covers most modes we're accustomed to seeing, including background defocus, burst, HDR and panorama. However, those looking for creative control might be in for a rude shock, since there's no way to control settings like ISO, white balance, exposure etc manually. We can't really treat this omission as a huge deal killer though, since most of us tend to use the default auto mode for the most part, and in any case, there are quite a few camera apps on the Play Store that should be able to match your requirements if you're looking for a specific feature.
When it comes to image quality, it's clear that the LG G3's camera is very impressive in daylight, and it's hard to find fault with it. There's tons of detail, and the colours captured are crisp and accurate. The same goes for close-up shots too. The G3 can also capture pretty decent shots in low light, and thanks to the dual-LED true tone flash, subjects up close shot in low light don't get burnt out with a flood of light. HDR isn't really its strong point though. Overall, we can't say it's the best we've seen, but the G3's primary snapper should please most casual photogs. Our LG G3 camera review has some more details, and you can also take a look at a few more full-resolution camera samples below.
The software plays the protagonist


As we've reiterated time and again, hardware is only one side of the story. When you buy a new smartphone or tablet, you're investing your money into the platform too, and it's capabilities define what exactly what you can accomplish with your new gadget. The G3 uses Android KitKat as the underlying platform, and there's not an inkling of a doubt in our minds regarding its prowess, capabilities or ecosystem. It's what LG has done with it that interests us. The G3 uses a custom skin that's not as overwhelming as some of the others we've seen, and maintains a clean, flat look. LG's added quite a few things of its own though, and starting from the lock screen to the settings, you'd hardly find anything resembling stock Android.
We mentioned earlier that the double-tap-to wake and sleep feature helps negate some of the usability issues that arise due to the power key being placed on the rear, but the G3 also supports Knock Code, which lets you define a personalised knock pattern on the screen to gain access to the device. It works pretty well too. The lockscreen also offers access to apps like the dialler and camera. Moving on to the home screens, there's the regular fare of widgets and shortcuts, except for the leftmost home screen merely tagged 'G'. In a way, this is similar to how HTC has implemented its Blinkfeed news aggregator, but in LG's case, this dedicated home screen only gives you access to the LG Health app and Smart Tips that provides guides on various functions.
LG Health is the brand's answer to Samsung's S Health, and monitors physical activity such as number of steps walked and calories burnt. To get started with it, you need to fill in personal details such as gender, height and weight, and you can also enable GPS to let it track accurate location data and capture specific activities like running or cycling.
Smart Notice is one of the features LG's been highlighting, and it's basically a smart personal assistant that keeps throwing up prompts based on time, location and smartphone state. It boasts natural language capabilities too, so it can remind you to carry your umbrella if rain is expected. Among other things, it can also remind you to turn the battery saver function on if your G3 battery drops below a certain level. We found it unobtrusive yet useful, though we don't really think it's a huge deal.
The notifications shade and quick settings panel has been heavily tweaked, giving you access to various toggles and settings such as brightness. Handily, you also get a volume slider that controls the ringer normally but changes to media volume when you're playing music or videos. The app drawer is fairly standard and divided into apps and widgets. You can choose to hide certain apps or uninstall the ones you want to put the kibosh to directly from here.
The device settings have also been segmented into categories, and you'll see tabs labelled Networks, Sound, Display and General. You can change the view to a list-based one if you wish. There's a lot of emphasis on customisability, and there's very little you can't change about the LG G3's interface. From theme support to letting you change system fonts and the screen of effect, you can tweak the UI as per your liking.
You can not only the strength for the vibration alerts, but also choose the type of vibrations – long, rapid, short etc.
The keyboard can be themed too, but more importantly, allows you to customise other aspects such as its height and even button placement.
Another very handy customisability aspect is the fact that you can choose the placement and the exact navigation buttons you need at the bottom. We're referring to the standard Android keys for back, home and recent apps which are available as software overlays. You can drag them around and place them in the sequence you desire, and also add other buttons such as notifications, QuickMemo+, QSlide and Dual Window, with the total number limited to five.
Speaking of Dual Window, this feature is there too, and just like Samsung's Multi Window, allows you to run two apps simultaneously. The number of apps that support this is rather limited though.
Other features of note include a one-handed mode that docks the dial keypad, the keyboard and the PIN input window on the lock screen to one side of the screen. A guest mode allows you to protect private data from prying eyes whilst sharing your device with others, while there's a separate simple launcher meant for newbies, the elderly and others who'd like to keep things as simple as possible. There's support for gestures and motions as well, including letting you answer calls by raising the smartphone to your ear.
The preloaded apps include the McAfee Security suite, QuickMemo+ note-taking app, Thinkfree Viewer and Quick Remote that works with the IR blaster on top to function as a universal remote. Apart from the usual televisions and set-top boxes, the latter also allows you to add other remote controller such as those for air conditioners. It worked well in our testing, but adding other remotes could be a hit and miss affair.
The software package on the G3 is a loaded one for sure, and packs in enough to please most. We especially love the extent of customisability possible, which focusses more on improving usability rather than mere cosmetics.
Mesmerising performances by the lead stars


The G3 utilises the services of accomplished stars guaranteed to deliver commendable performance. The top-of-the-line Snapdragon 801 quad-core chip clocked at 2.5GHz plays a key role, supported by an Adreno 330 GPU and 2GB of RAM. 16GB of internal storage is on offer, and you can add up to 128GB more via microSD, or use the USB OTG feature to connect external flash drives. There's another variant of the G3 that offers 32GB internal storage and 3GB of RAM too, and hopefully, should offer even better performance than our review unit that toted 2GB of RAM.
Not that the lower-end model is a wimp – it took everything in its stride, and handled multitasking and intensive gaming with ease. Inexplicably though, we noticed a slight bit of lag while traversing different screens, navigating menus and even while inputting text. It's not something that could break the deal, but is still worth a mention because of the kind of specs the G3 boasts. We'd be quite keen to find out if the variant with 3GB RAM also displays the same tardiness, but judging by the way how fast things fly overall, it could be just a minor quibble.
When it comes to connectivity, the G3 goes the whole hog and covers everything you might need. Keeping things future-proof, it includes support for the Indian 4G band, though sadly, we couldn't try this for ourselves. You also get support for dual-band Wi-Fi (including the ac standard), DLNA, NFC, Miracast, Wi-Fi Direct, A-GPS, GLONASS, and TV-out via the micro-USB port that offers SlimPort functionality.
The 3,000mAh battery keeps the show running for a full day with ease, but your mileage could vary significantly depending upon your specific usage patterns. The G3's battery barely dips when on standby, and holds on the charge even when connected to Wi-Fi through the day. It drains faster when connected to 3G data though, and that 2K screen needs a lot of juice. So if you keep it connected to 3G throughout, and indulge in some intermittent media viewing or gaming, you probably won't see it last the day.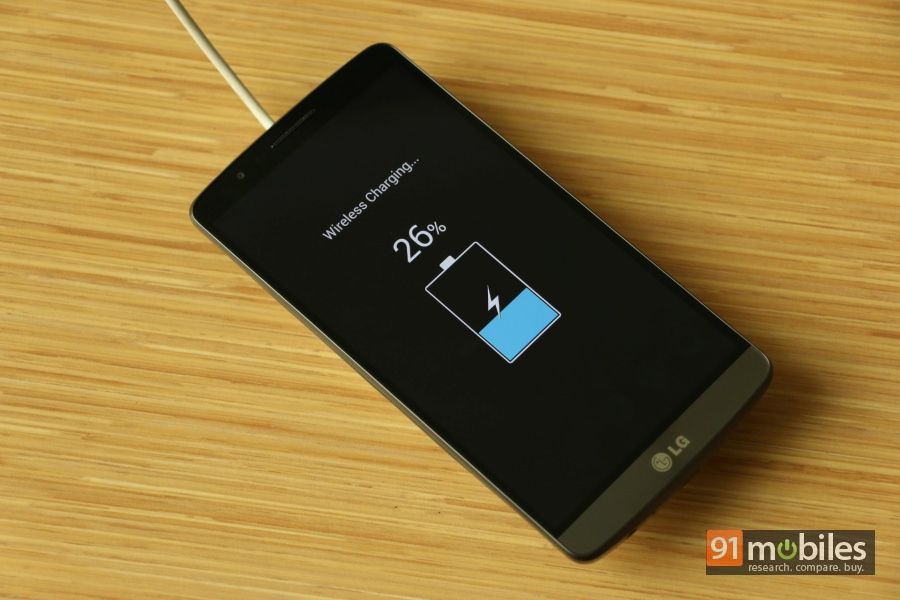 The G3 lasted a little over seven and a half hours in our video loop test that involves playing a 720p video with the phone connected to the cellular network, the data switched off, and both brightness and volume set at 50 percent. On a secondary note, the device supports wireless charging too, and this worked flawlessly when we tried it with a Nokia wireless charger.
The Box Office's verdict


Super-premium handsets like the Samsung Galaxy S5, the HTC One M8 and the Sony Xperia Z2 (review) were already old news by the time the LG G3 landed, and being the most recent contender, LG's offering does gain an upper hand hand due to its specs and features that look more loaded, at least on paper.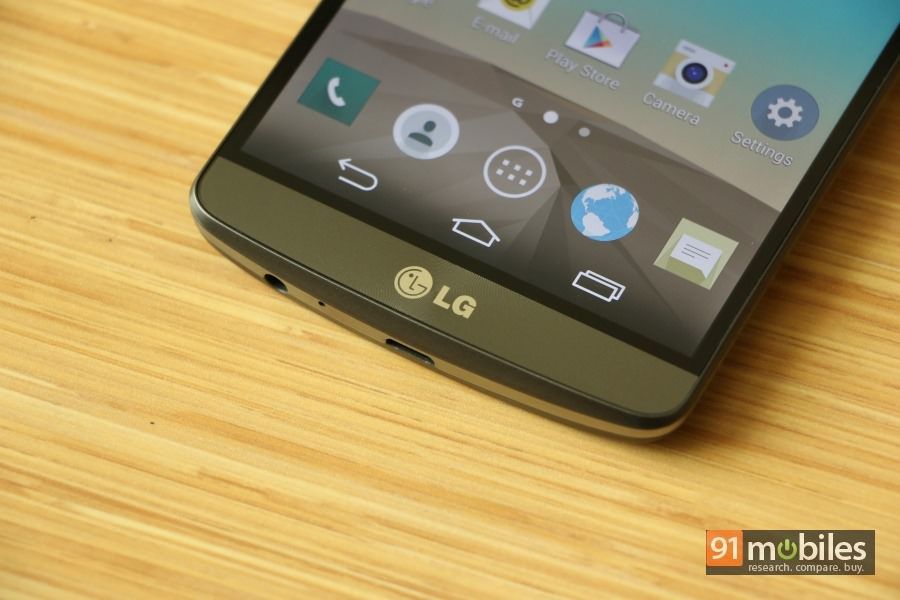 That 2K screen is a big differentiator, and in that respect, the Oppo Find 7 is the closest competitor. Despite the significant price difference between the two, the LG G3 still appears as a stronger proposition, thanks to its stylish looks and the latest iteration of Android version. There's no doubt that the LG G3 is the most loaded smartphone money can buy at this time, but it does cost a pretty penny and at the end of the day, it's for you to decide if it's for you.
The other, tougher aspect to making this purchase decision is the emergence of contenders that disturb the traditional price-performance balance. It could be too early to say that super-premium smartphones are losing their sheen, and a reference to the Xiaomi Mi 3 (review) may just be a little out of context here, but it does beget the question whether spending half a lakh on a high-end smartphone is worth it anymore.
While that can be open to debate, there's no question that if you have the dough to spend, the LG G3 is the one to go for right now. As to the question whether it can match the Big B's mettle, we feel it falls a tad short. But then, just about anything would.
Price (MRP): Rs 47,990 (2GB/16GB), Rs 50,990 (3GB/32GB)


Editor's rating: 8 / 10


Pros
Stupendous looks
Gorgeous display
Smooth performance
Intuitive UI with tons of customisation options and useful features
Capable camera
Wireless charging
Cons
Rear button placement
Basic camera app
Pricey
Photos and video by Pratik Vyas
| | | |
| --- | --- | --- |
| LG G3 | vs | Samsung Galaxy S5 |
| | | |
| --- | --- | --- |
| LG G3 | vs | Sony Xperia Z2 |