"Marrying form and function like never before, the HTC One (M8) is a standout and worthy flagship"
As far back as we can remember, HTC's always been top-of-the-game when it comes to design. The HTC Legend, which came out back in 2010 and was fashioned out of a single block of aluminium, was one of the best-designed smartphones of the time. The One V that launched in 2012 sported the same metal design, but the flagship that was unveiled alongside, the One X, was a great example of what could be done using polycarbonate. The matte white One X enthralled us with its looks, but in 2013, the Taiwanese manufacturer dropped a bombshell in the form of the HTC One, aka the M7.
The One was an apt monicker for a device that blew everything else out of the water thanks to its overwhelmingly gorgeous design and metal-clad build, and went on to become one of the most popular and award-winning smartphones of last year. Its top-notch specs also had something to do with it of course. We didn't think the design could be bettered, and could hardly think of any worthy names for its successor. The Two didn't sound right, while the One Two just felt preposterous.
Fast forward to 2014, when the time came to unveil its latest flagship, HTC chose to retain the One branding, possibly in the hope that the successor to one of the most stunning and powerful devices can carry on the tradition. The brand added (M8) as suffix, to clarify that the new device is a sequel to the M7.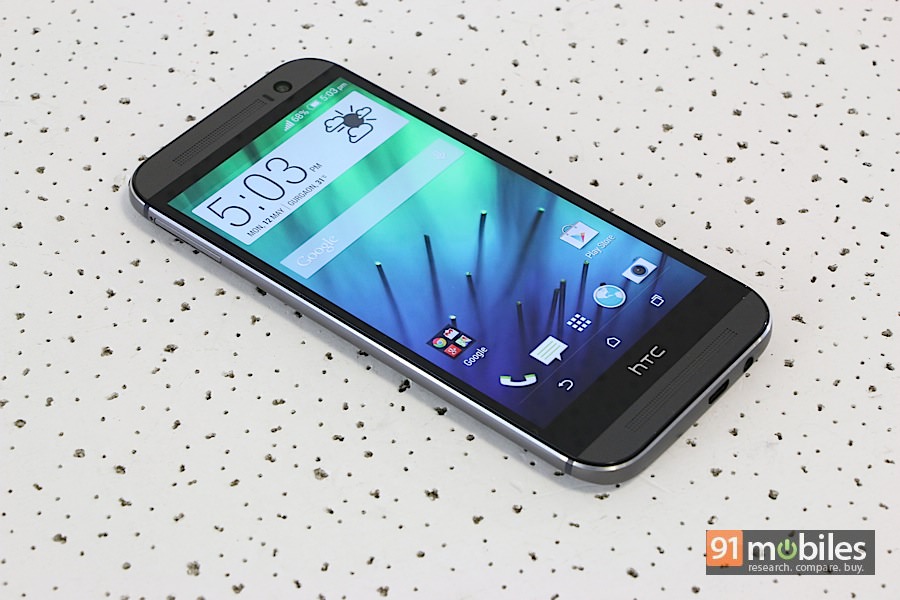 Style is something that comes naturally to the M8 then, but does it have substance too? Let's find out.
Sexy as hell, slippery as an eel
We reserve the word 'sexy' to describe only the most drool-inducing devices, and if you haven't laid your eyes on the HTC One (M8) as yet, you'll just have to trust us when we say it looks absolutely scrumptious. So much so that we have our own internal nickname for it – the Yum8. Get it? Good!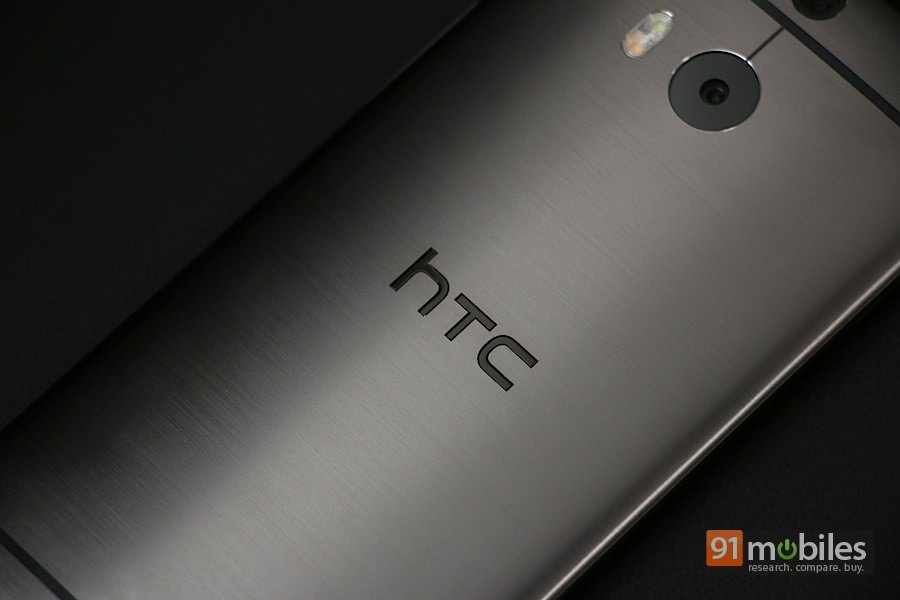 Clad in 90 percent metal, this HTC flagship is a sight to behold, especially the gunmetal grey variant – the very same that we got to review. The brushed-metal finish stands out beautifully on this shade. Hold it in your hands and you'll know what 'premium' feels like. It's weighty, true, but it also feels extremely solid – the same way a high-end watch feels like. While it isn't impervious to water like its closest two rivals, and its metal could be prone to dents if it slips out of your hands, there's no doubt that the M8 is one of the most well-built devices out there.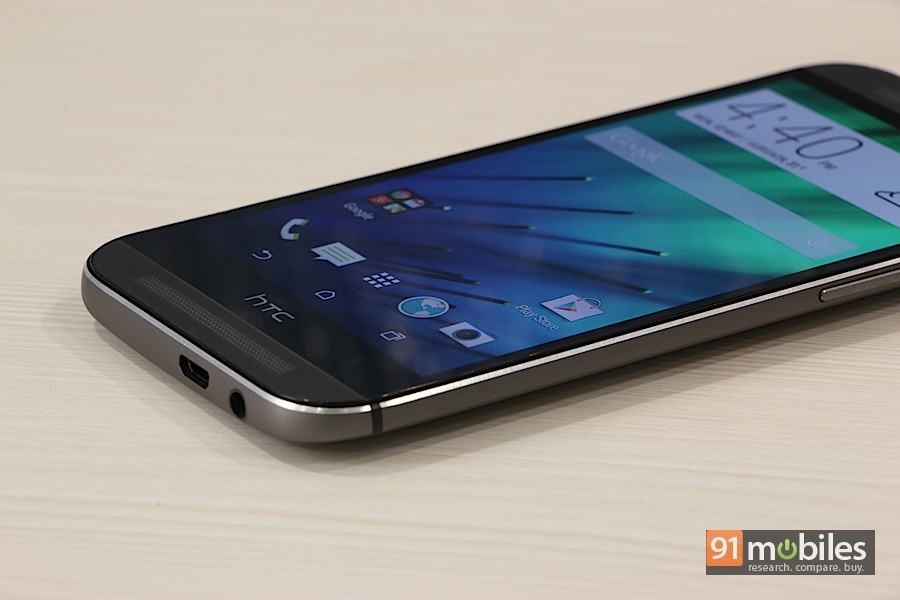 Speaking about slippage, unfortunately, the M8's smooth, curvaceous body is very prone to slipping out from your grip and even your pocket. Sweaty palms or not, the smartphone tends to slip out very easily when you've just picked it up to accept a call or removed it from your pocket. When ensconced inside a trouser pocket, it can also slip out from the side when you're sitting. Slapping a case on the device is a possible way to tackle this, but then, that'll mean hiding its flaunt-worthy looks.
But if you do decide to use a case, HTC's Dot View flip covers are definitely worth a look. While we didn't get to try one out with our review unit, these Dot View covers enable tons of smart functionality and let you use the M8 without even opening the flip. The perforated front of the Dot View covers not only displays notifications, weather updates, and more in dot-matrix style, it also lets you accept calls without opening. A handy addition for sure.
HTC's trademark BoomSound speakers are placed on the top and bottom of the screen as usual, and you'll also find the front shooter and the sensors above the display. There are no other keys on the fascia, since the Android navigation keys have been implemented as software overlays.
Both the micro-USB port and the 3.5mm audio socket are at the bottom of the device, while the top has a black band sporting the power button. An IR blaster is integrated into the latter, enabling universal remote functionality. A nano-SIM goes into the tray on the left spine, while the right sports a tray for the microSD card, along with the volume rocker.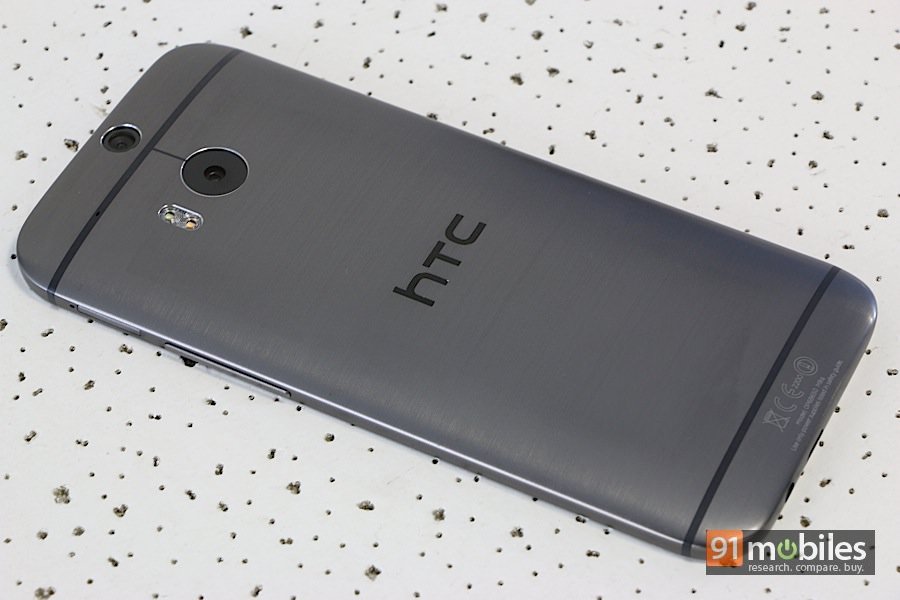 The rear carries HTC branding, and the primary camera lens of course. On top of that is the dedicated depth sensor which forms part of the M8's Duo Camera setup. A dual-LED dual-colour flash is also located next to the snapper's lens.
The display is a treat for the eyes too
Unlike its rivals, the Samsung Galaxy S5 and the Sony Xperia Z2 that are creeping into phablet territory with their displays sized marginally larger than 5-inches, HTC's chosen to stick with this size on the M8. Its 5-inch display is still larger than its predecessor, which sported a 4.7-inch screen.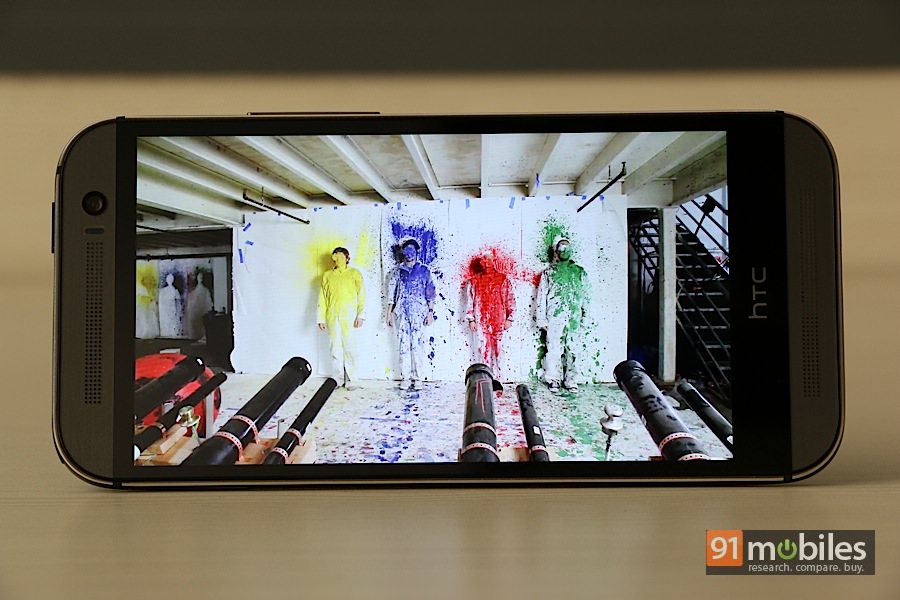 The full HD Super LCD3 display on the M8 offers a pixel density of 441ppi and is a treat for the eyes. Crisp visuals, vivid colours and razor-sharp text are yours for the taking, while the viewing angles and sunlight legibility are very good. The display is layered with Corning Gorilla Glass 3 protection and also supports double-tap-to-wake-up.
Ultrapixels live it up in dim lighting, but lose out on resolution
With its last year's One, HTC attempted to turn conventional smartphone photography tech on its head by incorporating what it calls 'UltraPixels'. This tech defies the megapixel wars and instead of more pixels, focusses on larger pixel size instead… theorising that larger pixels can capture more light. The One sported a larger sensor with a pixel size that's almost double the size of pixels in conventional smartphone camera, along with a 28mm f/2.0 lens. Technically however, it's still 4-megapixels, and the One M8 also sports the same sensor, dashing hopes that it'll come with an upgraded megapixel count this time. HTC does say that it has boosted and improved the sensor for better performance on the M8, though it has dropped the optical image stabilisation available in the predecessor.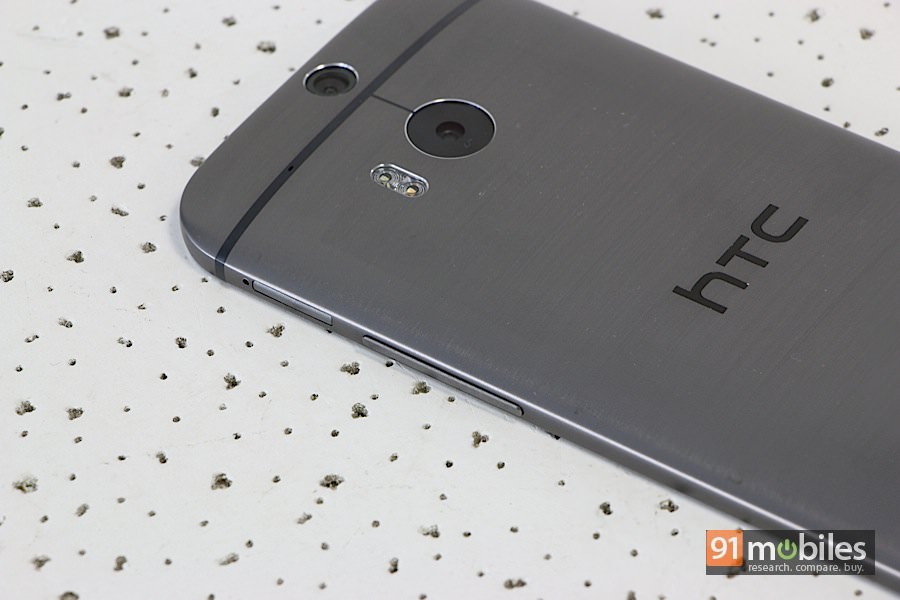 More than the UltraPixel tech though, the M8's Duo Camera setup is more of a talking point, and that comes in the form of the extra depth sensor placed above the main camera lens on the rear. The latter doesn't need to be enabled or activated separately, and is always on by default when you're shooting using the primary snapper. This depth sensor is responsible for capturing depth information for all images you shoot, and thanks to this info, the smartphone's photo editing features get a major boost. When the depth information for a particular image is available, the device can actually distinguish the foreground and the background, and separate the two, enabling some very cool effects. We'll get to those shortly.
To take advantage of the seflie rage sweeping the world these days, the One M8's front camera offers a resolution of 5-megapixels, and sports a wide-angle lens quite suitable for groupies.
The camera app is loaded too, though the main shooting interface is quite toned down and simple to use. You get one-touch access to various shooting modes like selfies, dual capture and 360 panoramas. There are a bunch of real-time filters available too. The Zoe mode that debuted with the HTC One is around as well, helping you capture and share animated shots.
Head into the settings though, and you get immense control over the creative side of things. You can tweak quite a few settings like ISO, exposure and white balance, while there's a full manual mode that lets you change pretty much the whole deal very similar to Nokia's excellent Camera app.
When it comes to pure image quality though, HTC's efforts still fall slightly short though. The One M8, just like its predecessor, is still king of the night and churns out some brilliant shots. Even in daylight, the images turn out very good, and if your usage is casual, you probably won't notice. It does tend to output inconsistent results at times though, but more importantly, most of the daylight shots lose out on detail, especially when compared to the likes of the Samsung Galaxy S5. To see what we mean, check out our detailed comparison of the M8's shooting prowess, when pitted head-to-head with the Galaxy S5 and the Sony Xperia Z2. You'll find tons of camera samples in there, shot in a variety of different conditions and covering special modes like HDR.
To reiterate, the HTC One M8 isn't a bad shooter at all, only pales a tad in comparison to a few others. While that may be a sore point considering the outlay involved, it probably won't matter too much to casual photographers. Plus, its low-light shooting capabilities could come in handy when it matters the most – you don't usually find clubs and parties well-lit now, do you? Here's a look at some camera samples from the M8. Click on the thumbnails to open the images in full resolution.
Fun special effects as conversation starters
The depth sensor on the M8 enables some very cool post-shooting effects, so if you've shot a few images using its camera, you can just head into the gallery and choose any image you'd like to edit.
Apart from a bunch of editing options, filters and frames, the effects available in the editing mode are where the fun's at. These include Ufocus, Foregrounder, Seasons, Dimension Plus, Sticker, Copy & Paste, and Touch Up.
Ufocus is HTC's answer to the background defocus mode which is a rage these days. This helps create a bokeh effect, also known as background blur. You can specify which part of the image you want to keep in focus, and the rest can be blurred. While most of the other devices achieve this effect by shooting two images at different focal lengths in rapid succession, the HTC One (M8) can do this using just a single image, all thanks to its depth sensor.
Copy & Paste is one of the coolest effects available though, and it lets you pull out a person from an image, and place him or her on another image, just like you would do using Photoshop on a computer. On the M8, it just takes a few taps, and if your source and destination images are right, works beautifully.
Worth mentioning that the range of available effects, what they do, and the ease which with they can be applied are loads of fun, especially if you like sharing images with others on social networks. Here's a detailed look at the M8's advanced image editing options, the available effects, how they work, and what they can do for you.
A lot of Sense in Android KitKat
Yes, there's KitKat. Yes, HTC's Sense UI is there too. The brand's proprietary interface has now moved up to version 6, but visually, you won't find too many differences when compared to the previous iteration. The move to onscreen navigation keys is quite welcome, specially since the earlier HTC One toted an unconventional two-button setup.
HTC's news and social feeds aggregator BlinkFeed is around too, and lives on the leftmost side of the home screen arrangement. Unlike the previous version, there's no weather clock fixed above the app drawer. You can't create custom folders in the app drawer, but you can hide apps and customise the grid size too.
BlinkFeed has been improved quite a bit, and supports better customisation in terms of content sources and custom feeds. The now common double-tap-to-wake functionality is there of course, but adding to this are slew of gestures, dubbed Motion Launch, that enable quick access to the device when it's on standby. You can, for example, swipe up on the display to unlock, swipe left to access the widget panel, swipe right for BlinkFeed, and swipe down to launch the voice calling mode… all when the device is on standby. You can also launch the camera directly by lifting the smartphone in the landscape orientation and hitting one of the volume keys.
While these Motion Launch gestures are actually supposed to work when the device detects motion and is held in the portrait mode (say, after you lift it up from a table), we found some of them working even when the handset was motionless and lying on a flat surface. Still, the gestures are quite innovative and handy.
A Do Not Disturb mode and an Extreme Power Saving mode are also in there. The latter, which is separate from the usual power saver already built into the device, is similar to Samsung's Ultra Power Saving mode and switches to a barebones launcher, killing all power-hungry features to prolong battery life when you're running low on juice and need to ensure you stay connected to the outside world.
HTC's also thrown in quite a few preloaded apps, including Polaris Office, WeChat, Kid Mode and FitBit. A handy Car app is there too, useful for when you're driving. The Sense TV app works hand-in-hand with the IR blaster integrated into the power button to convert the phone into a universal remote.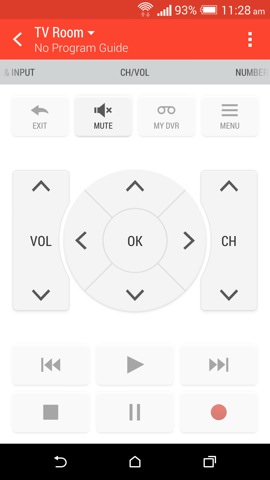 Even Sense TV has received a refresh since the last time we saw it, and is now much easier to set up. It works well too, controlling our LG TV and Tata Sky set-top box with ease.
Sprints like Usain Bolt, but not towards the power socket
A flagship can't be called that if it doesn't sport top-notch specs, and the M8 is a true flagship in that respect.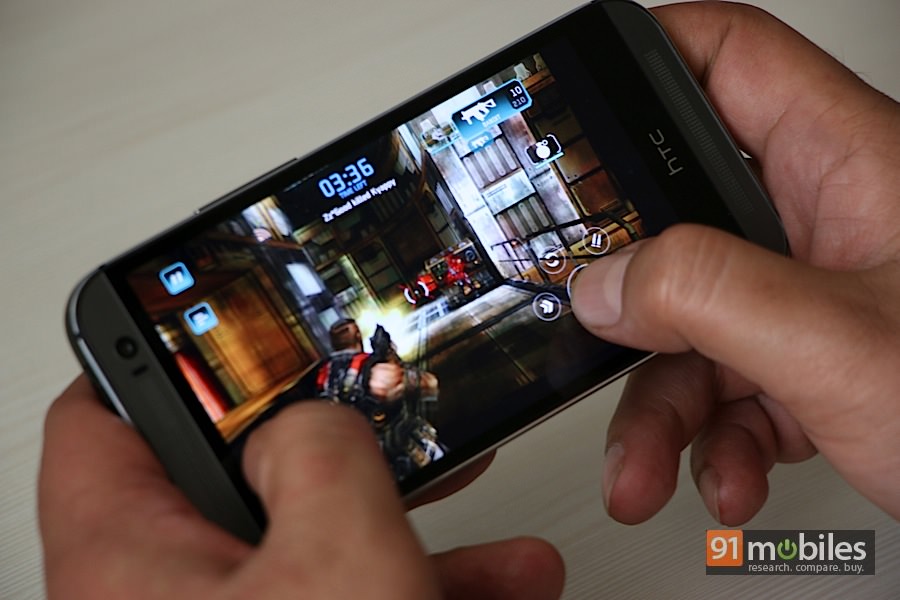 Powered by a quad-core Snapdragon 801 chip clocked at 2.5GHz, and working hand-in-hand with 2GB of RAM, the M8 runs at blistering speeds. Suffice to say that everything from routine tasks to multitasking, and even graphics-intensive games run beautifully, with nary a sign of lag.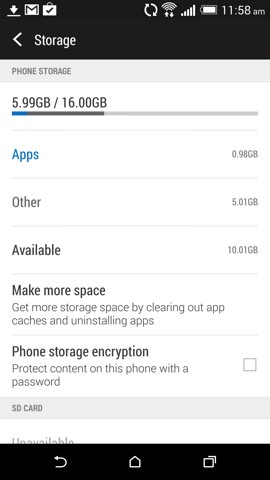 Storage-wise, there's 16 gigs built in, with just over 10GB available to use. Thankfully, you can add up to 128GB more, thanks to its microSD card slot. USB On-the-Go support is there too, so you could just plug in a USB drive (using an adapter) loaded with your favourite videos and music and play them off it directly, catching up on your regular fix of entertainment during commutes and flights.
Connectivity options are wide and varied too, including everything from dual-band Wi-Fi ac to DLNA, NFC and Wi-Fi Direct. While we couldn't try it out, the One M8 is also compatible with the 4G bands in India, so you could use that for scorching web-browsing and download speeds, in case you reside in one of the few cities where 4G is available presently in the country.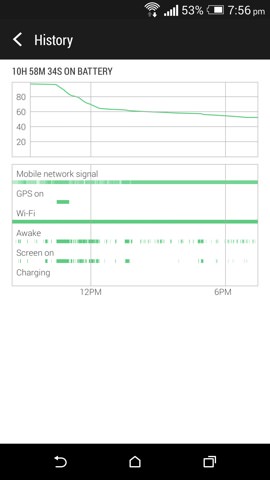 When it comes to the all-important battery life, the M8 doesn't disappoint. Battery life was one of the weak points of its predecessor, but as far as the latest flagship is concerned, HTC has managed to turn the same parameter into its strength. The 2,600mAh sealed battery doesn't look too beefy on paper, especially when compared to its rivals. We've already mentioned the conventional power saver and the Extreme Power Saving mode available on the M8, but you'll rarely need to use them. Even with heavy usage, the M8 had 20 to 30 percent battery life still remaining by the time we got home late in the evening. That doesn't include prolonged media playback or intensive gaming for long hours though, so your mileage could still vary depending upon usage. And if your usage is frugal, you can even stretch it into the second day.
Verdict
Half a lakh isn't a small amount of money, and when you're thinking of spending that much on a smartphone, you'd obviously be looking at acquiring something that scores on all counts – looks, build quality, display, features, camera, performance and battery life.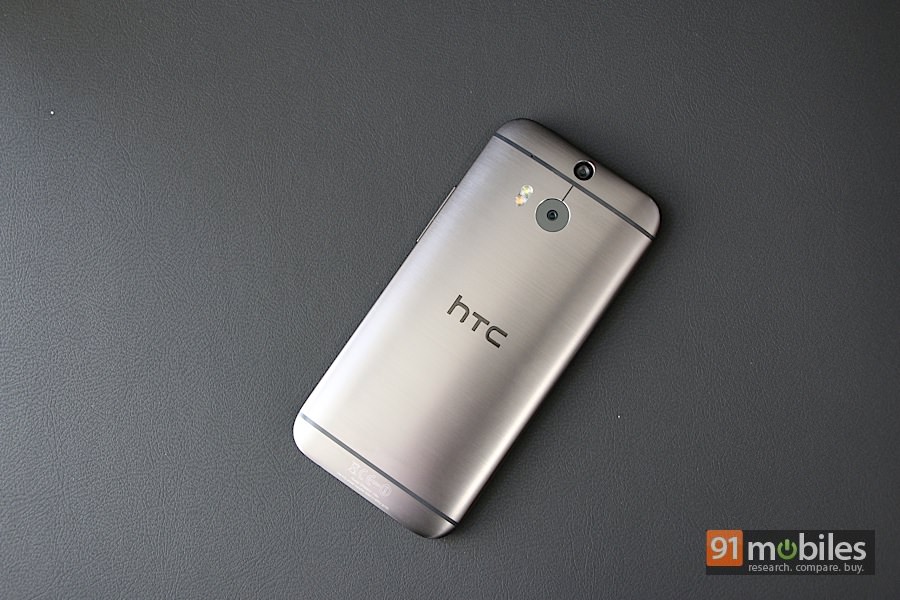 The HTC One M8 scores on almost all counts, with the possible exception of the camera. As we mentioned, the camera only pales in comparison to very few others, but is still quite capable, and some of the extra editing modes available are quite unmatched. The M8 is a tad low on features otherwise, again speaking relatively, since it isn't waterproof and doesn't include some of that fancy stuff like a biometric scanner. Barring these tiny gripes, the HTC One M8 is an excellent device, especially standing out due to its unmatched looks and overall speedy performance, aided by long battery life.
Its asking price can net you any of the flagships out there though, and apart from the Samsung Galaxy S5 and the Sony Xperia Z2, devices based on other platforms such as the Nokia Lumia 1520 and the Apple iPhone 5s are either cheaper or well within reach, give or take a few. The choice of platform is still a very personal one, and in the M8's case, even choosing it between its closest two Android-based rivals isn't an easy choice to make. The S5 is a worthy all-rounder, and is now available for much lower, while the Z2 turns in a great set of features matched with a zippy performance and battery life too… not to mention it comes with a free Sony SmartBand that tracks activity. We can't possibly make this choice for you, but for our money, the HTC One M8 is an excellent blend of form and function, and the same can't be said for most others. The Yum8, as we call it, comes highly recommended.


Price: Rs 49,990


Editor's rating: 8 / 10


Pros
Drool-inducing looks and awesome build
Gorgeous full HD display
Fun post-shooting camera effects
Convenient Motion Launch gestures
Superfast
Excellent battery life
Cons
Slippery
A tad weak on features compared to rivals
Inconsistent camera
Specs at a glance
| | |
| --- | --- |
| Dimensions and weight | 146.4 x 70.6 x 9.4mm, 160 grams |
| Display | 5-inch |
| Display resolution | 1,920 x 1,080 pixels, 441ppi |
| Processor | Quad-core 2.5GHz Snapdragon 801 |
| RAM | 2GB |
| Primary camera | 4-megapixel (UltraPixels), Duo Camera |
| Secondary camera | 5-megapixel |
| Internal memory | 16GB |
| External memory | supports microSD cards of up to 128GB |
| Network support | 4G |
| Connectivity | Dual-band Wi-Fi 802.11 a/b/g/n/ac, Bluetooth 4.0, DLNA, NFC, Wi-Fi- Direct, Wi-Fi hotspot, A-GPS, Infrared, USB OTG |
| Battery | 2,600mAh |
| Operating system | Android 4.4.2 KitKat |

Photos and video by Pratik Vyas
Competitors for HTC Mobiles M8 (One 2)
| | | |
| --- | --- | --- |
| HTC Mobiles M8 (One 2) | vs | Samsung Galaxy S5 |
| | | |
| --- | --- | --- |
| HTC Mobiles M8 (One 2) | vs | Sony Xperia Z2 |