"The Sony Xperia Z2 boasts an enviable spec sheet, adds dollops of features and capabilities"
It's been a loaded couple of weeks for smartphone aficionados in the country, thanks to the launch of a bunch of top-end Android devices. The Samsung Galaxy S5 came first (and was put through a gruelling review rigmarole by us), and then the HTC One (M8) was made available for sale. LG's spec-topping phablet, the G Pro 2 was officially unveiled recently too, and now it's Sony's turn to try and and amaze us with its latest flagship, the Xperia Z2.
The Z2's MWC unveil came just six months after its predecessor, the Xperia Z1 was announced at IFA in September last year. Two flagships within a space of six months just goes to show how aggressive Sony's been in the recent past, not to mention quite a few mid-ranged handsets it outed in the middle. In fact, we just reviewed the mini version of the Z1, the Xperia Z1 Compact not too long ago. The Xperia Z2 was announced in India earlier today, and we already have a full review ready for you.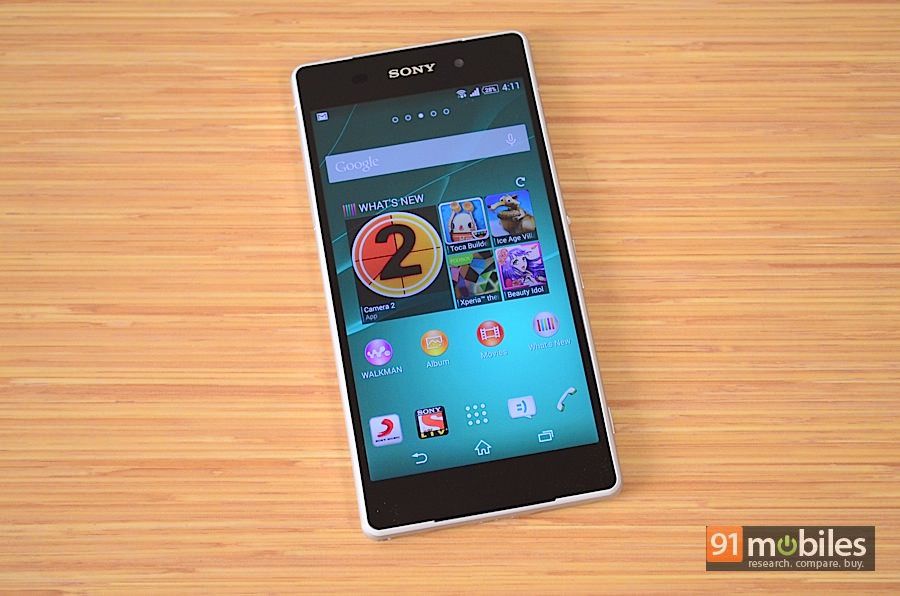 Now the Z2 is right up there when it comes to specs, including a 20.7-megapixel primary snapper and boasting the same waterproof capabilities as its predecessors. The latter is of course, quite a handy feature, and we saw it recently on the Samsung Galaxy S5 too. But does the Z2 have enough to impress us? Read on to find out…
A case of 'seen one, seen 'em all'?
Ever since its Xperia Z days, Sony's been religiously following its OmniBalance design ethos. 'Blocky' is how we'd describe it, but Sony begs to differ. The latest powerhouse sports the same design, and is a flat slab fashioned out of glass and metal. The 5.2-inch display dominates proceedings as far as the fascia is concerned, and there are no hardware buttons since the standard Android keys have been implemented as software overlays. There's a very slim black bezel on the sides, but wider on the top and bottom.
At the top, you'll find the usual Sony branding, flanked by the front-facing shooter and the sensors. The front-facing speakers are placed on the top and bottom, similar to the HTC One and the One (M8), but seem smaller due to the slim openings provided. Niftily, Sony's managed to integrate a multi-hued notification LED inside the earpiece opening on top.
An aluminium-finished band runs around the sides, adding a touch of class to the looks. The edges are rounded for a comfortable grip, but despite that, the blocky design of the phone doesn't really feel as comfy as it ideally should. The glass-covered back (done up in white on our review unit), sports the Sony G lens and LED flash on top left, a small NFC logo, along with Sony and Xperia branding.
As far as ports and controls are concerned, they're all spread around the sides. On the right, you'll find a microSD card slot covered by a flap, with the shiny circular power key jutting out in the centre. The design of the said power button is another thing Sony's kept standard across its recent Xperia devices, making it a signature design element almost synonymous with the brand. A volume rocker and a dedicated shutter key for the camera are placed lower. Eyeholes for attaching a lanyard are provided on the left corner, while an array of microphones sit at the bottom.
The left spine is where you'll find a large flap hiding the micro-SIM slot and the micro-USB port. As we saw on the Z1 Compact and the Xperia smartphones before it, the micro-SIM goes inside with the help of a flimsy plastic tray, which somehow feels out of place and a tad tacky. A magnetic dock connector is located on the left spine in the centre. The 3.5mm headset socket can be found on the top, along with the secondary microphone.
In terms of overall looks and build, the Xperia Z2 looks quite elegant and feels premium, even though you may have trouble distinguishing it from its predecessor from a slight distance. Also, the large dimensions and monolithic design may create issues if you have small hands, so do keep that in mind if you're eyeing the smartphone.
Display displays all that's wonderful
The Z2's 5.2-inch display throws it into the phablet territory, and as is apt for a flagship, offers full HD resolution. The pixel density is slightly lower at 423 pixels per inch, when compared to the Z1 that offered 440 ppi because of its marginally smaller screen size. Don't let that bother you though, since you won't be able to make out any difference.
Loaded with Sony's TRILUMINOS tech and enhanced by the X-Reality engine, the Z2's display is every bit as good as it's made out to be. The Z1 suffered from poor viewing angles and tended to look washed out when viewed from the sides, but the Z2's display is significantly better, so much so that we think it's one of the best around. It does leave a little to be desired when it comes to brightness levels, especially when compared to the Samsung Galaxy S5's screen. However, while the latter's Super AMOLED display bumps up the colour saturation levels, the Z2's offering outputs more natural-looking shades.
Great contrast and crisp details are yours for the taking, further tweakable with respects to the white balance. The latter can be adjusted manually by changing RGB values through sliders available under the appropriate head in settings. Just like the Samsung Galaxy S5 and many Nokia Lumia devices, the Xperia Z2's display also boasts a glove mode, ramping up touch sensitivity so you can use it with gloved hands. Another very handy feature which is especially useful for large-sized smartphones is the double-tap-to-wake up functionality, and that's supported too.
Shoot to kill
Smartphone shooters suddenly seem even more grown-up these days, already moving up to the 16-megapixel mark in terms of resolution on quite a few handsets. Seems like just yesterday when 13-megapixels was the norm. The likes of the Gionee Elife E7, the Micromax Canvas Knight, and the Samsung Galaxy S5 all boast 16-meg snappers. While the WP-powered Nokia Lumia 1020 is still in a league of its own, Sony upped the ante in the Android segment when it introduced the Z1 with a 20.7-megapixel sensor. The Nokia Lumia 1520 has a similarly-specced camera as well.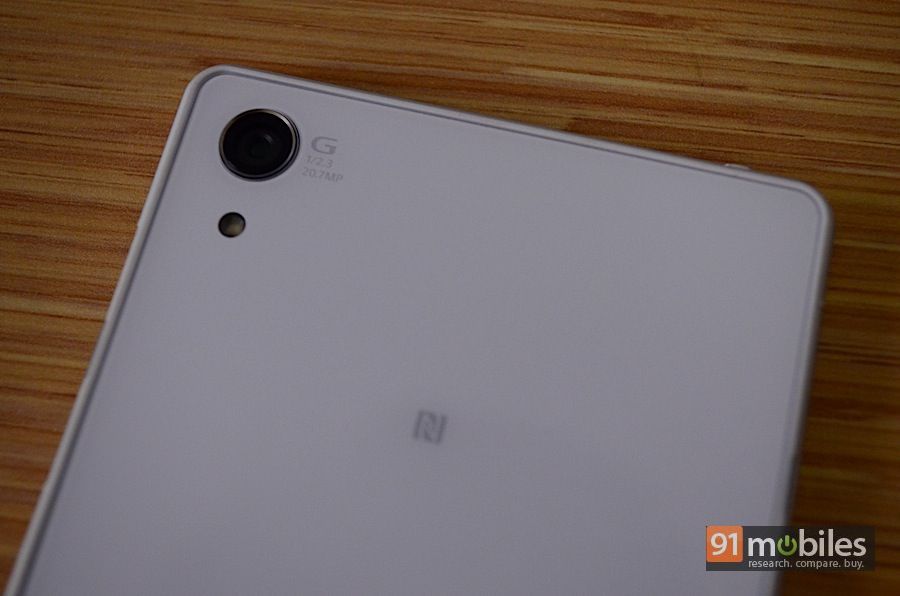 The Z2 inherits the same 20.7MP snapper from its predecessor, and adds 4K video recording capabilities to it. This however, could be overkill, since shooting video in such high resolutions consumes a lot of storage, the smartphone itself can't display 4K video, and to view it properly, you'll need a TV that can play it natively.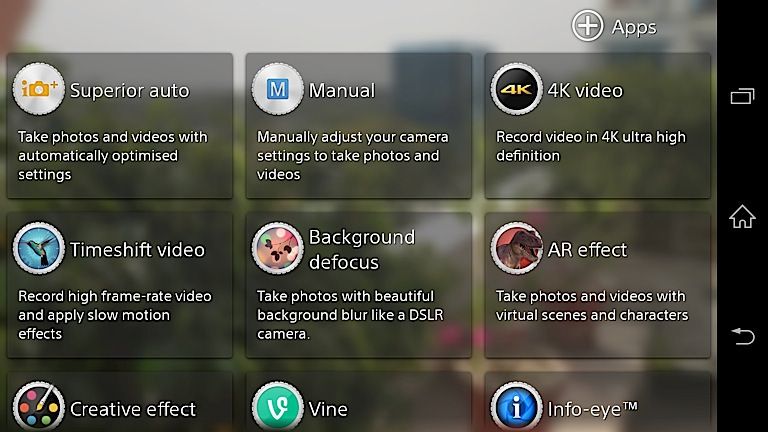 The camera app is the same loaded affair we saw on the Z1 Compact, shooting in Superior Auto mode by default. This mode optimises settings based on shooting conditions, but only shoots at 8-meg resolutions. The same is the case with most of the other special modes available. To shoot in full resolution, you need to choose the Manual mode. The full 20.7MP resolution churns out images in the 4:3 aspect ratio, but you can choose to shoot at 15.5-megapixels if you desire widescreen images.
Apart from special modes we saw on the Z1 Compact earlier, such as Sweep Panorama, Timeshift burst, the AR effect that adds animated characters to your images and the Info-eye mode that throws up useful info regarding your surroundings or scans business cards… Sony has added a few more goodies on the Z2. The aforementioned AR effect now lets you download additional themes, including the likes of Spiderman, Butterfly, Horror etc. Vine is integrated as one of the modes available in the Z2's shooter as well. You'll also find a new Timeshift video mode that can record video at high frame rates to apply slow-mo effects.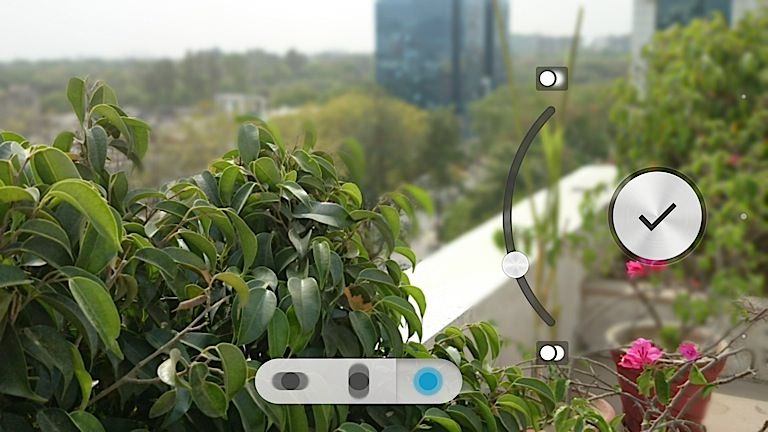 Yet another notable new addition is the Background defocus mode, seemingly very much in demand considering Google just integrated a similar feature in its camera app available for KitKat, while others like the Samsung Galaxy S5 and the HTC One (M8) have it too.
The snapper on the Xperia Z2 is ready for action in a jiffy. Coming to the all-important image quality, it churns out superb images, especially in daylight. It captures accurate colours, with oodles of detail. Low-light shots are pretty decent too, but there seem to be a few autofocus issues that sometimes spoil the results. Also, the Z2's camera isn't so great when it comes to capturing moving subjects in dim lighting. Another gripe we have is that each time you start the camera, it launches in the Superior Auto mode, and you need to switch modes if you want to shoot in full resolution. Not really a deal killer, since the auto mode is what most will end up using anyway. However, we did encounter a bug that seemed to overheat the device after a few minutes of shooting, making the camera app shut down. Since our review device is an early demo unit, we're ready to give it the benefit of doubt though, and hopefully… the final retail units won't have this issue.
Here's a look at a few image samples, shot in the widescreen 15.5-megapixel resolution. Click on the images to view them in full size.
Sony's stamp on Android KitKat
It won't be unreasonable to expect an Android flagship to be running the very latest latest build Mountain View has to offer, and the Sony Xperia Z2 doesn't disappoint. KitKat 4.4.2 is the OS on offer, layered with Sony's proprietary skin. This skin isn't as overpowering as say, Samsung's Touchwiz, but that said, Sony has still left its mark on it by adding a few UI changes, software features and preloaded apps.
One change is the introduction of a new content hub called What's New. This gives you a peek into new apps, games and other content, and gets its place of pride on the home screen in the form of a widget and a shortcut.
These can be removed of course, but Sony's actually made this content hub accessible by swiping upwards from the home button. This is the usual way one would access Google Now, but in the Z2's case, the same gesture now lets you access What's New as well depending upon which direction you swipe in.
Next up, there's support for theming too, and you can choose from a bunch of built in and downloadable themes. The app drawer features the same sidebar we've seen earlier, sliding out from the left and letting you search or uninstall apps, sort them differently and giving you quick access to the Play Store and the Sony Select content hub.
The Small Apps we've seen on Sony smartphones earlier are there too, accessible via the recent tasks key. For those unaware, these are commonly-used apps such as calculator and browser that run as tiny floating windows atop the app currently running. Apart from the built-in ones, you can download more via the Play Store and also converts widgets into Small Apps.
There are quite a few preloaded apps too, and apart from Sony's signature apps such as Walkman, Album and Movies, also includes the likes of Socialife News, which is a news and social feed aggregator, Vine, File Commander, BIGFLIX, Sony Music, Sony LIV, TrackID, Line messenger, OfficeSuite, X4 Media Player and Pixlr Express. There's Xperia Lounge too, serving up exclusive content for Xperia users. Smart Connect is an automation app, helping you trigger things at predefined timings automagically when you connect external peripherals like headphones and the charger.
The device settings has even more options when it comes to hooking up, thanks to an option dubbed Xperia Connectivity that lets you set up screen mirroring, DLNA, Windows tethering and DUALSHOCK 3 wireless controllers. Sony's also thrown in support for a few motions and gestures, including a Smart call feature that allows you to answer incoming calls by bringing the phone to your ear, reject a call by shaking the device and muting the ringer by flipping it over. There's a lot of control over notifications as well, and you can choose which apps are allowed to send notifications or which system apps get to display their icons in the status bar.
Under call settings, you'll find an Answering Machine feature that allows you to record a greeting, picks up incoming calls after the specified number of seconds, and records caller messages. Another option lets you switch between Simple Home and Xperia Home, with the former being a simplified home screen layout meant for newbies, much like Samsung's Easy Mode. The display and sound settings also have tons of options, including proprietary stuff like ClearAudio+, the option to play high-resolution audio using USB, X-Reality for mobile, glove mode etc. You can adjust the white balance for the screen manually using sliders that control RGB values, and enable Smart backlight control that keeps the display on till the time you're looking at it. Hmm, we wonder where we've seen that feature before.
Seriously though, while the above look like a crammed list of tweaks and options, they're not as in-the-face as the features Samsung offers through Touchwiz, and some of them, like the answering machine feature, are actually quite useful.
Speedy is one way to describe it
Now when you cram a smartphone with top-notch specs like a quad-core Snapdragon 801 chip running at 2.3GHz, along with a chart-topping 3GB of RAM, do you really expect it to have any performance issues? We didn't either, and weren't disappointed.
Storage-wise, you get 16GB of internal storage, out of which about 11GB is available to use. You can pop in a microSD card of up to 128GB capacity to augment the internal storage though, and also make use of the USB OTG functionality to hook up an external flag drive. Talking about hooking up, the Xperia Z2 offers all the wired and wireless options available, including 802.11ac dual-band Wi-Fi, NFC, DLNA, Wi-Fi Direct etc – no surprises there.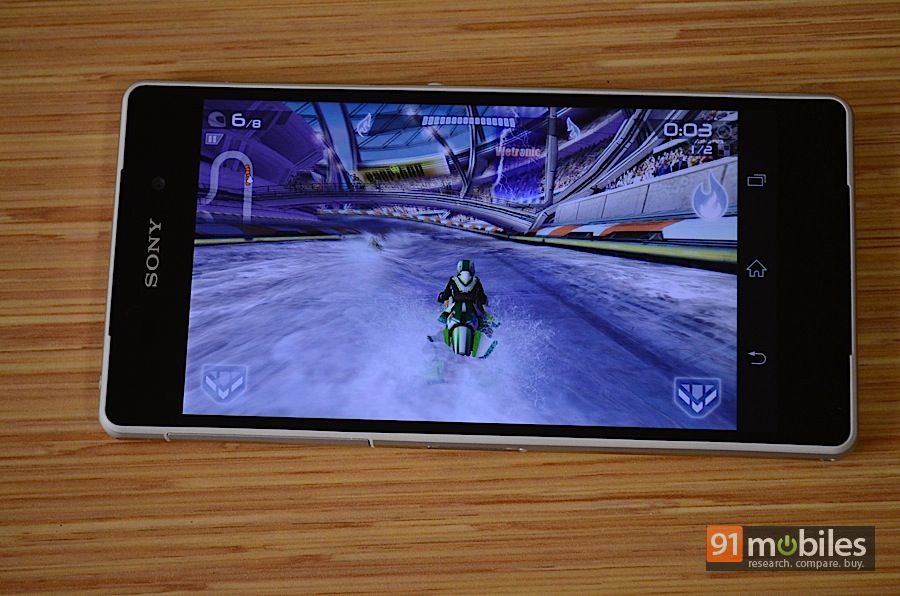 The Z2 runs like a bat out of hell, and we didn't encounter lags or slowdowns of any kind. Everything from routine tasks to multitasking, heavy apps to intensive games… all run super smooth and without any performance hiccups.
The 3,200mAh battery is quite beefy too, and with medium usage, you should have enough juice left over to get home after a full work day, and still use it to chat with your WhatsApp buddies and catch up on the day's happenings before you put it to charge. As usual, you'll find Sony's STAMINA mode to prolong battery life in case you need it. This isn't as aggressive as Samsung's Ultra Power Saving Mode or HTC's Extreme Power Saving Mode, but gets the job done in a crunch.
Verdict
There's no doubt that the Sony Xperia Z2 is a lot of phone, even for its high asking price. It's got quite a few things going for it, including premium looks, waterproof capabilities, a gorgeous and vastly-improved display, useful software features, a compelling camera, speedy performance and good battery life. The blocky design may not be enticing for some, and we aren't exactly in love with the way Sony's stuff encroaches upon the Google Now functionality. We could be nitpicking here, but our biggest gripe with the Xperia Z2 is that while it is a jack of all trades, it doesn't have any killer feature that blows our socks off. But then, we're a hard bunch to please.
When it comes to making a choice between the Sony Xperia Z2 and its closest rivals, the Samsung Galaxy S5 and the HTC One (M8), we'll admit it's a tough question to answer. Each shines in its own way, without being perfect. There's really no perfect smartphone out there if you ask us, but profound statements aside, the choice really depends on the individual. We have yet to review HTC's contender, so we'll refrain from making judgements. However, we've seen enough of it to say that it's the most drool-inducing smartphone we've ever had the chance to lay our eyes upon. It's got some pretty sweet camera features too, thanks to its depth sensor. We still have to test it out properly to judge its features, shooting prowess, performance and battery life, so that's all we'll say for now. Between the S5 and the Z2, we don't think they differ significantly when it comes to real-life performance, while the camera quality is quite close too, despite the Z2's more powerful specs. While Sony's offering is better in terms of a premium feel, the S5 seems to edge out because of its extra features, namely its fingerprint scanner and the heart rate sensor. The question you'll need to ask yourselves is whether these features are important enough for you. The S5 also feels a tad more ergonomic in the hand, but then, its battery life doesn't quite match up and it lacks the premium build sported by the Xperia Z2.
Truth be told, Sony's latest flagship is a capable, well-rounded device, and one that has enough to please most users. The bundling of a premium flip cover worth Rs 2,999 and company's life-logging tracker, the SmartBand worth Rs 5,999 as an inaugural offer makes it even more compelling option.
Price: Rs 49,990
Rating: 8 / 10
Pros
Premium looks and elegant design
Impervious to water
Gorgeous full HD display
Very good camera
Useful software features and loads of tweaking and customisation options
Fast, speedy and zippy. Smooth too
Good battery life
Cons
Blocky design and large size make it a tad unwieldy to hold
A few software features look obnoxious
No exciting, killer feature
Competitors for Sony Xperia Z2
| | | |
| --- | --- | --- |
| Sony Xperia Z2 | vs | Samsung Galaxy S5 |
| | | |
| --- | --- | --- |
| Sony Xperia Z2 | vs | Samsung Galaxy Note 3 |