"The Microsoft Lumia 535 has the potential to be a Lumia 520 replacement. Our review."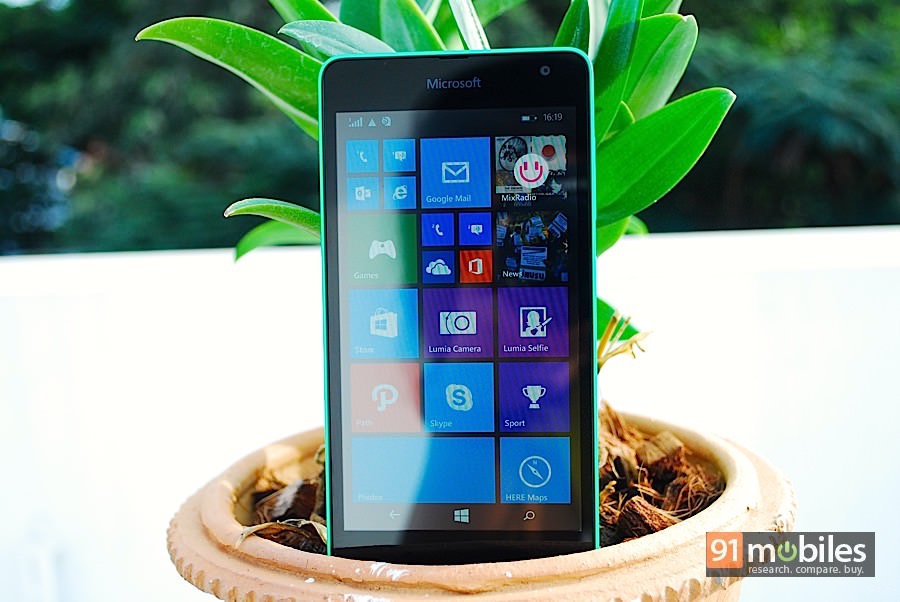 Windows Phone may have come a long way since it was first launched, but in terms of market share alone, it's far behind Android and iOS internationally. In India though, the situation is different. While the mid-range and premium categories are dominated by Android (and even iOS now to a greater extent), Windows Phone-powered devices have set the cash registers ringing in the affordable price band. Local brands such as Micromax, Karbonn, Lava, XOLO and Celkon have been flocking to the platform ever since Microsoft completely waived off licensing fees. But the one that started it all – the Nokia Lumia 520 – continues to be one of the most successful smartphones, not just for WP, but for the budget segment as a whole. Nokia, and now Microsoft, have tried to cash in on that popularity over the years, with the Lumia 525, Lumia 530, Lumia 620 and Lumia 630, to name a few. None of those devices garnered the same success, but with the Microsoft Lumia 535, which also happens to be the first Lumia smartphone sans Nokia branding, Microsoft hopes to regain some of that lost market share. The handset was launched just a few weeks ago, and we've been testing it for a while now. Read on to see if it has what it takes to re-establish the Lumia series as a serious contender in the budget space.



Specs At A Glance
5-inch display, 960 x 540 pixels (220 ppi)
1.2GHz quad-core Snapdragon 200 processor
Adreno 302 GPU
1GB RAM
8GB internal storage with microSD card slot
5MP primary camera with LED flash, 5MP front camera
Windows Phone 8.1 (Update 1) with Lumia Denim
1,905mAh battery
Dual-SIM, 3G, Wi-Fi, Bluetooth and GPS


Same Lumia, different branding
Apart from the Microsoft branding, the Lumia 535 can easily be mistaken for any other Nokia smartphone in the series. It's available in the usual riot of colours like green, orange, black and white, although the cyan variant will unfortunately not be sold in India. The back panels extend over the sides, and are removable. Our green unit was glossy, and as you can imagine, is easily smudged. The orange variant is also shiny, but the white and black units sport a matte finish.
The Lumia 535 is larger than most budget and mid-range Lumias, thanks to its 5-inch display. Even the more premium Lumia 630 (review) sports a 4.5-inch screen. Above the display you'll find a Microsoft logo, the front camera and earpiece. The sensors aren't visible, but they're somewhere in the vicinity. Since the Lumia 535 runs Windows Phone 8.1, it implements the hardware buttons as software overlays, instead of capacitive keys.
The port and button placement is standard, with the audio jack on top, micro-USB port at the bottom, and volume rocker and power button on the right spine. The buttons don't feel tacky, and offer a reassuring feedback when pressed. The back panel houses the primary camera with LED flash on top, a tiny speaker at the bottom, and more Microsoft branding in the centre.
The rear shell can be removed, exposing the user-replaceable battery, dual micro-SIM card slots and a microSD card slot. Weighing 146g and measuring 8.8mm in thickness, the Lumia 535 isn't the slimmest or lightest device, but fits in the hand just fine thanks to its compact size. It feels solid and well built, a testament to Nokia's hardware prowess that we're glad Microsoft is continuing.


Display that's bigger, but not better
So here's what's good about the Lumia 535's display. At 5-inches, it's very roomy, big enough to accommodate three columns of medium-sized live tiles. It gets a layer of Corning Gorilla Glass 3 for protection. Unlike the Lumia 630, which is actually a higher end device, the 535 gets an ambient light sensor, for automatic brightness adjustment. Brightness levels are high, and the display is fairly legible in sunlight.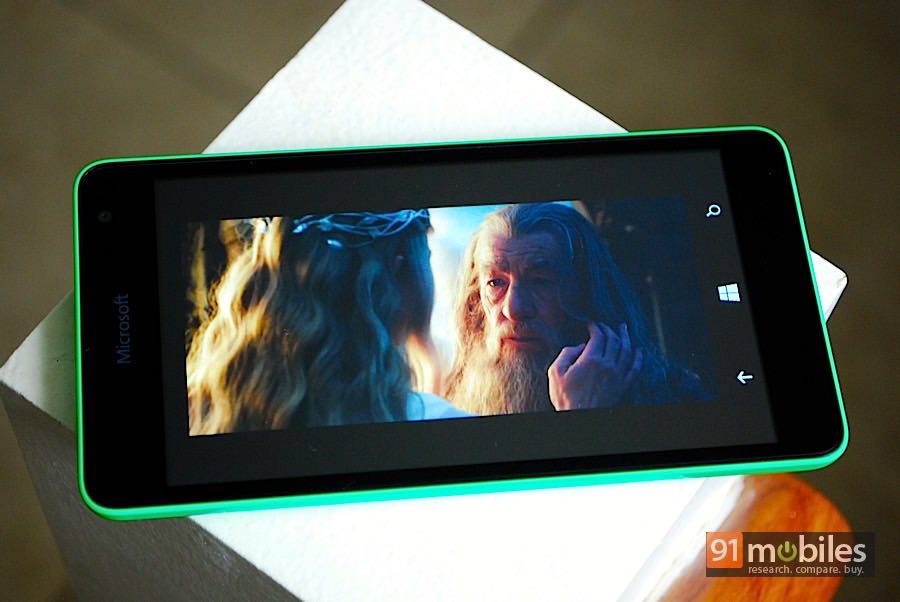 Now for the bad. The resolution of the display is qHD, which is 960 x 540 pixels. Considering the phone's price, and the size of the screen, we felt that Microsoft made an unnecessary compromise here. HD resolutions are becoming commonplace on most budget Android smartphones, many of which are much cheaper than the Lumia 535. As a result of the resolution, the display isn't very sharp, with visible pixelation in text. It's also fairly reflective. But our main concern with the display has to do with its responsiveness. More often than not, the screen is slow and sluggish, and this evident even in simple actions. We've been hearing reports that Microsoft is planning to release a software update to fix this issue, but we're still waiting for an official confirmation.


Front camera outshines the rear
The cameras are one of the main highlights of the Lumia 535. The rear snapper with its 5MP resolution doesn't raise any eyebrows, although the presence of an LED flash is a welcome addition, one we don't normally see on affordable Lumia handsets. The front camera though, is the real star. The Lumia 535 is one of the rare budget handsets in the series to actually sport a front camera, and Microsoft hasn't made do with the bare-minimum VGA resolution. The device is equipped with a 5MP wide-angle shooter, designed to get more people into the frame. The results are some of the best we've come across in this price band, outdoing even some high-end smartphones. The fixed-focus lens is admittedly a weakness, but nevertheless, the camera captures sharp, vibrant photos, without sacrificing detail on subjects in the background or those towards the far edges of the frame. Skin tones look very attractive, and the camera has a way of brightening faces to make them stand out. The rear camera is average at best, producing usable daylight shots, but giving us noisy results in low light. It tends to over-expose images to deliver brighter-than-usual results, but in the process, loses out on sharpness and detail.
Instead of the usual Nokia Camera app, the Lumia 535 gets the rebranded Lumia Camera, which is essentially the same setup. It's a bit sluggish as always, but not as bad as before. Swiping outwards from the shutter button brings up sliding controls for white balance, ISO, exposure and manual focus. There's also another camera app pre-loaded on the smartphone, and this one's called Lumia Selfie. The name is a clear indication of what it offers. You can use either the front or rear camera to take a snap, with the option of enabling a short timer. Once you're done shooting, you can crop the image to the desired aspect ratio, apply a range of effects and save or share it. Alternatively, you can import any photo from your gallery to use the effects. There's also an Auto Selfie mode, which automatically enhances photos when enabled.

Here are some image samples from the Lumia 535's cameras. Click on the thumbnails to view them in full resolution.


Denim-clad Windows Phone 8.1
The Lumia 535 runs Windows Phone 8.1, along with the Denim update, which integrates Update 1. This brings a handful of new features, such as support for app folders, customisable snooze alarms, the addition of Cortana in the UK and China, and other improvements.
Lumia Denim on its own includes a faster and improved Lumia Camera app, Moment Capture with 4K video recording, Rich Capture to enhance HDR performance, and improved low light performace. Unfortunately, most of these features are only available on higher end Lumias like the 830, 930 and 1520.
Windows Phone 8.1 brought several key changes to the operating system, prime among a drop-down notification bar, christened the Action Center. From here, you can swipe to clear individual notifications, or choose to delete them all in one go. There are also four quick toggles on top to control Wi-Fi, Bluetooth, the camera and brightness. In settings, you can customise which toggles you want displayed here. Another big change is the ability to add a background image to the start screen, which is displayed through selected transparent tiles. Microsoft's voice assistant Cortana, which is currently unavailable in India, also made its debut in WP 8.1. There is a simple workaround to enable it, which we've detailed in our Lumia 630 review. There are also several other features, such as separate volume controls for notifications and media, Quiet Hours, Find my Phone, Internet Explorer 11, to name a few.
As far as the pre-loaded apps go, as always there are a quite a few to deal with. The third-party apps alone include 21 Cineplex, BBM, Facebook, Momento, LINE, Twitter and Path. There are quite a few from Microsoft, including Skype, OneDrive, OneNote, Outlook, Office, Games, etc. All of the Nokia branded apps now get Lumia branding, including Lumia Camera, Lumia Selfie and Lumia Storyteller. There's also MixRadio, which is one of our favourite music apps, letting you download 'mixes' of your favourite artists for free, and listen to them offline. HERE Maps and HERE Drive+ are present for navigation, while App Social helps you discover apps.
Our only gripe with the UI is the navigation bar, which is hidden by default on the Lumia 535. You have to swipe up from the bottom to view or hide it, which is a pain, and often ends up activating other buttons on the screen. You can disable this option in settings, but it's not easy to find. Interestingly, we found that if the auto hide/show option for the navigation bar is disabled, this tends to improve the touch sensitivity of the display. While the Lumia 535 does support Double Tap to Wake, other software tweaks like the Glance Screen and Motion Data are missing.


Smooth performance, with a few hiccups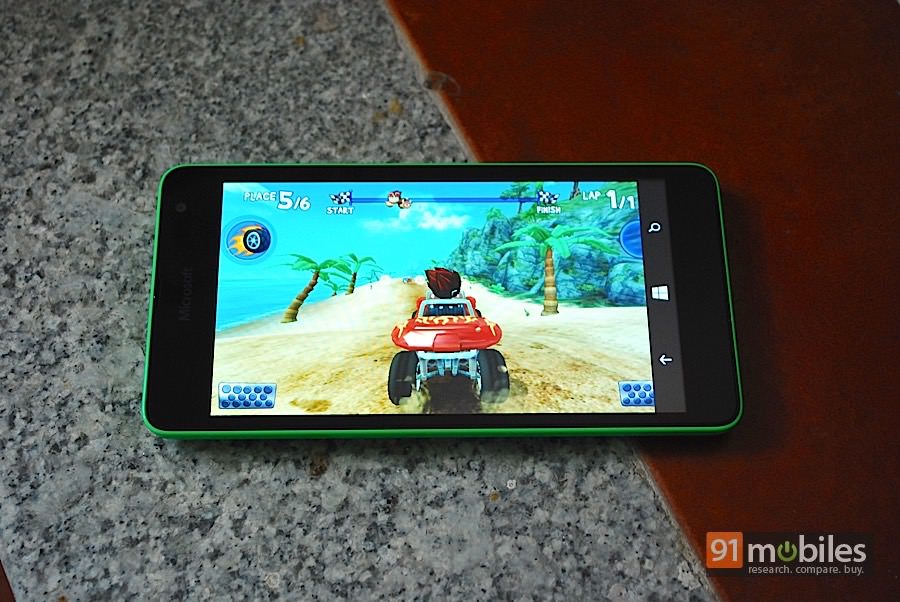 The Lumia 535 is powered by a 1.2GHz quad-core Snapdragon 200 processor. Windows Phone has been optimised to function efficiently on less horsepower, but even so, Microsoft has doubled the usual 512MB of RAM to a respectable 1GB. The increased memory also means that the Lumia 535 can now play all games in the Windows Phone Store, some of which required a minimum RAM of 1GB to work. Overall, the performance is smooth sailing, fine for daily use, and supporting multi-tasking and most apps without any crashes. Games like Beach Buggy Racing and Asphalt Overdrive play without any glitches or lags. The sluggish touch response we mentioned earlier continues to be a concern until it's rectified. It's worth noting that the Lumia 535 isn't able to play HD videos well, with stutters and freezes marring the experience. This is because Microsoft has limited support for some 720p codecs on the Snapdragon 200 SoC. At a time when HD resolution is becoming the norm for videos, this decision by Microsoft seems baffling.
As far as storage goes, Microsoft has been quite generous, equipping the Lumia 535 with 8GB of internal memory. There's around 3.3GB available to use on a fresh reboot, with an option for further expansion up to 128GB via microSD. The smartphone's 1,905mAh battery is average in capacity, but in real life usage, it easily lasts until the end of the day with moderate to heavy usage. Notably, standby times are excellent. The Battery Saver option in settings lets you enable a power saving mode to eke out more power.
Like the Lumia 630, the dual-SIM 535 gets a dedicated SIM management area, where you can specify a SIM card for data services. There are dedicated live tiles for calls and messages for each, and you can use the handy toggles to switch between them in the dialer and messaging apps. The Lumia 635 supports 3G in both SIMs, but 4G is absent. Other connectivity features include Wi-Fi, Bluetooth 4.0, A-GPS and GLONASS.


Verdict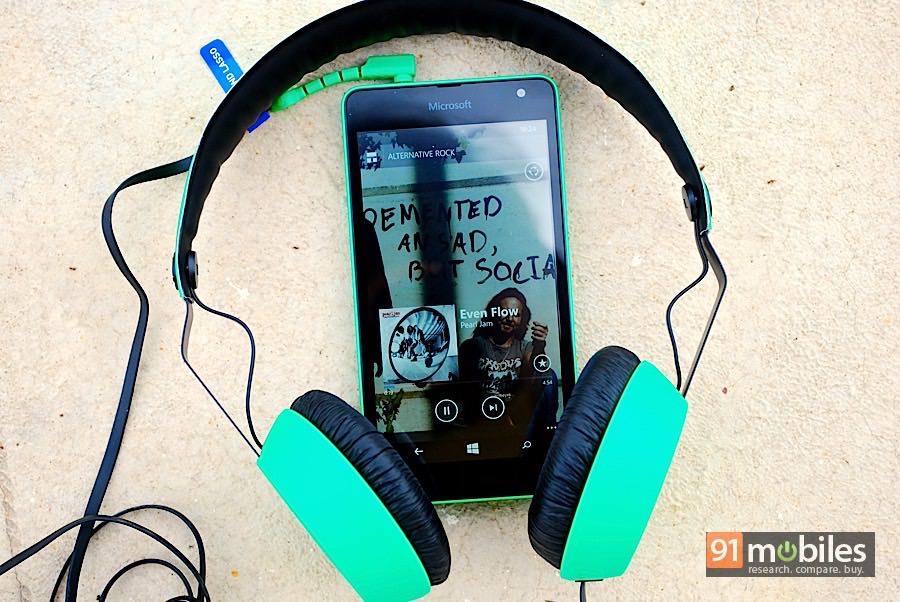 For its first device without Nokia's trusted branding, the Microsoft Lumia 535 is a decent effort. It's managed to set a new benchmark among affordable Lumias, which until now, featured mediocre specifications at best. It gets a bigger screen, 1GB of RAM, 8GB of storage, an LED flash and a good front camera. The only let down is the display, which should have had a higher resolution, and been more responsive. Unfortunately for Microsoft, Android OEMs have changed our perception of value for money. At its price of Rs 9,199, the Lumia 535 feels overpriced for what it offers. There are so many better Android options in its price range, such as the Xiaomi Redmi Note, ASUS Zenfone 5, and Huawei Honor Holly. That said, if you're a Windows Phone fan, the Lumia 535 seems like the first worthy upgrade over the Lumia 520, and one you should definitely consider.
Price: Rs 9,199
Editors Rating: 7 / 10
Pros:
1GB of RAM
Large screen
Generous storage
Great front camera
Cons
Display gets only qHD resolution
Touch responsiveness is faulty
Overpriced
Competitors for Microsoft Lumia 535
| | | |
| --- | --- | --- |
| Microsoft Lumia 535 | vs | Nokia Lumia 730 |
| | | |
| --- | --- | --- |
| Microsoft Lumia 535 | vs | Microsoft Lumia 535 Dual SIM |