While Microsoft is considered a software major and didn't see much success with hardware devices initially (remember Zune? Even if you don't, that's alright as even the Redmond giant would want you to forget that), the Surface series has been able to grow in popularity slowly and steadily. In fact, it has started contributing to the business as well, since the revenue of the Surface division grew by 25 percent y-o-y in Q4 2018. The brand recently unveiled the Surface Pro 6 and Surface Laptop 2 in the US, and while we're still awaiting their launch in India, I recently got my hands on the Surface Pro (fifth-gen). I've been using the successor to the Surface Pro 4 as my daily driver for the past some time, and I believe that it's a great buy for a specific set of people. Read on for more.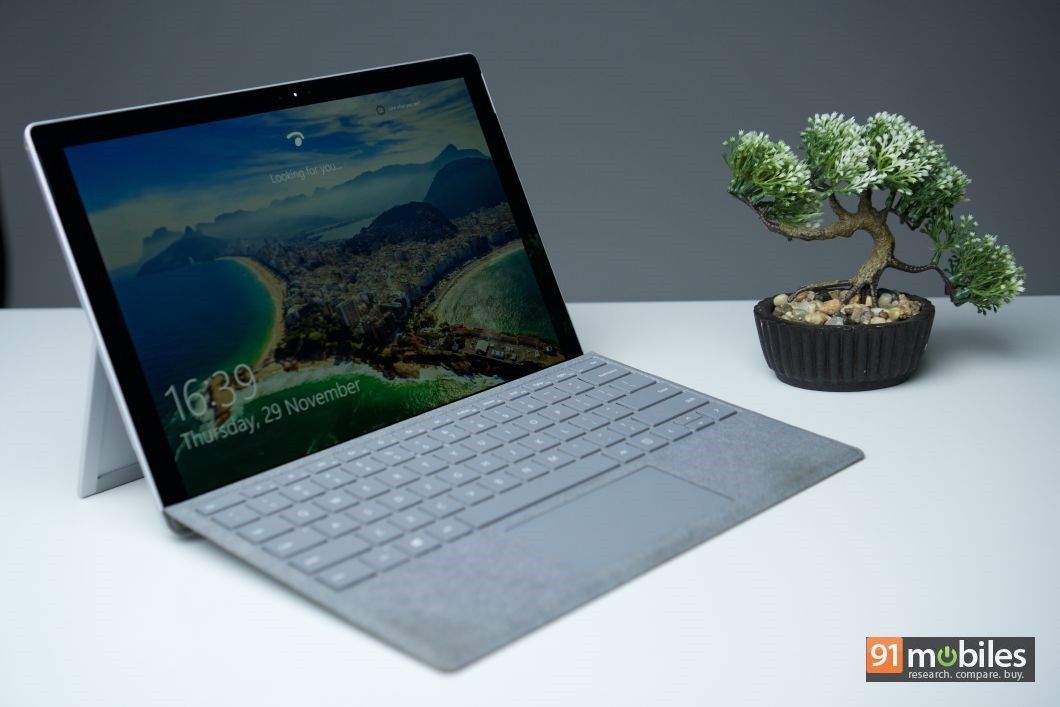 Specs at a glance
Measures 29.21 x 20.06 x 0.83cm
Weighs 770 – 784g (depending upon the variant)
12.3-inch display, with a resolution of 2,736 x 1,824 pixels
Intel 7th-gen Core m3 / i5 / i7 processor
Intel HD Graphics 615 / 620 / Iris Plus Graphics 640
4GB / 8GB / 16GB RAM
128GB / 256GB / 512GB / 1TB SSD
1 x USB 3.0 port, mini DisplayPort
1 x microSD card slot
8MP rear camera with autofocus and 5MP shooter at the front
Design and display
The Surface Pro is what could be called as minimalistic design taken to its logical extreme. Weighing at less than 800g, the device is extremely thin as well, with its frame measuring 8.3mm. At the outside, it just sports a Microsoft logo and a versatile kickstand.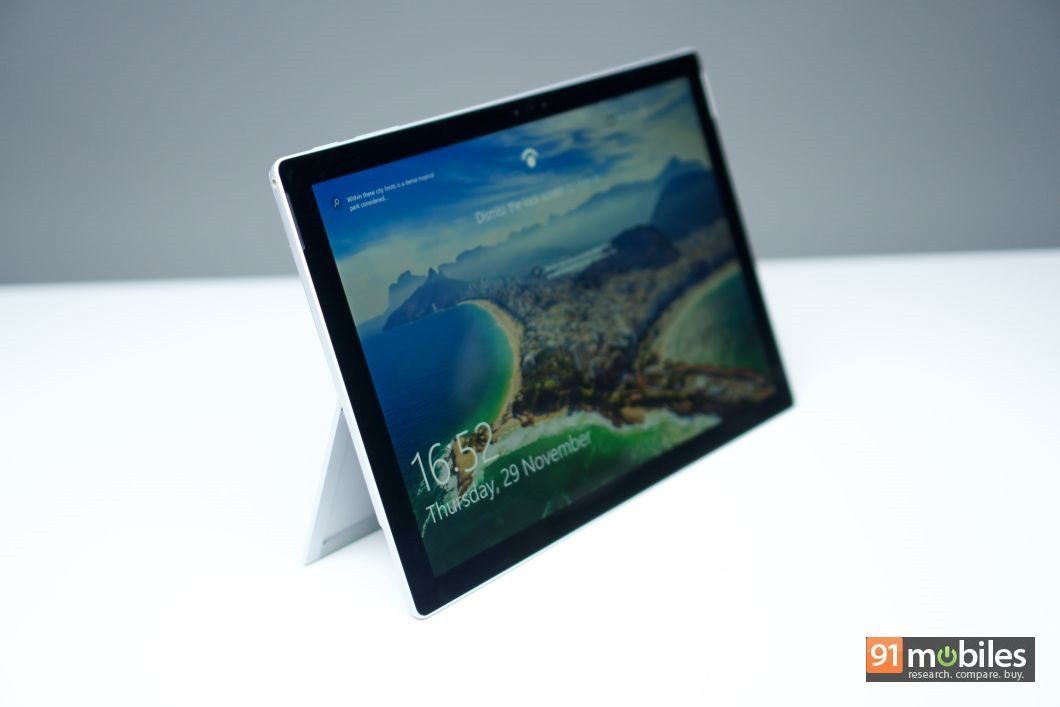 The reason I'm specifically mentioning the kickstand is it makes the difference of night and day in using the slate the way you want. You can use it in multiple angles (tilts up to 165 degrees), and even when connected to Microsoft's Type Cover (which turns the tablet into a full-fledged laptop), the kickstand manages to offer a solid base. Do note that the keyboard accessory adds another 310g to the weight of the device.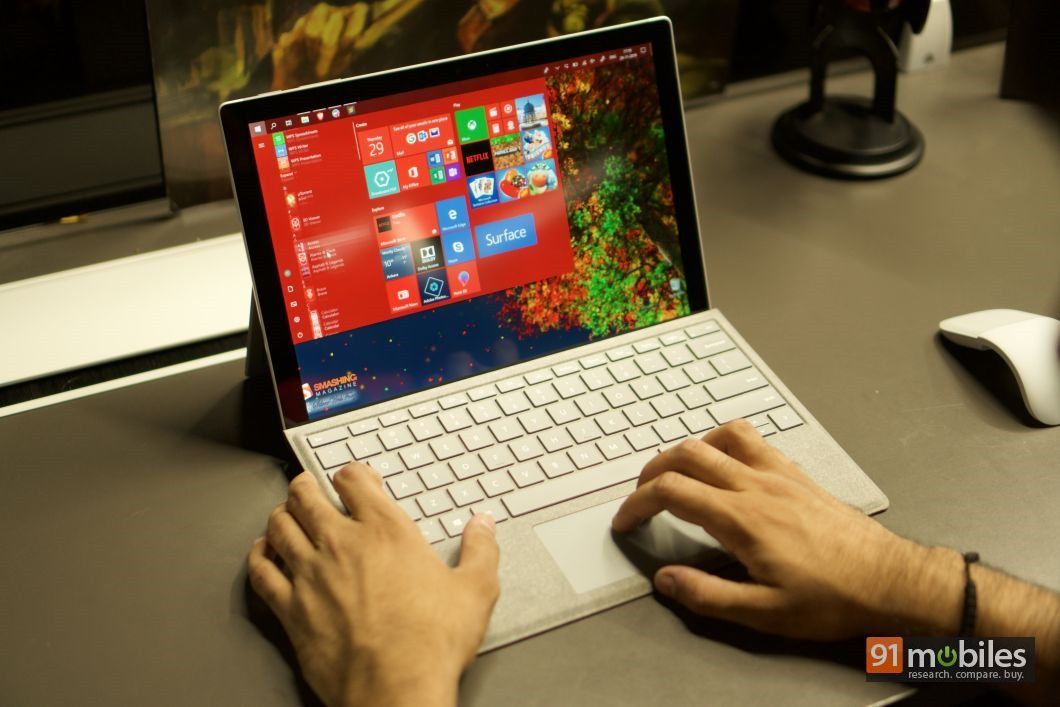 Sadly though, Microsoft doesn't seem to have gotten the bezel-less memo, as the Surface Pro bears significant bezels around its 12.3-inch screen. The PixelSense display as it's referred to, features a resolution of 2,736 x 1,824 pixels with an aspect ratio of 3:2. Thick bezels aside, the panel is absolutely gorgeous with sharp visuals and impressive colours. I didn't face any issues with brightness levels either, as I was able to use the device outdoors, although the screen is slightly reflective. Viewing angles are spot on as well. The touchscreen is smooth too. Worth noting however that due to its different-than-usual aspect ratio, playing conventional 16:9 videos result in black bars on top and bottom.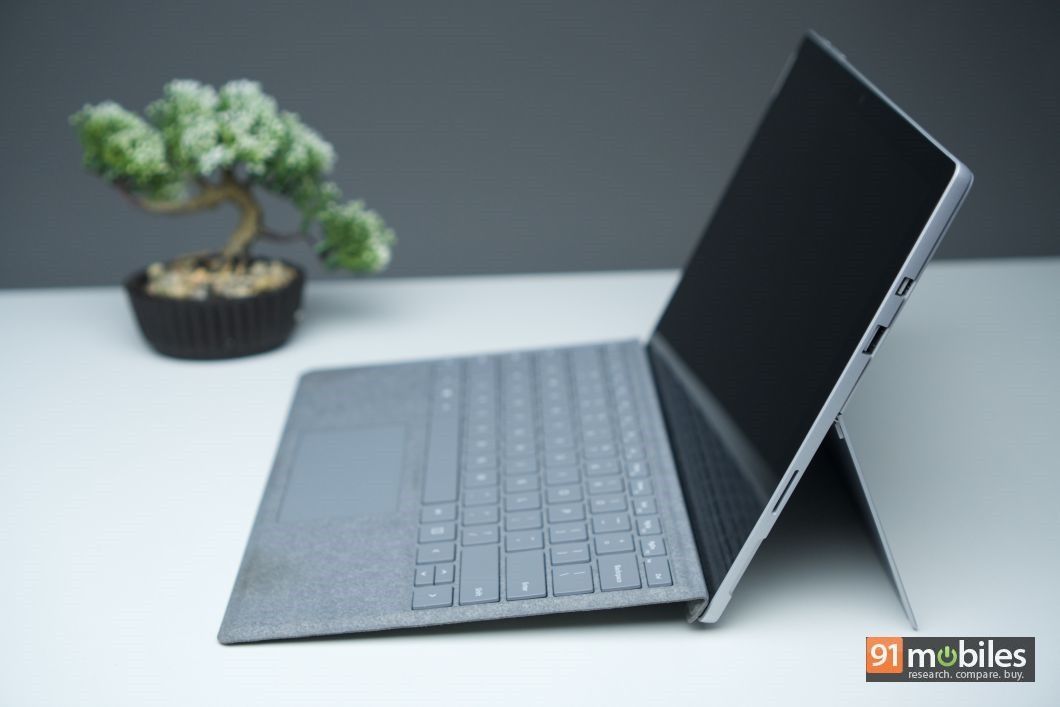 The minimalism continues in terms of ports and controls as well, which may not bode well with everyone. Up top, you get the power switch and volume rocker, while the left edge is home to a 3.5mm audio interface. On the right spine, you'll find the mini-display port and a full-sized USB Type-A port along with a proprietary charging socket. While I appreciate the inclusion of a USB port, I'd have liked if the charging interface was a Type-C socket, as that would mean carrying one less charger, along with giving an additional port to connect peripherals with the Microsoft Surface Pro. Lastly, there's a microSD card slot, but finding it ain't easy as its placed below the kickstand.
Keyboard and touchpad
Before I begin talking about the keyboard, it's worth knowing that the Microsoft Type Cover is available to purchase separately. But if you're thinking of buying the slate, it's worth investing in the keyboard as that can actually replace your regular laptop, at least for casual tasks.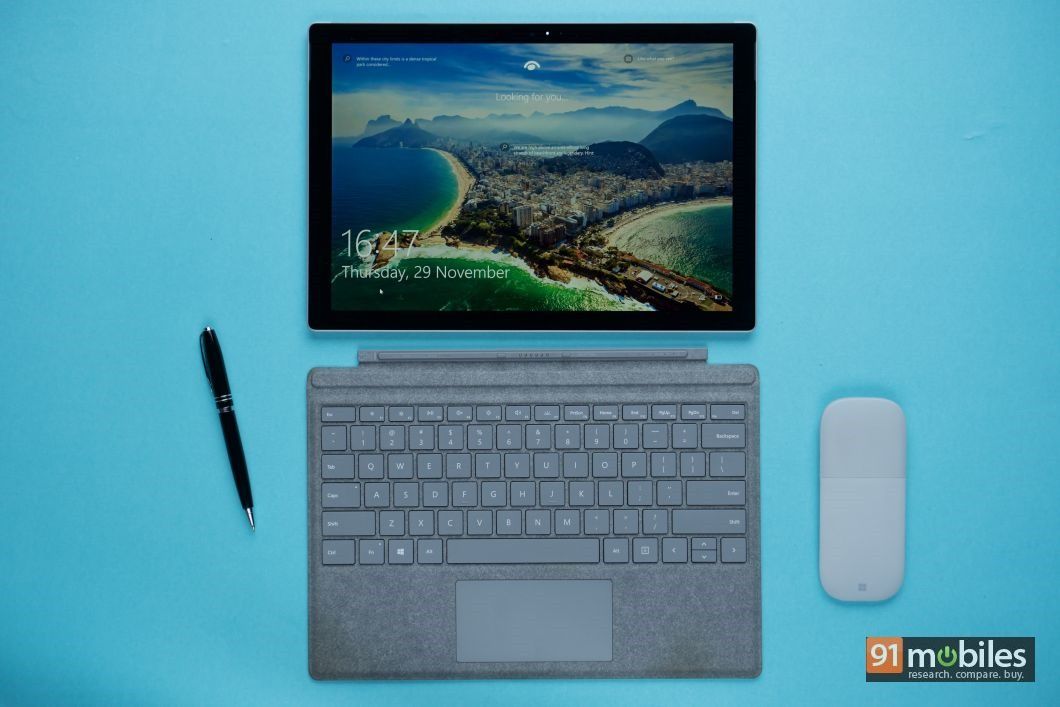 I should tell you that I was a sceptic before using the Type cover, wondering how I would be able to get my fingers accustomed to the small keyboard layout, and whether I'll be type accurately, let alone fast. All my scepticism vanished once I actually started using it though. The keys don't seem to have enough travel, but they offer a good feedback and there's enough space between them to ensure accurate typing. In fact, I was able to start typing quickly once I became familiar with the keyboard. I also liked the fact that the backlight had three levels, letting you set it as per your liking (and situation). My only qualm – mind you, it may not be problematic for everyone – is the fact that there's no Control key on the right side of the keyboard, which makes it slightly difficult to use shortcuts for cut, copy and paste, and so on.
The touchpad area might feel small as well, but it works like a charm. Its precise, and supports multi-point gestures too, for zooming in on web pages or pictures, for instance.
Oh, did I mention that the Alcantara fabric is really interesting? Usually found in high-end luxury cars, the keyboard cover uses the same material which allows your palms to rest on the soft-touch surface. And while it can get dirty, you can clean it easily.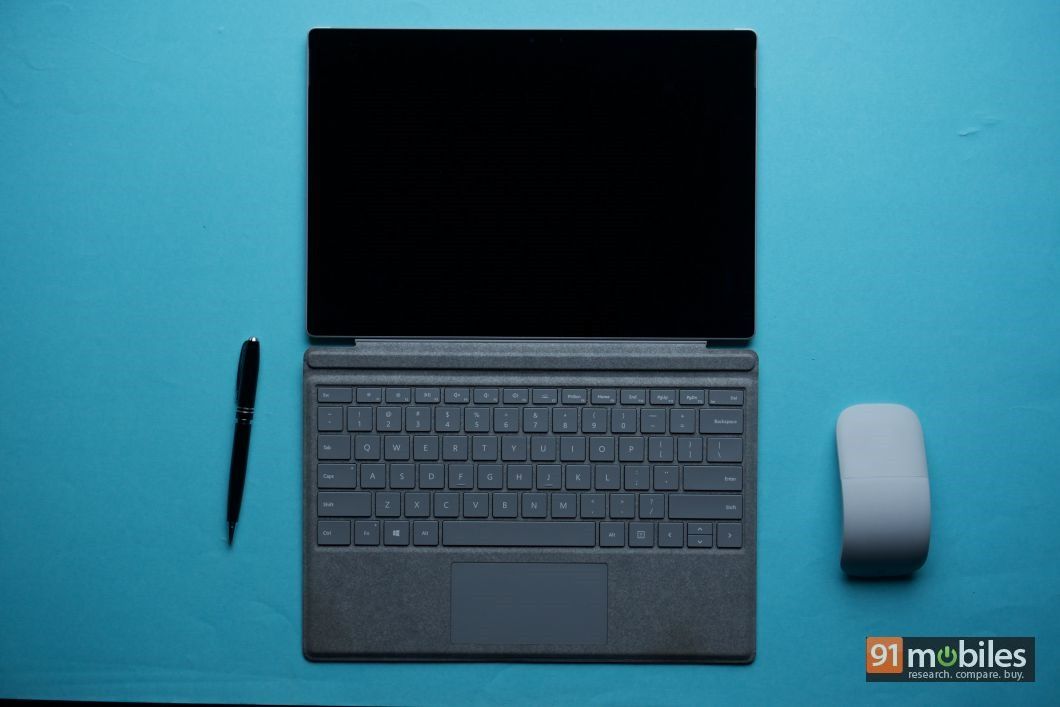 While I've talked about the keyboard and touchpad, I'm sure you must be wondering how practical it is to use the accessory with the slate. And more importantly how's the lappability quotient? Well, for the first question, using the device just feels the same as using a normal laptop, since the Type Cover latches on the Microsoft Surface Pro magnetically and remains in place unless you remove it yourself. The accessory is also raised slightly from the surface (no pun intended) which makes typing a better experience. Now for the second point, it's not easy as a regular laptop since you need to find a good angle where the kickstand can remain stable and then too, if you start typing fast, then the keyboard and slate attached to it can get imbalanced. Another thing worth mentioning is that while usually notebooks are held from their base i.e. the keyboard, don't do that with the Surface Pro as keyboard barely has any weight and the slate can immediately fall off. Instead, I'd suggest that you close the keyboard and then carry the device.
Performance and battery life
It's evident that Microsoft isn't targeting power users with its Surface Pro range, and one look at the internals makes it evident. The Surface Pro was launched in the US last year, which means it ships with 7th-gen chipsets from Intel. Available in multiple configurations, you can get it with Intel's Core m3, 128GB SSD and 4GB RAM with internal graphics and go all the way up to Core i7 CPUs, 512GB SSD, 16GB RAM, and Intel's Iris graphics. My review unit shipped with the Core i5-7300U CPU and 8GB RAM under the hood. As per PCMark 10, this hardware achieves a score of 2,793, which is just about average. In Cinebench, the device was able to get 44.31fps in OpenGL test. In day-to-day usage however, you won't have any complaints with the Microsoft Surface Pro. My usual work setup involves connecting the laptop to a large monitor (via a mini Display port adapter in this case), running two separate instances of browsers with as much as 50 tabs between them, using Sublime Text to jot down notes, listening to music via Apple iTunes or Gaana along with using apps like Irfan View (for image conversion), Microsoft Word or Excel, as and when needed. There was nary an instance when the device showed any traces of lag.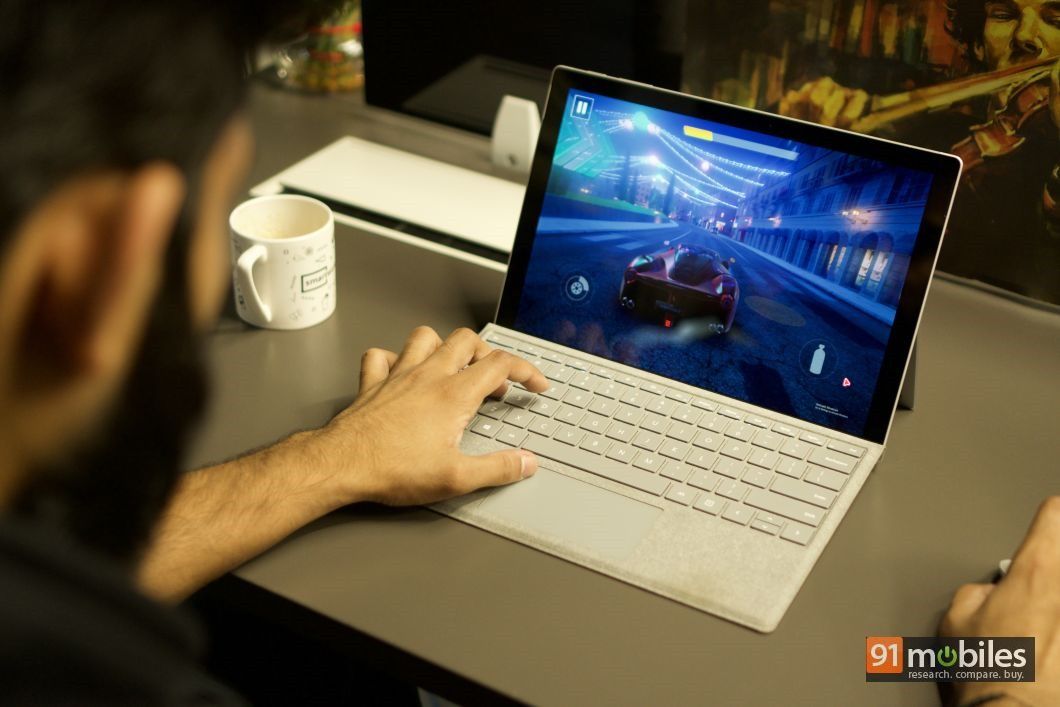 The 256GB SSD is just about enough to ensure that all the apps can be installed and store your important files as well. The SSD is quite fast, and that's reflected by the CrstalDiskMark benchmarks as well as the Surface Pro got read and write speeds of 630.1MB/s and 232.1MB/s.
The Surface Pro isn't meant for gaming, but I did try running Asphalt 9. The device was able to run it smoothly, save for frame drops here and there and noticeable lag in graphics-heavy instances.
Matching the stunning PixelSense display of the Microsoft Surface Pro are the stereo speakers, which offer a loud and clear sound output. Watching movies and listening to music without headphones or Bluetooth speakers was a delight with the Surface Pro.
The 5MP front shooter on the Surface Pro also doubles up as the face unlock mechanism via Windows Hello. In my use, it worked flawlessly, and apart from poorly-lit conditions, it was able to unlock the device. The slate also features an 8MP snapper on the back.
One of the biggest use cases of Microsoft's Surface Pro would be taking it with you on the go, which means its battery life needs to be good. Well, I'm happy to tell you that the device can last five to six hours with medium screen brightness levels and connected to a mouse along with a headphone via Bluetooth along with being tethered to an external display. Even though the battery life is not in the same league as the MacBook Air, it's pretty good, and I got a similar result while watching movies as well. Microsoft's offering can be juiced up within less than 90 minutes with the included charger, which is quite good. More importantly, the bundled adapter is quite compact and sports a USB Type-A port, which allows you to charge other devices with it. I found this to be really thoughtful addition, and wonder why not other laptop manufacturers follow suit.
The Surface lineup also included a variety of accessories, though you'll need to buy them separately. I got a chance to check out the Arc mouse, and have to say that it's the best mouse I've used in a long, long time. There's the Surface Pen too, which works just like the S Pen in Samsung's Galaxy Note series, allowing you to doodle or jot down notes quickly.
Verdict
Depending upon the variant you go for, the Microsoft Surface Pro will cost you anywhere between Rs 64,999 and Rs 1,82,999. The Type Cover carries a sticker price of Rs 10,999. The unit I reviewed will set you back by around Rs 1 lakh, for the slate only. For the price, you're getting an easy-to-carry tablet that's not just compact, but offers a great display, good typing experience (if you shell out extra for the keyboaed cover), decent internals and a long-lasting battery.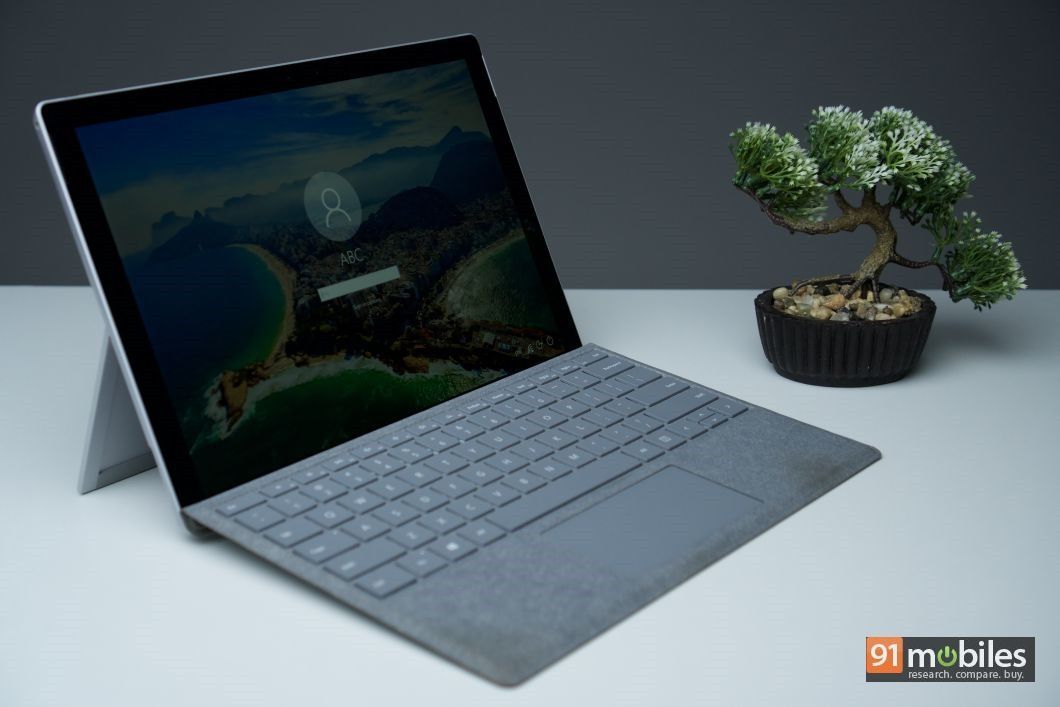 Now, there are two ways to look at the Surface Pro – as a tablet or a laptop. While the iPad Pro clearly rules the roost as a slate, I believe the device serves as a better replacement for bulky laptops. However, if you don't go out and about much, then the Surface Pro may not be your best bet. The reason I'm saying this is that in its price segment, you can go for some powerful and feature-rich options such as the Dell XPS 13 and ASUS ZenBook 13 (review).
Having said that, if a 2-in-1 form factor is what you're after, then Microsoft's Surface Pro, simply put, should be in your shortlist. Or if you can wait, I would suggest you hold on till the time Microsoft launched the Surface Pro 6 in India, as the new Surface comes with the latest internals, making for a future-proof purchase.
Editor's rating: 3.5 / 5
Pros
One of the best 2-in-1 designs
Ability to use the device as a laptop at any angle
Laptop functionality with the Type Cover
Great battery life
Cons
Steep pricing
Last-gen internals
Need to purchase the Type Cover and other accessories separately
Photos by Gaurav Rajput