Google sort of threw a wrench in its plans of making a modular smartphone — 'Project Ara' — after it sold Motorola to Lenovo. However, Motorola – under Lenovo's stewardship – decided to go ahead and try its own hand at the modularity game. It did so by introducing three new smartphones called Moto Z, Moto Z Play, and Moto Z Force this year. Now, whether these phones are entirely modular or just semi-modular is still under debate, it is still commendable that Motorola is only one of the two major smartphone brands to take this risk this year. The other being LG with its rather clunky modular smartphone LG G5 (review).


Lenovo recently announced the availability of the Moto Z and the Moto Z Play in India, (there's no word on the Moto Z Force yet). The Moto Z Play is the cheaper of the two smartphones and there are differences aplenty. However, the one thing that is common is that both the smartphones are compatible with Moto Mods. Here we review the Moto Z Play, which is a mid-ranger with the promise of a great battery life. Read on.
Specs at a glance
Display
Size
5.5 Inch
Resolution
Full HD (1080 x 1920 pixels)
Performance
CPU
Octa core, 2 GHz, Snapdragon 625
RAM
3 GB
Storage
Internal memory
32 GB
External memory
Up to 2 TB
Battery
Capacity
3510 mAH, Li-ion, Non removable
Camera
Primary camera
16 MP
Secondary camera
5 MP
Connectivity
Network support
Dual SIM 4G
Other options
Wi-Fi, Bluetooth 4.0, GPS
Others
Battery Capacity
3510
Operating system
Android 6.0.1 Marshmallow
Design: a step in the right direction for modular smartphones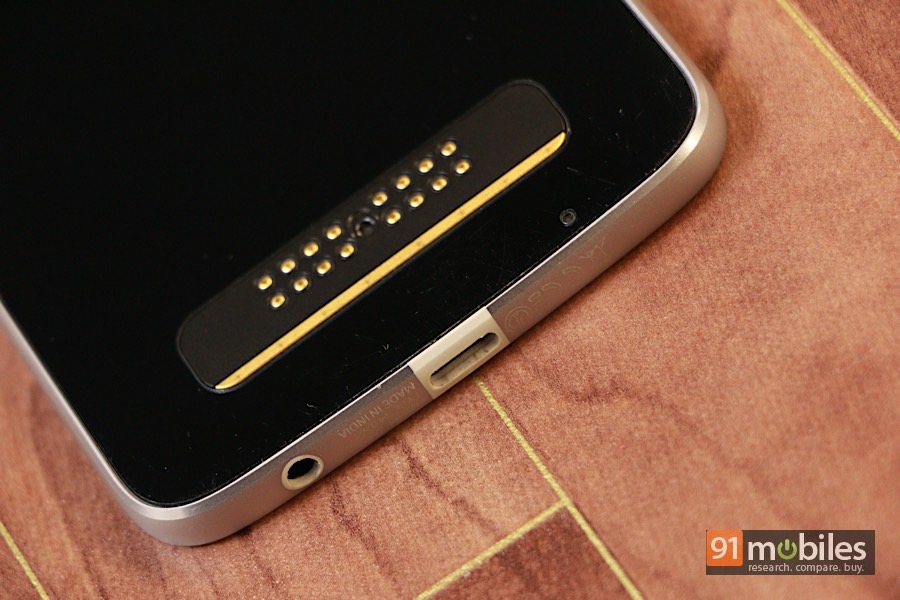 Coming to the actual design of the phone, the Moto Z Play has more girth than the Moto Z primarily because it includes a bigger battery. However, thanks to the additional size you get a 3.5mm port, something which the Moto Z lacks. Also, at 7mm thickness, we think the Moto Z Play is pretty comfortable to handle and use with one hand even more so than its thinner, more expensive sibling. At 165g, the Moto Z Play is also is one of the heavier smartphones out there but the weight is evenly distributed and therefore it feels more stable in the hand. The metal and glass finish actually makes it feel and look premium. The metal frame has rounded edges and is neatly chamfered ensuring that the phone doesn't don't dig into your palm either. The phone also comes with a water repellant nano-coating, which is a staple in most Motorola smartphones these days. Don't expect this coating to make your phone waterproof but in case of an accidental spill you can be ensured that it won't affect any internal components.


The USB Type-C port and the 3.5mm jack are placed at the bottom edge. On the top you have a SIM card tray and a microphone. The SIM card tray accepts two nano-SIM cards and has a separate space on the rear for the microSD card as well. One thing we noticed is the SIM card tray is tightly fixed into its slot making it a tough task to actually remove it. On the rear, the Moto Z Play has a massive camera bump which is designed tastefully but if you place it back down on a surface it definitely doesn't sit flat and it has a tendency to topple. The front facia is dominated by the display and below it lies the fingerprint scanner, about which we shall talk in detail later.



Moto Mods: the best implementation of modularity on a smartphone yet
Now we've taken a look at the design and aesthetics of the Moto Z Play, let's take a look at how Moto Mods work. There are 16 golden contact points arranged neatly in two parallel lines at the back of the phone. The Moto Mods connect to these contact points using very strong magnets. It is pretty intuitive and the established physical connection is pretty strong too. This is quite possibly the best implementation of modularity on a smartphone yet. Lenovo is selling four feature-rich mods in India: a JBL-made speaker attachment, a projector, Incipio offGRID Power Pack, and a Hasselblad camera. Also, more Moto Mods are incoming. Furthermore, there are a variety of fashionable back plates that can be used to add some flair to your device. Our review unit came with a wooden backplate in the box, and we also got to play around with the speaker and projector mods.



The convenience of using the JBL SoundBoost mod is unparalleled. Say you are watching a video on YouTube or listening to music, all you need to do is snap on the JBL mod to your Moto Z Play and it will immediately route the music through the mod — you don't have to fidget with any settings on your phone. This seamless integration is great and we think this is the best implementation of modularity on a smartphone yet. Having said that, it still makes the phone pretty bulky and in fact a similarly priced bluetooth speaker — purchased separately — will definitely sound better; case in point – the JBL Clip or the Logitech X50. The Insta-Share projector doesn't work in the same way, though. You will have to switch it on separately but it is still an easy setup. This mobile projector is our favourite Moto Mod and it does throws a really sharp image on a plain flat surface in extremely dark lighting conditions. We thoroughly enjoyed lying down on the bed and watching Netflix on the ceiling. Unfortunately, we couldn't test the Hasselblad camera mod but that is for a separate review anyway.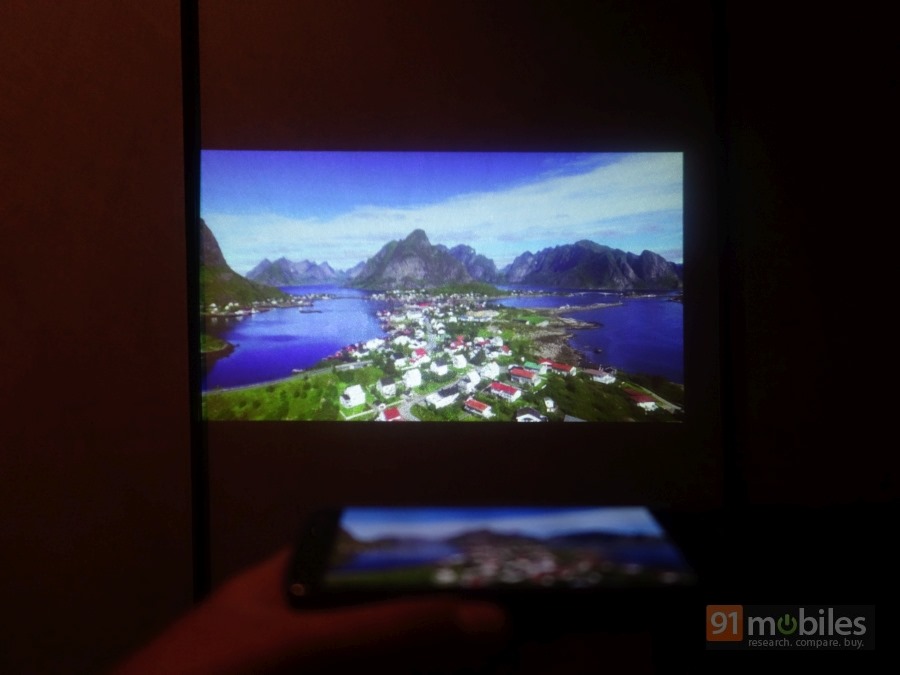 All in all, the Moto Mods are great and the Lenovo-Moto combination could be the only player left in the market doing modularity now that LG has also decided to quit the game. Also, the easiest and most affordable way to get started with modularity is by buying the Moto Z Play. There's no going wrong with it, honestly.
Display: best in class
Resolution
: Full HD (1080 x 1920 pixels)
Display Type
: Super AMOLED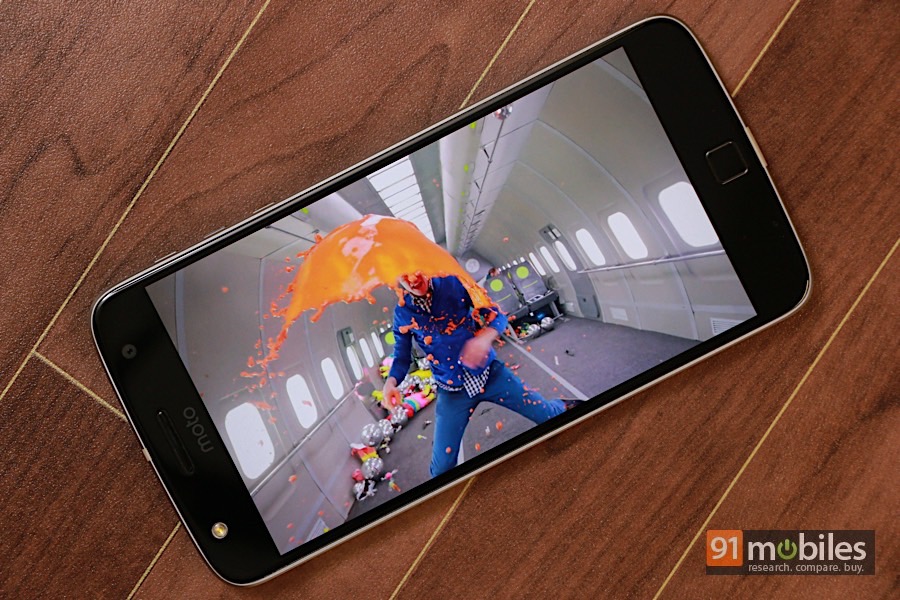 The Moto Z Play has a 5.5-inch (14 cm) Super AMOLED full HD display that is tuned for colour accuracy and vibrancy. The pixel density of the display is a very high 403ppi and as a result we are pretty sure that you will find it crisp and detailed at all times. The deep black levels also ensure that videos look very good on the display. The one thing that plagues AMOLED panels is a slight discolouration that happens when you view it from an angle, and it is present even on the Moto Z Play. This is not too bad to break your viewing experience though. The one thing we have no clear information on is if the Moto Z Play's display is protected by Corning Gorilla Glass or any other type of screen protection, though.

We think that at this price range you won't get a better display than the one on the Moto Z Play. In fact, we like the display better than the one on the OnePlus 3 (review).

Software: includes the smarts
Operating System
: Android
OS Version
: 6.0.1, Marshmallow
The Moto Z Play runs Android Marshmallow 6.0.1 out of the box. One thing to note is that the phone is expected to get an upgrade to Android Nougat soon, which is an advantage on Lenovo's Moto phones. However, the bigger advantage of owning the Moto Z Play – at least with respect to its software – are the really cool Moto Actions. For example, doing a double karate chop to start the torch or twisting your wrist twice quickly to capture a picture never gets old.

However, there are a few more additional actions now, wherein you can flip the phone face down to silence it during phone calls or pick it up to stop ringing. Most of the new additions feel derivative more than innovative considering we've seen the same gestures on other smartphones as well. Having said that, it is definitely a neat little inclusion regardless. Moreover, it works great in conjunction with a nearly stock Android experience found on the phone; there is no unnecessary bloatware or duplication of apps. Furthermore, the Moto Display feature for active notifications on the screen even when it is locked is possibly the best we've used. All you need to do is wave your hand over the phone, or give it a slight nudge, for it to show the latest notifications. You can store up to five fingerprints but the fingerprint scanner on the front is not as accurate as the ones we've used on other phones. Moreover, we still think that its existence for the sole purpose of being just a fingerprint scanner and not doubling up as a Home button is rather annoying.
Camera: the phone's achilles heel
Flash
: Dual-color LED Flash
The Moto Z Play comes with a 16MP primary camera with an f/1.8 aperture, and laser and phase detection autofocus (PDAF) technologies. It is also supported by a dual-LED flash for low light situations. On the front you get 5MP f/2.2 camera with a wide-angle lens and a front flash as well.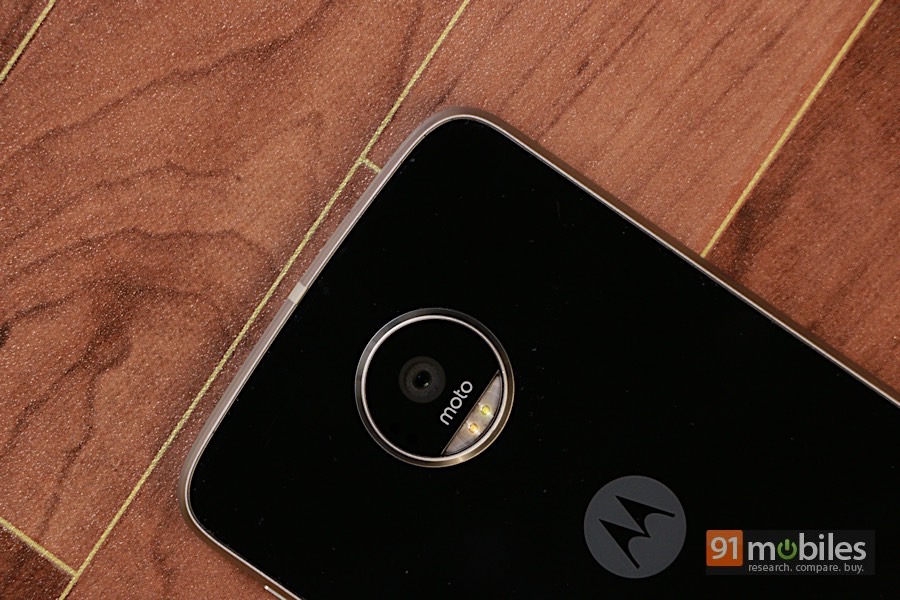 As far as the camera app is concerned, it is definitely a marked improvement over Motorola's previous implementations; it has an easier learning curve. Apart from your regular shooting modes and options like, Standard, HDR, and Panorama this time around Motorola has added a Professional mode that can be used to adjust settings like ISO, white balance, shutter speed, and some more. This allows you a higher level of control over your image. The other noteworthy addition is the inclusion of a Beautification mode for selfies – a staple in most Chinese phones.
Now, coming to the actual camera performance. Note that, by default, the Moto Z Play shoots at 11MP with an aspect ratio of 16:9. Therefore, before you start going trigger-heavy with the Moto Z Play, you might want to ensure that change the settings to 16MP (4:3). The Moto Z Play's camera can shoot decently fast but don't expect the focussing and shooting speeds that you'd expect from a flagship smartphone. Under good lighting conditions (daylight), our closeup sample shot of the wheel looked good and retained a great amount of details too. The colours look close to natural and that is a great thing. Moreover, the camera managed to retain a lot of the information in the highlights and the shadows. The exposure was just right too. However, the camera lens does struggle a lot with lens distortion and softness around the corners.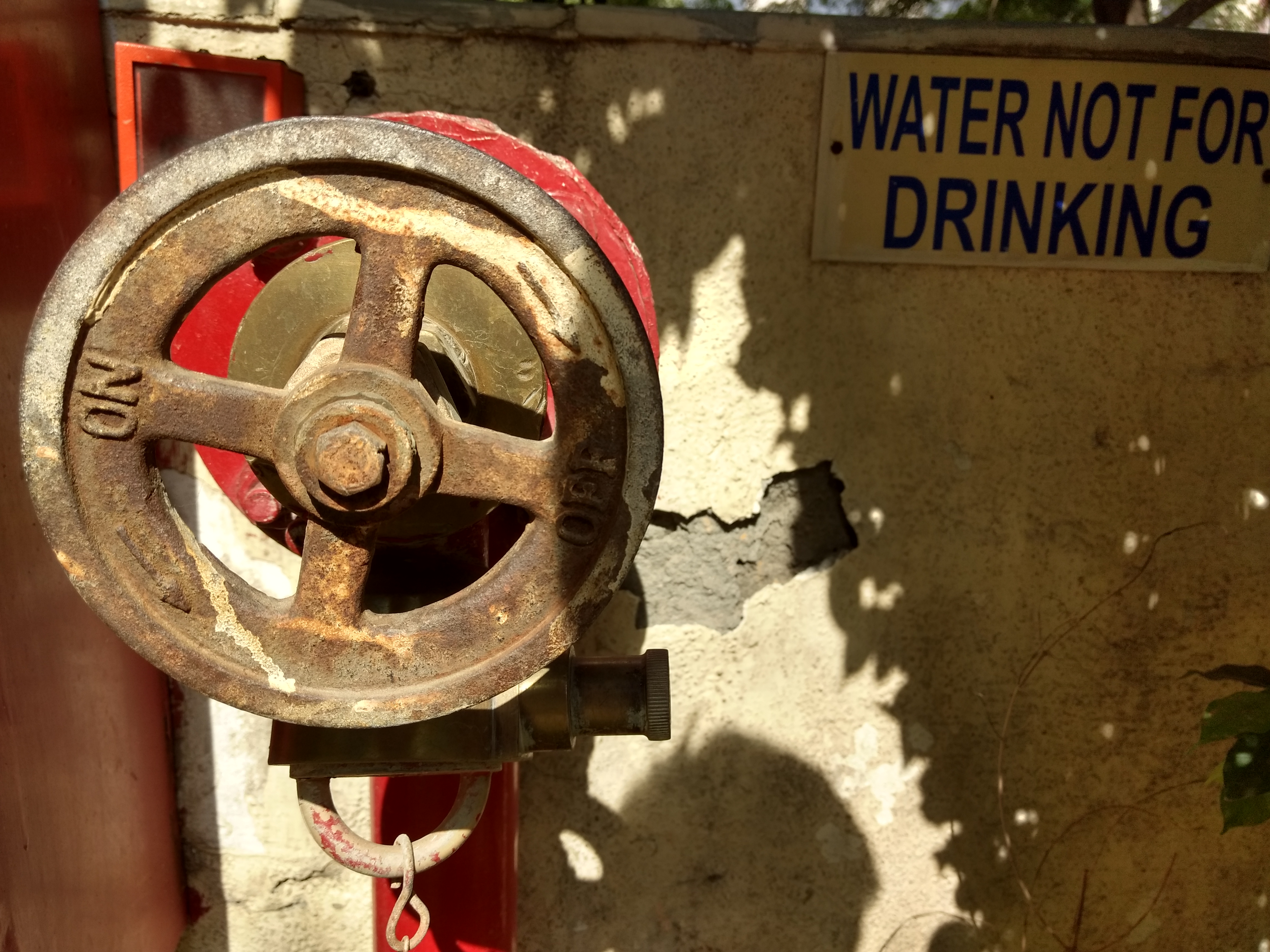 The loss of details around the corners of the image was also evident in our long shot. In fact, the camera struggled with retention of fidelity in details in the long shots even in the areas of focus. On closer inspection, we also noticed some details were clearly smudged and looked and even the colours blended into one another. Moving on to the performance of the camera in low light, we'd like to make it clear (unlike the camera on the Moto Z Play) that the phone struggles. The primary camera on the Moto Z Play, we had a great deal of trouble in finding the right focus and capturing details as well. Clearly, the primary camera's still shooting experience left us wanting for more.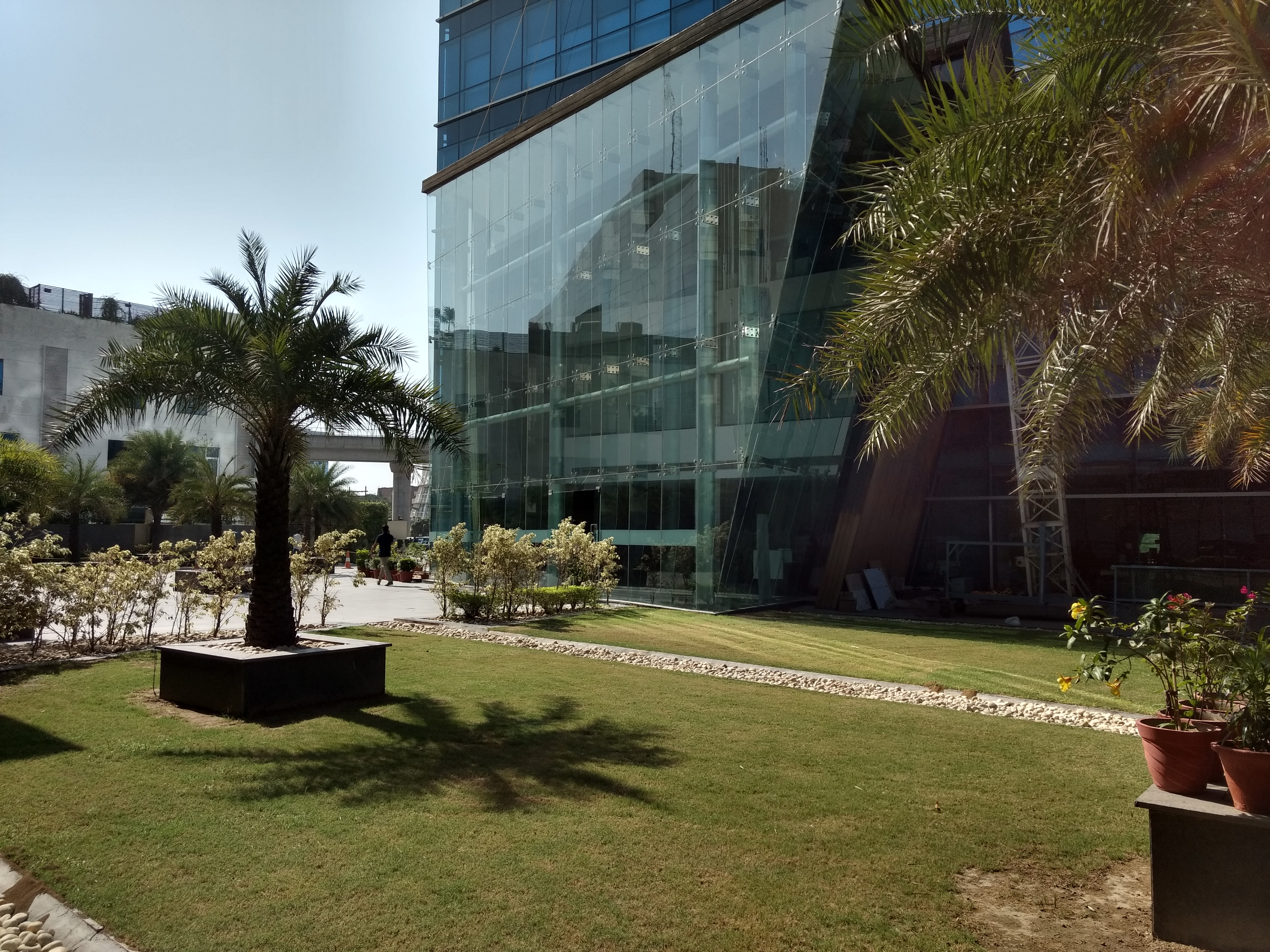 The camera can also shoot 4K resolution videos and slow motion 720p video at 120fps. The slow motion footage was usable and there was very little interlacing too. Our sample 4K footage looked good too and it also recorded stereo audio, which is great considering phones like the Apple iPhone 7 Plus and the Google Pixel don't have it. The video recording performance of the primary camera is definitely better than its still recording chops. The 5MP front camera can capture some really detailed selfies in good lighting conditions with a great control over colour saturation and this had us completely surprised. The low light performance is so-so but thanks to the presence of flash you can get usable shots.

Performance: surprisingly efficient across the board
CPU
: Octa core, 2 GHz, Snapdragon …
Memory
: 32 GB + Up to 2 TB
SIM Slots
: Dual SIM , GSM+GSM
The Moto Z Play uses a Qualcomm Snapdragon 625 SoC, which also includes the Adreno 506 GPU. It has 3GB of RAM and 32GB of internal storage, which can be further expanded by up to 256GB using the microSD card available in the SIM tray. On paper, the Moto Z Play pales in comparison to phones like the OnePlus 3, Xiaomi Mi 5, and the Lenovo Z2 Plus – all of which offer much better specs, sometimes even at a lower price. However, if you've read our reviews in the past you'd know by now that at 91mobiles we believe in the new-age adage: only specs don't maketh a smartphone.
Having said that, for those who are still curious about benchmark numbers, the Moto Z Play scored 62,306 in AnTuTu and 23fps in GFXbench — not great by any standards. But, quite honestly, these numbers don't really matter because in our time with the phone we faced nary a lag or stutter; the hardware-software optimisation is very, very good. Even graphically games like Asphalt 8 and Modern Combat 5 played really well on the phone. Therefore, if you were to buy the Moto Z Play be rest assured that you really won't have to worry about day-to-day and gaming performance.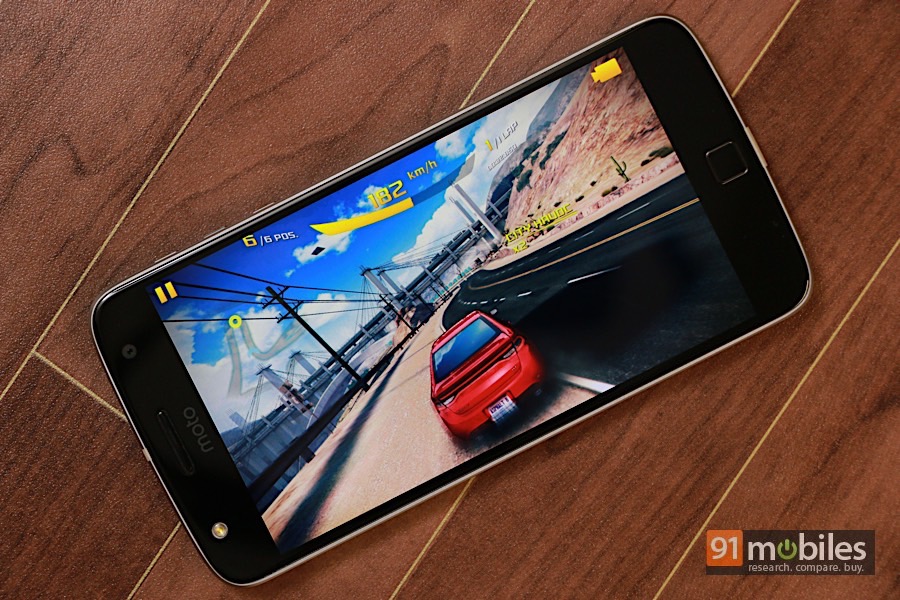 We also tried a few audio and video files, and noticed that the Z Play played all of them without any issue whatsoever. The in-built speakers are pretty loud too. Lenovo also bundles a pair of earphones in the box and it generally serves the purpose for casual music listening sessions. In typical Motorola fashion, the Moto Z Play excels in telephony performance. We didn't face a single call drop during our time with the phone and, after some connection troubles initially, our Airtel 4G network held up really well too.
Here's one reason why you should buy the Moto Z Play – its stupendous battery life. The 3,510mAh battery lasts long, really long. In our battery test the phone lasted 21 hours, which is just phenomenal considering we haven't seen any phone perform this well; in comparison the Xiaomi Redmi Note 3 (review) lasted around 14 hours. Moving past our testing process, even during daily usage the phone easily lasts two days even on heavy usage. This is possibly the best battery life on a smartphone yet.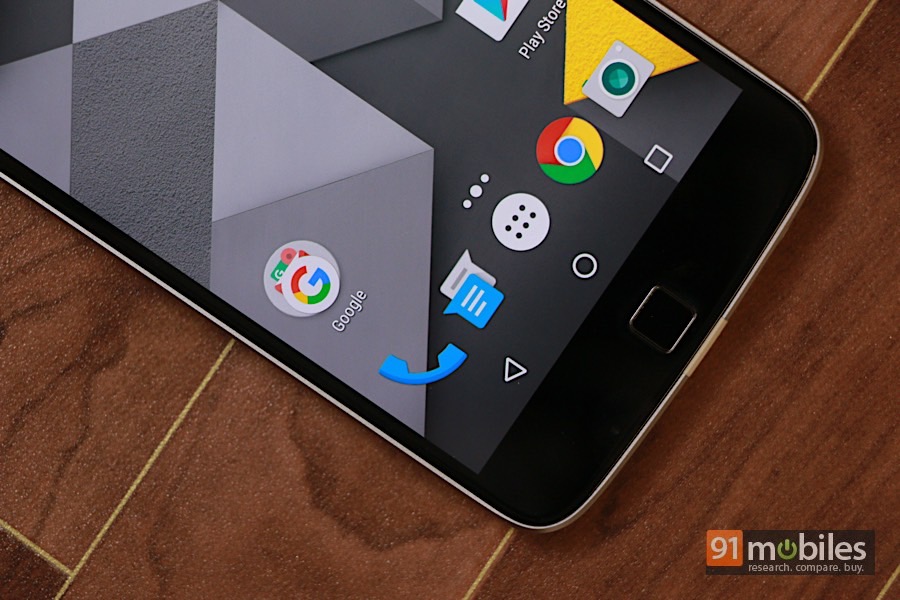 Verdict
After our time with the phone, we are convinced that there is a lot to like about the Moto Z Play. From its wonderfully convenient Moto Mods to the insane battery life, the Moto Z Play is a superb mid-range smartphone. The only downside is the slightly underwhelming performance of the rear camera but honestly it is not so bad that it could become a deal breaker. Our only concern is that the Moto Z Play is priced at Rs. 24,999, and it goes up against a formidable opponent in the form of the OnePlus 3. That considered, the Moto Z Play still puts up a strong fight and, in fact, there is enough reason for someone to like this phone over the OnePlus 3. Go for the Moto Z Play, you won't be disappointed.

Editor's Rating: 4 / 5

Pros:
Stupendous battery life
Moto Mods are fun to use
Great display
Clean software

Cons:
Underwhelming rear camera
Fingerprint scanner is wonky
Photos by Raj Rout
Competitors for Moto Z Play 32GB
| | | |
| --- | --- | --- |
| Moto Z Play 32GB | vs | OnePlus 3 |
| | | |
| --- | --- | --- |
| Moto Z Play 32GB | vs | Asus Zenfone 3 ZE552KL |