"If you're looking for a slim-yet-powerful laptop, then MSI's GS75 Stealth 9SG should be on your radar. Read our review to know why"
While we're all getting excited about the innovations that are happening in the world of smartphones, there's a quiet revolution taking place in the laptop space. From never-seen-before form factors (Dell Alienware Area-51m and ASUS ROG Mothership) to the inclusion of powerful chipsets (7nm SoCs, ray tracing-enabled graphics card from NVIDIA), we're seeing tons of exciting developments in this segment. In fact, the way we think about computer OS might also change soon, if Microsoft's idea about the modern operating system that will constantly update itself is anything to go by. Now, you must be wondering why I'm telling you about all this while reviewing a gaming laptop from MSI. Well, the more I use it, the more I'm convinced that laptops aren't really dead, they're just evolving as per our needs. So while we shall see how the world of computing will change in the future, for now, let's take a closer look at the MSI GS75 Stealth 9SG and whether it's worthy of your hard-earned money.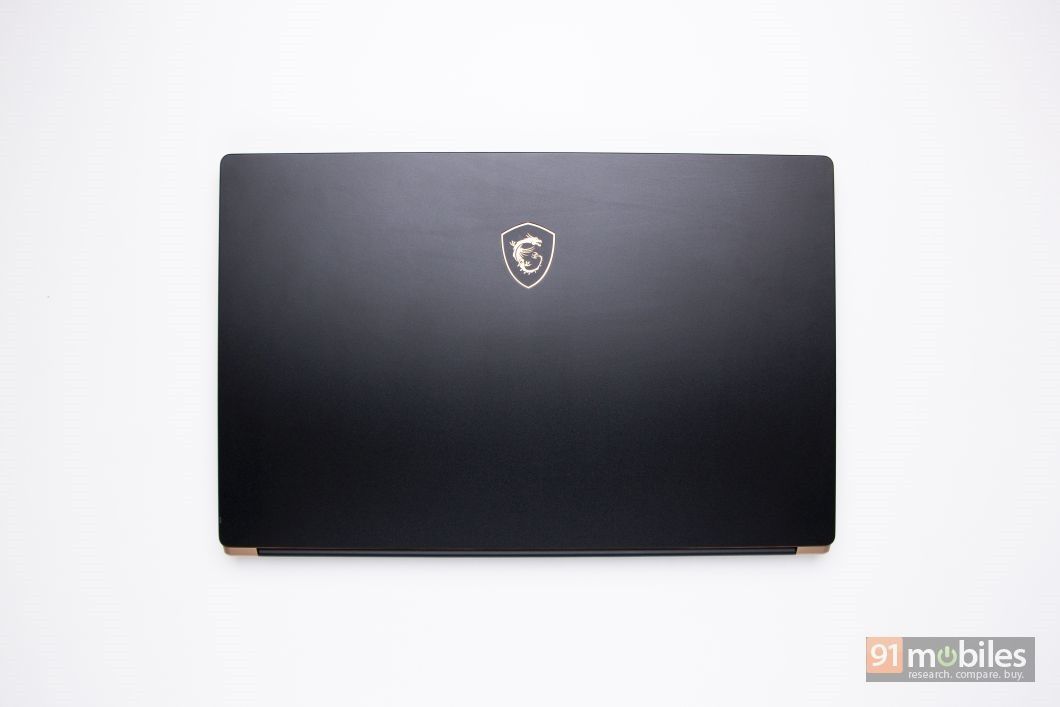 Specs at a glance
Measures 39.6 x 25.9 x 1.9cm
Weighs 2.25kg
17.3-inch display, FHD resolution
Intel 9th-gen Core i7 9750HK
NVIDIA GeForce RTX 2080 Max-Q
32GB DDR4 RAM
1TB SSD
4 x USB 3.0 ports, 2 x USB Type-C ports, 1 x HDMI port, 1 Ethernet port
1 x microSD card slot
82WHr battery
Windows 10 home
Design and display
The fact that I have been reviewing gaming laptops like the Dell Alienware Area-51m (review) and ASUS ROG Zephyrus S GX701GX (review) back to back might make it seem that I'm biased when I say that the GS75 Stealth 9SG comes across as a breath of fresh air. That's because unlike the hefty, too-big-to-carry machines, MSI's offering is no thicker than a normal laptop. Furthermore, its minimalistic design language with a black colourway makes it a perfect companion for both eSports tournaments and boardroom meetings.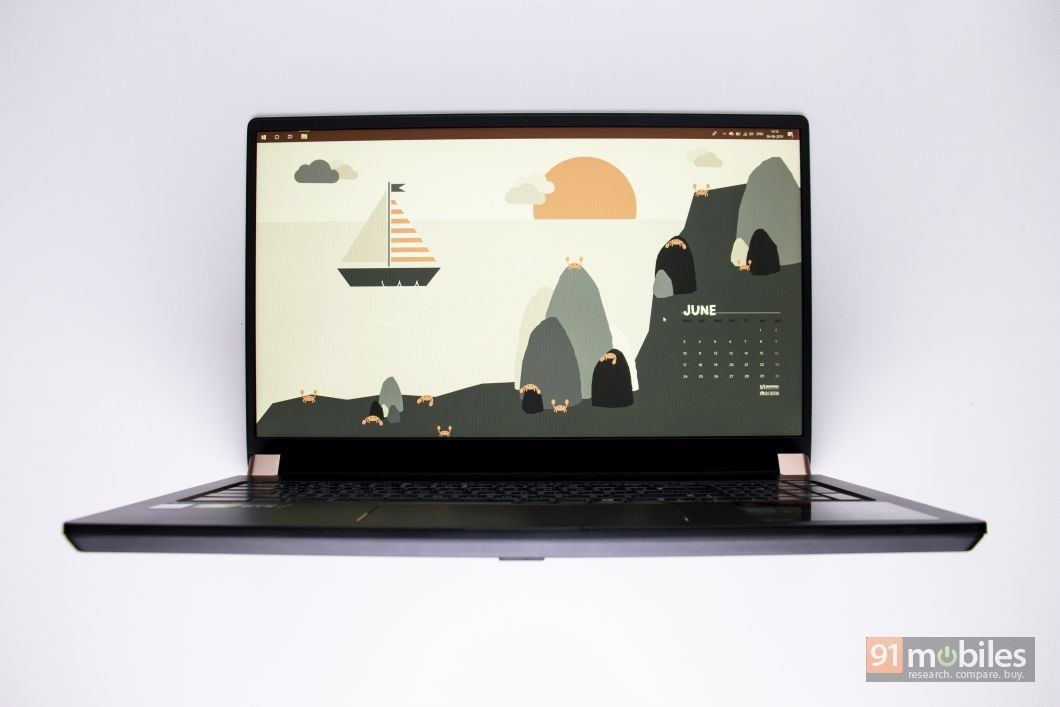 Following the bezel-less trend in the laptop category, MSI's GS75 Stealth 9SG comes with minimal bezels (5.2mm thickness) on three sides of its screen. Even the one on the bottom isn't too large as compared to the competition, though its only functional purpose (from the outside) seems to be sporting an MSI logo. In fact, you might be surprised when I tell you that the device packs in a large 17-inch panel in the form factor that's not much bigger than traditional 15-inch laptops. With a screen-to-body ratio of 85 percent, the 17.3-inch display on the Stealth 9SG does get your attention whether you're browsing the web, watching movies or playing games. The full HD resolution ensures crisp visuals with a 144Hz refresh rate offering smoother animations.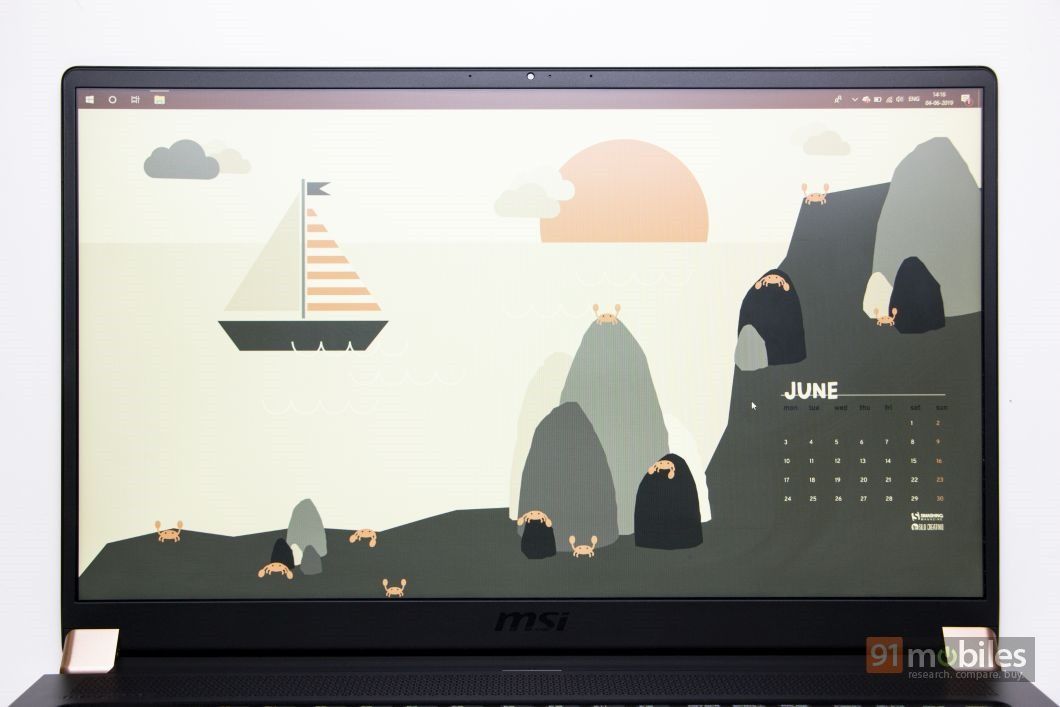 Having said that, the GS75 Stealth does have considerable weight as it tips the scales at 2.25kg. Moreover, even though the device features a metallic construction, it doesn't evoke much confidence about its durability. The screen shows a noticeable amount of flex, and even the palm rest area has flex when pressure is applied.
MSI GS75 Stealth 95G design gallery
Coming back to design, the brand has made use of gold accents quite cleverly, adding to the classy appeal of the GS75 Stealth 9SG. The accents add flair to MSI's embossed logo on the upper lid, and are also available on the hinges on either side. Once you open the lid, you'll see that the wider-than-usual trackpad has a gold line running along its frame as well. You'll also find the gold trim running along the boundary on top, and bang in its centre is the power button. That said, I'd have certainly appreciated a fingerprint sensor (built into the power switch or otherwise).
As far as I/O is concerned, the 9SG won't leave you wanting for more. Towards the left, you'll find the Ethernet port, a USB Type-A socket, a microSD card slot, microphone input and a 3.5mm interface. And on the right, there's a full-sized HDMI port, and two Type-C slots on either side of a pair of Type-A ports.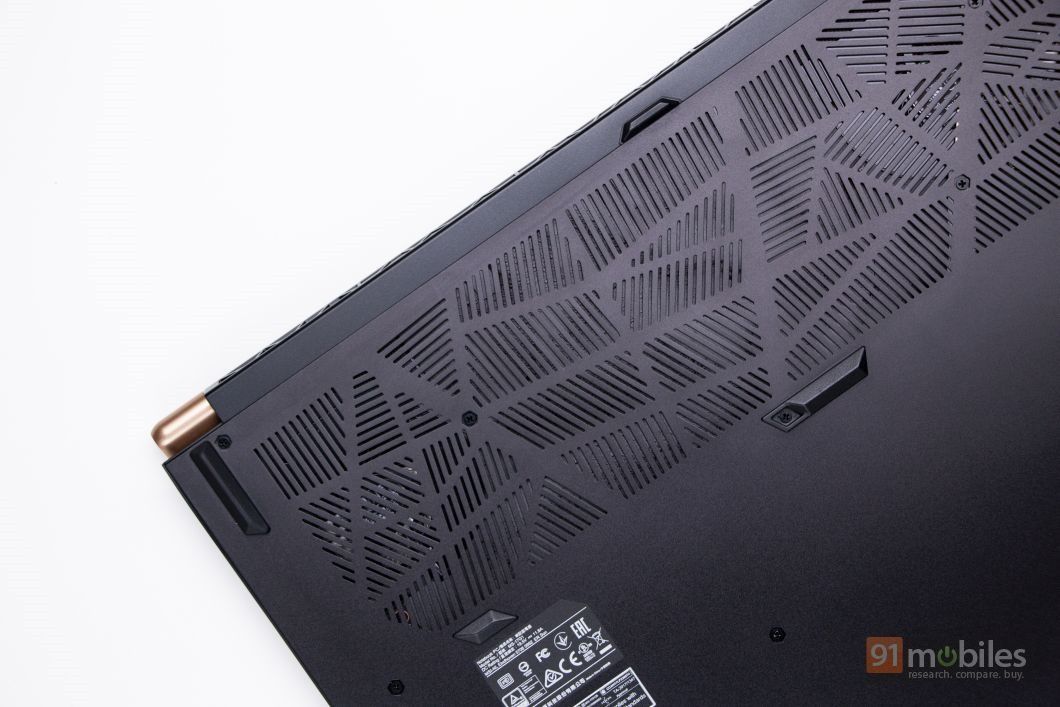 MSI has also taken care of thermals considering this a gaming laptop. You get ventilation grille on the left and right side along with three cooling fans and six heat pipes.
Keyboard and trackpad
Built by Steelseries, the keyboard on the MSI GS75 Stealth 9SG is fun to type on. The keys have enough spacing between them, and offer good travel, which means that typing is quick and error-free. The keyboard also gets per-key RGB lighting, which you can control from the MSI Dragon Center app (to be discussed ahead). Oh, did I tell you that you also get a number pad on the right side?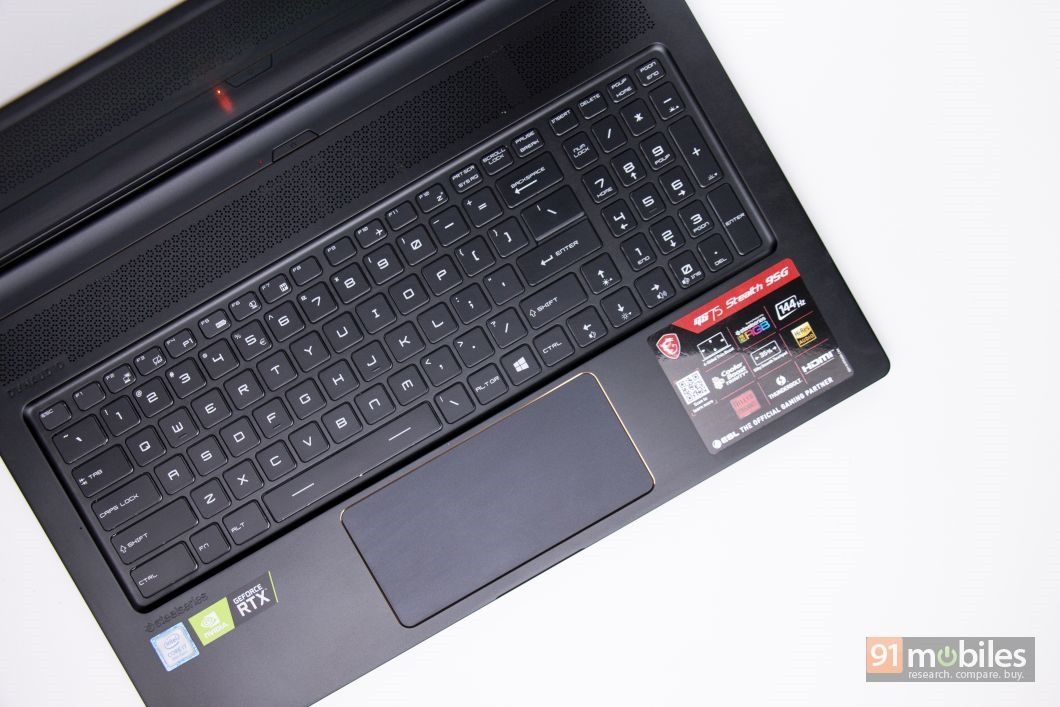 But – and it's an important but – the typing experience on the laptop isn't perfect by any means. That's because the key layout is quite different than the norm. You see, there's no Windows key on the left, which would certainly miff keyboard shortcut lovers. Even things like the ability to change the brightness or volume levels are available on the arrow keys instead of the Function keys, which takes some getting used to. Then there's the fact that the Insert key is placed just beside the right arrow key, and that means that any inadvertent presses would break your typing flow (since if you start typing it starts overwriting the text). While all these could be minor issues, the biggest problem is the trackpad. On the face of it, the trackpad should have nothing to do with the keyboard, but in the case of the GS75 Stealth 9SG, the trackpad is 35 percent wider than the conventional ones. That means, that you have to do finger gymnastics to position your fingers such that the cursor doesn't start acting up. Or you could try typing with your palm in the air (believe me, it becomes tiring after a while). Or you could follow my hack: simply disable the trackpad when you're typing by pressing Fn+F3. However, this works best when you have an external mouse connected.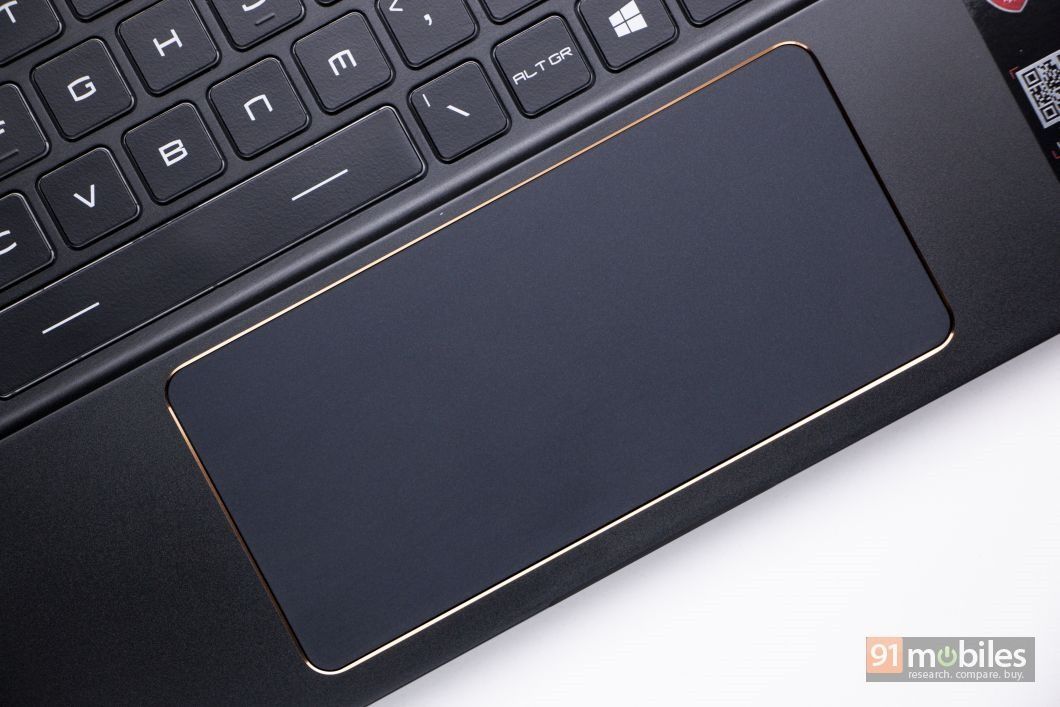 Now coming to the trackpad itself, it does offer the convenience of navigating. You gave a larger surface area to perform various gestures, and the device responds instantly too. There are no physical left- and right-click keys, but you shouldn't have any trouble in using the trackpad for those actions.
Hardware and software
For all its minor quibbles, a gamer would really want to know if the MSI GS75 Stealth 9SG can deliver in the performance department. Well, the short answer is an emphatic yes. The machine comes powered by Intel's latest 9th-gen Core i7 octa-core processor, which can handle everything without batting an eyelid. The 9750HK chipset is clocked at 2.6GHz, and can go up to 4.5GHz in the Turbo mode. The chip is ably supported by 32GB of DDR4 RAM. As you could expect, in case of day-to-day tasks, there wasn't any instance where I felt that the laptop was struggling. This reflects via benchmarks as well, since the rig scored 5,350 on PCMark 10. In Cinebench R20, it got 2,319cb.
MSI GS75 Stealth 95G benchmarks
Taking care of your gaming needs is the RTX 2080 GPU in the power-efficient Max-Q avatar. The 12nm graphics processor comes with 8GB of GDDR6 RAM and is more power-efficient than the regular RTX 2080. If you've read our reviews of laptops based on NVIDIA's Turing architecture, then you know that they can play games deftly, and same remains the case with the Stealth 9SG. Playing high-end gaming titles was a delight. In terms of frame rates, the device as able to churn out ~60fps on Metro Exodus. In titles like Witcher 3 and Middle Earth: Shadow of War, the device fared better with sustained frame rates of around 80 to 90fps. If you're a fan of titles like PUBG and Apex Legends, then you could easily exploit the potential of the 144Hz refresh rate as the frame rates reach around 140fps mark.
Sadly however, even though the device can tackle any game you throw at it, its thermal efficiency doesn't manage to keep up. The laptop starts to heat up within 20 to 30 minutes of gaming, which makes it difficult to play for really long sessions.
For storage, MSI has packed a 1TB SSD on the Stealth 9SG. Interestingly, it comes with a partition out of the box. As per CrystalDiskMark, the rig offers read and write speeds of 3,481MB/s and 3,241.0MB/s, respectively. That's not all, the rig also has additional SSD slots, if you want to extend the storage further.
The MSI GS75 Stealth 9SG comes with an 82Wh battery, which fares quite well for a gaming-centric machine. With 100 percent juice, I was able to get a runtime of around three hours while working on documents and surfing the internet. With the bundled adapter – which I must add is quite lightweight (unlike many gaming devices) – the rig can be charged fully from 10 percent levels in about one and a half hour.
Verdict
Gaming-oriented rigs are seeing newfound interest from almost all the laptop manufacturers. And each of the brands is ensuring it has enough options to meet the demand of different types of gamers. While the GS75 Stealth 9SG may not be for those who are simply looking for raw power and a machine that will remain stationary, it's certainly a great choice for those who are looking for performance without compromising on the portable aspect. With a well-rounded spec sheet, it's easily one of the most powerful laptops that can be carried around in a backpack rather comfortably.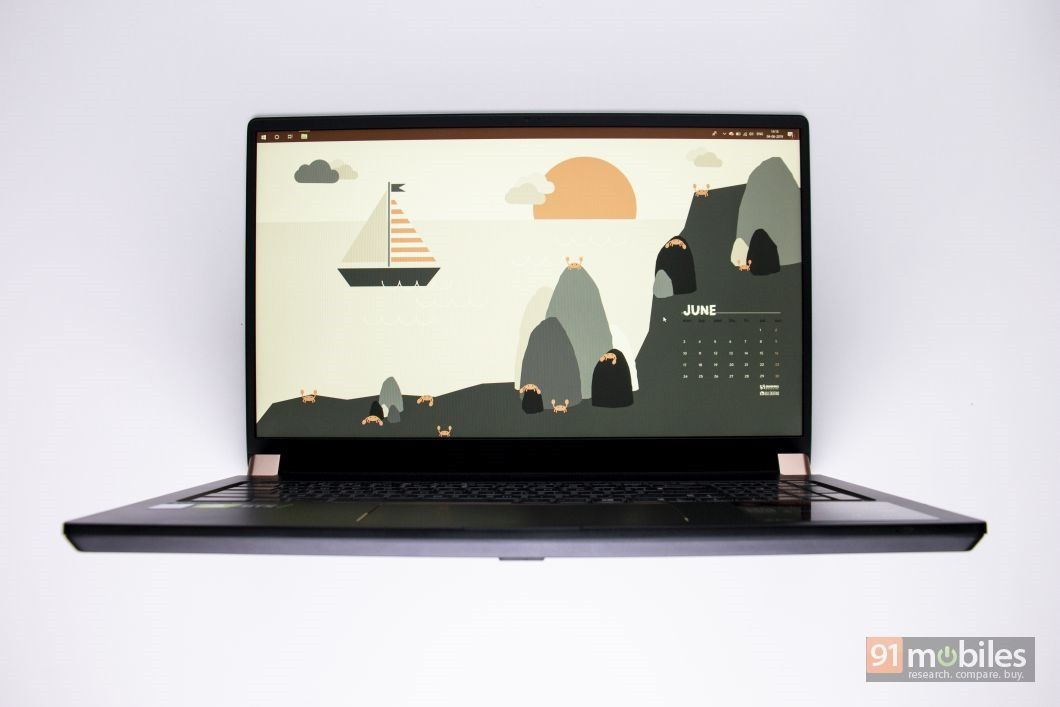 Having said that, with a price tag of Rs 2,69,990 the laptop doesn't come cheap. However, if you know what you are looking from a laptop, then the MSI GS75 Stealth 9SG should be on the top of your shortlist considering competing machines such as the ASUS ROG Zephyrus S GX531 or Area-51m aren't as powerful and / or are quite bulky.
Pros
Minimalistic design language
Great display
Powerful internals
Decent battery life
Cons
Uninspiring build quality
Weird keyboard layout and difficult to type due to the wide trackpad
Heats up while intensive gaming
Photos by Raj Rout