Did you know that the number 4 is considered inauspicious in China? Well, that's the reason we haven't seen any smartphone from the likes of OPPO and Vivo with bearing digit in their model number. But one brand which was perhaps the first one to follow this strategy is Nokia which never launched a feature phone or smartphone with the number 4. Until this year that is. Under its new parent HMD Global, the brand introduced the Nokia 4.2 (hands on) alongside a slew of other smartphones at this year's pre-MWC event. Now the smartphone has been launched in the country carrying a price tag of Rs 10,990. Considering this voluminous price segment attracts attention from most brands, and is seeing a lot of action in India even from established players like Samsung, can the Nokia 4.2 leave a lasting impression? More importantly, can Nokia prove that the number 4 isn't really unlucky, after all? Stay with me to find out.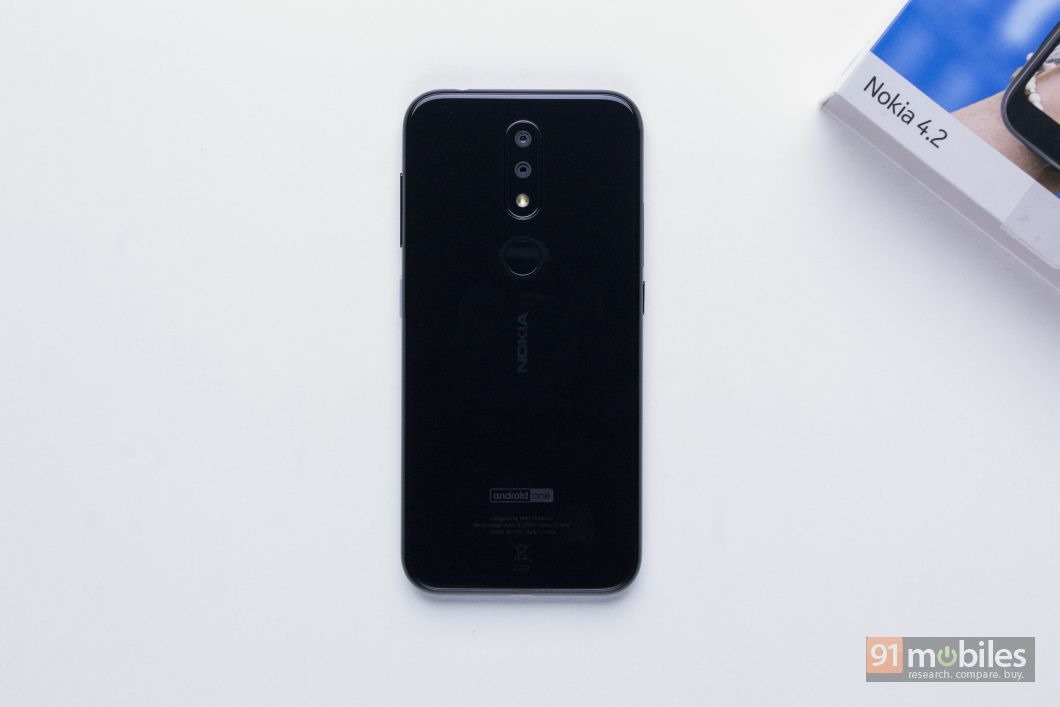 Specs at a glance
Display
Size
5.71 Inch
Resolution
720 x 1520 pixels
Performance
CPU
Quad core, 1.95 GHz + Quad core, 1.45 GHz, Snapdragon 439
RAM
3 GB
Storage
Internal memory
32 GB
External memory
Up to 400 GB
Battery
Capacity
3000 mAH, Li-ion, Non removable
Talktime
Up to 18 Hours (3G)
Standby Time
Up to 600 Hours (4G)
Camera
Primary camera
13 MP
Secondary camera
8 MP
Connectivity
Network support
Dual SIM 4G
Other options
Wi-Fi, Bluetooth 4.2, GPS
Others
Battery Capacity
3000
Operating system
Android 9.0 Pie
Design and display
Resolution
: 720 x 1520 pixels
If you consider the Nokia 4.2 just another budget phone, then you wouldn't be wrong. When viewed from a distance, the smartphone's glass-sandwich design doesn't have any distinctive feature to draw your attention. While my review unit came in a classy black colour, you can also opt for a distinctive-looking Pink Sand hue.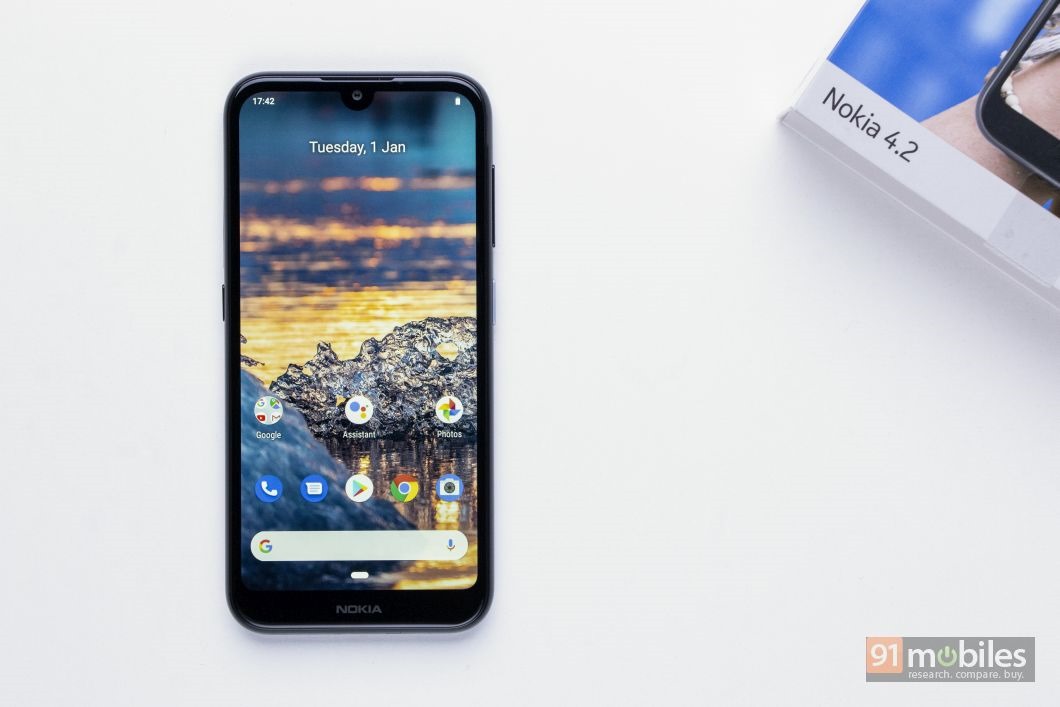 If you notice closely however, then you'll find the power button to be slightly different than usual. Well, that's because the power button is surrounded by an LED which serves as a notification light. Not only does it add character to the Nokia 4.2, but it also seems to be quite useful. You see, most smartphones these days don't have a notification light at all, or if they do, it's usually a tiny one which can be missed easily. But that isn't the case with the 4.2, as the light is quite strong, and is visible even when the smartphone is kept face down.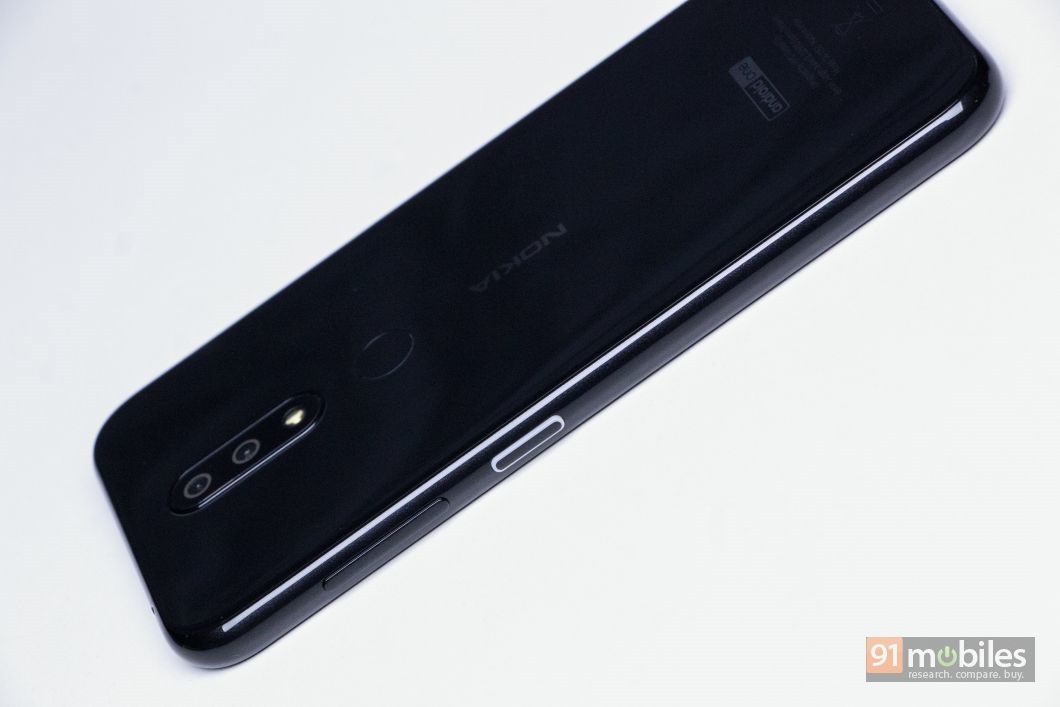 The Nokia 4.2 is also the brand's first smartphone (along with the 3.2) that comes with a waterdrop notch on its display. Nokia refers to it as the dot notch. Sadly, that doesn't mean that the device has an impressive screen-to-body ratio, for it has thick bezels at the bottom with Nokia branding. The bezel is noticeably wide even on top.
Even with these bezels, the 4.2 will also be loved by those who like compact handsets. With a screen size measuring 5.71-inches, the smartphone nestles well in the hand, and you can operate it single-handedly with ease. That said, the phone's glass-back construction means that it's prone to slippage. As far as the display quality is concerned, the HD resolution might not seem attractive, but the IPS panel manages to offer crisp visuals and good colour reproduction. Brightness levels and viewing angles are also fine.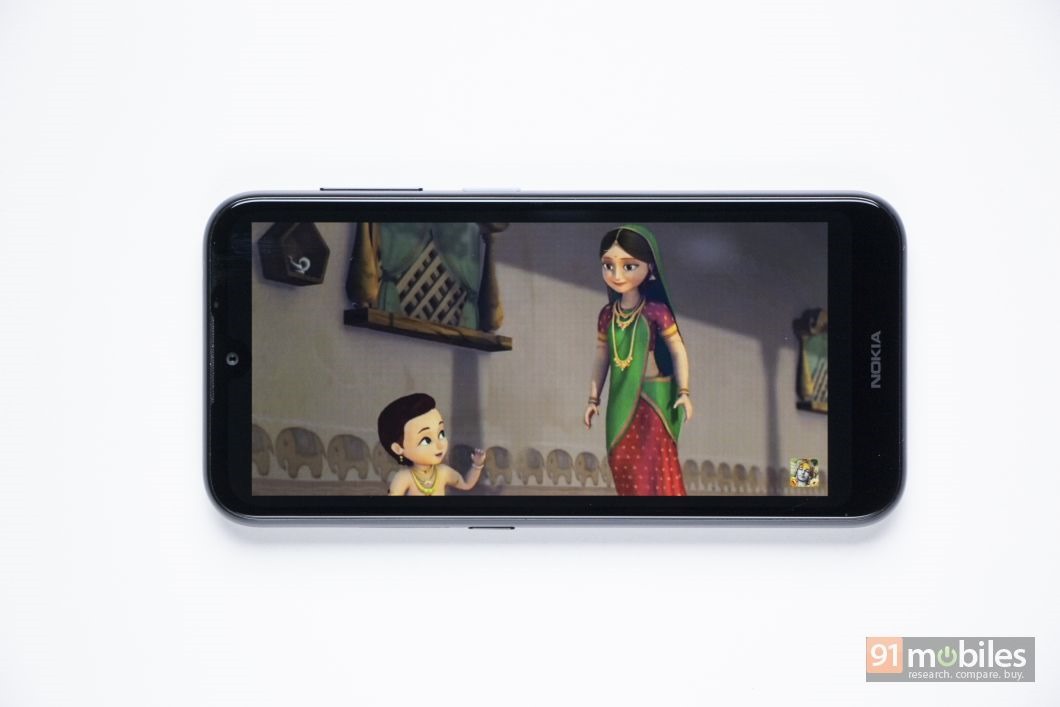 The other design elements of the Nokia 4.2 are fairly standard, though you do get an additional button on the left spine for invoking Google Assistant. There's also a layer of 2.5D glass on the front and back that adds to the looks and ergonomics. The rear has vertically-aligned rear cameras in the middle with a fingerprint scanner further below. Sadly, due to the compact size or maybe because of the placement, my fingers always reached for the camera module instead of the fingerprint reader. That said, the sensor works well and unlocks the handset quickly. You can also use face unlock on the 4.2 which also works well, though it isn't the fastest I've come across. The face unlock feature also struggles in dim settings and when you're wearing sunglasses.
Cameras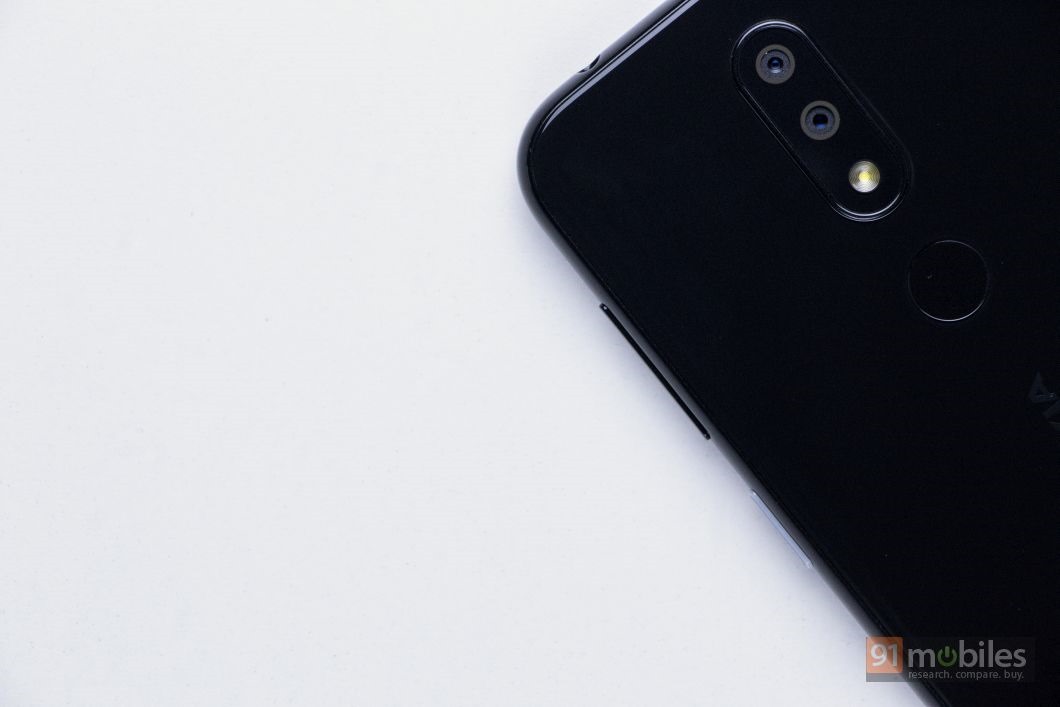 At the back, the Nokia 4.2 features a dual-camera setup that comprises a 13-megapixel f/2.2 shooter, which is paired with a 2MP depth sensor. For selfies, an 8MP snapper sits inside the dot notch on front. In terms of the camera app, the interface is fairly rich. In the vertical mode, you'll find the shutter button in the centre at the bottom, sandwiched between the front camera toggle and preview gallery. Above it you'll find various modes such as video, pro and bokeh with a slider to modify the beauty levels and another to offer modes like square, time lapse, panorama and Google Lens. Up top, there's the settings menu, self-timer and flash toggle. Interestingly, the handset also lets you get RAW output if you want.
But how well does all that translates to image quality? To put it simply, the pictures are good enough for sharing on social media, but you shouldn't don't expect anything more. The shots look good on the phone's screen, but as soon as you view them on a larger screen at their original resolution, you'll notice a lot of details missing. While the colour reproduction is quite good, the lack of sharpness affects long shots, close-ups and even images taken indoors. Close-ups however, do have a faux-bokeh effect, which make them look slightly pleasing. Low-light conditions prove to be even more challenging with significant exposure issues and a noticeable amount of noise. Thanks to a dedicated depth-sensing unit, the blur effect doesn't look artificial, though it isn't perfect as the edges of the subject do turn soft in some areas. Selfies on the other hand, fare a tad better as they maintain sharpness levels and offer good colours too. The software-enabled portrait mode for selfies also works quite well in ample lighting conditions.
We'll leave you with Nokia 4.2's camera samples to be your own judge.
Considering we're seeing a revolution of sorts in the photography department in the mid-range segment, the average camera performance offered by the Nokia 4.2 seems like a missed opportunity.
Hardware and software
CPU
: Quad core, 1.95 GHz + Quad co…
Memory
: 32 GB + Up to 400 GB
SIM Slots
: Dual SIM , GSM+GSM
Perhaps this is the most disappointing aspect of the Nokia 4.2. Carrying a sub-Rs 12k price tag, the phone ships with Qualcomm's Snapdragon 439 chipset, which is quite odd considering now even sub-Rs 8k smartphones have started to utilise SD6xxx series chips. Having said that, the combination of the 2.0GHz dual-core cluster and 1.45GHz hexa-core cluster on the Snapdragon 439 SoC works well for day-to-day tasks. Apps open relatively quickly and multitasking is also fine, thanks to 3GB of RAM.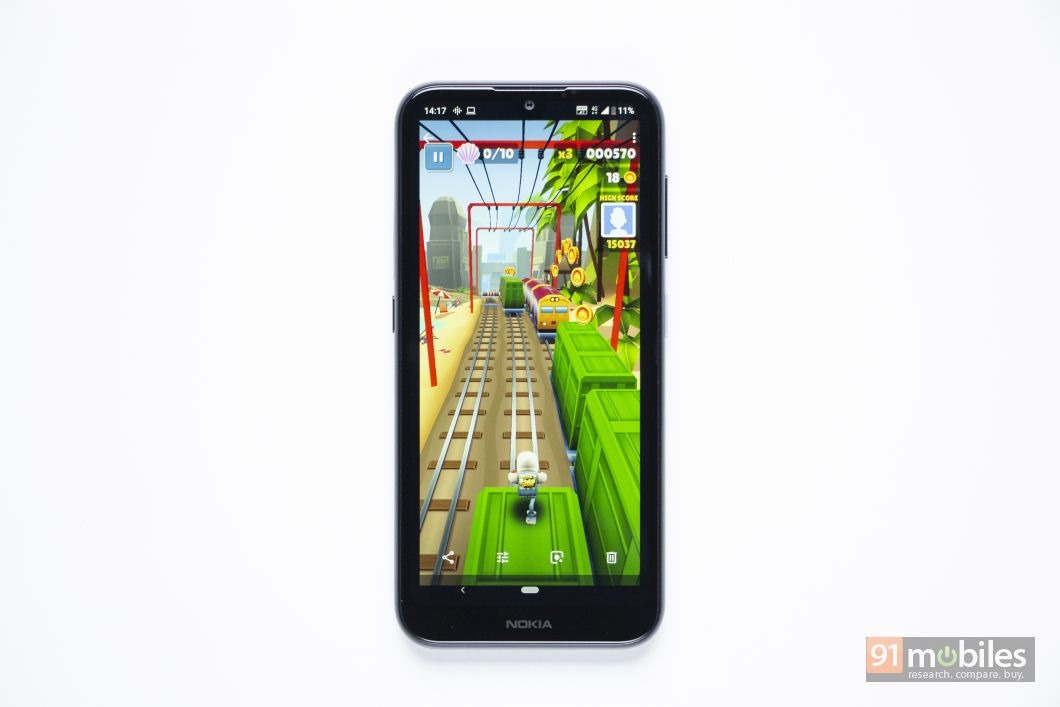 But it's while gaming that you realise the Nokia 4.2 is underpowered. The phone runs in the lowest possible graphics settings on PUBG, and even then the experience is just about average. Even while playing casual games like Smash Hit and Subway Surfers, I could notice certain janks and frame drops. The good thing though is the fact that the handset doesn't heat up even after gaming for extended sessions.
On the storage side of things, the 4.2 comes with 16GB, out of which around 10GB is available to you upon boot. You can also extend it further with the use of a microSD card of up to 300GB, and you wouldn't need to compromise on the dual-SIM capability either for the same.
The feeling of the Nokia 4.2 being out of place in this segment continues in the battery department as well. With a 3,000mAh cell, the device fails to offer similar runtime as similarly-priced smartphones that boast 4,000mAh or even 5,000mAh batteries. Having said that, the HD display ensures that the phone is able to last an entire working day. This was reflected by the PCMark Battery benchmark as the handset managed to deliver an impressive result of 14 hours and 30 minutes. Screen-on time however, is rather average at a little more than 4 hours. The phone also misses out on fast charging functionality and takes a considerable time to charge with the bundled adapter.
Verdict
If India's smartphone world was like a school classroom, then the Nokia 4.2 would be like that average student who doesn't stand out in studies, sports or extra-curricular activities.
Extending that analogy, you could guess that an average student won't get much limelight in front of those who excel in studies or sports. That makes it difficult for the Nokia 4.2, as it faces competition not only from aggressive players like Xiaomi and Realme, but even established brands like Samsung. In the Rs 12k price bracket, you can get solid options, that include the likes of the Xiaomi Redmi Note 7, Samsung Galaxy M20 (review), Realme U1 (review) and ASUS ZenFone Max Pro M2 (review). Apart from possibly the presence of the stock Android, there's not even a single aspect where the Nokia smartphone has an advantage over its rivals.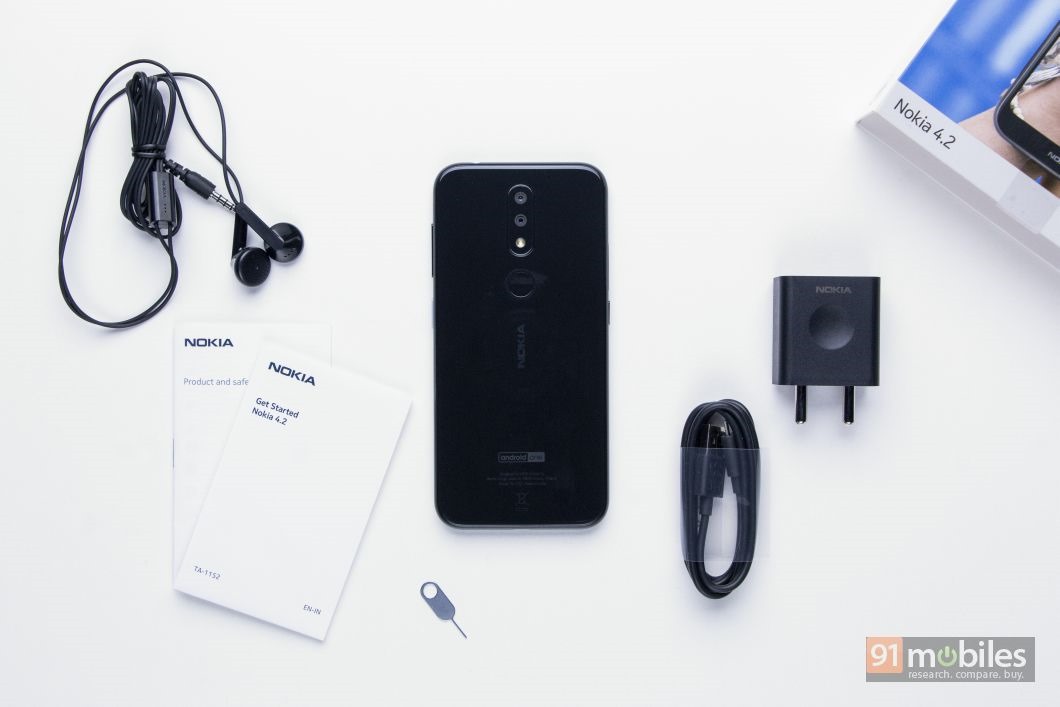 Don't get us wrong, the Nokia 4.2 won't disappoint you with its design, display, or day-to-day performance. It's only when you consider the competition, you realise that the 4.2 isn't the best option out there, given its asking price.
Editor's rating: 3.5 / 5
Pros
Attractive and compact design
Stock Android
Decent battery life
Cons
Sub-par camera performance
The hardware isn't meant for intensive tasks or gaming
Features the older-gen micro-USB port
Photos by Raj Rout
Competitors for Nokia 4.2
| | | |
| --- | --- | --- |
| Nokia 4.2 | vs | Xiaomi Redmi Note 7 |
| | | |
| --- | --- | --- |
| Nokia 4.2 | vs | Samsung Galaxy M20 |