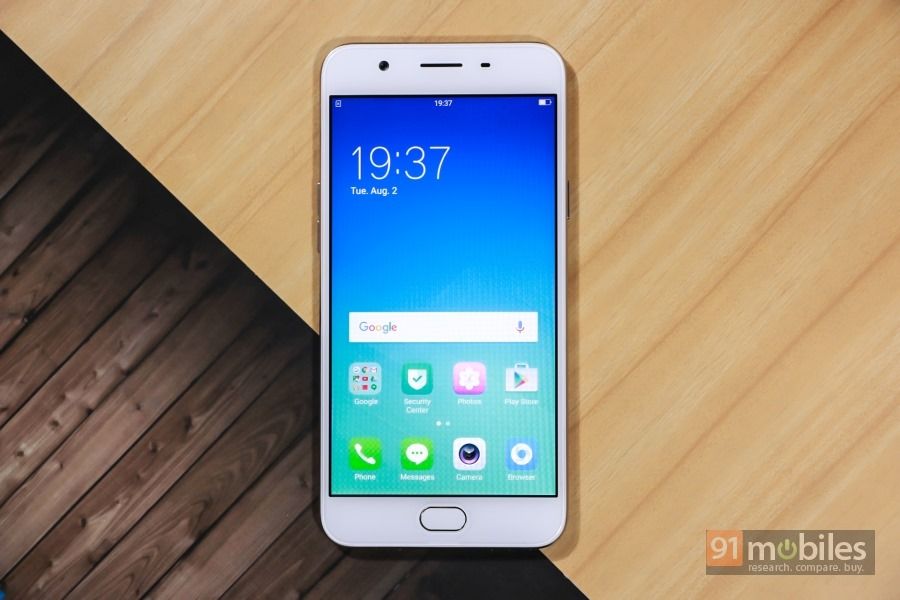 As a brand, OPPO seems to be playing on its strengths, which is a good approach to take considering quite a few of its smartphones feel overpriced when compared to rivals. We'd count design, camera capabilities and fast charging among OPPO's strong points, and it seems to be continuing along the same path for its newer models too. With its F series, it chose to focus on the shooting prowess specifically, and both the
F1
(
review
) and the
F1 Plus
(
review
) proved to be worthy smartphones in that respect.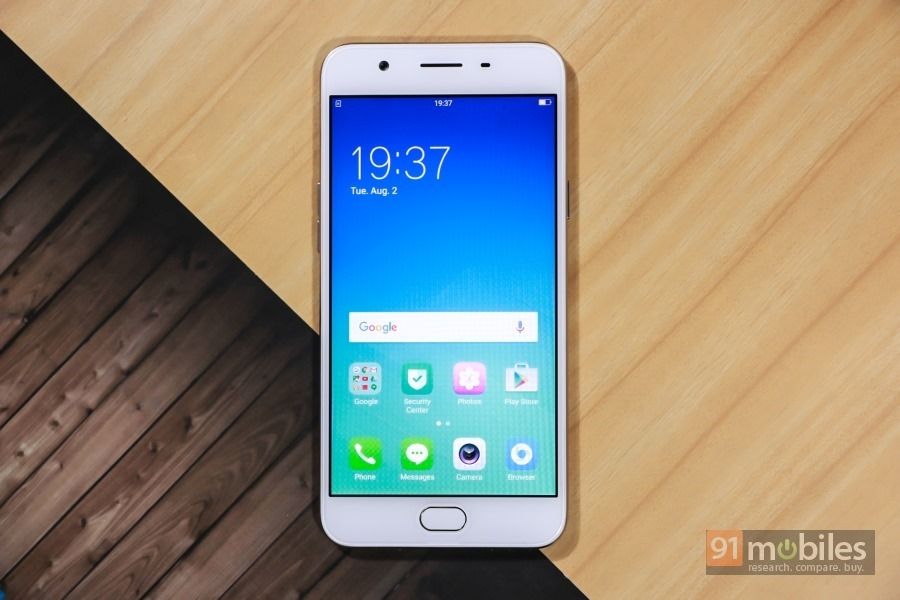 The F series is now getting a new model in the form of the F1s, and the key highlight of this phone is also its camera capabilities. Let's delve a little deeper into how the new
OPPO F1s
fares as a daily driver.
Specs at a glance
Display
Size
5.5 Inch
Resolution
HD (720 x 1280 pixels)
Performance
CPU
Octa core, 1.5 GHz, MediaTek MT6750
RAM
3 GB
Storage
Internal memory
32 GB
External memory
Up to 128 GB
Battery
Capacity
3075 mAH, Li-Polymer, Non removable
Camera
Primary camera
13 MP
Secondary camera
16 MP
Connectivity
Network support
Dual SIM 4G
Other options
Wi-Fi, Bluetooth 4.0, GPS
Others
Battery Capacity
3075
Operating system
Android 5.1.1 Lollipop
Design: borrows heavily from its sibling
Dimensions
: 154.5 x 76 x 7.3 mm
At first, we thought the OPPO F1s is almost an exact replica of its sibling, the F1 Plus, which in turn borrows heavily from the iconic iPhone design. However, when we placed the two OPPO siblings together, we discovered that the F1s is much thicker, heavier and larger in overall size as compared to the F1 Plus. Of course, there's good reason for this, since the F1s offers a beefier battery in comparison. The overall design language is still the same however, and the highlights include an all-metal body and rounded corners.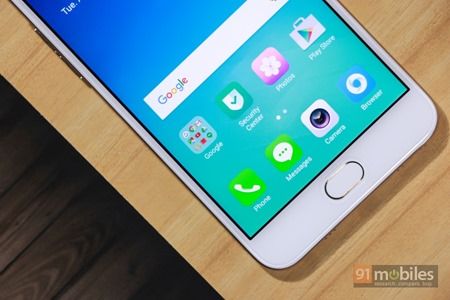 At front, you'll see the 5.5-inch display, with the earpiece, sensors and front camera on top, and an oval-shaped home key at the bottom. The home key is flanked by a recents key and a back button on either side, and both these are capacitive, and backlit too. The home key integrates a fingerprint scanner, and sits flush with the face. However, unlike the other two keys that sit next to it, the home key can be pressed physically. The 2.5D curved display and the white bezels lend it a premium look.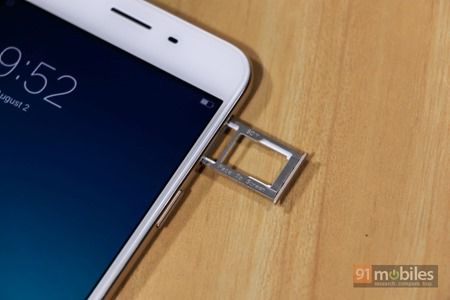 The top edge of the phone is barren, save for the secondary microphone, and the bottom is where you'll find the micro-USB port and the 3.5mm headset socket. The bottom is also home to the speaker and primary microphone. The left spine hold two discrete volume keys, while the power key has been placed on the right. The right also has an ejectable tray, which can accept three cards – a pair of nano-SIMs and a microSD card for storage expansion. Since most phones feature hybrid dual-SIM functionality these days, it's a refreshing change to see a dedicated microSD card slot, which basically means you can make full use of its dual-SIM capabilities even if you want to add more storage.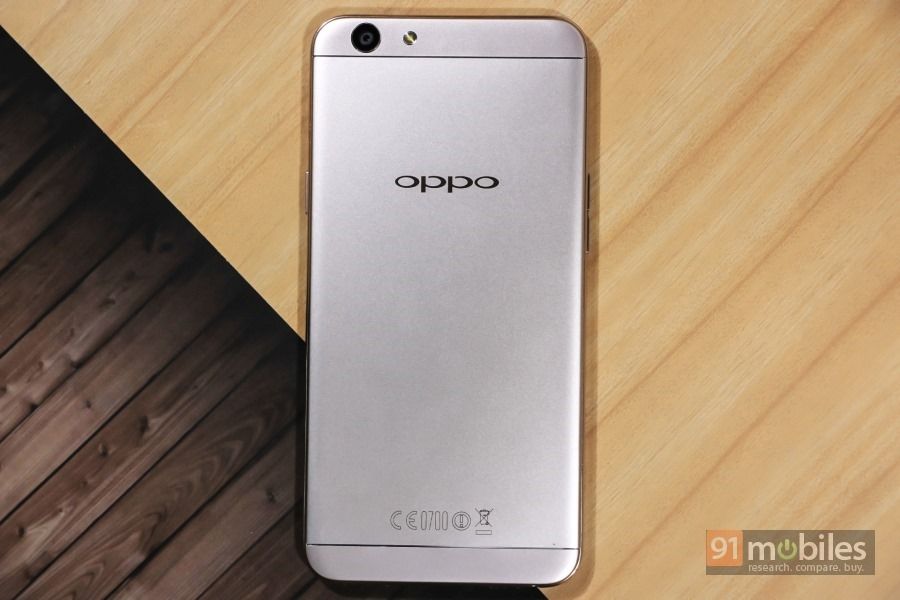 At the rear, you'll see the primary camera up top, along with the flash. A pair of slim lines run horizontally across the top and bottom, and add a bit of flair to the design. OPPO branding and regulatory info can be seen too. Overall, we think that while the F1 Plus is definitely the sleeker and more stylish of the two, the F1s doesn't look bad at all. Elegant is the word we'd probably use to describe it in a nutshell.
Display: misses the F in FHD, but still capable
Resolution
: HD (720 x 1280 pixels)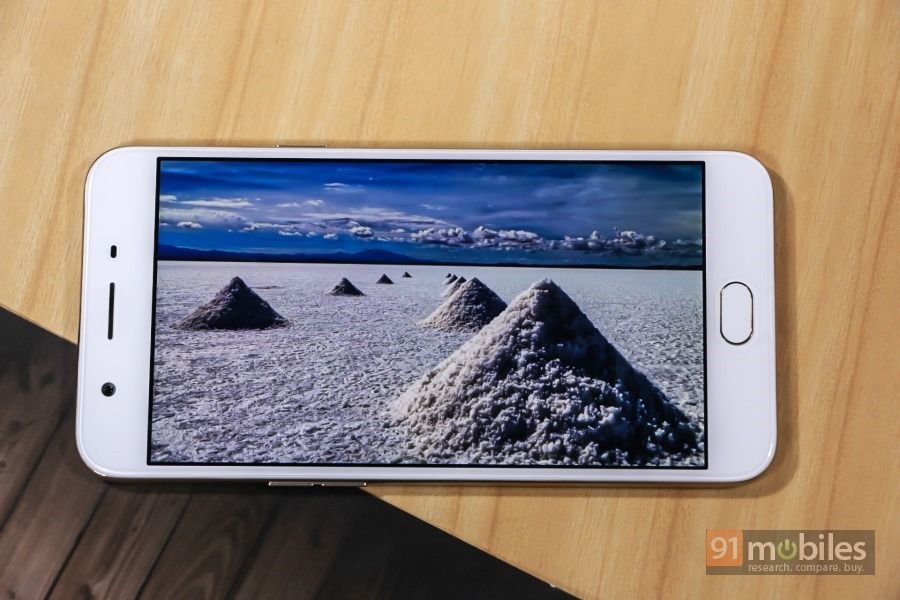 The OPPO F1s offers a 5.5-inch canvas, which is now standard for most mainstream smartphones in terms of size. However, the resolution is just 720p, which is our main gripe with this device… especially considering its asking price. In comparison, the F1 Plus offered full HD resolution on its 5.5-inch display. That said, the F1s' display is one of the better 720p displays we've seen, and serves up decent visuals without any signs of pixelation. However, if you're in the habit of viewing high-definition videos and playing graphics-intensive games at high resolutions, you might find it slightly lacking. It's fine for most other tasks though, and offers ample brightness levels. We didn't find anything to complain regarding sunlight legibility or viewing angles either.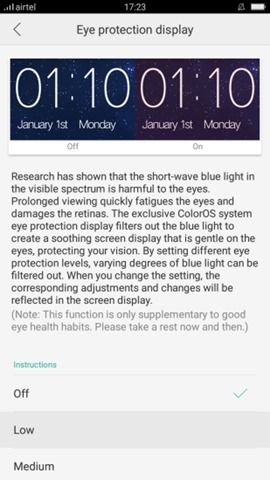 The OPPO F1s' screen also offers an Eye Protection mode that acts as a blue light filter to make display more comfortable for reading, especially at night. The mode is customisable too, and you can choose between low, medium and high depending upon your preferences and the levels of blue light you want to filter out. The Eye Protection mode can be activated in a jiffy using the quick settings.
Software: a feature-rich platform
Operating System
: Android
OS Version
: 5.1.1, Lollipop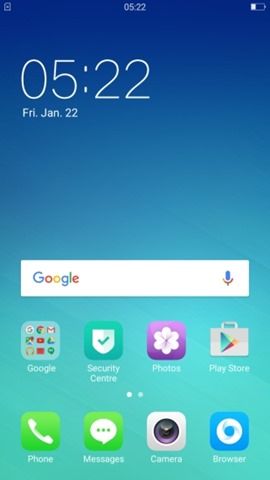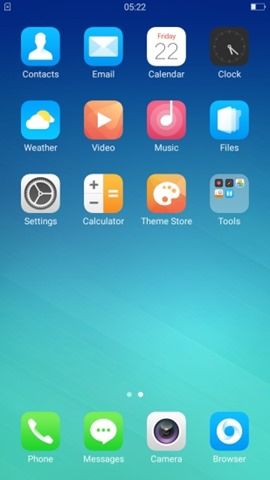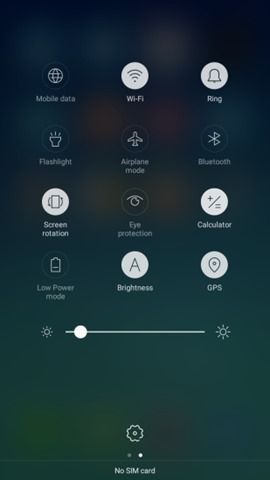 The OPPO F1s using the ageing Android Lollipop 5.1 as base, but that's almost entirely masked out by the brand's custom ColorOS platform. ColorOS is now in version 3, and offers a wide variety of features. There's no dedicated app drawer, as expected, and the drop-down notification panel uses a two-paned approach – which means you get separate panes for notifications and quick settings.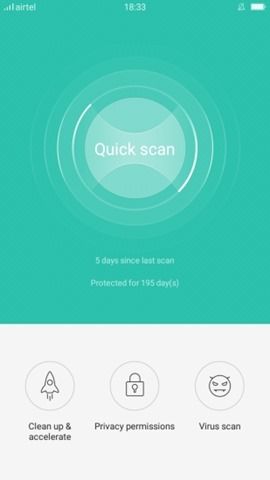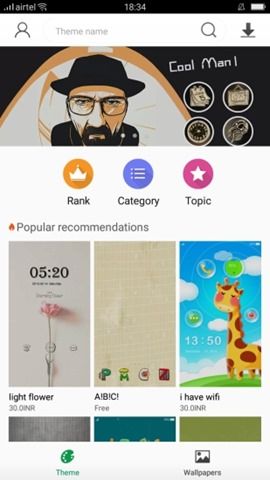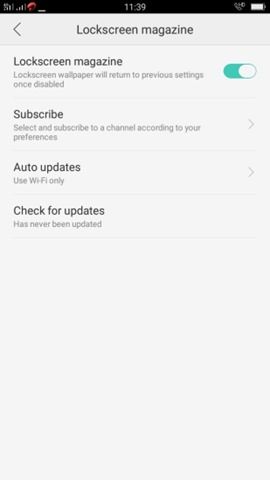 The preloaded apps consist of the Google suite and the usual stuff like weather, a file manager, compass, sound recorder etc. You also get WPS Office and a Security Centre that integrates a cleaner, permissions manager and a virus scanner. There's a theme store that offers themes (duh), and downloadable wallpapers too. There's a Lockscreen magazine feature that refreshes lockscreen wallpapers automatically, and other customisation options include the ability to choose between different transition animations for the home screens.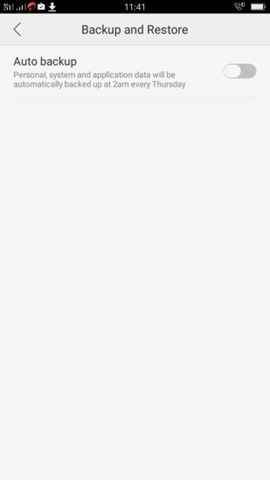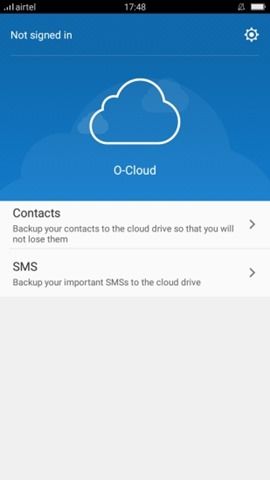 Dive into the settings and you'll find a bunch of other options to tweak. These include a notifications manager, a scheduled DND mode, a low power mode for the battery, and even a download manager. Handily, settings for all default apps like calls, messaging, contacts, music, weather etc are listed together under main device settings. The device also provides an auto backup facility, plus access to O-Cloud, which syncs your contacts and SMSes with your OPPO cloud account.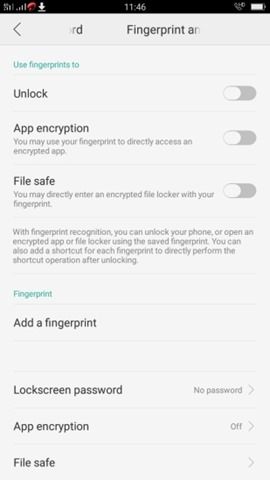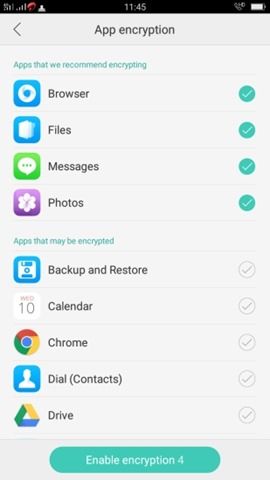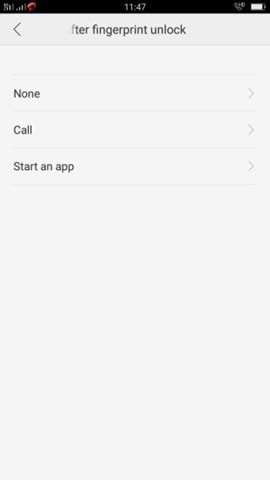 The fingerprint scanner can be set up with five of your fingers as usual, but apart from just gaining access to the device, stored fingerprints can also be used to encrypt installed apps and / or access a private area for files. This can be handy if you're sharing your phone with others but want to restrict certain apps and hide personal data such as images. In addition, the stored fingerprints can be set up to call specified contacts, or launch specific apps. This means you can use different fingers to call different contacts or launch apps – the unlock operation and the set shortcut can be accomplished in one fell swoop. For example, you could use your right index finger to unlock the phone and launch WhatsApp in a single action – though it could take a while for you to remember the fingers you've mapped to different shortcuts.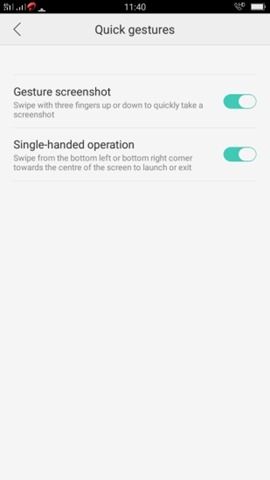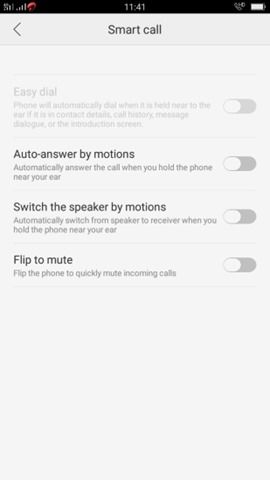 There's support for gestures and motion too. This covers screen-off gestures such as double tap to wake, and drawing characters on the screen to launch apps like the camera, flashlight etc, straight from standby. Music playback can be controlled as well, plus you can add shortcuts of your own using a list of pre-specified gestures. Other features include three-finger swipes for capturing screenshots, a one-handed mode, and smart call features such as dialling displayed contacts automatically by raising the phone to your ear, answering an incoming call and switching audio from the speaker to earpiece automatically using the same action.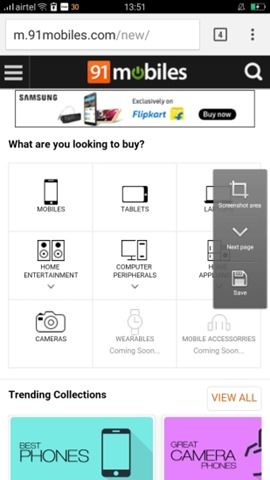 Lastly, the OPPO F1s also boasts a long screenshot feature, much like Xiaomi's MIUI 8. This is helpful if you want to capture documents, web pages or chat sessions, and can be accessed by pressing the volume up button and the power key simultaneously. When you do this, a pop-up menu appears on the side, and lets you scroll to the next screens and eventually save the screenshot to local storage.
Cameras: worthy snappers at your service
Coming to the shooting capabilities of the OPPO F1s, this is where things become really interesting. You see, the OPPO F1s, just like its sibling the F1 Plus, offers a 13MP primary shooter and a 16MP front camera. You read that right – the front camera is actually more powerful (at least in terms of megapixel count) than the main camera, showcasing how the selfie craze has taken over the world. And to support that front camera, OPPO has added quite a few selfie-centric features to the F1s.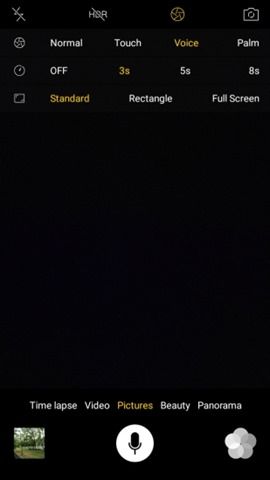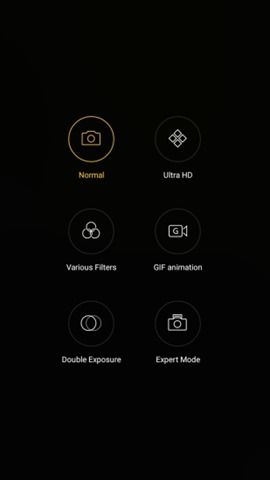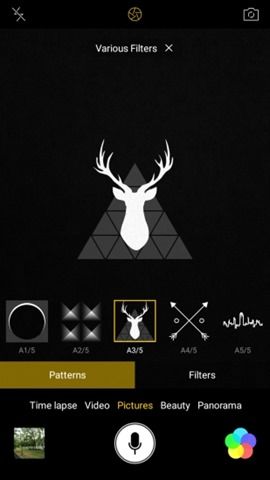 The camera app is neatly laid out, and when the phone is held vertically, you'll see various shooting options listed at the bottom. Apart from photos and videos, these include a beauty mode, panorama and time lapse video. The flash controls, HDR settings, a combo setting for shooting, and toggle for the front camera are present on top. The combo setting we allude to is interesting, as it gives you access to a time, aspect ratio and shooting options like normal, touch, voice and palm. Pictures can be clicked depending upon the option selected – the voice option for example, triggers the shutter (with a 3-second timer) when you utter the word 'cheese'. The palm option shoots an image when the camera detects an open palm. Other shooting options are available when you tap on a button at the bottom right of the interface, where you'll see options like Ultra HD, filters, GIF animation, Double Exposure and an Expert mode. The expert mode give you more creative control by letting you change various shooting aspects and shoot in RAW, while Ultra HD can capture high resolution images (up to 50MP) by stitching multiple shots together. Double exposure lets you overlay one clicked image on top of another, resulting in some interesting compositions. Filters gives you exactly what it name sales, but apart from colour effects, also lets you choose one from a set of patterns that can be overlaid on top of the image you shoot. In a nutshell, the camera options are quite loaded. Talking about the performance, the OPPO F1s didn't let us down. The primary camera can take detailed shots with accurate colours, and serves up good images in most lighting conditions. Even night shots are decent, though tend to get slightly soft and noisy. The front camera is where most of the action is though, and judging by the results, we can safely say that the OPPO F1s is one of the better selfie shooters out there. The beauty modes are customisable, but to avoid unnatural-looking shots, we'd advise you to go easy with those. We did find it strange that OPPO hasn't included a front-facing flash, but the F1s does have a screen flash feature that attempts to improve low-light selfies. We can't say it works wonders, but at least it's there. Low light selfies therefore, leave a little something to be desired… but there's no doubt that overall, the F1s has a reasonably capable pair of cameras. Here are a few samples, with the portrait shots in the bottom row being the ones shot from the front snapper.
Performance: smooth for the most part
CPU
: Octa core, 1.5 GHz, MediaTek …
Memory
: 32 GB + Up to 128 GB
SIM Slots
: Dual SIM , GSM+GSM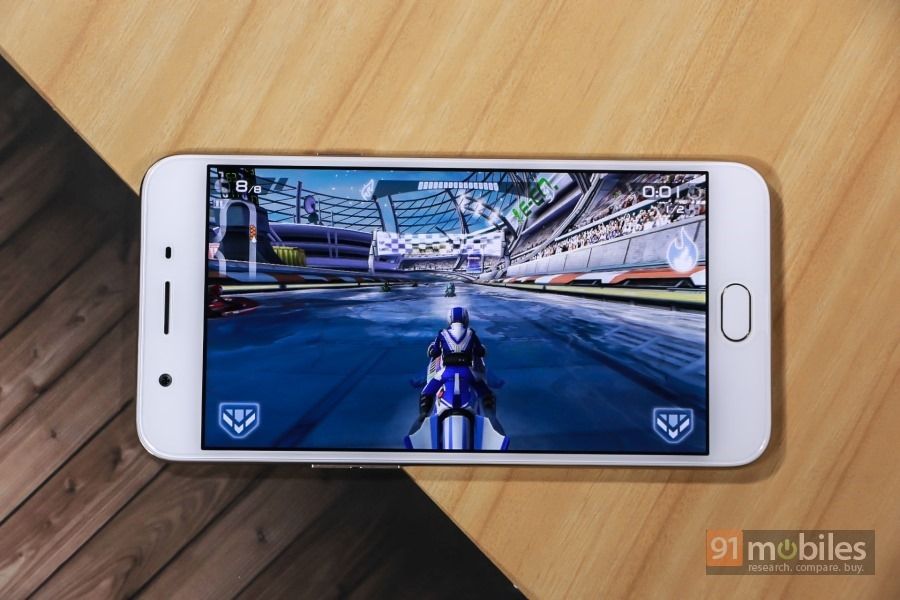 Under the hood, there's an octa-core MediaTek MT6750 processor, which works in tandem with 3 gigs of RAM. The day-to-day performance is smooth, and you should be okay as long as you don't expect fireworks. Even intensive games like Asphalt 8 work fine, so no complaints there. The phone handles heat dissipation well too, and we didn't encounter any freezes or app crashes either, which bodes well for the OPPO F1s. The key thing to note here is that the animations in ColorOS make it seem like the usage isn't as fast as it should be, and that's our main gripe.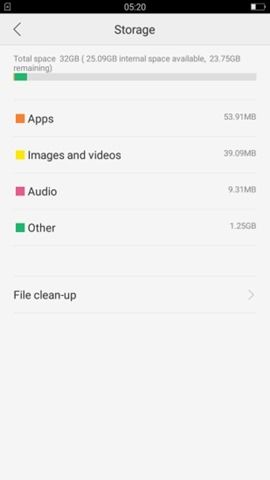 A little over 25GB is available to use from the built-in 32GB storage, and connectivity options cover the usual stuff like 4G with VoLTE, Bluetooth, Wi-Fi, A-GPS, USB OTG etc – there's no NFC. We touched upon the features of the fingerprint scanner earlier, but at this point, it'd be worth mentioning that the OPPO F1s' fingerprint scanner is one of the fastest we've come across – it unlocks almost instantly and is quite accurate too. The 3,075mAh battery lasts long, and should comfortably give you a full day's worth with medium usage. It lasted us 10 and a half hours in our video drain test, which is an above average result. Surprisingly though, OPPO hasn't included its proprietary VOOC fast charging tech, and that means the F1s takes a while to charge – almost 2.5 hours for a full charge.
Verdict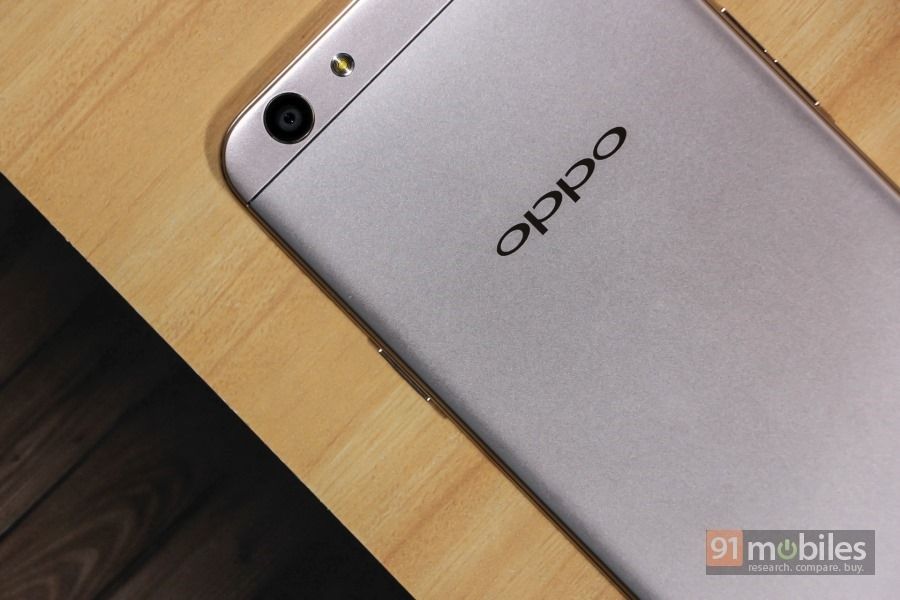 In a nutshell, the OPPO F1s gets most things right – the design and build are good, the performance and battery life are decent, and it's loaded with useful software features. The selfie capabilities are obviously the key highlight, plus the primary camera is above average too. On top of that, the fingerprint scanner is also pretty good. The HD screen though, could be a bit of a concern, especially at this price point… where most others would offer full HD resolution. But then again, it's just a spec. The likes of the
Moto G4 Plus
(
review
), and even the lower-priced
Lenovo ZUK Z1
(
review
) also come across as compelling all rounders in this segment, but if selfies are important for you and you have a budget that can accommodate the OPPO F1s, it's definitely a phone you should be shortlisting.
Editor's rating: 3.5 / 5
Pros
Good design and build
Reasonable performance and decent battery
Fast fingerprint scanner
Above average camera performance, especially for selfies
Cons
720p display could sour the deal for some
No VOOC fast charging
Photos by Raj Rout