Highlights
The 91mobiles Smartphone Buyer Insights Survey 2020 reveals insights on current and future smartphone ownership, shifting brand loyalties, along with details on user research and buying behaviour
This article focuses mainly on ownership trends, and shows how fast Realme has grown, and how Samsung might be the brand of choice for many prospective smartphone buyers in the time to come
User preference shifting in favour of Realme is also an interesting insight
The smartphone ecosystem is an exciting segment to track, given how dynamic it is and the innovation it sees on a frequent basis. That said, analysing the human aspect related to this segment reveals amazing insights, and that is an area we have been working on for some time now. Our extensive user surveys throw up tons of data, and more importantly, insights that show where the industry is headed based on user sentiment. It's time for another edition of the 91mobiles Smartphone Buyer Insights Survey, an exercise that focuses on revealing trends in smartphone ownership and how they're like to evolve in the future, how brand loyalties are shifting among users, how people research for new smartphones, and how they prefer to buy. We also have some data on on how smartphone ownership and purchase preferences vary by age and gender. These insights will be presented to you over the course of the next few days, with this article focussing specifically on ownership trends.
Before we get to the details though, here's some info on the survey methodology and demographic split. The survey was conducted via Google Forms, and distributed via the 91mobiles website and social channels. Over 15,000 smartphone users responded, with about 72 percent being male. About 35 percent are below the age of 24, while 34 percent are aged between 25 and 34. 19 percent respondents are aged between 35 and 44, while 12 percent are over the age of 44. In terms of the region-wise split, 36 percent respondents are based in North India, while 27 percent reside in the West, 22 percent in the South and 15 percent in the East.
Trends on smartphone ownership
Breakup of smartphone brands owned by people currently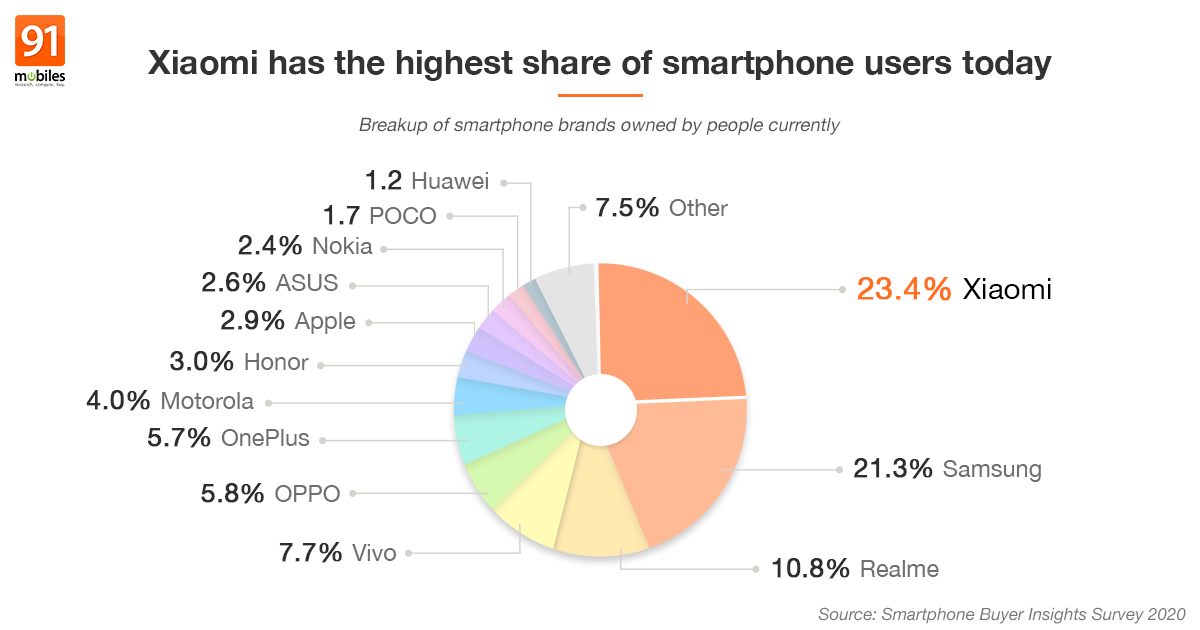 The current split of ownership patterns doesn't throw up any big surprises, at least as far as the top two players are concerned. Xiaomi is still at the top, with over 23 percent respondents currently using the brand's smartphones. This is followed by Samsung, with over 21 percent share. To some extent, these figures follow market shares of these brands and show how popular they are currently. Xiaomi's hold on the segment seems very strong, thanks to its VFM smartphones and fan following it has built up over the last few years. Samsung has been a strong player throughout, and while it might not rank at the very top anymore, it's a powerful contender trying hard to claw its way back.
Xiaomi's hold on the segment seems very strong, thanks to its VFM smartphones and fan following it has built up over the last few years.
The big change comes in at number three, where Realme now sits with its share touching 11 percent. This is a significant bump as compared to the same figures from March 2019, when a similar survey showed 5 percent ownership for Realme. The brand, which began its journey as OPPO's sub brand before being spinned off as a separate entity, has come a long way in a short period of time, piggybacking on devices that pack the latest features and are priced affordably.
Brands that are gaining ownership share
Jumping from 5 percent to 11 percent in a matter of one year, it seems that Realme's aggressive strategy is paying off. Powerful specs, attractive designs, conformance to the latest trends like multiple cameras and fast charging, all offered at affordable prices – that has been the brand's formula so far, and it seems to be working quite well. Recently, Realme changed tack and ventured into the affordable flagship segment with the X50 Pro, a smartphone that came with the top-of-the-line Qualcomm SoC (Snapdragon 865), and was among the first phones in the country to offer 5G (despite the fact the 5G networks won't be available commercially in India for another year or two).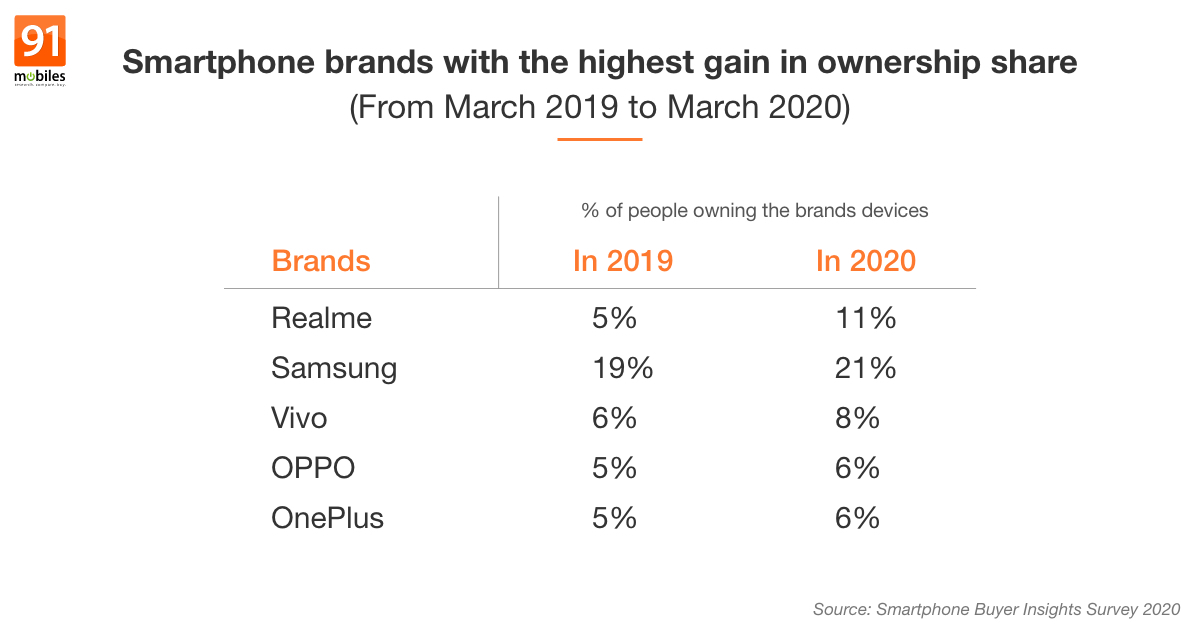 Samsung is another brand that shows a jump in its ownership share (from 19 percent to 21 percent), which can be attributed to its aggressive strategy involving the new M series (offering value for money), and a revamped A series (offering good design and an interesting mix of features). The other brands that show more than 10 percentage increase in share as compared to last year are Vivo, OPPO and OnePlus.
Brands with declining ownership share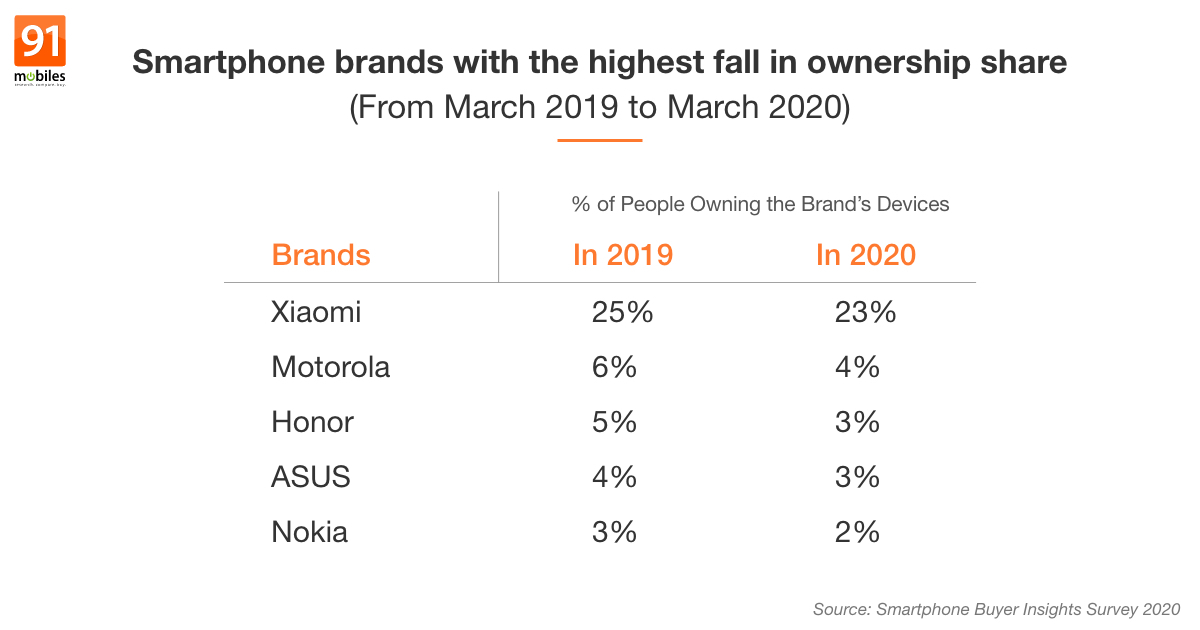 Brands that seem to have fallen out of favour with users include Xiaomi, Motorola, Honor, ASUS and Nokia, with all of them showing decline in ownership share as compared to 2019 data. Xiaomi's presence in this list is surprising, and while its drop is marginal (from 25 percent to 23 percent), indicates that the going could be tough even for the market leader. One reason for this could be competing devices from arch rival Realme, which might seem relatively more attractive (in terms of design, features or price) to buyers. Another reason is that Xiaomi might have been a little late in adding the latest features like quad cameras, displays with high refresh rate etc to its offerings.

As far as other brands are concerned, they might not have enough power in their arsenal to capture user mindshare anymore. That said, it's not as if they haven't been trying. Motorola has had a few innovative and interesting smartphones like the One Vision and One Action, while the Nokia 2.3 came across as a worthy budget contender with Android One. Similarly ASUS too, has a loaded and gaming-centric offering in the form of the ROG Phone II, a smartphone that's priced quite well too.
Brand preference: smartphone brands people want to buy next
We asked users about the brand they'd opt for, whenever they upgrade their smartphones next. The insights emerging from this data point are quite interesting, indicating the brand preferences of users. With a share touching 24 percent, Samsung appears as the leader of the pack when it comes to the smartphone brands users want to buy next, and Xiaomi coming in at second place with 20 percent share. Clearly, Samsung is doing something right, enticing almost a quarter of the survey respondents towards its smartphone offerings. The brand's revamped smartphone strategy, which came to fore in early 2019, seems to be bearing fruit now.
Samsung tops the charts when it comes to the smartphone brands users want to buy next
While Samsung has always been a strong player in the premium flagship space, its handset offerings in the affordable and mid-range segments were overtaken by phones from Chinese players that offered more bang for the buck. That was before Samsung put its act together, and came up with a new strategy. Its new Galaxy M series includes VFM smartphones that have received a positive response from prospective buyers, with Samsung's brand pull likely adding to the sentiment.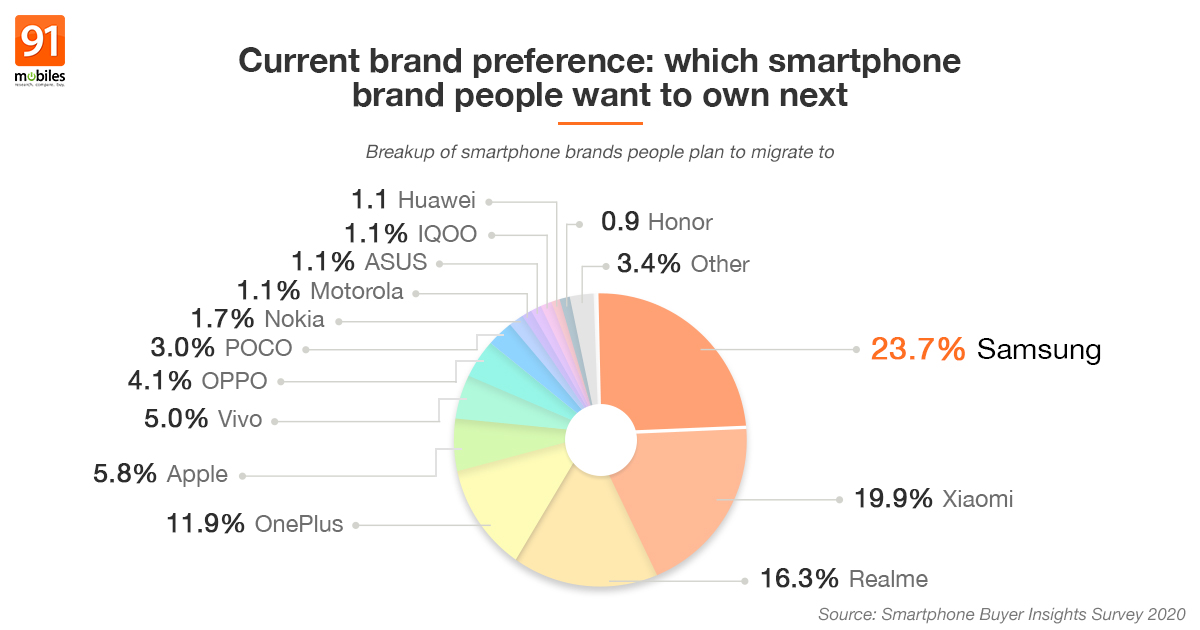 Realme's appearance at number three with an expected ownership share of over 16 percent is also quite notable, and so is the inclusion of 'new' brands like POCO and iQOO. POCO, if you recall, started out as Xiaomi's sub brand, but was converted to a separate entity, following up its popular POCO F1 with the X2. iQOO, which is Vivo's sub brand in China, has entered India as an independent brand, with the powerful, flagship-grade iQOO 3 as its debut offering.
Change in brand preference
Analysing responses to the question which brand users want to upgrade to next, and comparing 2019 data with 2020, we get some extremely interesting insights. For one, brands like OnePlus, Realme, Apple, Samsung, OPPO and Vivo might have reason to celebrate, with user preferences shifting in their favour. In fact, Realme is the brand that seems to have gained a lot of mindshare, tilting user sentiment towards its side and prompting a larger percentage of respondents to say they'll be choosing a Realme phone next.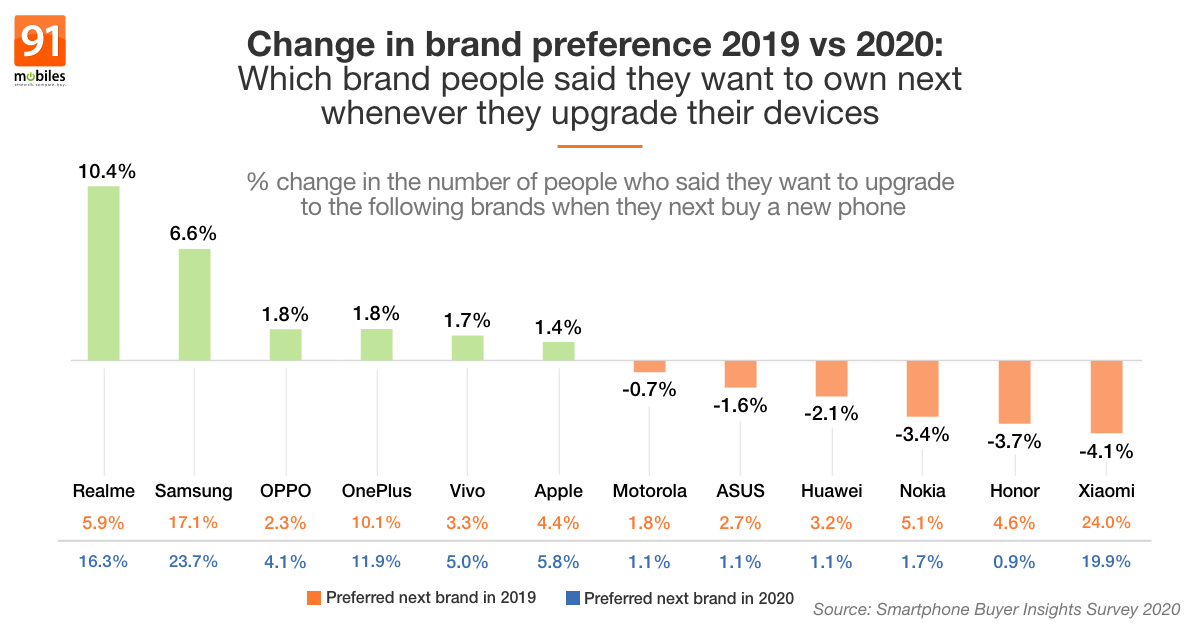 Samsung gets the advantage of being a full-spectrum player, since it offers smartphones across different price ranges. We've already seen how it has maintained its strong position in the premium segment, and has been able to face competition in the affordable segment well in the recent months.
Samsung has the advantage of being a full-spectrum player, since it offers smartphones across different price ranges
Many other brands however, are in the red. These include Huawei, Nokia, ASUS, Honor, Motorola, and Xiaomi. In fact, in Xiaomi's case, the drop is the highest (over 4 percent). As mentioned previously, the reasons for this could be the strong competition from brands like Realme, plus the fact that Xiaomi has been a little slow in adopting the latest smartphone trends like high screen refresh rates, bundling fast chargers with the phones etc.


Keep an eye out for more, as we'll be presenting more insights from the 91mobiles Buyer Insight Survey 2020 in the coming days.