"The next-gen Quick Charge standard will be even faster, while ensuring better thermal management"
Qualcomm's Quick Charge is among the most famous and widely-used fast charging standards in the industry today. In fact, at the ongoing summit, the company announced that the QC tech is available on more than 1,000 devices, including smartphones, accessories and more. The chipmaker also showcased the roadmap for its Quick Charge technology, teasing some interesting capabilities for smartphones.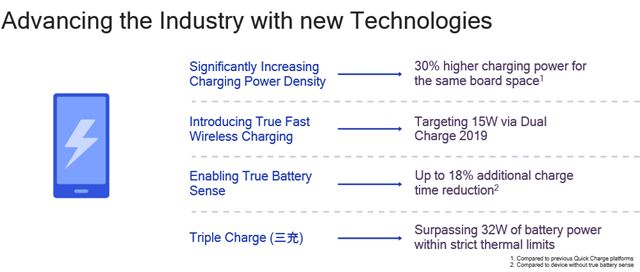 Among the most interesting things is the fact that the brand will be releasing True Fast Wireless Charging in 2019. The tech will make use of Dual Charge capability to deliver 15W power. To recall, the Dual Charge feature debuted with the latest Quick Charge 4+ standard, and it utilises an additional power management IC in the smartphone. This allows the device to charge faster, while ensuring the thermals are kept in check. Unlike conventional charging methods, the power flows through two paths, which spreads the charge and thus reduces the power and better heat dissipation. Qualcomm claims that this enables QC4+-laden devices with Dual Charge functionality to charge up to 3-degree Celsius cooler. Vivo's V11 Pro (review) utilises this tech and has dubbed it as Dual Engine Fast Charging.
Taking Dual Charge technology a step further, the San Diego-based company is planning to launch Triple Charge capability next year. This means, even faster charging speeds, without worrying about the device running hot. As per Qualcomm, the tech will cross the current 32W power limit it has for charging. For reference, Huawei's recently-announced Mate 20 Pro comes with 40W SuperCharge, which promises to juice up to 70 percent levels in just 30 minutes. Currently, the chipmaker claims that QC4+-based smartphones can charge up to 50 percent within 15 minutes, which means we can expect the next-gen standard to be even faster, maybe even surpassing OPPO's famed Super VOOC charging, which can go from zero to 100 within just 35 minutes for the Find X Lamborghini Edition (first impressions).
Along with these technologies, the brand is also aiming to increase charging power density and enable a feature called True Battery Sense in QC-compatible smartphones.
Disclosure: this writer attended the 4G/5G Summit in Hong Kong on Qualcomm India's invitation