Foldable smartphones are undoubtedly exciting, possibly heralding a revolution we can expect in the time to come. On the flip side (pun unintended), these devices are quite pricey, and also need to be treated with kid gloves. Some folks even feel that foldable smartphones aren't ready for prime time yet. Thankfully, I got the chance to form my own opinion, courtesy the Samsung Galaxy Z Flip that I hold in my hand, having used it for the past few days. Here are my two cents on it, using an FAQs-styled format.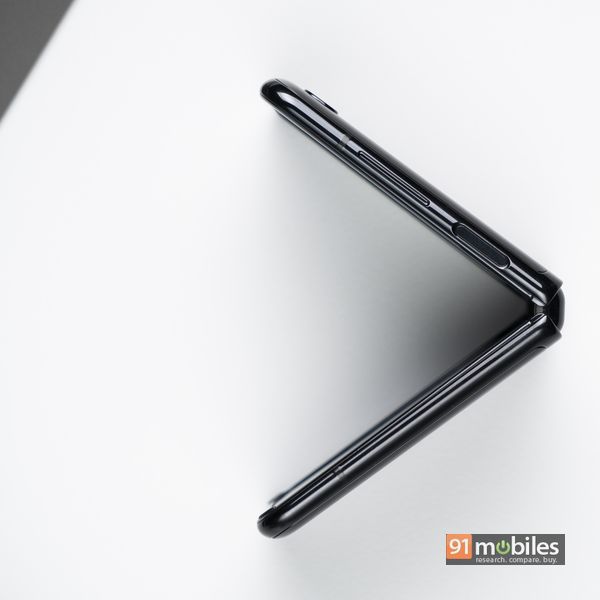 How's the design?
Well, I'm not going to go into a lot of detail here, but here's a link to my first impressions of the device where the design has been covered more extensively. The important thing here is that when the Z Flip is open, using it isn't really much different than using a conventional bar form factor smartphone, barring a few aspects. For one, the Galaxy Z Flip is narrower and taller, thanks to the screen aspect ratio. It's hard to ignore the fact that the screen isn't flush with the frame and sits below it, which makes one feel that there's a case slapped onto the device, even when there isn't any. Oh, and the crease in the middle definitely makes its presence felt – you can barely see it when the screen is switched on, but it can be distinctly felt while swiping over it. This feels a tad distracting while using the phone, and acts as a constant reminder that this is a foldable phone, and one that you should be using carefully.


Samsung Galaxy Z Flip design
While on the subject of design, it's important to point out that the Z Flip can stay open at any angle, which means you can open it halfway and prop it up on any flat surface. This way, you can make handsfree video calls, or shoot timelapse videos etc, without the need for a tripod or a stand. Neat! On the negative side, the phone doesn't close fully, leaving some gap between the two portions of the folding display for dust to get into. There's no IP rating either.
Oh, and there's a tiny secondary screen, dubbed Cover Display, on the top. This is actually an AMOLED screen, but it's really small and is only useful for checking time, battery status, notification indicators etc, apart from also serving as a viewfinder for capturing selfies without having to flip the Flip open.

Why pay in full when you get EMIs with 0% interest?
Buy the Samsung Galaxy Z Flip now and pay later in flexible EMIs!
No application fee
No down payment required
No pre-closure fee
Will the Galaxy Z Flip break if it slips out of my hand? How well will it hold up to daily use?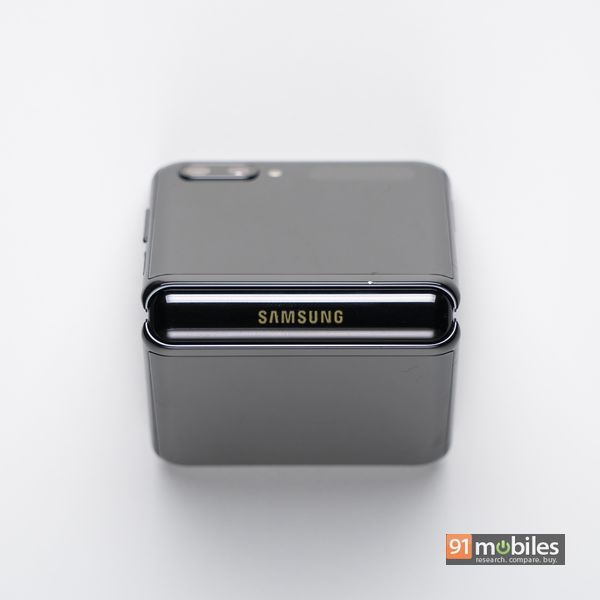 Well, that's a tough question to answer, frankly. The phone certainly seems well built. The weakest parts of a foldable phone are the screen and the hinge, and the latter, in the Z Flip's case, should hold up well I feel. The screen is a different matter. My time with the phone was limited, so may not have a definitive answer on whether the device can last you a long time. One thing is for sure – it's a pricey device, and you'd need to use it carefully, ensuring it's not treated roughly or subjected to unnecessary folding / unfolding.
How is the Z Flip as a phone?
Overall, the Galaxy Z Flips rocks respectable specs. The screen is a 6.7-inch, tall Super AMOLED panel with FHD+ resolution. It's vibrant, as most Samsung screens are, and is a visual treat. Inside the phone, the Snapdragon 855+ chipset makes mince meat of anything thrown at it, along with 8 gigs of RAM as its partner in crime. 256GB of native storage provides ample space for your digital stuff, but there's no option of adding more. Thankfully, you do get dual-SIM support, with the device capable of gobbling up one physical nano SIM, with an eSIM already ensconced inside its belly. All this means that the Galaxy Z Flip works well for day-to-day as well as intense tasks.
There's a 10MP selfie snapper inside a centre-aligned punch hole on the display, and it does its job. The heavy listing as far as photography is concerned is handled by a pair of 12MP sensors placed on the top lid – a wide and an ultra-wide. These sensors work as primary shooter with the flip open, and can also double up as selfie cameras with the Cover display acting as viewfinder. These 12MP cameras can take nice shots for the most part, and all the usual frills and features Samsung packs in its camera app are all there for the taking.
Samsung Galaxy Z Flip camera samples

The 3,300mAh battery supports 15W fast charge, and wireless charging as well. In addition, the Galaxy Z Flip can also be used as a super-pricey wireless powerbank too, for charging your gold-plated Galaxy Buds+ or your diamond-studded Galaxy Watch. Plus, it can last about a day or so on a single charge. Mostly.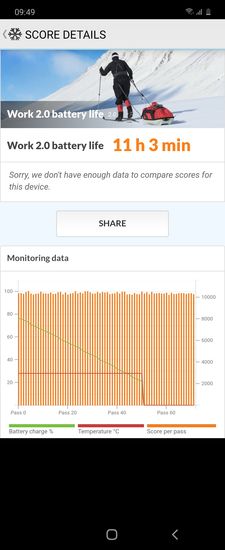 As a device, what benefits does the Z Flip offer?
The mainstay of the Samsung Galaxy Z Flip's clamshell form factor is that just like the clamshell feature phones of yore, it folds into a compact little device that can slipped into any pocket or bag. And when opened, its foldable display gives you an unhindered view, a proper fullscreen just like a conventional smartphone or thereabouts.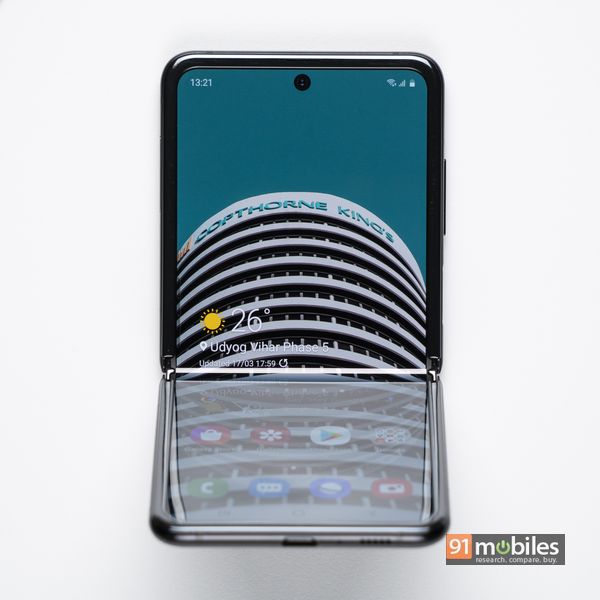 And then, there's the bit about you never needing a tripod if you own a Z Flip, because as I said earlier, the device can stand on its own two feet (technically the lower half of its rear actually), for making handsfree video calls and shooting videos etc. Also, Samsung has added a nifty dual mode in its One UI software platform that lets you use two apps simultaneously, with one running on the top half and the other on the bottom half of the display.
Possibly one of the biggest advantages of using the Galaxy Z Flip however, is the fact that you'll get noticed easily, and can expect people walking up to you to ask about the phone. So if you want to stay in incognito mode, it's isn't really the ideal phone for you.
Coming from a regular phone, how would my usage change if I opt for a Galaxy Z Flip?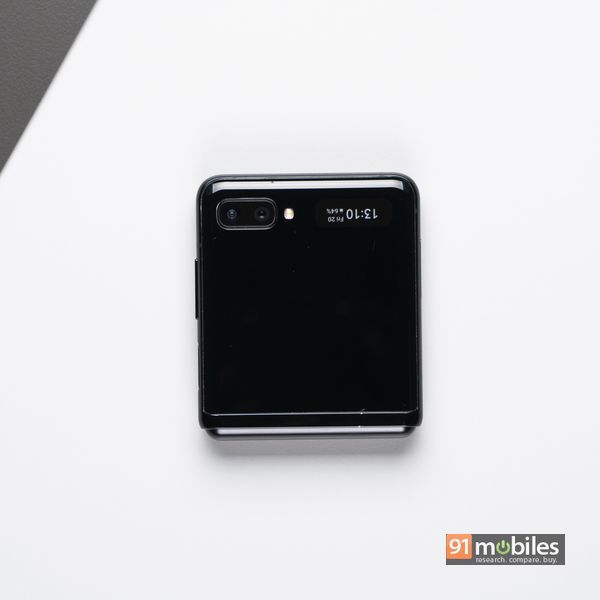 Well, for one, you'd need to handle your phone with kid gloves. Believe me you, this isn't a phone you can throw around. Or drop. Then, you'd need to remember that basic stuff like accepting incoming calls would need an additional step, one that needs you to flip the phone open. And this isn't a one-handed task. Truth be told, you can flip the Flip open with one hand, but you'd need to have nimble fingers for it, and ensure the phone doesn't slip out of your hands while you try and be Dick Tracy. Did I tell you that you need to be careful while using it?
Does buying a Galaxy Flip involve a compromise of some sort?
The Galaxy Z Flip isn't for the faint of heart, or the light-pocketed. You should note that while you'd be paying a premium to acquire one, you still won't get a phone that can be called a performance powerhouse or a camera beast. The phone's high asking price is perhaps the cost you need to be pay for staying on the cutting edge of tech. And to get those second looks I alluded to earlier.
Should I buy the Galaxy Z Flip?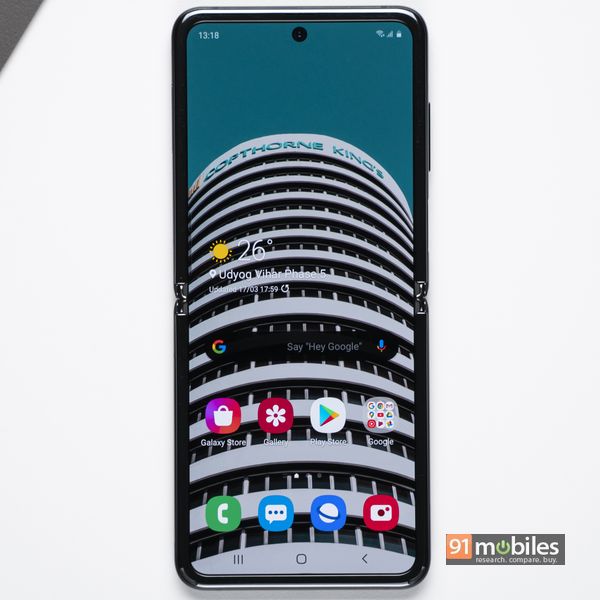 The Samsung Galaxy Z Flip doesn't really have any competition. There's the new Moto Razr (first impressions), which is also a foldable clamshell, but isn't just underpowered, is priced higher too. So as I said, the Z Flip doesn't really have any competition. Possibly its biggest rival is Samsung's own Galaxy Fold (overview), which came out last year. Now that's a completely different beast, since that's a foldable smartphone that opens up into a tablet. And that's priced higher too. For many, that's a concept that should work better in terms of the perceived usefulness. In any case, that also a phone that I'm sure would loved by the rich and the famous. Those who like to make a statement of some sort. The Galaxy Z Flip also falls in that category. Innovative, cool, and highly flaunt worthy.
Editor's rating; 4 / 5
Pros
Innovative, cutting edge and flauntworthy
Smooth performance
Useful software additions
Cons
Needs to be handled carefully
Camera capabilities are limited
No IP rating
Pricey
Photos by Raj Rout
Competitors for Samsung Galaxy Z Flip
| | | |
| --- | --- | --- |
| Samsung Galaxy Z Flip | vs | Motorola Razr 2019 |
| | | |
| --- | --- | --- |
| Samsung Galaxy Z Flip | vs | Samsung Galaxy Fold |