After several years of stagnation, India's television market is going through a revolution of sorts. Today, you can get a 4K HDR TV for the price of a OnePlus 6T – and that's a huge change given that the average price of a 4K TV was over a lakh just a few years ago. While competitive players like Xiaomi can be credited with spearheading this change, the easy access to 4K and HDR content is also a major factor. For the first time in a long time, users are looking to upgrade their dumb HDTVs, and 4K TVs are the obvious choice for those who want a future-proof device. TCL is a well-known name in the television space, and offers a range of VFM TVs across price bands. Over the last month, I've been using the brand's 55-inch 4K HDR smart TV, the 55P65US, which also boasts native Netflix and YouTube apps. If you're in the market for a smart 4K TV, read on before you make a choice.
Design and connectivity



The TCL 55P65US sports a fairly conventional design, with a glossy black plastic frame that will blend in easily with most home interiors. While the display panel itself is quite slim, the TV's chassis protrudes a fair bit towards the rear, measuring 78mm at its thickest point. There's an unobtrusive TCL logo at bottom centre, underneath which is a white LED indicator that lights up when the TV is on standby mode. I found the indicator a bit too bright for my liking, but there is an option to disable it buried deep in settings. The TV doesn't feature any physical buttons, in contrast to the bundled remote which is packed with controls I found no use for. The dedicated Netflix button is a nice touch though.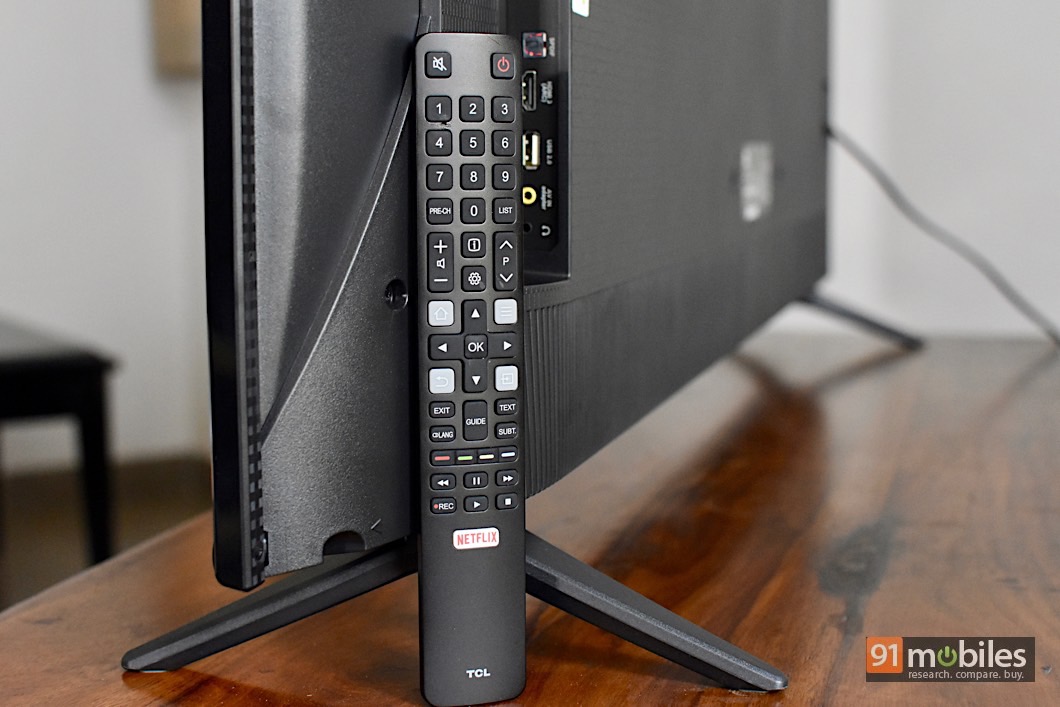 Since I'm reviewing this TV, I opted to use the stand instead of wall mounting it. While the included plastic feet are easy enough to attach on your own, the quality isn't great. Given that the TV is quite bulky, the flimsy plastic felt a bit unsteady when I placed the TV on a tabletop. If you're buying this TV, I'd recommend wall mounting it to be safe.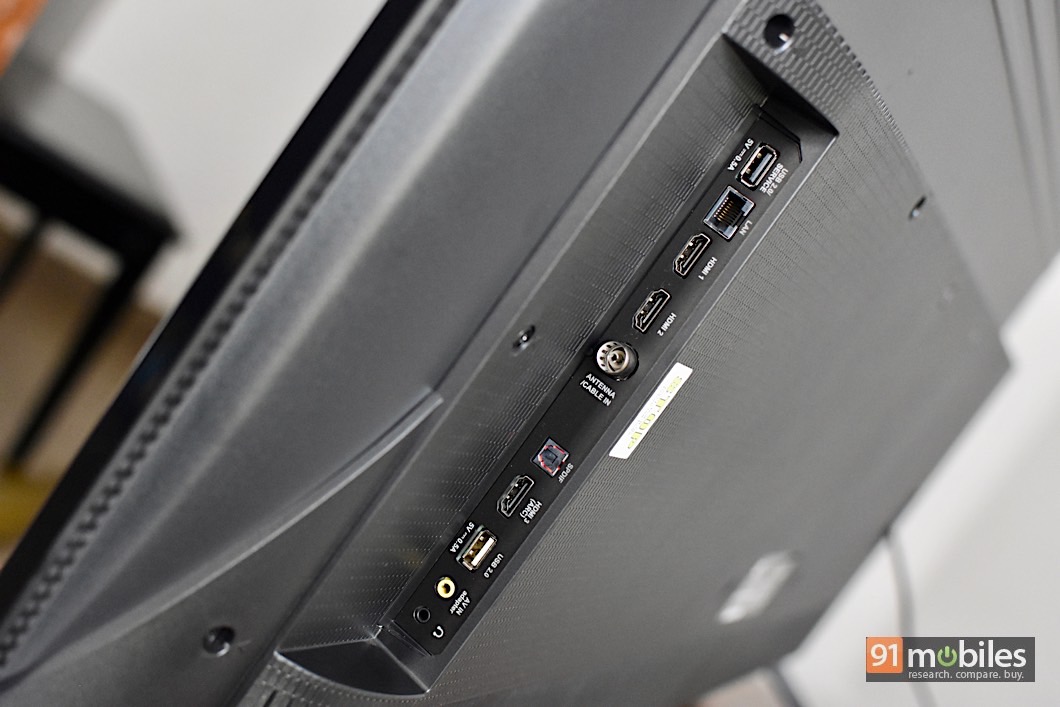 TCL hasn't skimped on the ports, which are conveniently recessed on the right side. This makes them easy to access even if the TV is wall mounted. The power cable plugs in on the left, leaving the right uncluttered. The TV features three HDMI ports (one is HDMI ARC), two USB 2.0 ports, S/PIDF, LAN, Antenna/Cable in, AV input and a 3.5mm headphone port. It's worth mentioning that if you want to use an external device like the Fire TV Stick 4K to watch HDR and 4K content, you need to enable HDMI 2.0 in settings. In terms of wireless connectivity, the TV is equipped with 2.4GHz Wi-Fi as well as Bluetooth. You can use the latter to connect a soundbar or wireless headphones.
Display


The TCL 55P65US features a 55-inch LED panel with 10-bit 4K resolution. The display features a refresh rate of 60Hz and a response time of 6.5ms, which is good enough for fast-paced action scenes. That said, I did notice a bit of motion blur in some scenes where the camera pans quickly. The TV has a feature called 'Micro dimming', which dynamically changes the contrast based on what's on the screen. I had it enabled for the duration of my review and found it to be quite useful.
The display supports HDR10, which is the most common HDR format available. In India, you can access HDR10 content on Netflix, YouTube and Prime Video. On Netflix, you'll be able to access a range of HDR as well as 4K content, provided you have the premium plan which costs Rs 800 per month. YouTube has quite a bit of HDR content as well. If you have a Fire TV Stick 4K (review), you can watch HDR and 4K videos on Prime Video too.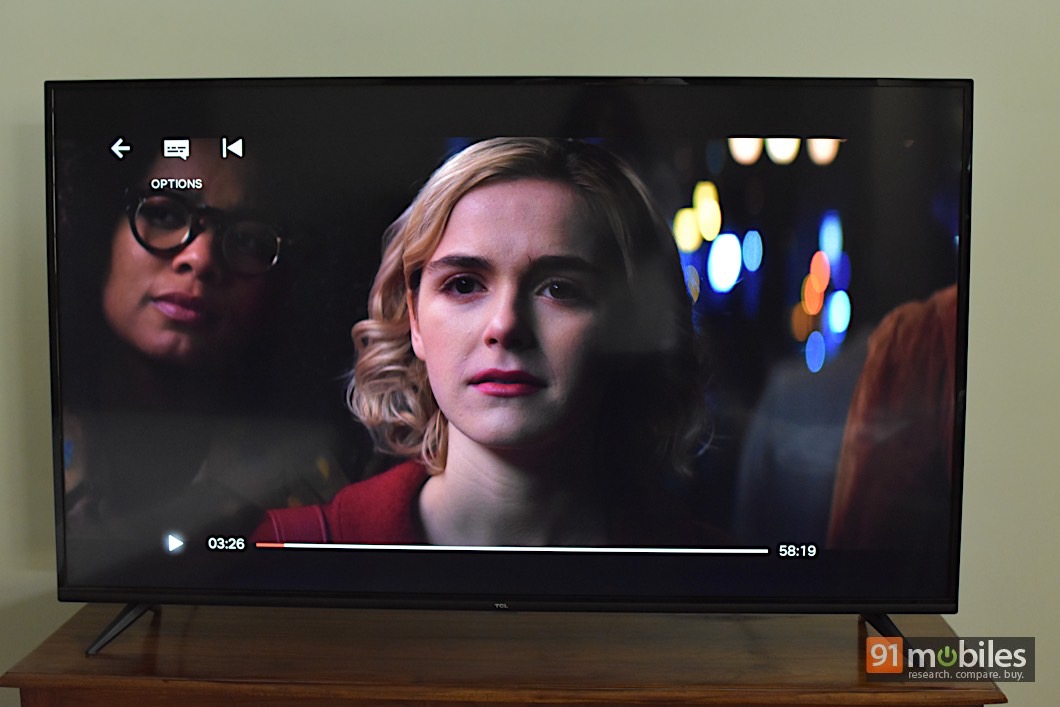 I watched a bunch of full HD, 4K and HDR videos on the TV, and I have to say, the picture quality is surprisingly good. Crisp details aside, the panel outputs bright, vibrant colours and good viewing angles, without glare and reflection getting in the way. Since this isn't an OLED panel, blacks don't have great depth, but you won't notice this much if you're viewing content in HDR. Speaking of which, I had to fiddle around with the TV settings a fair bit, since it doesn't seem to be optimised for HDR playback out of the box. A quick fix I'd suggest if you're seeing dark, washed-out video is to make sure the picture settings are set to 'Natural' when watching HDR content. Apart from this, tweaking the gamma setting to 2 or 2.2 also helps.
Software


The 55P65US runs the TCL TV+ 3.0 UI. The Linux-based interface looks and feels unpolished, and the lack of Android TV support means you don't get access to the Google Play Store either. The homescreen can be accessed by pressing the home button on the remote. It displays frequently-used apps and tiles for popular YouTube videos. There's also a tile which lets you search directly for YouTube videos. The selection of YouTube videos on the homescreen were random and irrelevant, and surprisingly, didn't even reflect my YouTube history.

A tab called Videos at the bottom shows you different categories for Movie, Sports, Music, News, Education, etc, and again, these display trending videos taken from YouTube. There's a useful tab called TV, which lets you see what's playing on the various inputs like TV, HDMI, AV and USB at a glance. The last tab takes you to the app store, and frankly, it's the most disappointing of the lot. Apart from Netflix and YouTube, the only notable apps are EROS Now, YuppTV and the default browser.

If you have an Android phone, you can mirror your phone's contents on the TV over Wi-Fi, provided your phone supports this. Alternatively, TCL has its own app called T-Cast on Android and iOS, which lets you play video, audio and image files from your phone if connected to the same Wi-Fi network. While this works well enough for photos, videos taken in portrait orientation always play back in landscape, and I couldn't find any options to change this. You can also cast your TV screen to your phone, which is actually a neat way for multiple people at home to watch content simultaneously, provided everyone wants to watch the same thing. There's also a Scene Share option that lets you capture a screenshot of what's on your TV screen. The app also features a virtual remote, which is handy if you misplace the bundled one.
Performance and audio
The TCL 55P65US is powered by a dual-core Cortex-A9 processor clocked at 1.0GHz, paired with a Mali-400 GPU and 1GB of RAM. There's 8GB of onboard storage as well. While the configuration may seem low on paper, it's good enough for a TV. The interface isn't exactly lightning fast, but it's smooth enough with no major lags when switching between homescreen tabs or opening apps.
The TV ships with two 10W bottom firing speakers which feature Dolby audio. Sound is loud and crisp with good vocal clarity, so no complaints here.
Verdict



At its asking price of Rs 43,990, the TCL 55P65US is a tempting buy. With its gorgeous display, native Netflix and YouTube apps, and ability to play both 4K and HDR videos, it ticks most boxes for me. The only let-down is the interface, which when compared to Xiaomi's PatchWall OS, feels like a half-hearted effort from the brand. Personally speaking, the interface wasn't a deal breaker, since I keep the Fire TV Stick 4K plugged in for access to other streaming services like Prime Video and Hotstar. While TCL does have more expensive Android TV options like the L55P2MUS, the main competitor for the 55P65US would be the Xiaomi Mi TV Pro 4X 55 (first impressions), which adds Patchwall and Android TV to the mix, and retails for a cheaper price of Rs 39,999. To make it simple – if a full-featured UI matters to you, the Mi TV is your best bet. But if exceptional picture quality on a budget is what you're after, the TCL 55P65US should be on your list.
Editor's rating: 4 / 5

Pros:

Excellent picture quality
Inbuilt Netflix and YouTube
Affordable
Cons:
Interface lacks features and apps
Included plastic feet are flimsy