"Xiaomi's 100W fast charging tech is said to charge a 4,000mAh battery in just 17 minutes"
Gone are the days when the phone's battery used to take hours to charge. OEMs, lately, have been trying their hands on fast charging solutions that can juice up the device as quickly as possible. Last year, Huawei and OPPO introduced their respective versions of fast charging technology that is said to recharge smartphone's batteries in less than an hour. Now, Xiaomi has announced a new fast-charging tech called "Super Charge Turbo."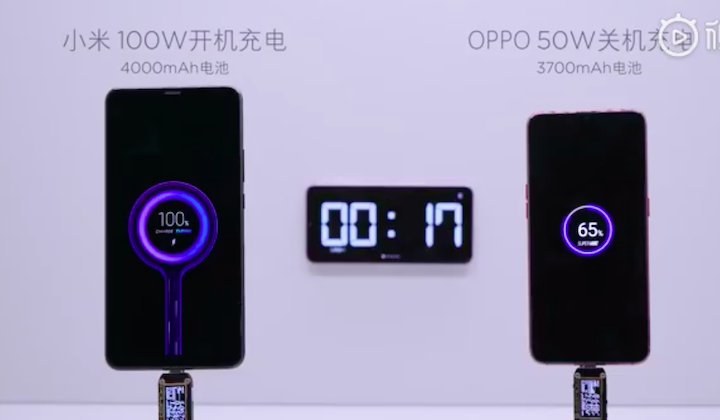 The new charging technology is now the world's first flash charging with 100W support, which is double the power of what OPPO's SuperVOOC offers. The latter comes with 50W fast charging support and is said to charge a 3,730mAh battery in 35 minutes. Xiaomi, meanwhile, claims that it's Super Charge Turbo technology can charge a 4,000mAh battery in just 17 minutes.
The specific details of Super Charge Turbo are yet to be revealed but Xiaomi's co-founder and President Lin Bin has shared a video of the new charging technology in action. The 40-second clip shows that the technology can charge a 4,000mAh smartphone battery from 0 percent to 50 percent in just 7 minutes and the remainder in another 10 minutes. To further demonstrate the technology's prowess, Xiaomi compared its 100W fast charging with OPPO's 50W SuperVOOC fast charging. The latter was charging a smaller 3,700mAh battery but was only capable of adding 65 percent juice in the similar timeframe.
Lastly, Lu Weibing, head of Xiaomi's spin-off Redmi brand, has announced that the brand will soon mass produce the Xiaomi's Super Charge Turbo technology for its smartphones. The exact timeline for this development is not known at the moment.