There are few trends prevalent in the smartphone segment which show no signs of letting up. Besides the consumers' desire for thinner phones and dual-lens setups, the "selfie" trend is one that has endured and grown over the years. Companies have dedicated entire product lines and device portfolios to creating smartphones whose singular USP was a refined front-facing camera. Xiaomi is one brand that had remained ominously absent from this segment, but with the Redmi Y1 (first impressions), that has all changed. The Redmi Y1 is Xiaomi's first smartphone which focuses more on the selfie camera than the primary shooter. While the new focus on the front facing imaging is great, does the Redmi Y1 offer more than just a singular feature? Wondering whether your money is justified by the Redmi Y1? We've spent an extensive amount of time with the phone, understanding its strengths and weaknesses so that you can make an informed purchase decision.
Specs at a glance
Display
Size
5.5 Inch
Resolution
HD (720 x 1280 pixels)
Performance
CPU
Octa core, 1.4 GHz, Snapdragon 435
RAM
3 GB
Storage
Internal memory
32 GB
External memory
Up to 128 GB
Battery
Capacity
3080 mAH, Li-Polymer, Non removable
Talktime
Up to 32 Hours (3G)
Standby Time
Up to 240 Hours (3G)
Camera
Primary camera
13 MP
Secondary camera
16 MP
Connectivity
Network support
Dual SIM 4G
Other options
Wi-Fi, Bluetooth 4.2, GPS
Others
Battery Capacity
3080
Operating system
Android 7.1.2 Nougat
Design and build quality: simple, but reliable
The first thing you ever take notice of in a smartphone is its design, followed by the feel of the device in your hands. The two are more or less synonymous with each other, with a poor design resulting in a sub-par handling experience. With the Xiaomi Redmi Y1, things are a little bit of a mixed bag. The Xiaomi Remi Y1 is unmistakably made of plastic, and not that super sturdy polycarbonate kind. The design is fairly generic, with a soft gold smooth finish on the back and a white bezel on the front. The only break in the design language is the singular 13-megapixel sensor on the back and a fingerprint sensor. The front, on the other hand, has the front-facing camera, an ambient light sensor and a soft LED flash, all in the form of three black circles. They do tend to stand out a little bit, but it's not a deal breaker.
In terms of the quality of the phone, being made entirely of plastic, you do feel the materials by weight. The Xiaomi Redmi Y1 is fairly light for a 5.5-inch smartphone and while that's a good thing, we do miss the metal finish of the Xiaomi Redmi Note 4. While the design and build quality are fairly average, one point of contention we had was with the fit of the SIM card tray. The tray does not sit flush with the body like on most Android phones nowadays and unfortunately, does not lend any elegance to the design. If this phone is forever going to live in a case, then it's not so much of an issue, but if you are going to be using it without protection, the SIM tray might look like an eye-sore to some. The price tag of Rs. 8,999 does not get your stellar build quality, and for the price, there are phones out there that have a better finish and use much better construction materials.
Xiaomi Redmi Y1 Product Shots
Imaging: where front camera comes first
The Xiaomi Redmi Y1 is the company's first selfie-centric phone. It has a fairly standard 13-megapixel rear camera with PDAF and a single LED flash, but the front camera is a 16-megapixel shooter accompanied by a soft light LED. The primary camera shoots images that are average at best, with the weakest point being dynamic range. Don't expect a perfect exposure if you're shooting a subject in harsh light, however, if you are in more forgiving illumination such as indoors or outdoors during a cloudy day (or even shooting in shade) you should able to get good looking photos. One thing you shouldn't expect out of these photos is a great level of detail as Xiaomi uses some very aggressive JPG compression algorithms. It was a little disappointing to take a photo of a beautiful flower and find very little detail in the texture of the leaves and petals.
Xiaomi Redmi Y1 Camera Samples
While the rear camera performance might be in line with what we've seen from other smartphones in this segment, where the Redmi Y1 sets itself apart is with the selfie camera. The soft light LED has only an arm's reach worth of power, but it will get you that odd selfie in a pinch. What really did impress us was the selfie-focussed algorithms running in the background. Regardless of where you're trying to take a selfie, once the camera locks onto your face (and it is very good at doing so) it prioritises the exposure of the face over the ambient conditions. In most cases, this is great, especially when you're shooting selfies in harsh light, whether sunlight or even indoor, office lighting. The camera will also let you get creative with sun flare if you position it just right, without ruining the photo. The photos do lack texture detail, but given the obsession with the beautification of selfies, the skin comes out looking soft. As a selfie camera, the Redmi Y1 does impress in ways that it should.
Software: MIUI 9 is predictable, but stable
Our review unit of the Xiaomi Remi Y1 came preloaded with a beta build of MIUI 9, which is a result of Xiaomi's own layer running on top of Android Nougat. MIUI 9 was announced the same day as the Redmi Y1, but it seems that the final version is yet to be rolled out. We did face minor hiccups on the Redmi Y1 in terms of performance, all of which could easily be attributed to the fact that our unit was running a beta build. Among the few things that worked well was the split-screen feature which didn't stutter at all. The newly redesigned notification pane is also nice, but that would be a personal preference more than anything else. While most of the aspects of MIUI 9 worked smooth, there were some minor issues that can be attributed to the beta build of the OS. For starters, we occasionally faced issues with the keyboard not popping up for a few seconds. This problem was only intermittent and only presented itself arbitrarily. Occasionally the camera app would lock us out too, but it was again arbitrary and it is possible that all of this would go away once the final build of MIUI 9 is released for the Y1.
Regardless of the changes, MIUI 9 is distinctly 'Xiaomi' and loyalists of the brand are right to be excited about this new OS. You still get a slew of customisation options and the themes app will give you access to innumerable themes for every design sensibility. MIUI 9 even in beta was fairly smooth, save for minor bugs here and there.
Performance: Get what you mostly expect
Powered by the Qualcomm Snapdragon 435 processor and 3GB of RAM, the Xiaomi Redmi Y1 isn't the smartphone to offer the most cutting-edge specifications for the price bracket. The similarly-priced Xiaomi Redmi 4 (review) has the same specs as the Y1 or the most part as well, although, for a little more money, you could get yourself the Redmi Note 4 with the Snapdragon 625 processor.
Let's just get the minor hiccups out of the way first. Our unit had a tough time keeping up with the fast-paced action of Injustice 2: Gods Amongst Us. Asphalt 8 saw a few minor frame drops as well, but games like Sonic Surge, Subway Surfers and even Angry Birds (if you're still not over taking down those pigs) worked without a hitch. Casual gaming is no longer a problem even on seemingly less powerful components thanks to processors becoming more efficient and developers optimising many of their apps to work better on lower-end components.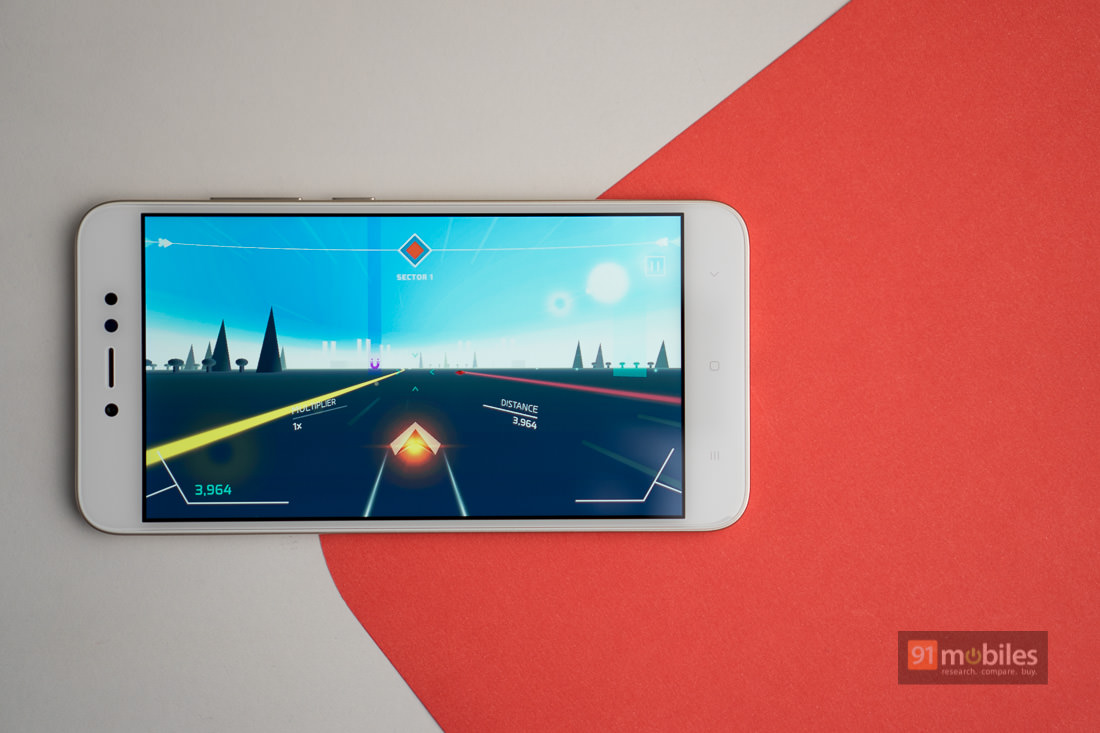 In our time with the Xiaomi Redmi Y1, we noticed that apps by themselves work without any issues, save for the minor extended load times, but where we noticed problems was in the little things such as when the keyboard was supposed to pop up for typing a message. Occasionally, it would take the keyboard as long as three seconds to come up. Sometimes switching between apps lagged, but the instances of this were very few. Since this is a beta ROM, we're sure Xiaomi will iron out the minor performance hiccups through an update.
As a daily driver, the Xiaomi Y1 is not a bad choice. It just manages to keep things working well enough to not turn the user experience into a frustrating one. There were very few crashes (a total of three), although we did feel the need to close background apps every few hours. Surprisingly, despite running through the whole gamut of usage scenarios, we did not face any excessive heating of the device, which is a great sign.
Battery Life: slow to die, and slow to charge
The Xiaomi Redmi Y1 is powered by a 3,080mAh battery, a pretty standard number for most smartphones today. What you don't get, however, is fast charging, which is a feature missing from this entire price bracket for the most part anyway. The phone ends up taking a little over two hours to charge from zero to 100, so the best time to charge the phone would most likely be while going to bed, or like me, you can charge it at work, with the small caveat that you're going to be glued to your seat till the battery reaches 100 percent.
So what does the two and a half hours of charging time get you? In our time with the phone, we used it as our primary device for well over a week and consistently, the phone had 15-20 percent battery left by the time we went to bed. Typically, the phone would come off the charger by 8am, and be plugged back in around 1am. On our video loop test, which we do by running an HD version of The Hobbit's trailer, the phone lasted a little over eight hours, at 50 percent brightness and volume, with both Wi-Fi and Bluetooth turned off. Overall, the battery life is satisfactory for a phone with its battery capacity.
Verdict
In our time with the Xiaomi Redmi Y1, the question of why someone would want to buy this phone popped up a number of times. Besides what the competition has to offer, Xiaomi itself has the Redmi 4, available for the same price, offering the same specification set, but in a metal body. It is a slightly smaller form factor (5-inch) with the same 720p display as the Y1. The Redmi 4 also offers a larger 4,000mAh battery in comparison to the 3,080mAh battery on the Y1. Interestingly, even though the two phones may be incredibly similar, they would ideally appeal to very different audiences. The Y1 is squarely aimed at people who put the selfie experience before most other things. For those who prefer a metal built phone, the Redmi 4 may be a better option, albeit with a smaller screen. Performance wise, both phones are on par in terms of their hardware, but it's the feature set that varies.
Having said that, for Rs 8,999, you finally get a Xiaomi smartphone which plays the selfie game well. If you ever felt that the OPPO or Vivo's portfolio of devices were out of your budget, there's now a viable option even in the sub-Rs 10K price range.
Editor's rating: 3.5 / 5
Pros
Selfie camera is impressive

Good battery life
Stable and reliable software
Cons
Average display

No fast charging
Dated design
Photos by Raj Rout
Competitors for Xiaomi Redmi Y1 32GB
| | | |
| --- | --- | --- |
| Xiaomi Redmi Y1 32GB | vs | Xiaomi Redmi Note 4 2GB RAM |
| | | |
| --- | --- | --- |
| Xiaomi Redmi Y1 32GB | vs | Xiaomi Redmi 4 32GB |