We're not sure if calling 2020 a great year would be apt, so let's just say that it has been "different". The year saw so many changes around the world, and technology played a vital role in keeping the wheels turning. The laptop segment is one of those categories that witnessed significant growth, and it would be interesting to see how the industry changed in the past few months. Through our Laptop Buyer Insights Survey, we're trying to get insights into aspects like ownership share of different brands (both current as well as projected), usage patterns, and buyer behaviour involving how people decide on a new laptop and the features that matter the most. And as part of the survey, which received over 8,000 responses, we'll also take a look at some points related to user demographics. Let's dive right in.
Section 1: Trends in laptop ownership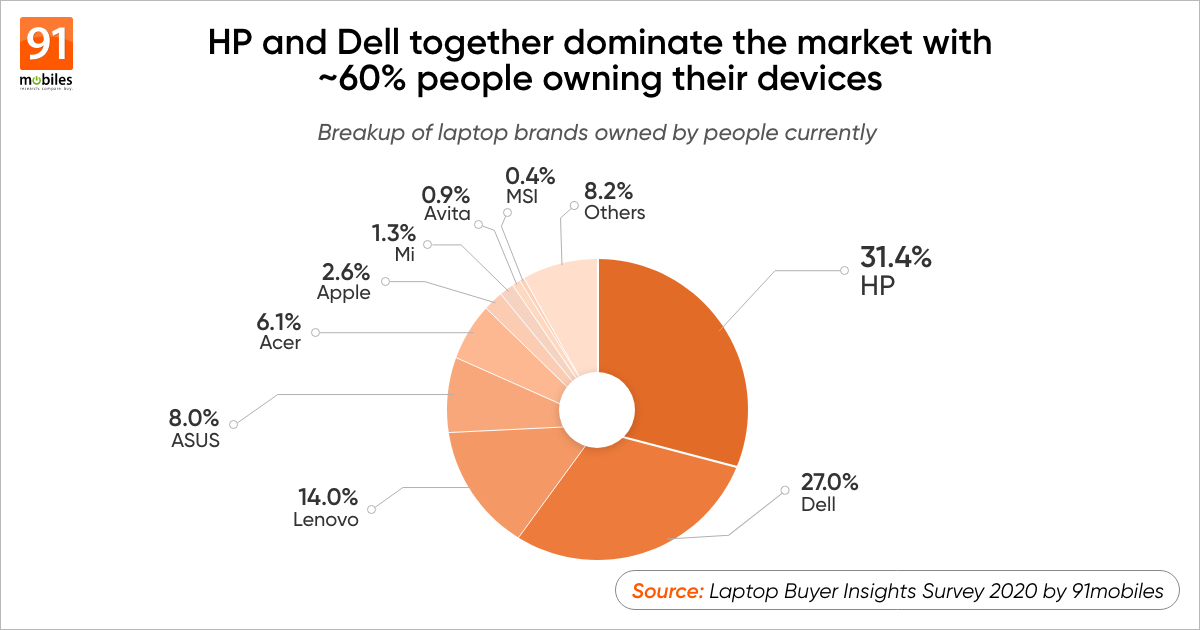 We'll start with some points that relate to laptop ownership. As things stand currently, HP and Dell dominate the market with almost 60 percent of survey respondents currently using laptops that bear either of these two names. HP's ownership is the highest, with 31.4 percent share, followed by Dell with 27 percent, Lenovo with 14 percent, and ASUS with 8 percent. Apple currently has an ownership share of 2.6 percent as per the survey responses, while new entrant Xiaomi has 1.3 percent.

HP, Lenovo, and Dell are, of course, old hands when it comes to laptops in India, and lead in terms of market share as per IDC as well. HP, in fact, tops the charts in terms of market share, matching the insight that appeared from our survey as well. In our discussion with Nitish Singhal, Category Head of Consumer Personal Systems at HP India, he told us how the brand has been identifying use cases and trying to offer devices that match those. The company has zeroed in on factors like work from home, learn from home, game from home, and create from home, and has been addressing its consumers' needs via digital and online platforms as much as possible. Similarly, Shailendra Katyal, Executive Director and Head of Consumer PCSD at Lenovo India noted how users are paying closer attention to aspects like webcam quality, anti-glare screens, etc, and explained how the company is making sure its offerings take care of these requirements. He also gave us an interesting example of how some Lenovo laptops feature a physical privacy shutter on the webcams, thus addressing the growing concerns about digital privacy.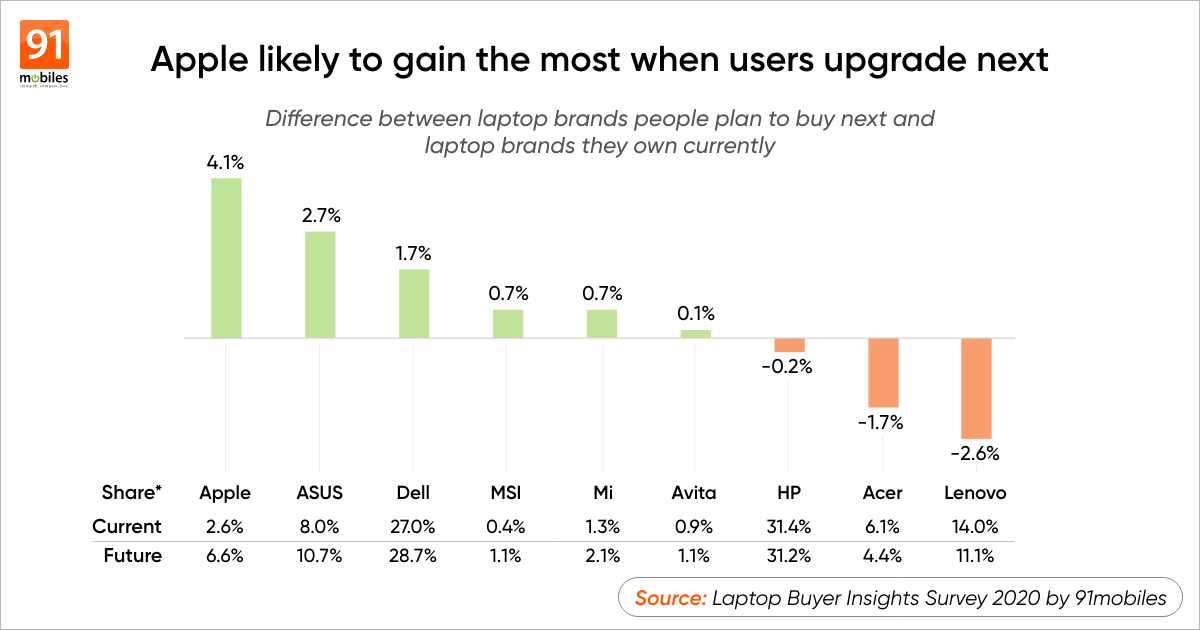 And when it comes to how the ownership share of laptop brands would look like when users upgrade next, there isn't a drastic difference that can be discerned, based on the responses. HP and Dell would continue to lead, followed by Lenovo. Apple is likely poised to gain the most, with its ownership share jumping to 6.6 percent, up from the current 2.6 percent. In a similar vein, Lenovo seems to be looking at a drop, going down to 11.1 percent from 14 percent.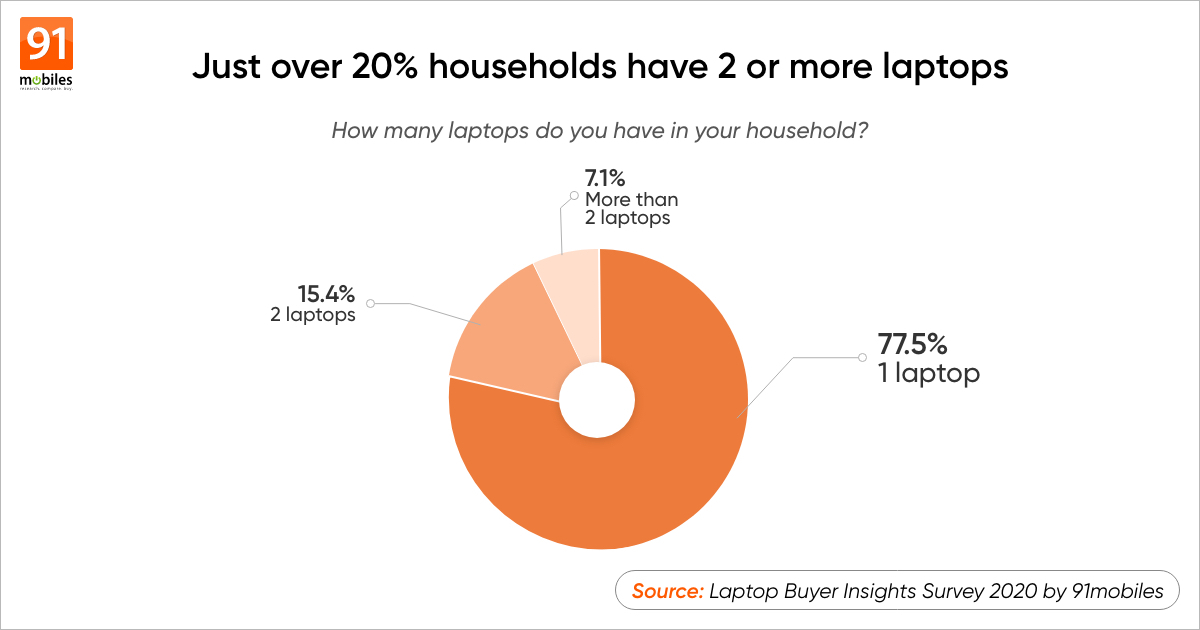 One of the most interesting insights that came out of our survey was the point regarding the number of laptops in each household. As per the data, it seems that just over 20 percent households have two or more laptops, with the remaining 80 percent households using a single laptop each. This is a vital insight since we know how laptops have evolved into personal gadgets from being shared devices in most households. Because of the "work from home" and "learn from home" use cases, most members in the household need their own individual laptops. Therefore, the point on 80 percent households relying on a single laptop could mean that a vast majority of these only have one member in the house who actually needs one. However, that's unlikely to be the case. In all likelihood, the reasons for this could be budget constraints or the chance of some members of these households relying on other devices like smartphones and tablets for their requirements. And this would mean that there's still big potential for growth.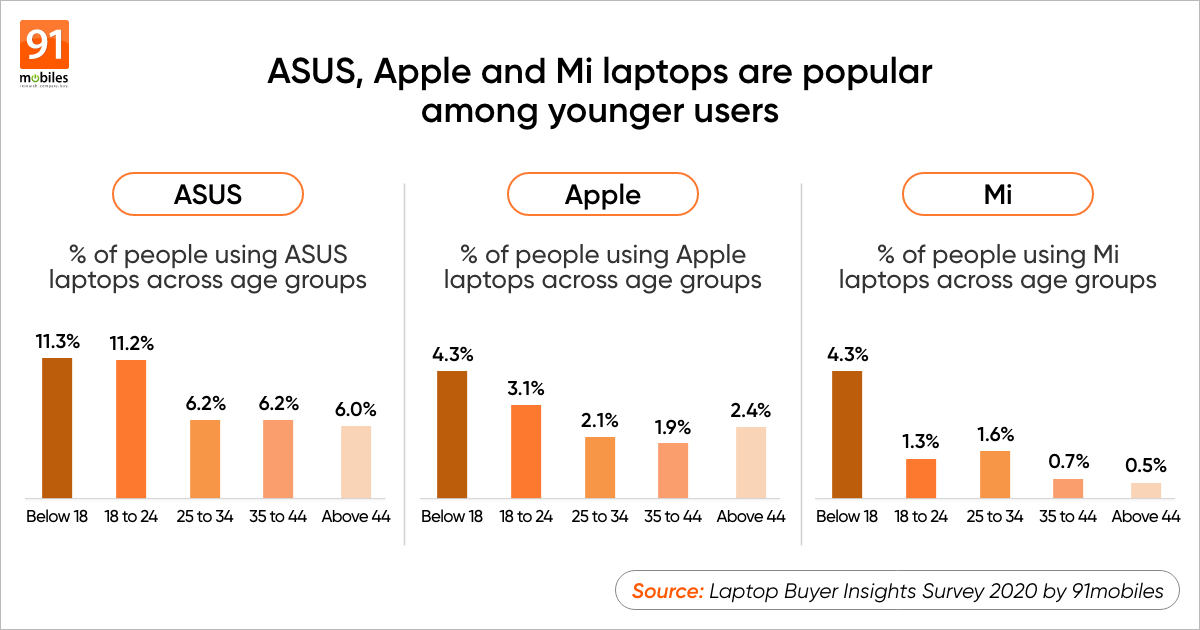 Here are some more points that emerged from our Laptop Buyer Insights Survey:
The ownership share of the top three laptop brands, viz. HP, Lenovo, and Dell is spread almost evenly across users of different age groups
ASUS, Apple, and Xiaomi are brands that seem to be more popular among younger users
HP and Dell laptops seem to be equally popular among both men and women
Lenovo and Apple seem to have a larger share of women users, as per survey data
ASUS and Xiaomi are the brands that are more popular among men
Section 2: Purchase
How people decide on a new laptop
Next up, we have some insights on how people make their purchase decisions while buying a new laptop. As part of this, we will first consider common use cases. It doesn't really come as a surprise that at least one in two (almost 53 percent) respondents said they use their laptops for work. A significant 35 percent said they use their laptops for education, and a big chunk of those could actually be new users because of the fact that kids have been attending their school classes over online platforms like Google Meet over the last year. The entrainment use case was quoted by over 7 percent of respondents, while over 5 percent said they use their laptops specifically for gaming. This is another use case that has been growing significantly, and we expect to see even bigger numbers the next time we conduct a similar survey.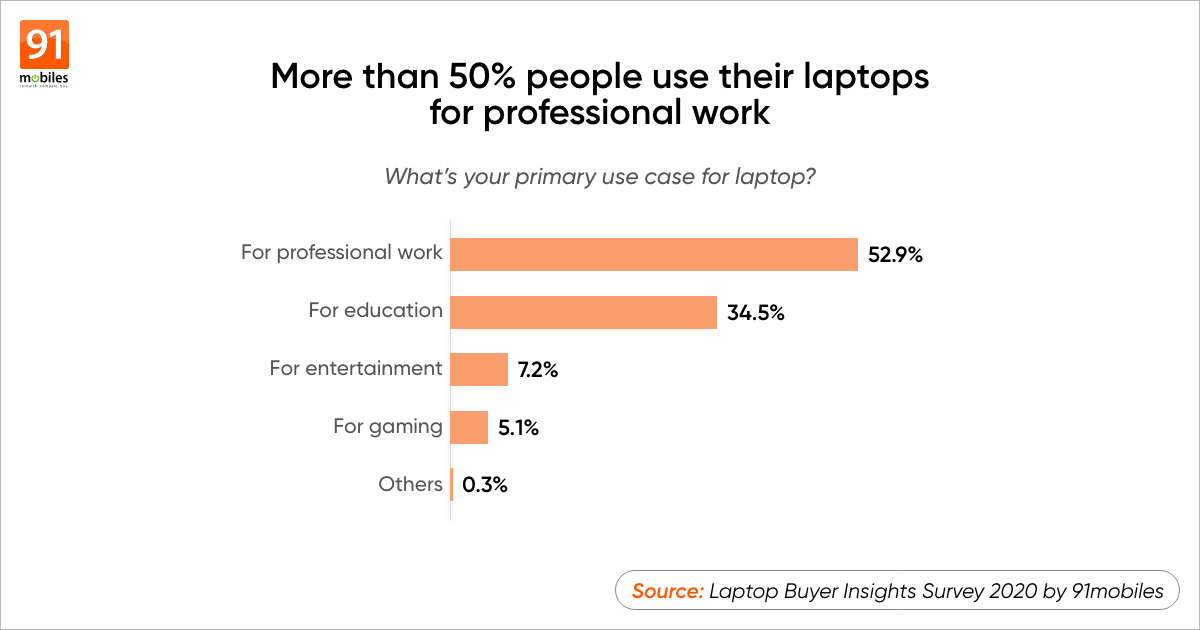 When asked about the reason behind upgrading their laptop, almost 40 percent said they'd do so because they want the latest or a better laptop than the one they currently have. About 32 percent upgrade when necessitated by their current laptop going kaput or not working properly. This shows that people are mindful of how well their laptop serves their requirements, rather than just being forced by necessity to buy a new one.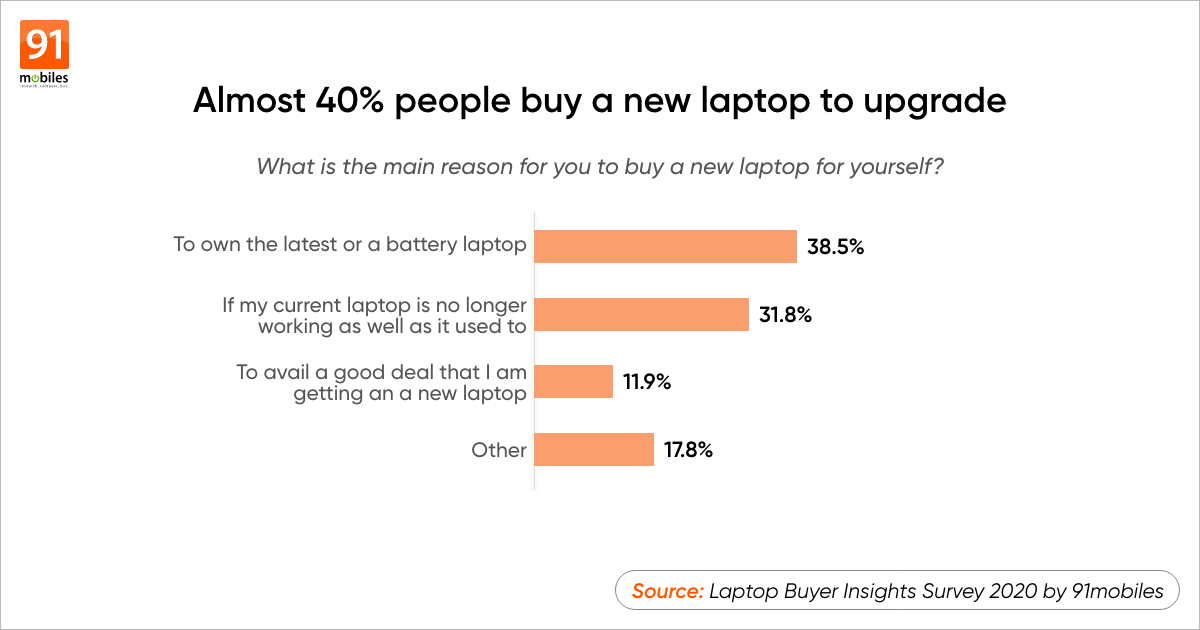 Here are some more insights that came up:
A significant 41 percent respondents said they take less than a week to make up their minds regarding the laptop model to buy.
About 35 percent take more than 2 weeks to decide
The primary mode of research for most seems to be online since over 25 percent users said they check e-commerce websites for information, while over 20 percent rely on gadget websites like 91mobiles, Pricebaba, GSMArena etc. 18.6 percent said they relied on YouTube videos to help them make informed decisions. Just about 18 percent actually visit offline stores to check available options, which is understandable since many folks are choosing not to venture out if possible.
Almost 50 percent look at more than three reviews before making up their minds
Almost 50 percent end up comparing four or more laptops before finally shelling out the cash
Aspects that matter the most while buying a new laptop
Moving on, we will now delve into the aspects that matter the most to people while buying a new laptop. As it turned out, 6 in 10 survey respondents said they consider the processor as the most important aspect. Over 15 percent said they'd look at RAM, while battery life just got 6.3 percent vote. Other aspects like display size and form factor were much lower down the run, receiving less than 3 percent votes. This is quite surprising, since display size and form factor are pretty important, given how they have a bearing on portability, weight and therefore, impact day-to-day usage too.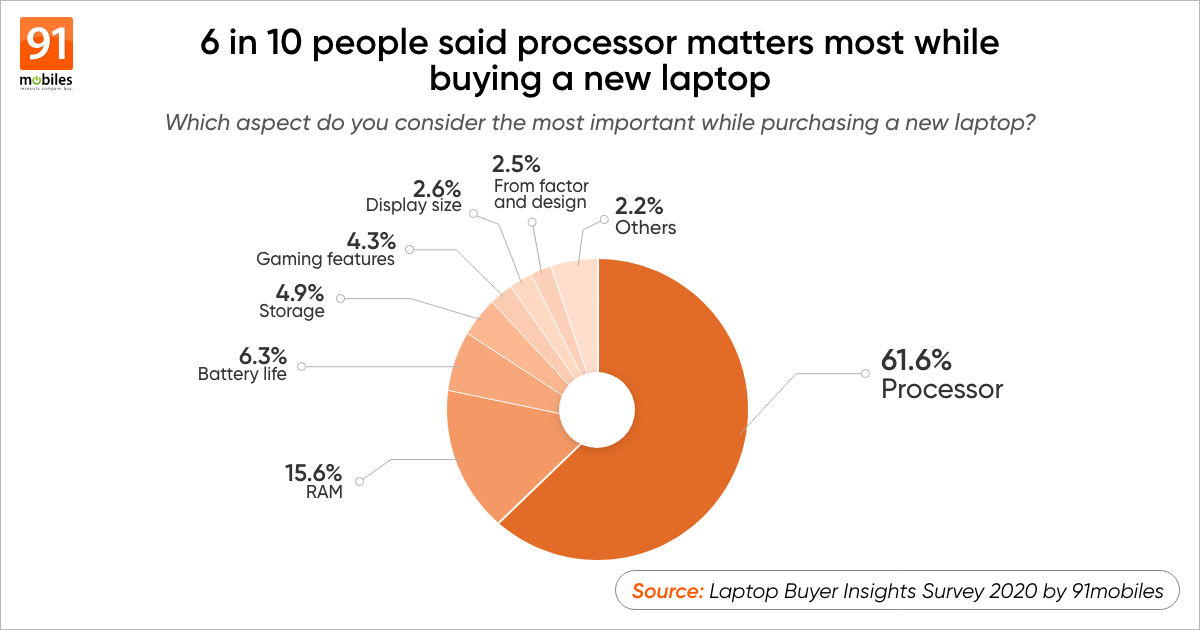 Zeroing in further on performance, we asked respondents about the factors they consider while evaluating a laptop's prowess. Almost 28 percent said they'd look at processor clock speeds, while over 25 percent said they consider the number of processor cores. A significant 21 percent said they'd also consider the processor brand. Interestingly, just a little over 5 percent said they consider benchmark score important while buying a new laptop.

Unsurprisingly, Intel seems to be the favoured name when it comes to processor brand, with over 9 in 10 respondents being aware of it. About two-thirds (66 percent) users would actually prefer an Intel-based laptop, as per the survey, while 10 percent said they would prefer AMD chipsets.
Buying preferences – how people prefer to buy a laptop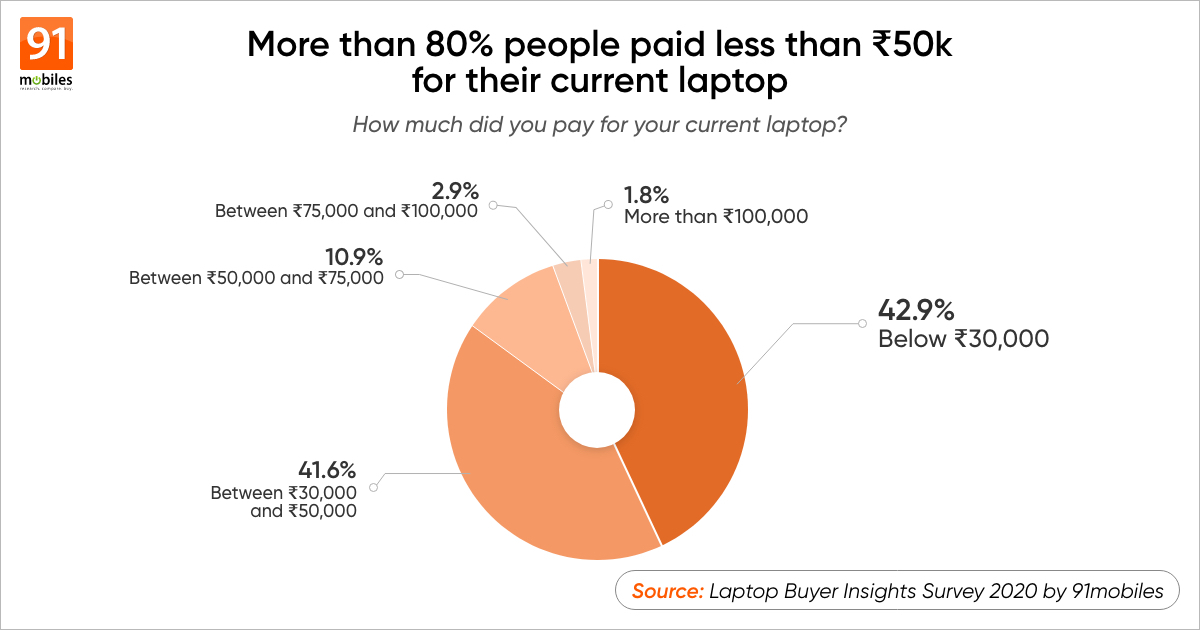 Coming to the price segments, it turns out that more than 80 percent users paid less than Rs 50k for their current laptops. About half of these use devices priced south of Rs 30,000, in fact. This shows how important the sub-Rs 50k segment is for laptops, and that's where most brands focus their energies on. The premium league mostly comprises the business segment, the thin-and-lights (where Apple has a big play), gaming laptops and performance-oriented machines usually required by designers and video editors.

Here are some more points that came up regarding buying preferences:
Almost 1 in 2 users upgrade their laptops within 4 years. Just about 18 percent do that within 2 years.
Younger people tend to upgrade their laptops more frequently as compared to users in older age groups.
While checking prices of laptops, over 46 percent look at both online and offline sources, while another 42 percent mainly look at online sources. This means that almost 90 percent of prospective buyers check prices online before buying a laptop.
Almost 40 percent would prefer buying their next laptop online, as compared to 28 percent who said they'd buy their next device offline. This indicates how strong online retail has become, and as is evident from or discussions with various laptop brands, they're focussing heavily on this as well.
That wraps up the key insights from the 91mobiles Laptop Buyer Insights Survey. As usual, you can count on us to come with more such data points in the months to come.