"The BlackBerry Passport is a monster in more ways than one"
When we first saw the BlackBerry Passport, we thought the purveyor of QWERTY-sporting smartphones had gone bonkers. A weird-looking device that traverses the no-man's land somewhere between a smartphone, a phablet and even a tablet, the Passport doesn't come cheap either. It's definitely a bold effort though, especially since innovations in the smartphone world are few and far between. And innovations based on form factor are even rarer. Raise your hands if you recall the original Nokia N-Gage, the LG BL40 Chocolate or the LG Vu. There are others too of course, but most have them have faded away from memory after creating ripples at launch time.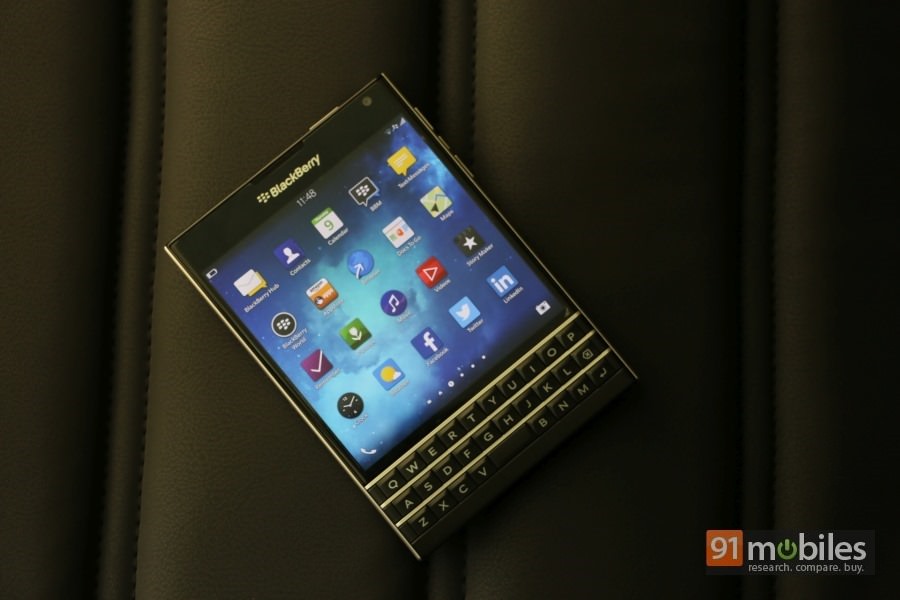 The BlackBerry Passport sports a wide form factor and a square display, but the latter isn't really new, since most of BlackBerry's earlier QWERTY smartphones have offered similarly-shaped screens. We won't go too far back, but even the relatively recent ones such as the Q10 and the Q5 feature square screens as well. The Passport's 4.5-inch display is one of the largest square ones we've seen on a smartphone so far though. The unique form factor isn't its only claim to fame, and the Passport rocks some other interesting features too. BlackBerry wants to offer its Passport to working professionals, and has positioned it as a productivity-based device.
Let's get down to business and try to figure out if you should get yourselves another passport or not.
It's W I D E

There's no other way to put it – it's W I D E. Unless you're accustomed to using one of those tablets with voice-calling capabilities, you'll find it a tad uncomfortable to hold. It's clearly not designed for one-handed usage, but that apart, you'll need large paws just to be able to use it for basic things like making and accepting calls. We keep harping about how different smartphones are when it comes to using with a single hand, but the BBPP (as we've christened the Passport) isn't even trying to be in the reckoning.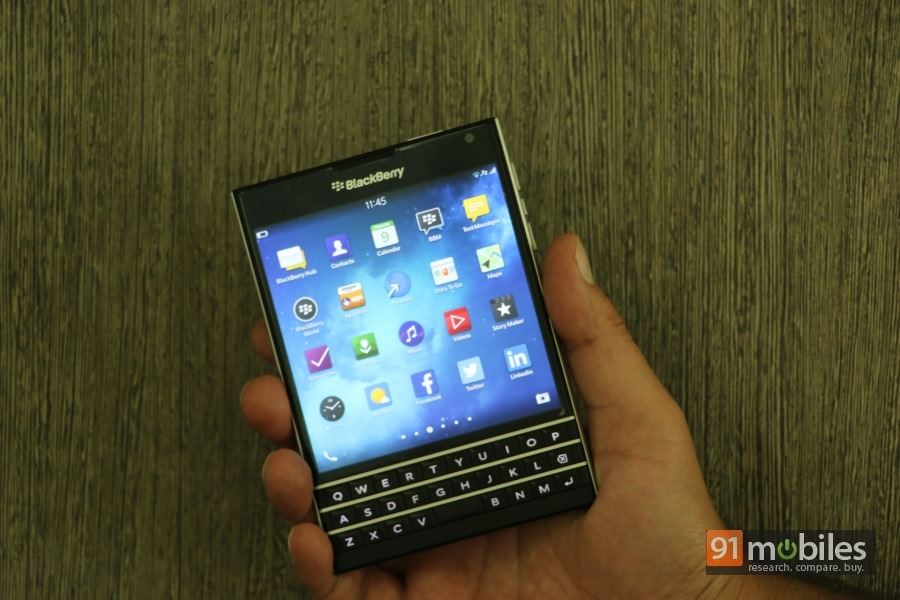 Just for the sake of comparison, a typical 5-inch smartphone (including BlackBerry's own Z3) is roughly about 70mm wide, but the Passport is over 90mm in width. The keyboard on the stubby handset is positioned low on the fascia, and while typing two-handed, the device feels top heavy – again something that takes time to get used to.
The brand says that the design inspiration for this device comes from the globally-recognised symbol of mobility that goes by the same name, the one that blurs international boundaries and opens the gateway to new experiences, cultures and opportunities. A profound statement, sure, but that's exactly the ethos behind this smartphone. We placed a real passport alongside the device, and sure enough, the 2D dimensions match almost exactly.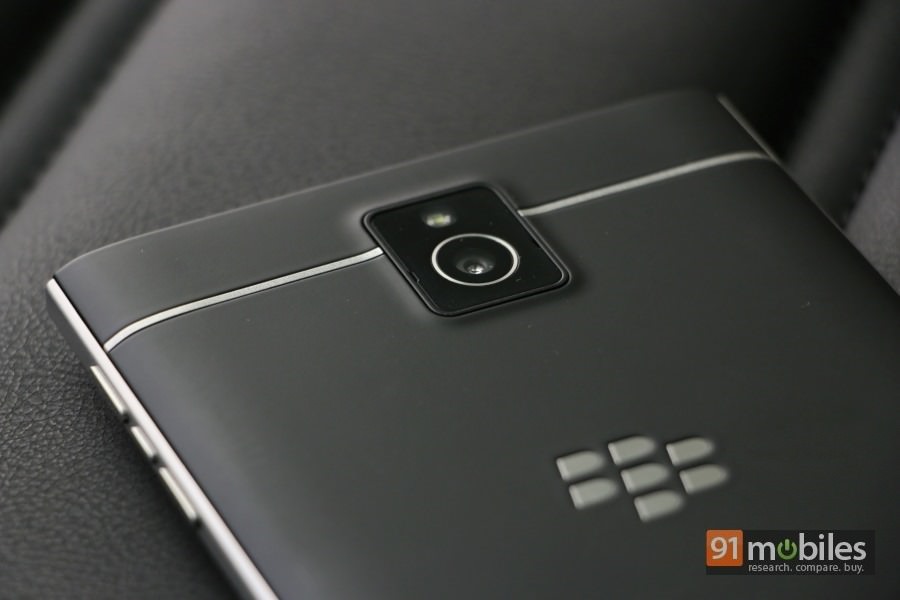 The build quality is what we'd expect from a premium device from BlackBerry – bomb proof. Brands like HTC and Nokia have always been associated with well-built smartphones, and BlackBerry's reputation in this aspect also goes way back. Tipping the scales at 196g, the Passport isn't lightweight by any means, but feels reassuringly solid. The steel frame that reinforces the device, not to mention our confidence, is visible around the sides, and adds a bit of flair to the looks. The metal keys on the right also add to the premium feel. The same goes for the other chrome elements strewn around – including the bands that divide the rows of keys on the physical QWERTY, the band at the rear that marks the removable flap and the flying D's logo, which is also placed at the rear.
The three-row QWERTY keyboard at the front looks quite elegant and clean since there are no symbols or special characters, and we'll get to the specifics on how those can be entered. Otherwise, the fascia holds the square display, with BlackBerry branding and the usual array of earpiece, front camera, sensors and notification LED above. The micro-USB port is at the bottom, while the headset socket is on top along with the power key. The right holds two separate volume keys with a key in the middle that launches the BlackBerry Assistant.
The rear is finished in matte (our review unit came in black, but there's a white one available too) and bears a large rectangular glass window holding the camera lens and LED flash. The back cover isn't removable, but you can remove a flap up top to gain access to the slots for the nano-SIM and the microSD card.
The device fits inside a jacket or a shirt pocket quite well, and while you could possibly carry it in your trousers or even jeans, doing so creates a rather unsightly bulge that's impossible to hide. On the positive side, people you meet while carrying the Passport in your trousers pocket can be sure you're happy to see them. Overall, the Passport feels sturdy and premium, and boasts a standout design that's sure to raise eyebrows wherever you go. It's tough to describe it in words, but it looks cool in a strange sort of a way and with this phone in your hands, it should be clear to others that you mean business.
Fair and square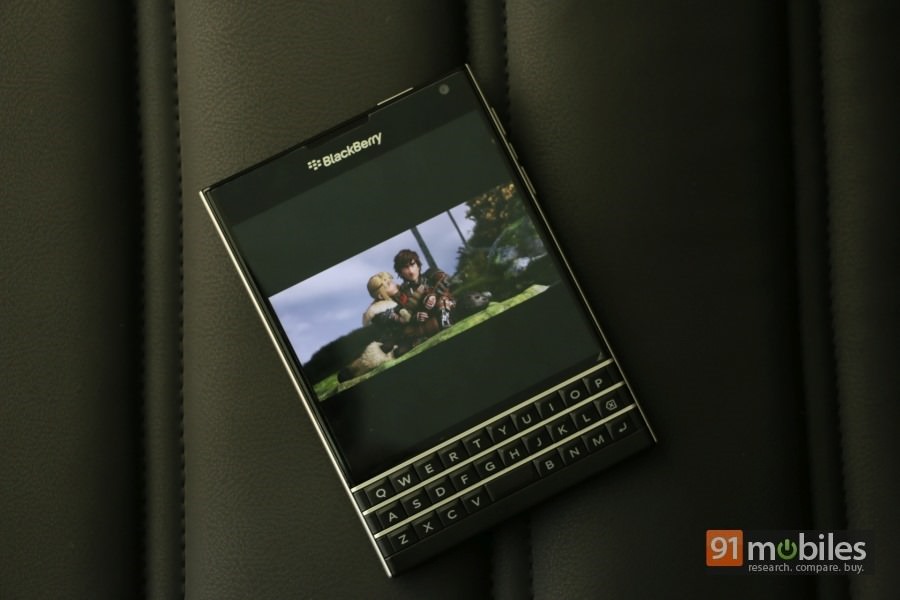 So a 1,440 x 1,440 screen layered with Gorilla Glass 3 is what you get, and it measures 4.5-inches diagonally. BlackBerry says it should offer the same real estate as a regular 5-inch smartphone display and we don't disagree. The fact is that thanks to those square dimensions, it becomes easier to work with documents, presentations and spreadsheets, and browsing the web too. Just to give you an example, working with a spreadsheet containing loads of data would usually require quite a bit of scrolling around in either portrait on landscape mode on conventional phones, but on the Passport you should be able view more at similar zoom levels. We'll discuss some more usability aspects about the square display in the performance section, but as you can fathom, it's not really ideal for watching widescreen videos.
We have no complaints about the screen's capabilities – it's razor-sharp when it comes to visuals and the colours look nice and vivid. Furthermore, display settings allow you to tweak the white balance and colour saturation in case you feel the need to do so. Sunlight legibility and viewing angles are good too, so no red flags there.
The BBPP's QWERTY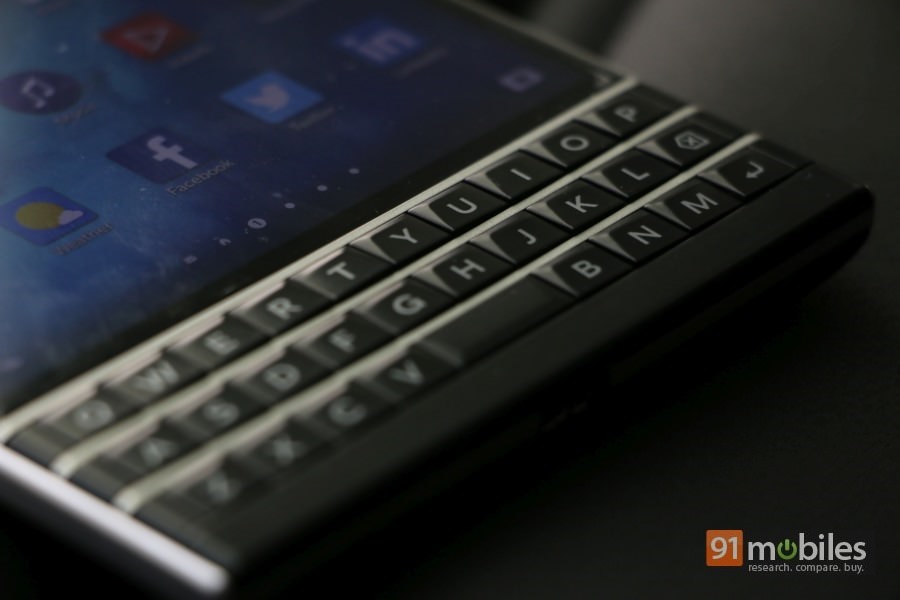 So what's special about the Passport's keyboard? We wondered the same thing before we actually got our hands on it, being unable to fathom what BlackBerry means with a 'touch-enabled' QWERTY keypad. Before we get to that however, let's tackle the symbols bit we mentioned earlier. As you can make out, the keys don't include any numbers, symbols or special characters, and the way BlackBerry has implemented this is by using a smaller virtual keyboard that appears below the screen whenever you're in a text input screen (such as composing a new message or email for example). This virtual keyboard offers a basic list of commonly-used symbols but can be expanded to view and enter more too. This hybrid approach takes a while getting used to.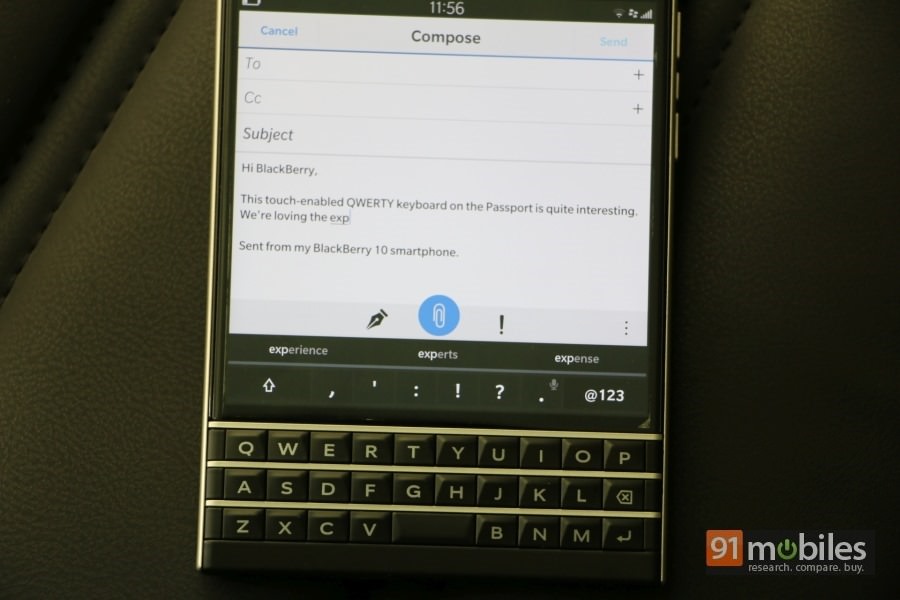 Coming to the touch aspect of the keyboard, just think of it as a large touchpad that recognises swipes in four directions. So you can scroll up and down through lists (your messages or contact lists for example) and web pages by just running your finger lightly over the keys in the desired direction. It also helps while selecting a chunk of text, as you can tap and hold the shift key present on the virtual keyboard and then swipe across the physical QWERTY to select the desired part of the text. When it comes to entering text, the Passport throws up three word suggestions above the virtual keyboard when you start typing and you can just flick upwards on the QWERTY from below the desired suggestion to enter it into the text field. Moreover, the device learns your typing habits over time, so the word suggestions it offers should be more tailored towards your specific way of typing as you use it longer. Again, this is something that takes a bit of time coming to grips with, but seems like a novel and intuitive approach.
What we found more problematic was using the actual QWERTY in the traditional way, i.e., by pressing the keys. When the world moved from physical keypads to touchscreen devices, most of us had to climb the learning curve required to use virtual keyboards. In fact, some people, especially the elderly, still face issues getting used to them. However, we've now become so used to virtual keyboards that using pressure to actually press a key to enter an alphabet just seems like too much effort. Still, that could be just us, and in any case, the flick-up touch capabilities of the Passport's keyboard should theoretically be able to help get around that. It sure would be very cool if BlackBerry manages to incorporate swipe-to-type capabilities on the Passport or its sequel (will the latter be called the Renewed Passport?) though.
Flicking through the Passport's pages


While a valid passport holds enough value by itself, the true gateway that blurs boundaries is actually hidden inside – the visa stamps. On BlackBerry's Passport, it's the platform it runs that gives it the power to accomplish what it does and you get the very latest the Waterloo-based vendor has to offer. Version 10.3 of BB OS 10, the latest iteration of BlackBerry's mobile platform comes loaded on the Passport by default, and brings with it quite a few new and useful features.
In terms of the actual UI, you won't find drastic changes compared to earlier iterations, and the operation is largely dependent on swipes per normal. An upward swipe is enough to wake up the device and unlock it straight from standby, but in case you use the power key to wake it up, you can see the lockscreen that offers handy previews of waiting notifications. You can even jump to the corresponding apps straight from here too. The rest of the interface is made up of a horizontally-scrolling list of icons, which can be organised into custom folders as per your whims. A swipe downwards from the top of the screen displays the quick settings panel, and this is customisable as well. Within apps, the same action displays app-specific menus and settings, but a new feature BlackBerry has added in v10.3 is the ability to get the quick settings panel from within any app by using two fingers to swipe down instead of one.
Open apps can be minimised into what BlackBerry calls Active Frames, and on the Passport, you can have up to eight of these open at a time. Active Frames is how BB OS 10 implements multitasking, so you can tap on any frame to get back into the corresponding app. Further, like Live Tiles on Windows Phone, Active Frames can also show useful info (i.e. when the apps are minimised). For example, the Active Frame for the phone app displays the last caller, while the same for the BBM app displays the most recent status update from your BBM contacts. To kill an app, you can just hit the 'X' at the bottom of its Active Frame.
As always, the mainstay of the platform is BlackBerry Hub, a dedicated area on the leftmost side of the app drawer that displays all your email and social accounts configured on the device. Apart from swiping towards the right, the Hub can also be accessed directly by performing an inverted 'L' gesture (up, the right) from anywhere. The Hub is a powerful resource, since it not only allows for a lot of customisation, but also offers useful features like the Priority Hub that displays unread emails or those it deems important. A simple action like a pinch is enough to view unread emails directly. Most importantly, the Hub takes the usage experience to a different level by acting as the one-stop area for all your messages – emails, Facebook, Twitter, LinkedIn, SMSes, WhatsApp, BBM etc.
The notification alerts are also very customisable, so you can choose the alert tones, the number of times they sound, set vibrations on or off, the number of times the device vibrates, and set the LED on or off for various apps, even specific to the different email accounts configured. Now this aspect is quite powerful and if you're the kind of person that uses a multitude of email accounts and likes to stay connected to the world through social apps, you'll certainly find it extremely useful. In fact, the power of the BlackBerry Hub can also be truly appreciated by such users.
One of the most noteworthy new features of the latest OS refresh is BlackBerry's virtual assistant, and the brand has chosen to call it… wait for the drumroll… BlackBerry Assistant. A rather mundane-sounding moniker apart, it has some interesting capabilities that allow to control many of the phone's functions using you voice. You can activate it via its dedicated icon or by a long-press of the mute button on the side. It can be used for the usual stuff such as querying weather conditions, calling a contact, setting up meetings, even sending texts, emails or BBM messages. We didn't face any major issues with it recognising our accent, but it does seem rather slow to respond. It's still the first iteration though, so hopefully BlackBerry will improve it over time.
Another new feature that has been added is called Instant Actions, and this lets you delete or archive any message in the Hub by tapping on a downward arrow placed on the top right of the message list. In fact, when you hit the back button after reading an email for example, these instant actions appear for a brief moment next to that message so you can choose to file it within a different folder or get rid of it immediately.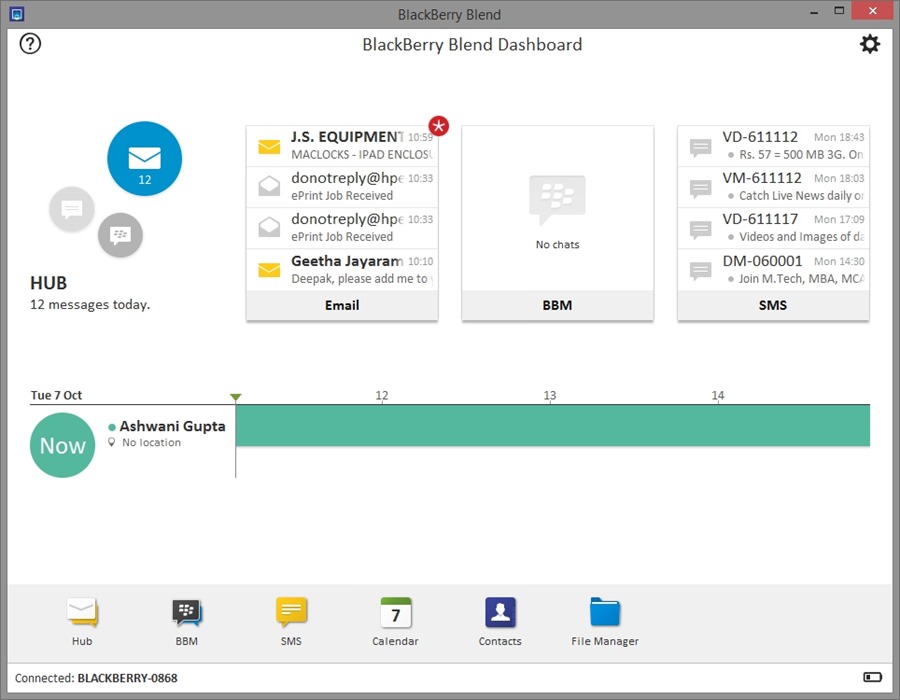 Then there's BlackBerry Blend, another new addition that works similar to the way Airdroid works on Android. Basically, it's a client that can be loaded on computers running Windows or Mac OS, or even Android or iOS tablets. Once you've got the client set up and paired with your Passport, the former becomes your window into the smartphone's content. We tried it out on a Windows laptop, and got access to the BlackBerry Hub, contacts, BBM messages, calendar etc on our Passport via the client's dashboard. It even let us send messages from the comfort of our desk and seems like a useful feature when you're battling the daily grind with lots on your plate.
Coming-to the all-important app ecosystem – let's face the fact that this isn't Android or iOS, and there might be times when you may hit a roadblock while trying to look for a specific app or game you've seen on another platform. Possibly what we miss the most are native Google apps for Gmail, Hangouts and Maps, but if you can get around that, the BlackBerry World storefront does include most staple ones we use on a day-to-day basis. The social ones like Facebook, Twitter, Whatsapp, Skype, Hike, Line Messenger, Viber etc are all there, and so are the productivity apps like Evernote. A few others like Instagram can be accessed via third-party clients.
BlackBerry had added support for installation of Android APK files directly, but the Amazon Appstore preloaded on BB OS 10.3 makes things even simpler. The range of Android apps available through Amazon isn't as extensive as the choice on Google's Play Store, but still gives you access to quite a few. Other third-party store like 1Market can also be installed, and if you still can't find the specific Android app you're looking for, you always have the option of getting hold of its APK and cramming it down the Passport's throat by sideloading – a process which is as simple as transferring the APK and tapping on it via the File Manager.
Sure, your experience with Android apps running on the Passport could vary, but we tried quite a few and didn't notice any issues. Even the ones we thought could have issues with the Passport's square screen ran quite well – our favourite Riptide GP2 for example, downloaded via Amazon. Even the vertical endless runner Subway Surfer worked smoothly.
We've always maintained that buying a new mobile device means investing into its ecosystem more than the hardware, so if there are some apps or games that you can't do without at all, we'd recommend making sure they are available / run on the Passport before you buy it.
This Passport is a camera too


The Passport's 13-megapixel shooter boasts some cool features like optical image stabilisation and 1080p video recording at 60fps – pretty much the best we've seen from BlackBerry yet as far as camera specs are concerned.
The camera app is pretty basic in terms of the features it offers. Fret not – the usual stuff we're all accustomed to with smartphone cameras these days is all there. So modes like burst, panorama and HDR are all present and correct, but we do miss a background defocus mode. However, there's a nifty Time Shift mode that starts shooting images in quick succession even before you actually hit the shutter key, and allows you to save the best one of the lot. A few scene presets are built in, and as a new feature, the app now recommends modes depending upon what you're trying to shoot. So if it detects contrasting light, it'll prompt you to switch on the HDR mode and if it detects faces, it'll suggest using the Time Shift feature.
However, the Passport's camera isn't the fastest when it comes to app launch and shooting times – so you'll need to be patient. It does make up for its slight tardiness with the image quality it offers though. We shot quite a few images in a variety of different conditions and the Passport managed to impress us with the pictures that came out. Our camera review has more details, but overall, the Passport can churn out lovely images in daylight, while it can also serve up very good results when shooting close-ups and HDR. Low light images aren't as noisy as we're accustomed to seeing with other devices, and while they're usable, suffer from lack of sharpness. Still, it's not something we would hold against it. Here are some more sample shots clicked using the Passport.
Always in a hurry to catch a flight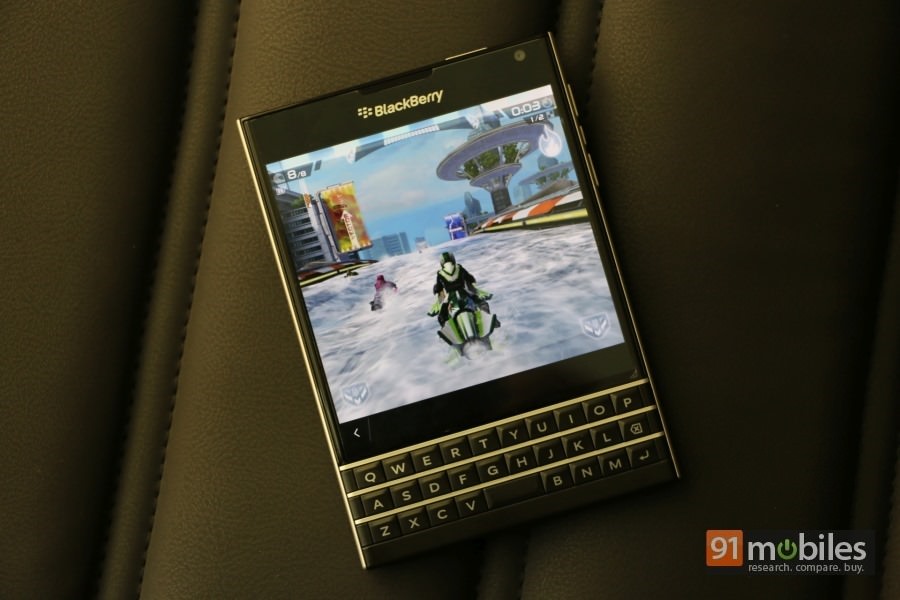 BB OS 10 isn't a very resource-hungry platform, and we've seen it work fluidly on devices with much lower specs than the Passport. So much so that the Passport's 2.2GHz quad-core Snapdragon 801 processor, Adreno 330 graphics and 3GB of RAM might just be overkill for it. That said, this a powerful hardware combo and bodes well as far as pure number crunching capabilities are concerned. Needless to say, the Passport goes through apps and games like a hot knife through melted butter, and performs very smoothly irrespective of the app you're using. Multitasking isn't an issue at all too, with even heavy games like Riptide GP2 running without lag despite multiple Active Frames in the background.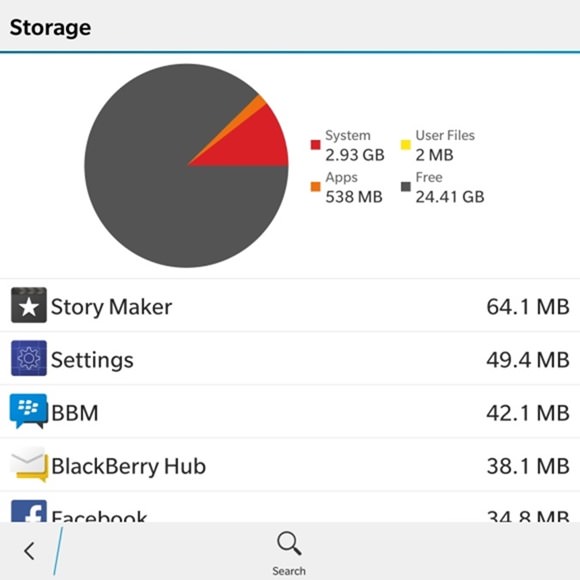 Storage-wise, the Passport offers about 24.5GB to use from its built-in 32 gigs, and the microSD card slot accepts cards up to 128GB in capacity. Do note that you can't install or move apps to the memory card, and the latter is mainly used as a repository for media files, documents and other data. In fact, the device refers to the memory card storage as the 'media card', and that's exactly how it's used. What's heartening is that just like its sibling the Z30, the Passport also supports USB OTG, allowing you to connect USB flash drives directly – very handy in a crunch.
The Passport comes loaded with connectivity features, and apart from NFC and USB OTG, also features dual-band Wi-Fi (including support for the ac standard), DLNA, Bluetooth 4.0, A-GPS, Wi-Fi Direct and Wi-Fi hotspot. It does offer 4G LTE, but unfortunately, doesn't support the Indian LTE frequencies in use currently. Therefore, you can only make use of 3G data speeds on the device. Notably, the Passport skips the micro-HDMI port seen earlier on the Z10, Q10 and Z30, and offers TV-out via its SlimPort-equipped micro-USB port. Miracast is available for wireless screen mirroring too.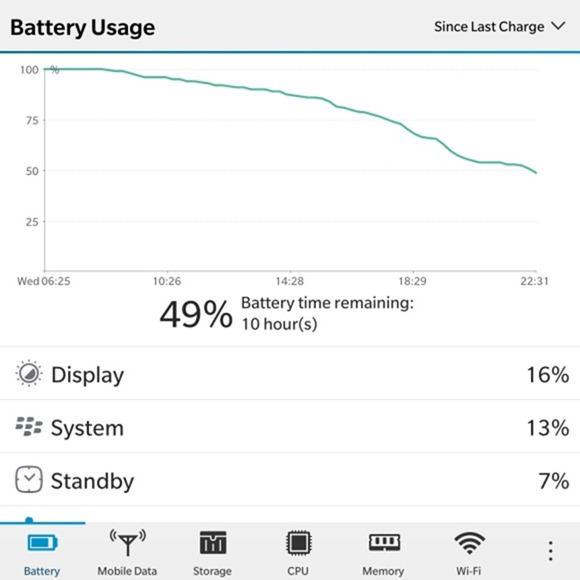 The sealed 3,450mAh battery is a stubborn thing – refusing to die even after heavy usage. Our standard battery drain test gave us a battery life of just about eight hours, which is average compared to others. However, real-life usage tells a different story, as were able to stretch it well into the second day on a single charge. This was with medium usage though, but even with heavy usage, it should last you a full working day very comfortably. And for a device that's meant to serve you as a work partner, the importance of long battery life can't be overemphasised.
Verdict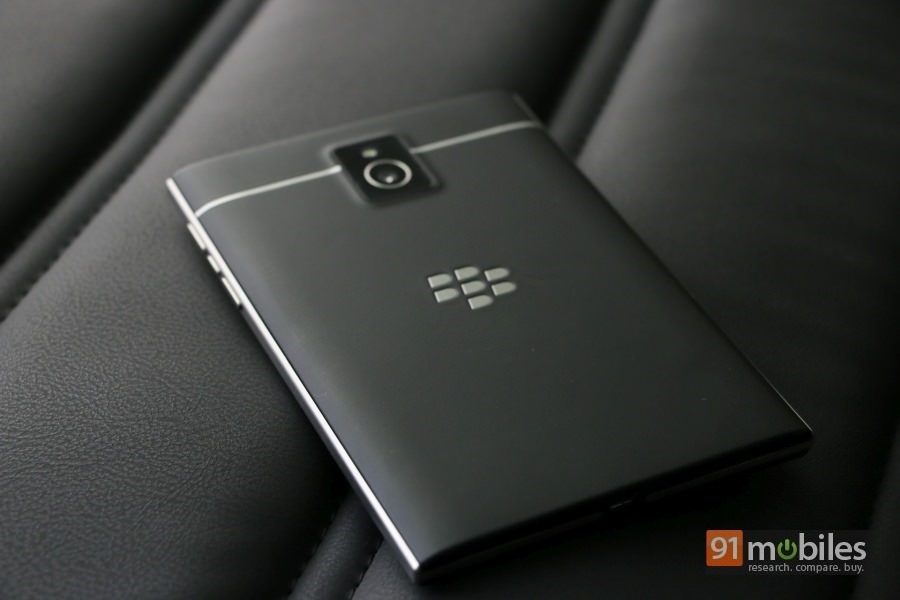 The macro verdict is that the Passport is the best BlackBerry yet, just in case you couldn't figure out where we were headed with this review. It's got a lot going for it – including a standout design, great build, an innovative text input mechanism, useful software features, a capable camera, smooth performance and solid battery life. The BlackBerry Hub and the platform's notification capabilities are also great features to have – very useful to anyone who needs to stay connected with multiple digital accounts on the go. No device is perfect though, at least in our eyes, and we have our share of gripes too. The form factor takes a while getting used to, not to mention the fact that it's not extremely comfortable to handle or carry around in a pocket. The QWERTY also requires a bit of a learning curve. Lack of native Google apps is an issue as far as we're concerned, but the app ecosystem on offer, boosted by the Android app support should suffice for most.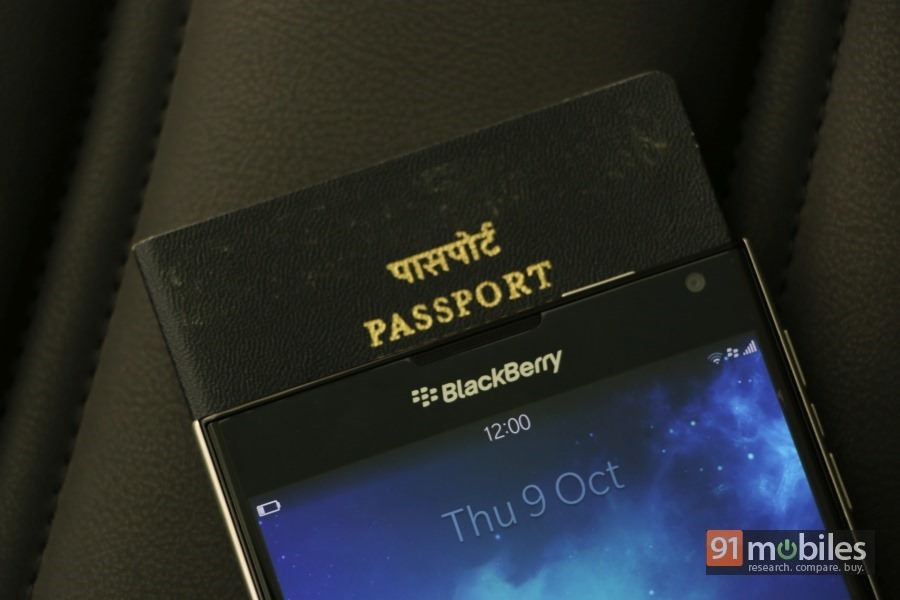 BlackBerry may have restricted the target audience by positioning it as business device, which is a shame because we think the Passport could actually be useful for a wider set of prospective users. Its high pricing restricts the audience to a select few who can afford it anyway.
Taking pricing into account, the BlackBerry Passport faces still competition from all the premium flagships out there, and if you have half a lakh to spend on a new smartphone, you can lay your finger on anything from the latest iPhone 6 to the loaded Samsung Galaxy Note 4 (after adding a few doubloons). However, considering that the Passport is a unique device, it'd be unfair to pitch it against any of the others head on. It's probably not for everyone, but once you're sure it can serve you well, it'll do just that if you do splurge on it. It definitely excels as a work partner, but we're not sure if you should be happy in case your boss gives you a brand-new BlackBerry Passport as a Diwali gift – it just means you'll be expected to work 24 x 7.
Price: Rs 49,990
Pros
Standout design
Solid build
Useful software features, including BlackBerry Hub
Android app support, with pre-loaded Amazon Appstore
Capable camera
Smooth performance
Good battery life
Cons
The form factor and QWERTY keypad take time to get used to
Uncomfortable to hold and pocket
Screen not apt for viewing widescreen videos
Costs a pretty penny
Photos and video by Pratik Vyas
Competitors for Blackberry Passport
| | | |
| --- | --- | --- |
| Blackberry Passport | vs | Blackberry Q20 |
| | | |
| --- | --- | --- |
| Blackberry Passport | vs | Blackberry DTEK50 |